Get ready for some muddy messy fun with this Easy Muddy Pig Craft for Preschool.
This simple craft is perfect for toddlers, preschoolers, and really kids of all ages who enjoy some good messy fun!
I love that these little pigs help young children develop fine motor skills in a fun way!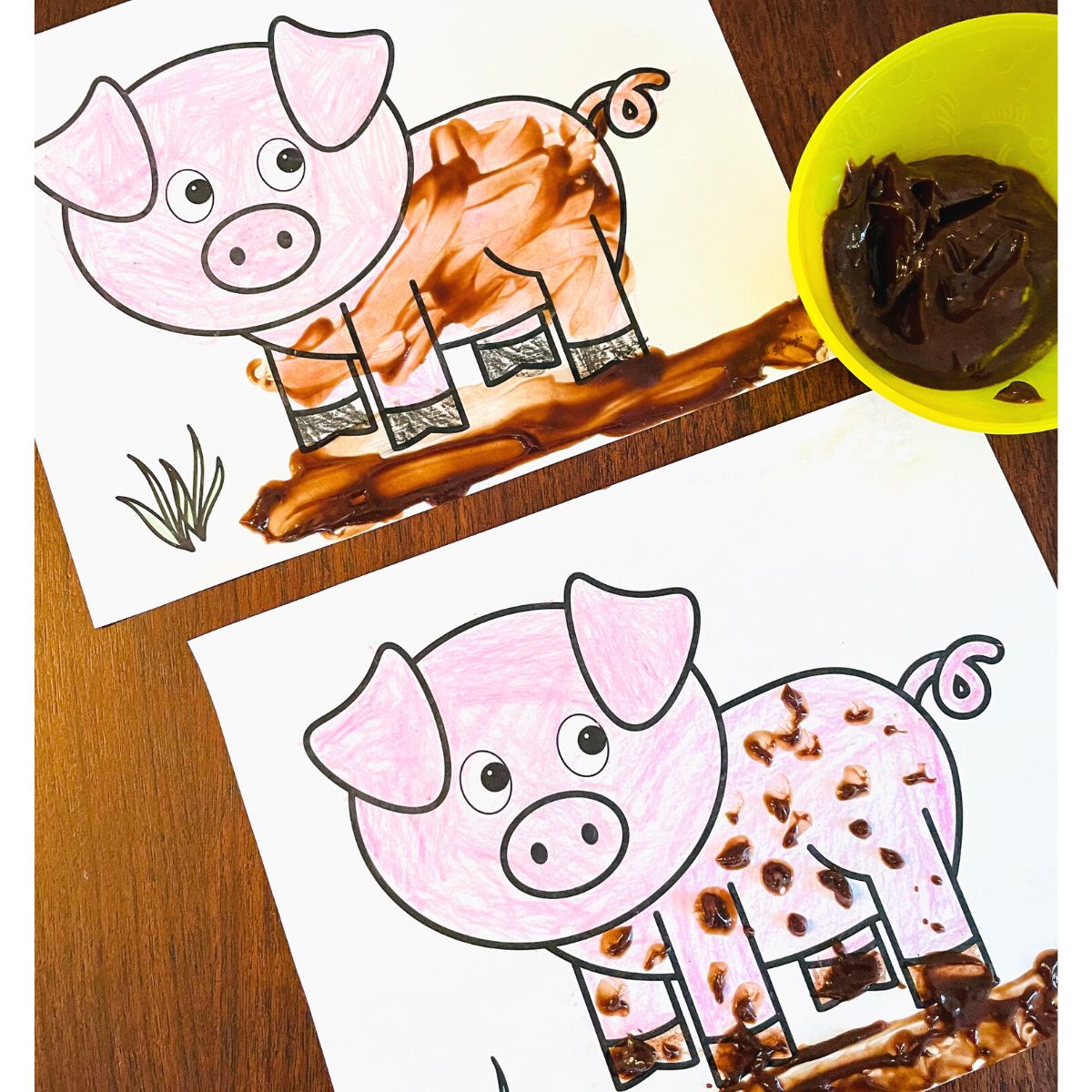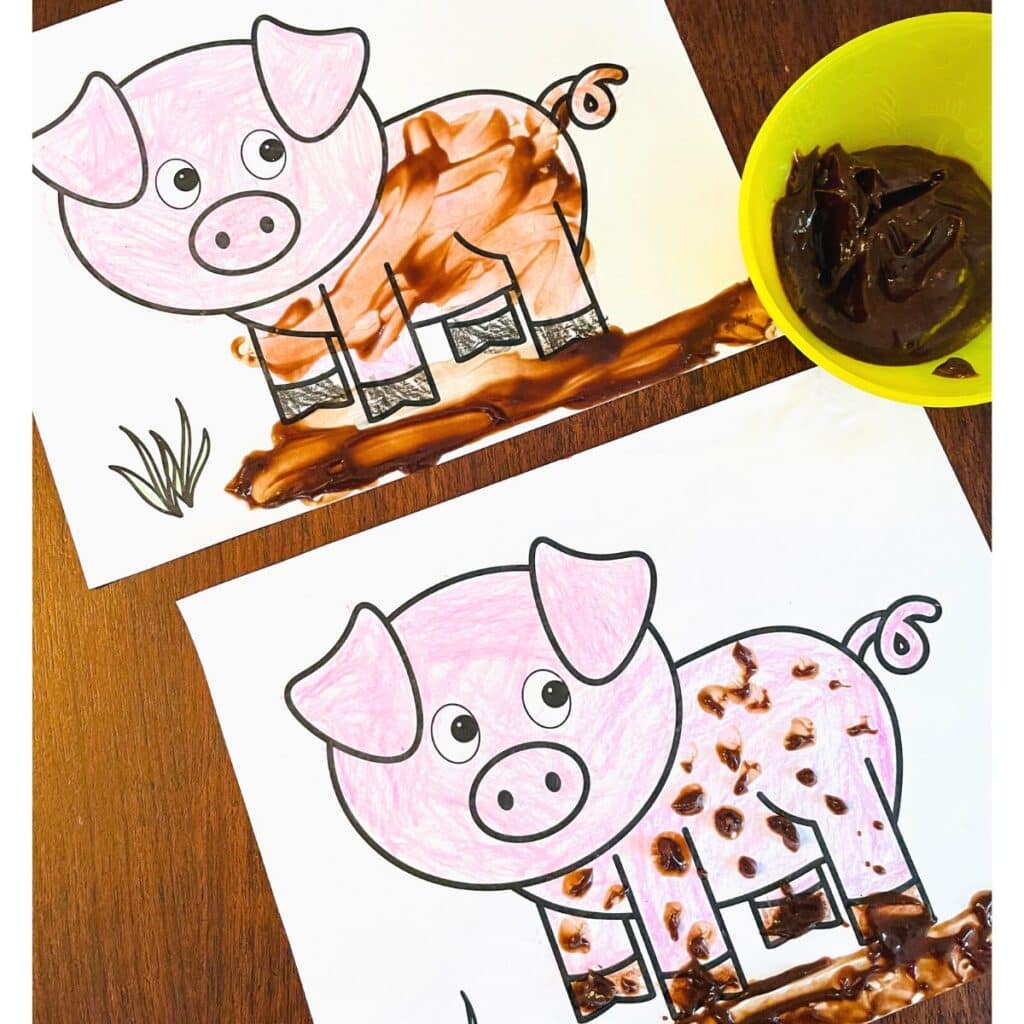 This awesome muddy pig craft is perfect for a farm animals unit, National Pig Day (yes, it's a real thing!), or learning about the letter P.
Alright! Let's get started on these cute pigs!
Supplies for Muddy Pig Craft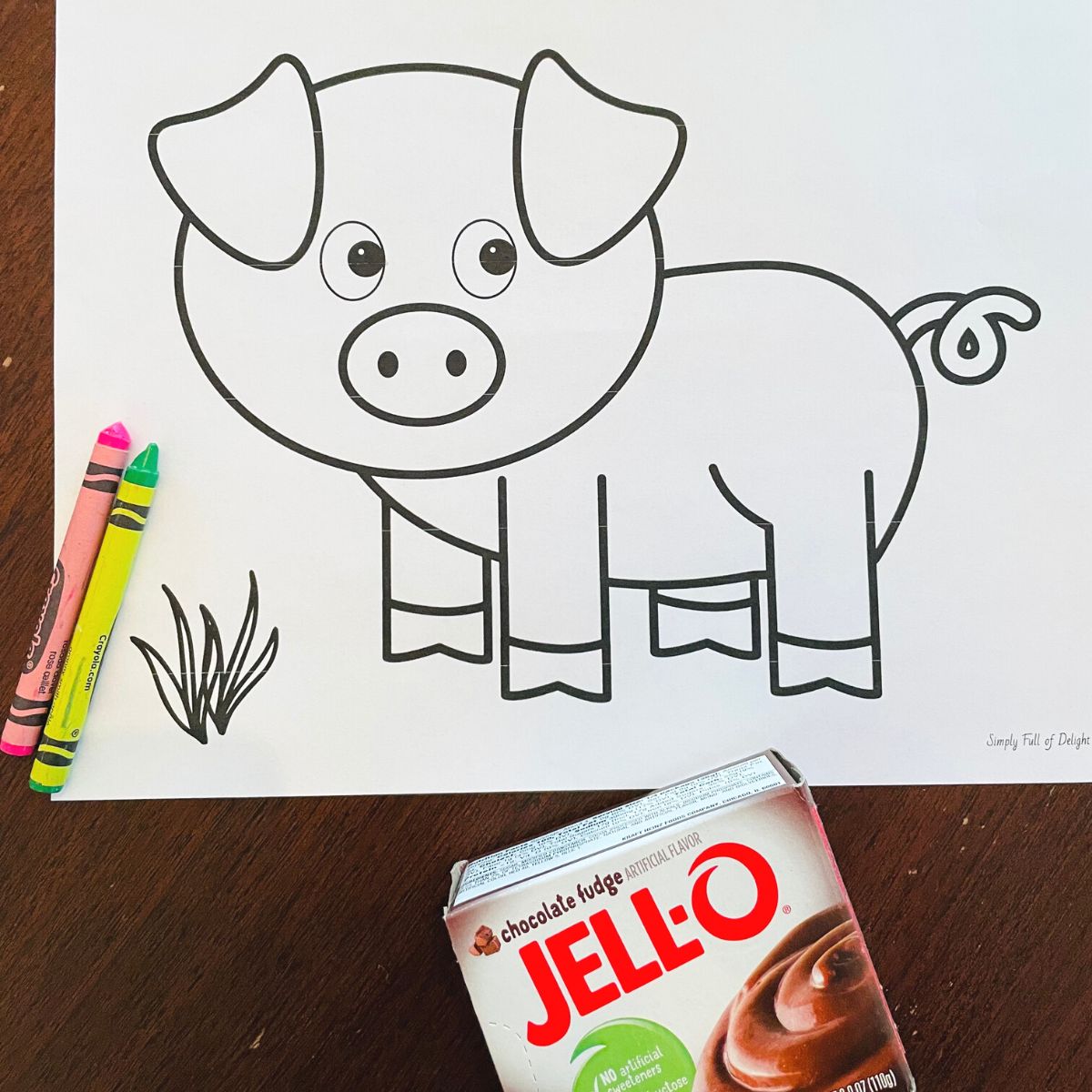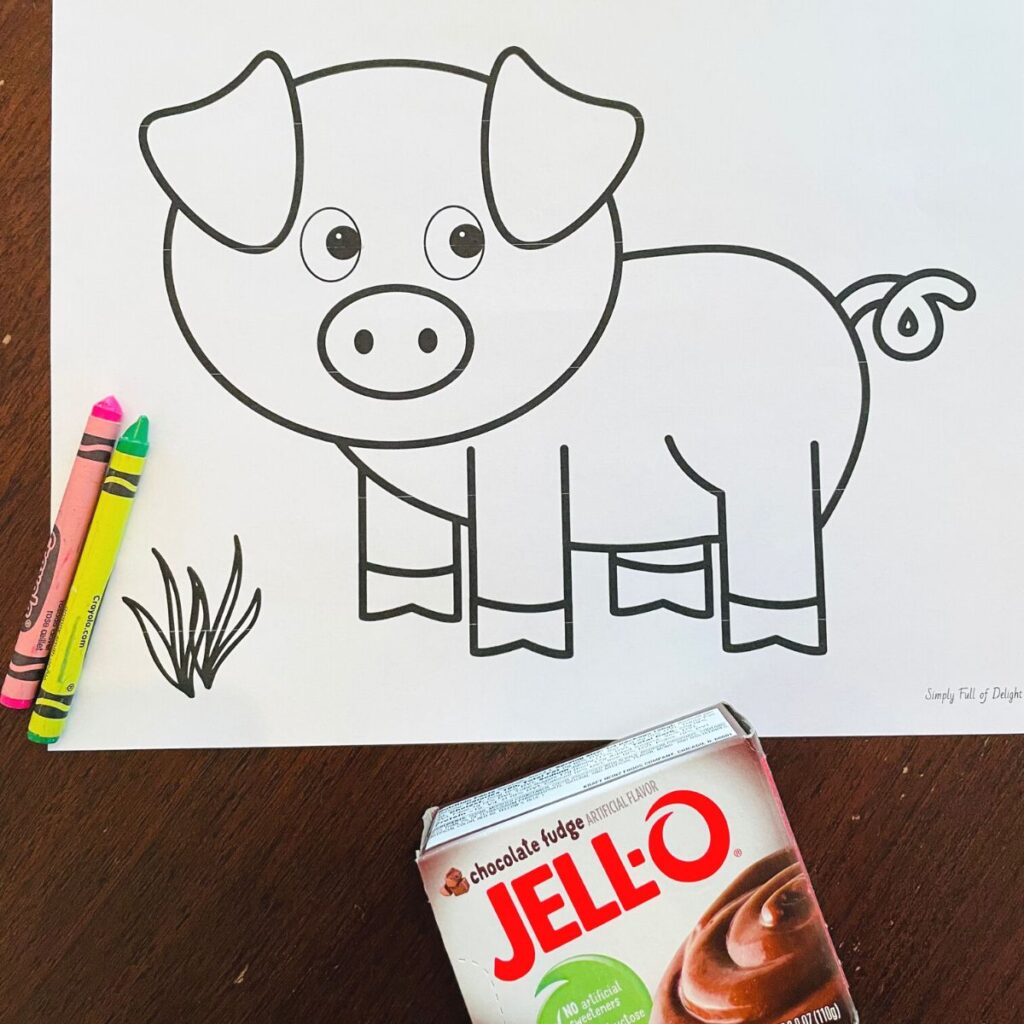 For this fun pig craft you will need the following craft supplies:
Free Printable Pig Template on white paper
Crayons
Chocolate Pudding
Bowls for the pudding
Wipes or Paper Towels for when things get messy
Optional: Brown Paint can be used instead of pudding.
How to Make a Muddy Pig Craft
First, print out the free pig printable on white paper. Provide your child with crayons and have them color the pig pink. Once they are done coloring, it's time to prepare the pudding.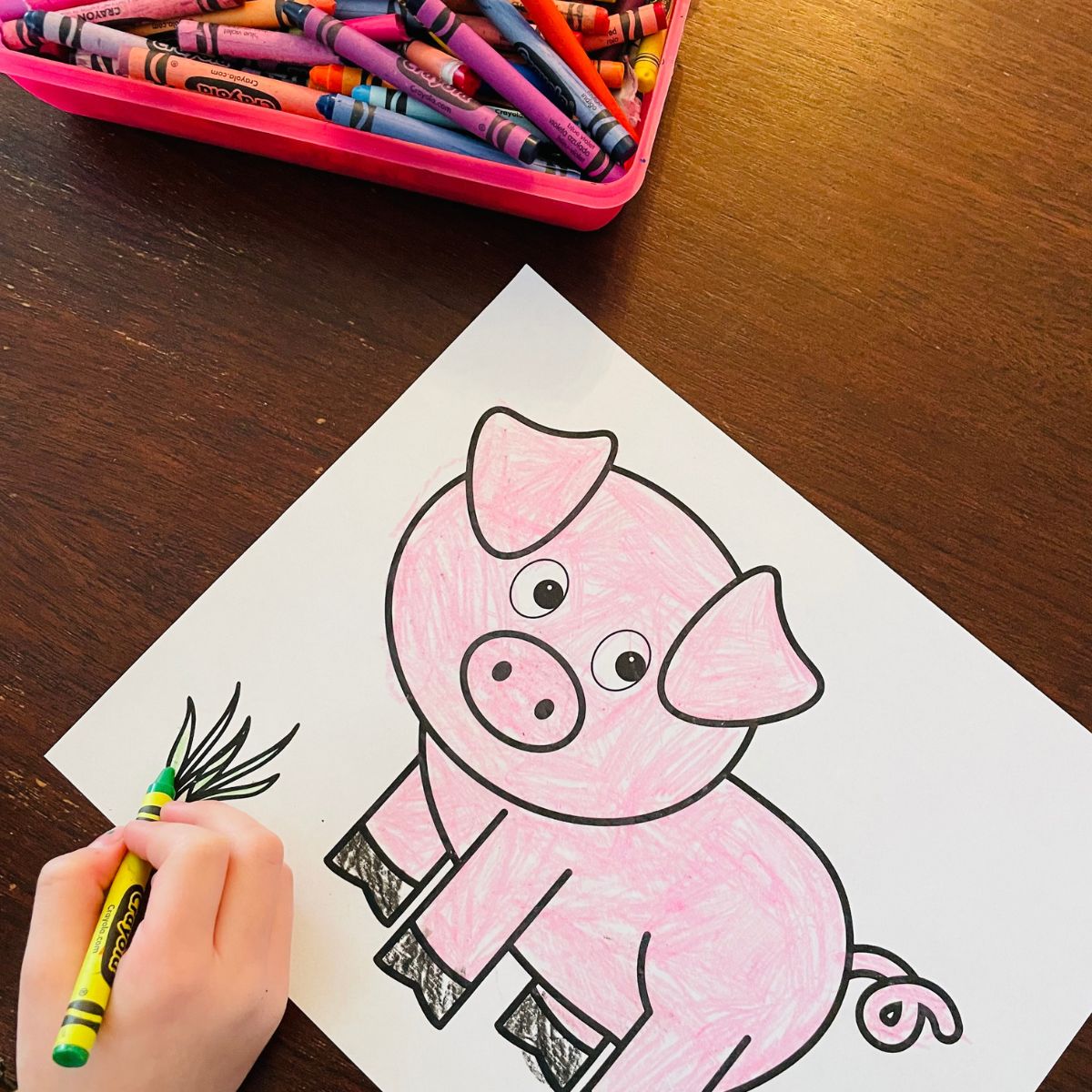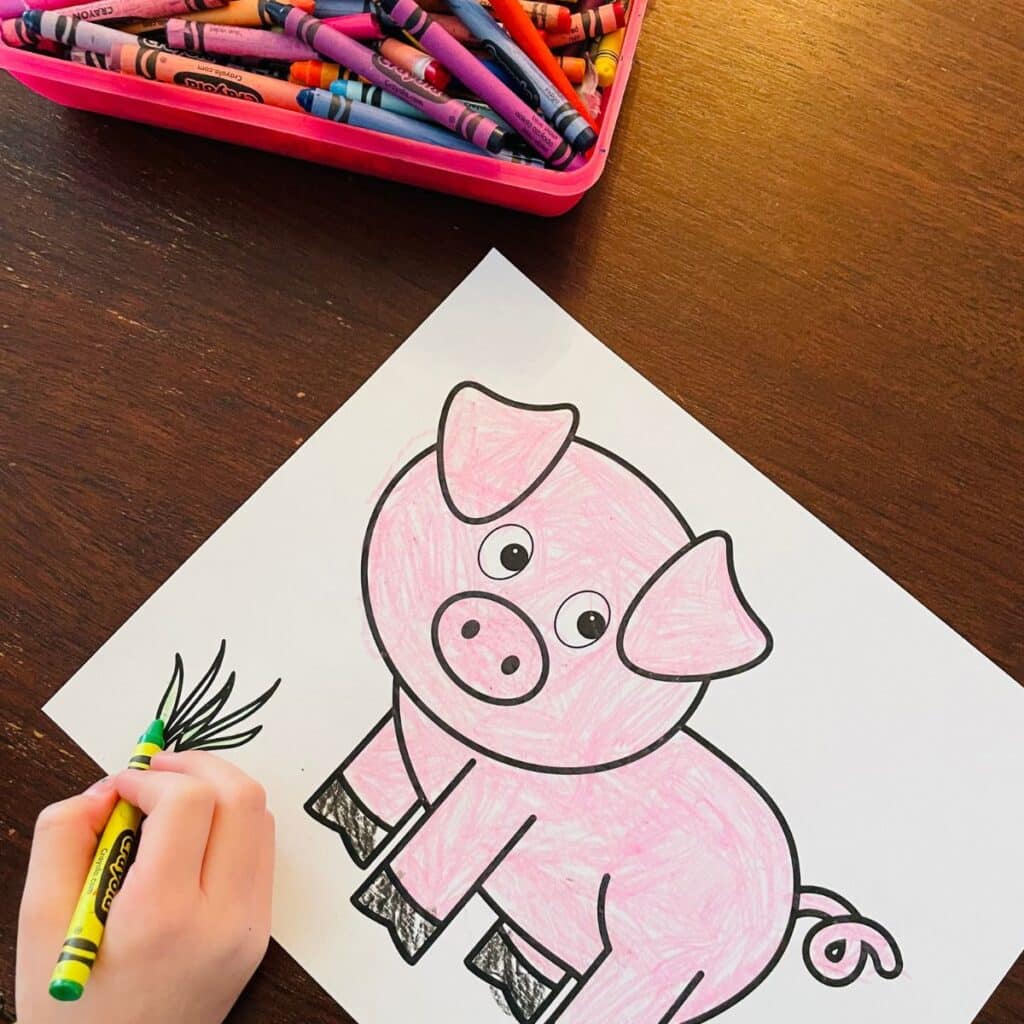 You can definitely use pudding cups if you like. I personally like to have the kids help prepare boxed pudding.
It adds to the fun of the project when they get to help! We just used a simple Jell-o Chocolate pudding mix. I let the kids take turns stirring the pudding, which they always love!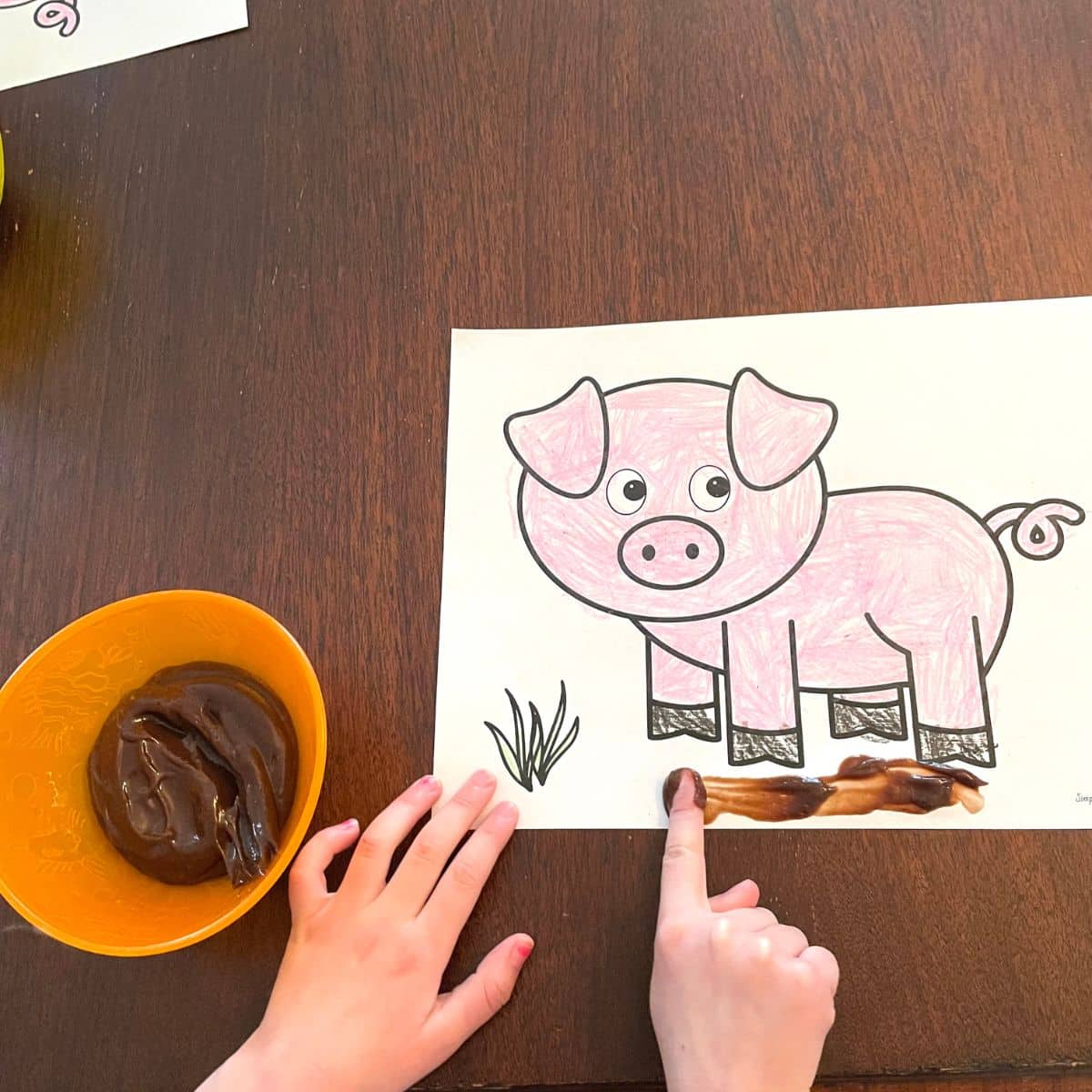 Once the pudding is ready, give each child a small amount in a bowl. Show the kids how to dip a finger into the pudding to paint the pig.
Preschoolers are pretty good about just using a finger or two. Toddlers….not so much! You might want to have baby wipes or paper towels nearby.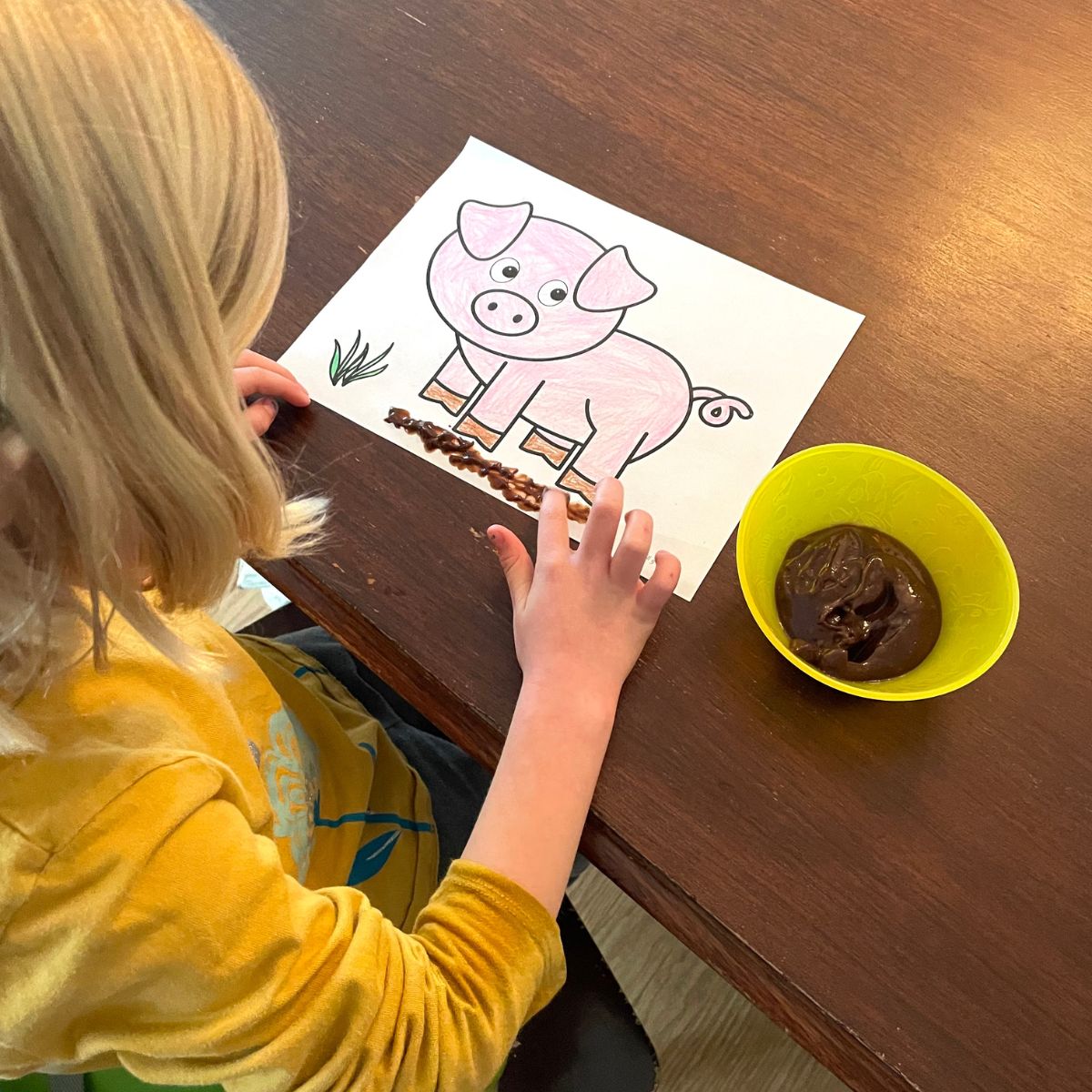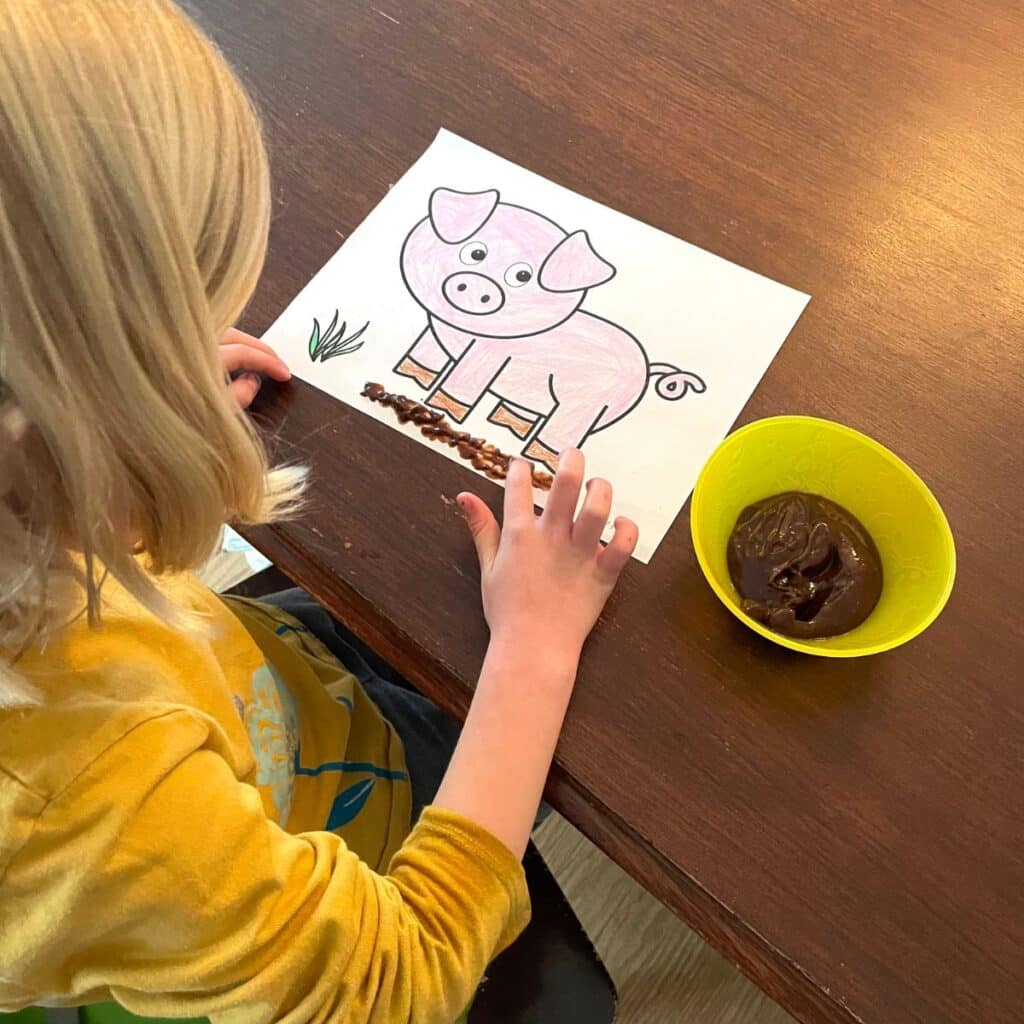 Pretty soon, your little ones will have a messy muddy pig! And they probably will enjoy some pudding too!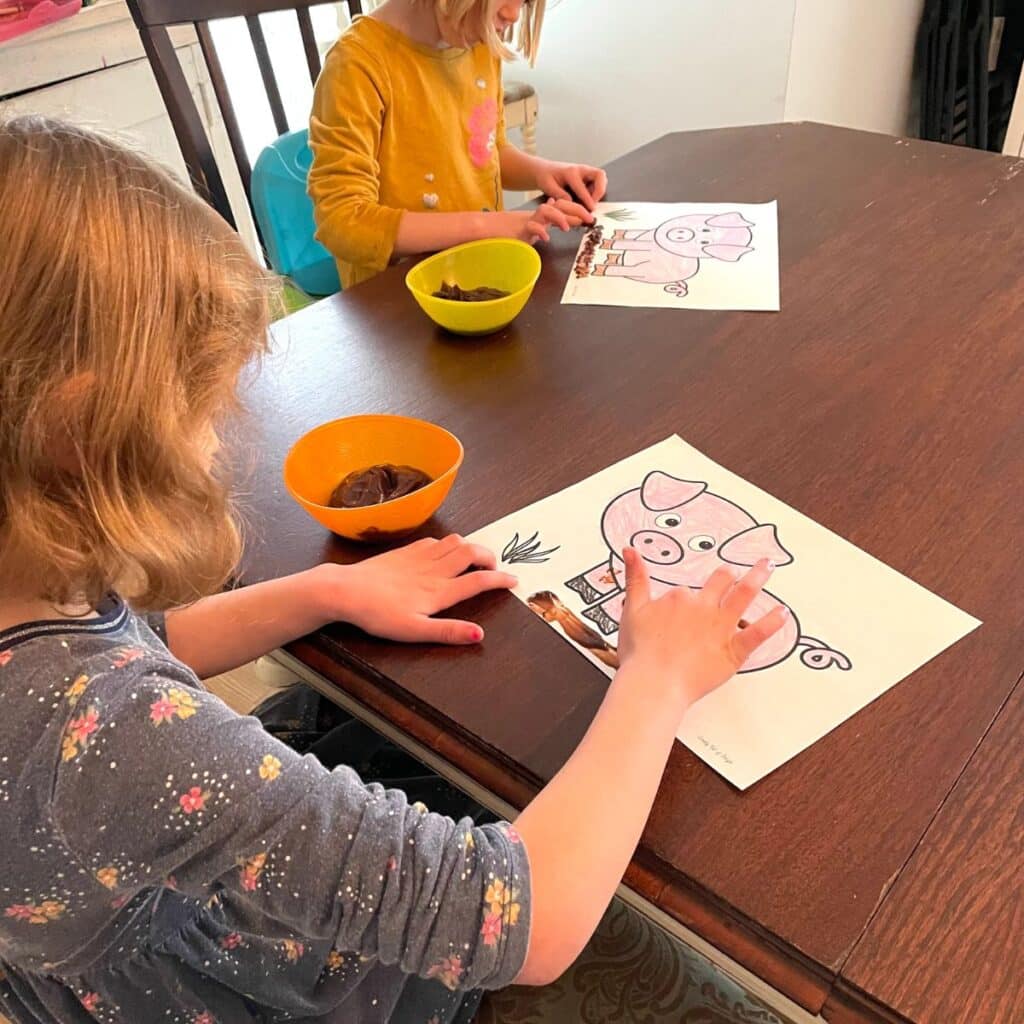 A Few Notes about this Pig Craft
I always let my kids know that this is not paint…so they are welcome to have a lick and to eat the rest of it when they are done painting.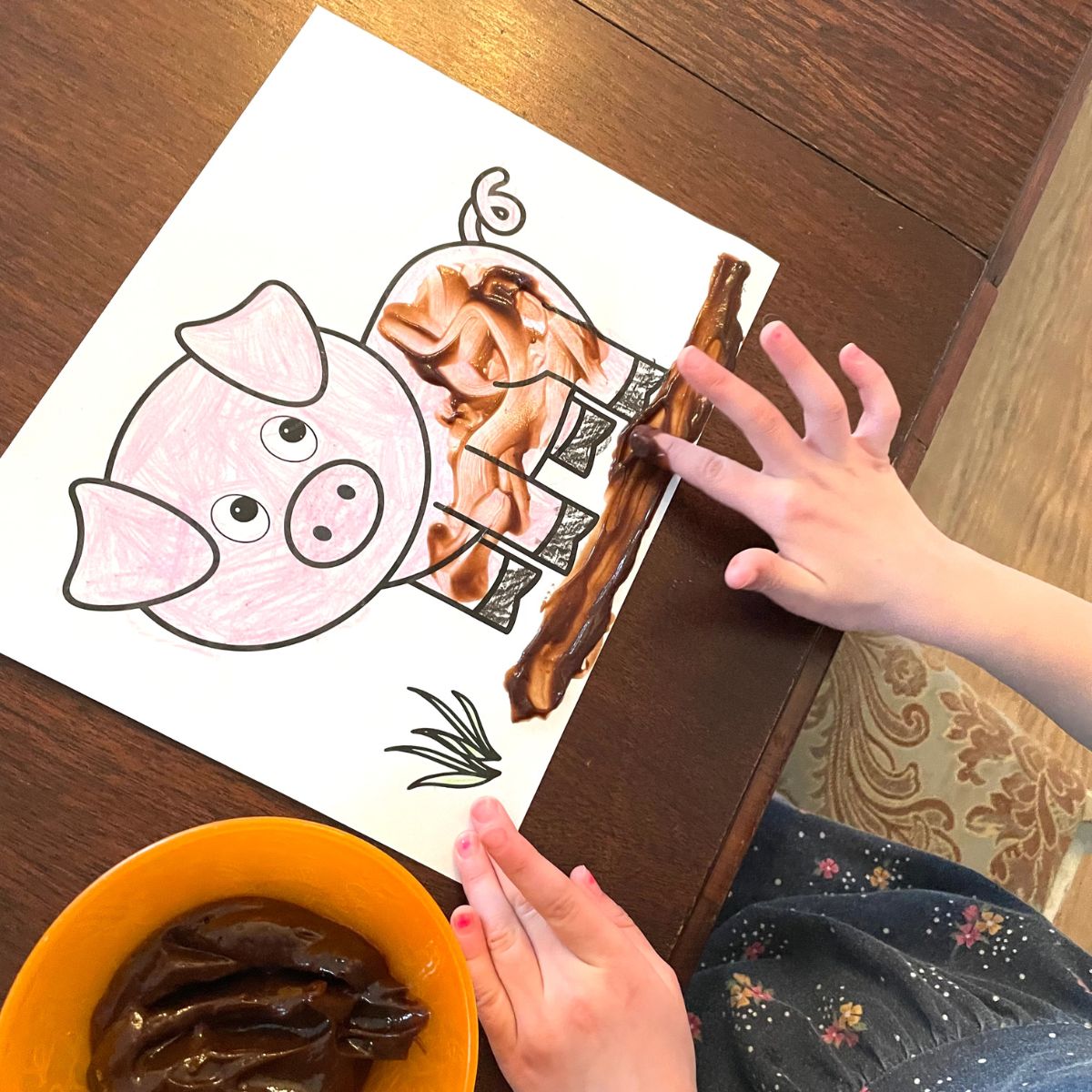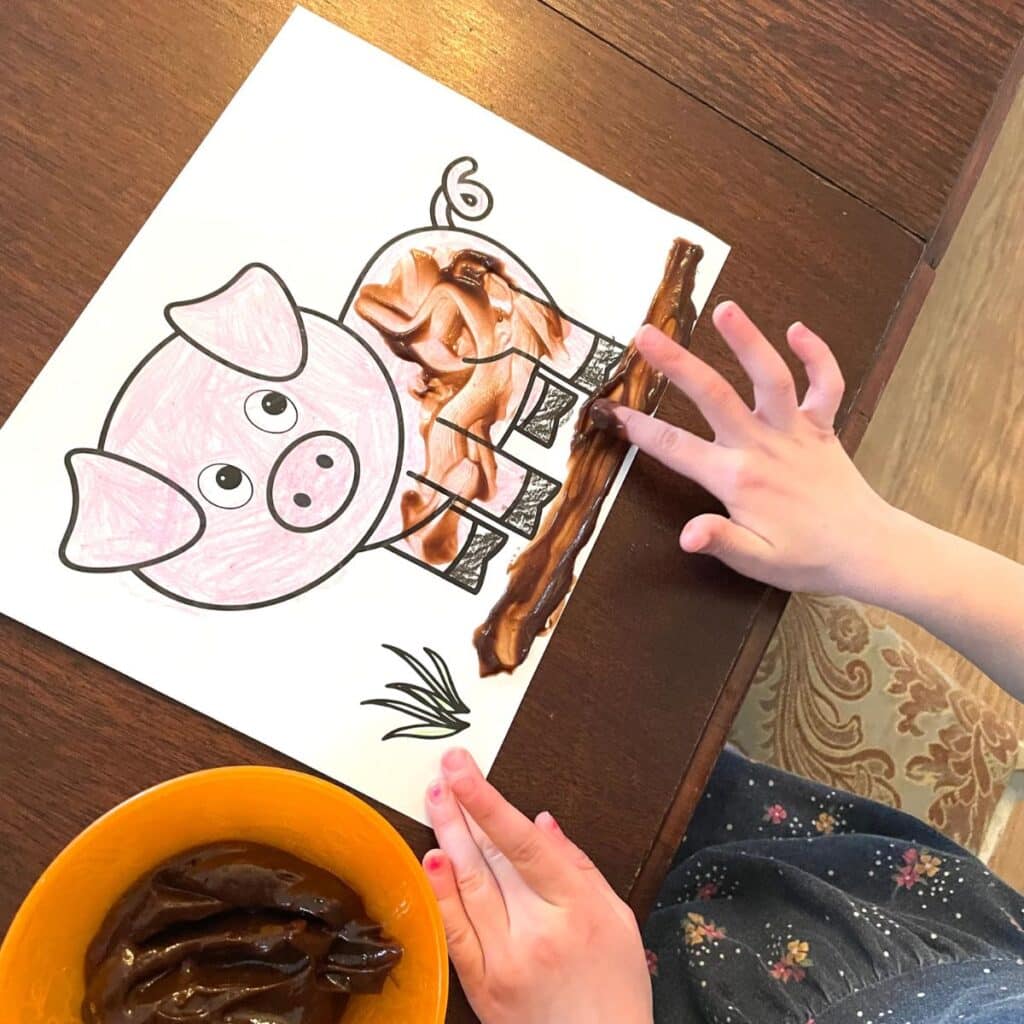 This craft does involve food so I don't recommend you keep it forever. We have displayed these for a month or so with no issues, but I wouldn't recommend keeping it long-term.
Simply snap a pic with your child holding their Muddy Pig to preserve the memory! I'm all about taking pics of my kids' artwork versus saving it.
I hope your little ones have lots of fun creating their own muddy pigs! If your kids enjoyed this Mud craft, they might also love this Muddy Boots craft. It's the perfect way to "celebrate" Mud season!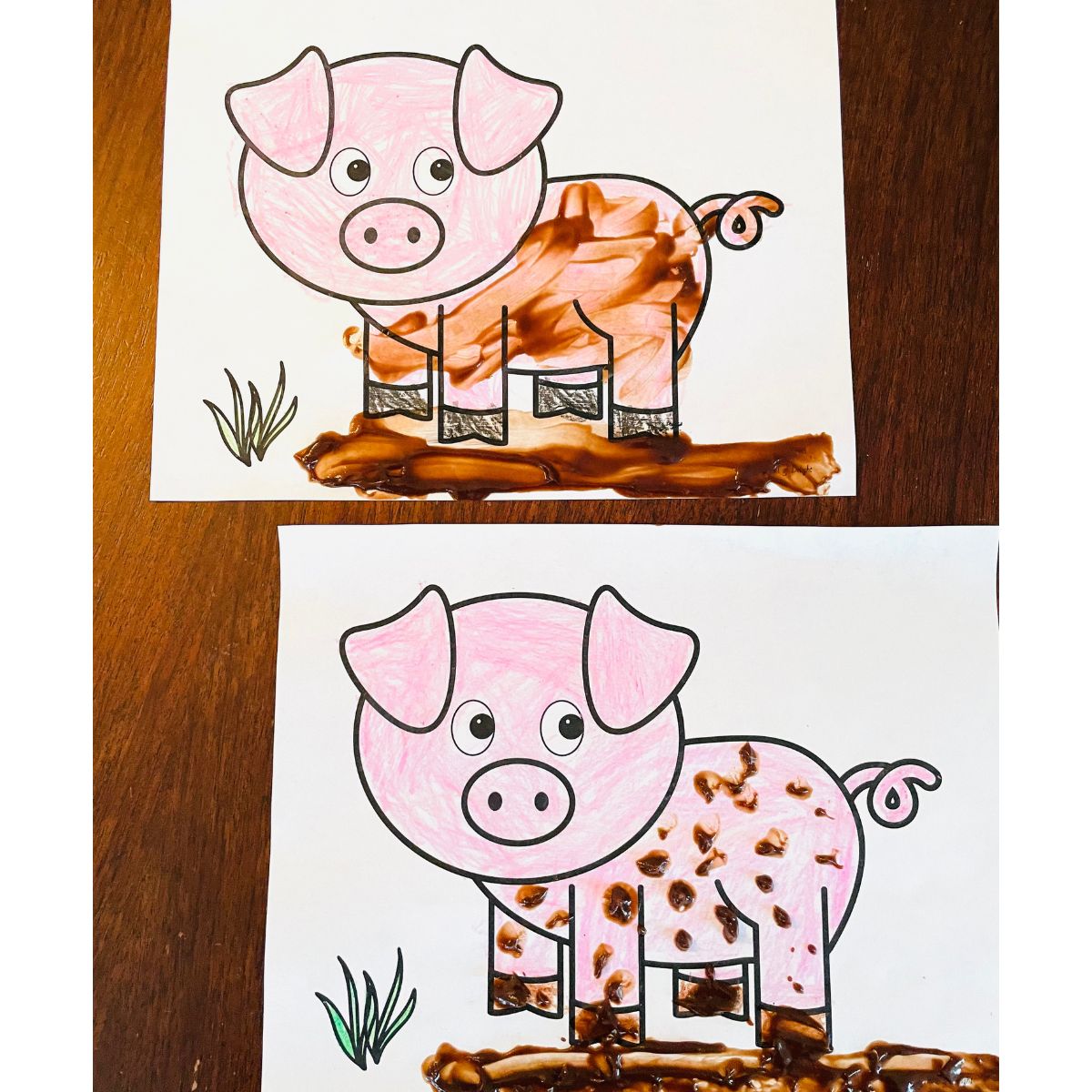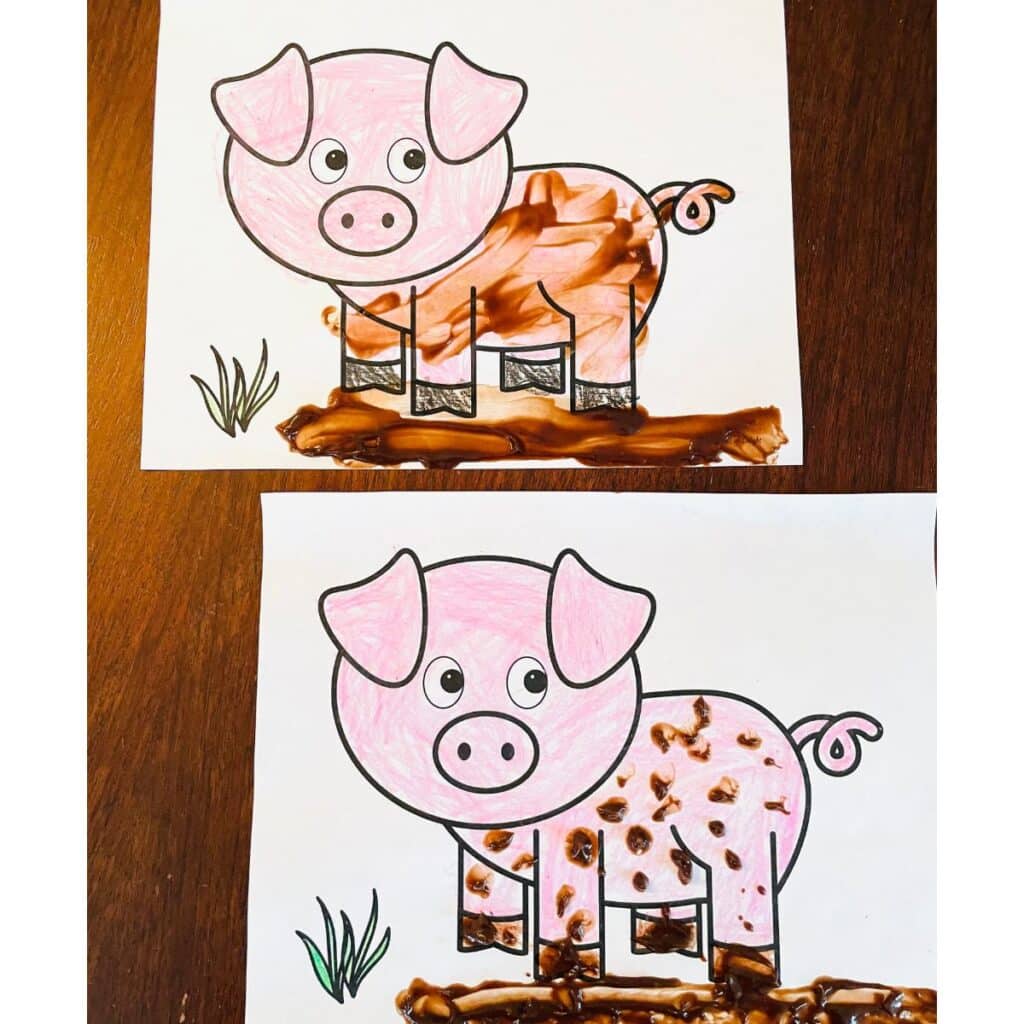 As an Etsy affiliate, I may earn from readers clicking my links at no additional cost to you.
More Farm Crafts and Activities for Kids
You can find more fun Farm ideas here on my blog!
There's a free printable Pig Puppet here. Kids will have so much fun creating their own pig puppet It's super simple to color and cut out because it's made for preschoolers!
There's a fun Farm Sensory Activity here. This sensory bin will engage those busy hands in pretend play. It's full of farm animals, tractors and more!
You can find a cool Tractor Paper Craft with moveable wheels here. Kids will lvoe how the wheels move with the help of a brad.
Also, you can grab a set of 3 Free Printable Tractor Coloring pages here. Perfect for your farm loving kid!
This adorable Easy Sheep Craft is a great way to have more farm animal fun! Kids glue cotton balls to the sheep printable to make a cute fluffy sheep!
And last, don't miss this Farm Preschool Activity Pack in my Etsy shop! There's cut and paste fun, tracing, patterns and more. It's a simple way to engage your child in learning effortlessly. Check it now.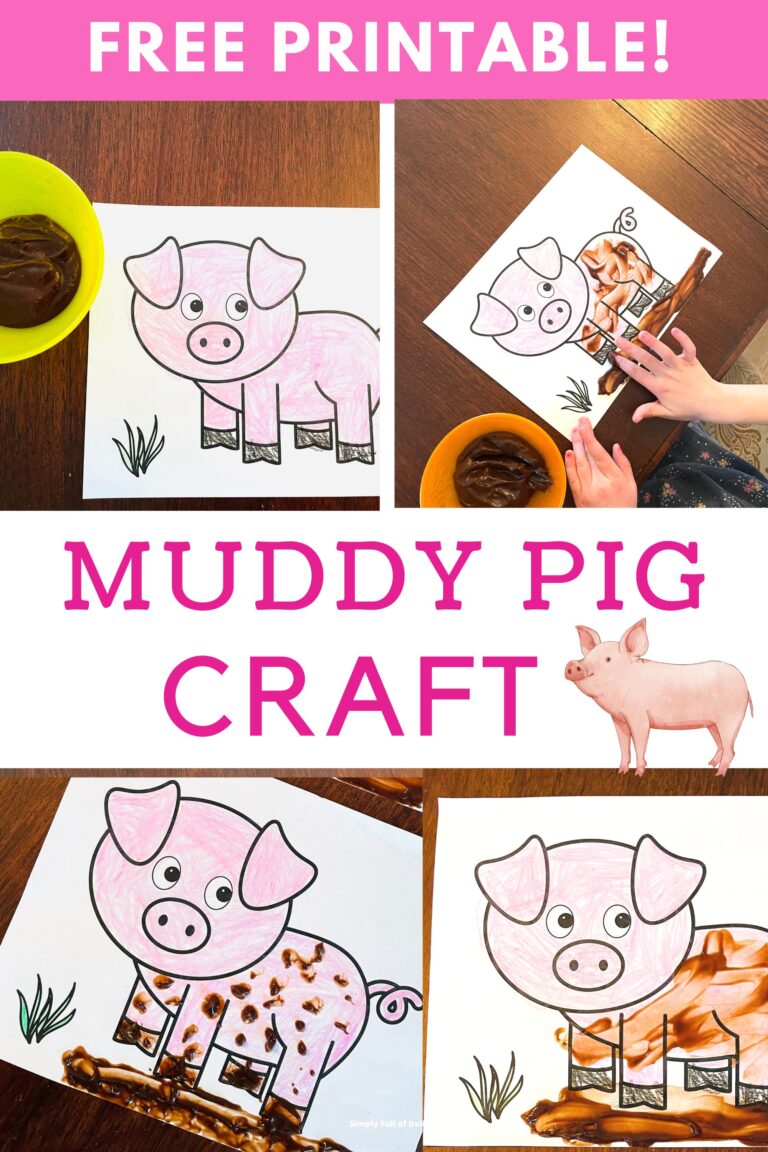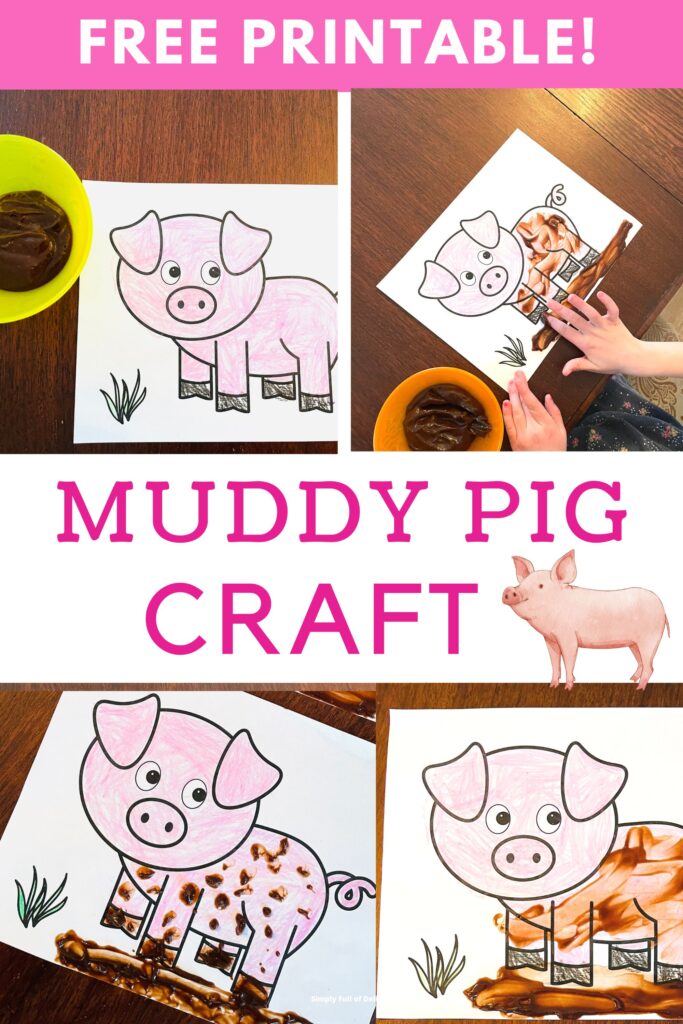 Get the Free Printable Pig
Ready to grab the free Printable Pig PDF printable? If you are a subscriber, you can find it in the Resource Library. The password is in nearly every email I send.
Not an email subscriber yet? No problem! Just drop your email address in the blue box below and you'll get instant access to this pig template and many other free craft printables!
Want to save this Muddy Pig Craft idea for later? Pin the image below to your Farm Preschool Activities Board on Pinterest.