Today, we are exploring the Best gifts for Farm Kids of 2023! If your family is like mine, you might have a sweet Little Farmer in your midst. My little farmer is 5 years old and obsessed with his dairy cows and toy tractors!
I grew up on a farm and my father loves to gift my children farming toys at any and all occasions! We have quite a collection farm toys for kids, but naturally we always have a few new ones on our wishlist!
If you are looking for a great gift ideas for your little farmer, here's 25 of the best farm toys for kids and farm gift ideas of 2023.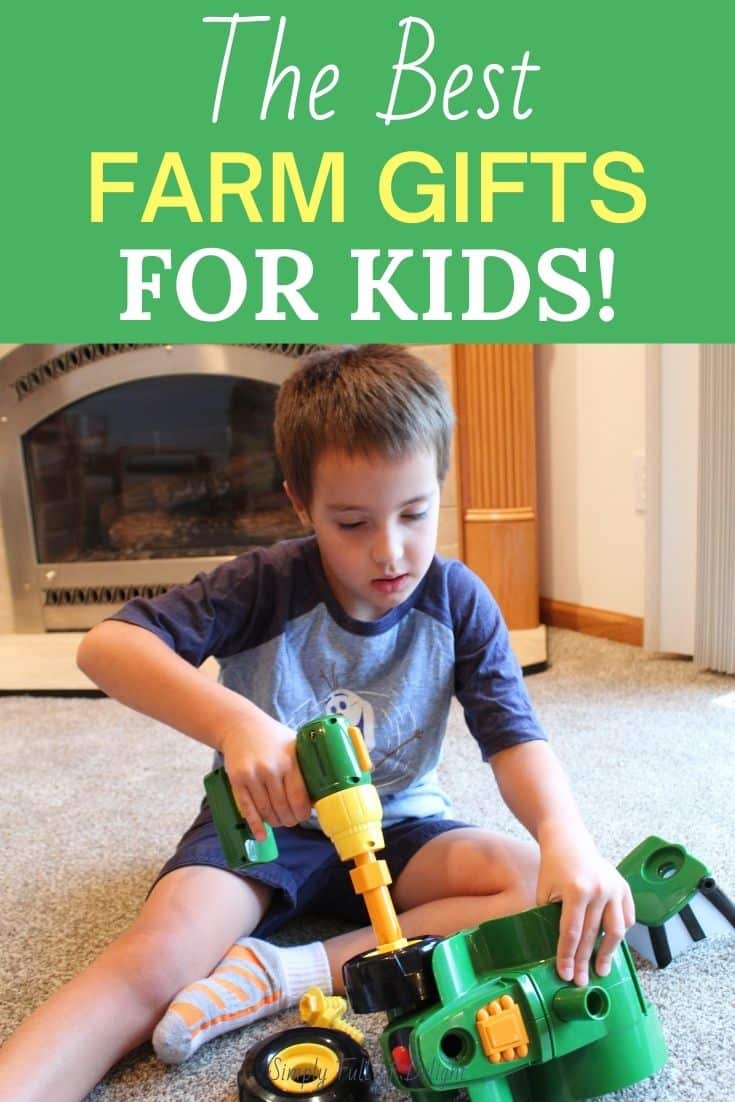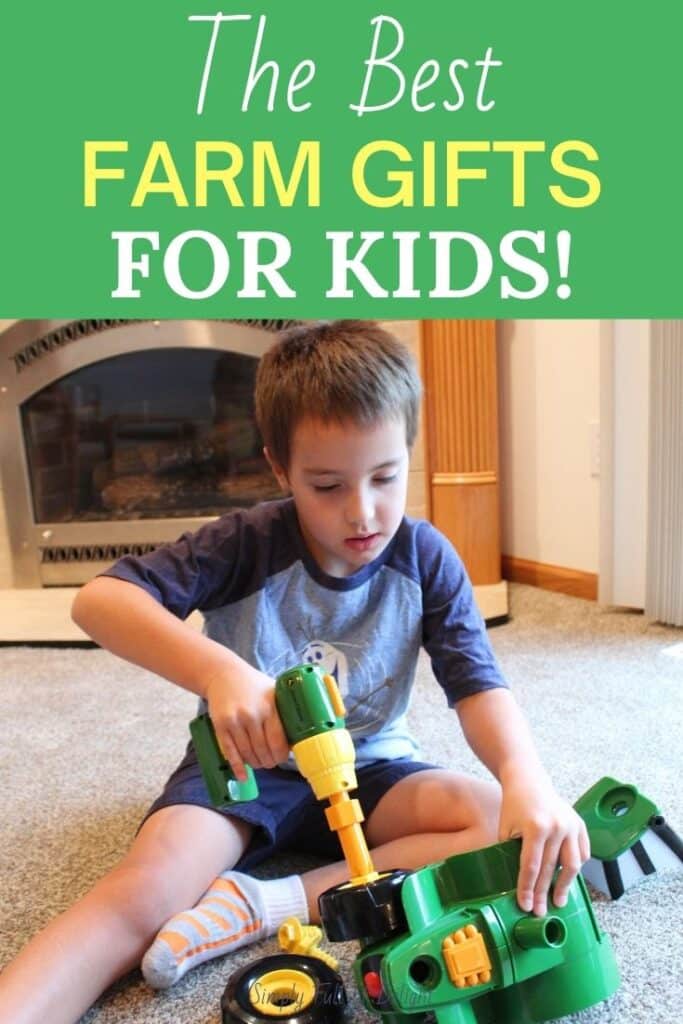 ** Disclaimer: As an Etsy Associate and Amazon.com Associate, I earn from qualifying purchases made by readers clicking my links at no extra cost to you. Thank you for supporting this blog!
1) TOMY John Deere Deluxe Talking Toolbelt
This TOMY John Deere Deluxe Talking Toolbelt will have your child jumping up and down with excitement! Now he/she can work on projects just like daddy and mommy!
This adjustable tool belt includes a hammer, wrench, pliers, ratchet, tape measure, and a screwdriver.
There's 2 phrase and 3 tool sounds to delight your little one. You can count on this toolbelt being your child's new favorite toy!
2) Ride-on 360-Degree Excavator Digger
This John Deere Ride-On 360-Degree Excavator Shovel/Digger is the perfect gift to encourage outdoor play. It has real working levers that allows your child to actually operate the digger. You can use it in sand, dirt, or snow. What a super unique gift!
3) John Deere Farm Toys – Farm Playset
This amazing 70 piece John Deere Die Cast Play set is perfect for the little farmer who needs to set up his operation. It comes with an amazing machine shed (the roof comes off!) as well as the major farm equipment and tractor toys your little farmer needs.
This set is great because you get a lot of farm play for the money! It's also nice that the set has small pieces that can be transported easily. My son likes to pack his little tractors in our go-bag and take them to church or on trips! Anytime is playtime! What great farm toys for kids and incredible John Deere presents!
4) Build a Tractor Toy – Best Farm Toys for Toddlers
Looking for a tractor gift for toddlers? This TOMY John Deere Build-A-Johnny Tractor Toy is perfect for the child who loves to take things apart! This tractor comes apart with a battery operated drill.
Your child can take it apart and reassemble it easily by themselves. My family owns this one and it's high quality and loads of fun! Definitely one of the best tractor toys for toddlers and kids.
This is one of those farming toys that is sure to get a lot of playtime! I love finding farm gifts for toddlers that kids enjoy for years and years as they grow.
5) Smart Farmer Game – Best Farm Gifts
Smart Farmer is a skill-building puzzle game that can be played by a single player or as a team. It's made for kids ages 5 and up, so there is a puzzling challenge for everyone, even mom or dad!
6) Melissa & Doug Farm Activity Rug – tractor gifts for toddlers
This Melissa & Doug Round the Barnyard Farm Activity Rug is perfect for the little farmer who needs a place to drive his/her tractors! Perfect for imaginative play with little people or an animal figurine.
This rug is big enough that two kids can easily play together without crowding each other. Melissa and Doug play rugs are high quality and will last for years!
7) Lego Tractor – best farm toys for 6 year old
This Lego Tractor will be a hit with any Lego or farm enthusiast. Kids will enjoy building and taking apart and rebuilding this cool red tractor. This lego set also includes 2 hay bales, a crate of vegetables, a farmer, daughter, and rabbit. The tractor has a rising, tipping loader bucket.
SO cool! Great for kids ages 5 and up! This tractor Lego set has been one of the best farm toys for my 6 year old. He loves it!
8) Remote Control Tractor – Tractor Gifts for Toddlers
This TOMY John Deere Remote Control Johnny Tractor Toy is great for young kids. With just 2 buttons it makes the perfect remote control vehicle for toddlers. As an added bonus, it has an auto shutoff option so that it saves on batteries.
9) Fantastic Animal Barn – Farm Toys for Kids
This amazing big red barn by Melissa and Doug will be a new family favorite! It has adorable sliding barn doors to let the animals in and out.
This wooden barn set also includes a wooden ladder, a folding fence, and 7 animals. You'll get several farm animal toys including a horse, cow, pig, goat, dog, sheep, and turkey. Your little person will be all set to farm!
The toy barn folds up for easy storage and has a handle so it can be easily carried. Don't you just love wooden toys!
10) Farm Floor Puzzle
This 32 piece Melissa and Doug Farm Floor Puzzle is perfect for kids ages 2-5. Puzzles are a fun way for your child to build hand-eye coordination and problem solving skills. If you are looking for a farm puzzle for a different age, click here to see more options!
11) Skid Loader – Best Farming Toys
This skid loader makes a great gift for the farm toy enthusiast. This 1:16 scale Skid Loader is perfect for loading a pretend hay bale or moving dirt. I love these small toys as they are great for developing fine motor skills and building your child's imagination.
It comes with both the bucket and pallet fork attachments, as well as some fun accessories! Your little one will play with this for a LONG time!
12) John Deere Baseball Cap – farm gifts for kids
This John Deere Baseball Cap will be his new go-to hat! I love practical gifts. Great for keeping his/her heat protected in the sun and the perfect fit for a toddler! You can find bigger sizes for kids here. Pair it with a new pair of muck boots and you've got a great farm gift for kids!
13) Custom Tractor Shirt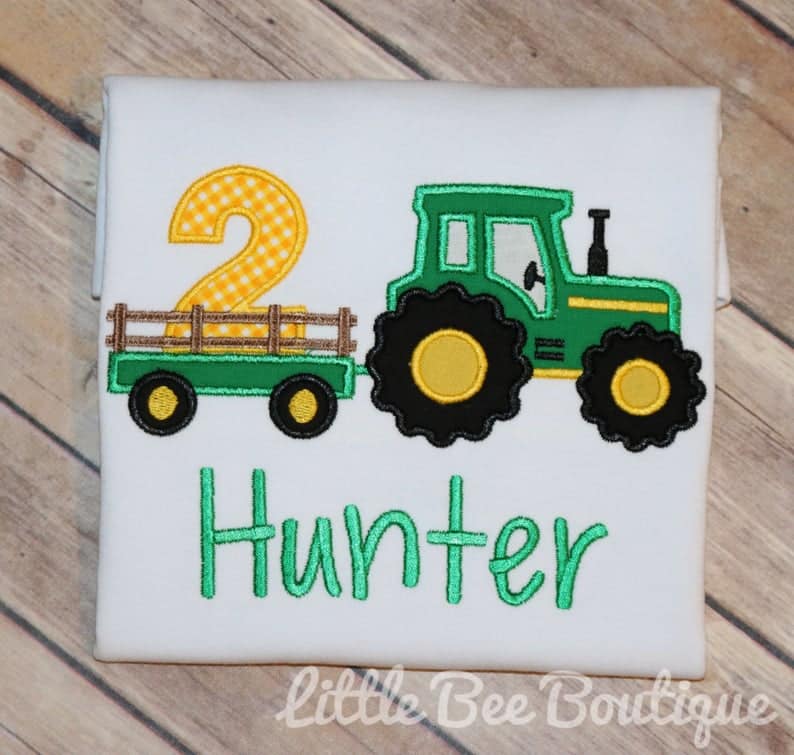 I'm a big fan of promoting small businesses, so of course, I had to show you this custom Tractor Shirt is by Little Bee Boutique US on Etsy. It's sure to be a quick favorite! You can add a personalized touch to this shirt with your child's name and age if you like. What amazing tractor gifts for toddlers!
14) Farm Shirt – Farm kid gift ideas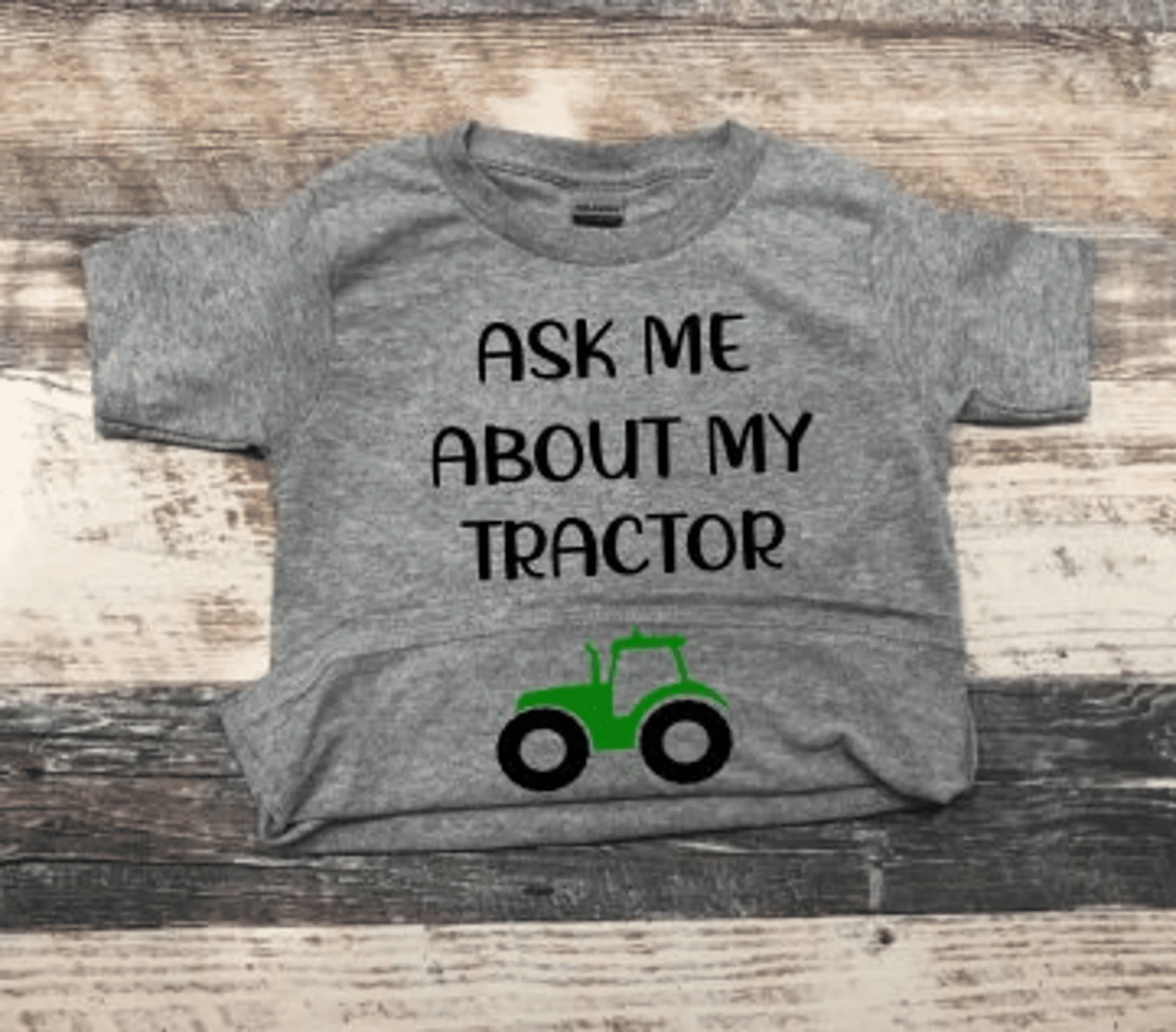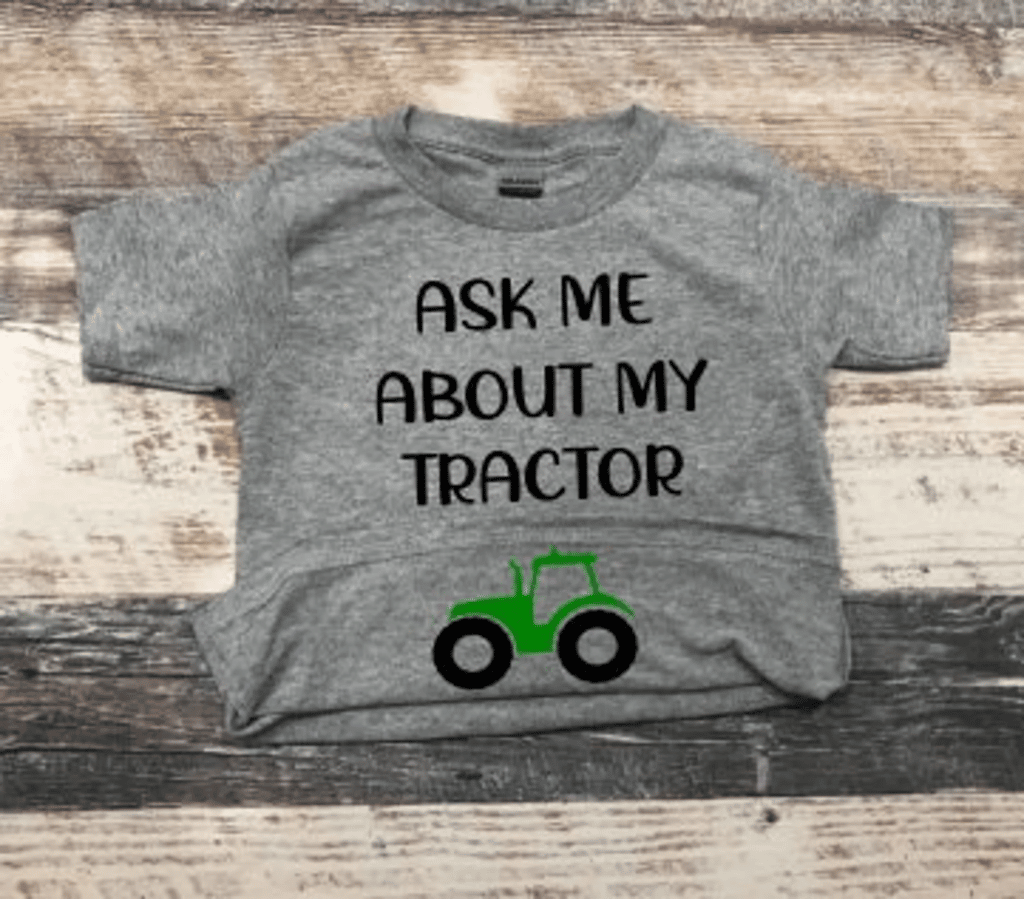 This adorable tractor shirt is by J and J Hairbows on Etsy. This shop is full of awesome farm themed apparel! You are sure to find his/her favorite animal or tractor shirt here!
15) Felt Board Farm Set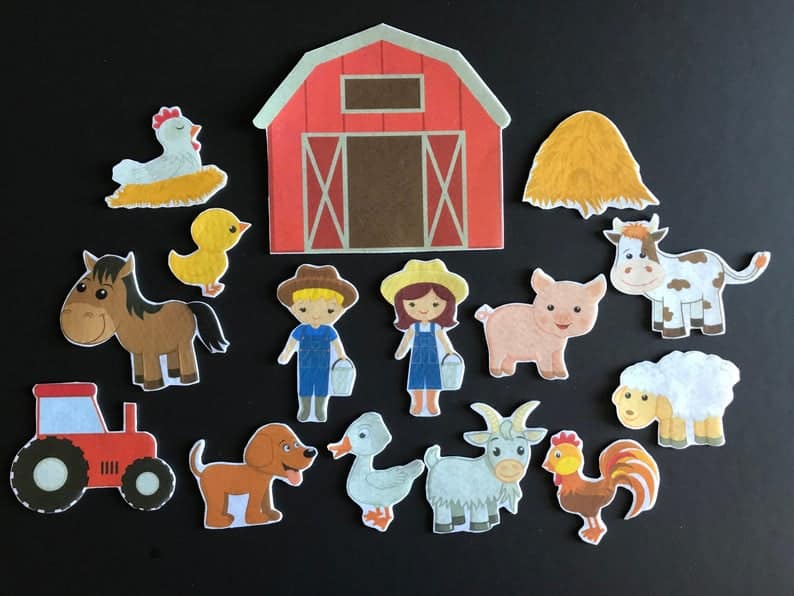 This adorable Felt Farm Set is perfect for quiet time or fun on the go! It's made by Sailer and the Feltsy on Etsy. This set is great for retelling stories and creating new farm adventure stories. Felt sets are great for quiet time, airplane rides, church, and travel! What a perfect start for your little farmer!
16) Handmade Crochet Sheep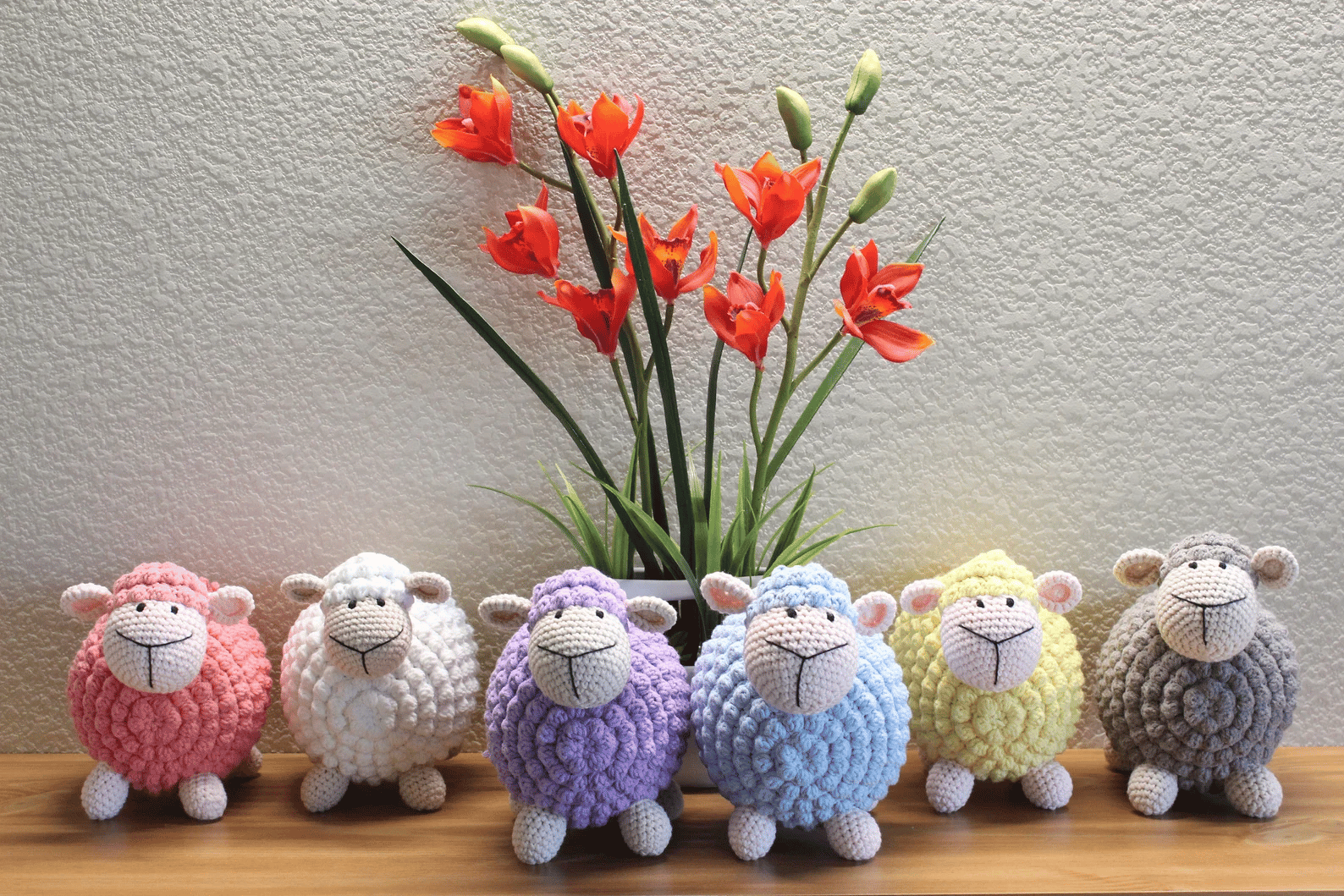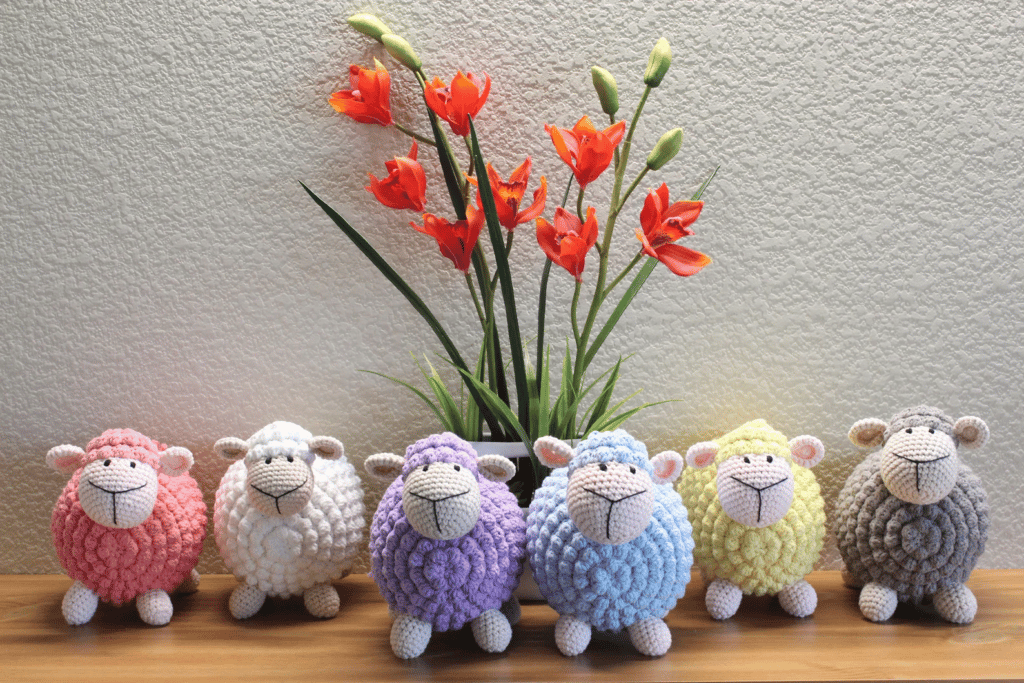 This adorable Crochet Sheep is by Blessington Crafts on Etsy. These handmade stuffed animals are sure to wow the youngest farming fan and develop a love for animals. This is a great gift for babies, but also for children of all ages who love sheep!
17) Die Cast Tractor – Farmer Gifts
This 1/16 Die Cast Tractor is the heirloom quality tractor that will be played with for years and years. This is the tractor you've been looking for! It's super durable and made for play. This is the perfect tractor for your kids to play with today and to be passed down to the generations to come!
18) Truck and Horse Trailer
This adorable horse trailer and truck set is soon to be a new favorite! It comes with a Ford Pickup Truck, an attachable horse trailer and three toy horses. My son has a set similar to this and he plays with it constantly. A truck and trailer makes the perfect addition to any farm and is great for imaginative play!
19) Gardening Tools Toy Set
These Kid-Size Gardening Tools are like the real thing, only smaller! Perfect for your little farmer to help out in the garden or around the yard. If you've been looking for durable gardening tools for kids, these are amazing! This is one of the best gifts for farm kids!
It's awesome to give children useful things that can teach them about farm life. This gift would go nicely with some little work gloves (or garden gloves) to fully equip your little farmer for helping out in the garden or with farm chores. My kids adore having their own little tools to help mom or dad and of course…. we love the help! We love useful gifts!
20) Learning Resources Veggie Farm Sorting Set
The Learning Resources Veggie Farm Sorting Set is perfect for preschoolers. This game teaches color recognition, matching, sorting, and counting skills. Lots of fun for the little ones with this farm game!
21) John Deere Animal Sounds Hayride Preschool Toy
This John Deere Animal Sounds Hayride is the perfect farm gift for toddlers! Each toy animal has a corresponding seat on the hayride tractor. When placed on the seat, you can hear the sound the animal makes!
This is one of the best farm animal toys for toddlers because it doesn't contain anything they could choke on and they can learn farm animal sounds. My kids love driving the animals and farmer. What a fun tractor for toddlers!
22) Theo Klein John Deere Engine
This Theo Klein John Deere Engine is a fantastic toy that teaches children logical thinking and problem solving. We have this toy and all of my kids ages 3-10 enjoy working on the engine, taking it apart, and putting it back together again. I love that they are so engaged by it and they love the challenge!
23) John Deere Ground Force Tractor with Trailer
This John Deere Ground Force Tractor with Trailer is a another wow gift for your little farmer! This amazing ride-on tractor will have your little farmer "working hard" with a huge grin every day!
This kid-sized tractor has 2 speeds plus reverse. There's an accelerator pedal with automatic brakes, a working FM radio, adjustable seat and a trailer to pull behind it. This toy farm tractor has wheels that can go on grass, dirt, gravel or pavement.
It's like the real deal! What an amazing gift that is sure to be a hit with your tractor loving kid!
24) John Deere Pedal Tractor with wagon – Best Toy Tractor
If promoting pedaling is more your style, you'll love this farm gift for kids!
This John Deere Pedal Tractor is perfect for kids who are old enough to pedal (around age 3) and is great for kids all the way up to 80 lbs!
It also comes with a wagon that hitches to the back of this pedal tractor taking it to the next level and making it fully functional and useful for your little farmer.
We surprised our littles with one of these pedal tractors last Christmas and it's been pedaled around our property nearly every day since then!
Our kids love to pretend they have real farm. This is the perfect toy for promoting outdoor pretend play!
This is one of those amazing outdoor toys for farm kids that will last for years and years!
25) Terra by Battat – Wooden Animal Barn
This Terra by Battat Wooden Animal Barn is a truly amazing toy barn! The barn roof opens and closes, the barn doors and windows open, and there's even a pulley system that lifts hay to the loft on the second level!
The set includes the wooden barn, 10 fences, 2 food troughs, the pulley, a ladder, 4 bales of hay, and the removeable loft. You'll want to pair this amazing barn with a set of animals, so your little farmer is all set
That's it! 25 of the Best gifts for Farm Kids of 2023! I hope you've found some fantastic farm gift ideas for the little farmers in your life!
If you are still looking for gift ideas, Amazon has this amazing tool that allows you to sort by age or gender to find the perfect gift!
Also, if your little one loves sheep, be sure to check out these Gifts for Sheep Loving Kids or these Horse Gifts for the horse loving kids!
Got a Dinosaur Lover? Don't miss the Dinosaur gifts for kids here.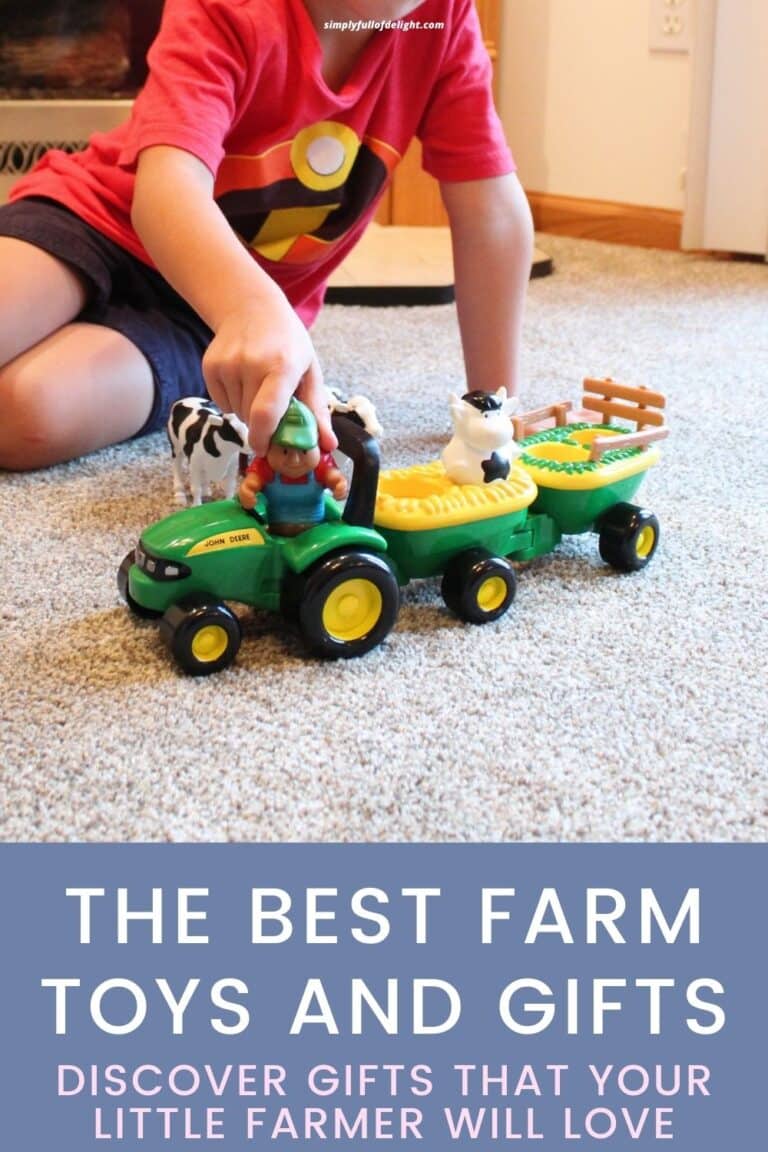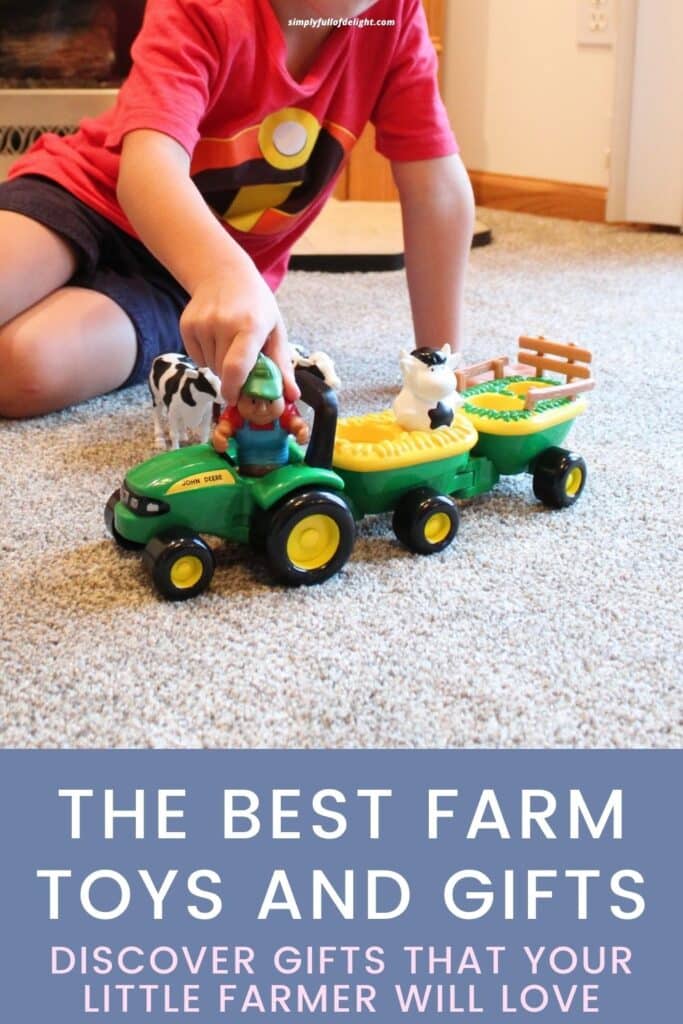 Other Articles you might Enjoy:
Best Gifts for Kids – A 2022 Gift Guide