Looking for fun sheep craft ideas? This Easy Cotton Ball Sheep Craft is super simple with the free printable sheep!
Whether you are looking for a fun farm craft, or a fun lamb craft for Easter, this fuzzy sheep craft is perfect for young children.
Personally, sheep rank pretty high on my list of favorite animals.
I grew up on a farm, raising bottle fed lambs. They are absolutely the cutest!
My dad still has sheep on his farm, and my kids LOVE to go feed the sheep and bottle feed the lambs as needed.
So, of course, my lamb loving kids were delighted by this cute sheep craft!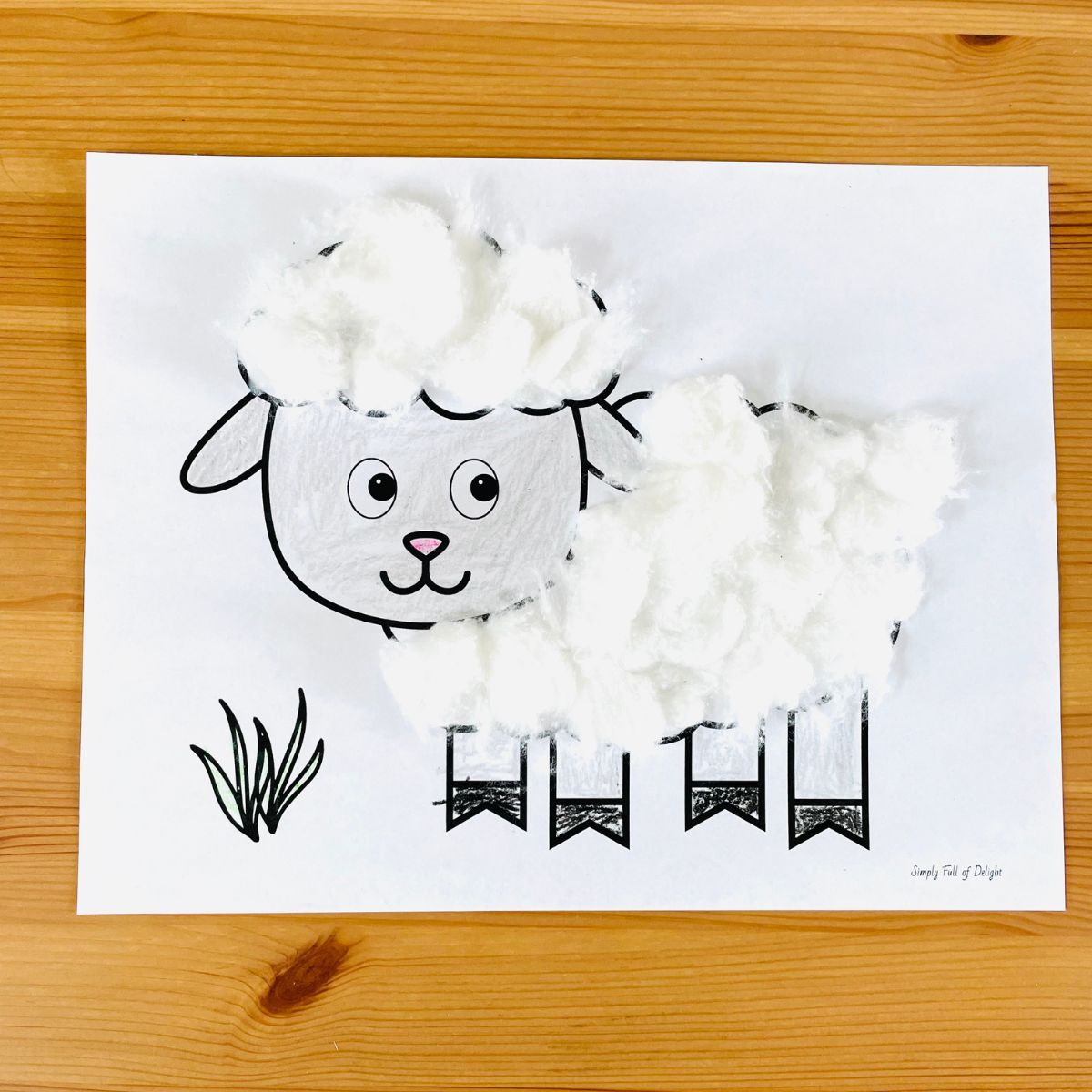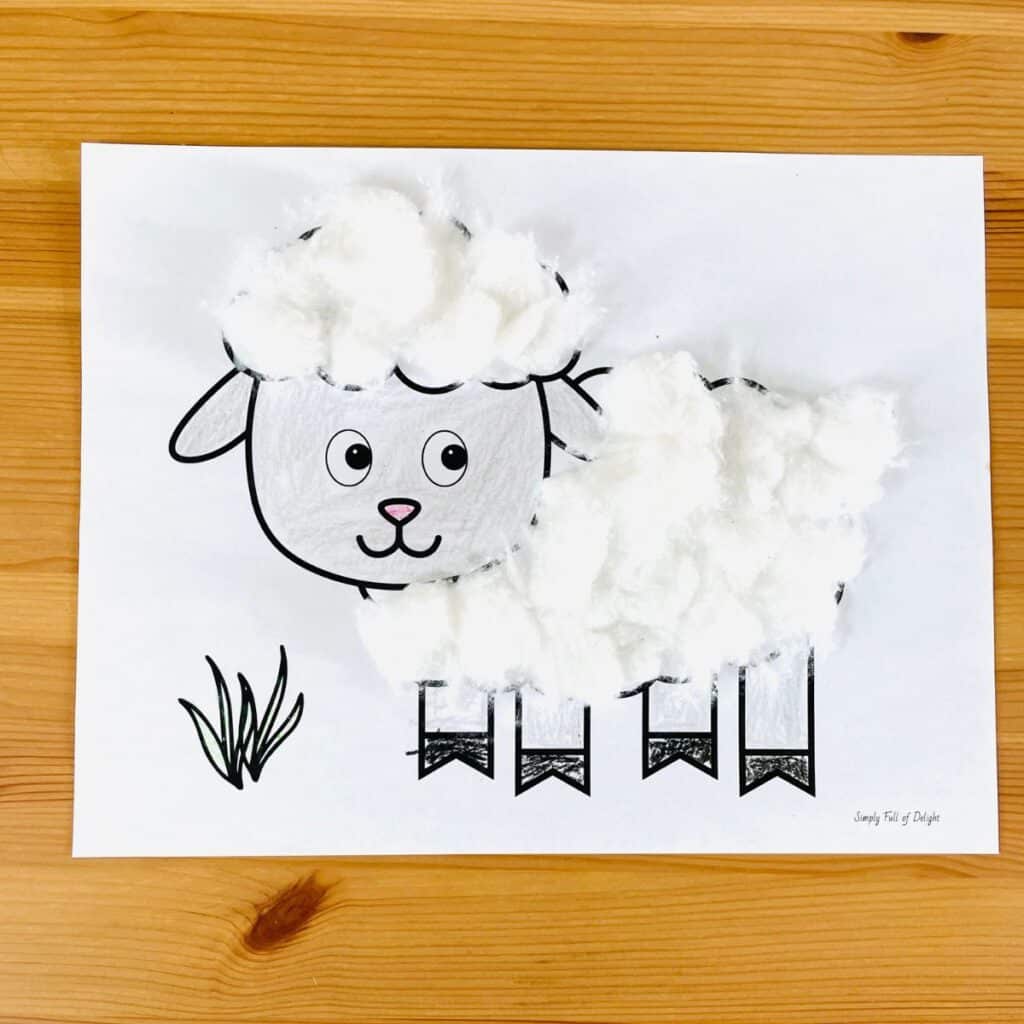 This craft is perfect for preschoolers as it promotes the development of fine motor skills and it's easy.
Kids simply color the sheep and then glue cotton balls to the body of the sheep.
Alright! Let's dive into this cute craft!
Supplies for Cotton Ball Sheep Craft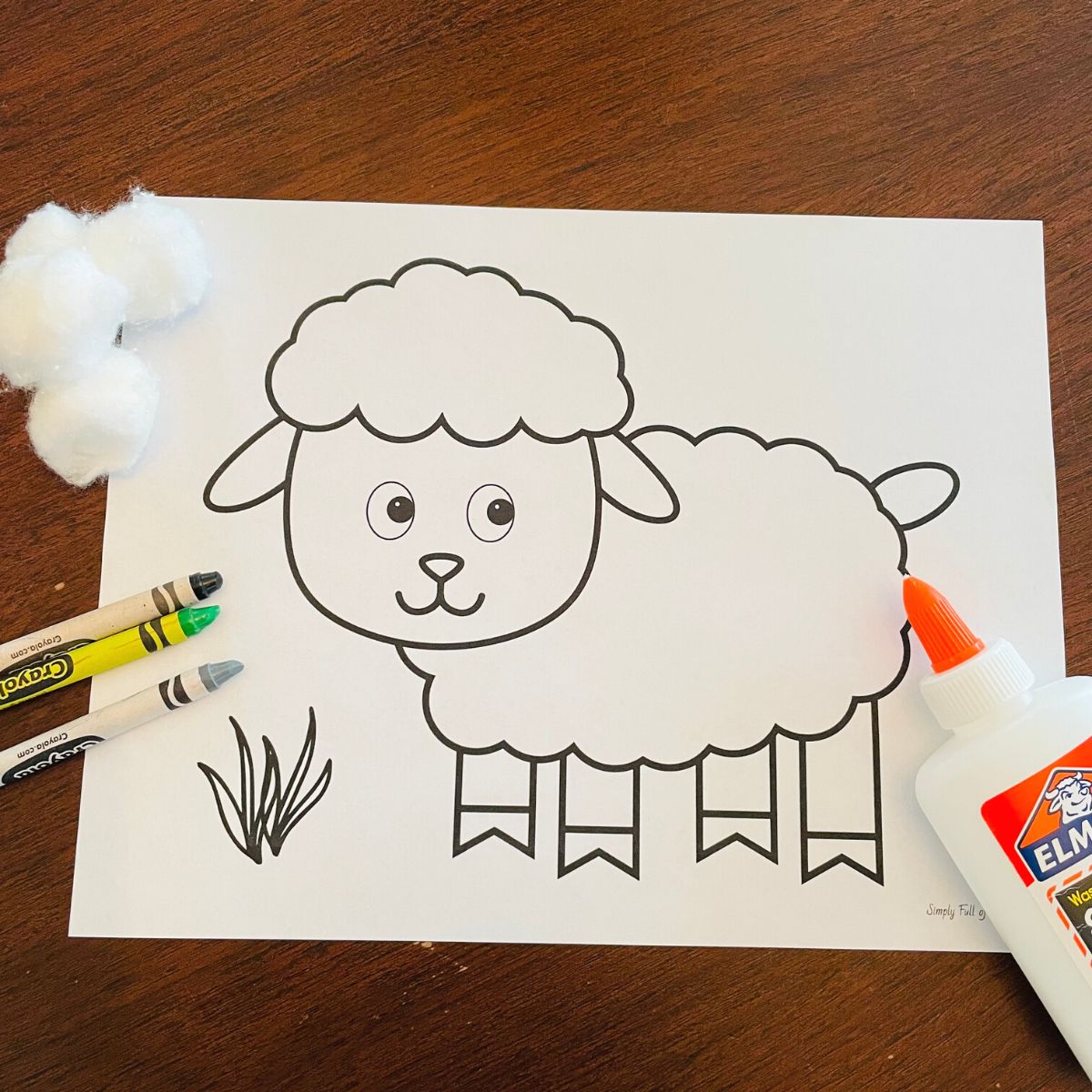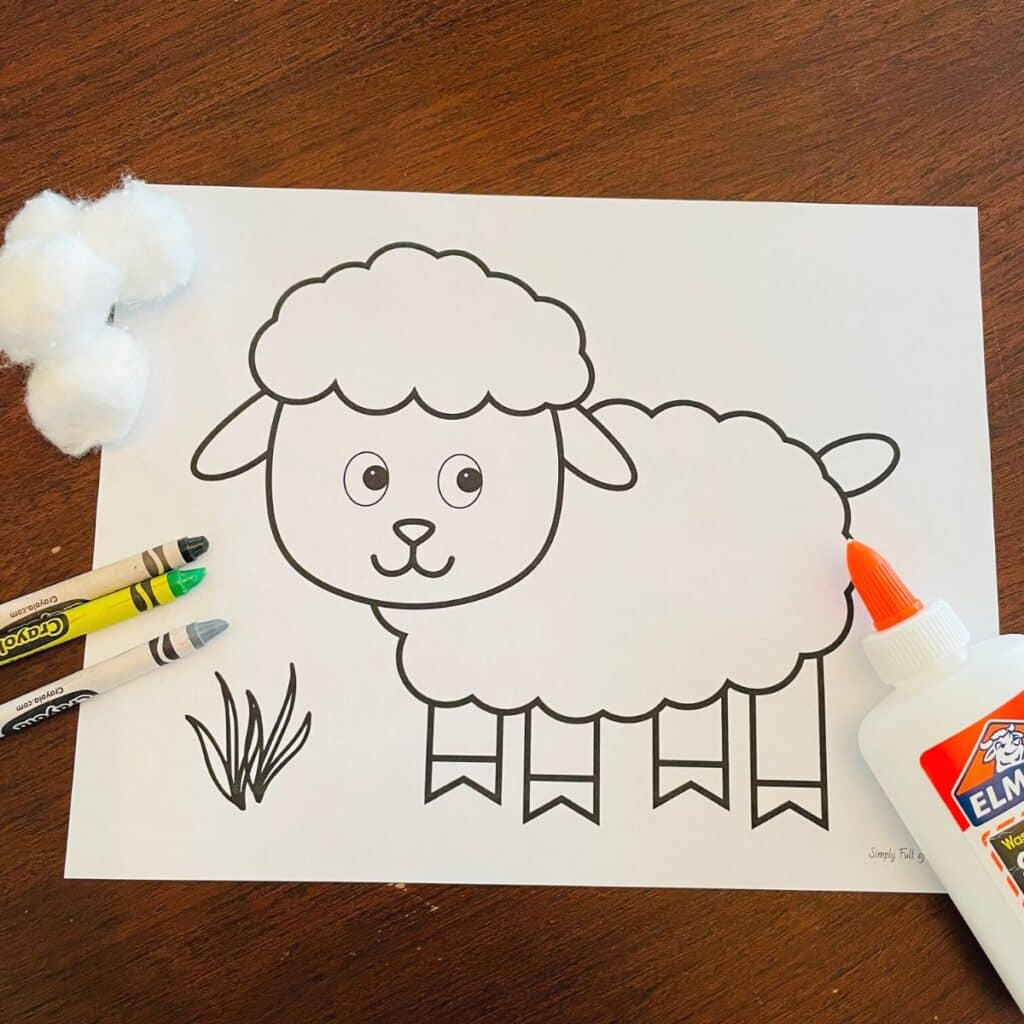 For these adorable sheep crafts you will need the following basic craft supplies:
** Disclaimer: As an Etsy associate and as an Amazon.com Associate, I may earn from qualifying purchases made by readers clicking my affiliate links at no extra cost to you.
Free Printable Sheep PDF printed on white paper
Crayons (We used gray, black, and pink)
Alright! Let's get started on this cute lamb craft!
How to make a Cotton Ball Sheep Craft
First, print out the sheep template printable onto white paper.
Provide your child with crayons and show them where to color, leaving the large sheep body and the top of the head white (this is where the fluff will go!)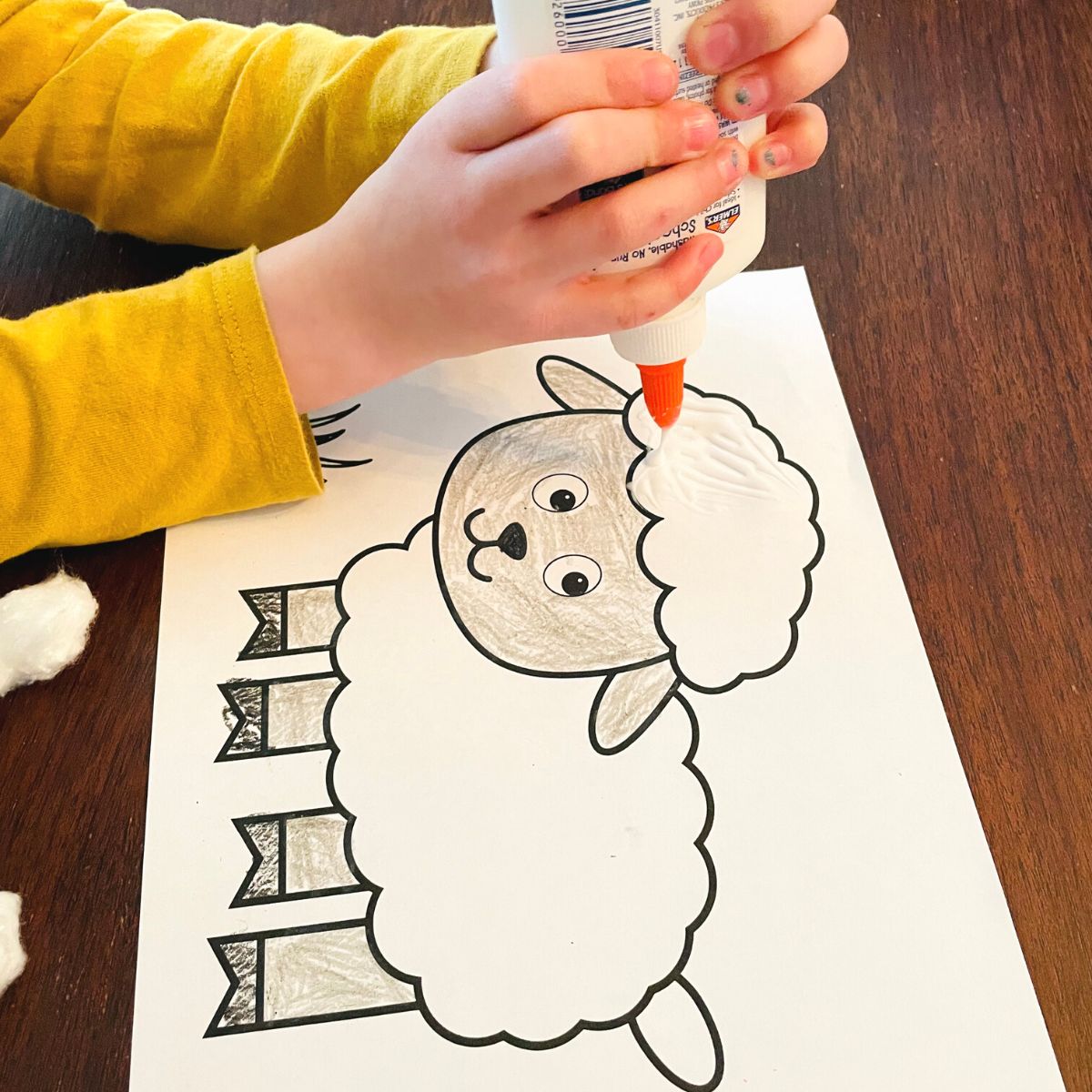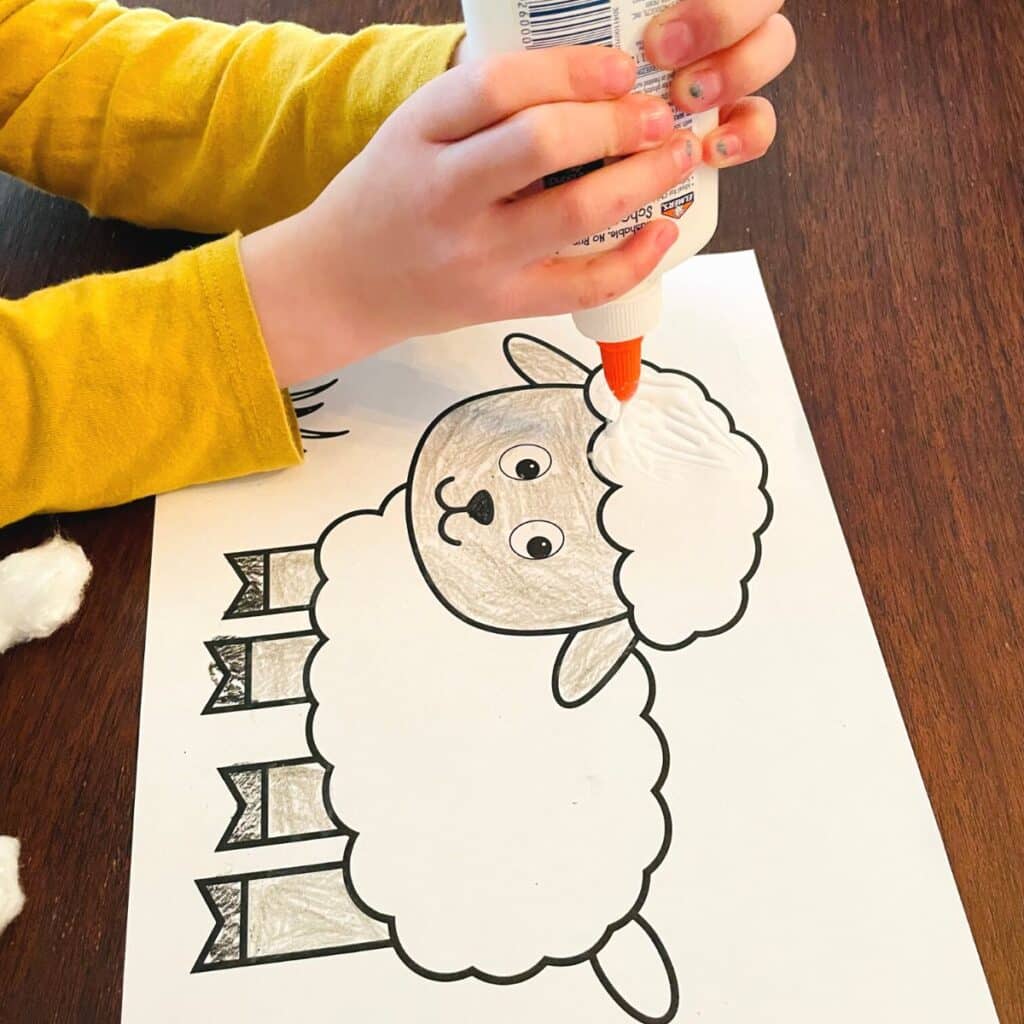 My girls colored the sheep face gray as well as the sheep's legs, and ears.
They colored the sheep's hooves black and the mouth pink.
Next, they added a little bit of liquid glue to the sheep's head and body, followed by some cotton ball fluff.
I had them pull bits of cotton off of the cotton balls to glue to the page, both to save on the number of cotton balls used, but also because I like the way it looks.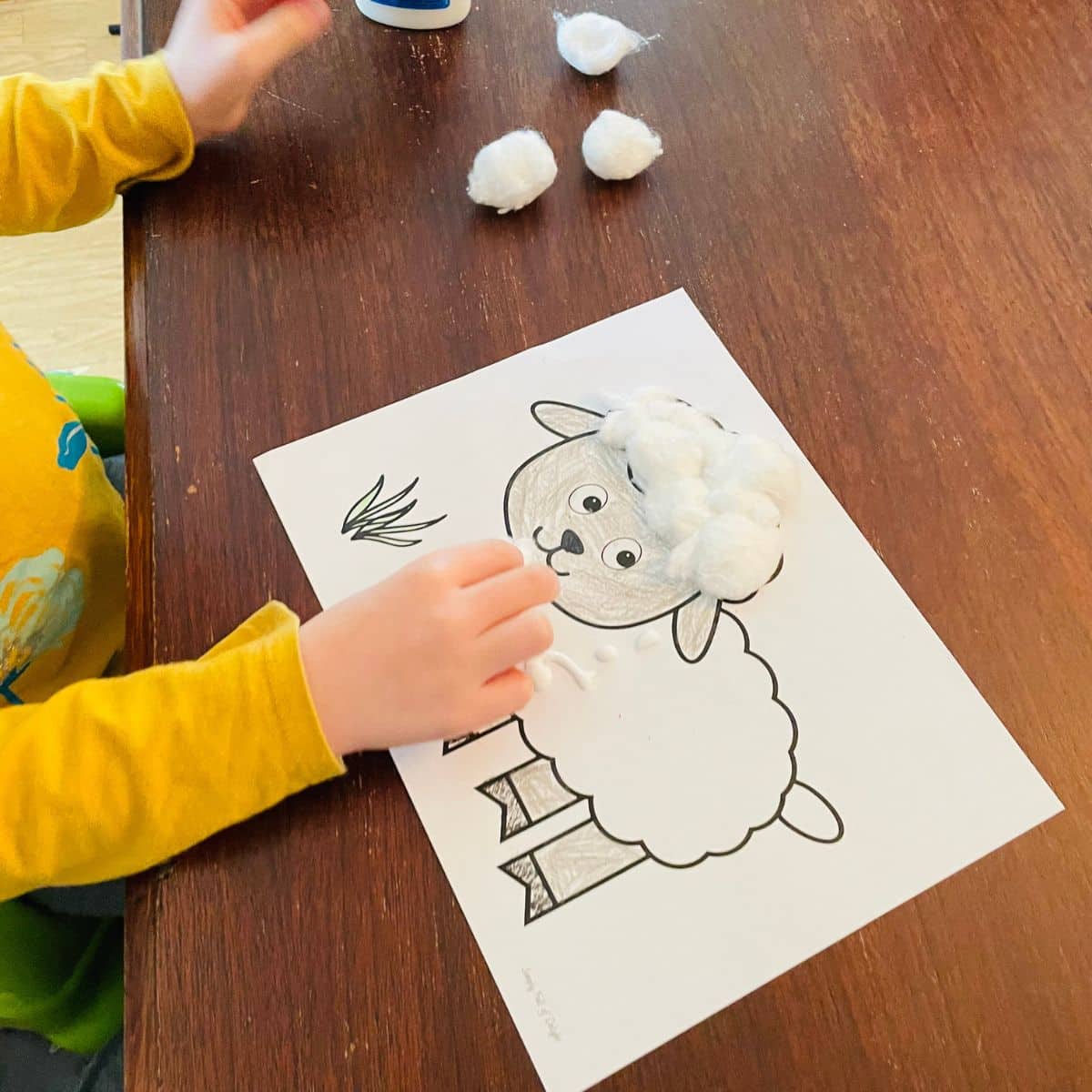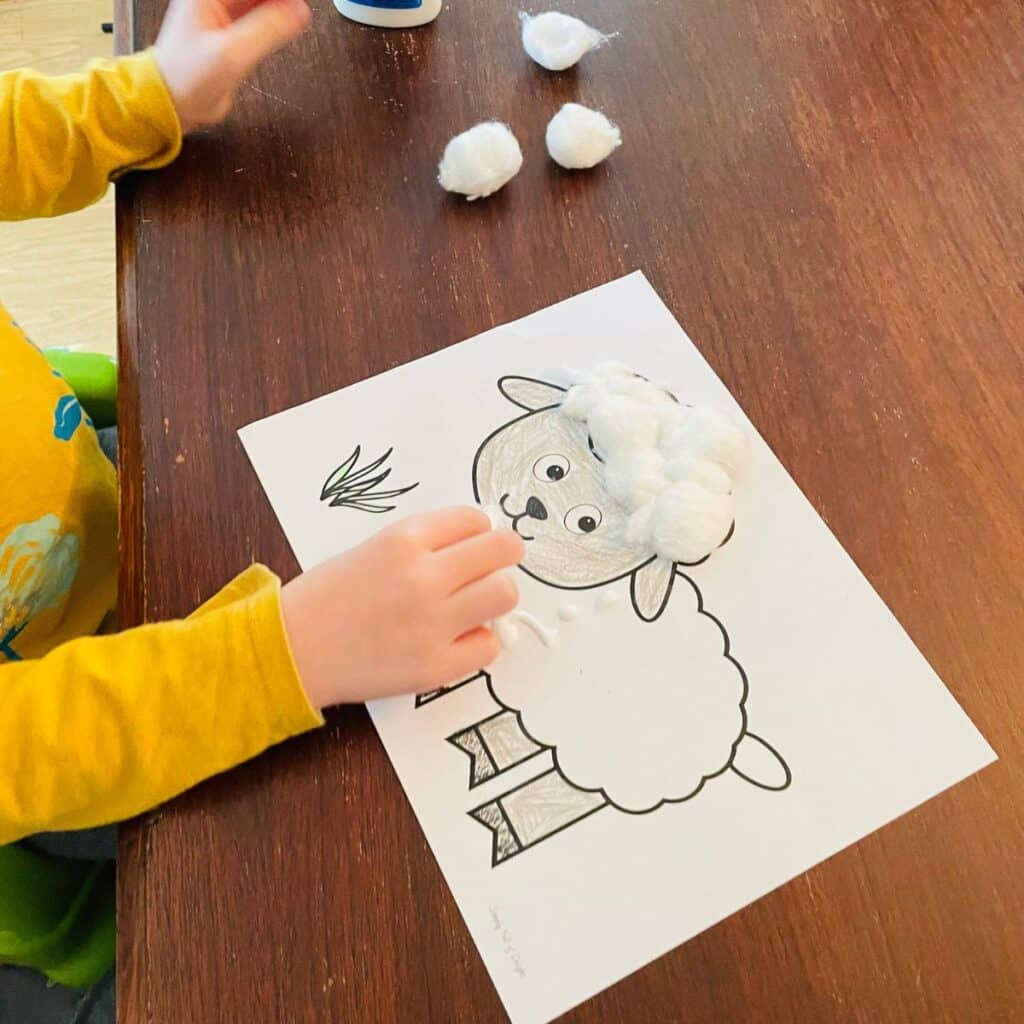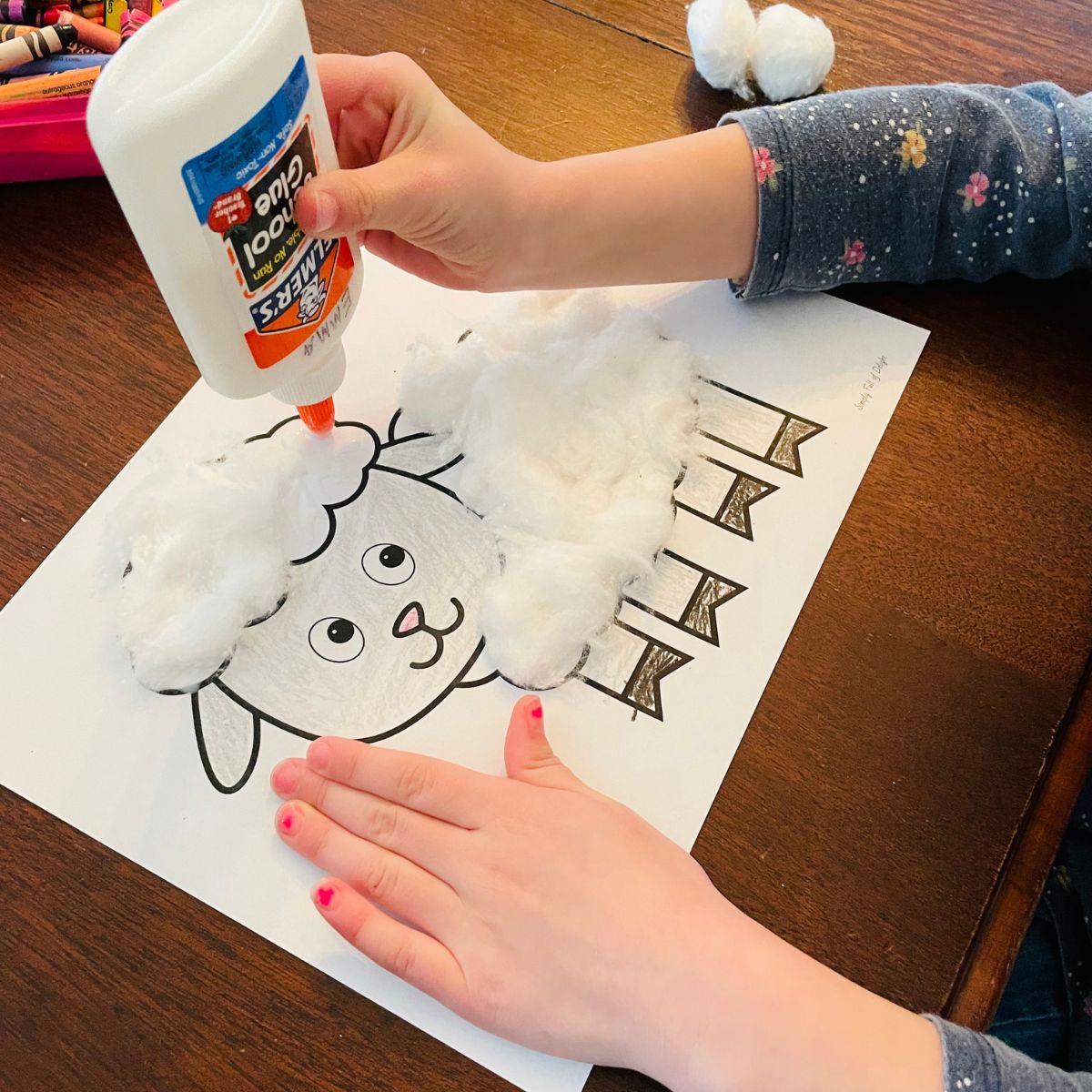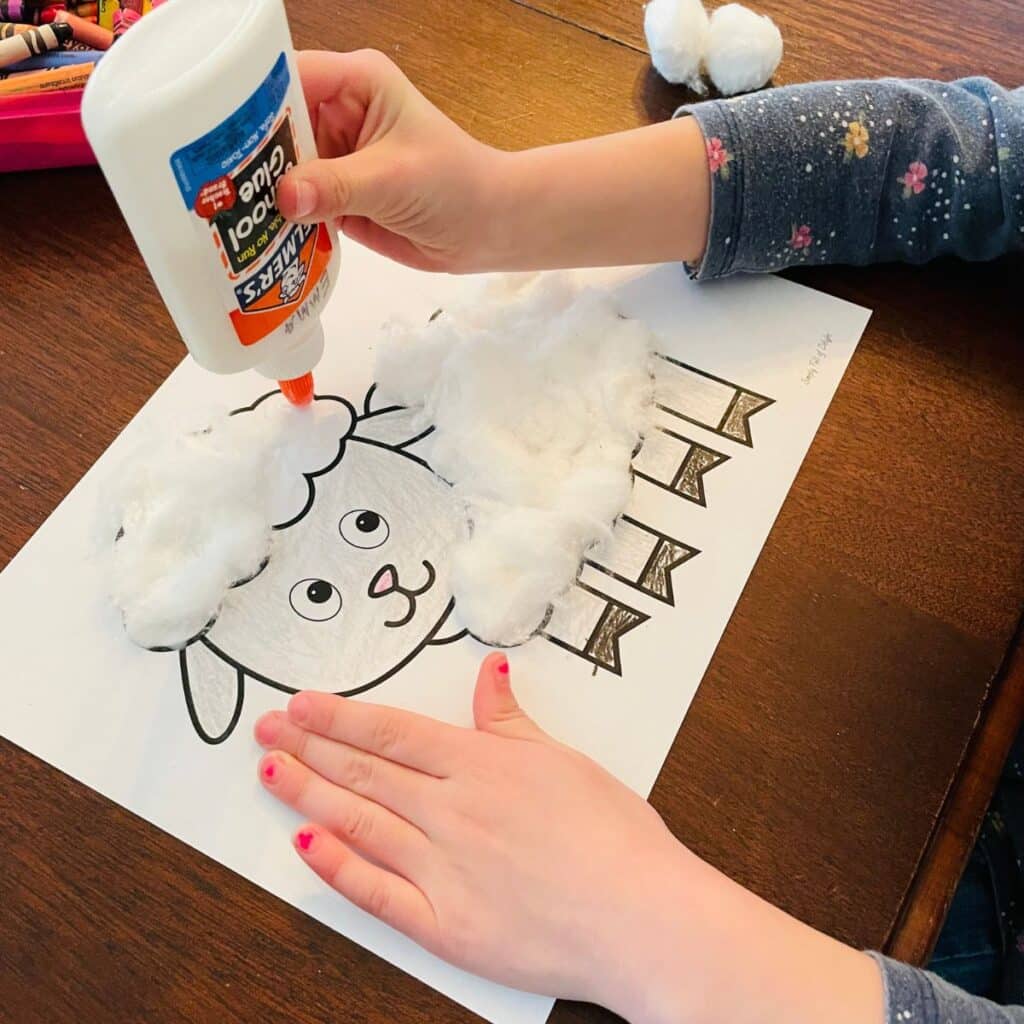 Just a note: Little ones always need a bit of instruction when using glue, otherwise it becomes a puddle very quickly.
We use the phrase: Just a dab will do!
They repeated the process over and over (add glue, add cotton) until the sheep's body was nice and fluffy.
My kids were so proud of their fluffy sheep crafts and how soft they were, they were ready to make a whole flock!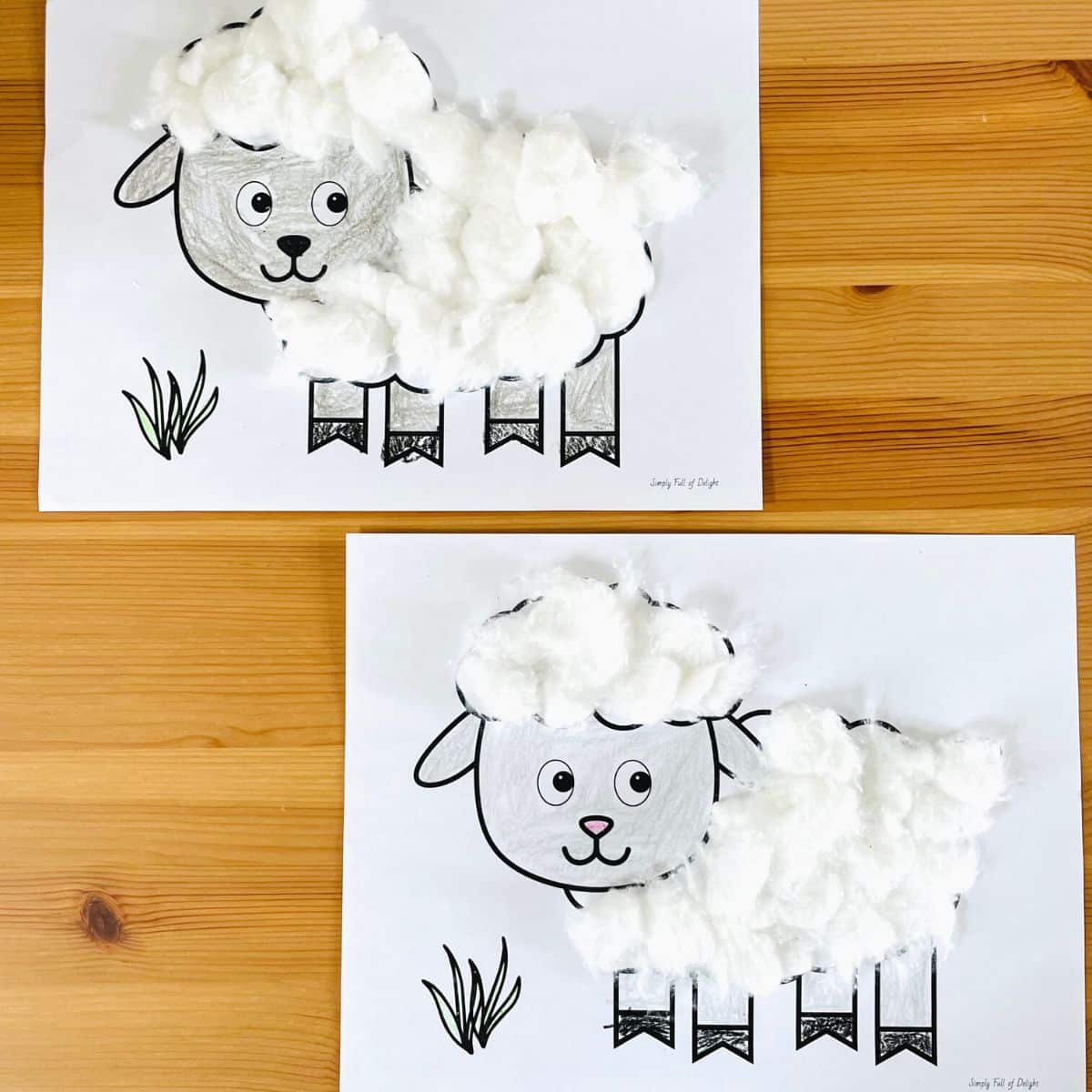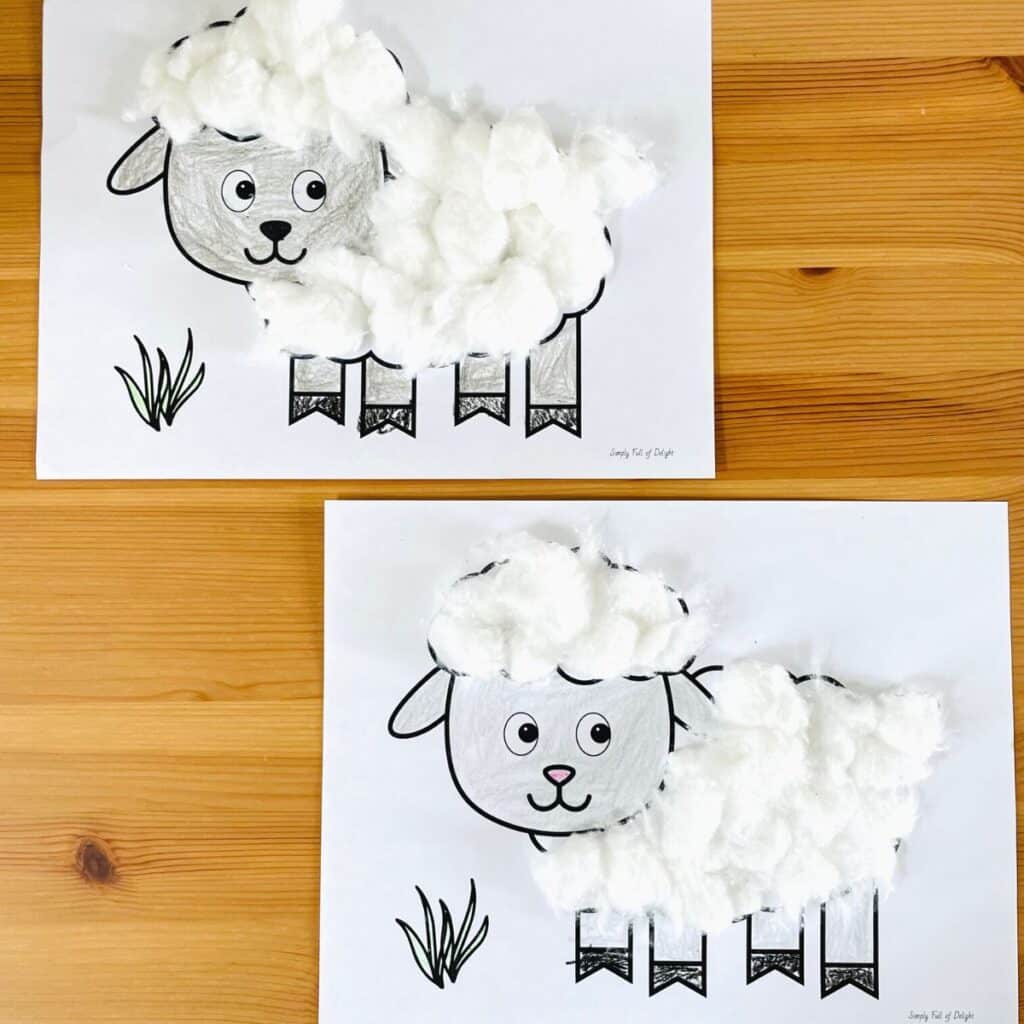 What a great Spring craft for kids! This adorable craft also works for the letter S or for a fun lamb Easter craft as well.
You might also find this easy sheep craft works well for Sunday School for the story of the lost sheep or a lesson about David being a shepherd.
More Farm Activities
Looking for more farm activities?
You can find a fun Farm Sensory Bin here. Kids will enjoy plenty of pretend play with this fun farm themed sensory idea.
There's a fun Pig Puppet Craft here. Made for preschoolers – this Pig puppet is super simple to cut out and assemble!
Don't miss this cute Yarn Wrapped Preschool Carrot craft. It's perfect for talking about gardening and it's super adorable.
You can also find a fun printable Cat Puppet here. No farm is complete without the trusty cat!
Plus, you can find a cute Muddy Pig Craft here. Toddlers and older kids alike will enjoy this fun activity of coloring a pig and then painting it with chocolate pudding "mud"! What a great way to enjoy some farm animals fun!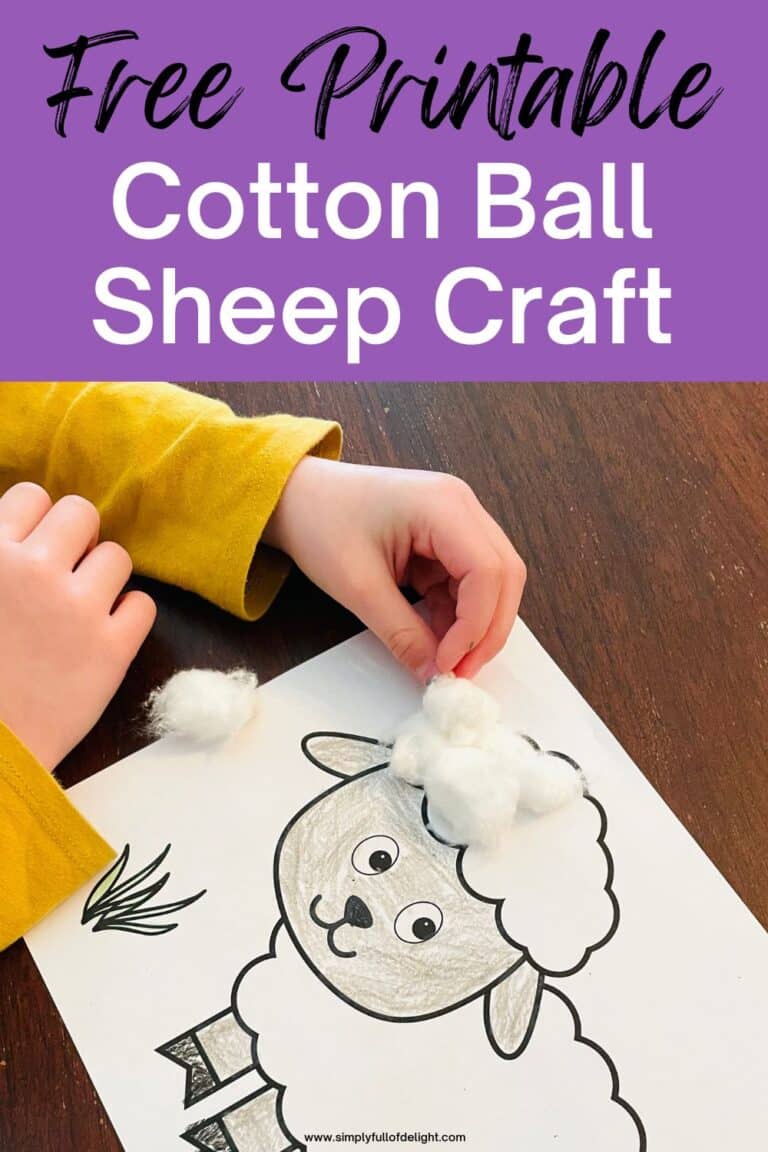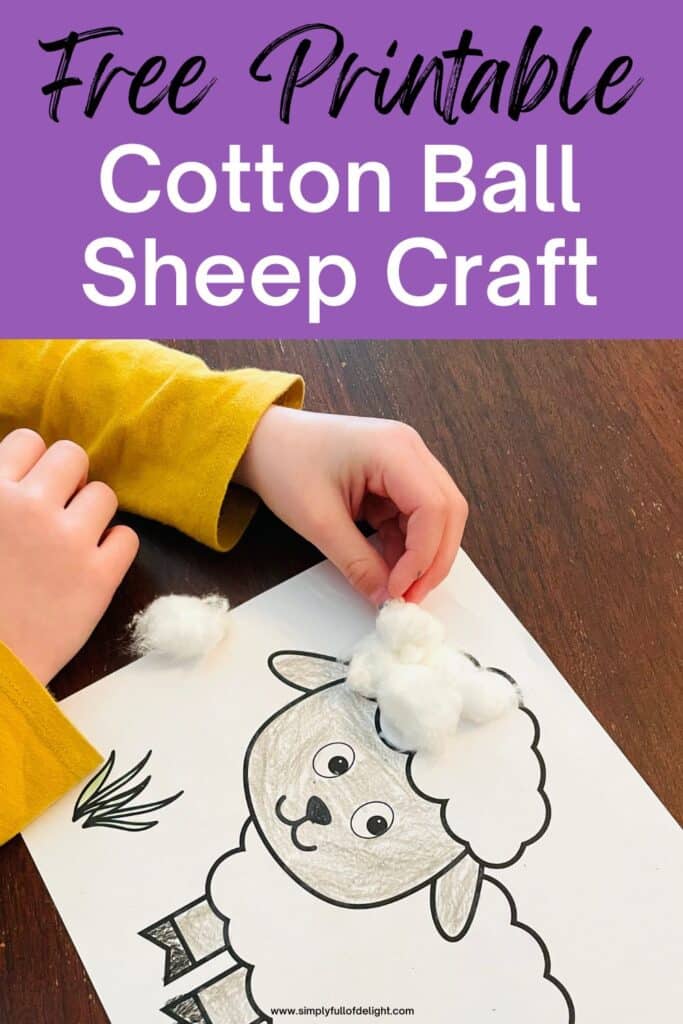 Get the Free Sheep Printable
Ready to print out the free Sheep Template? If you are a subscriber, simply go to the Resource Library and print out your free Sheep printable using the password that's in nearly every email I send.
Want to become an email subscriber and get access to this free sheep template along with TONS of other free printables for kids?
Simply drop you email in the blue box directly below!
Want to save this fun cotton ball sheep craft for later? Pin the image below to your Kids Crafts board on Pinterest!