Looking for a fun preschool Thanksgiving corn craft? Check out this super easy bubble wrap corn craft!
This craft takes a fun spin on the typical multicolored corn you see at harvest time!
This corn goes by many names including Flint corn, Calico corn, Ornamental Corn and formerly was called Indian corn. Ornamental corn can be white, yellow, orange, brown, red, blue and black, but most of the time it is multi-colored.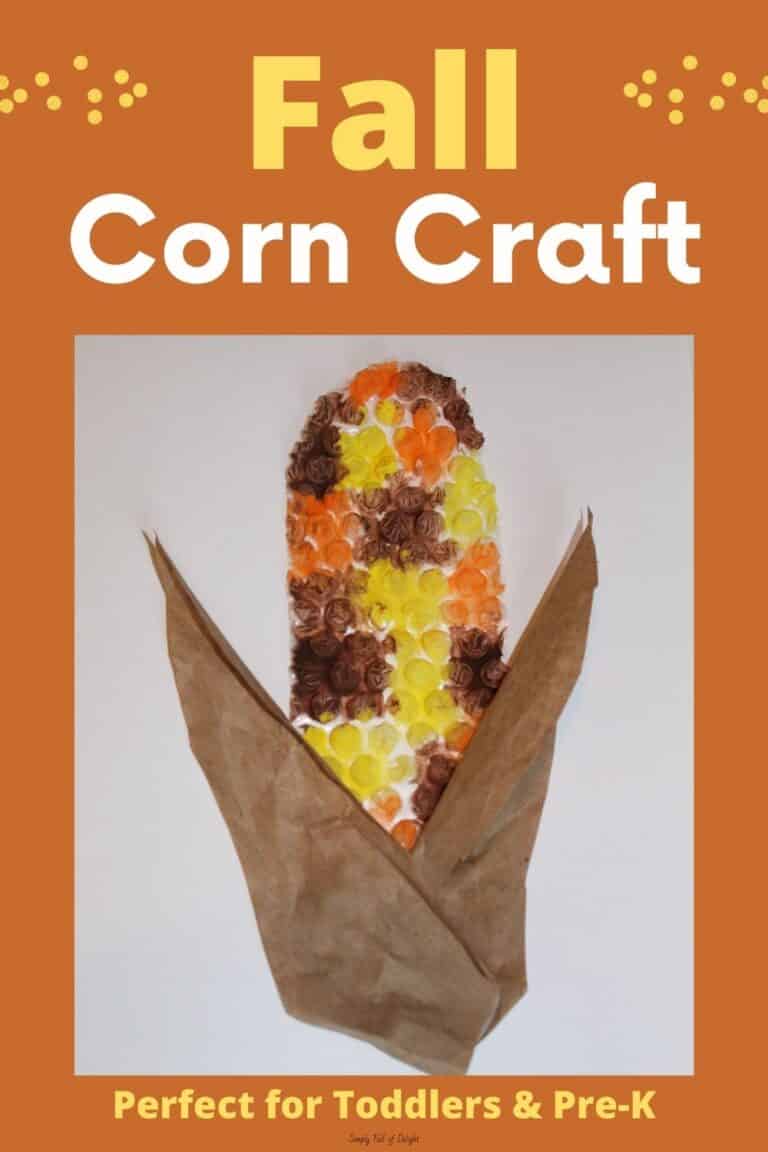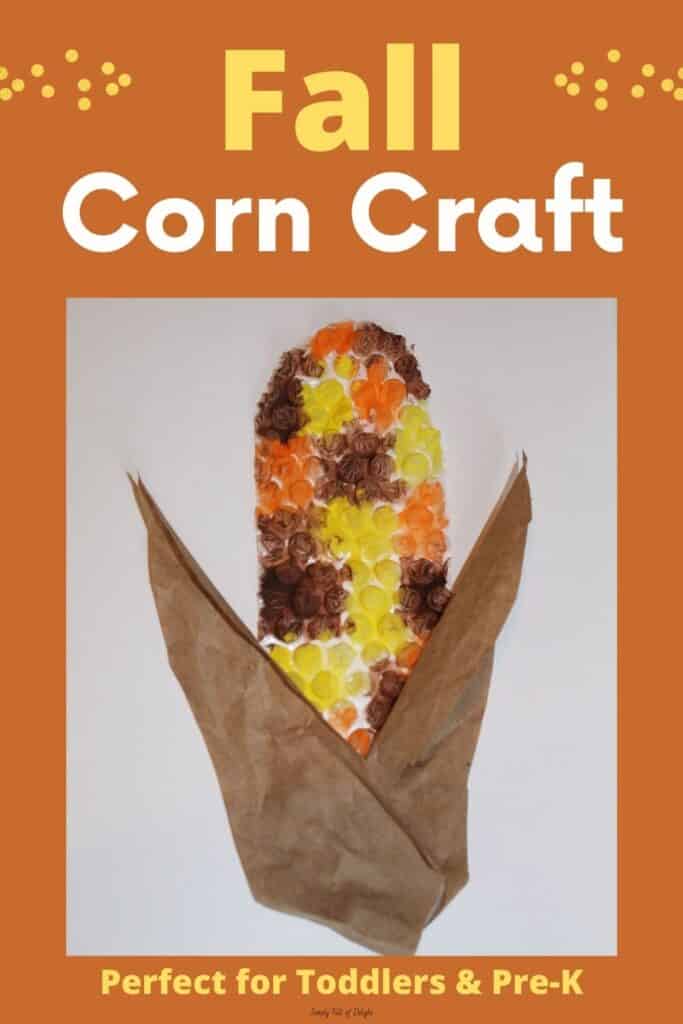 Let's get started on this fun preschool harvest corn craft!
** Disclaimer: As an Amazon.com Associate, I earn from qualifying purchases made by readers clicking my links at no extra cost to you.
Supplies need for the Thanksgiving Corn Craft
The cool thing about this project is that it reuses items you might already have in your recycle bin! Paired with a few simple crafting materials, there is very little you need to buy to create this fun craft!
– Bubble wrap (you can use recycled bubble wrap like I did!)
– Washable Paint  (we used brown, orange, and yellow paint for our corn kernels)
– Scissors
– Brown Paper (I used brown packing material out of our recycling bin, but you could also use a brown paper sack or brown tissue paper)
– a Tablecloth or newspapers
– Painting shirt or smock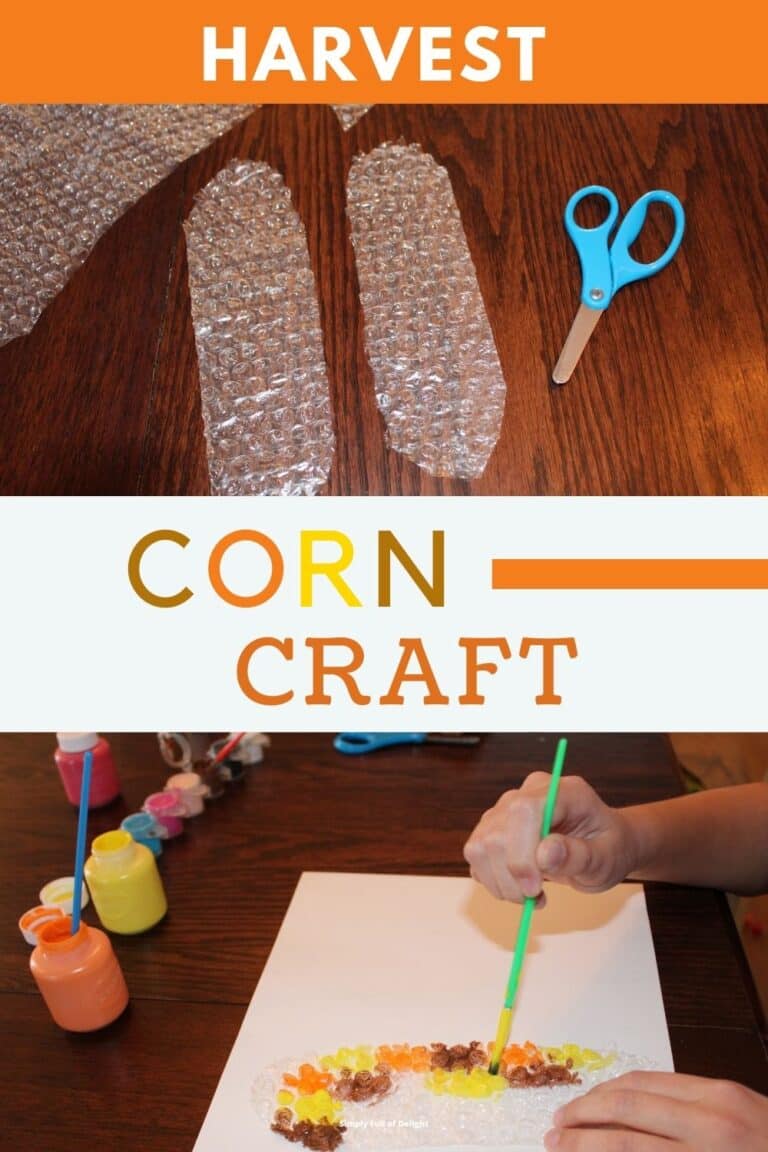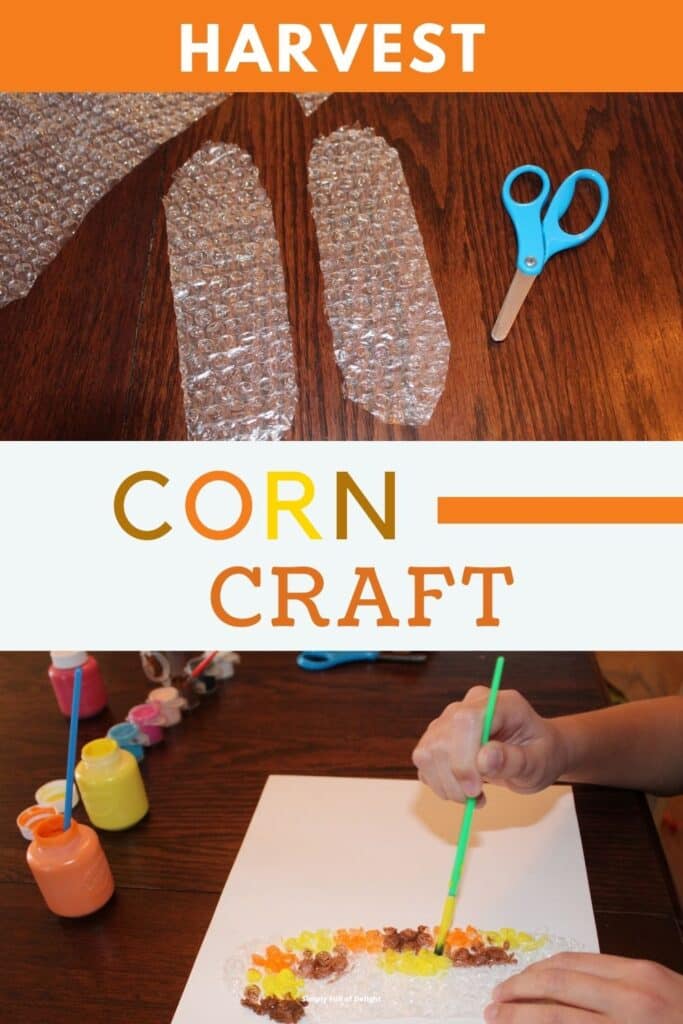 How to Make a Preschool Fall Corn Craft
First, cut out a corn cob shape from bubble wrap.
It doesn't have to be perfect as both sides will be covered by the "corn husk" paper.
This might be a great time to let your little one practice those fine motor skills by cutting ears of corn with blunt tip scissors.
Next, cover your crafting area with a tablecloth or newspapers. Painting can be messy with little ones!
On that note, a painting shirt or smock is advisable for children as well!
Provide your child with a paint brush and the several colors of paint. As mentioned before, ornamental corn can be white, yellow, orange, brown, red, blue and black.
I personally prefer using the autumn colors for this fall corn craft, so we used yellow, orange and brown.
Keep in mind that preschoolers will mix the colors naturally as they paint.
Once they have painted the bubble wrap corn cob shape, set it aside to dry. After it has dried, cut small strips of light brown paper bag (or tissue paper/crepe paper) for the corn husk.
Using a little glue, attach these husk pieces to the bubble wrap and let dry!
You may like to make the project more sturdy and attach it to a piece of construction paper, or if you plan to use it on a bulletin board, you can leave it as it is!
That's it! A super simple Thanksgiving Corn craft!
I hope your kids enjoy this easy corn craft!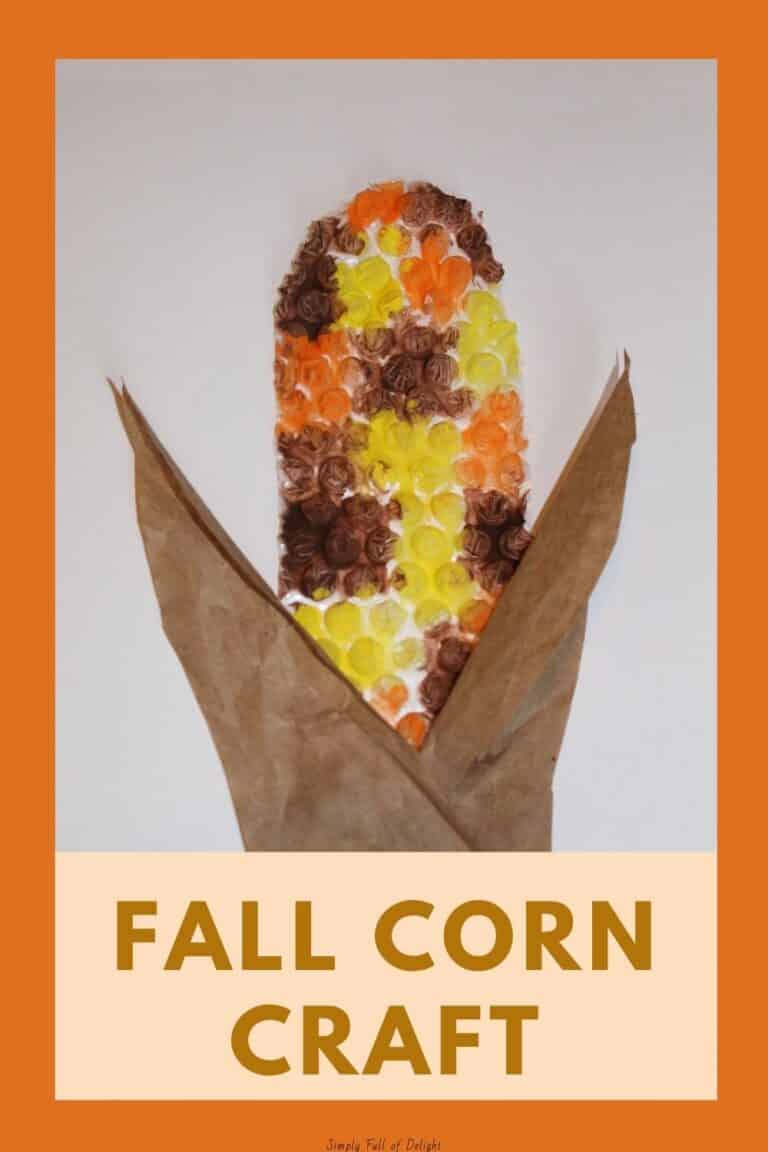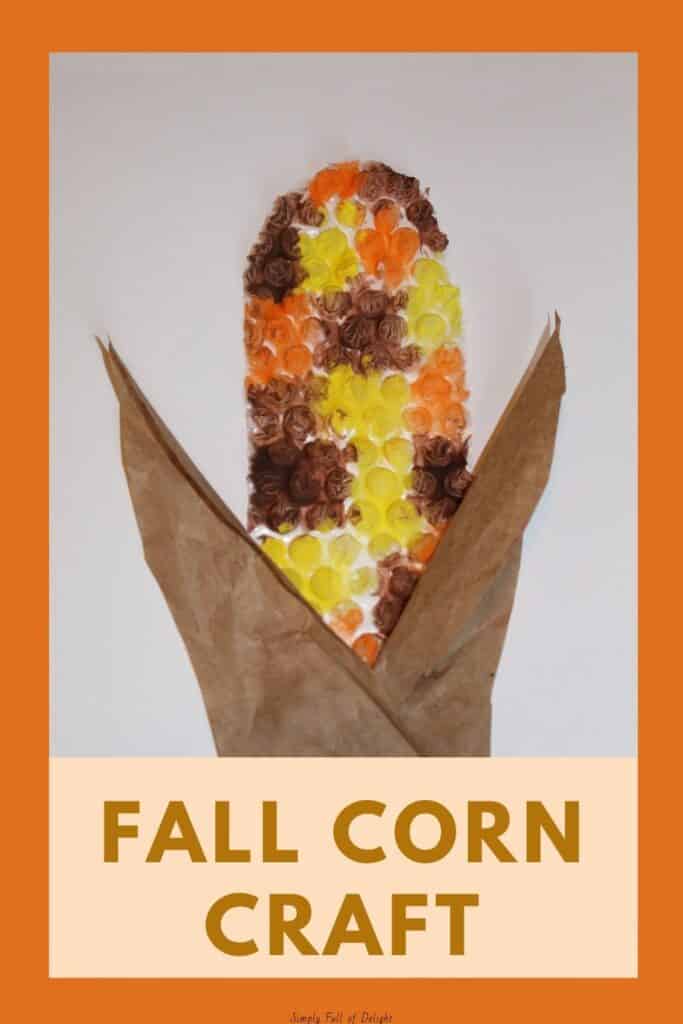 More Thanksgiving Activities for Kids
Looking for more fun Thanksgiving Crafts and Activities?  
You can find a printable Pilgrim Hat here.  Kids will love creating their own wearable hat headband with the free printable. 
There's an easy Paper Turkey Thanksgiving Craft here.  This easy project works for kids of all ages as there is a simple version for little kids and a more complex version for older kids. And of course it's such a cute Thanksgiving craft!
You can find over 50 Thanksgiving Printables for Kids here.  So many fun Fall Thanksgiving craft ideas, games, and worksheets!  Great options for both young kids and older children.
There's some really cute Thanksgiving Dot to Dot printables here.  These free printable activities are a great way to practice fine motor skills and number recognition.
There's some Free Printable Pilgrim Coloring pages here for Thanksgiving. Perfect for teaching kids about the Thanksgiving story.
Plus you can find some Turkey Coloring Pages here as well.  Add these to your Thanksgiving table for a fun Thanksgiving craft for kids to enjoy.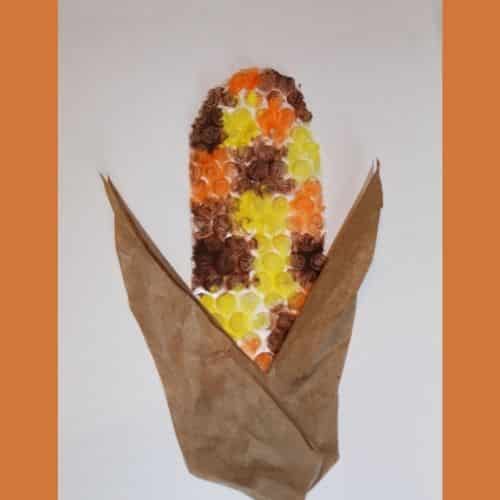 Need More Fall Preschool Activities?
Check out these great fall activities for preschoolers.
There's an adorable preschool Squirrel Craft here that has a moveable tail and acorn. Such a simple craft that is sure to be a hit!
For apple picking season, there's an easy Color Sorting Apple Tree Activity here.
There's also a neat Marble Painting Apple Craft here as well as a Marble Paint Pumpkin Craft here. These make a great craft for preschoolers!
If you love sensory bins, check out this fall sensory play idea or this adorable Thanksgiving Pie sensory bin.
There's tons of free Leaf Templates here for all of those fall leaf crafts and activities.
Lastly, be sure to check out this awesome Thanksgiving preschool learning set in my Etsy shop!  You'll find Thanksgiving cut and paste activities, line tracing, simple patterns, and more!  So much learning fun!