Today I'm sharing 4 Free Thanksgiving Dot to Dot Printables. These Thanksgiving worksheets are perfect for preschoolers and kindergarteners.
We've been enjoying a lot of fall and Thanksgiving holiday activities lately. In particular, we've been focusing on the Pilgrims and the First Thanksgiving.
It's the perfect time of year to discuss the history behind our Thanksgiving celebration with your little ones through simple activities like this one!
This Thanksgiving dot to dot worksheet set includes a boy and girl pilgrim, a pilgrim hat, a pumpkin pie slice, and a turkey. What fun!
You can download and print these Thanksgiving Connect the Dot pages right here on this post.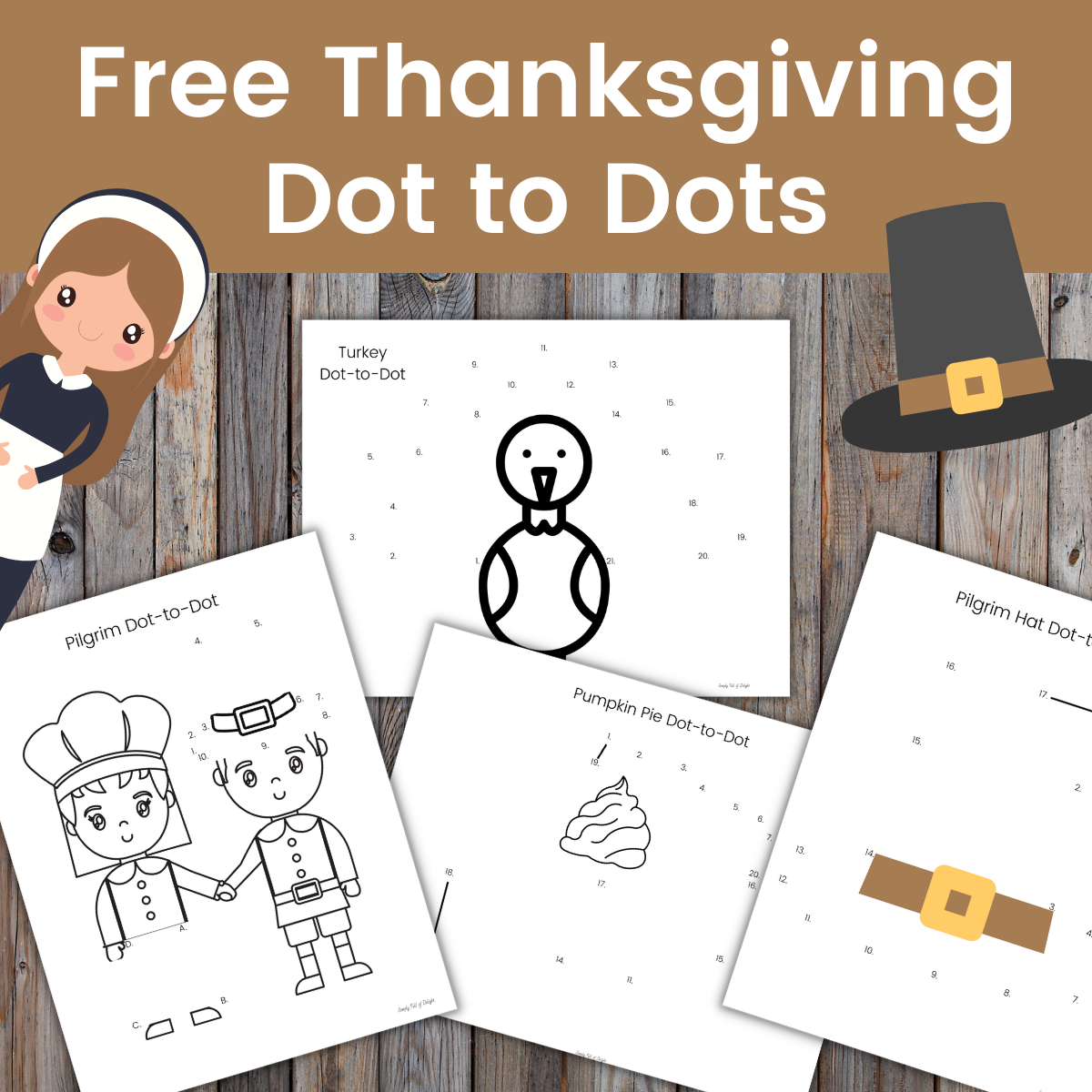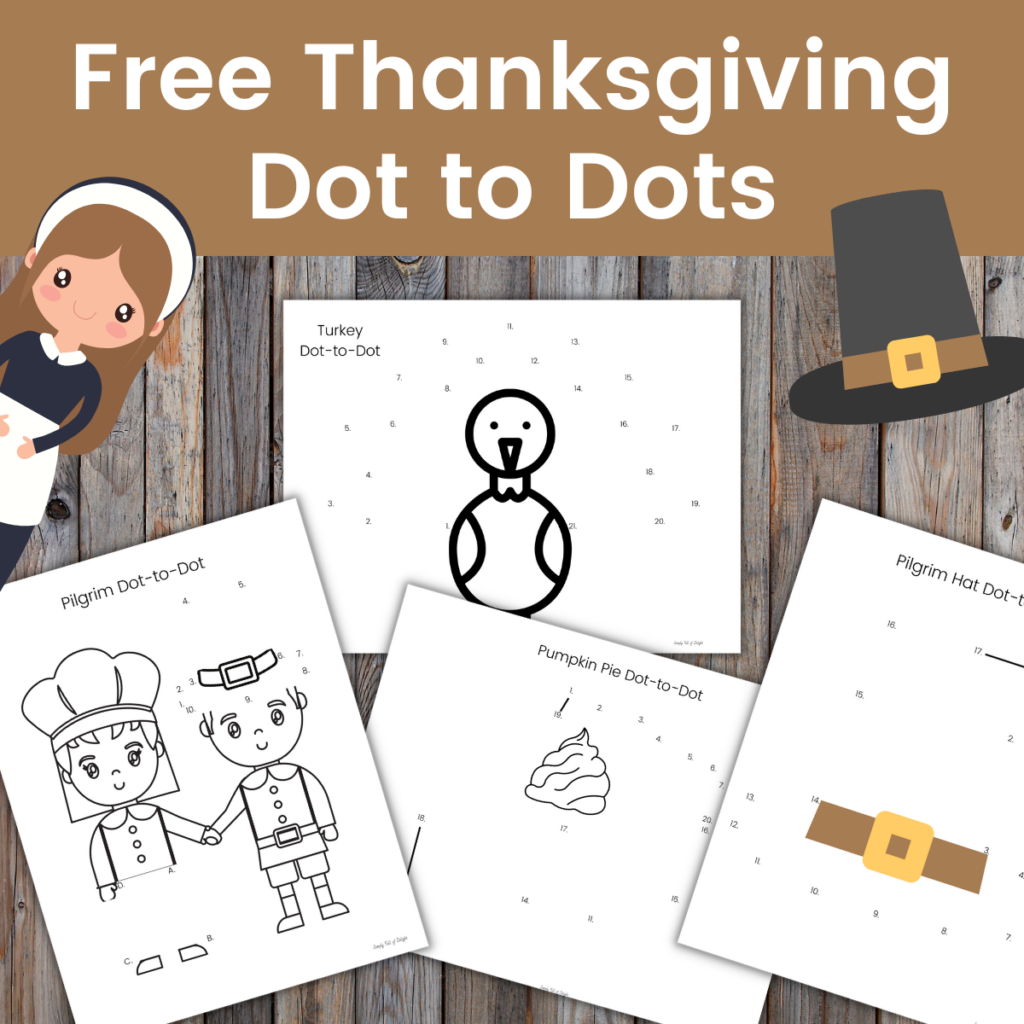 The most simple dot to dot page is the pilgrim boy and girl which has numbers 1-10 and letters A-D.
The most challenging page (the turkey) has numbers 1-21.
The Pumpkin Pie has dots 1-20 and the pilgrim hat has dots 1-17.
These fun dot to dot printables for Thanksgiving are a fun way to practice number recognition and counting.
I hope your kids enjoy them as much as mine did!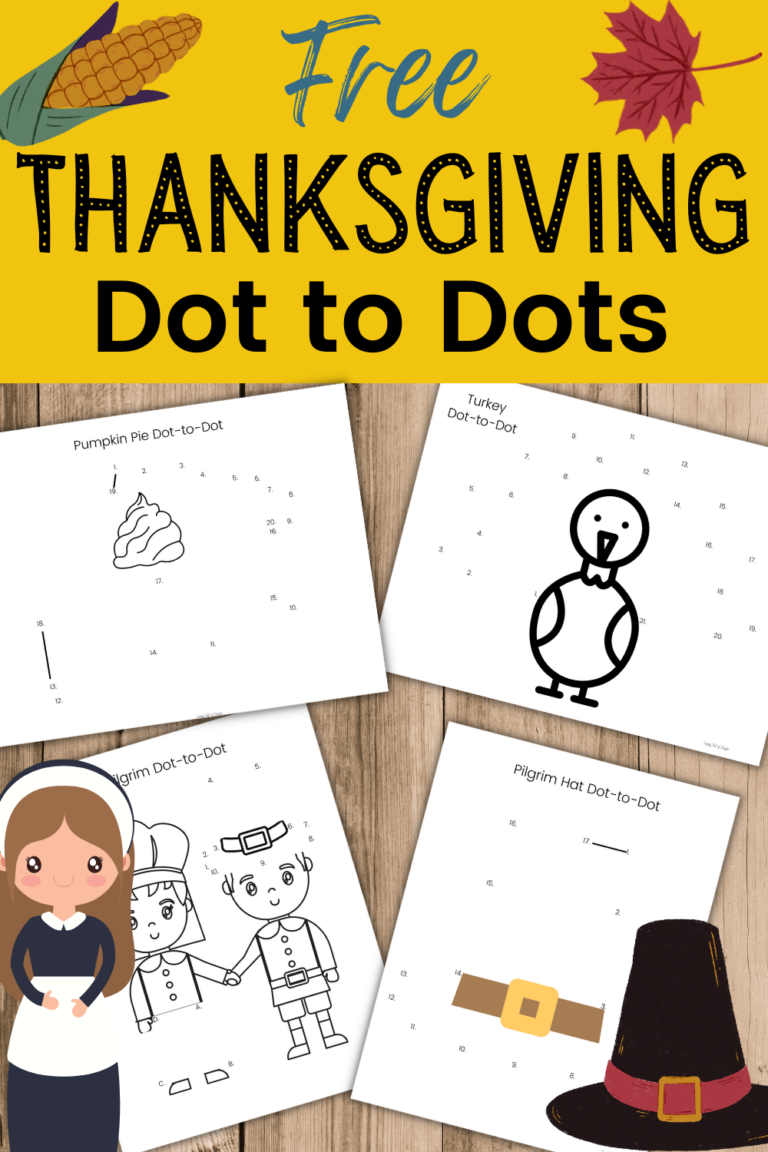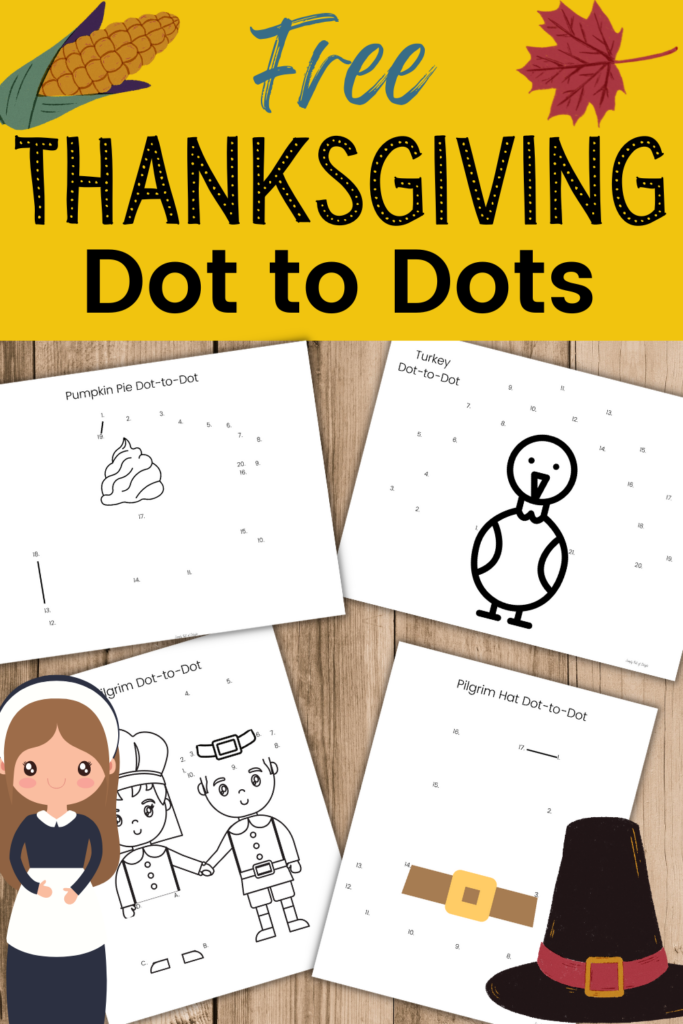 What are the benefits of Connect the Dots?
Connect the Dots printables help kids with important skills like number recognition, sequencing skills, development of fine motor skills, and can help improve concentration.
Connect the dots puzzles are a great preschool activity that reinforces number order and early math skills.
Plus, dot to dot puzzles are fun activity for young children in the classroom or make a great quiet time activity at home.
Let's check out these free Thanksgiving Dot to Dot Printables!
Easy Pilgrim Dot to Dot Printable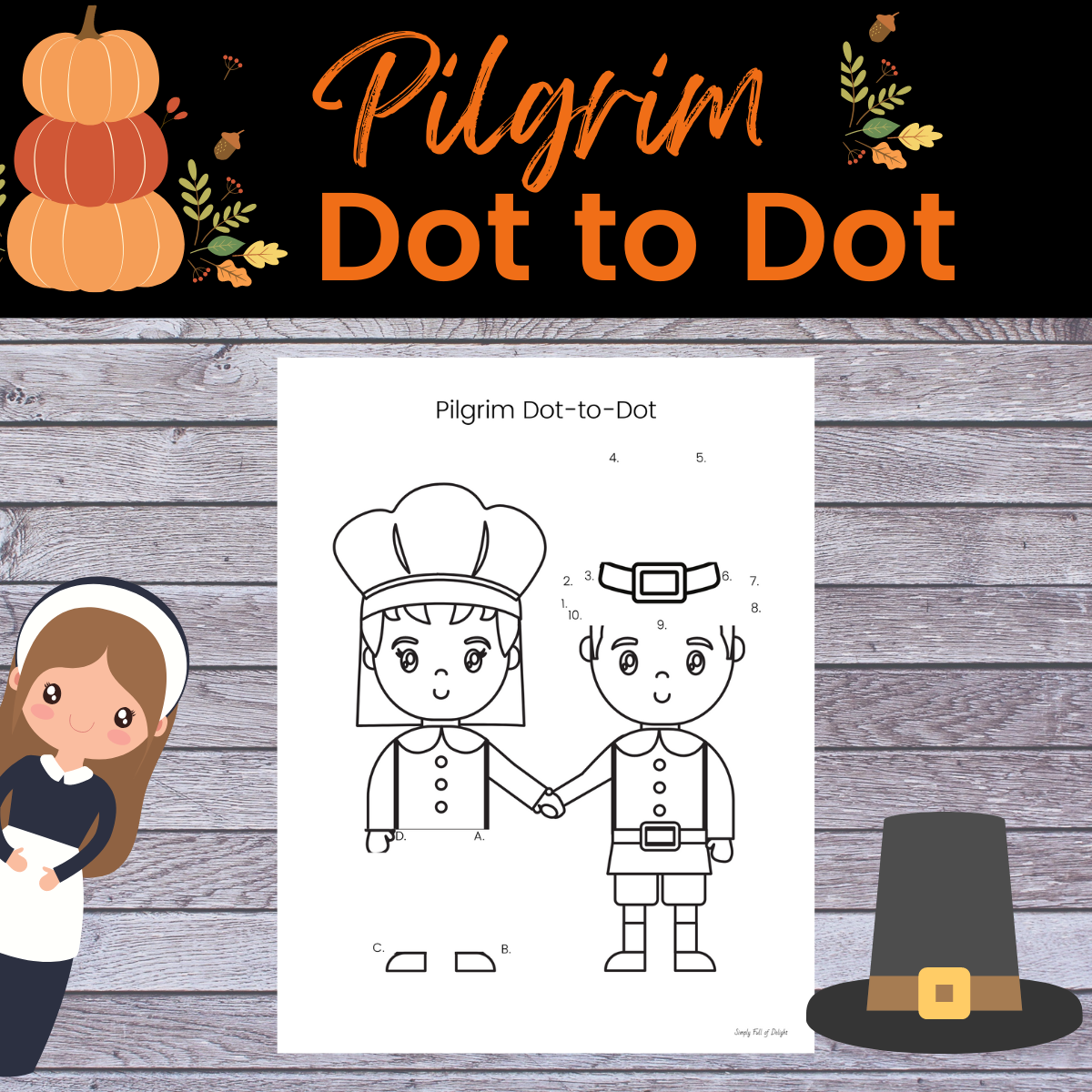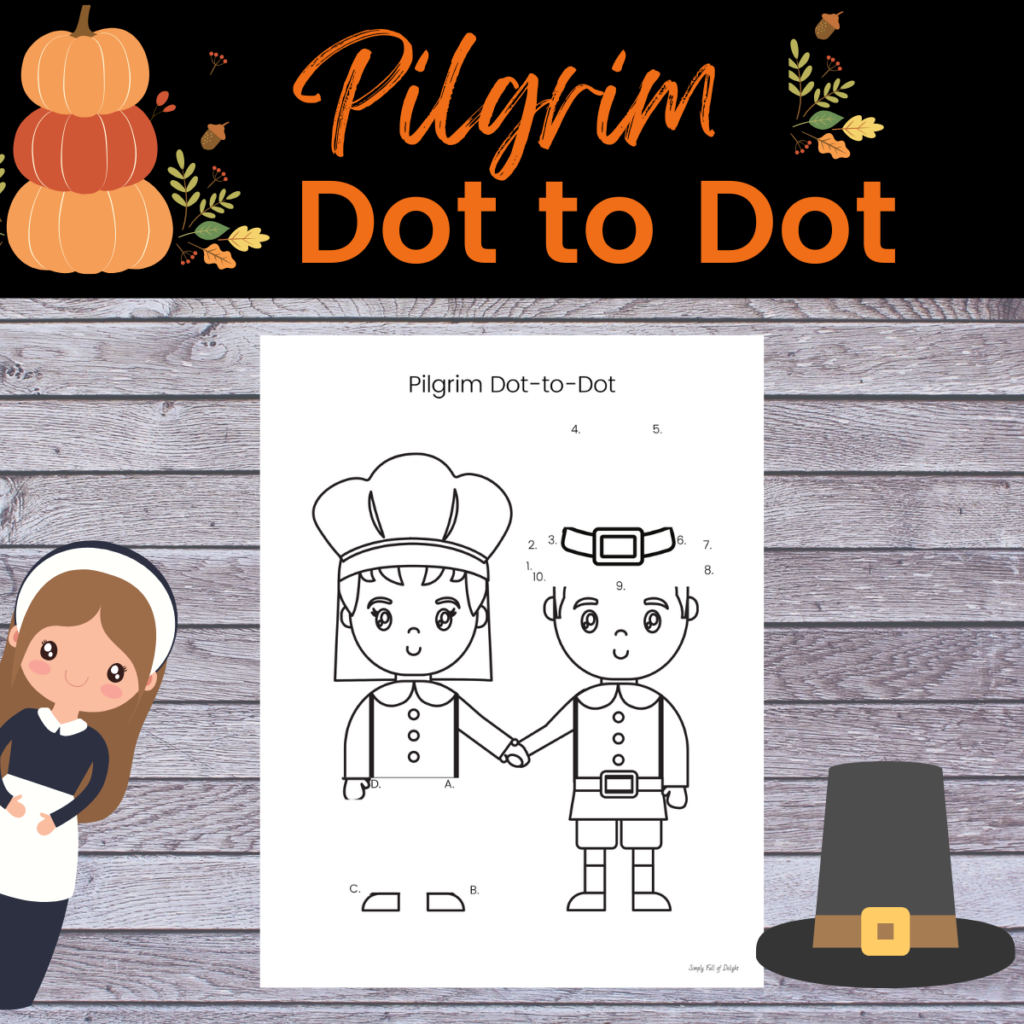 This first dot to dot printable is a super simple connect the dots page.
This Thanksgiving picture features a boy and girl pilgrim holding hands. Aren't they cute?!
Kids can connect the dots 1-10 to create the boy pilgrim's hat.
Then little ones can connect the dots letters A-D to make the girl pilgrim's skirt.
You can download the Pilgrim Easy Dot to Dots worksheets here:
Pilgrim Hat Connect the Dots Printable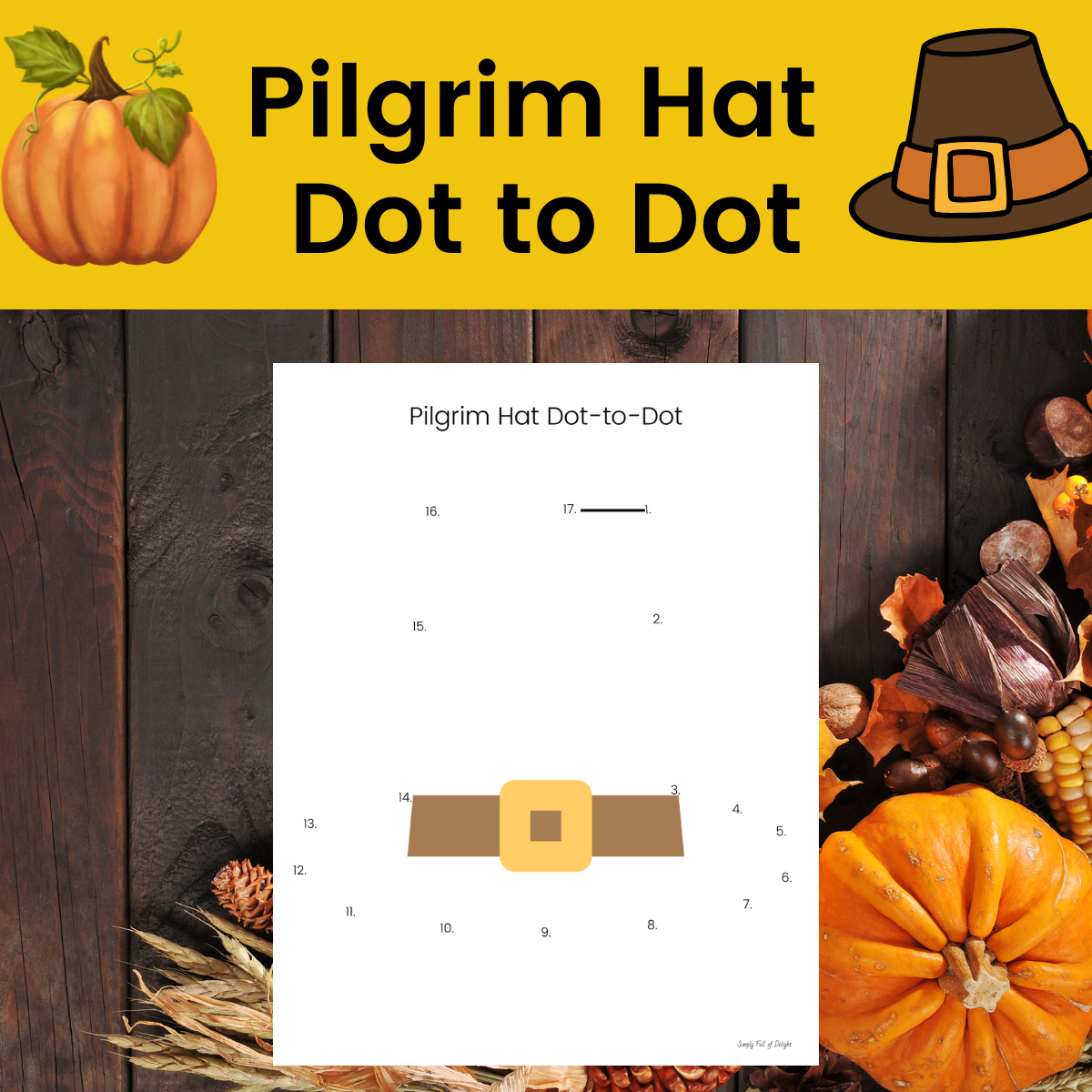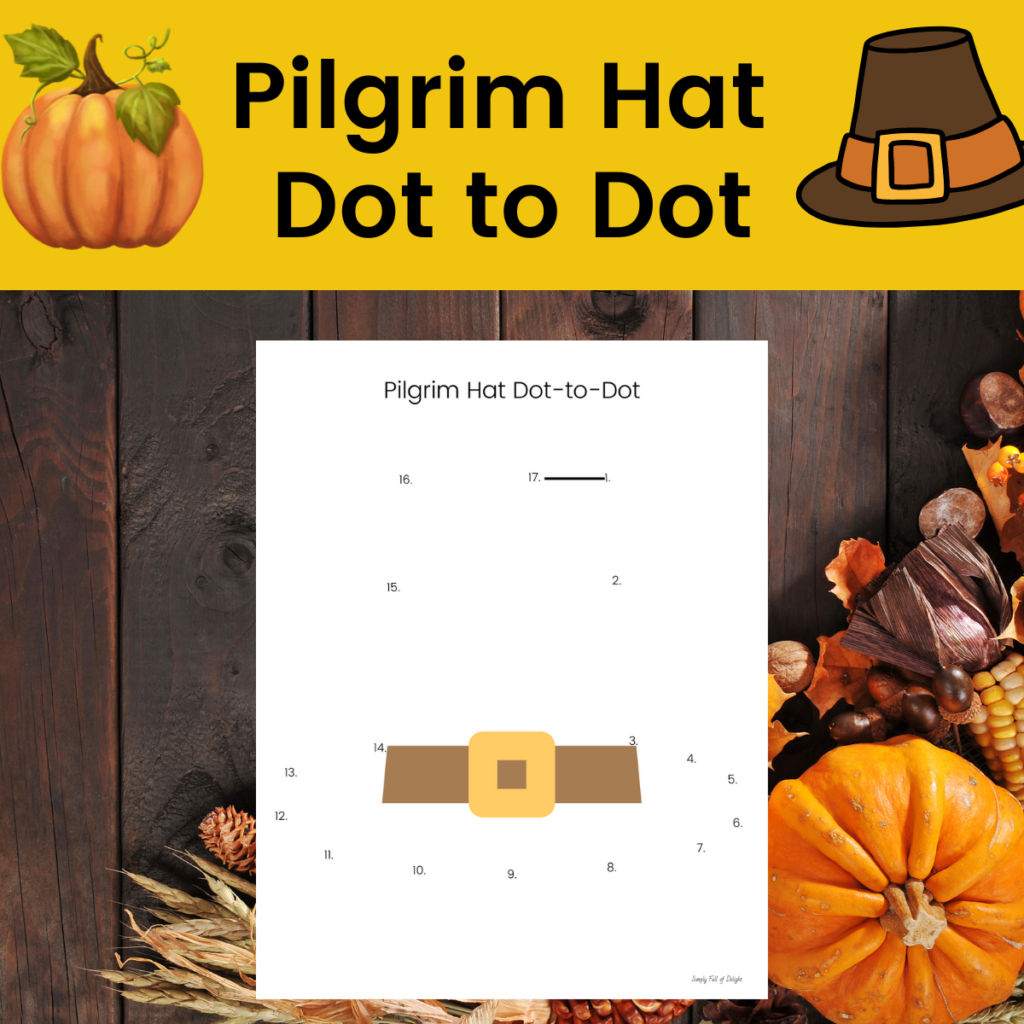 The next free printable Thanksgiving dot to dot page features a pilgrim hat.
This Pilgrim hat dot to dot is a fun way to bring some Thanksgiving season fun into your educational activities.
This holiday dot to dot sheet features numbers 1-17.
Young kids can connect the numbers to make the outline of the pilgrim hat. Then they can color the hat if they wish!
This Pilgrim hat connect the dots is easy for kids because they simply keep moving from number to number in order.
Once they start, it's pretty obvious where to go next! It's perfect for little ones!
Download the Pilgrim Hat dot-to-dot pages here:
Pumpkin Pie Dot to Dot Printable Worksheet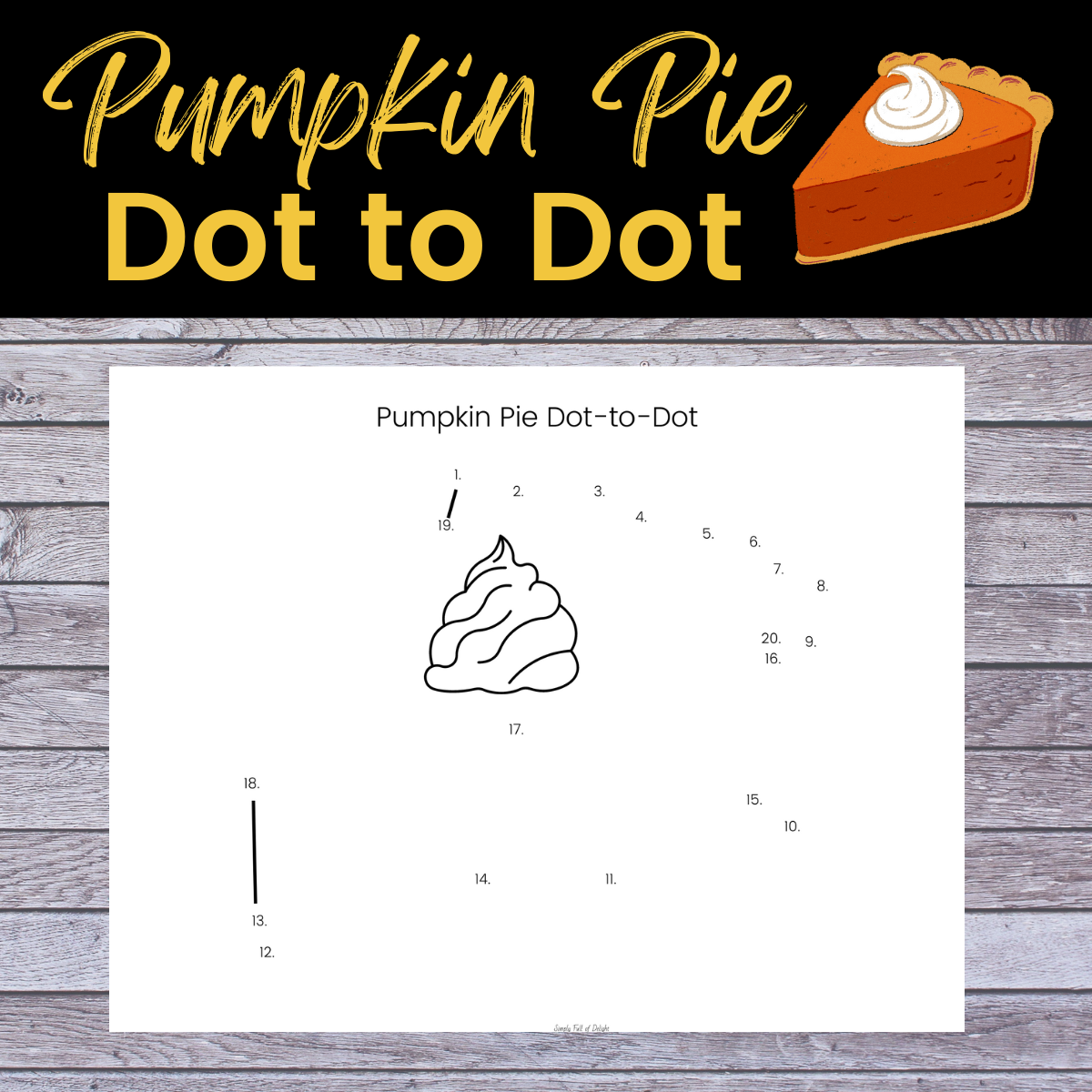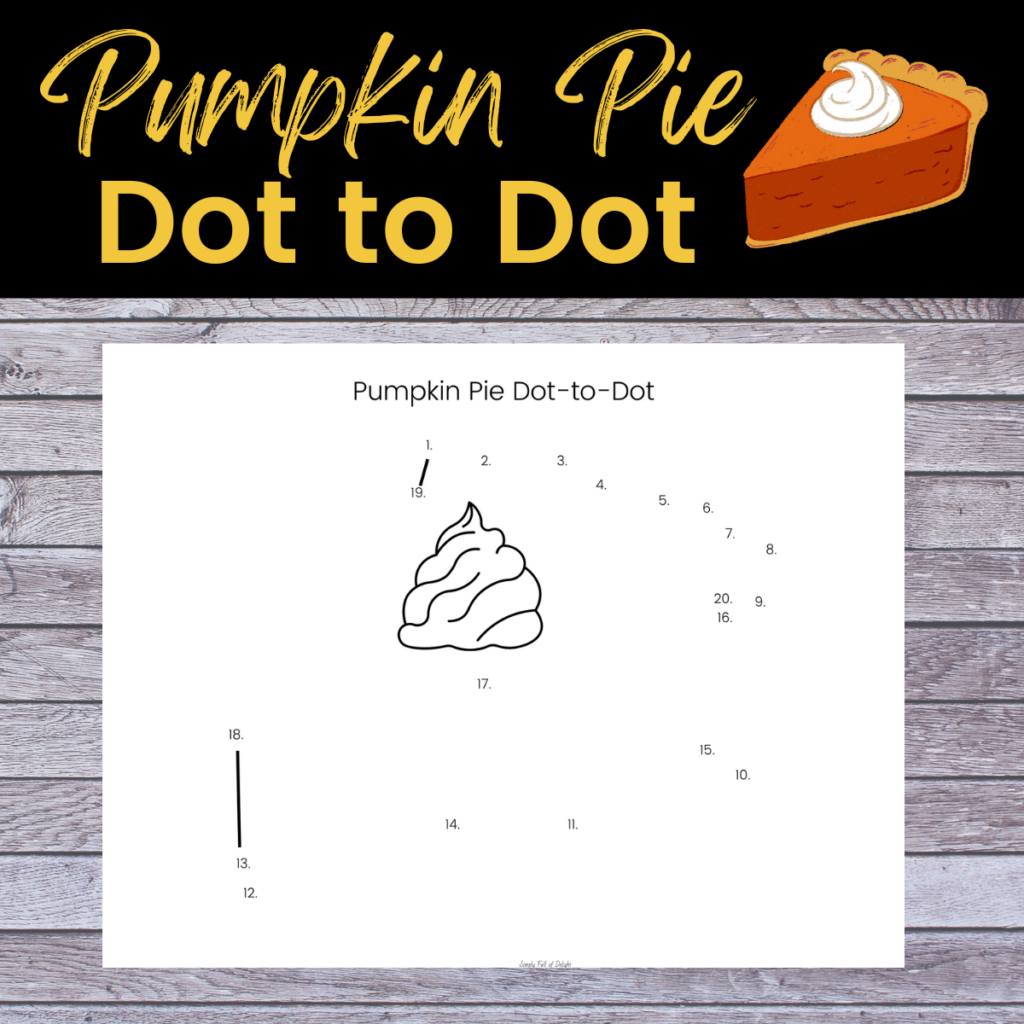 This Thanksgiving Pumpkin Pie Dot to Dot printable is a little more difficult.
The numbers only go from 1-20, but the design is a little more tricky as the numbers zig zag a bit to create the layers of the pie.
It might be a little challenging for kids who are used to just outlining an object.
This pumpkin pie printable is a great way to build hand-eye coordination.
Kids in preschool and kindergarteners will enjoy this fun dot to dot puzzle.
Kids may also like to color the pie afterwards! My kids sure did!
You can download the Pumpkin Pie printable here:
Turkey Dot to Dot Printable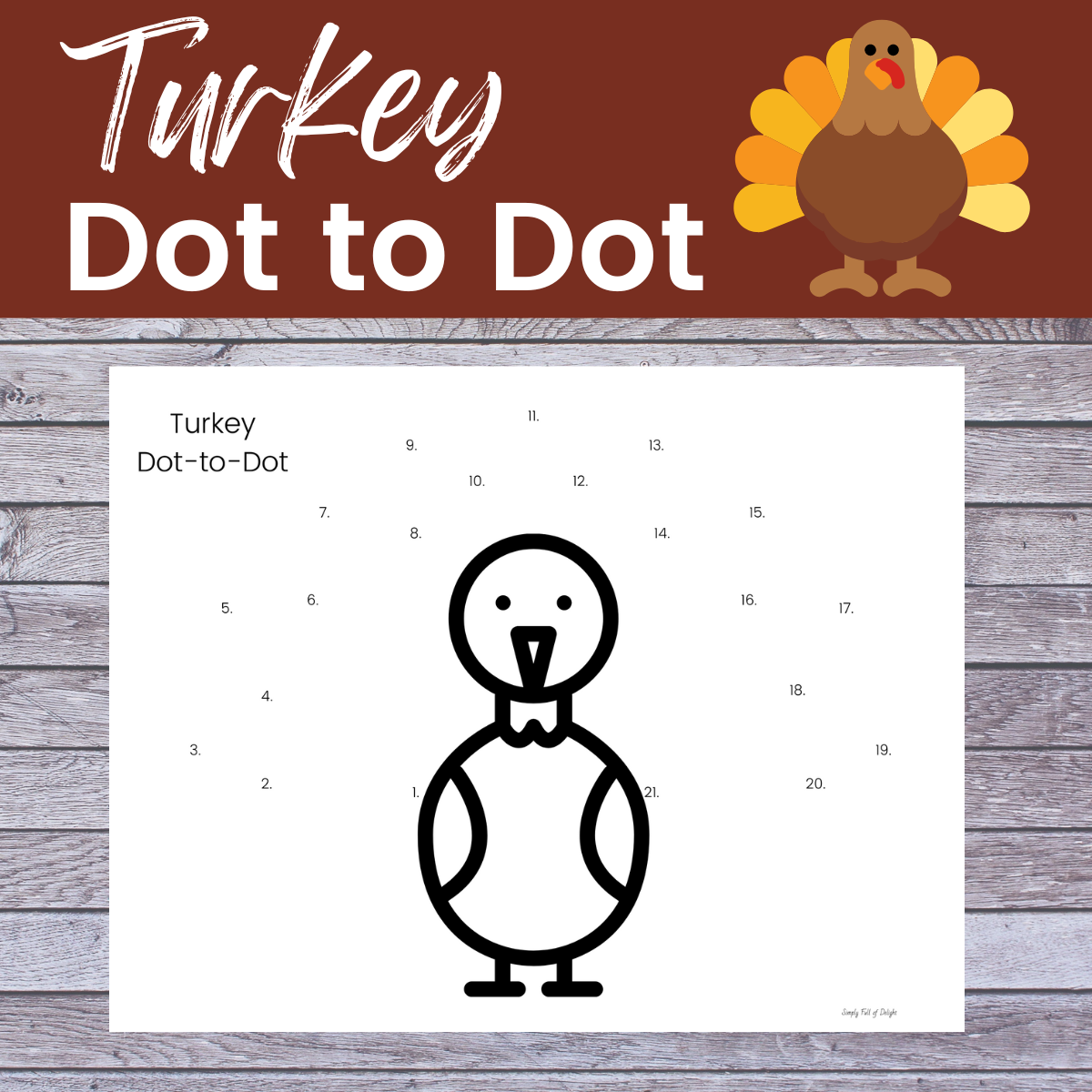 This last one is a Turkey dot to dot page.
This simple Thanksgiving connect the dots printable features numbers 1-21.
Kids can connect the dots to create the turkey's feathers and then color it if they wish.
My kids had so much fun coloring the feathers rainbow colors after they were finished connecting the dots!
Download the Turkey Dot to Dot here:
More Thanksgiving Printables for Kids
I hope you've found some amazing free Thanksgiving activity sheets.
If you'd like more, be sure to check out this Ultimate List of Free Thanksgiving Printables for kids. You'll find plenty of worksheets, printable games, and learning activities! There's tons of printable activities for older children as well as little learners.
You can find free Pilgrim Coloring Pages here. There's a pilgrim family, pilgrims with a turkey, and a pumpkin with a pilgrim hat. Perfect for talking about the First Thanksgiving. Plus you can find more Pilgrim Printables here!
There's an Easy Thanksgiving Turkey Craft here that's perfect for preschoolers. Just color, cut, and paste to create a cute little turkey!
Need some Thanksgiving coloring pages for little hands? You can grab these Preschool Turkey Coloring Pages (free printables) for your Thanksgiving dinner kids' table. Kids will enjoy coloring these cute turkeys at your Thanksgiving holiday gathering.
There's also a free printable Pilgrim hat here. Choose from a full color version or a "Color your own." What fun Thanksgiving crafts for kids of all ages!
If you enjoyed these free Dot to Dot pages, don't miss the free Fall Dot to Dots here, the Halloween Connect the Dots printables here and the Christmas Dot to Dot worksheets here.
You can also find fun gratitude activities as well. There's a cool Gratitude Scavenger Hunt here that is the perfect activity to spark great conversation at your Thanksgiving Day gathering.
Want to save these Thanksgiving dot to dot pages for later? Pin the image below!