Looking for some cute Preschool Turkey Coloring Pages? These 3 free turkey coloring sheets are perfect for your kids' table at Thanksgiving. Just grab your crayons, these free printables and let the fun begin!
With Thanksgiving just around the corner, we are focusing in on all things harvest, pilgrim, and turkey themed!
I created these fun Thanksgiving turkey coloring pages with preschoolers in mind! There's simple details and designs making each one an easy coloring sheet for little ones.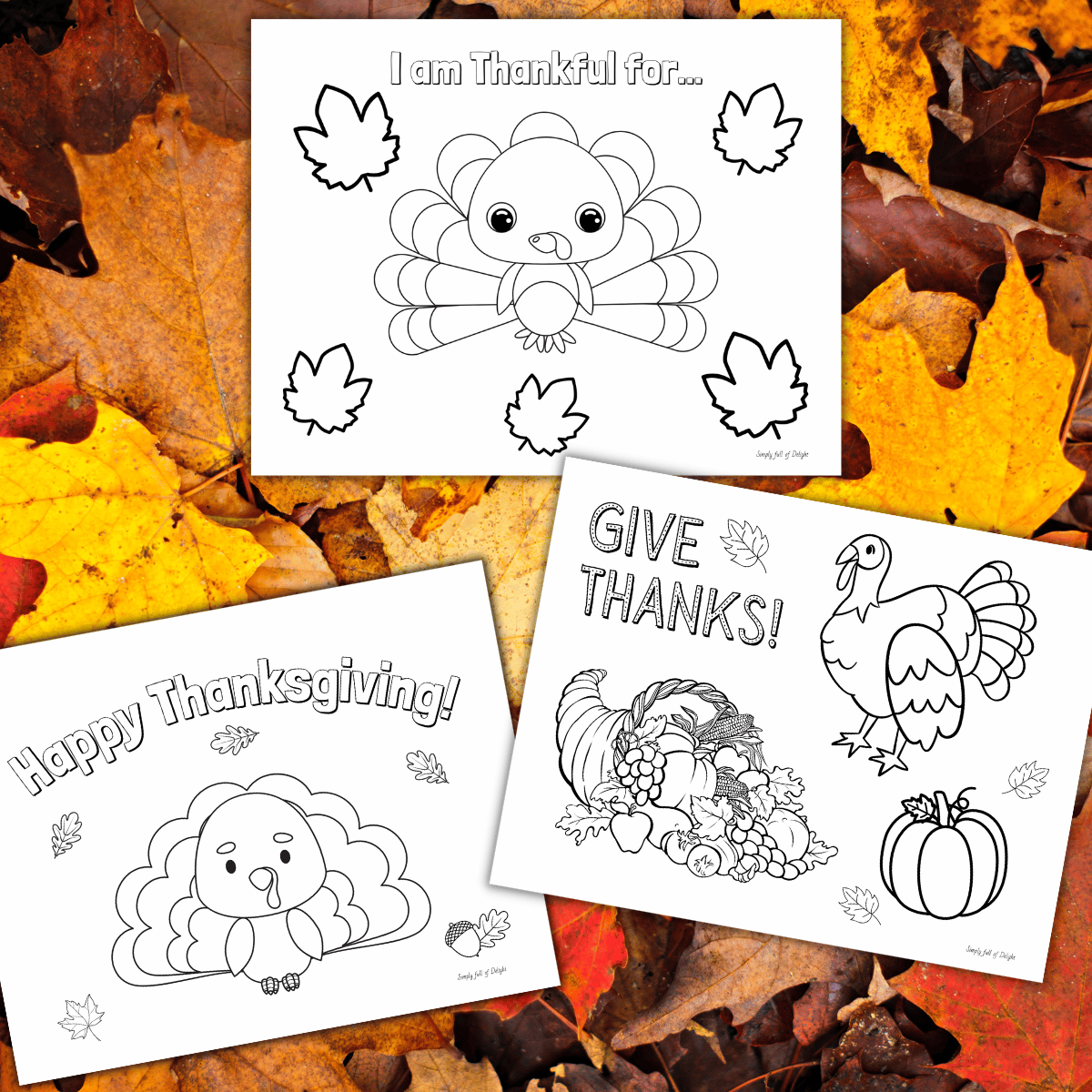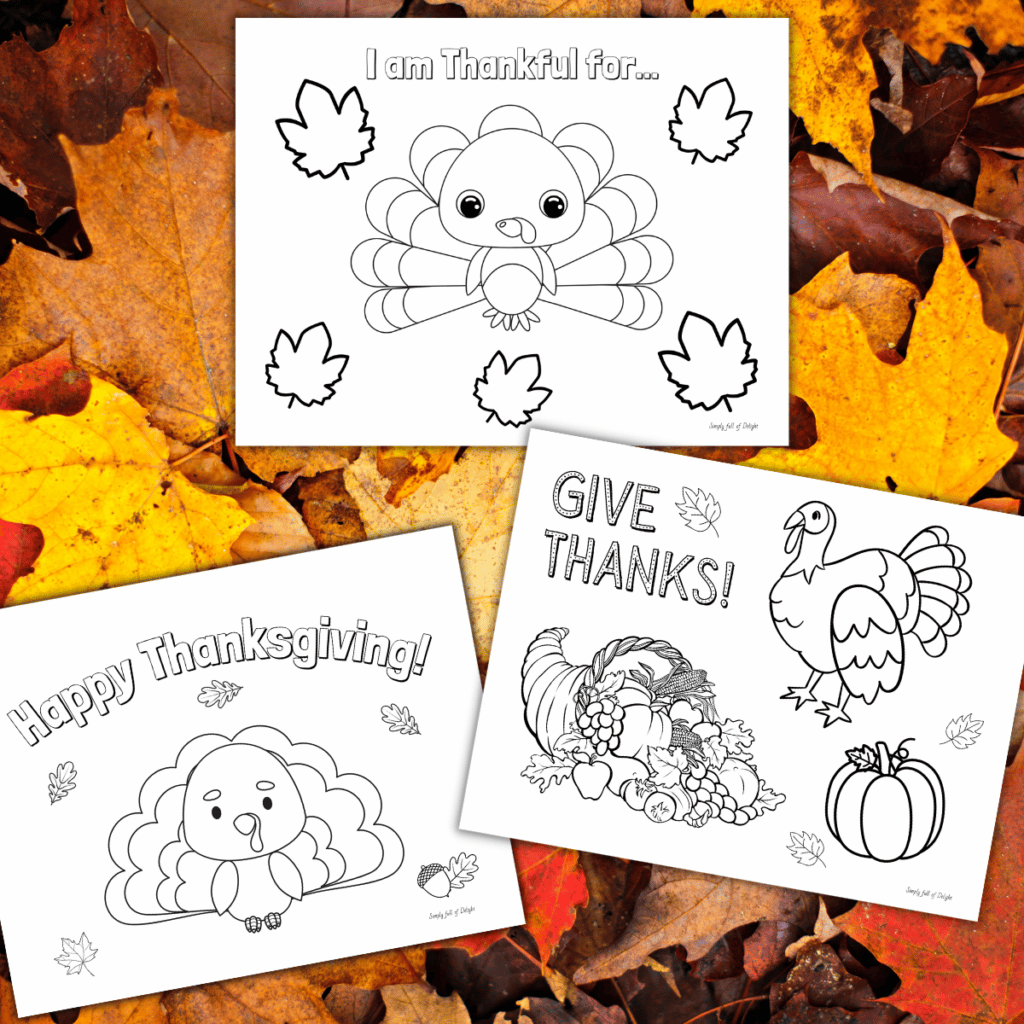 These cute turkey coloring pages are great for a quiet time activity, an easy art project, or a fun addition to your art center. Fall coloring page pdfs are a fun way for kids to practice fine motor skills.
You might also like to use them at your Thanksgiving celebration! These free coloring sheets are perfect for keeping little hands busy while the adults finish setting the table for Thanksgiving dinner.
You can download each of these free coloring pages instantly by clicking on the black link directly below its description. I hope kids of all ages enjoy these turkey Thanksgiving coloring sheets!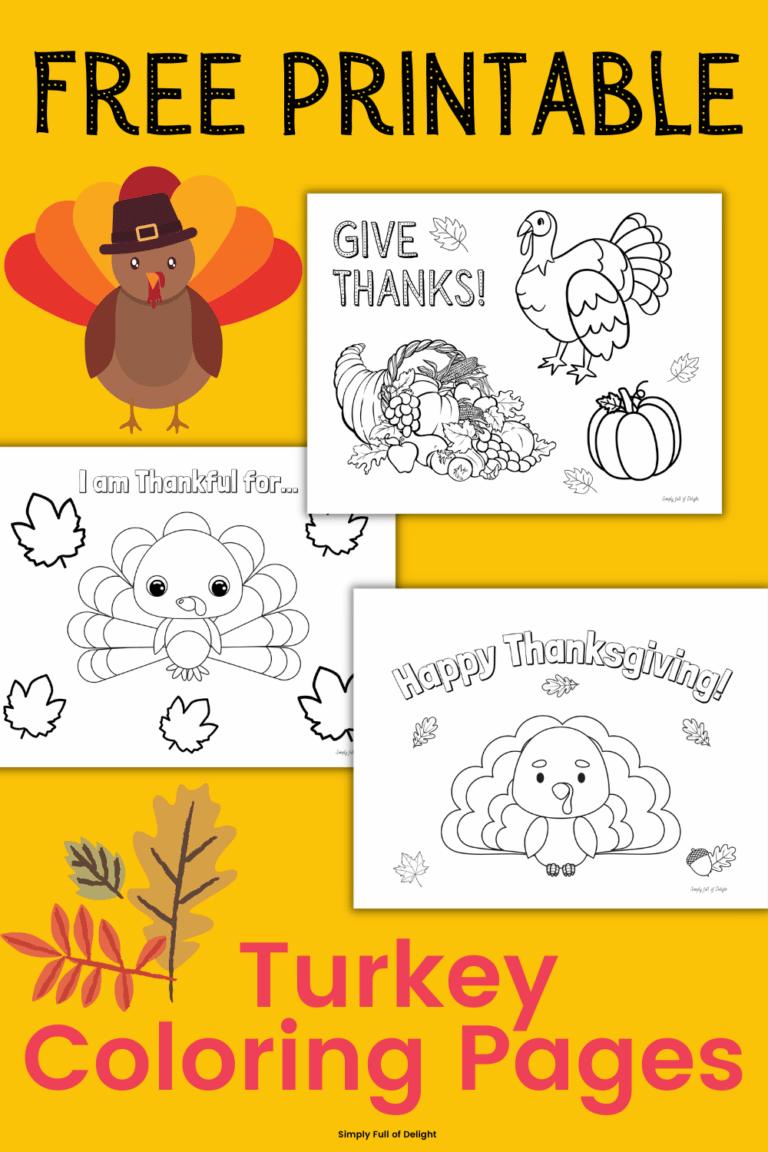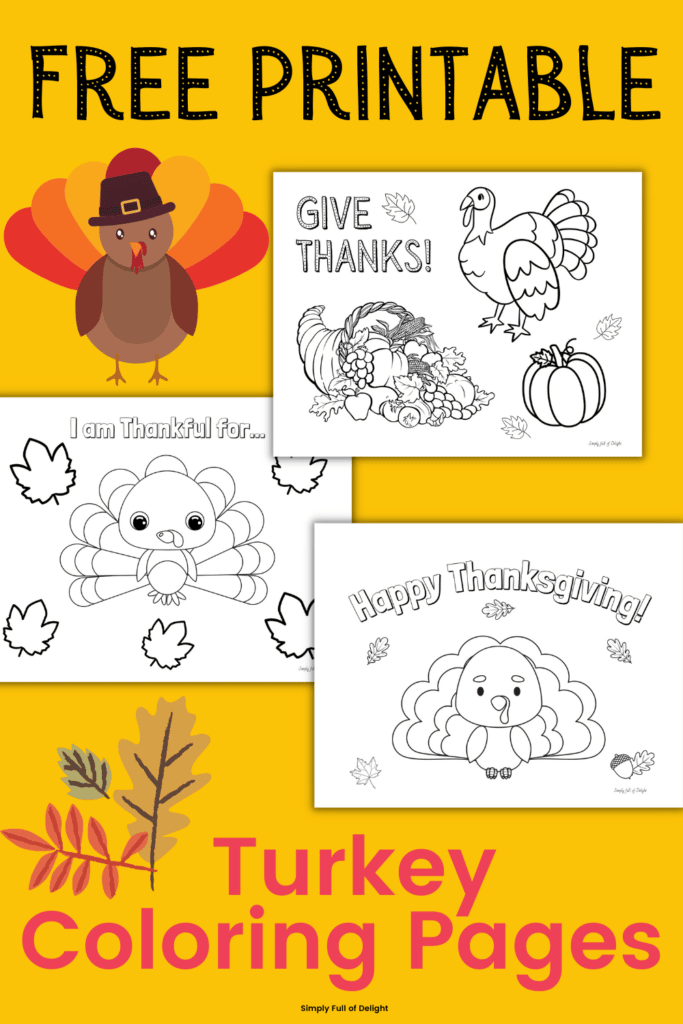 Let's take a look at our free printable coloring pages!
** Disclaimer: As an Etsy associate and as an Amazon.com Associate, I may earn from qualifying purchases made by readers clicking my affiliate links at no extra cost to you.
Cute Thanksgiving Turkey Coloring Page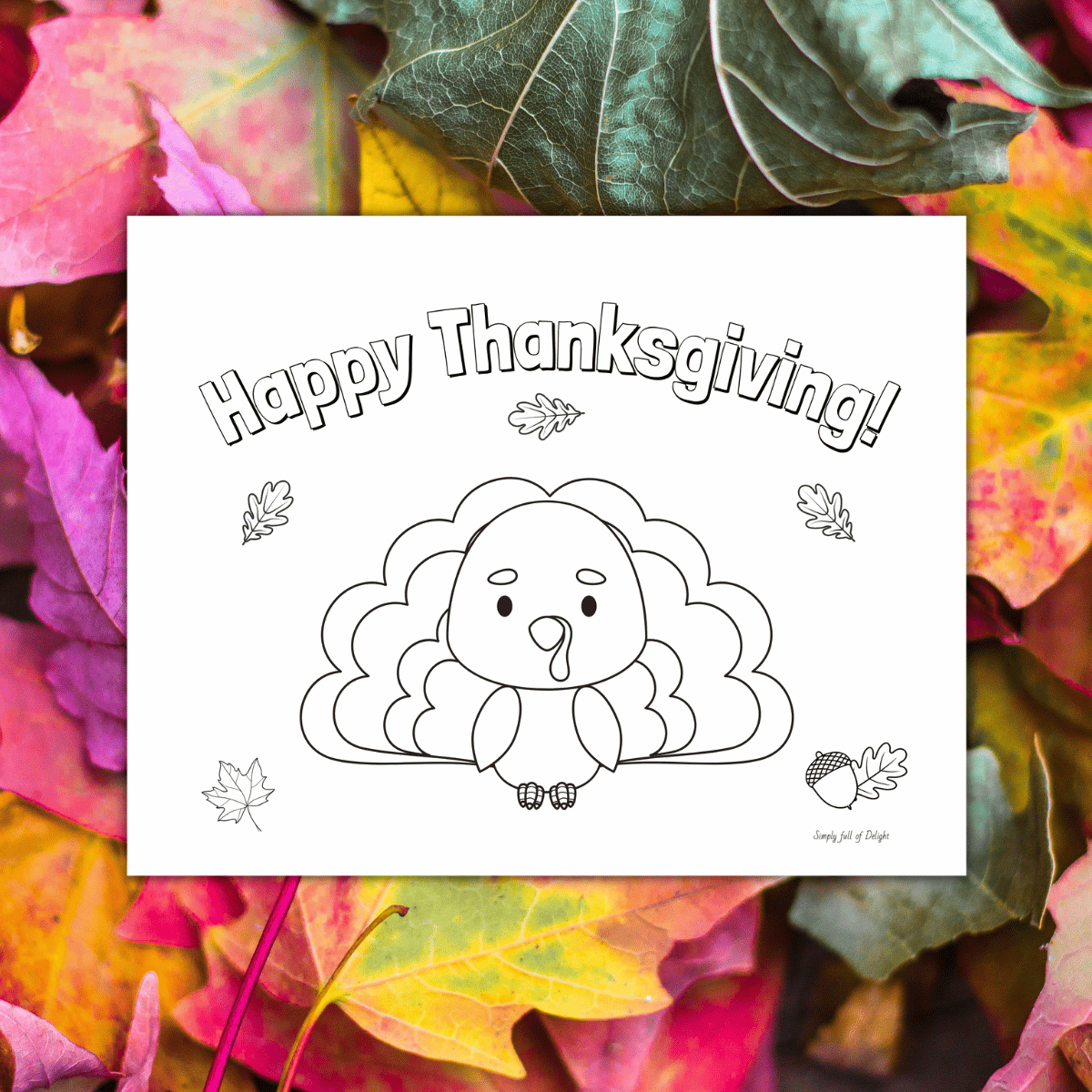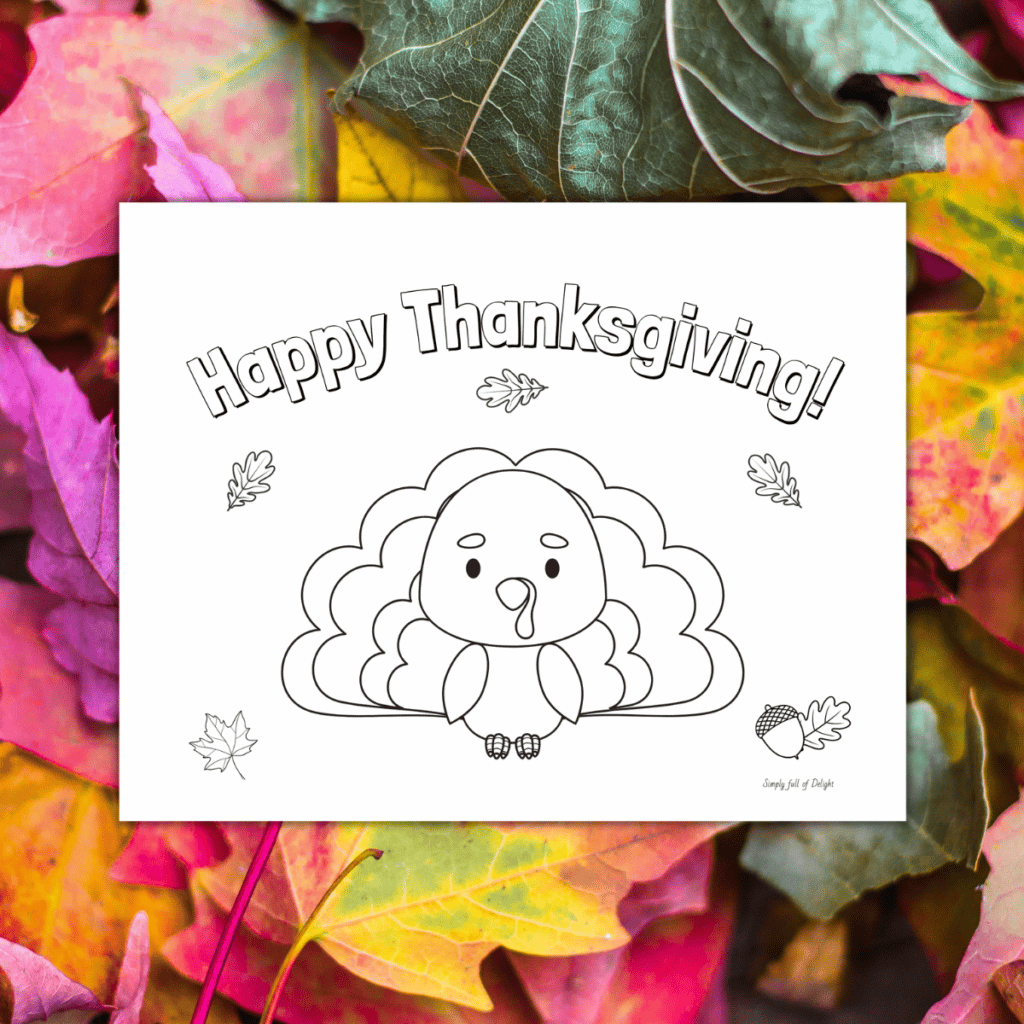 This first free printable turkey coloring page PDF features a large cute turkey. There's fall leaves to color and an acorn as well. The outlined letters read "Happy Thanksgiving!"
My kids loved coloring the turkey's feathers in rainbow colors. This page works well with crayons, but kids might enjoy using colored pencils or fine line markers instead.
You can download this cute thanksgiving turkey coloring sheet with the black download button directly below.
Next up…..
Give Thanks Free Turkey Coloring Pages for Preschool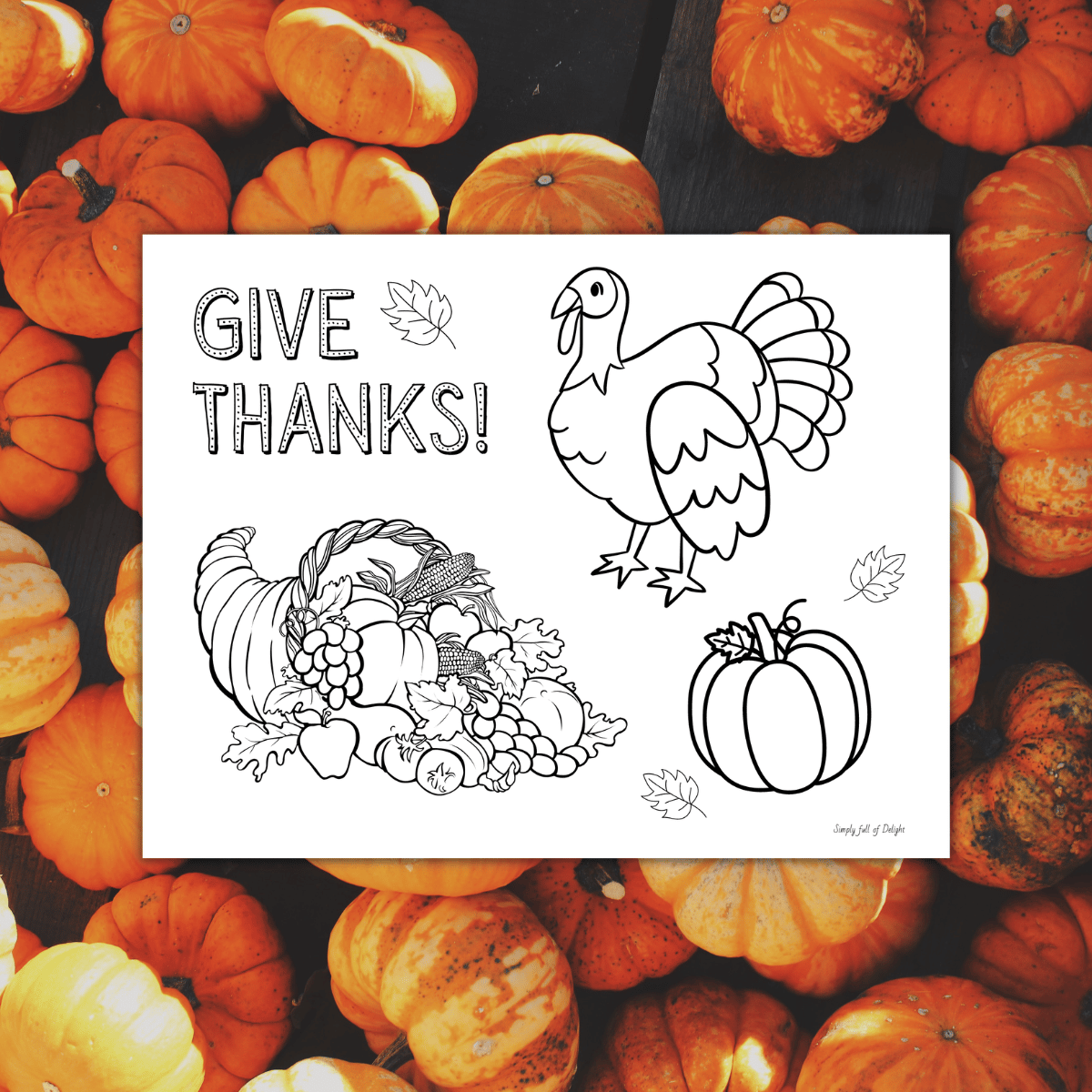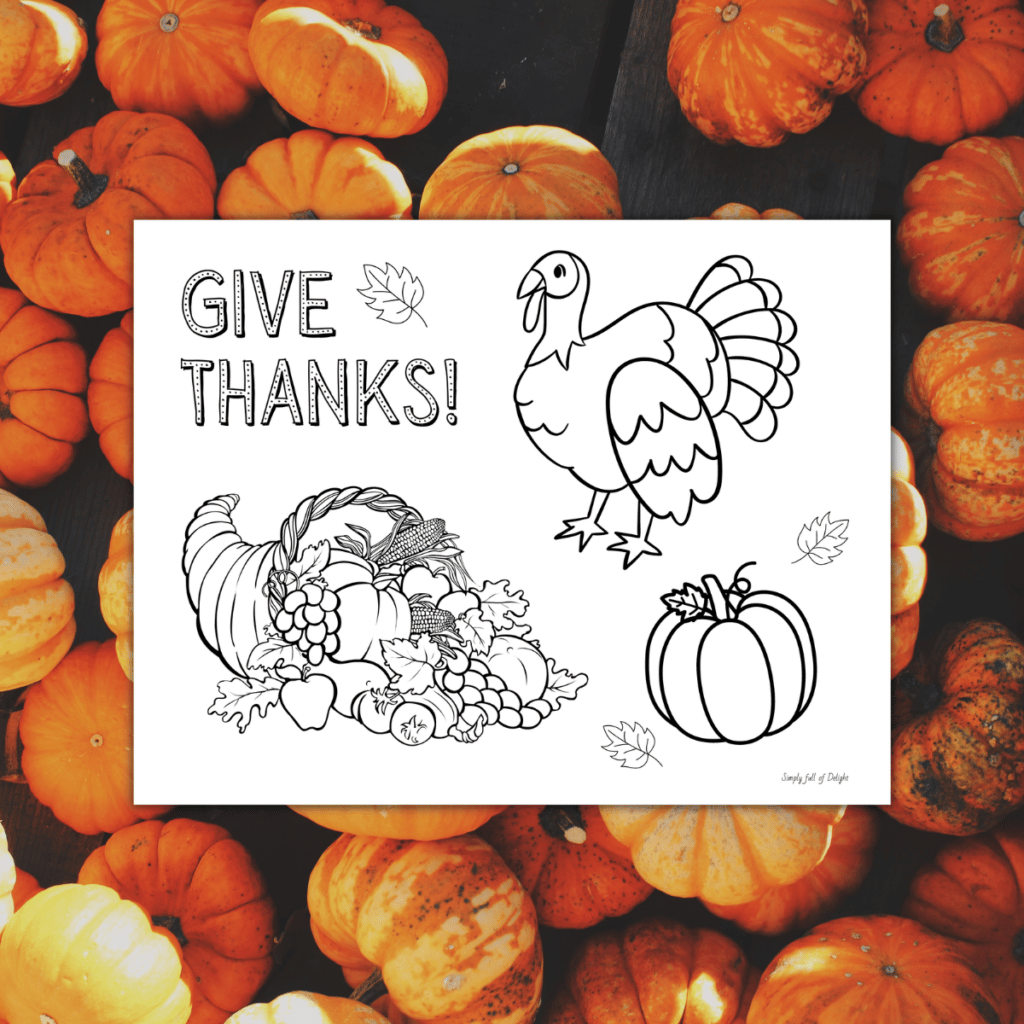 This Give Thanks Turkey Coloring page features lots of neat Thanksgiving themed items.
There's plenty of items to color including a turkey, fall leaves, a pumpkin, and a cornucopia full of fruits and vegetables.
My kids enjoyed coloring each of the turkey's feathers a different color. Kids can also color the "Give Thanks!" bubble letters as well. I love that this sheet allows the opportunity to talk about the cornucopia with young children.
You can grab the Give Thanks page by clicking the black download button.
I am Thankful for… Turkey Coloring Page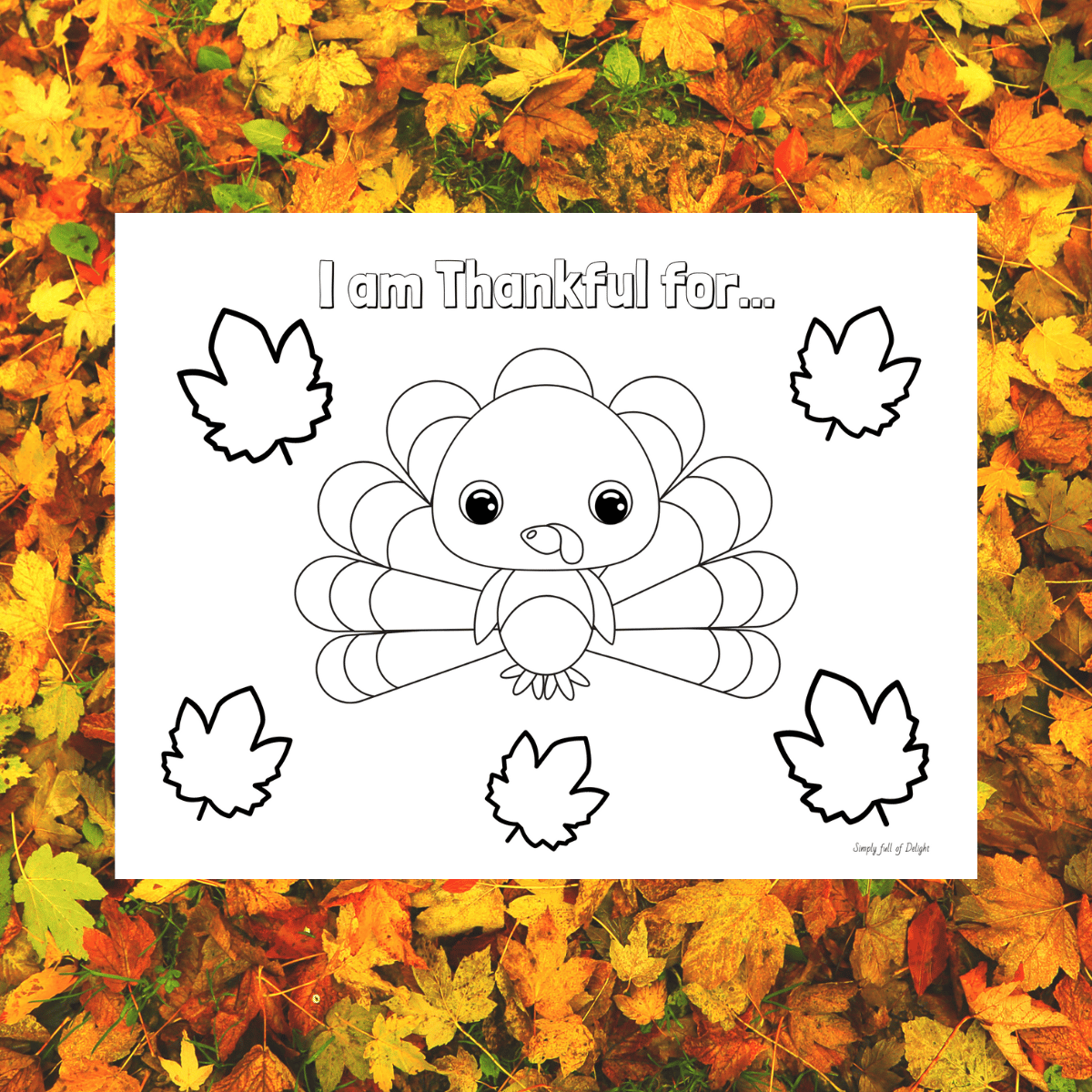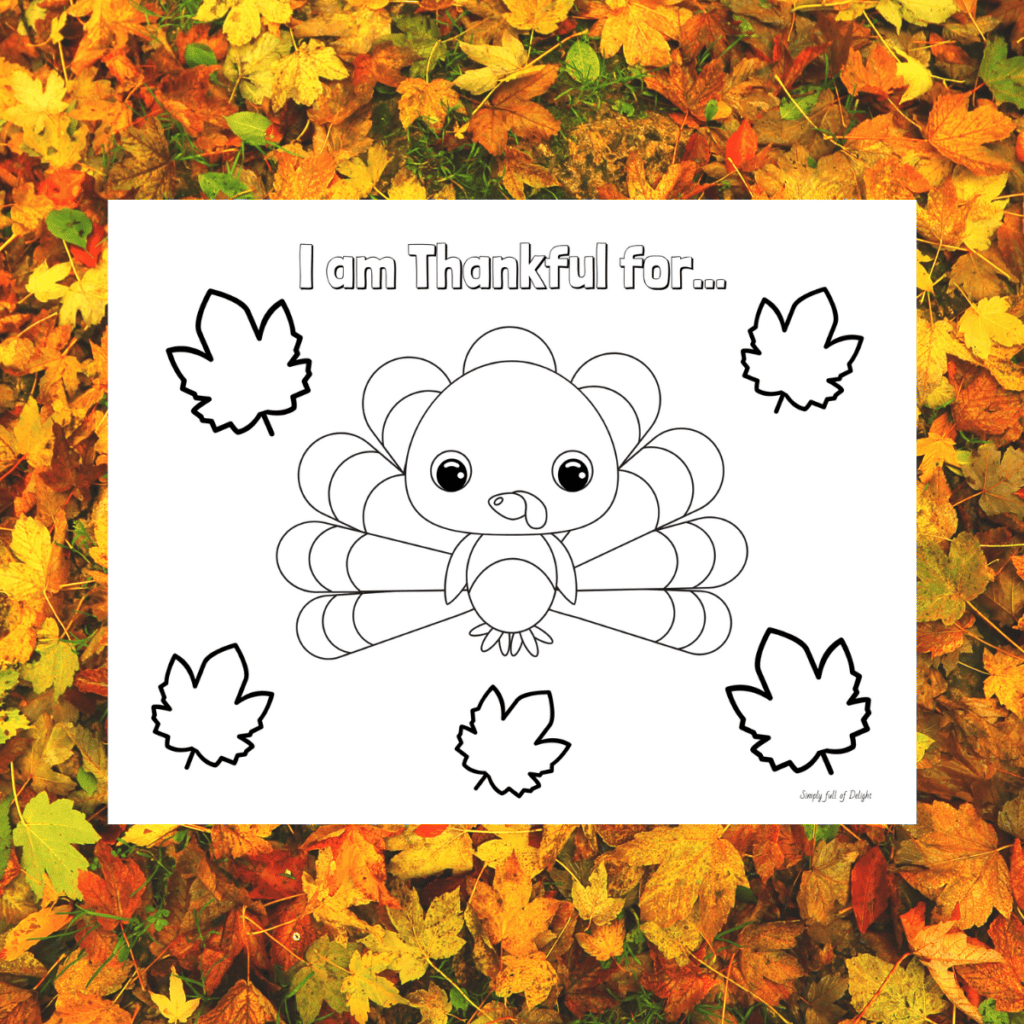 This "I am Thankful for…." Thanksgiving coloring page is perfect for talking about gratitude with little ones! Kids will enjoy coloring their turkey pictures and then adults can help kids fill in each leaf with something the child is thankful for.
Older kids can write their own words for what they are thankful for in the fall leaves. Some ideas to write on your white board: mom, dad, siblings, home, food, pets, etc.
You can download the I am Thankful For coloring sheets with the black button below.
More Ideas for Thanksgiving Activities!
I hope you enjoy these cute Preschool Turkey Coloring pages as much as I enjoyed creating them!
(And on that note…if you've ever wanted to make your own coloring pages check out this out.)
For more Thanksgiving Activities for preschool be sure to check out this free printable Pilgrim Hat. It's so much fun! Kids can color and create their own Pilgrim hat headband. Such an easy craft that is perfect for Thanksgiving Day gatherings and classroom parties!
You can find some Free Pilgrim Coloring Pages here. These free printable pages are perfect for talking about the First Thanksgiving. Plus there's over 55 amazing free Thanksgiving Printables here.
Don't miss this adorable Thanksgiving Pie Sensory Bin. Kids will enjoy stirring the "pie filling," rolling out the "pie dough" and pretending to make their own Thanksgiving pies.
Need more Coloring pages? You can grab a fun set of 10 Thanksgiving Coloring pages in my Etsy shop! There's pilgrims, turkeys, pumpkin pie, and more! You'll find a cute pumpkin coloring pages and thankful coloring pages.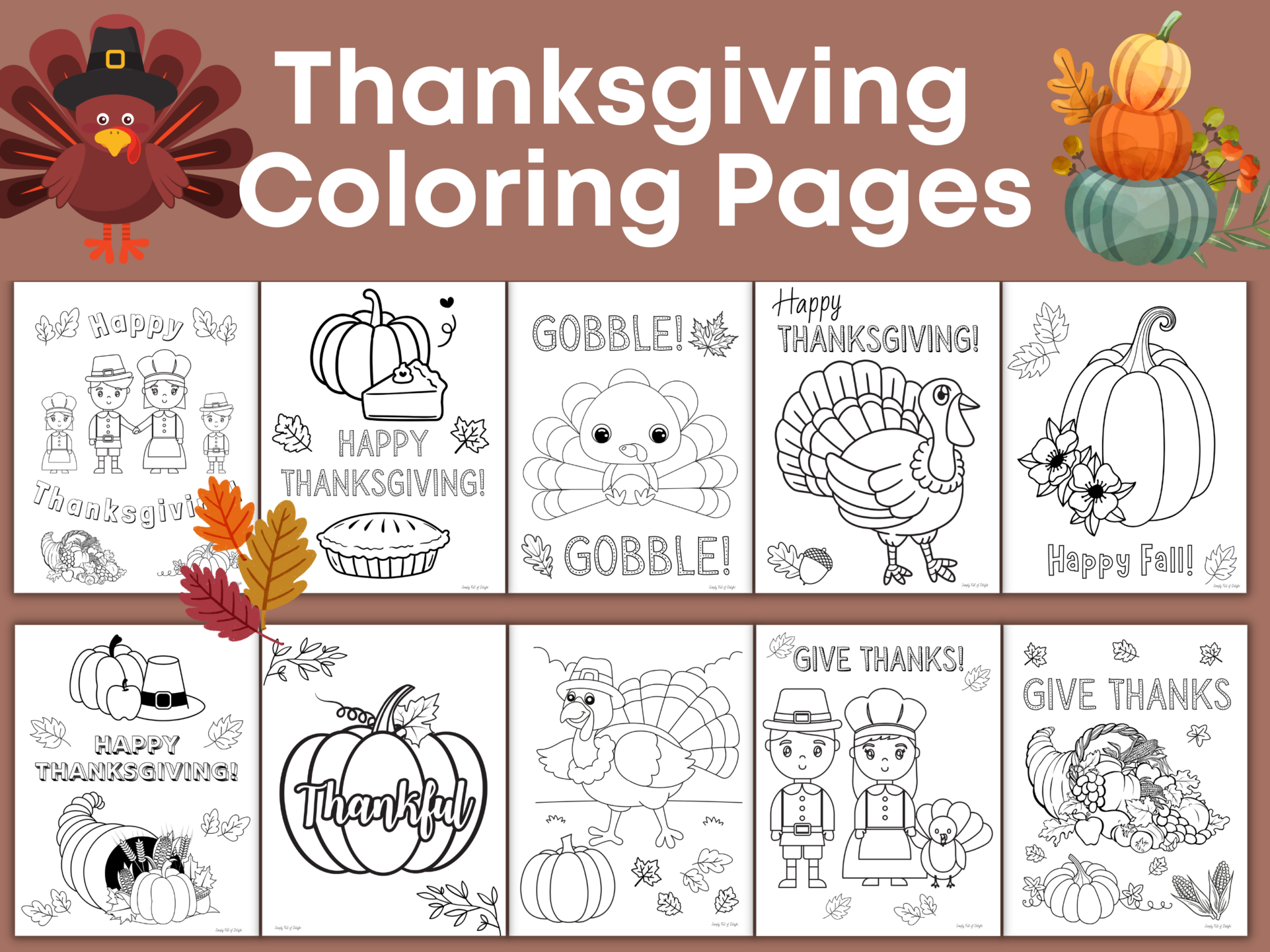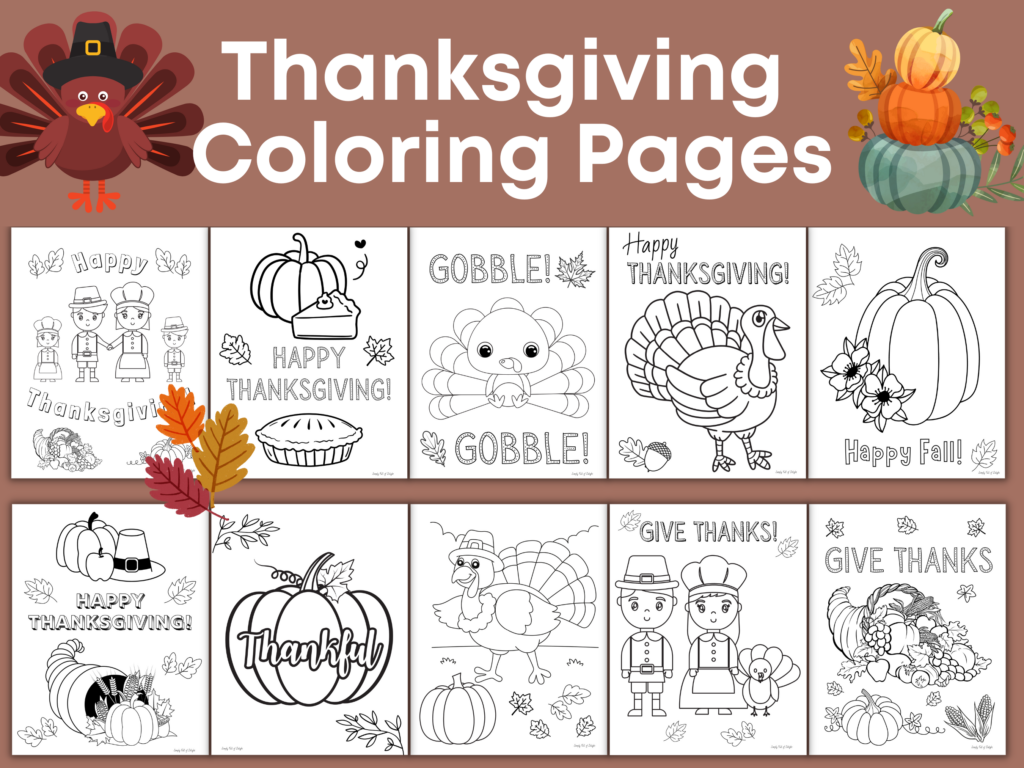 So many great coloring pages for the Thanksgiving holiday season!
Check out the Thanksgiving Coloring pages set here and use coupon code THANKSGIVING15 for 15% off!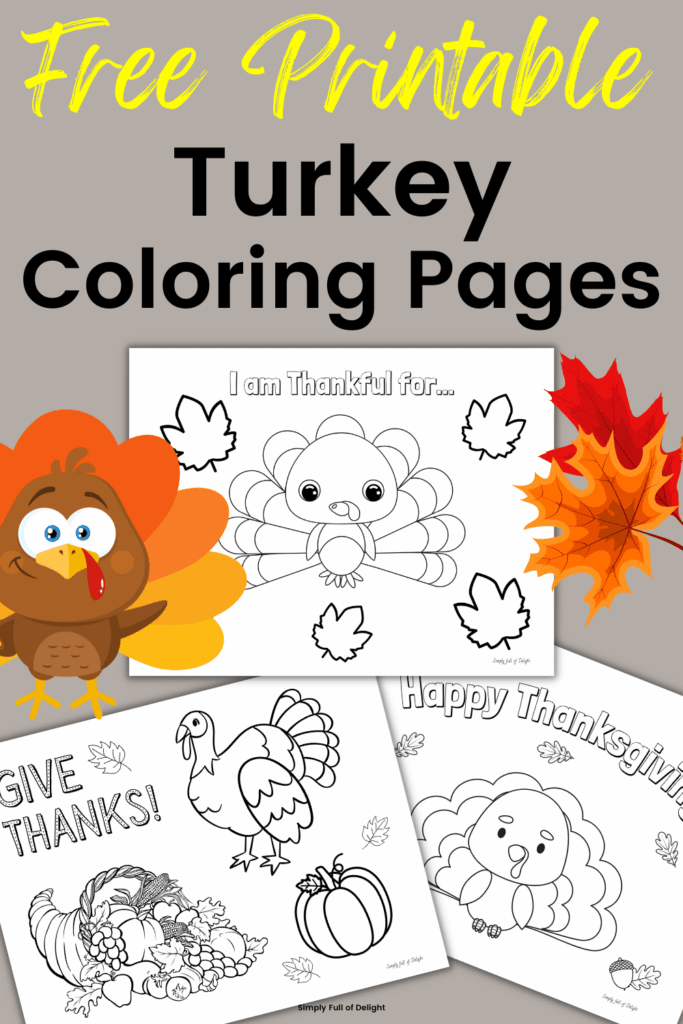 Related Posts