Looking for an easy Apple Activity for Toddlers? Try this super low prep Color Sorting Apple Activity!
It's fall, which means it's apple picking season! I love taking my toddlers and preschoolers apple picking. They are always so excited to see the trees completely loaded with apples.
I love that they can see where apples come from and can experience first hand how fruit is harvested before it goes to the grocery store.
Apple picking season is a great opportunity to do some apple themed arts and crafts as well as apple activities for kids!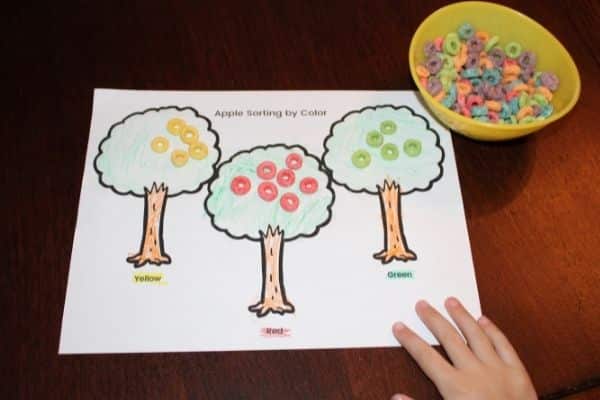 Why is color sorting important for preschoolers & toddlers?
Color sorting is a building block in the early math skill development!
According to Michigan State University, sorting, classifying objects, and matching are the beginning steps to basic math skills. Learning these at an early age will make 1:1 correspondence and concepts like "more" or "less" easier in the future.
This Easy Color Sorting Activity for Toddlers is a fun way to teach color recognition as well as a great way to practice sorting skills!
** Disclaimer: As an Amazon.com Associate, I earn from qualifying purchases made by readers clicking my links at no extra cost to you.
Supplies for this Color Sorting Apple Activity!
For this super simple color sorting apply activity, you will need:
– A Bowl for Each Child
– The Free Apple Tree Printable (you can access it at the end of this article)
– Crayons (Specifically you need green, brown, red, and yellow crayons)
– Optional – Elmer's Glue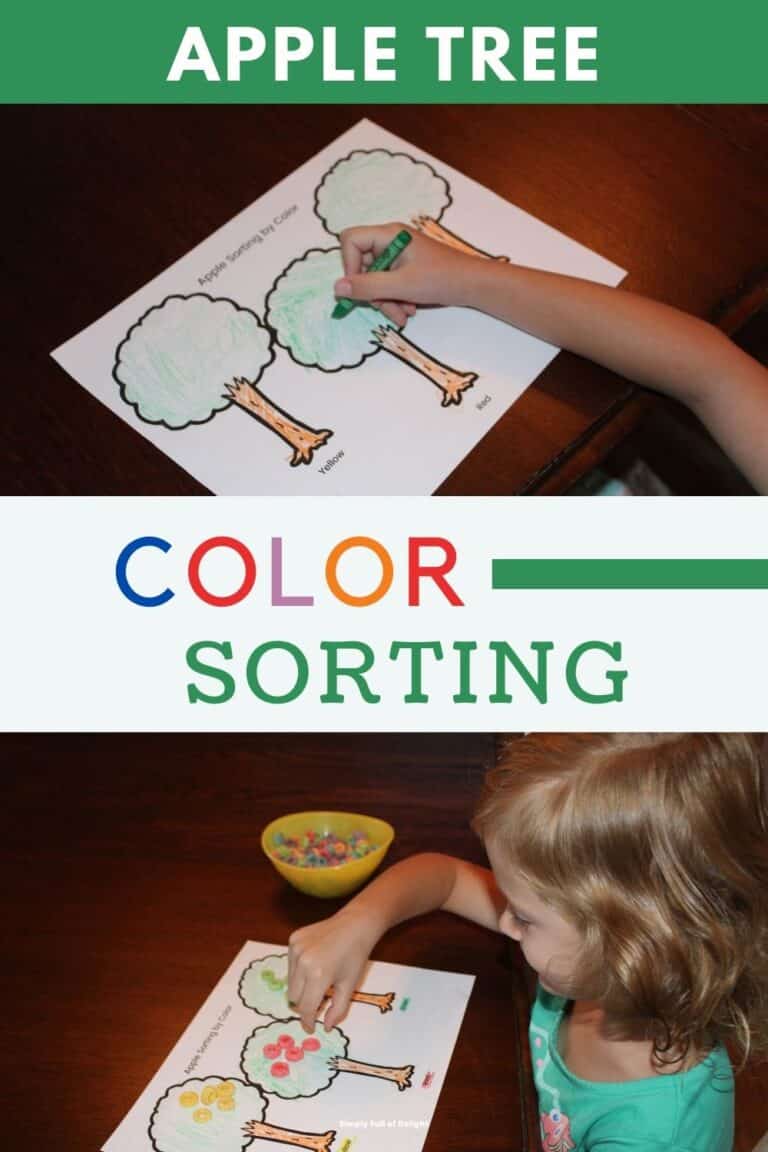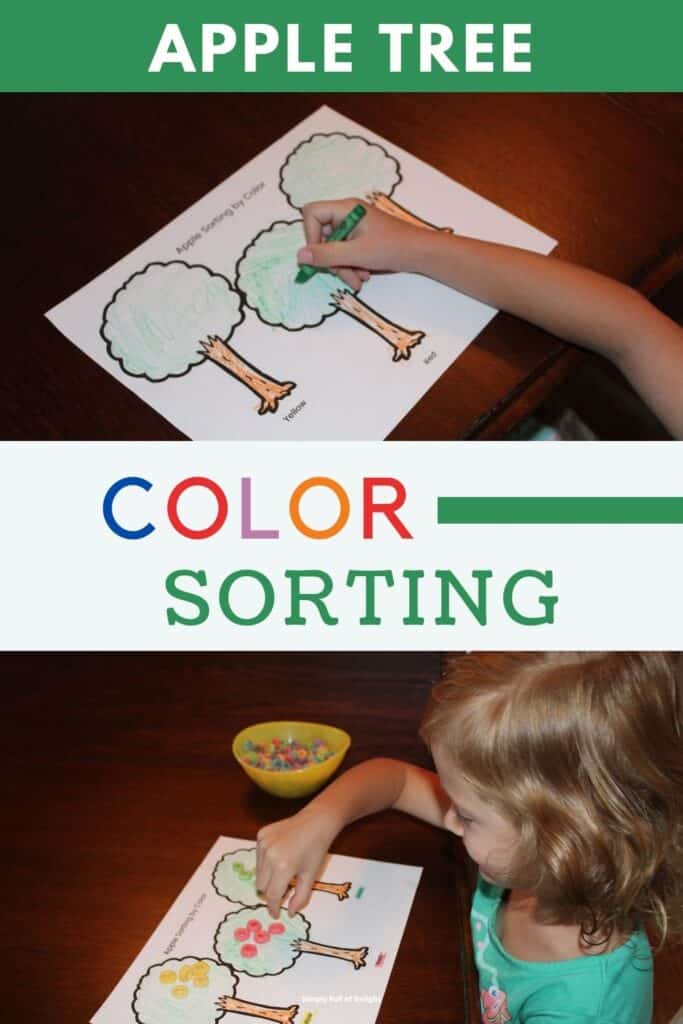 Instructions for the Color Sorting Apple Activity for Toddlers
First, print out the Apple Tree Printable.
Provide crayons and have your child color the tree. Encourage them to color the tree truck brown and the leaves of the tree green.
To make the color sorting activity easier, take a green crayon and make a line of green either on the word green or underneath it. Do the same for yellow and red, so that even the smallest children can identify the color words.
Now it's time for color sorting!
Pour each child a half bowl of cereal or you can use these individual size packs.
Fruit Loops have more colors than what we need for this project, but the extra colors are great because we are teaching the children to look for the color they need!
Ask the kids to sort the cereal, placing the yellow cereal in the yellow apple tree, the red cereal pieces in the red apple tree, and the green cereal in the green tree. The other colors can stay in the bowl.
Encourage kids to really fill up their apple trees with these "apples!"
I poured my daughter a glass of milk and allowed her to eat all the cereal after she finished sorting, but alternatively, you could have the children glue their "apples" to the apple trees!
You could also choose one of the options below to reuse the tree sorting page and turn it into a craft for little hands.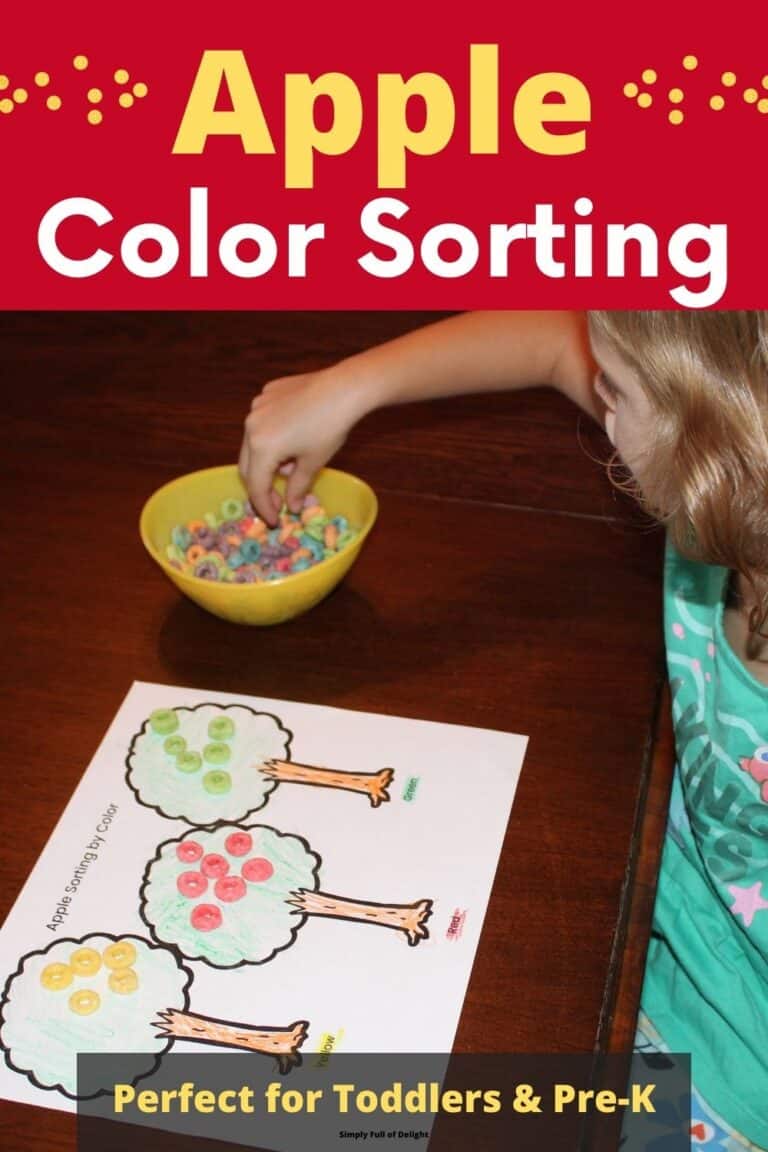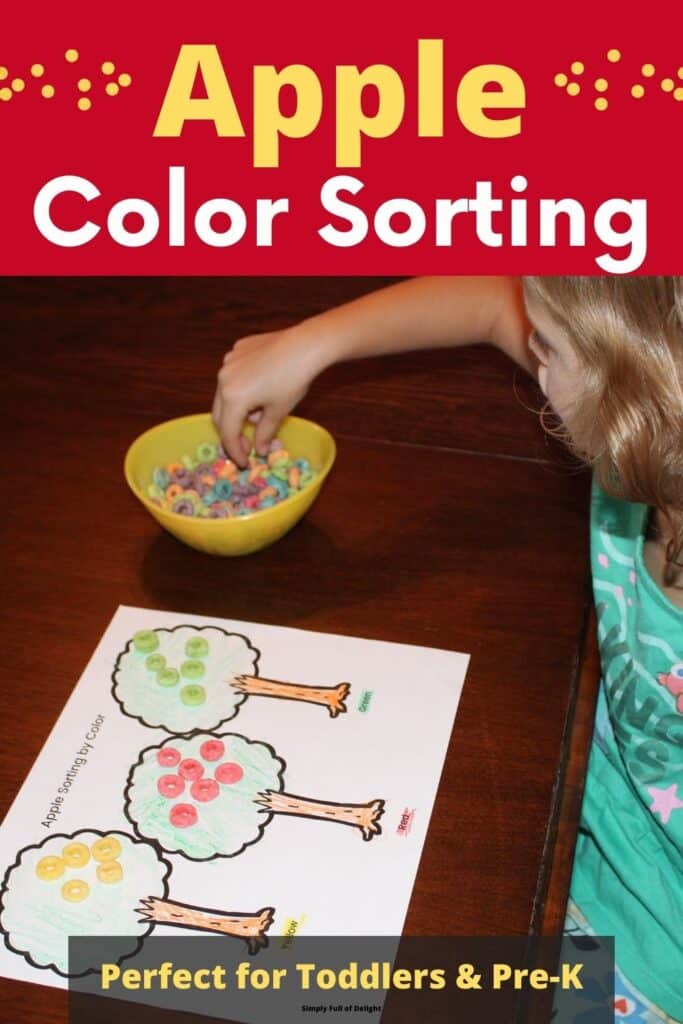 More Preschool Apple Theme Activities:
If you aren't able to use Fruit Loops for this project, you could alternatively use colored dot stickers. This dot sticker pack from Amazon has plenty with all the colors you need!
Another idea is to use pom poms of varying colors. This might work well as a quiet time activity or a center as well. Just make sure that kids are old enough not to eat the pom poms.
Lastly, you could use balls of tissue paper on these trees. Simply have the kids tear a piece off and crunch it into a ball. Have them make a pile, then mix it up and sort it out onto their trees. This might work nicely as a craft to display during apple picking season! Just make sure you have all the colors you need (red, yellow, and green).
I hope your toddler or preschooler enjoys this Apple Sorting Activity! You can find more fun Fall Activities here, including some free printables.
You can find a fun Marble painting apple craft here. As well as an Apple Stamping Apple Basket Craft here.
Also, be sure to check out this Fall Sensory Bin Idea.
You can find some apple themed crafts here as well for fantastic fun!
Plus don't miss this big list of Apple Activities that has sensory play ideas, crafts, printables and more!
Alright! That's it! Happy Fall Y'all!
Free Apple Tree Printable
Your can access the free Printable Color Sorting Apple Tree Worksheet here.
Simply place your email in the blue box below to become an email subscriber and you will instantly get access to this free printable along with dozens of other FREE printables in my Resource Library. So many awesome freebies to discover, including several fall themed printables!
If you are already a subscriber, simply visit the Resource Library and use the password found in nearly every email I send!