Looking for a classroom fake money printable? Here's some awesome free printable play money that is perfect for educational purposes or pretend play.
My son has been very curious about money lately, so I wanted to give him the opportunity to learn about the value of each coin and dollar bill.
I often use the real thing when I am talking to him about it, but admittedly I don't always have a lot of cash or coins on hand.
(We live in a plastic card society after all!)
When we don't have real money on hand, this printable money is the perfect substitute.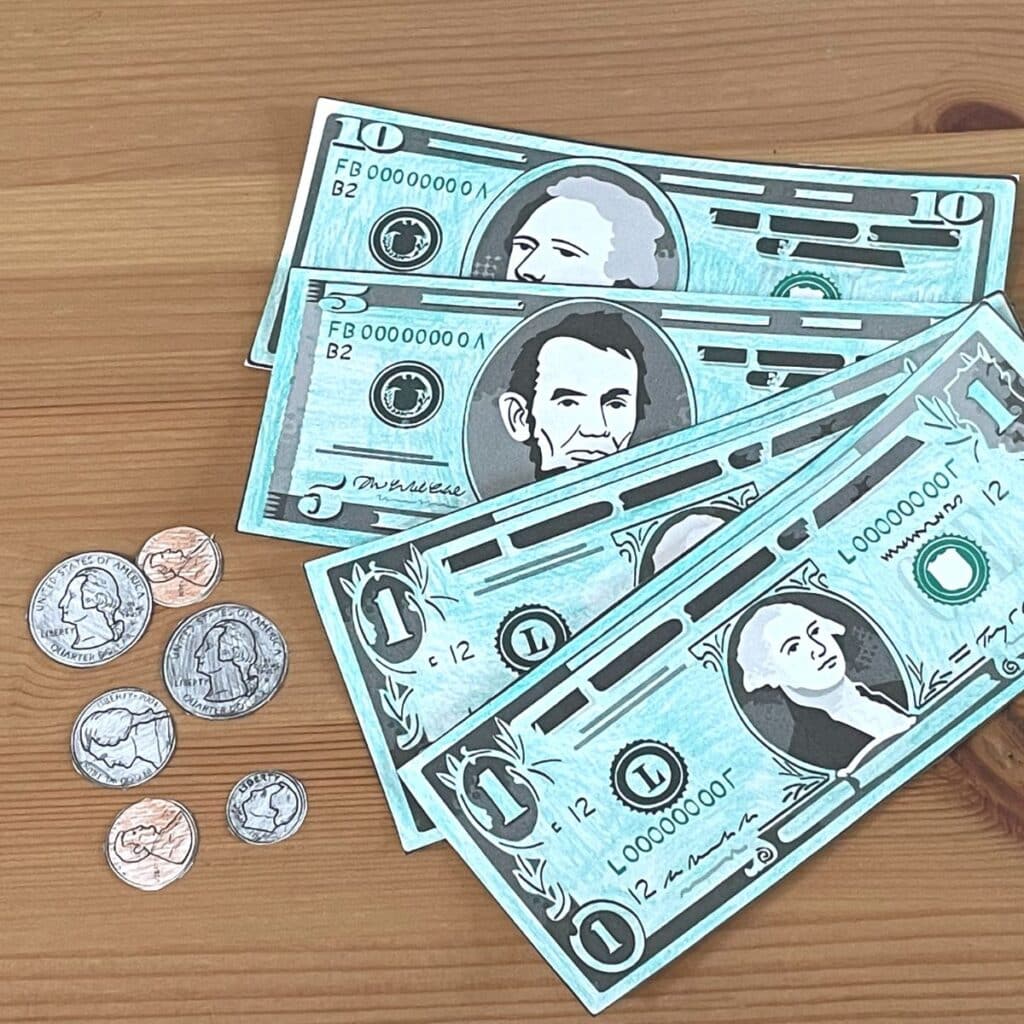 I created these printables with coins and dollar bills so that you can also teach your little one about money.
According to CNBC, researchers from Cambridge University encouraged parents to start teaching their kids about money at age 3. (Wow, right!?)
These money printables are the perfect way to start!
These printables are also great for pretend play.
My little ones enjoy using them to play store or restaurant. It can bring a bit of learning into their playtime!
You might also use these in a classroom for teaching about money.
Plus, there's money printables that are perfect for classroom incentives (if you do a classroom store) or for creating your own board game.
So many uses for pretend money!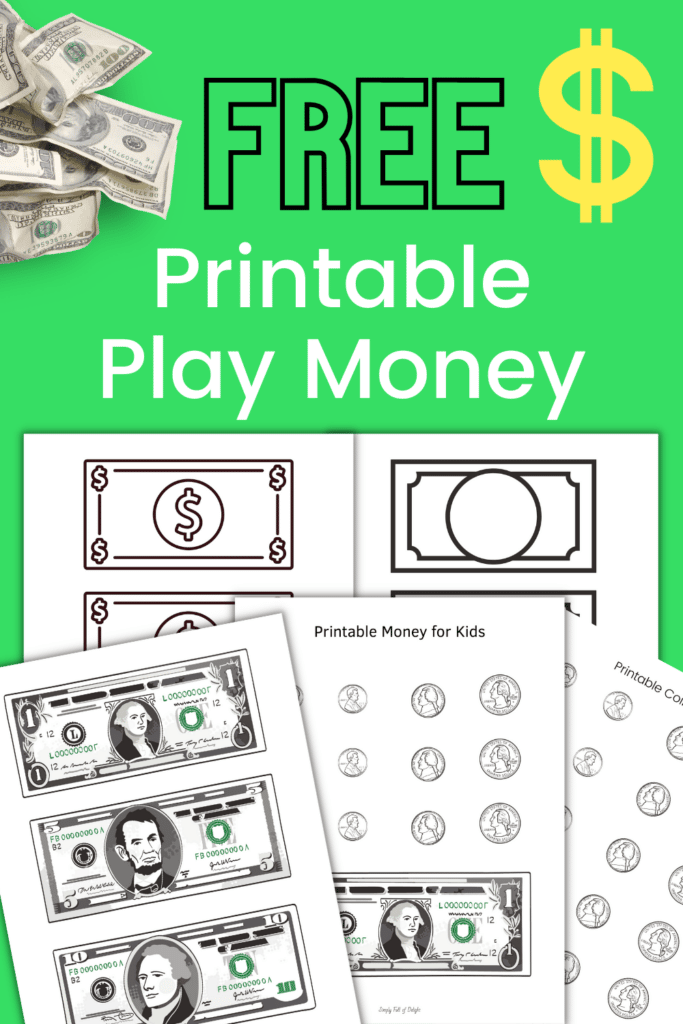 I hope you enjoy this printable money for kids! Let's dive in and check it out!
** Disclaimer: As an Etsy associate and as an Amazon.com Associate, I may earn from qualifying purchases made by readers clicking my affiliate links at no extra cost to you.
Printable Coins for Kids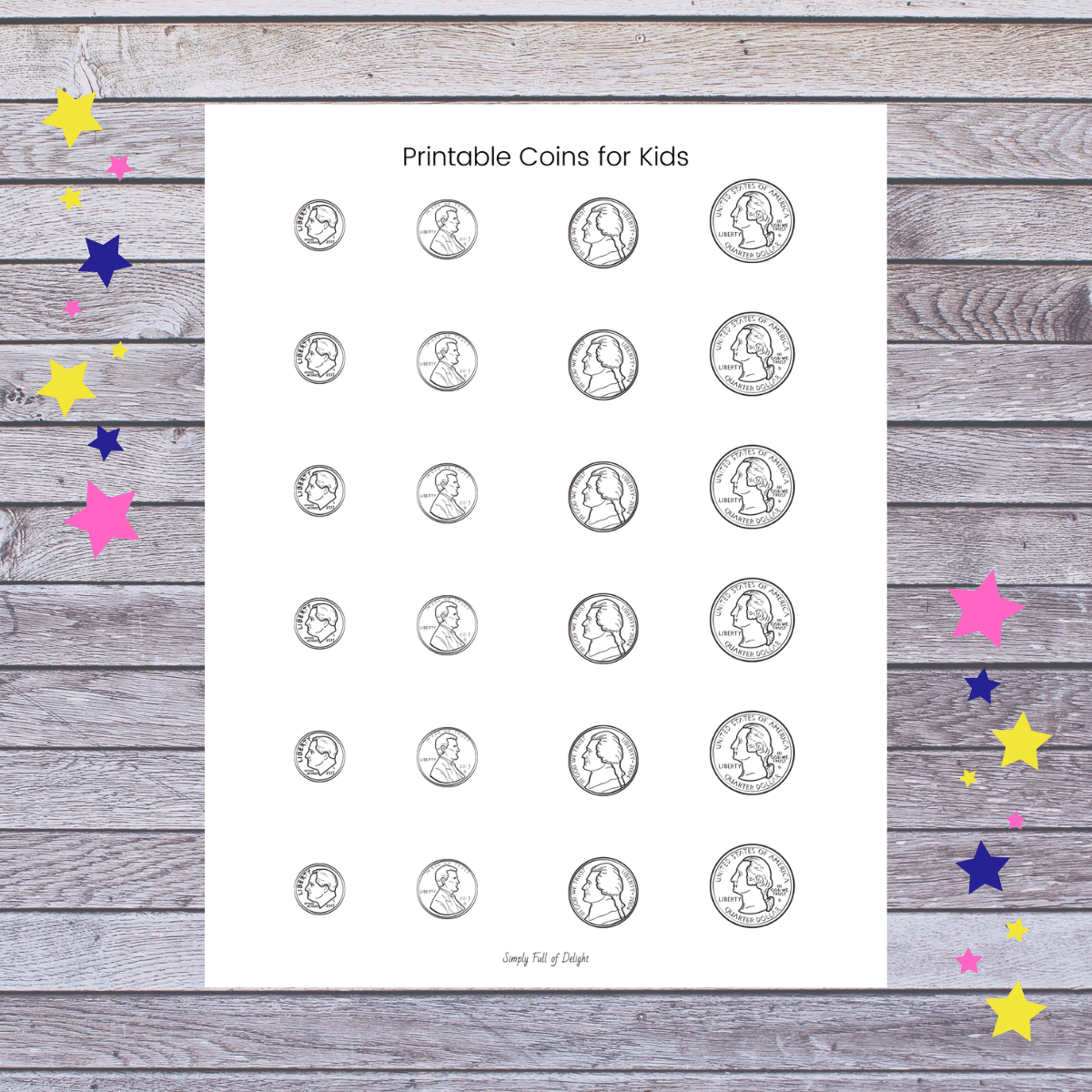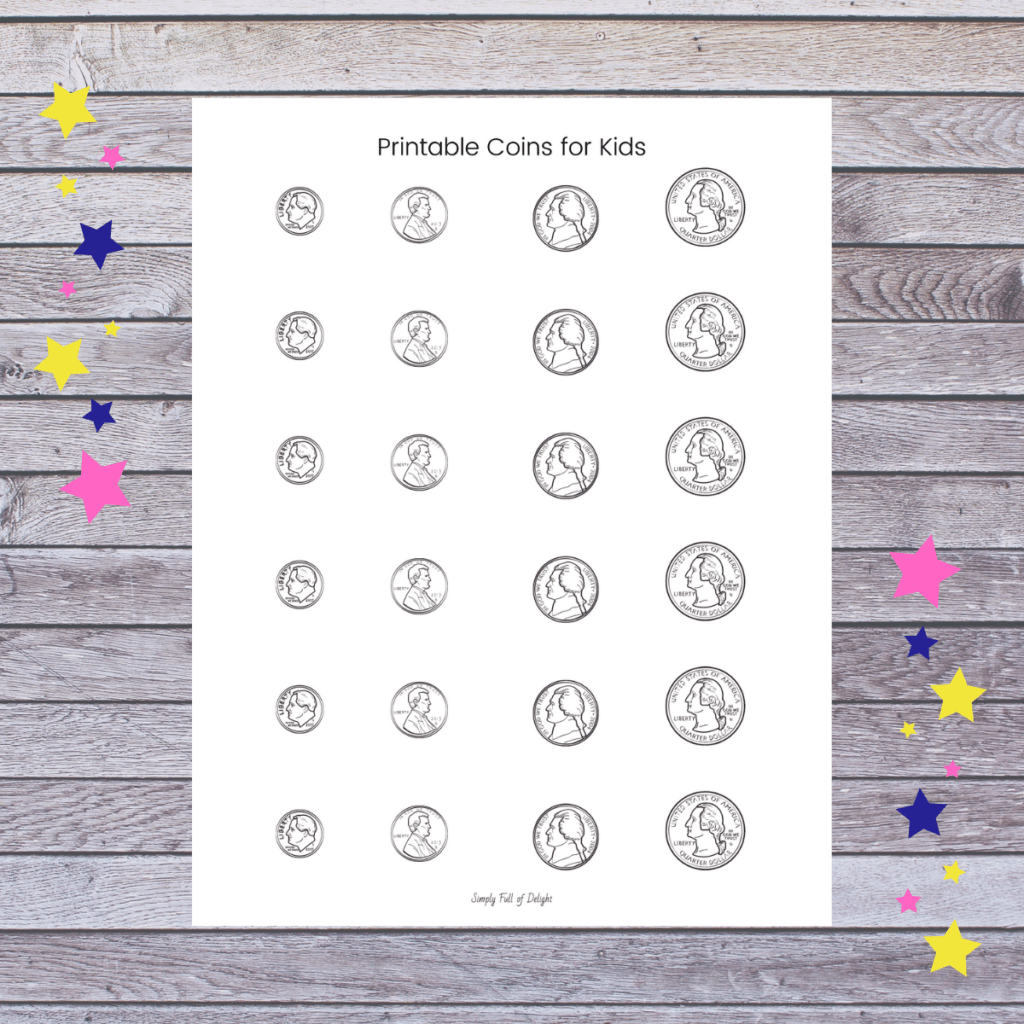 Let's start out with these printable coins for kids.
This first printable fake money template features 24 printable coins.
There's 6 of each of the following on this play money sheet: dime, penny, nickel, and quarter.
I tried to make these as realistically sized as possible.
It was more difficult than I anticipated, so you will find that the penny and nickel are pretty spot on with being the same size as the real coins.
However, the pretend dime is a little smaller than the real one and the pretend money quarter is just a tiny bit bigger than the real money quarter.
Apologies….but hey, it's free pretend cash! Still spends the same…LOL
You can download the Coins by clicking the black download button below.
Printable Realistic Play Money Templates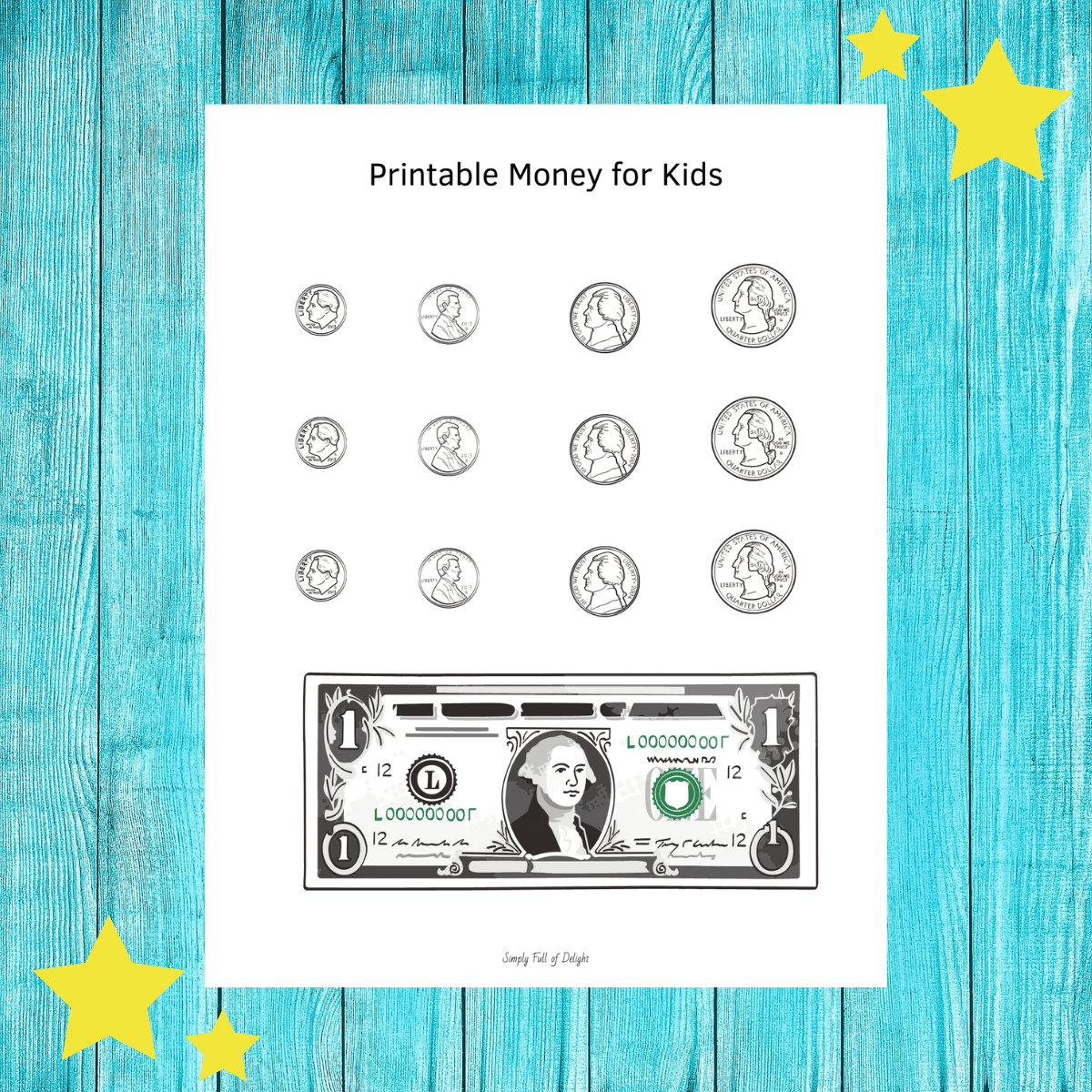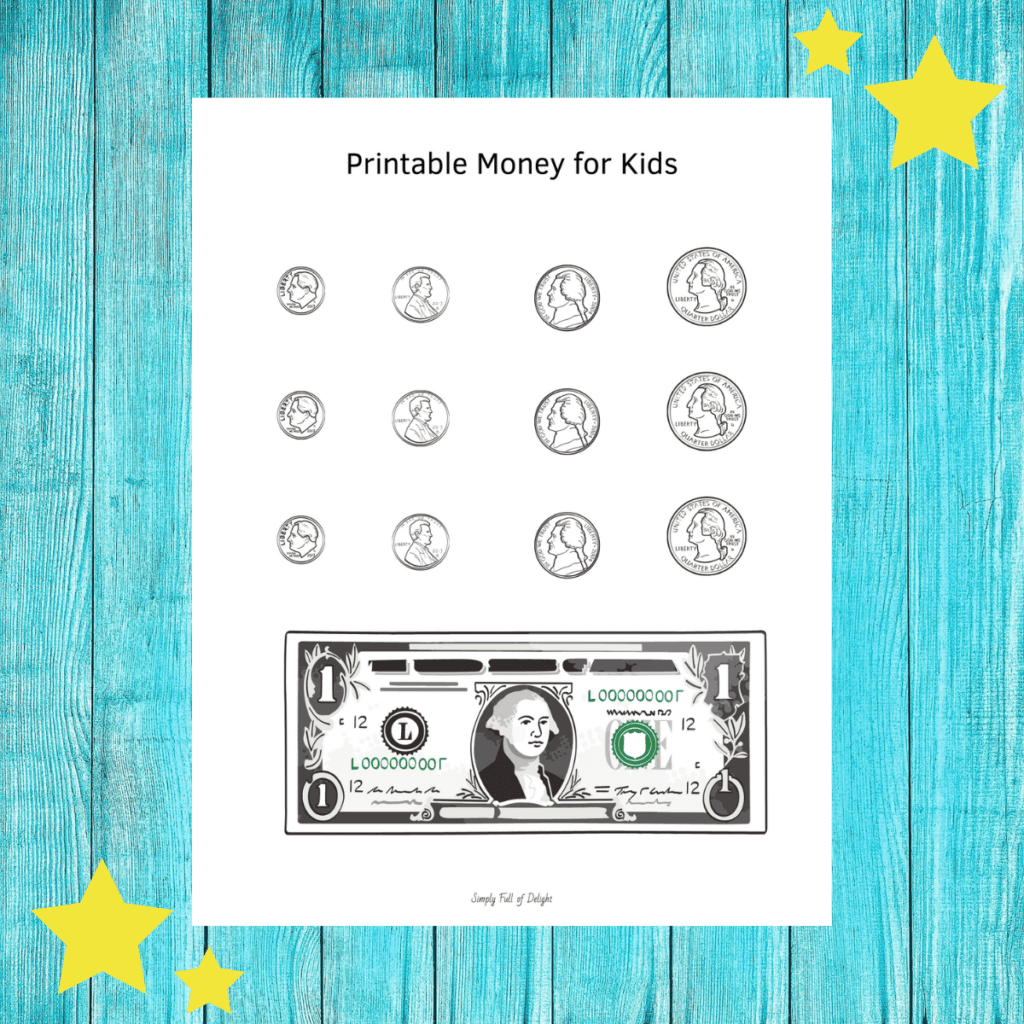 This next free resource is a printable money page with 3 of each coin and a printable dollar bill.
This page is great to use as play money.
You will find that the dollar bill is pretty accurate in size.
It is fairly realistic for your teaching money skills but is also makes great fake play money.
You might like to use play money in various math activities, teaching the value of money, a pretend bank, or just a fun way to enjoy pretend play.
Download this by clicking the black download button below.
Realistic Paper Money for Kids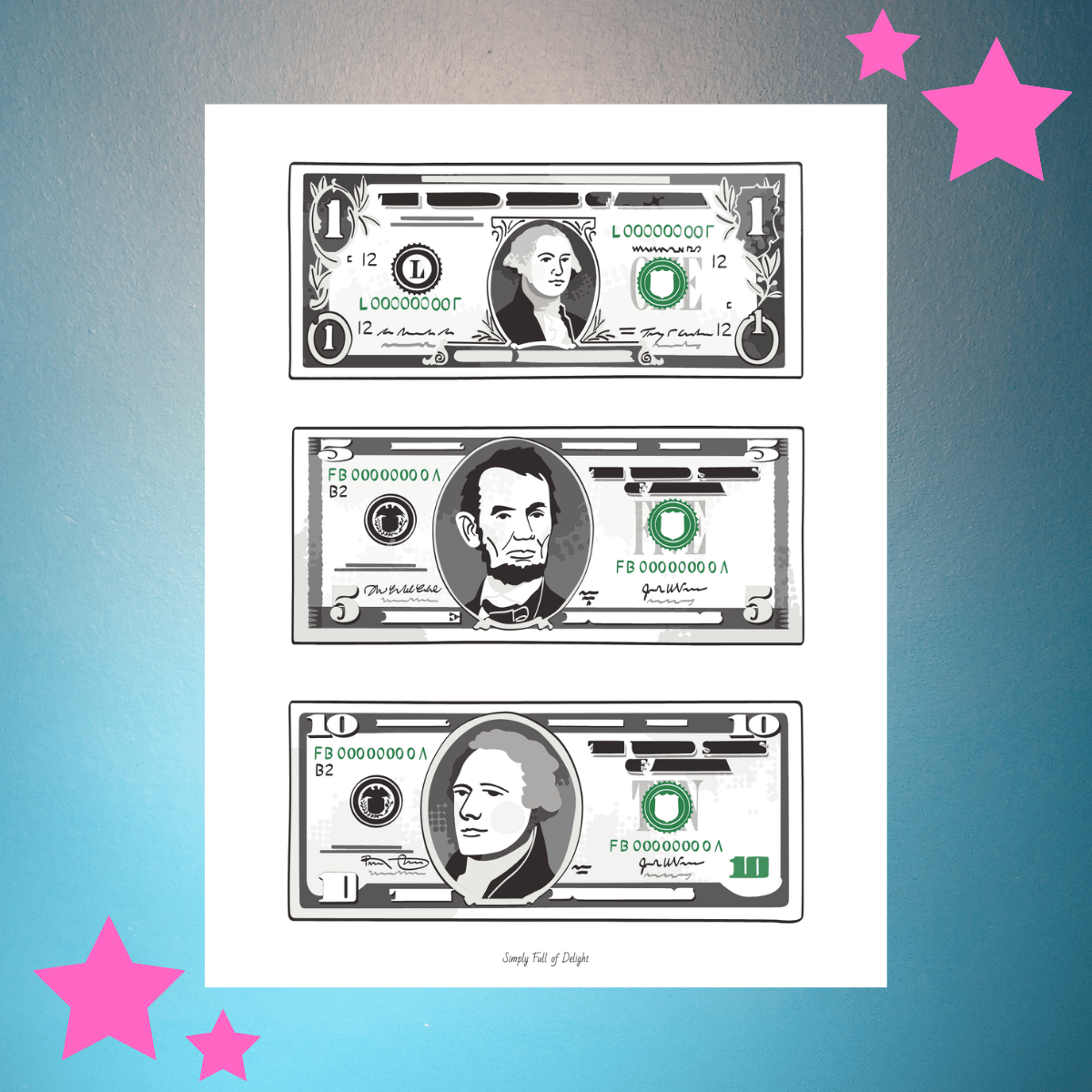 This next printable kid money template is some fake money printables with dollars in different denominations.
You'll find a one dollar bill, a 5 dollar bill and a 10 dollar bill.
These fun kid money printables are perfect for older kids who are learning to count and make change.
These printables are great for money math lesson plans and classroom activities.
I love that these could also be used for virtual math as you can send your students' parents to this page to automatically download these free printables.
Download your copy with the black button below.
Printable Play Money Template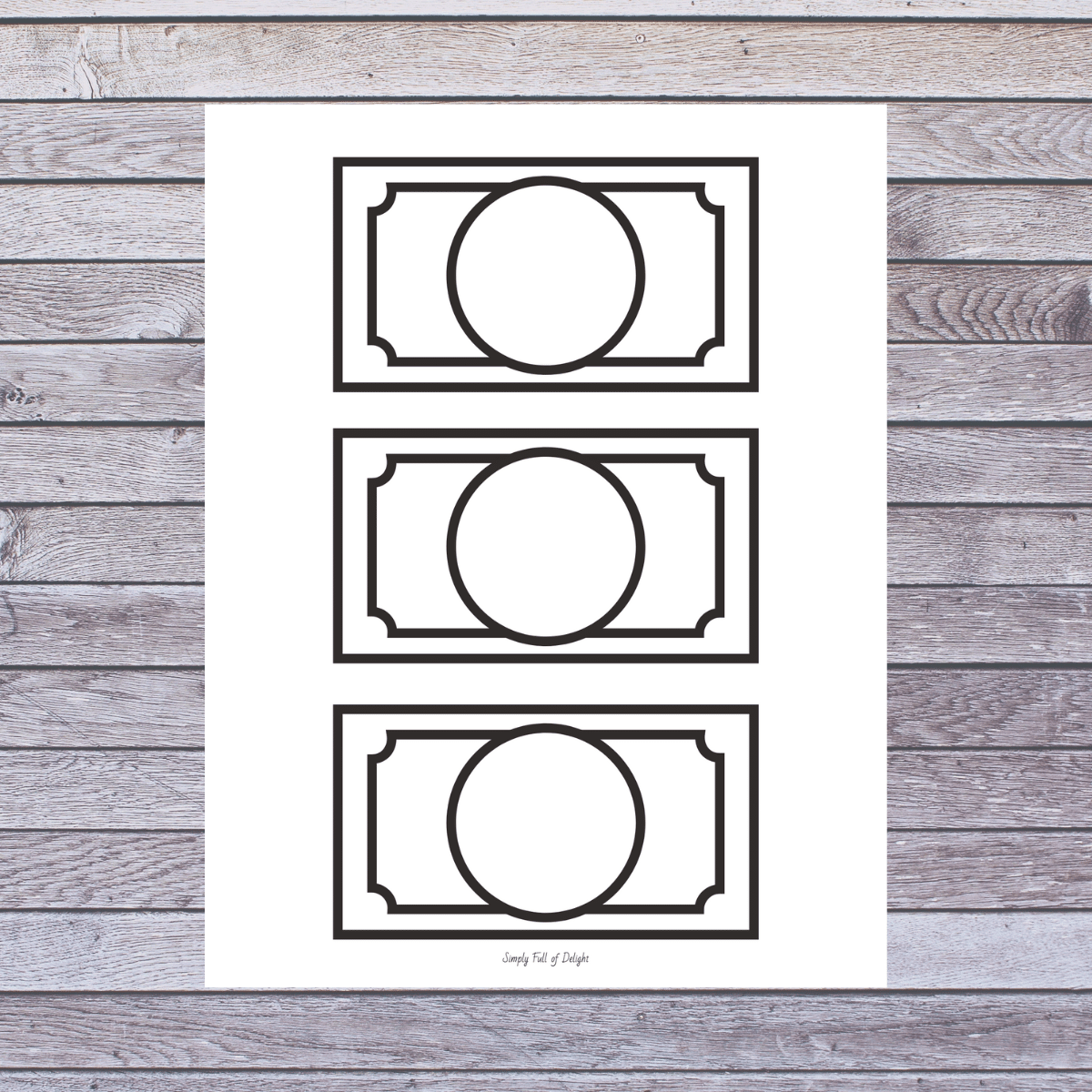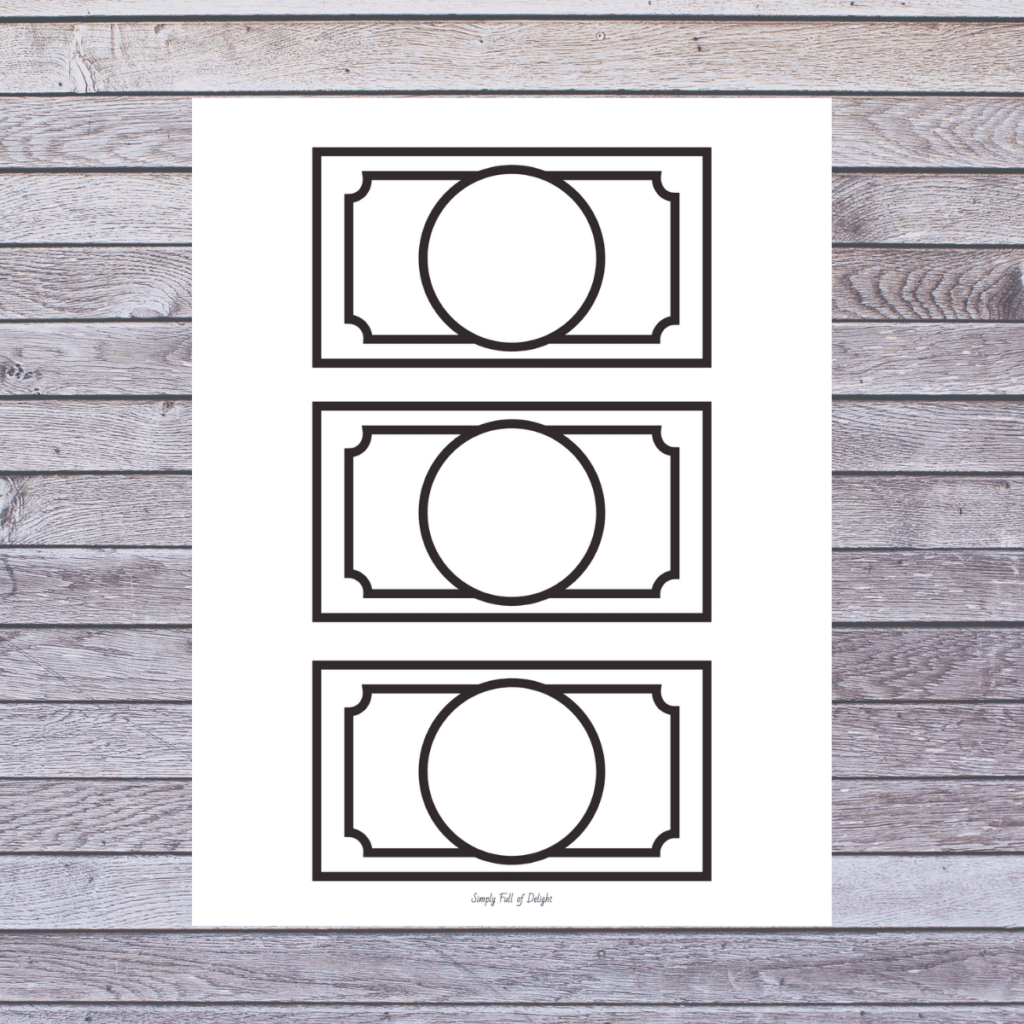 This play money template features a blank bill.
There is no dollar sign or real design making it perfect for little ones to create their own money.
My kids had so much fun deciding what their money should look like.
Should it feature a unicorn? A cat? Tractors?
They could even draw themselves! There's so many possibilities.
What a fun way for little ones to get creative while learning about money!
You can download this blank money template here:
Preschool Money Printables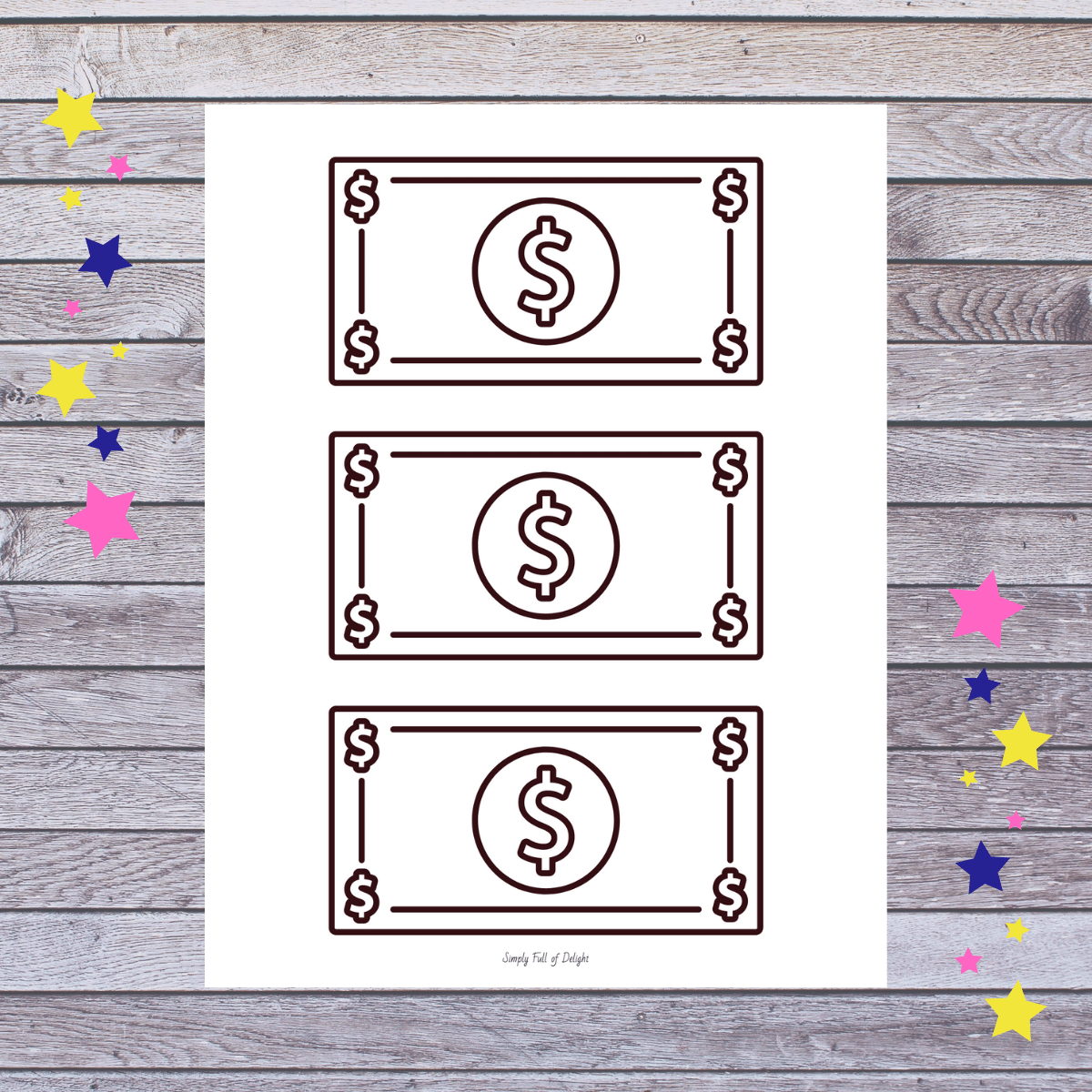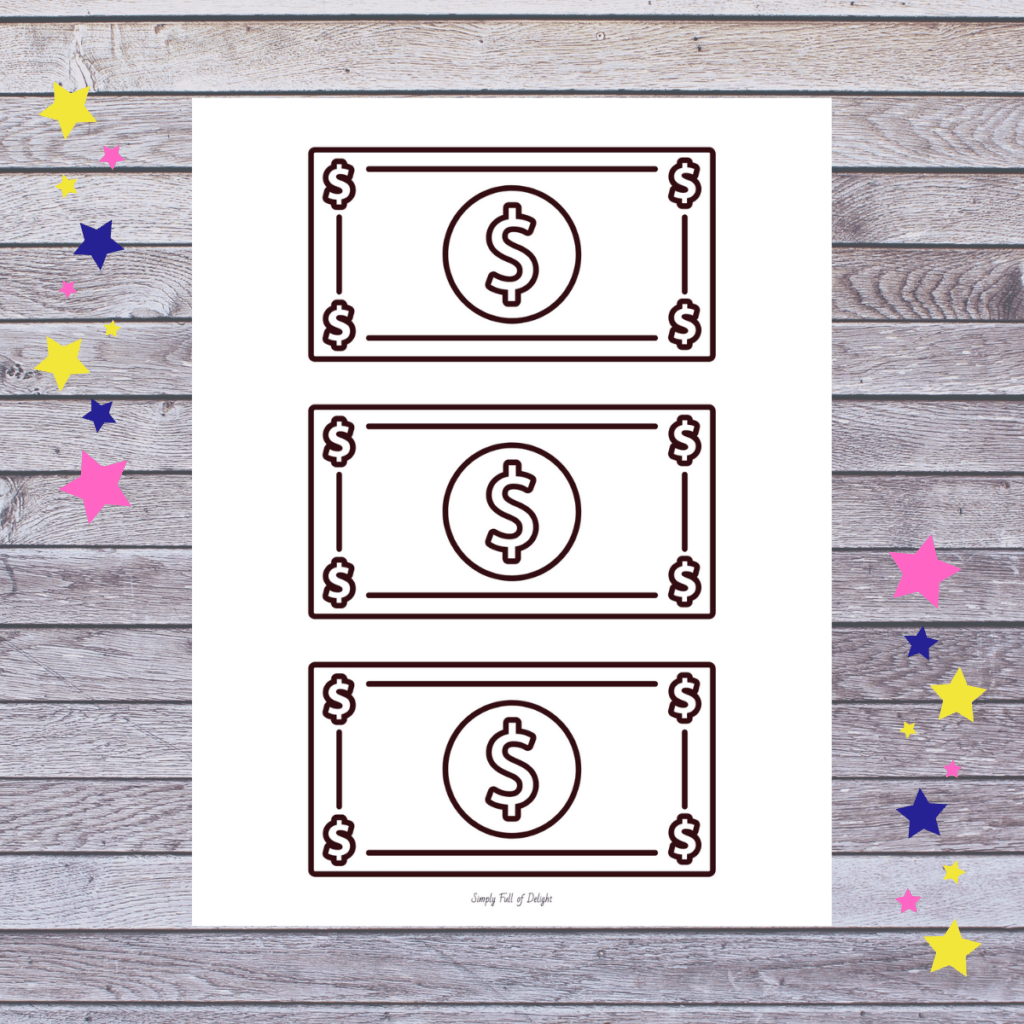 This next printable play money template features a play money design.
This particular page is perfect for a good behavior rewards or just a simple page for use with little ones.
There is no money denominations on the bills, just dollar signs which makes it a great way to introduce little ones to the concept of money.
This might be the best printable play money for kids who want to color their own money and use their own inspiration to create their own currency.
Download the Play Money Design Template here:
How to use Pretend Play Money
You can use printable pretend money for tons of things.
Some have already been mentioned, but there's a few new ideas as well!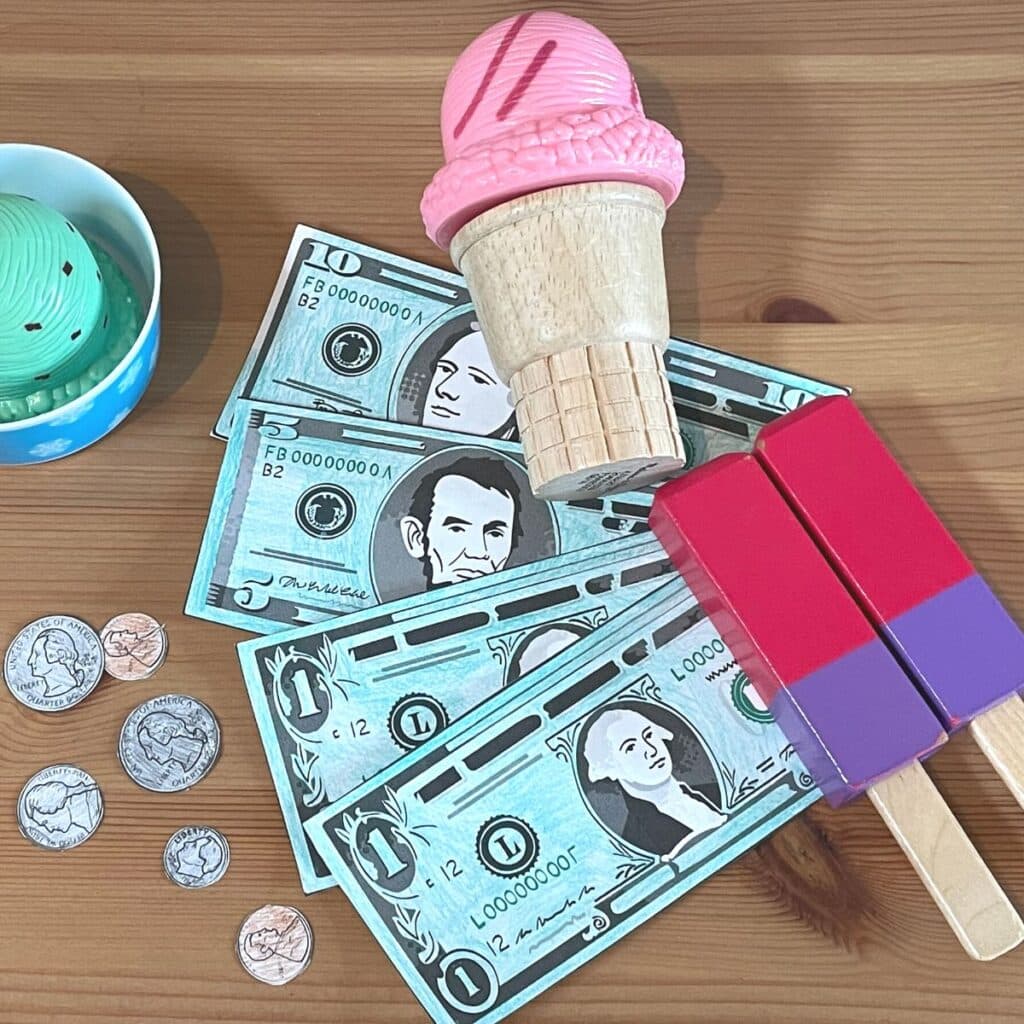 Classroom Rewards System
Pretend Play Grocery Store game
Money Math Lessons
Playing Pretend Bank game for kids
Pretend Play Flower Store
Teaching about Budgeting
Pretend Play Restaurant
Kids creating their own currency
Replacements for board game money
Pretend Play Ice Cream Stand
Parents teaching kids about money
Math activities at school
Homeschooling activities
Virtual Math Lessons
Coloring page money
Parent/Child reward system or chores reward
Classroom printables for learning about money
Here's my kids playing ice cream stand with the fake money printables!
They loved coloring them with colored pencils and cutting them out.
I would suggest laminating these printables to make them last longer.
I love my Scotch brand laminator. It's really come in handy and it's so easy to use!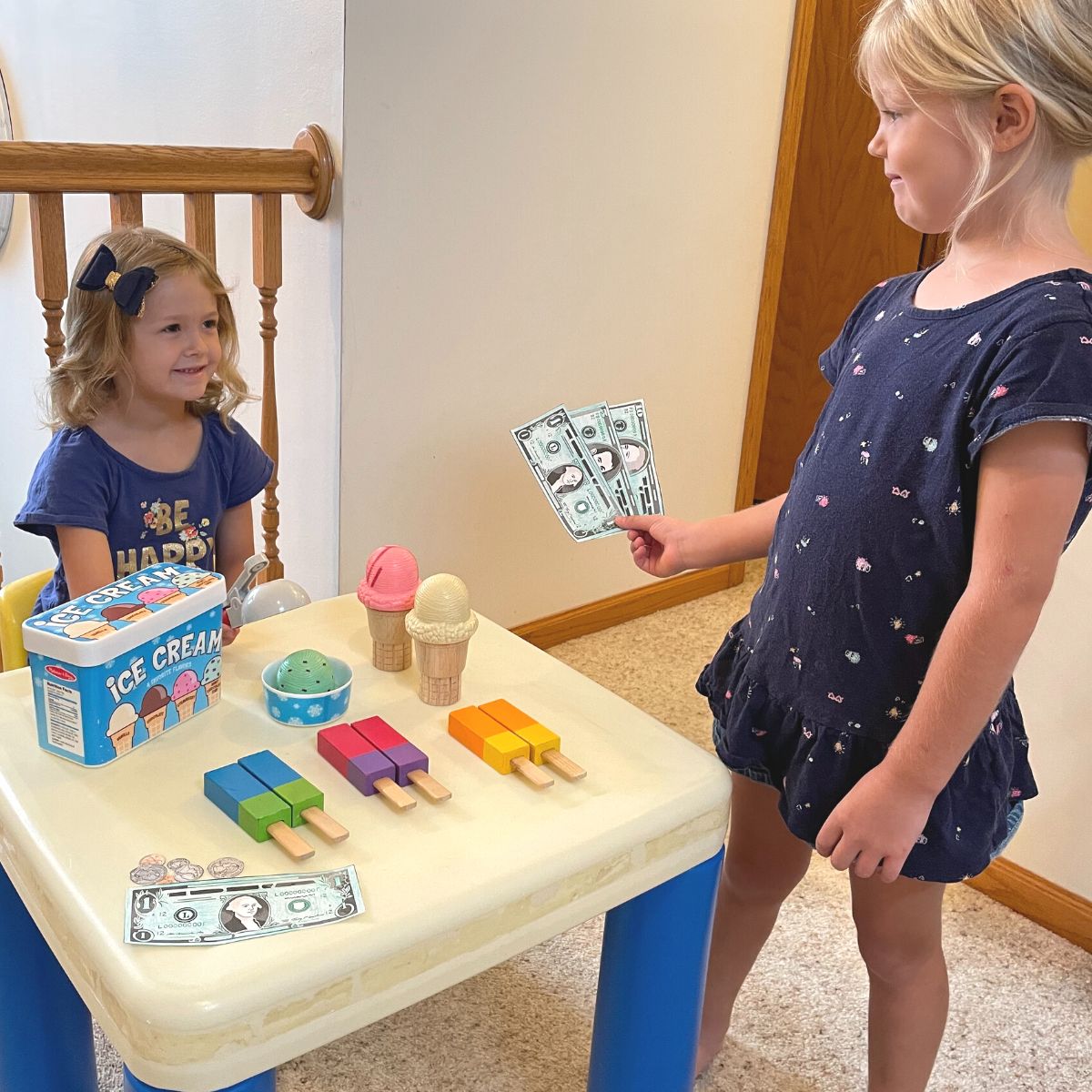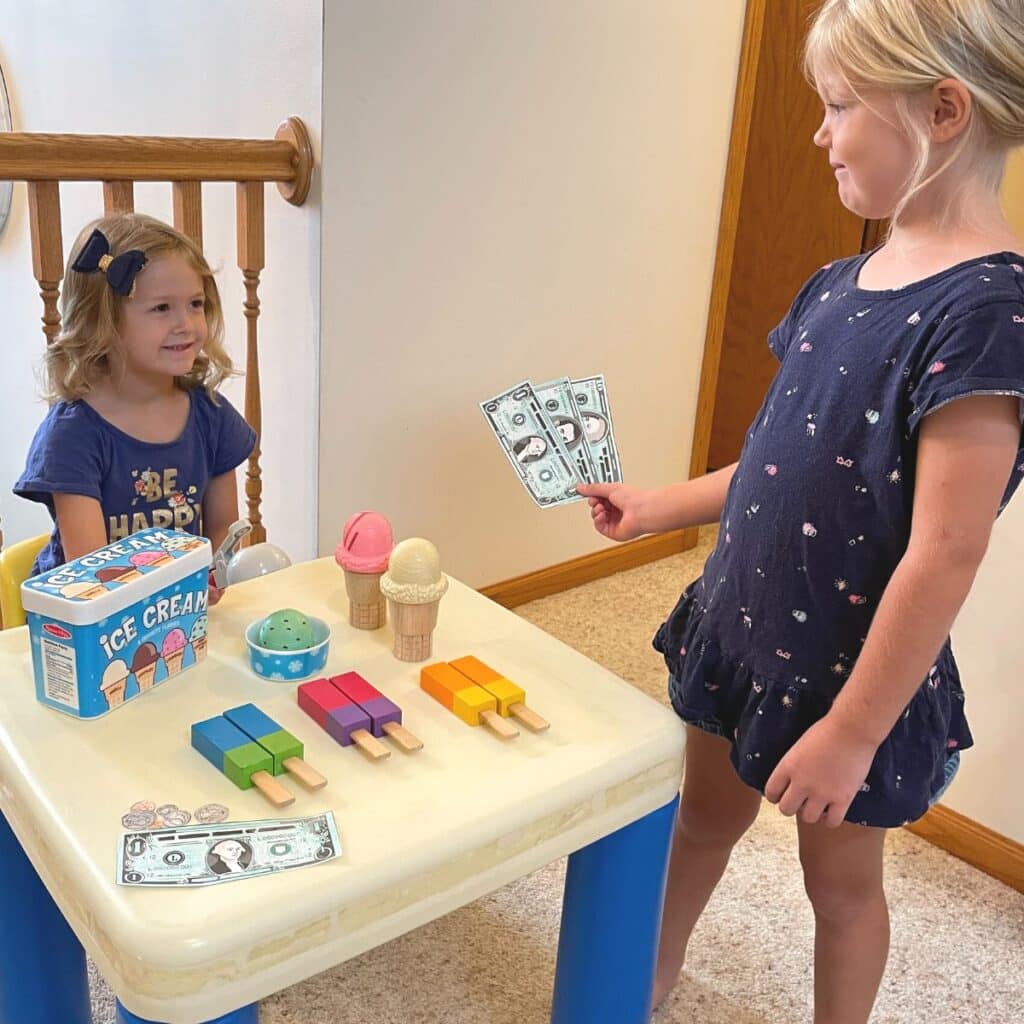 If you love the ice cream set in the pictures, it's a mix of both the Melissa & Doug Magnetic Ice Cream Cone set and the Melissa and Doug Frozen Treats set.
My kids have gotten a lot of use out of these adorable pretend ice cream treats!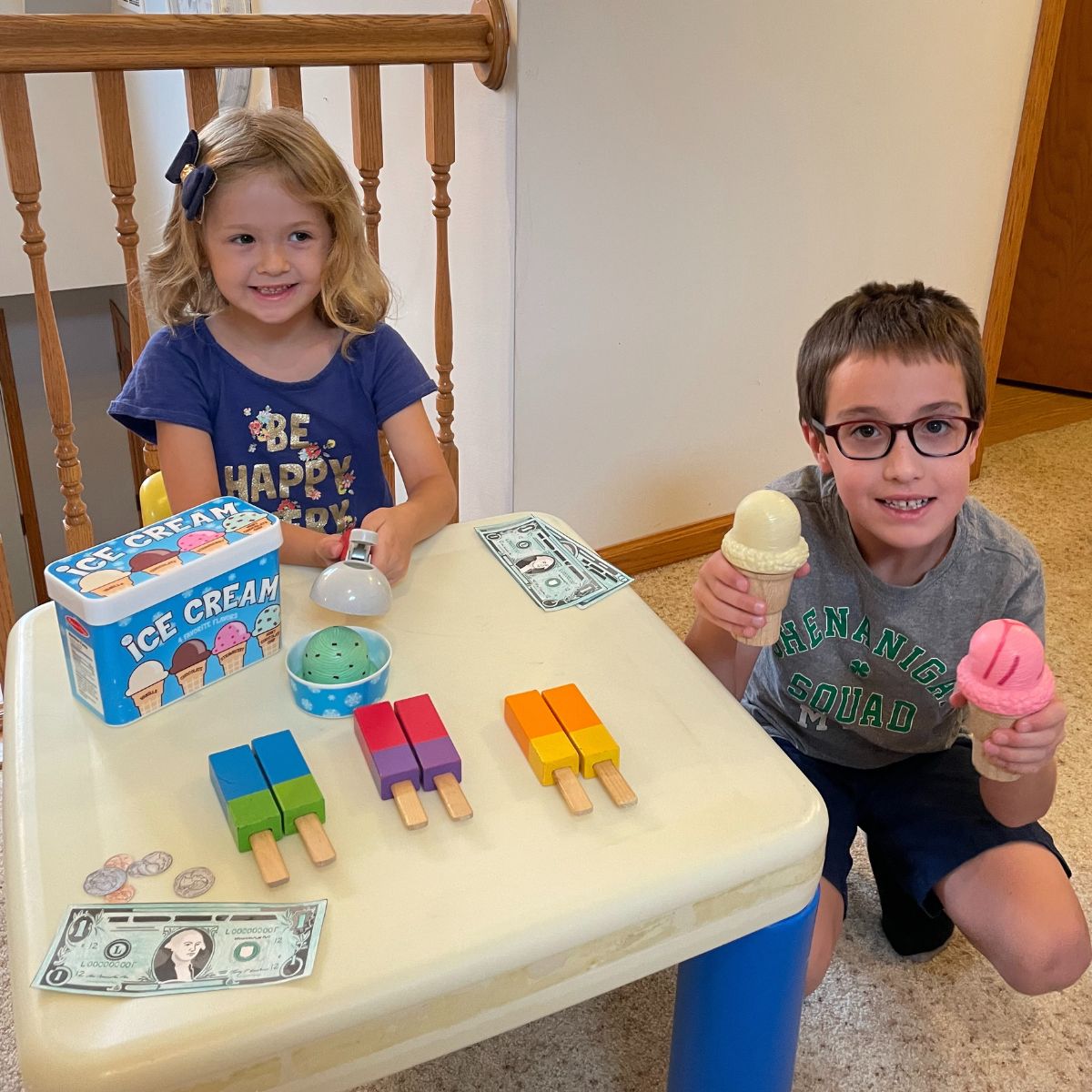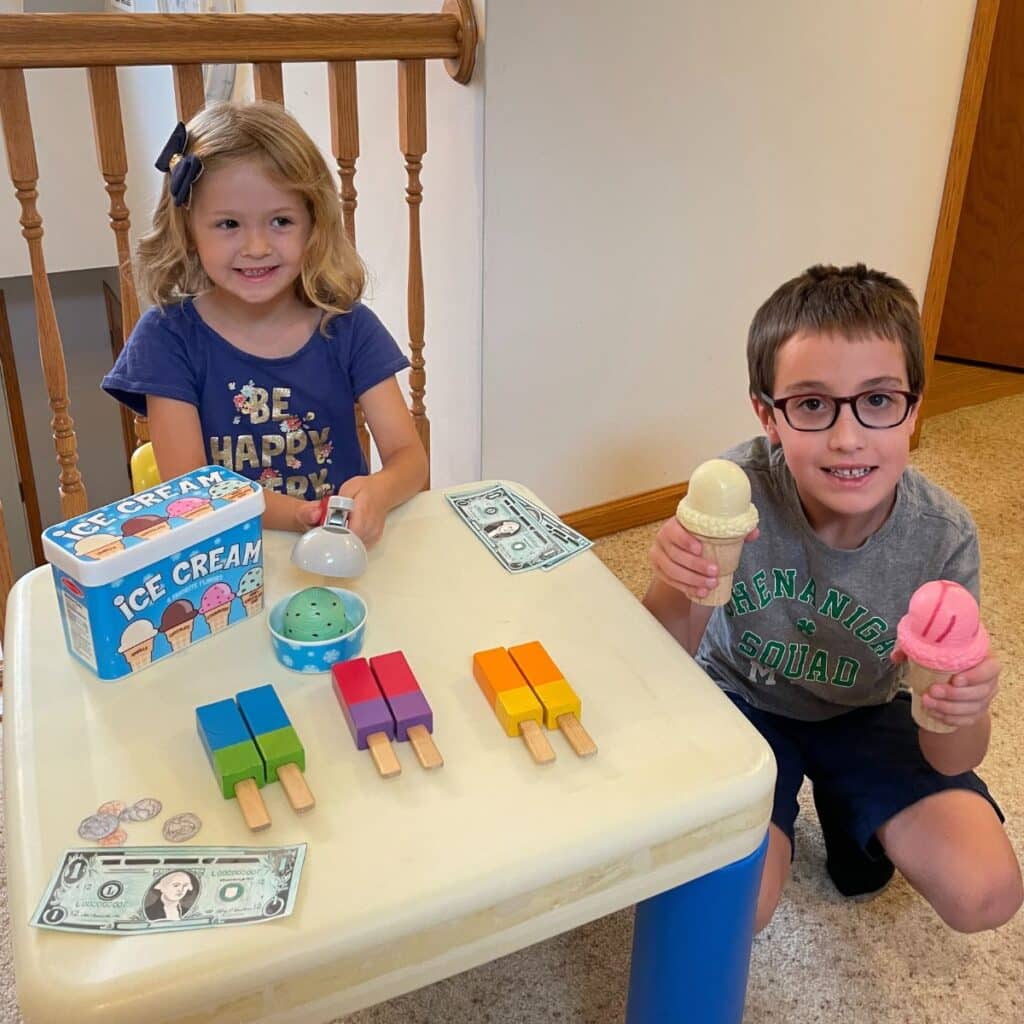 More Educational Printables
I hope you've enjoyed these a classroom fake money printable PDFs!
If you are looking for more educational printables be sure to check out these Free Sequencing Cards. Perfect for teaching order words (like first, second, third, etc.) or story telling skills.
You can find free printable Number Coloring Pages (1-10) here. A fun way to teach little ones 1 to 1 correspondence and number words.
There's also a free printable Color by Number Flag page here. This printable is a great way to practice number recognition and following directions.
You can also find some fun free Color By Number printables here. There's a picnic theme, beach scene and ice cream treats printables.
Want to save these classroom fake money printable PDFs for later?
Pin the image below to Pinterest.