Looking for an Easy St. Patrick's Day Craft for kids? Here's a Marble Paint Shamrock Craft Printable!
With St. Patrick's Day quickly approaching, we've been busy doing all kinds fun St. Patrick's Day crafts and activities. We've made adorable shamrock prints with green peppers and we've made our own Leprechaun hats.
So, today, we decided to do some shamrock marble painting art!
This St. Patrick's Day Marble Painting Craft with free shamrock printable is a great way to celebrate St. Patty's Day with preschoolers and kindergarteners!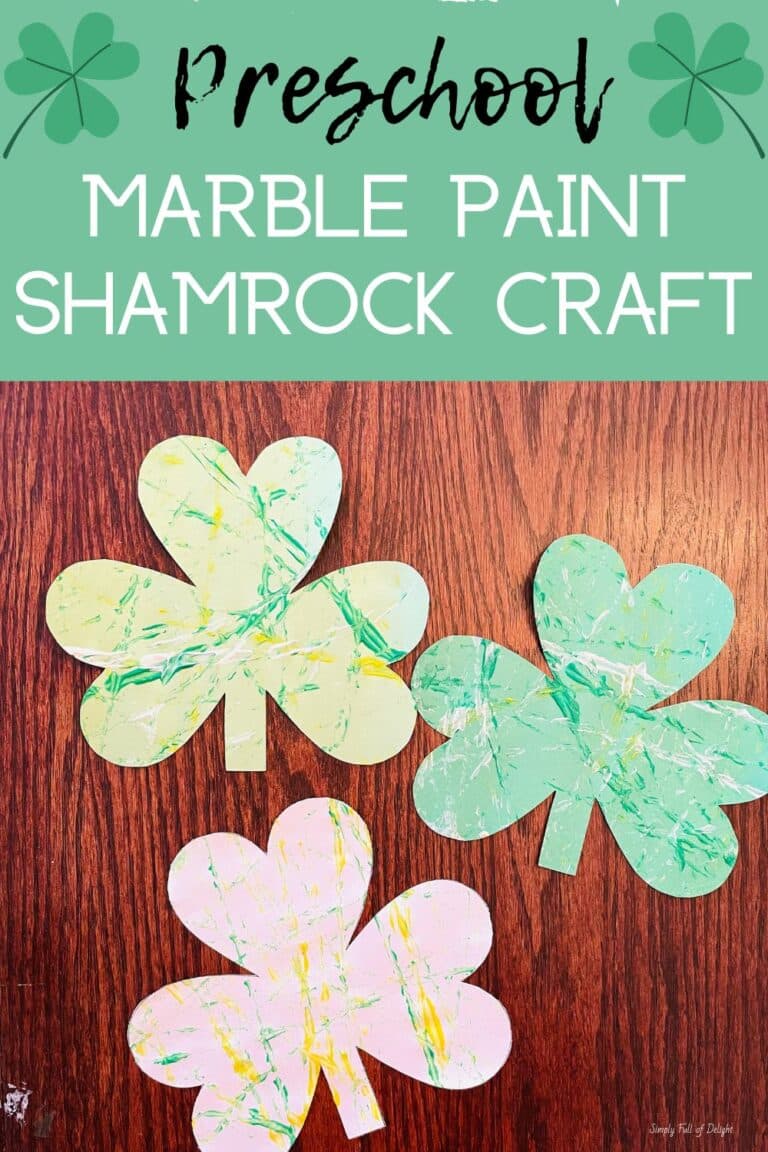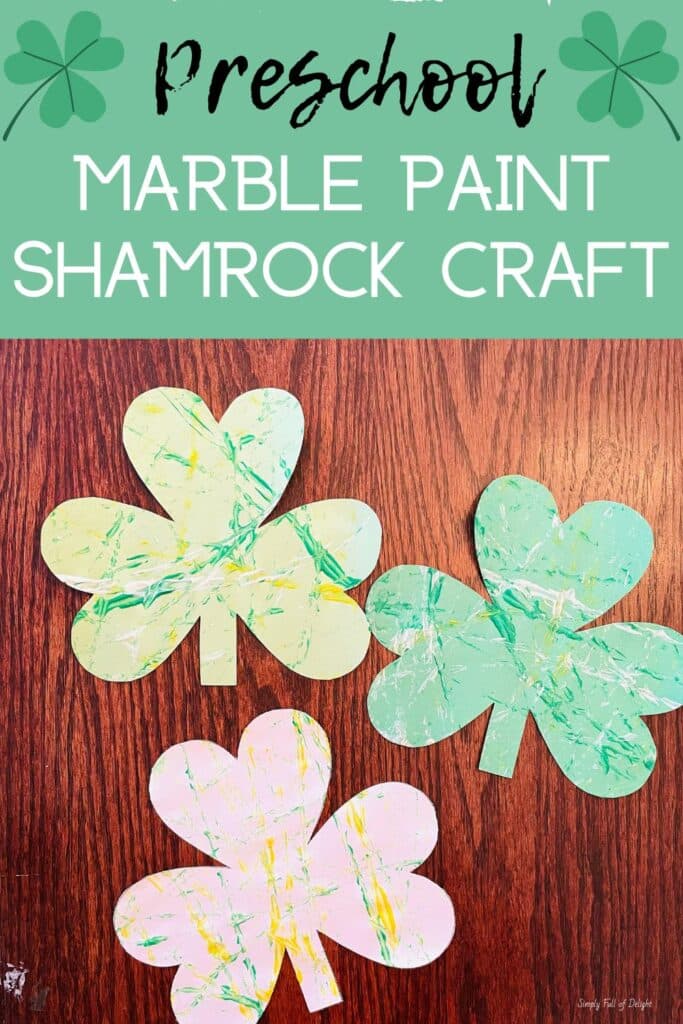 I think marble painting crafts always turn out adorable and I love how easy it is for younger children.
But first, let's talk about the benefits of marble paint art.
Are there benefits to Marble Painting?
Science World says that marble painting helps kids with hand eye coordination, fine motor skill development, and it builds observation skills.
Marble painting can also be used as a process art activity, as kids are in control of the outcome. You can guide them a little or a lot. It's up to you!
Let's get started on our Marble Paint Shamrock for St. Patrick's Day.
** Disclaimer: As an Amazon.com Associate, I earn from qualifying purchases made by readers clicking my affiliate links at no extra cost to you.
Supplies for Preschool Shamrock Craft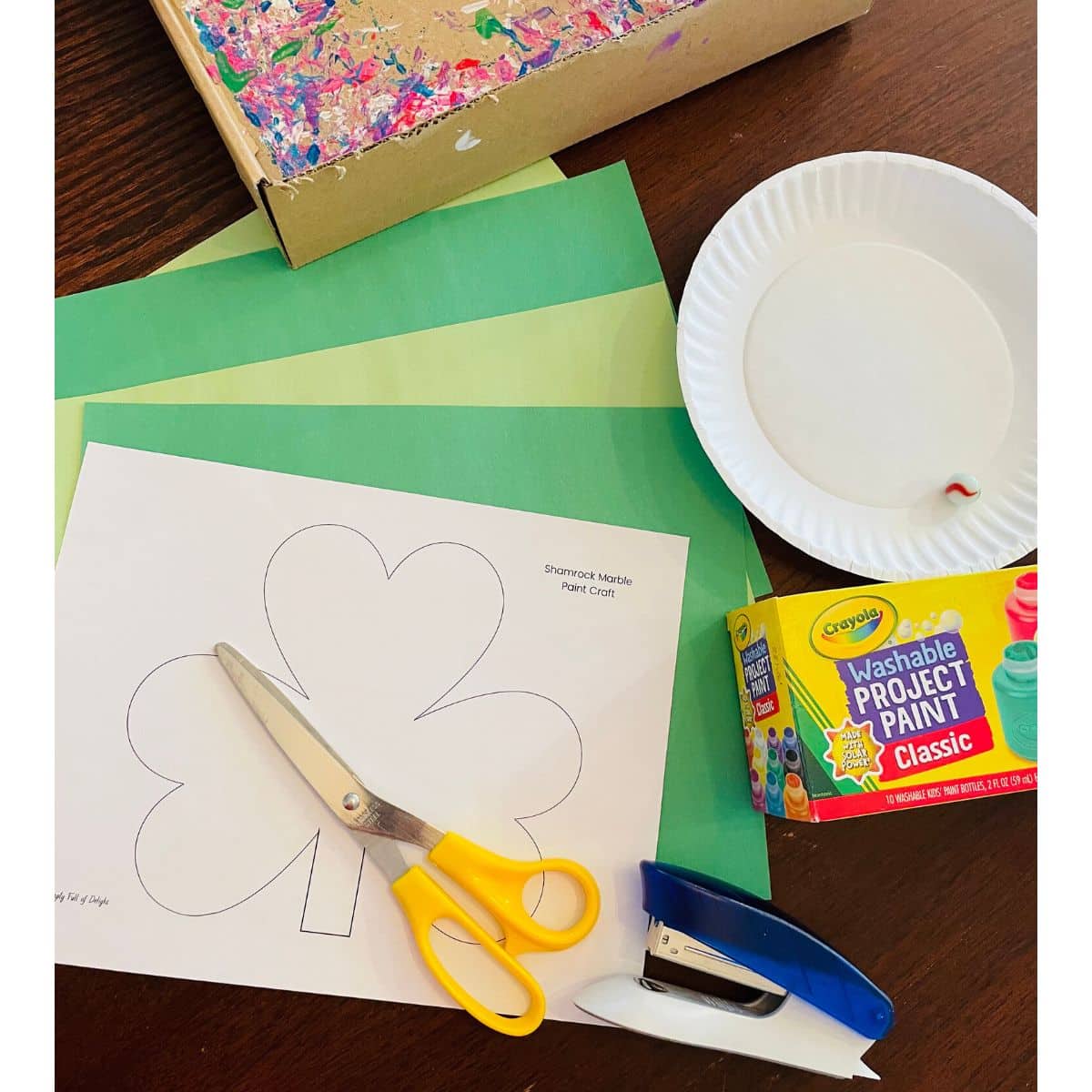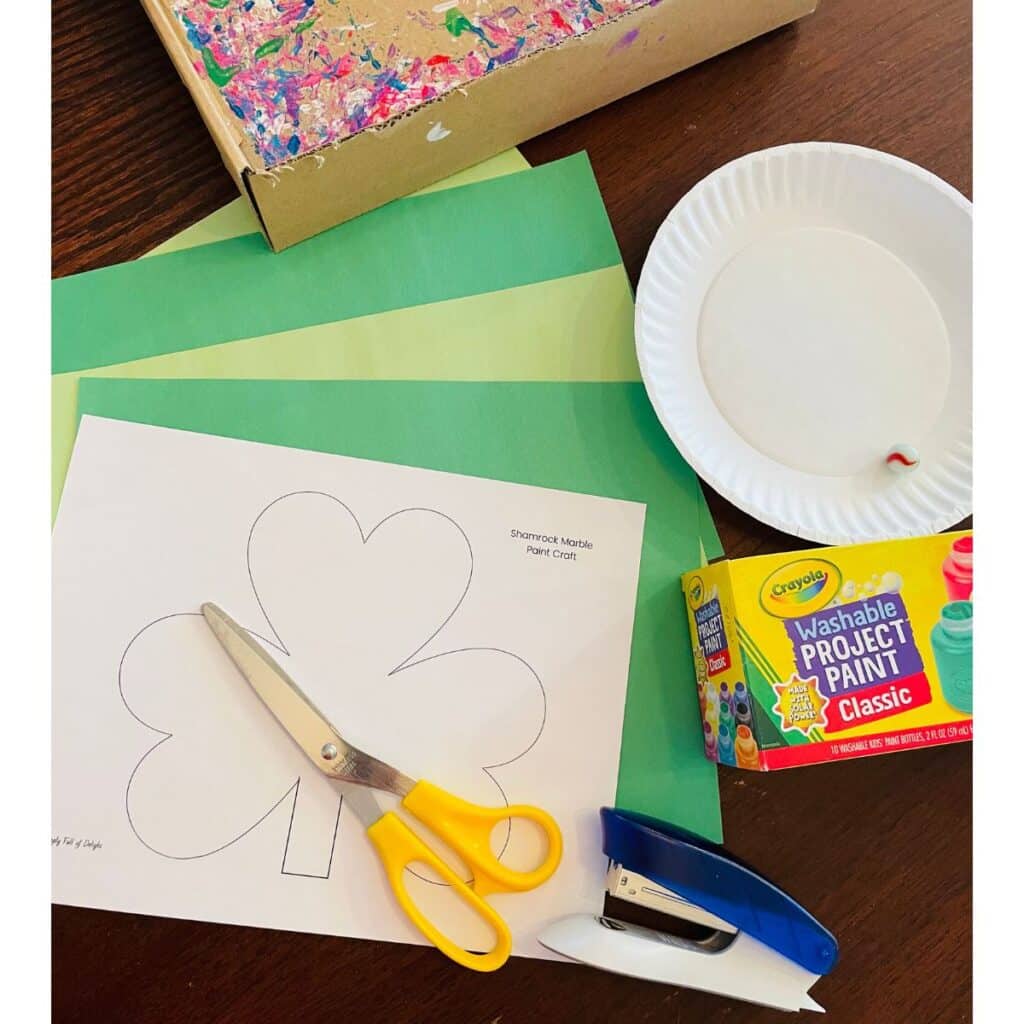 For this easy Shamrock craft you will need the following craft supplies:
– A copy of the Shamrock craft printable – found after this tutorial
– Green construction paper – it's nice to have 2 shades of green if possible.
– Scissors
– Stapler
– Washable Kids Paint in a variety of St. Patrick's Day Colors (We love this paint from Crayola)
– Bowl or paper plate for paint – we've found that an egg carton works really well
– A few Marbles (you can try other small balls as well!)
– A Box that isn't too deep or too shallow. Your marble painting box needs to be a box that a child can maneuver easily. Alternatively, you might have a plastic container or cake pan that might work.
– Baby Wipes or Paper Towels – for when things get messy!
Let's get started on our Marble Paint Shamrock Craft!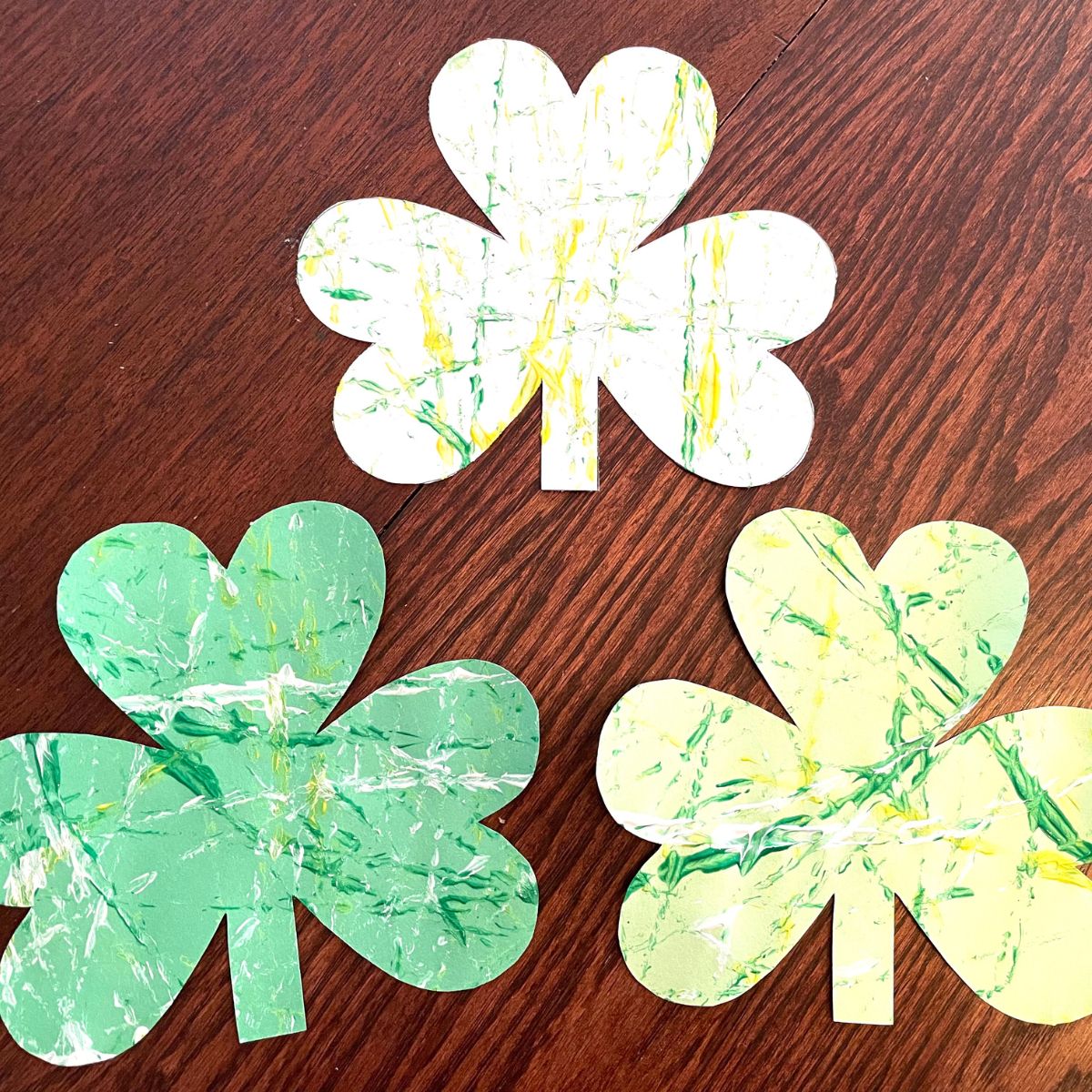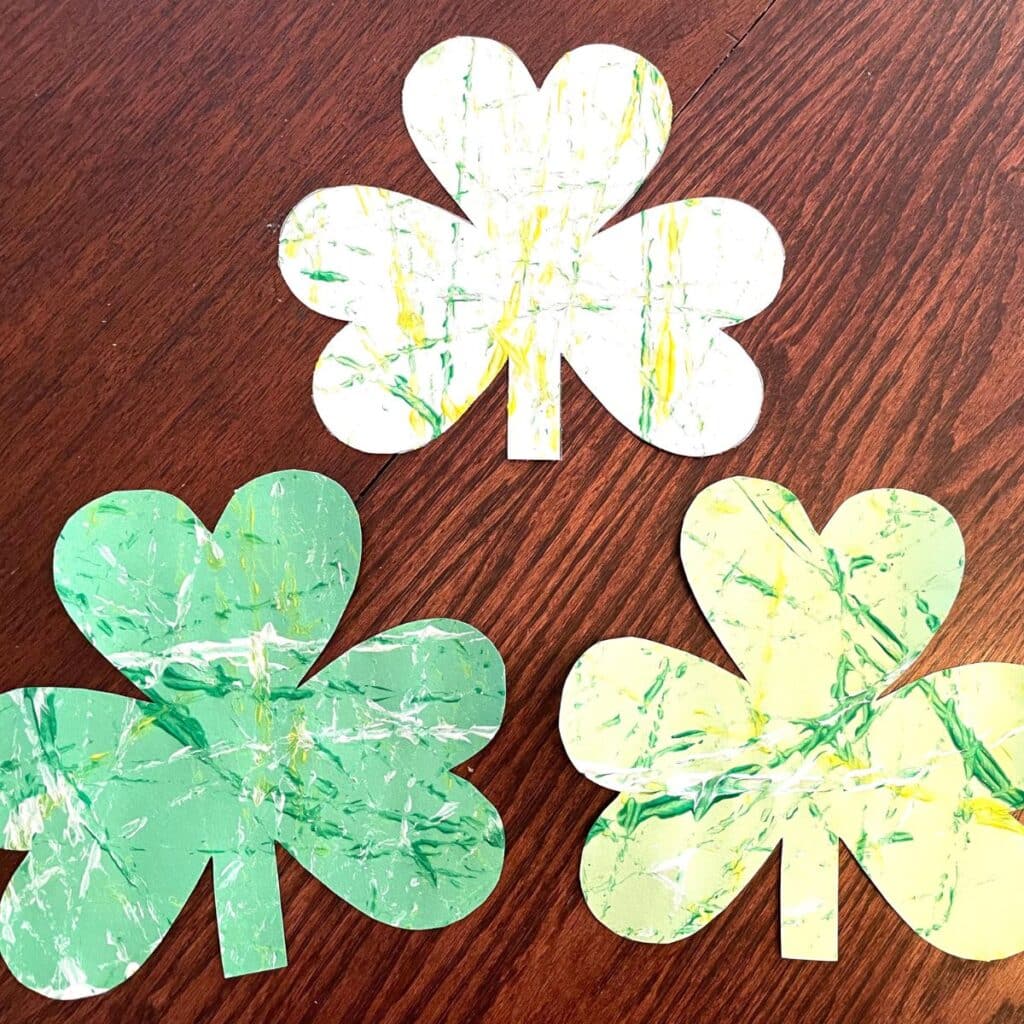 How to Make an Easy Marble Paint St. Patrick's Day Craft
First, print out the Free Shamrock Craft Printable. I've provided the template for you at the end of the instructions under the heading Grab the free Shamrock Craft Printable!
To Marble Paint Shamrocks, you have a few choices. You could:
– Print the template on a white piece of paper (or green paper) and have the kids each color and cut their own out.
– Print the template and place it on top of a stack of green paper. Staple it around the edges to hold the paper in place and cut it out. You can cut multiple shamrocks at the same time by doing this!
This is the option I chose as I wanted to show you how to quickly cut multiple shamrocks for a classroom of young kids.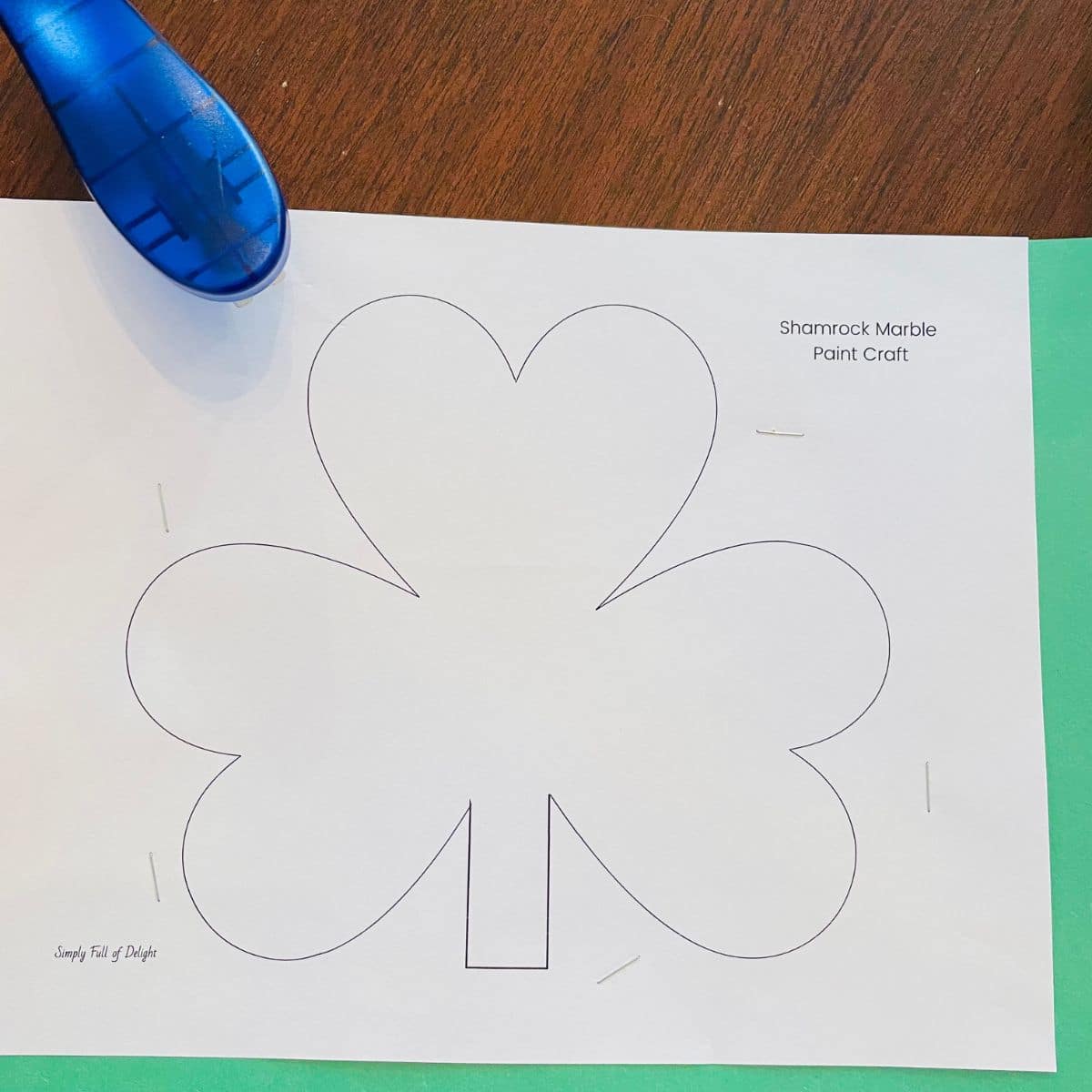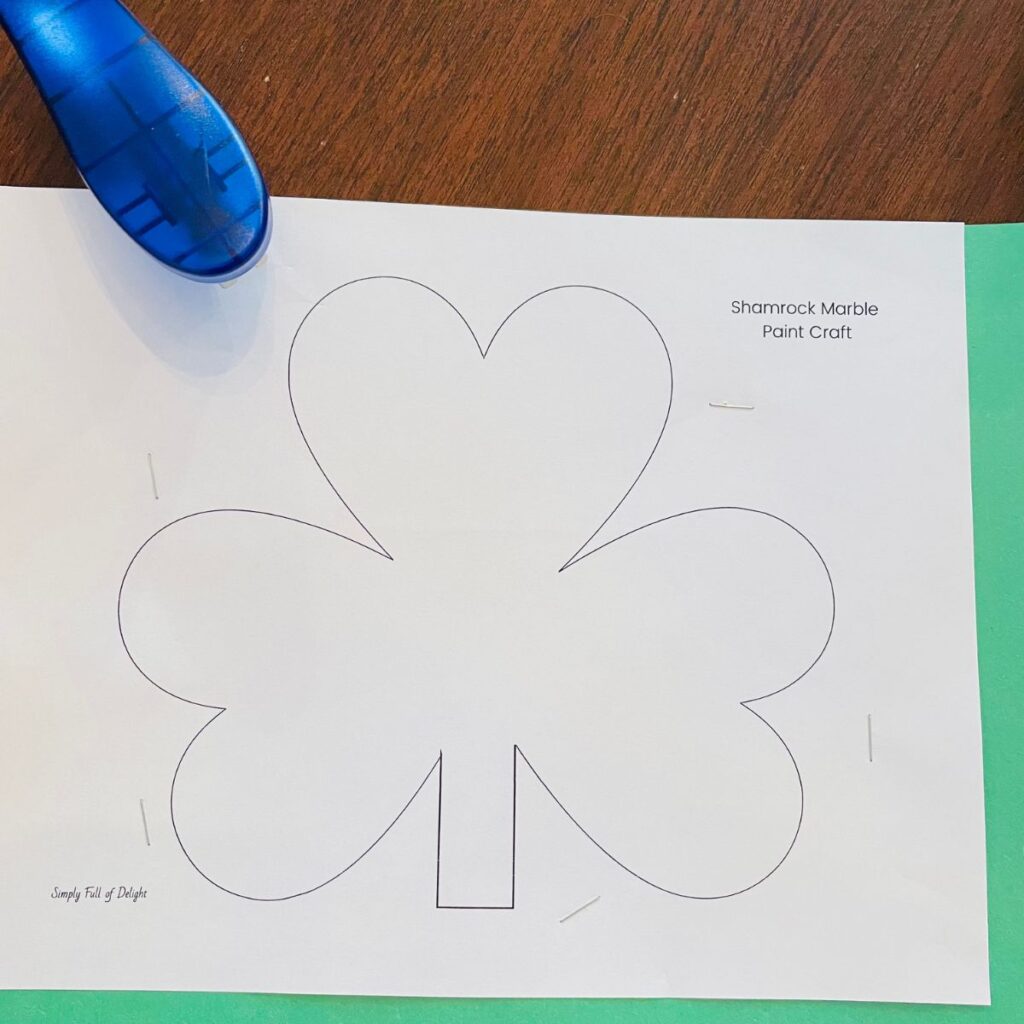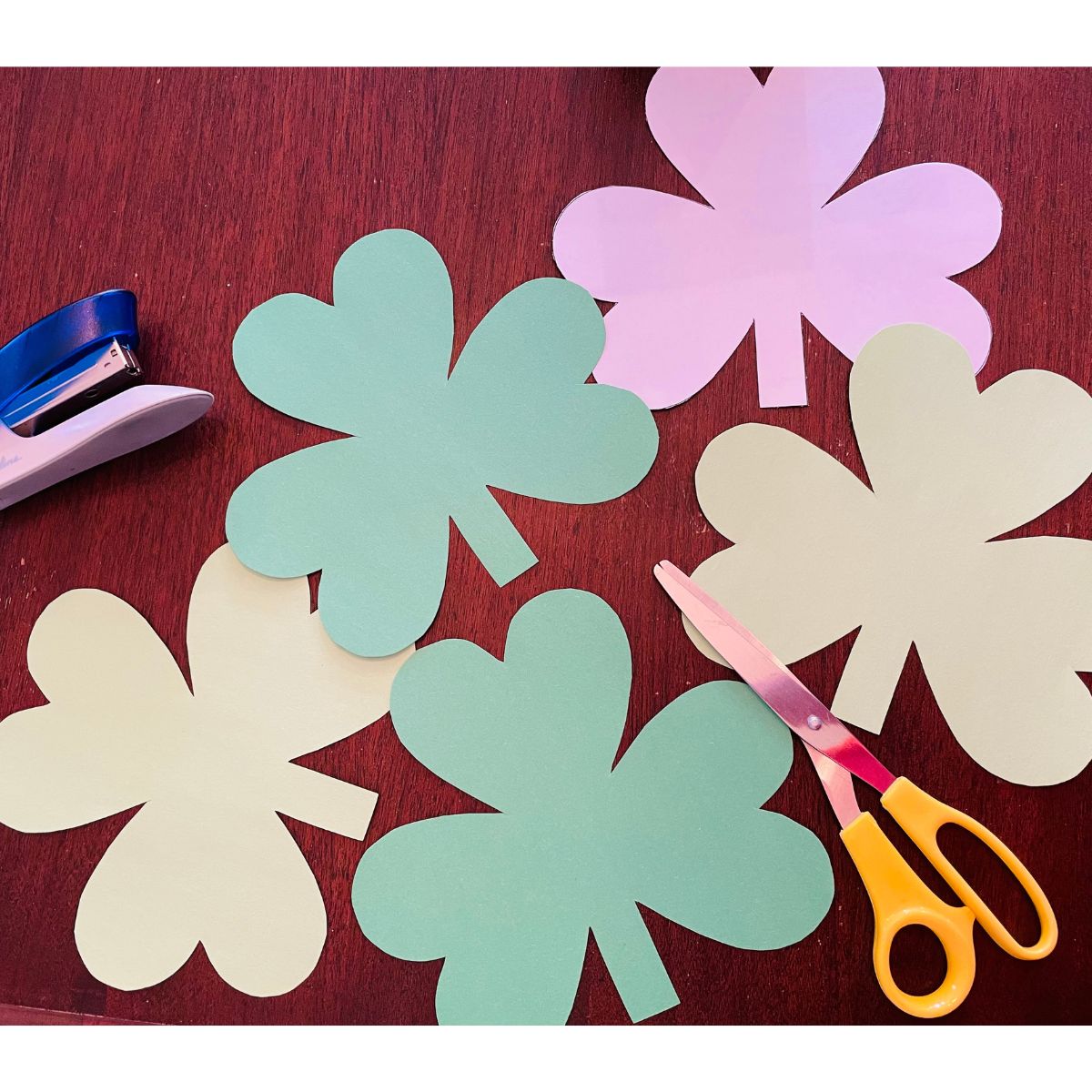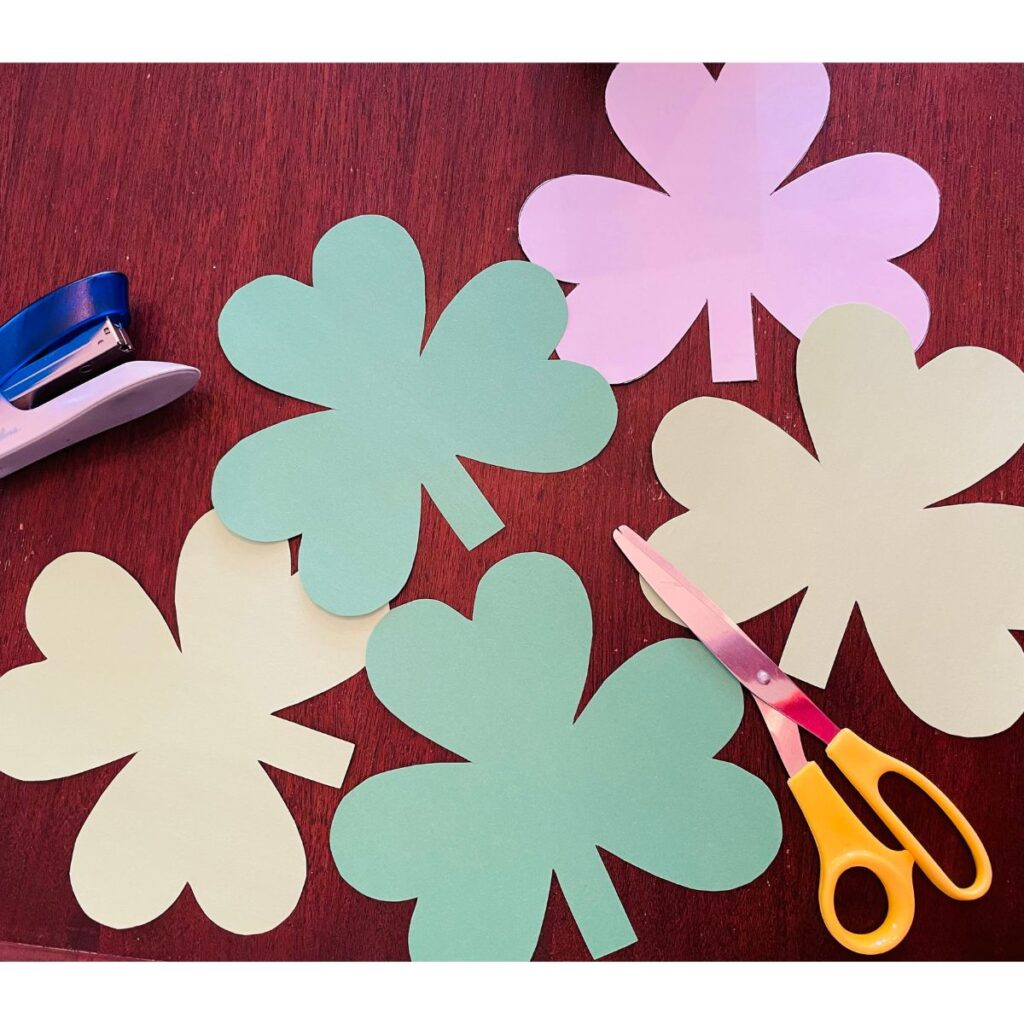 Marble Painting Shamrock – Preschool
Place the free shamrock printable in your shallow box. Next, put a little bit of paint into the bowl or plate.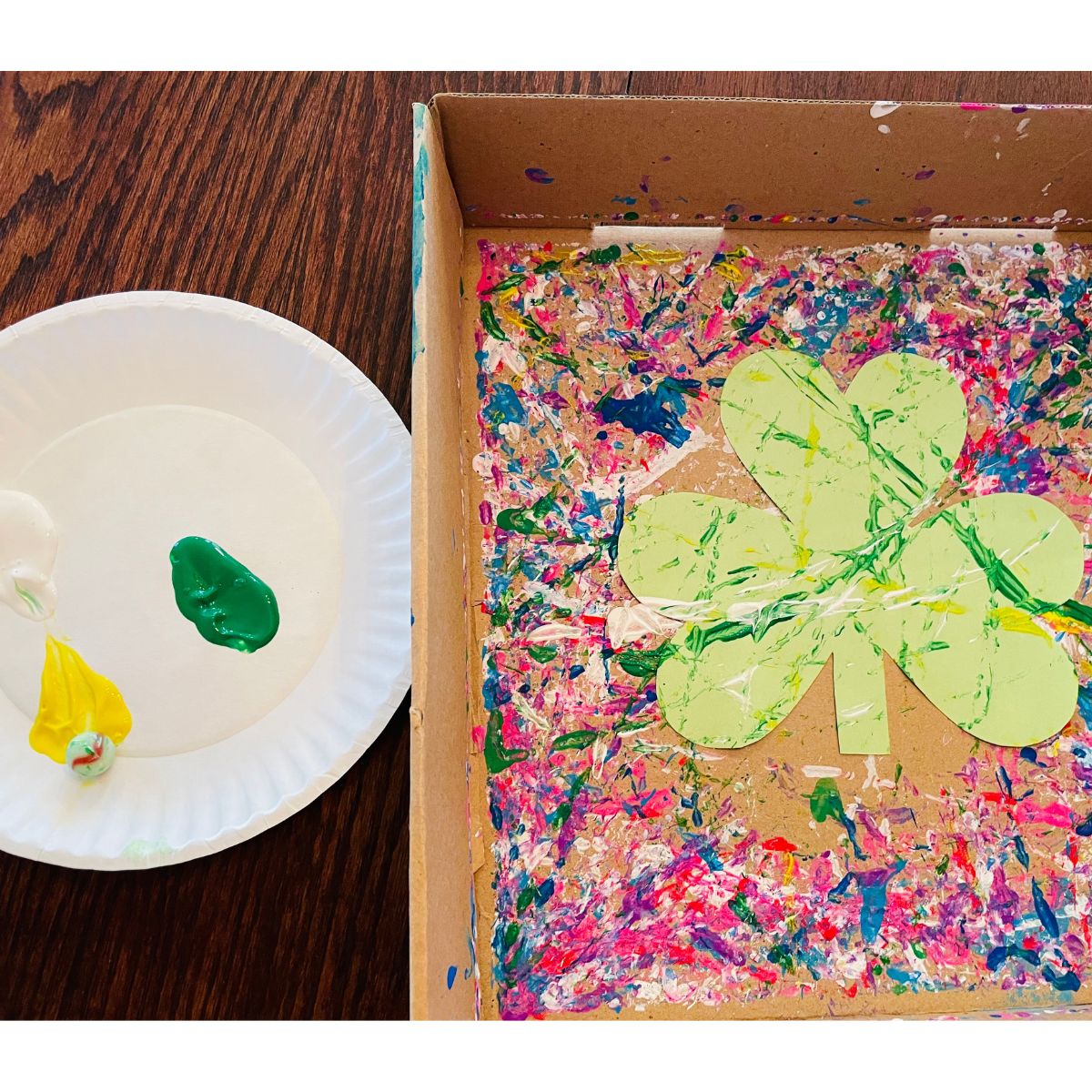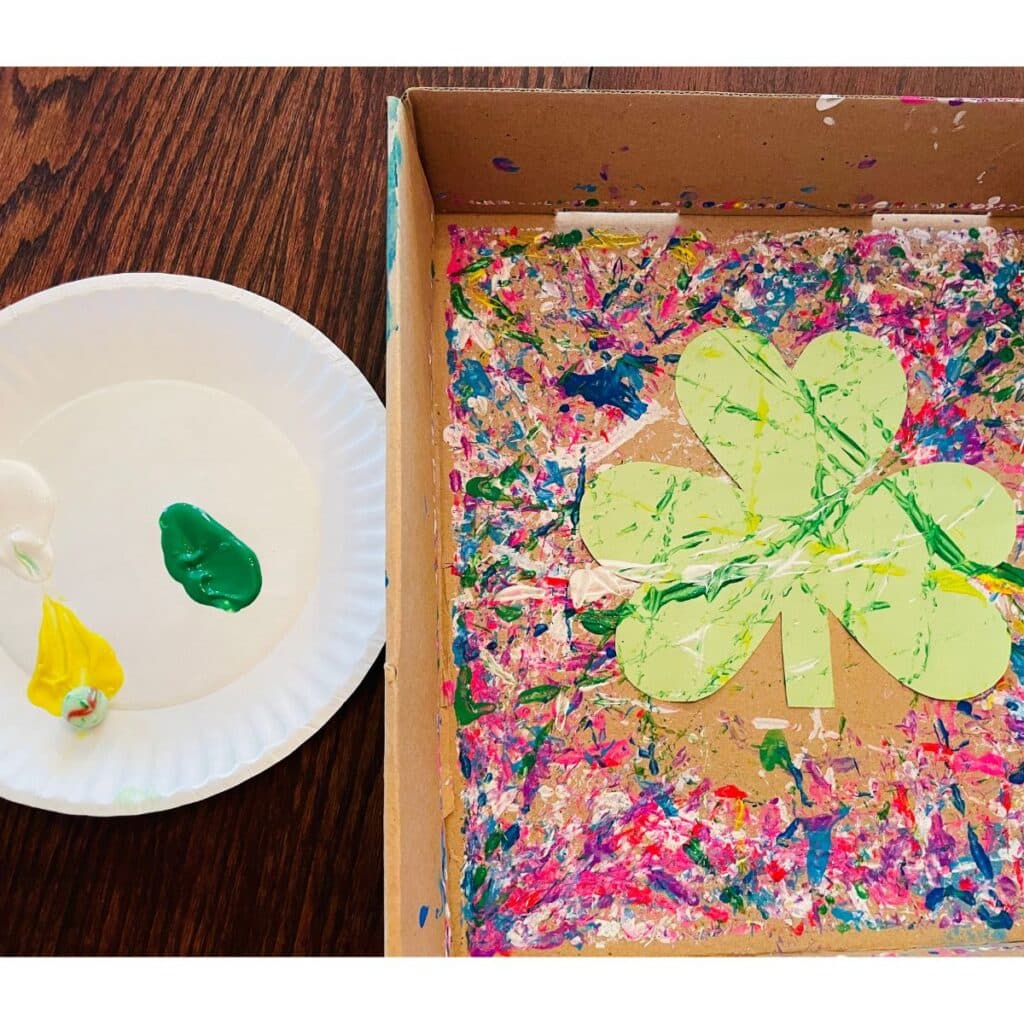 I put several different colors of paint onto a paper plate.
You might like to stick to a traditional St. Patrick's Day color combination like green, white, and yellow. But, it's totally up to you!
Don't forget that the paint colors will mix as the kids use different colors and dip their marble in and out of the paint. You might want to avoid color combinations that will turn brown.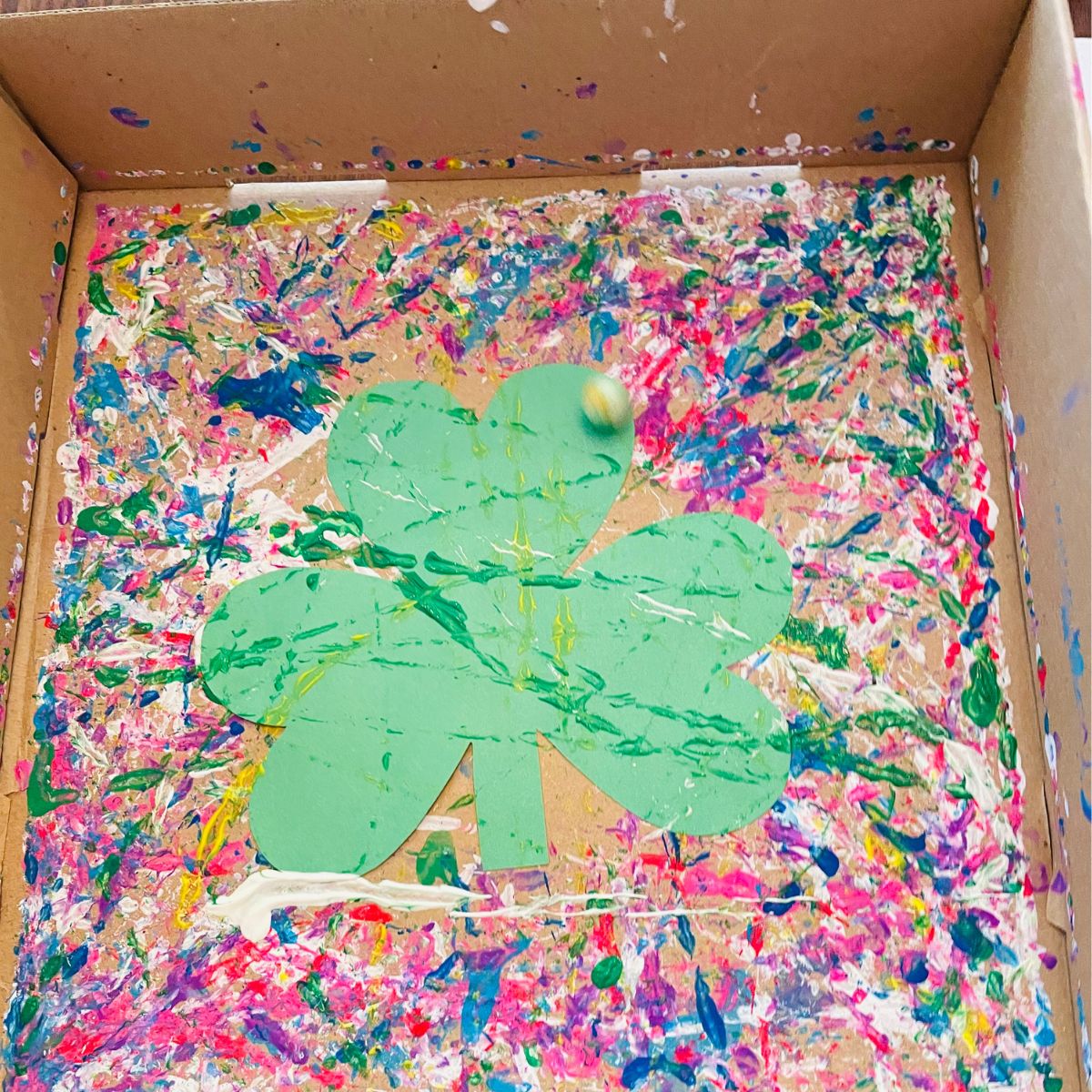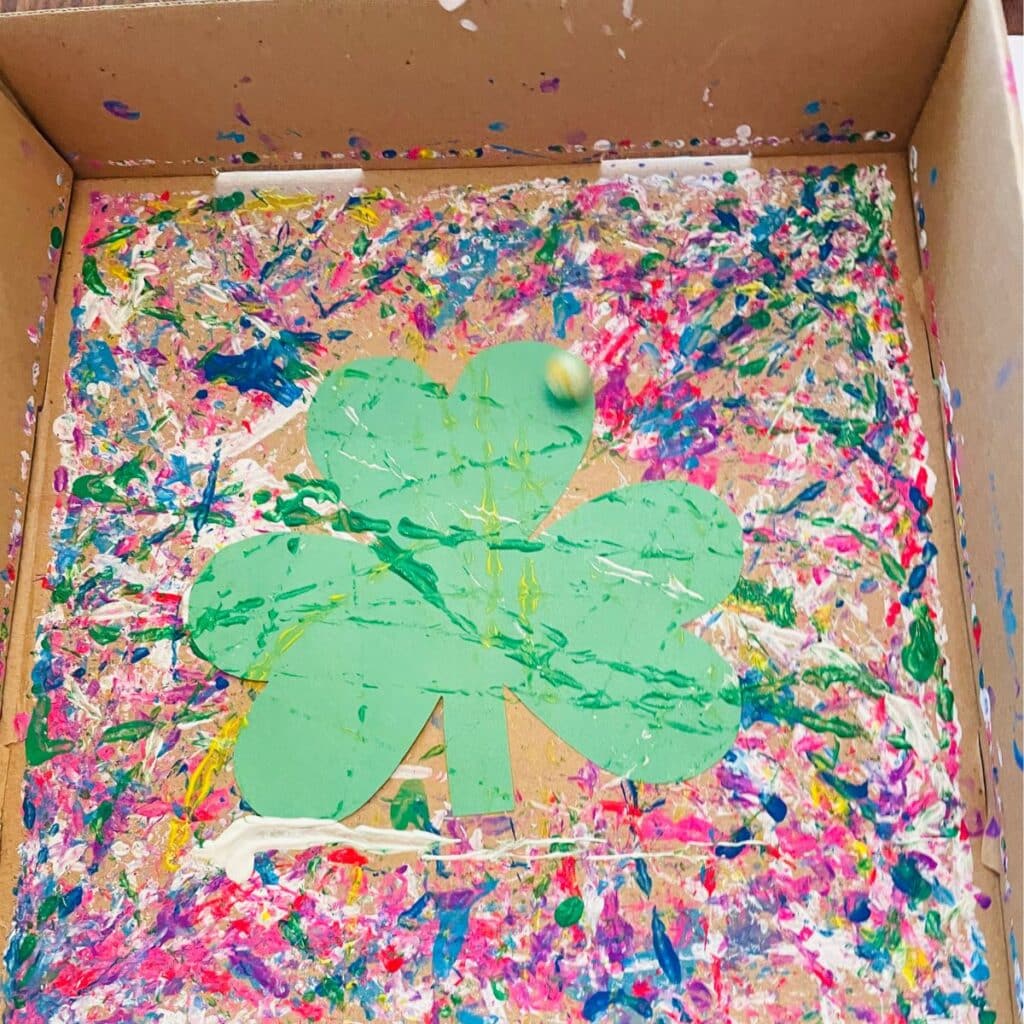 Have your child place the marble into the paint. Then have them pick up the paint covered marble and place it into the box.
I always tell them to place the paint covered marble to the side (not on the paper shamrock) to avoid big splashes of paint on the shamrock, but that's just my preference.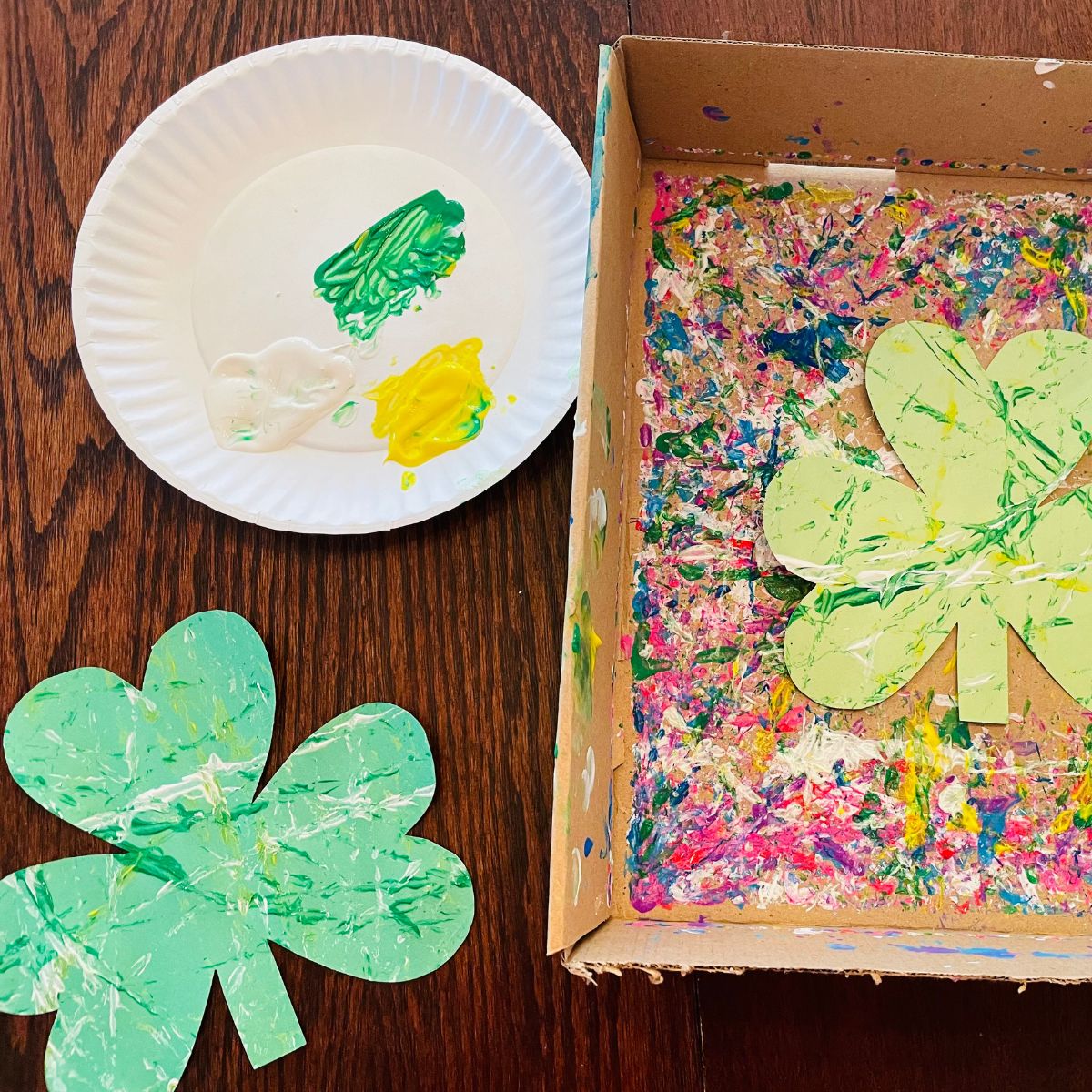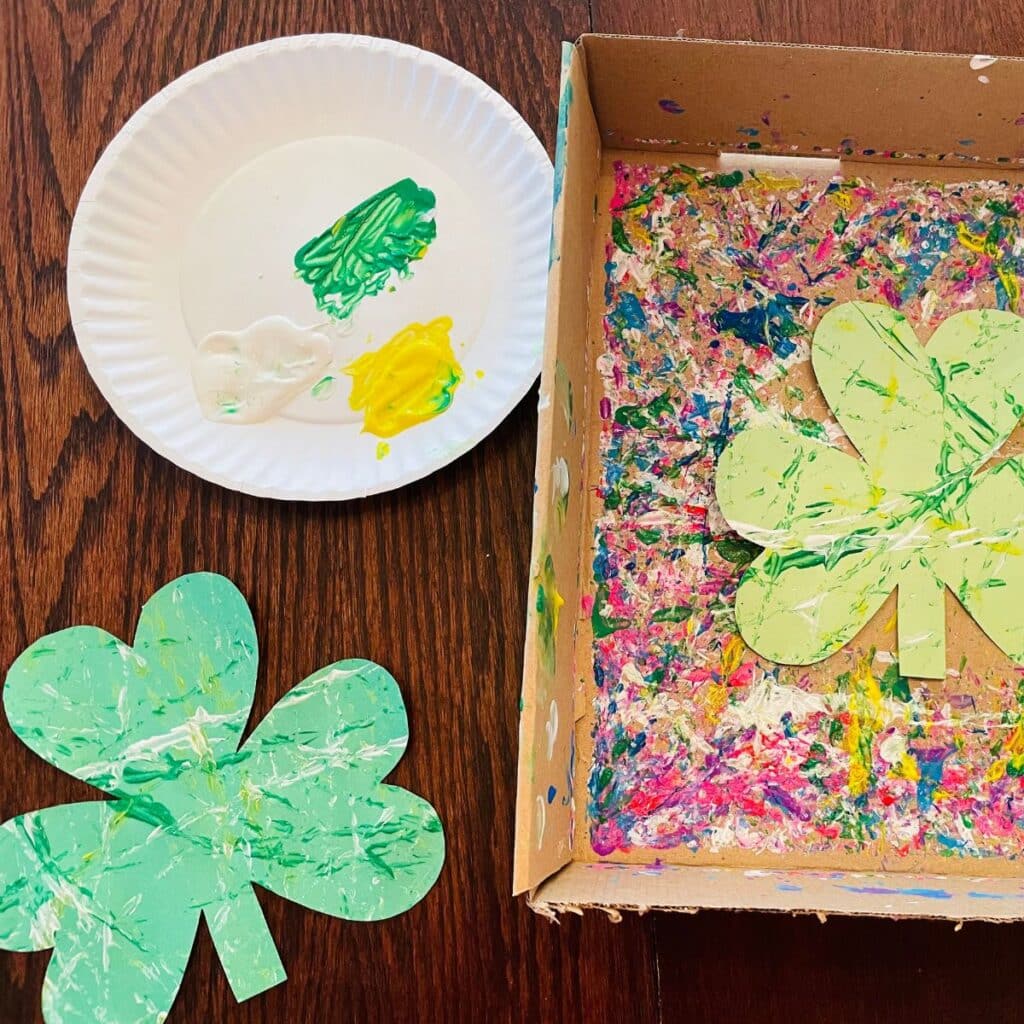 Have your child hold the box, and demonstrate how to move the box to make the marble move. Kids will see the marble move around inside the box leaving trail marks on the shamrock printable.
We used a regular size marble for this paper shamrock craft, but you might like a different ball better. You can find more ideas for painting with balls here.
Once your child has painted the shamrock, the craft is finished and they can set it aside to dry. These shamrocks make an adorable bulletin board display or you might like to string them together to make a shamrock banner. So cute!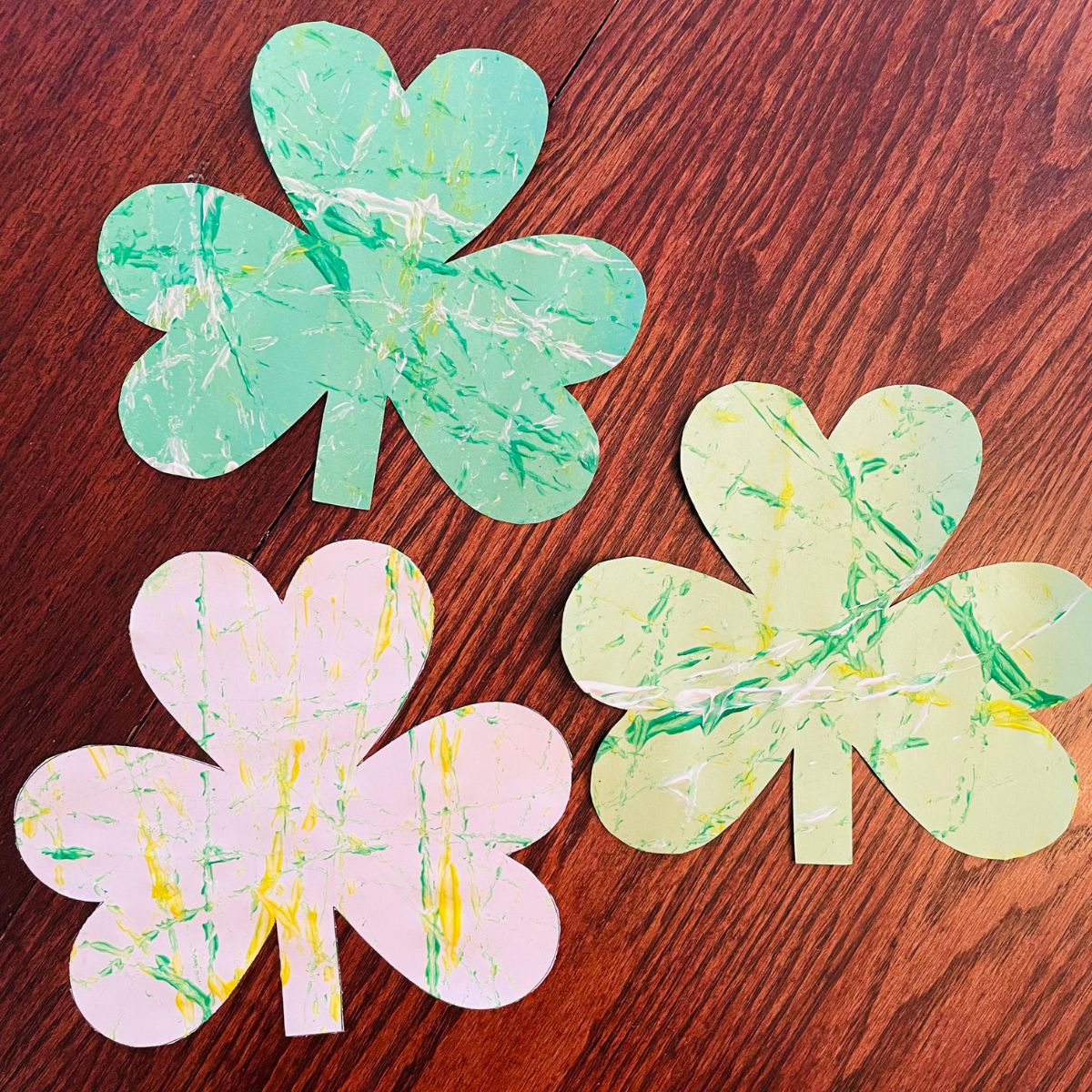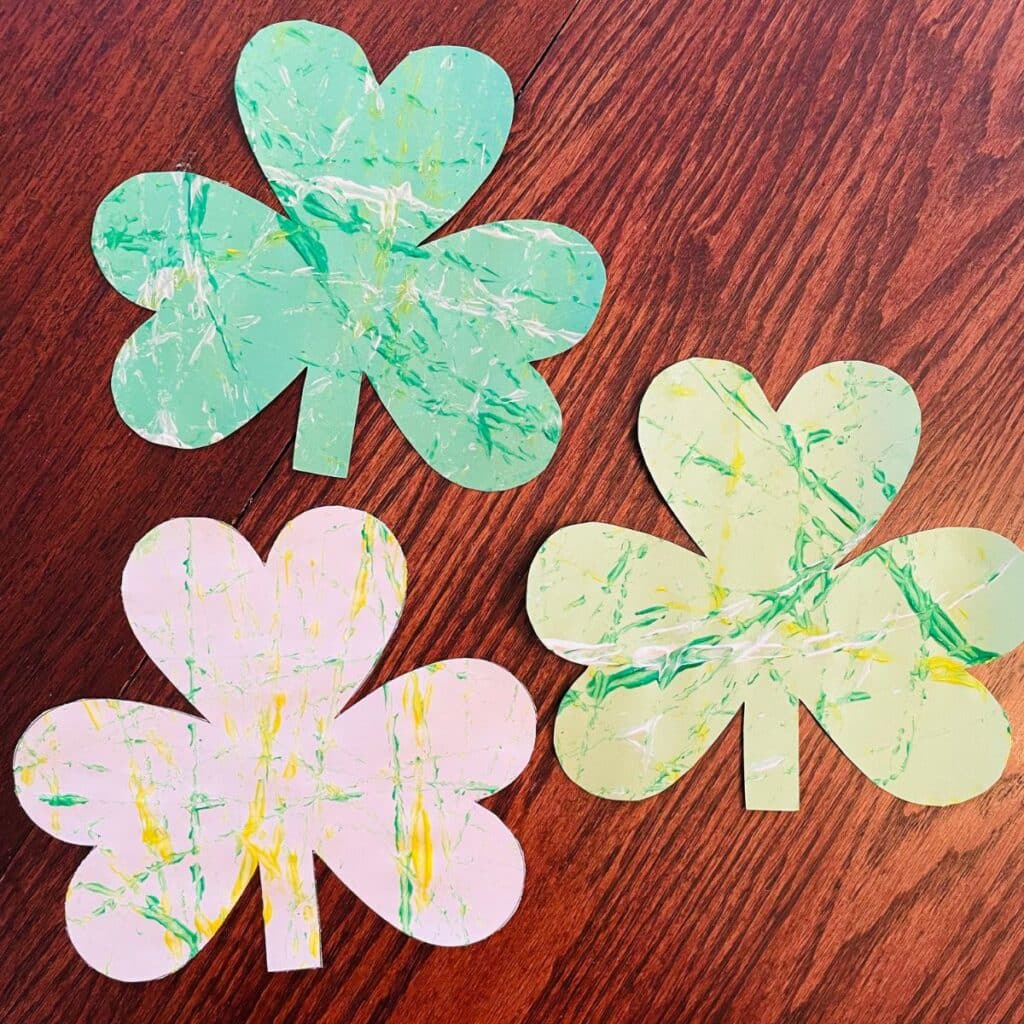 Grab the free Shamrock Craft Printable PDF!
To grab the free shamrock craft printable for this preschool marble painting St. Patrick's Day craft, simply click the black download button below to grab your free printable shamrock templates pdf file. You'll instantly get the free shamrock template to make this fun marbled shamrock craft!
Free template:
These free shamrock printables can also be used for other St Patricks Day crafts as well.
You might like to use the free printables to make a shamrock garland or use it for as a shamrock stencil for art projects.
Kids might enjoy using this printable to paint a shamrock with watercolor paints.
The shamrock outline is perfect for all of your fun shamrock crafts and fun activities like filling it with tissue paper, green paint or pom poms. So many ideas for a cute craft for younger kids.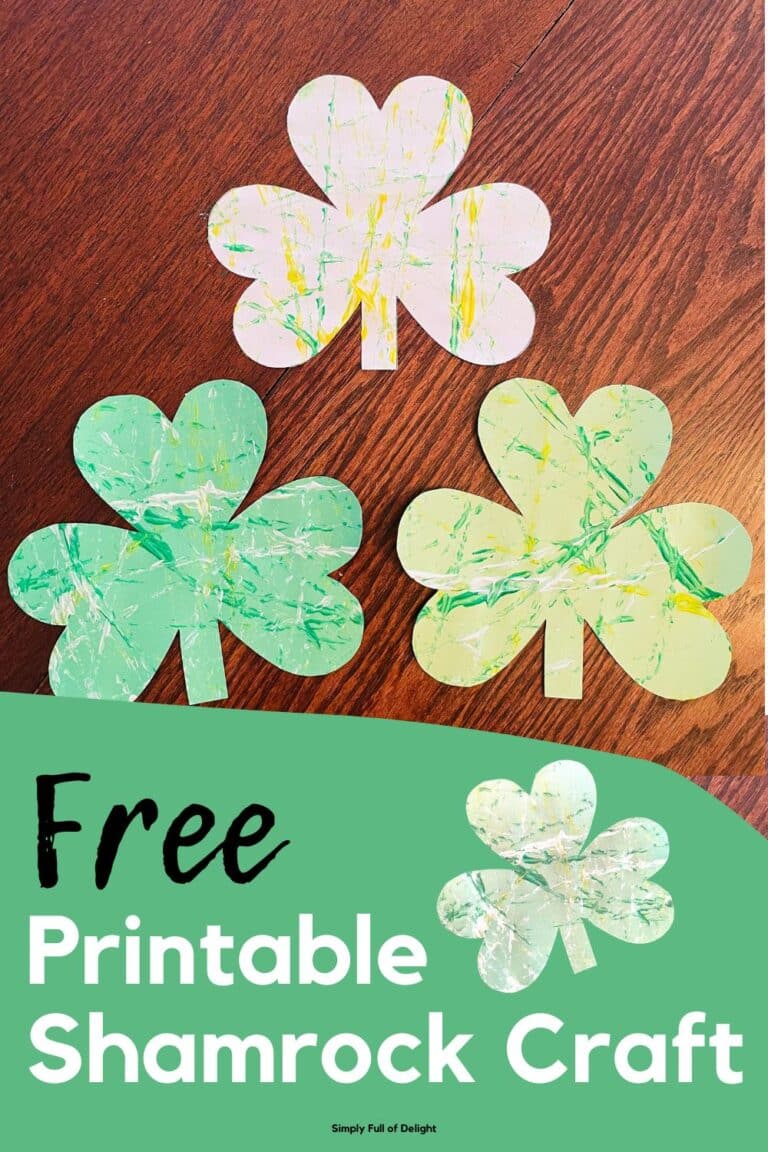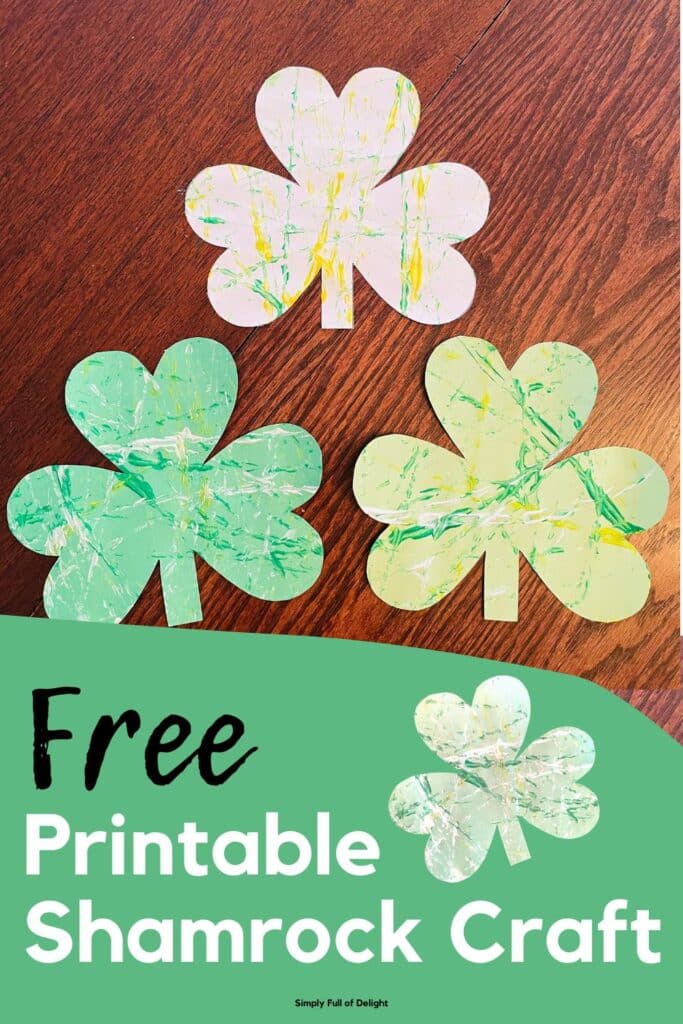 More Preschool St. Patrick's Day Activities
Need more fun St Patrick's Day crafts activities for kids?
You can find Free St. Patrick's Day Coloring Pages here that are great for kids of all ages. There's leprechauns, rainbows, pots of gold and more to color!
Looking for an easy craft for Saint Patrick's Day? You'll love this DIY Leprechaun Hat. It's really simple fun craft with the free printable!
There's a 3 Free Printable St. Patrick's Day Color by Number Worksheets here. Kids will enjoy coloring the leprechauns, rainbows, and pots of gold.
My kids loved this St. Patrick's Day Color Sorting Sensory bin! It's full of rainbow colors and shamrocks!
And of course, don't miss this adorable pepper stamping shamrock process art. It's perfect for little hands!
Plus you can find 22+ Free St. Patrick's Day printables here, including craft ideas, St. Patricks Day worksheets, activities and more! I'm sure you'll find a great addition to your St. Patrick's Day theme!
Want to save these Shamrock Craft ideas for later? Pin the image of this shamrock art project to your Pinterest board!