Need a fun Earth Day activity for kids? Here's some awesome free Earth Day Coloring Sheets!
You can grab a free Happy Earth Day coloring page, a Plant a Tree coloring sheet, and a Reduce Reuse Recycle coloring page right away on this blog post!
These Earth Day printable coloring pages are a great way to talk about the importance of taking care of our planet with preschoolers and kindergarten students.
You can use these Earth Day printables for painting as well. Watercolor paints are always an easy choice for little ones, but paint pots are fun too!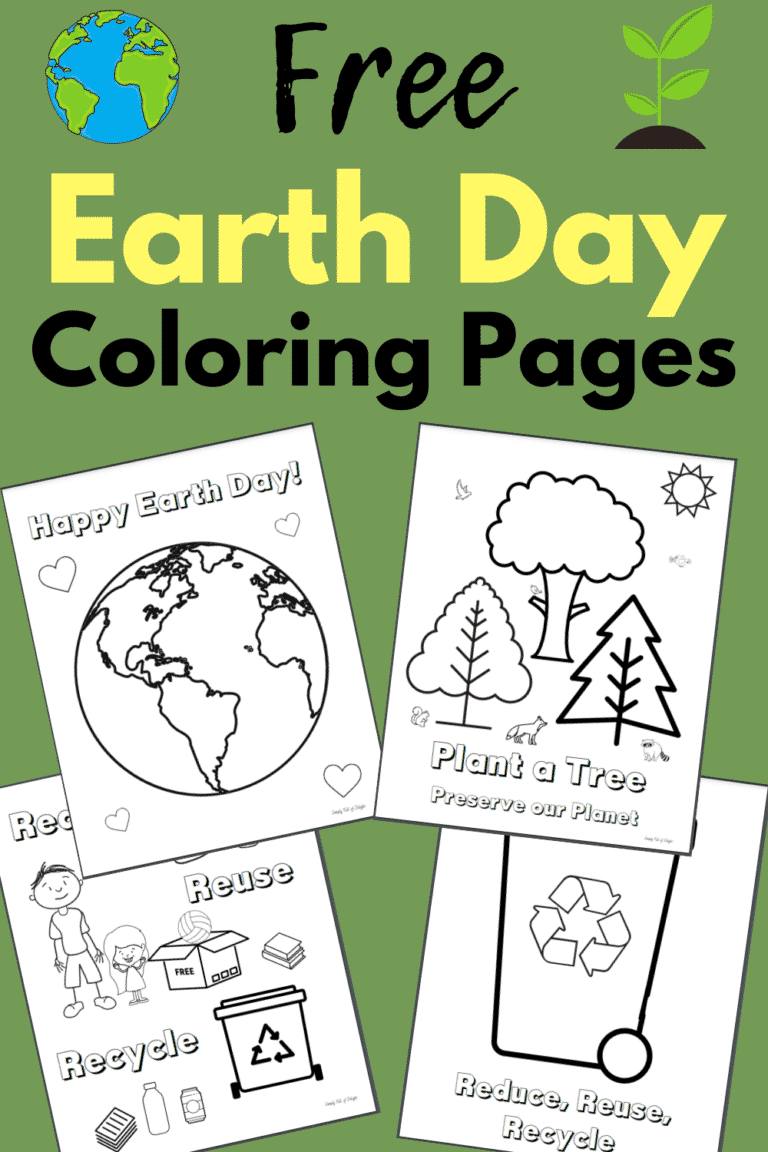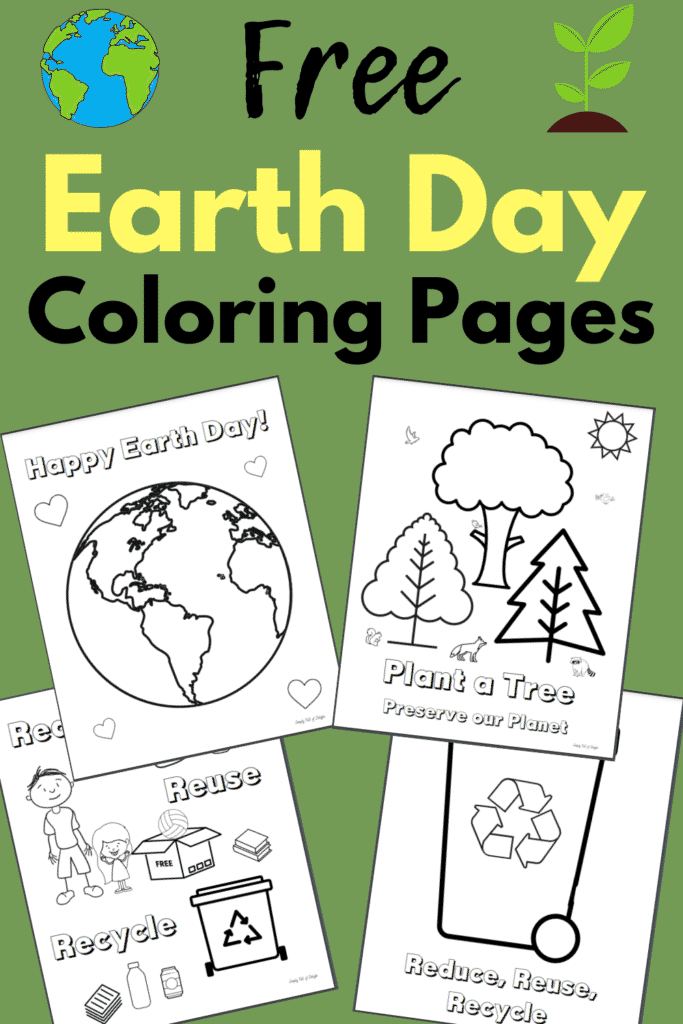 Grab some crayons and markers and print out these super fun FREE Earth Day coloring pages for kids!
Disclaimer: As an Amazon.com Associate, I earn from qualifying purchases made by readers clicking my links at no extra cost to you.
Happy Earth Day Coloring Page – Preschool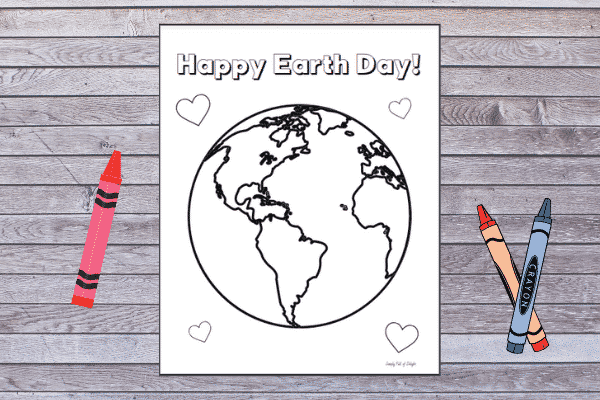 If you are needing Earth Day themed worksheets for preschool, this one is perfect! This printable includes the word Happy Earth Day, a picture of Earth, and hearts to color.
This Earth Day coloring sheet is perfect for preschool, kindergarten, or first grade!
I love that this Earth coloring page includes a bit of learning with it, as kids can become familiar with what our planet looks like.
My kids really enjoyed this Happy Earth Day coloring sheet. My little ones used classic Crayola crayons while my oldest used these colored pencils. (We love Crayola because the colors are much more vibrant than other brands. And of course if you've ever colored, you'll notice that Crayola crayons are high quality and not waxy like the off-brands).
You can grab the Happy Earth Day Coloring page by clicking the black download button.
Plant a Tree Coloring Page – Free Printable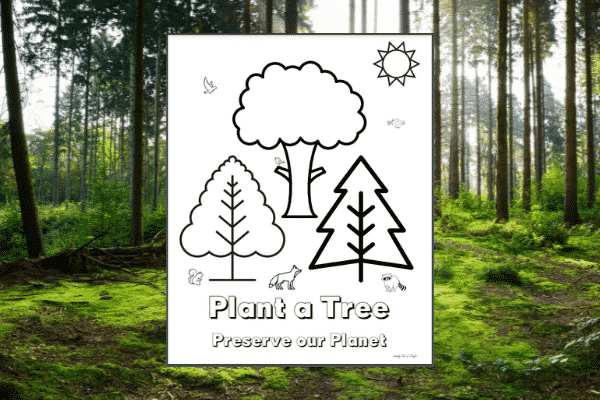 This next free printable is a Plant a Tree Coloring Page.
Kids will enjoy coloring the 3 different trees as well as some woodland creatures. There's a fox, raccoon, squirrel, and several birds in the picture as well. The bubble letters on the bottom of the page say "Plant a Tree, Preserve our Planet" and can also be colored in as well.
This coloring page was a hit with my 4 children. They particularly enjoyed coloring woodland animals.
You can download the free Plant a Tree Coloring Page PDF by clicking the black button below.
Reduce Reuse Recycle – Earth Day Coloring Pages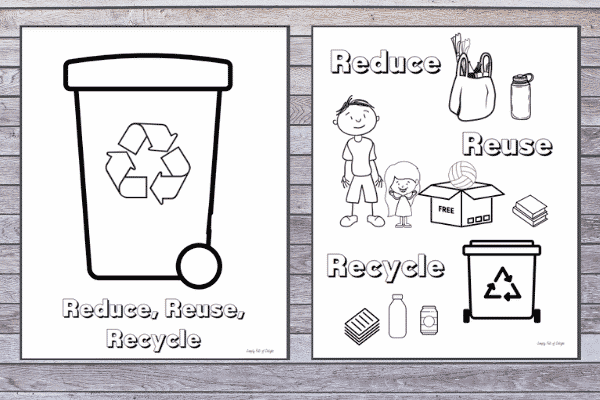 There's actually 2 Reduce, Reuse, Recycle Coloring pages! The first one is super simple. It features a large recycling bin with the bubble letters Reduce Reuse Recycle.
The second page is more detailed. For each word, there are items to explain what that word means.
With Reduce there's a picture of a reusable shopping bag for groceries and a reusable water bottle.
For the word Reuse, there is an image of a boy and girl next to a box of donations as well as some library books.
And for Recycle, you can find a recycling bin with a can, bottle, and stack of paper next to it.
My hope is that this can help little ones understand what these terms mean and of course learn more about how our actions can impact the planet.
You can grab these free printable Earth Day coloring sheets below.
More Earth Day Activities for Kids
Love these Earth Day Coloring pages and want more ideas for Earth Day activities for kids?
There's an adorable Marble Paint Earth Craft here. Perfect for preschoolers!
You can find a free Earth Day Hat printable here. A fun art activity to teach little ones about taking care of planet Earth!
You can find many more free printables and fun craft ideas here for celebrating Earth Day. There's so many fun and easy ideas for preschoolers and kindergarteners!
This might also lead into a conversation about bees and their importance in our environment. You can find some amazing bee craft for kids here.
Want to save this idea for later? Pin the image below to your Earth Day ideas board on Pinterest.