Looking for some incredible preschool insect theme printables and bug activities? Here's 23 amazing worksheets, coloring pages, and activities for an preschool insect theme!
Insects are a wonderful theme for preschoolers in the spring and summer. Exploring insects and learning about bugs is a great way to teach little ones about nature and the world around them.
I asked my fellow bloggers for insect themed activities and bug themed worksheets for young children. They had some amazing ideas! I hope you find the perfect insect activities and printables for your preschool bug theme lesson plans.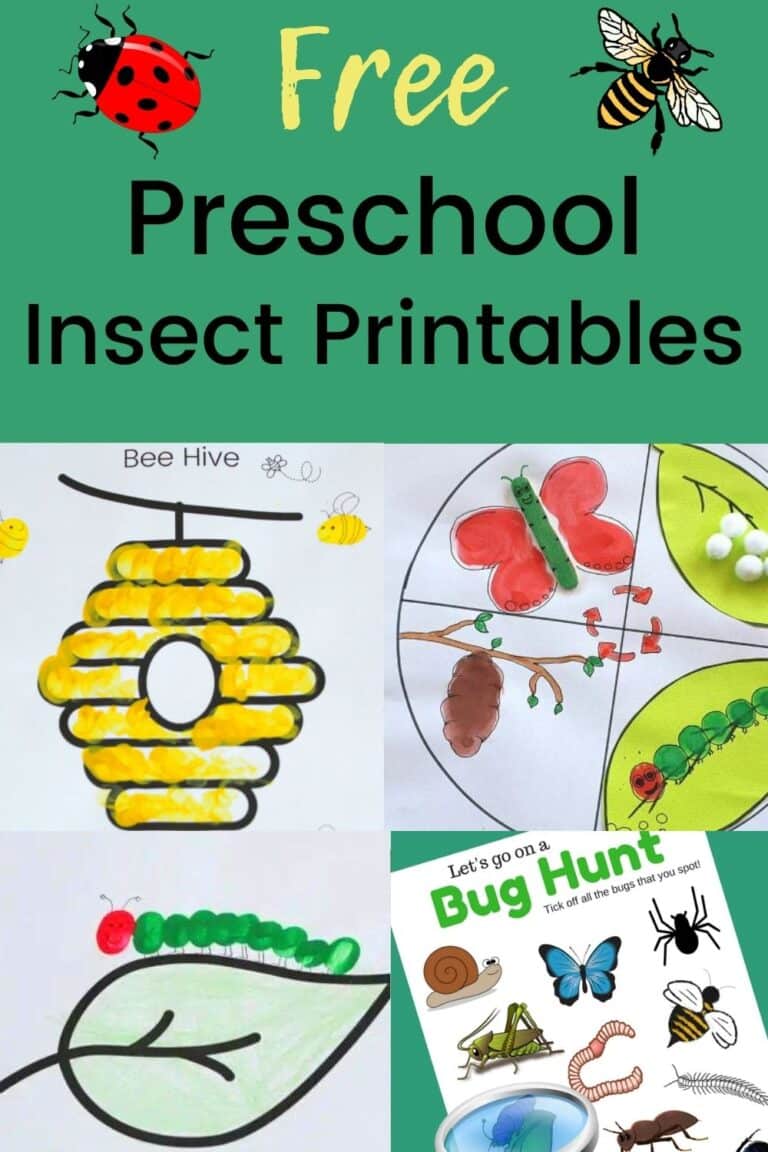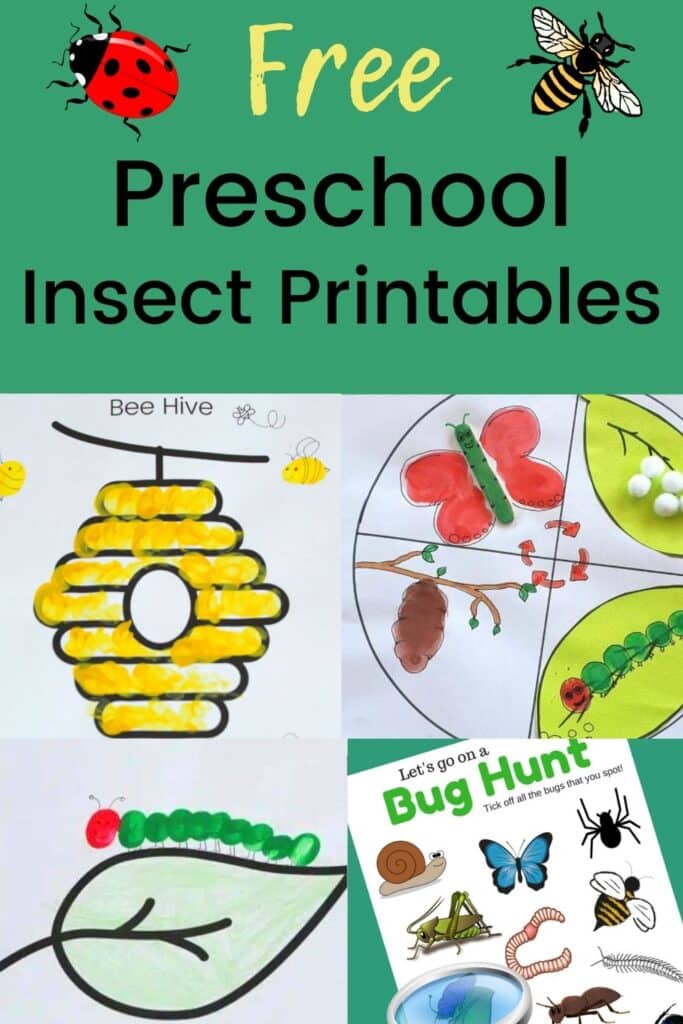 ** Disclaimer: As an Etsy associate and as an Amazon.com Associate, I may earn from qualifying purchases made by readers clicking my affiliate links at no extra cost to you.
1) Adorable Thumbprint Bee Craft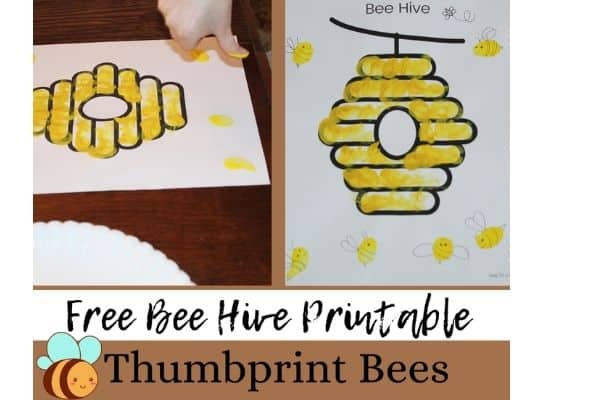 This Thumbprint Bee Craft is from my blog Simply Full of Delight. Kids can print thumbprint bees using paint and the free bee hive printable. Then they draw on the details after the paint has dried.
The fingerprint honey bees are so cute and it's so much fun!
2) Easy Paper Bee Craft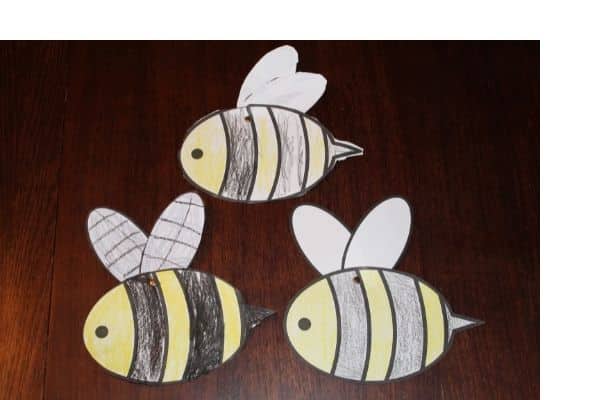 This Paper Bee Craft is also from my blog. Kids can color the free printable bee template and then cut it out and assemble the bee. If you use brads, the wings are moveable! What fun little bumble bees!
3) Bee Life Cycle Coloring Pages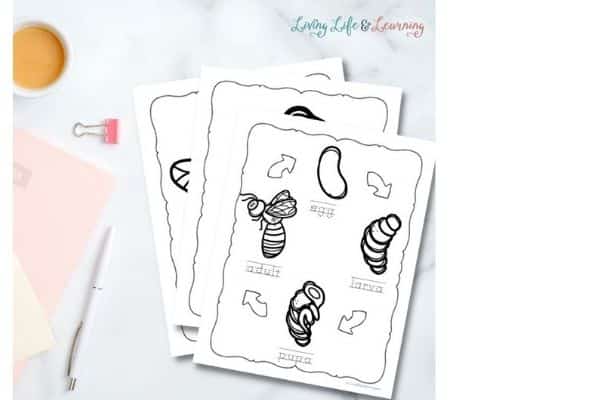 These Bee Life Cycle Coloring Sheets are by Living Life and Learning. Kids can learn about the stages of the bee life cycle while coloring pictures and tracing words. Coloring is great for developing fine motor skills and tracing the words is a great addition to this activity as kids practice their literacy skills.
4) Fingerprint Butterfly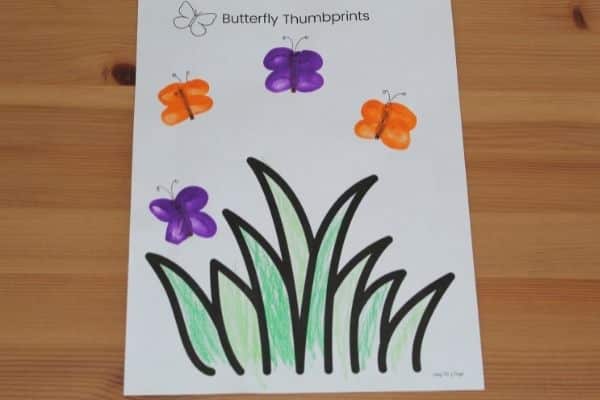 This Fingerprint Butterfly Craft is from my blog Simply Full of Delight. Using the free printable, kids can create butterflies by printing their fingerprints onto the page.
This provides an excellent opportunity to talk about insect body parts and it's such a cute way to make a butterfly craft for spring!
5) Symmetry Butterfly – Free Preschool printables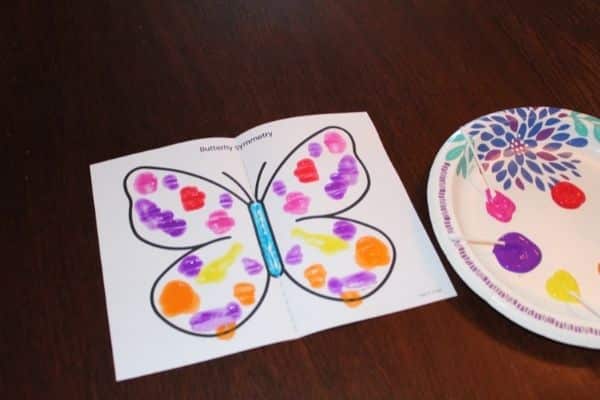 Kids can make a Symmetry Butterfly with this free printable from my blog. Little ones paint the butterfly on one side of the page. Then they fold over the page to make a symmetrical print on the other side. Choose from 4 different templates!
What a great way to teach little ones about symmetry while enjoying a fun spring craft for kids!
6) Free Butterfly Coloring Pages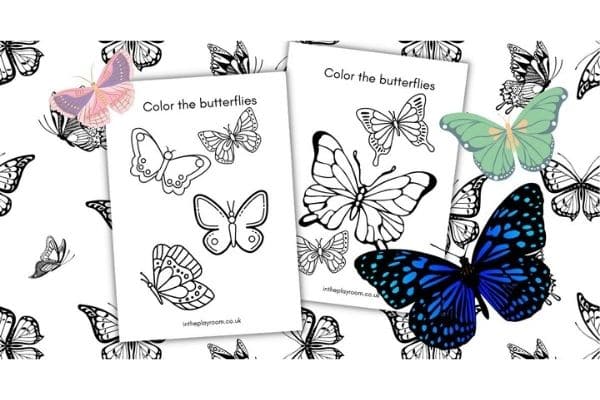 Grab these Free Butterfly Coloring Pages over at In the Playroom. There's multiple coloring pages of butterflies to choose from.
Younger kids will enjoy coloring and doing a color by number, while older kids will have fun learning to draw their own butterfly with the simple grid provided!
7) Life Cycle of a Butterfly Printable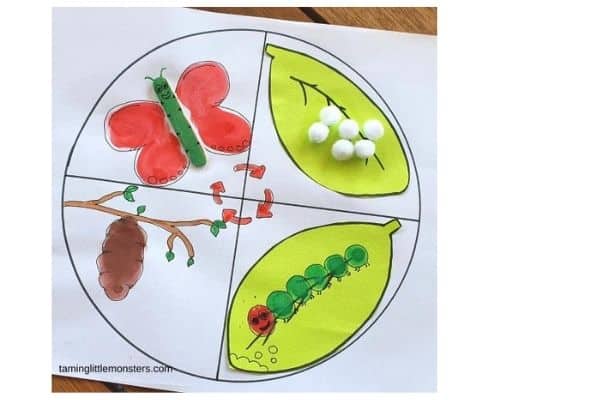 Make learning fun with this free printable Life Cycle of a Butterfly page from Taming Little Monsters. Kids can create and color each stage of the butterfly's life cycle including the egg, caterpillar, cocoon, and butterfly.
8) Thumbprint Caterpillar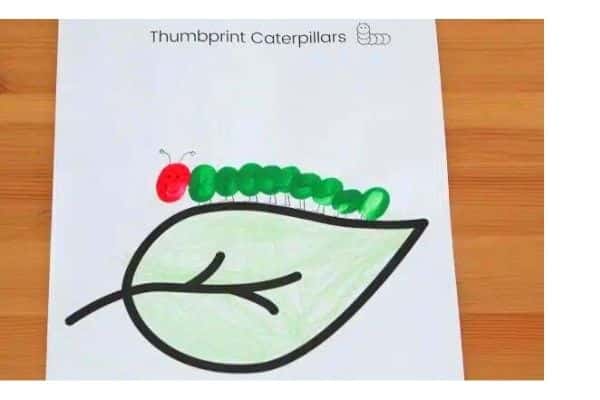 This adorable Thumbprint Caterpillar craft from my blog is super easy with the free printables. Kids can use their thumbprints dipped in paint to create a one a of kind caterpillar on a leaf! Such a cute craft that pairs well with Eric Carle's The Very Hungry Caterpillar book.
9) Free Caterpillar Coloring Pages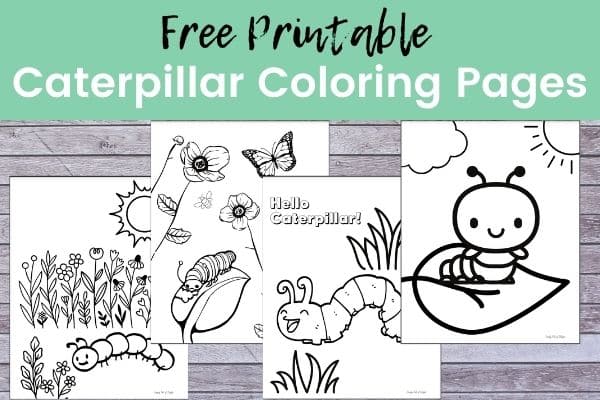 Grab 4 free printable Caterpillar Coloring Pages from my blog Simply Full of Delight. Kids will enjoy coloring or painting the various caterpillar coloring sheets. These would go well with a life cycle of a butterfly theme as well.
10) Fingerprint Ladybug – Preschool insect theme printables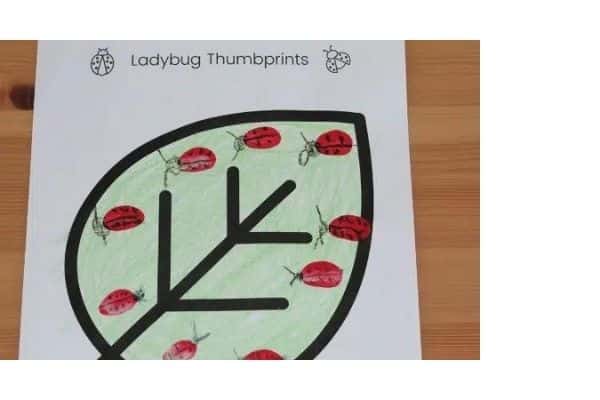 This Fingerprint Ladybug craft from my blog is another adorable insect craft for kids! It's super easy with the free printable leaf template. Kids use red paint to create their own unique set of cute bugs on a leaf. What adorable bug themed crafts!
11) Ladybug Dot Marker Printable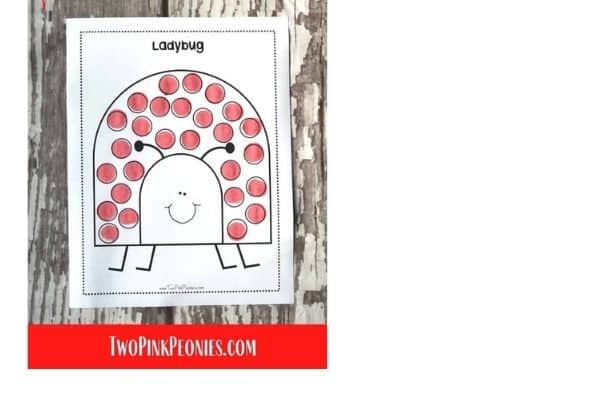 This adorable Ladybug Dot Marker Printable is by Two Pink Peonies. Little ones can use dot markers to dab the dots on the ladybug. Alternately, you could also use dot stickers. What a fun insect activity for toddlers and preschoolers!
12) Insect Movement Dice – Free Bug Printables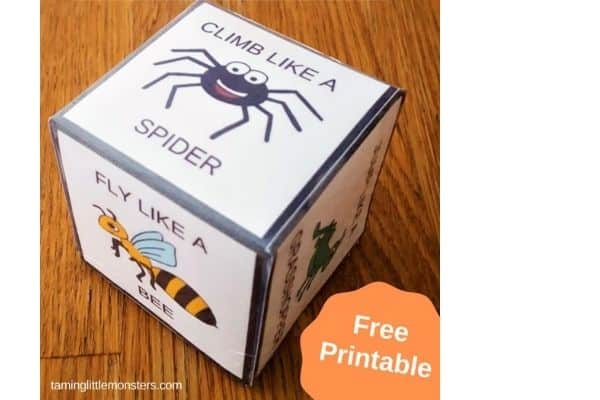 This free printable Insect Movement Dice is by Taming Little Monsters. Kids can roll the dice and pretend to be the insect on the dice. This game is sure to keep little ones busy and everyone laughing! Perfect for your insects unit!
13) Free Insect Scavenger Hunt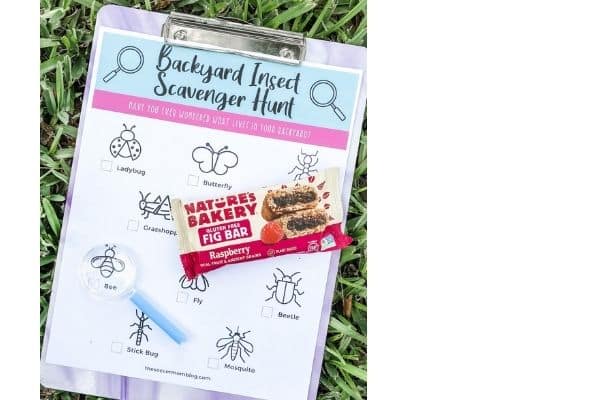 Grab a free printable Insect Scavenger Hunt over at The Soccer Mom Blog. Children will enjoy finding the insects on the printable in their own backyard. This is a wonderful copy-friendly black and white printable that is perfect for classroom use!
14) Bugs in a Jar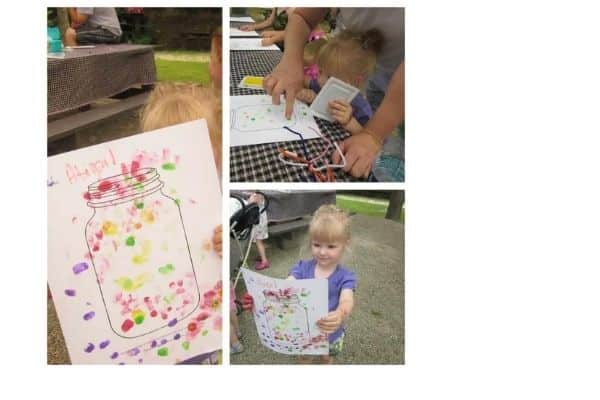 Kids will enjoy this Bugs in a Jar activity by 3 Boys and a Dog. Little ones can use insect stamps or their fingerprints to print bugs onto a mason jar printable. So cute and so easy!
15) Mix and Match Bug Craft
This Mix and Match Bug Craft printable is by Messy Little Monster. Kids can create their own cut and paste bugs with the easy free template! So many cool combinations, your child will be engaged with this fun insect activity!
16) Bug Counting Puzzles
These free printable Bug Counting Puzzles are by The Craft at Home Family. Kids can practice their number sequencing skills with these adorable bug puzzles!
These are great for teaching number recognition and make excellent insect math activities for little learners.
17) Bug Activity Pack – preschool insect theme printables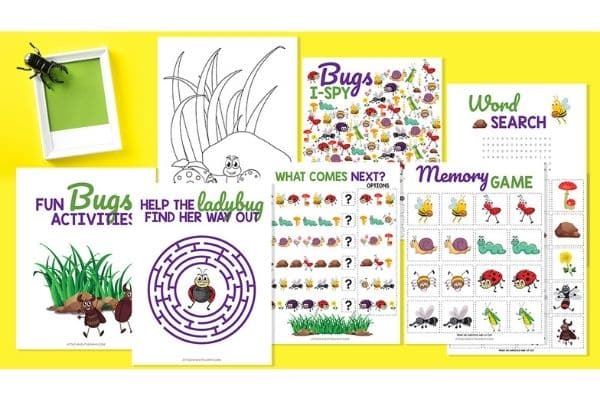 This Free Bug activity pack is by Attachment Mummy. You'll find a bug I-Spy, an insect maze, a coloring page, a patterns page, matching game printable sheets and more in this free insect printable pack!
18) Insect Look and Find & Coloring Page
These free Spring Insect printables are from my blog Simply Full of Delight. There's an insect coloring sheet featuring several different bugs as well as a spring I-Spy page as well!
19) Bug Scavenger Hunt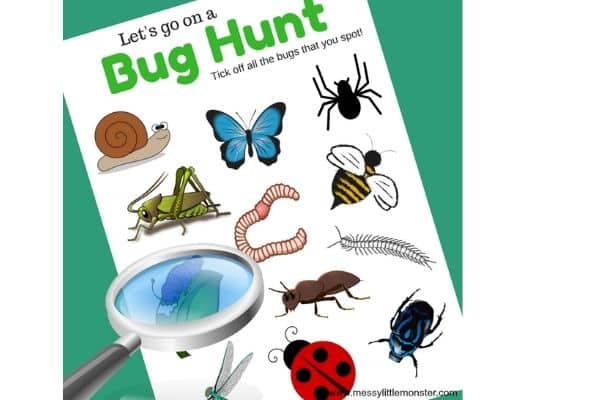 This Bug Scavenger Hunt is by Messy Little Monster. This full color printable is perfect for going on a bug hunt in your backyard or a nature walk at the park with your bug enthusiast!
20) Paper Butterfly Craft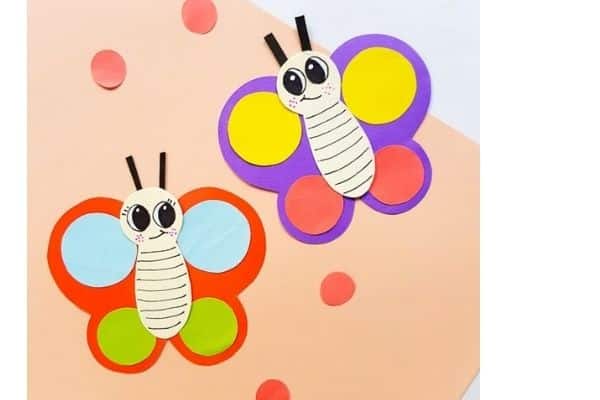 This Paper Butterfly Craft is by Mommy Made That. With the free printable template, kids can create their own paper butterflies! What fun!
21) Bug Matching Game and Scavenger Hunt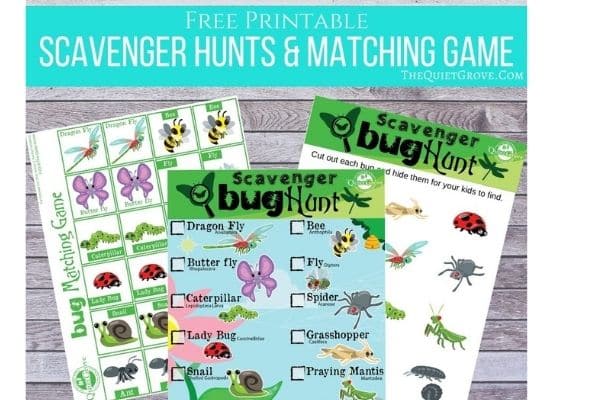 You can grab a free Bug Matching Game and Scavenger Hunt over at The Quiet Grove. Kids of all ages will enjoy the scavenger hunt. This printable includes the bugs to hide, so it can be played on a rainy day indoors! The matching game is a fun way to talk about insects as well while having fun!
22) Ladybug Paper Bag Puppet – insect theme preschool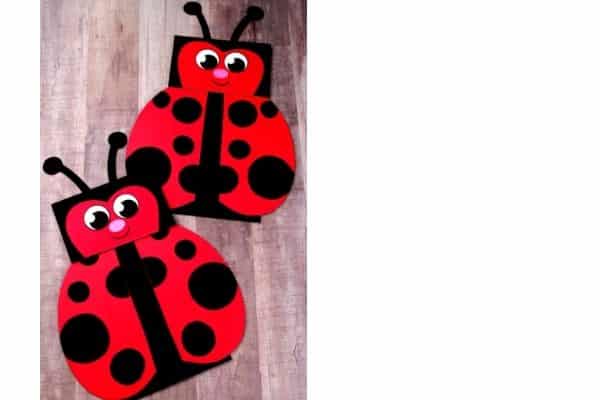 Make a Ladybug Paper Bag Puppet with this easy free printable template by Mess for Less! Kids will enjoy creating their own puppet and putting on a puppet show afterwards. What great preschool bug printables!
23) Easy Paper Ladybug Craft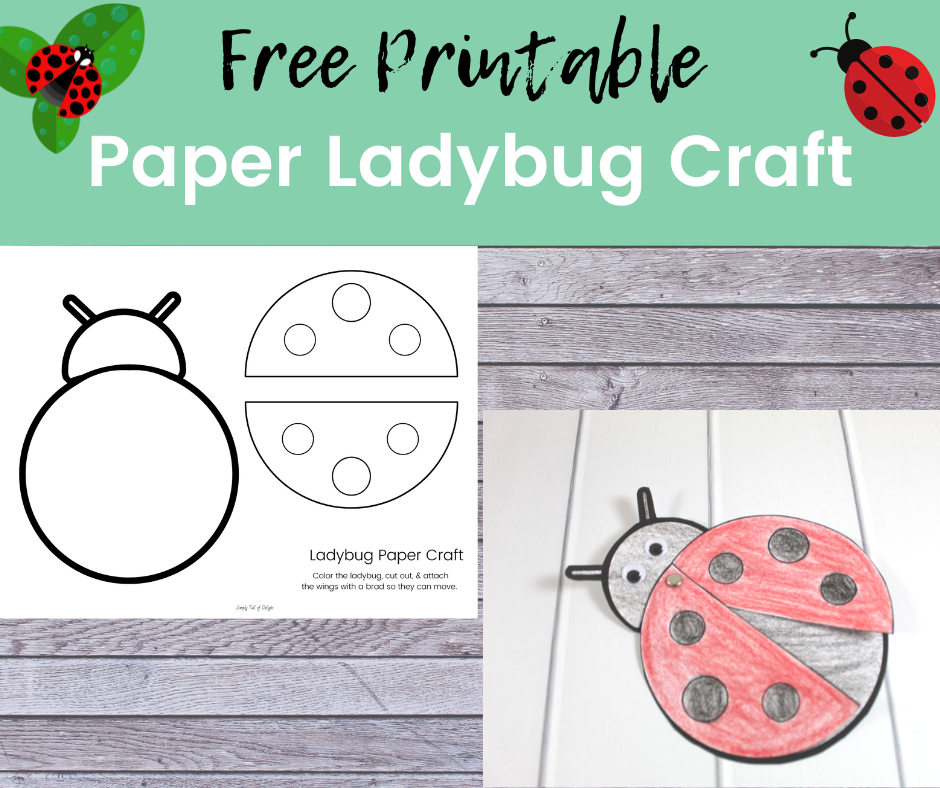 This Easy Paper Ladybug Craft is from my blog Simply Full of Delight. Kids can color the free printable ladybug, then cut out the pieces. The wings move with the help of a brad which is so cute and so much fun for little ones!
I hope you found some amazing free preschool insect theme printables. Be sure to leave a comment and let me know which ones are your favorites!
More Fun Insect Activities
For more fun activities for your insects unit, be sure to check out these 21 Bee Craft ideas. Discover amazing insect crafts for kids and bee theme activities.
Love Sensory Bins? Here's an awesome Insect Sensory Bin that is perfect for an insect theme for preschool. Little kids will enjoy hiding the bugs, scooping them up with a net, and using tongs to inspect insects!
Want to save this article for later? Simply pin the image below to your spring preschool activities board on Pinterest!