Looking for adorable Bee Crafts for Kids? Here's 21 amazing little bees that are a fun way to bring in spring!
Bees and flowers are a big part of spring so I thought it would be fun to find some easy bee crafts!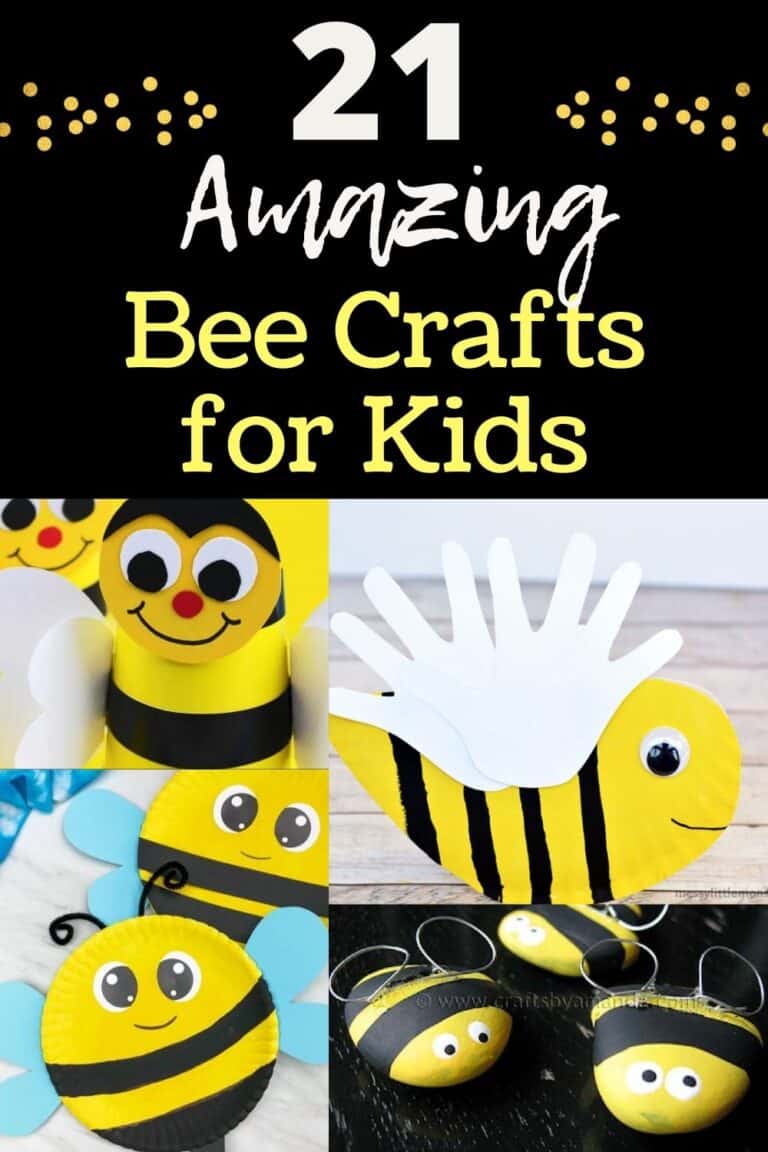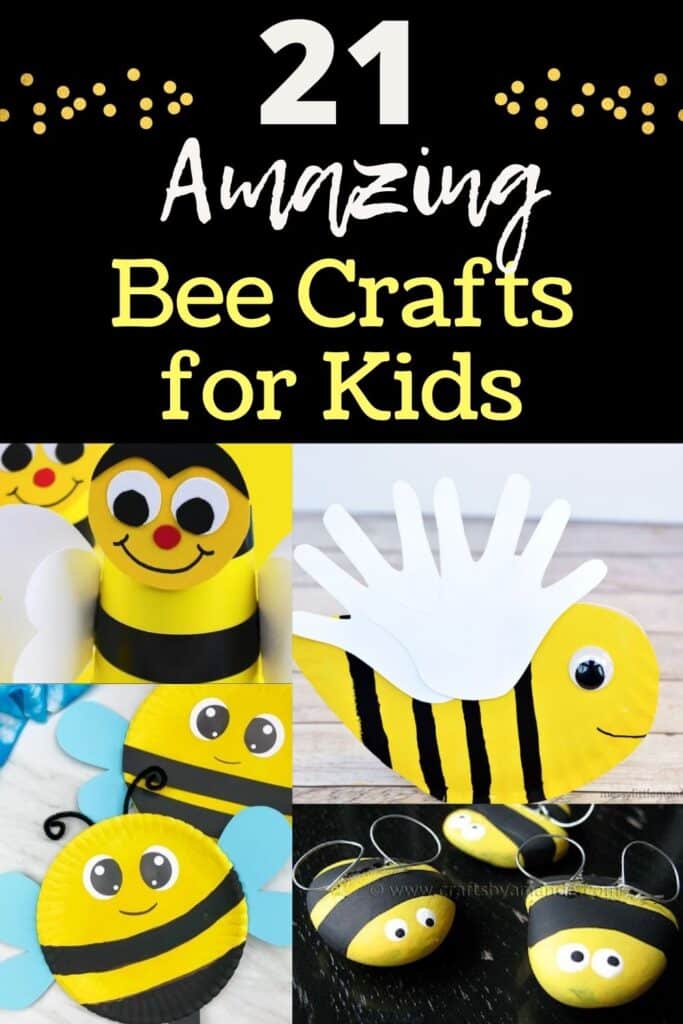 I asked my fellow bloggers for some fun ideas and wow, they sure did have some cute little bee craft ideas!
There's paper plate bees, cute bumblebees from paper, toilet paper rolls and more!
Let's take a look!
1) Easy Paper Bee Craft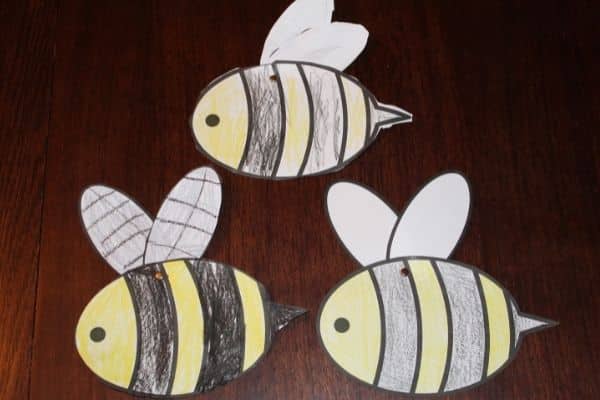 This Bee Paper Craft is from my blog Simply Full of Delight. It's easy peasy with the free printable bee template! Just color, cut, and add a brad to make the wings move! Kids will love playing with their little bees! This is an easy craft that will get you talking about the importance of bees with little ones.
2) Paper Heart Bee Craft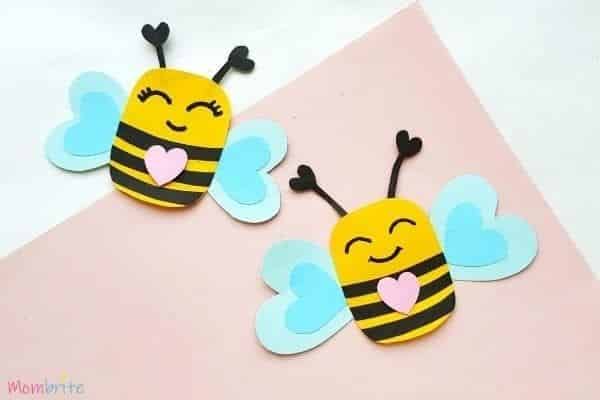 This Paper Heart Bee Craft is by Mombrite. Kids can create their own adorable little bees with the free printable template and some construction paper. Plus, you can add a bee pun for extra fun! This is a great craft for older kids for Valentine's day or a fun craft for rainy days.
3) Kindness Bee Craft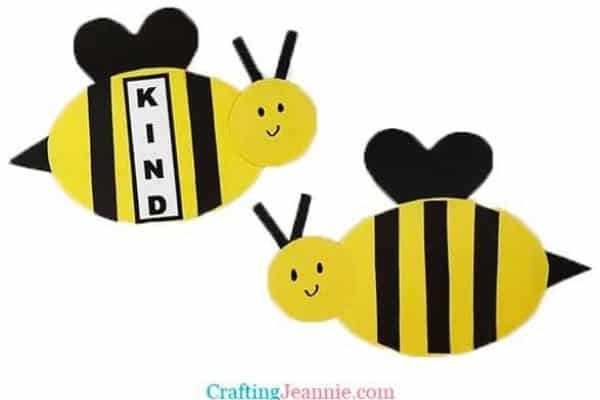 Looking for a kindness craft? Check out this Kindness Bee Craft by Crafting Jeannie. With the free template, you can make either a Kindness Bee or a regular cute Bumblebee craft! Easy to assemble, this adorable craft is perfect for young kids.
4) Honey Bee with Moving Wings Craft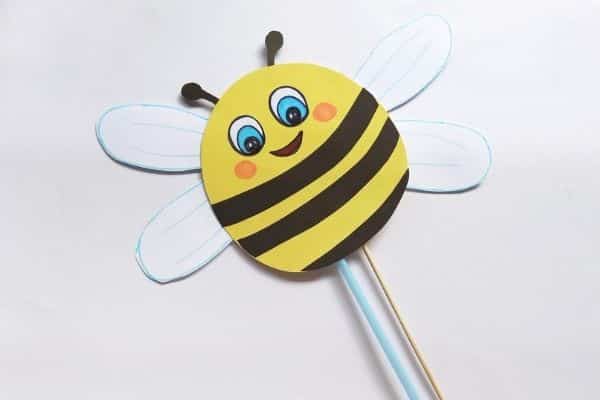 How cute is this bee! This Honey Bee with Moving Wings is by Easy Crafts for Kids. Children will enjoy making their own Honey Bees that they can use as puppets. So much fun!
5) Bumblebee Toilet Paper Roll Craft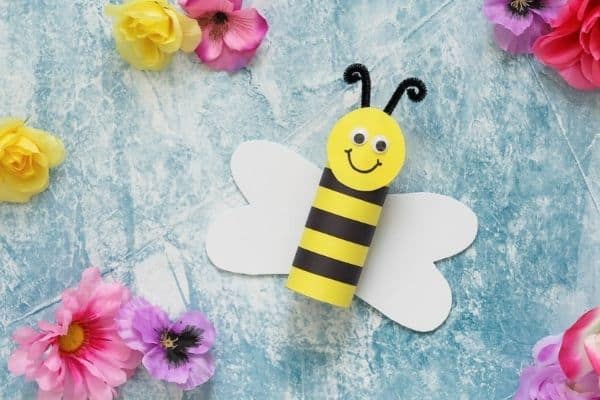 Here's a fun Bumblebee Toilet Paper Roll Craft by Fun Money Mom. AAll you need is some toilet rolls, pipe cleaners, and a few simple supplies to make this adorable little bumblebee! The free template makes it super easy! What a fun bee craft!
6) Footprint Bee Mine Cards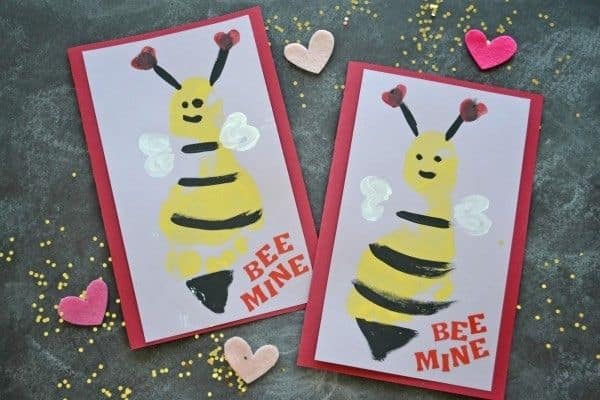 Check out these adorable Footprint Bee Mine Cards by Make and Takes. These little footprint keepsakes are sure to be treasured. What a great way to document how small your child's feet were at this age while making a super cute honey bee craft!
7) Duct Tape Twirling Bee Craft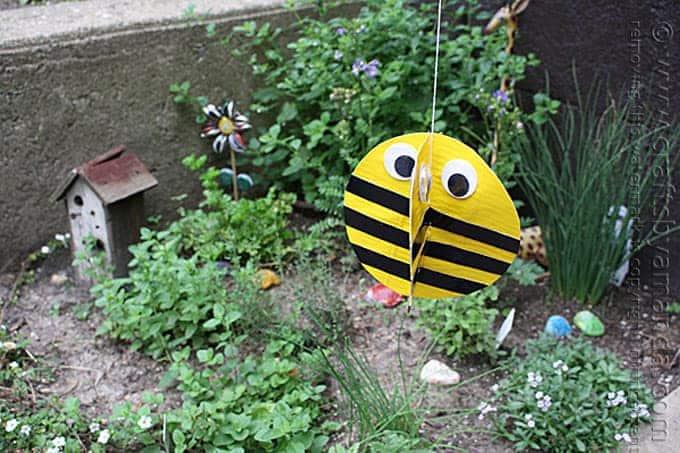 This Duct Tape Twirling Bee Craft is by Crafts by Amanda. This unique craft is perfect for older kids! All you need is some duct tape, string, googly eyes, and the simple tutorial. So much fun!
8) Paper Weave Bumble Bee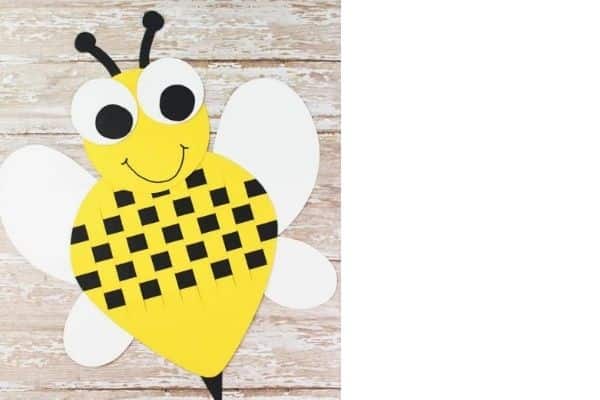 This Paper Weave Bumble Bee is by Frugal Mom Eh! I love timeless crafts like paper weaving! This activity is great for building fine motor skills and the finished project is so cute!!
9) Woolly Bee Plant Marker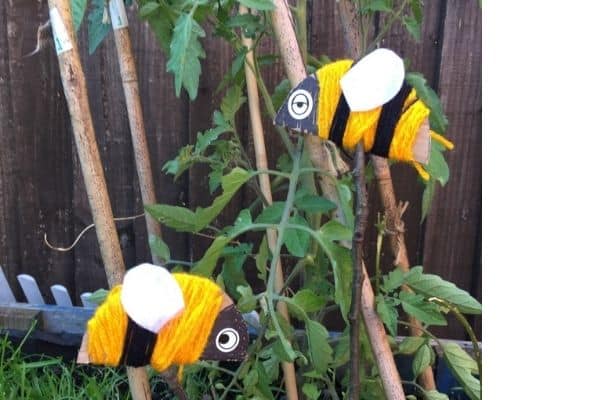 Isn't this cute?! This Woolly Bee Plant Marker is from The Gingerbread House. Kids will be so proud to place this bumblebee garden stake in a plant pot alongside the plants they care for.
10) Symmetry Art Bee Craft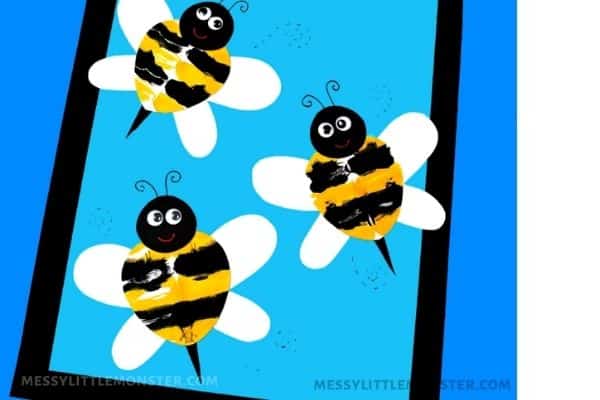 This super cool Symmetry Art Bee Craft is by Messy Little Monster. Kids will enjoy the process of creating the symmetry art and of course turning their "squish art" into a bee afterwards. LOVE it! What adorable bumble bees!
11) Bumble Bee Cup Craft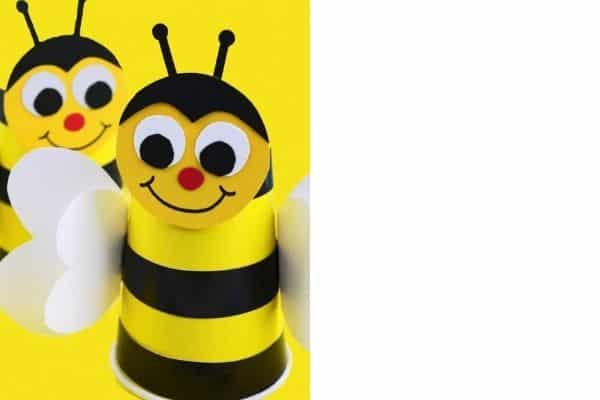 Check out this Bumble Bee Cup Craft by Frugal Mom Eh! What a unique and fun idea! Kids will love seeing this 3-D bumble bee take shape.
12) Rock Bees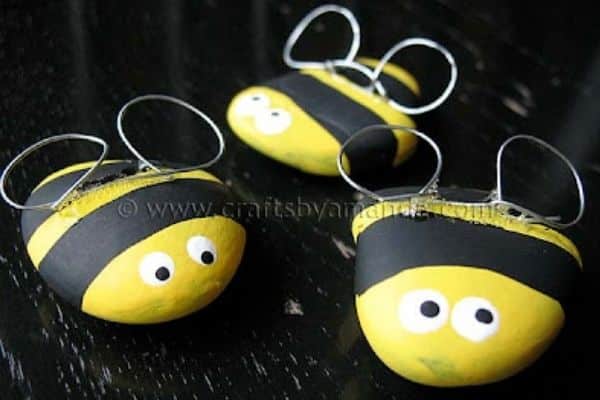 These Adorable Rock Bees are by Crafts by Amanda. Kids will enjoy painting their own rock bees and of course, attaching the super cool wings to their creations.
13) Bee Pinecone Craft for Kids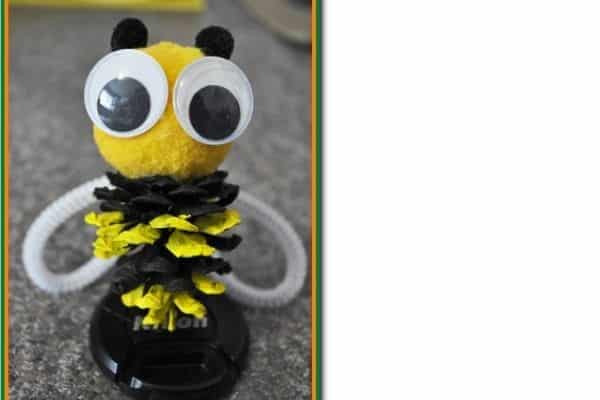 This Bee Pinecone Craft is by Easy Crafts for Kids. Children will have fun painting their own pinecone and adding all the details to make this pinecone truly look like a bee! Isn't it adorable!
14) Bumble Bee Bookmark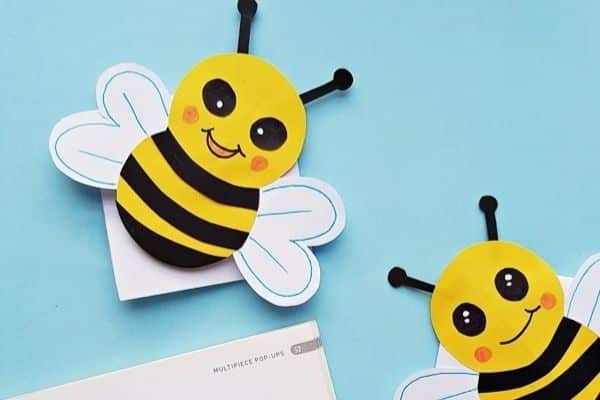 Make an awesome Bumble Bee Bookmark from Mommy Made That. I love that this craft makes something you can use and of course, I love that it promotes reading! A double win! Older kids will enjoy this bee craft, but young children can do it as well with assistance.
15) Clothespin Bubblebee Craft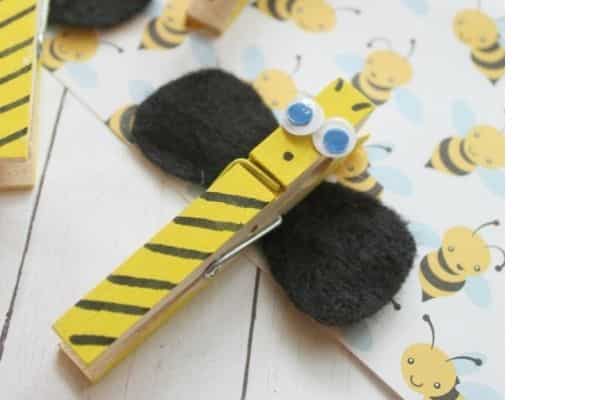 Looking for a unique bee craft? This Clothespin Bubblebee Craft is by Finding Zest. Kids will enjoy creating their own little bee characters! What fun!
16) Paper Plate Bee Craft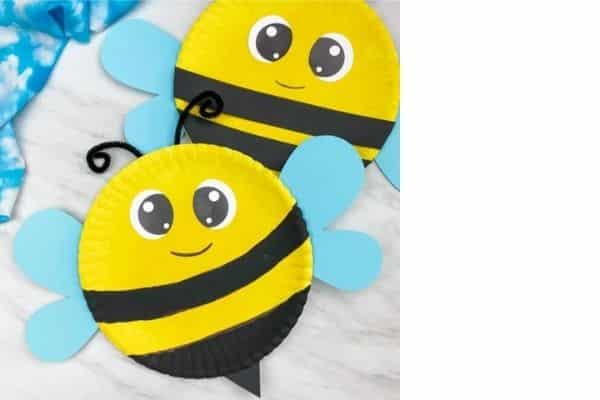 This Paper Plate Bee Craft is by Simple Everyday Mom. I love the simplicity of paper plate crafts as they are perfect for little kids as well as older ones. These bees are so cute and happy! These would make a great bulletin board display for spring!
17) Thumbprint Bee and Hive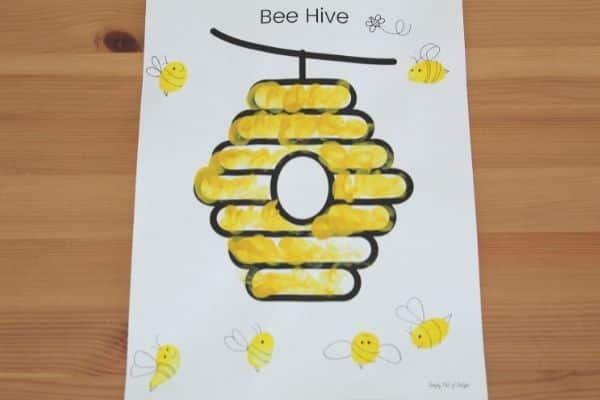 This Thumbprint Bee and Hive is from my blog Simply Full of Delight. Just a few simple supplies, plus the free printable make this little bee craft a snap! I love easy crafts!
18) Wooden Craft Bumble Bees For Kids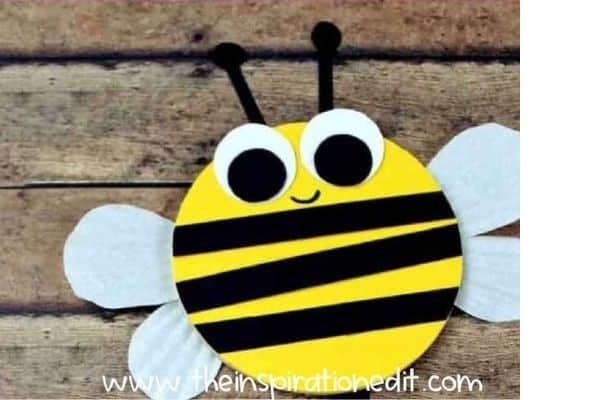 These Wooden Craft Bumble Bees are by The Inspiration Edit. I love the little details on this bumble bee craft! These wooden bees are also perfect for placing a magnet on the back so you can hang them on your refrigerator.
19) Paper Plate Bee Craft
Love handprint crafts? This Paper Plate Bee Craft is by Messy Little Monster. Parents will love how the wings are made from their child's handprints….and kids will love that this sweet craft rocks back and forth. So cute and fun!
20) Bee Card Craft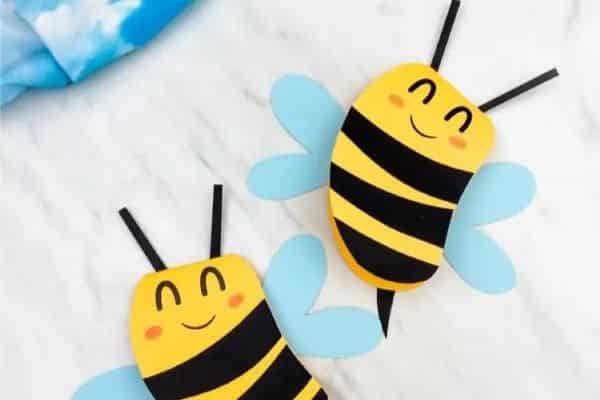 This Bee Card Craft is by Simple Everyday Mom. This adorable bee card is perfect for gifting to mom or dad! There's a little bee pun inside that makes it extra special as well. What fun!
21) Popsicle Stick Bumble Bee Craft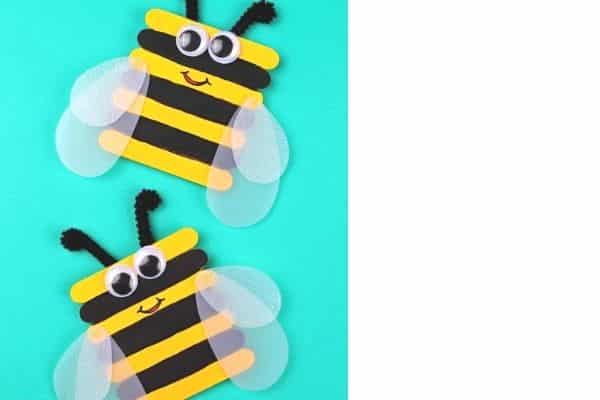 This Popsicle Stick Bumble Bee is by Frugal Mom Eh! Kids of all ages will love building an awesome bumble bee with craft sticks and a few other simple supplies. Don't you love the bee's wings!
Alright!
I hope you found some amazingly cute bee crafts! There's a little bit of everything in this list. I hope you find the perfect art projects or simple bee craft ideas for your kids!
If you are looking for more awesome crafts for spring be sure to check out this Muddy Boots art project. Perfect for toddlers and preschoolers!
Also, be sure to check out these flower crafts for kids. Perfect for spring time!
You can also find a fun Spring Garden Sensory Bin here as well. Happy Spring!