This Thumbprint Bee and Hive craft for kids is an adorable way to bring in spring!
With spring just around the corner, we've been busy doing all sorts of fun bee and flower crafts. We love to do seasonal crafts and the spring crafts are some of our favorites!
Spring is a natural time to talk about those busy bees. With bees out collecting nectar to replenish their stores after the winter, kids are sure to be curious about bees right now.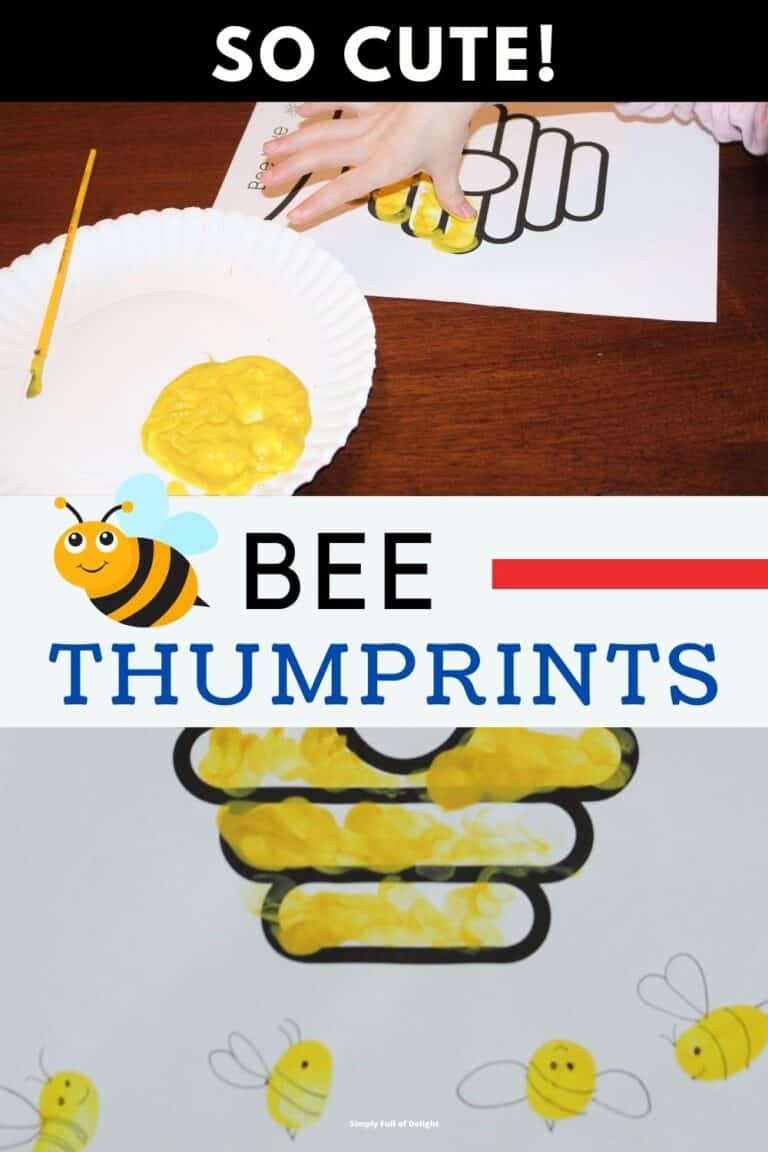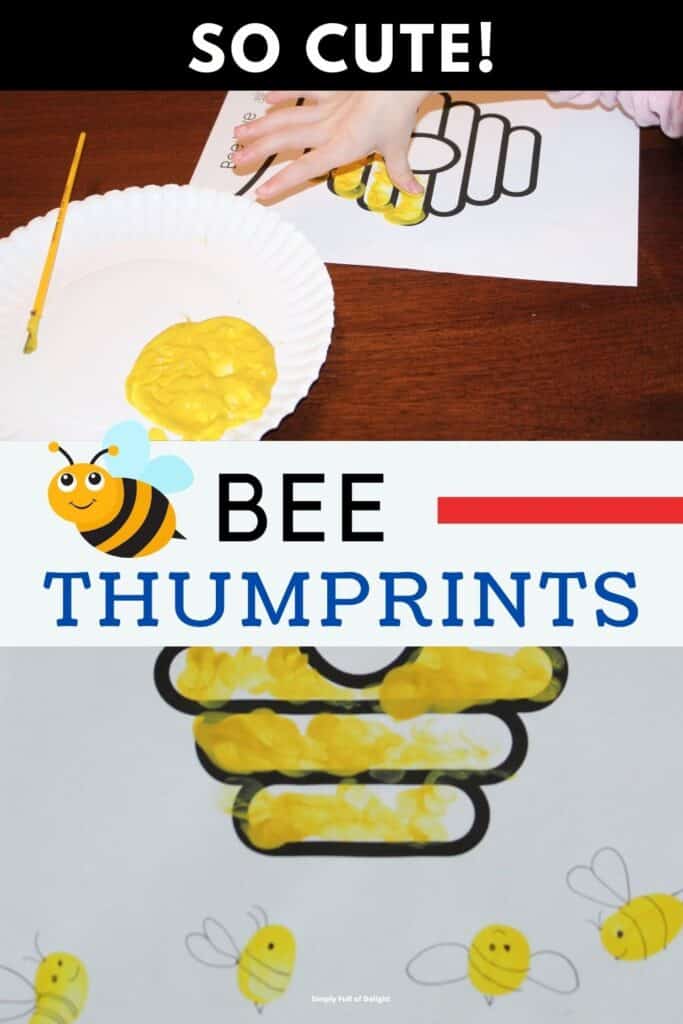 To make this fingerprint bee craft super simple, I've created a free printable hive template for you. You can download the free template for a bee hive at the end of the article.
But first….
What is Thumbprint Art?
Thumbprint art is a fun way for toddlers and preschoolers to create while strengthening fine motor skills. Kids dip their thumb into paint or an ink pad and stamp it onto a page. Then, they use prewriting skills and their imagination to create objects from those simple fingerprint shapes.
I love that thumbprint art sparks creativity and it can be open ended art or teacher led!
Alright, let's get started making some fingerprint bees!
** Disclaimer: As an Etsy associate and as an Amazon.com Associate, I may earn from qualifying purchases made by readers clicking my affiliate links at no extra cost to you.
Supplies needed for Bubble Bee Fingerprint Craft
For this thumbprint bee craft, you will need the following supply list:
Free Printable Bee Hive Template for Thumbprint bees (found at the end of this article)
Yellow & Brown washable paint (We love this Crayola brand kid paint).
Paper plate or bowl for paint
Black marker or pen
Optional: Table cloth, smocks, wipes
Also, alternatively you could use yellow ink for the body of the bee instead of paint
How to make a Thumbprint Bee Craft
First, print out your bee hive printable.
Prepare your table for painting by covering it with a table cloth and have your child wear a smock.
I like to do an example craft with my child and then allow my child freedom to do theirs as they like. It's neat to see if they decide to follow the example or do something different. I love seeing their creativity!
Next, mix some yellow paint with some brown on a plate to make a golden color. This will be the color of the hive.
Show your child how to take their thumb and dip it into the paint a little bit and then stamp their thumb onto the hive.
Once they have made a thumbprint pattern on the hive, it's time to switch colors. Clean the gold color off of their thumb with a baby wipe.
Place yellow paint in a plate and have your child dip their thumb into the yellow. These thumb prints will be the bees.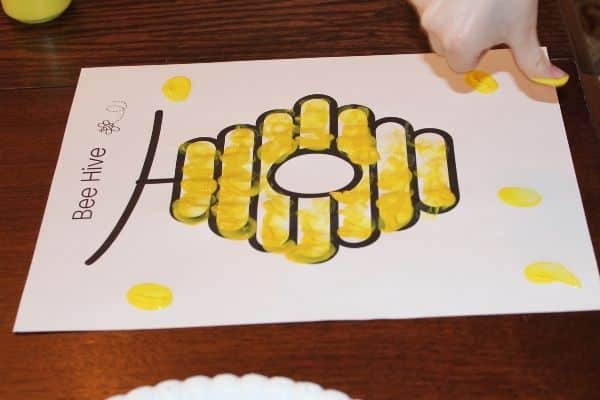 Encourage your child to make a few yellow thumbprint bees flying around the hive in different places and to allow space for wings that we add later on.
Allow the paint time to dry. It will probably take several hours.
Once the fingerprint bees and hive are dry, it's time to add details to the drawings! To begin, I take my example bee craft and I show my child how to draw black stripes on the thumbprint bee.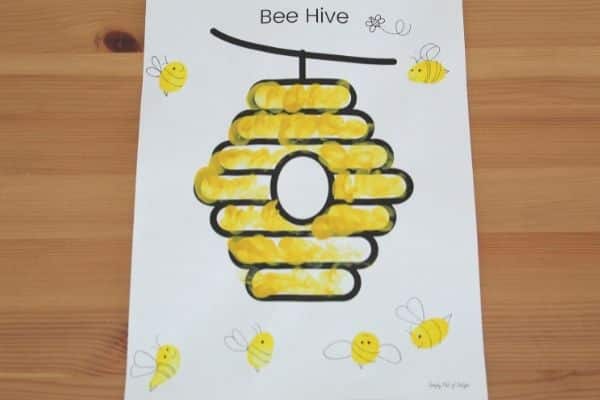 Next draw the bee's wings, eyes, stinger, and antennae.
You can even add lines behind the bee to show the bee's path of flight if you like! So cute!
These thumbprint bee hives make a super fun craft for spring! I hope you enjoy them!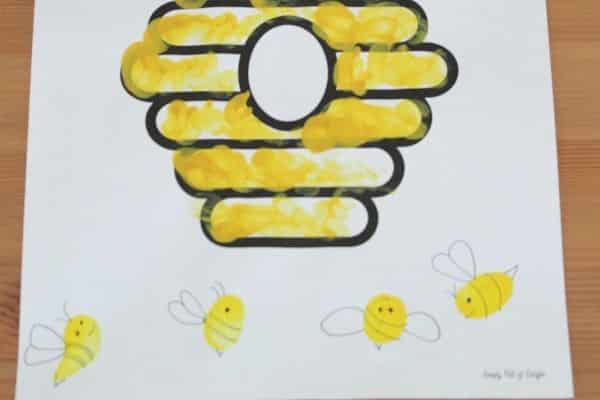 Get the Free Printable Bee Hive Template PDF
To get the free printable bee hive template simply click the black download button below.
I hope you have fun with this thumbprint bee craft! Also, keep in mind this bee craft could also be used for a Mother's day card or Valentine's Day card with the words Bee Mine!
More Bee Crafts for Kids
Looking for more Bee Crafts for kids? You can find a super simple paper bee craft here. Kids love this paper bee because it's wings move! What fun!
Looking for another fingerprinting craft? Try these adorable Thumbprint Ladybugs.
Also, you can find 21 amazing bee crafts for children here.
Finally, you can find some cool flower crafts for kids here…..to go with all those bees naturally!
And if you would like some fun spring preschool activities be sure to check out this Spring Preschool Learning Pack in my Etsy shop! There's all kinds of learning fun including cut and paste activities, patterns, tracing, and more!
Want to save this idea for later? Pin the image below to your Spring Crafts Pinterest Board!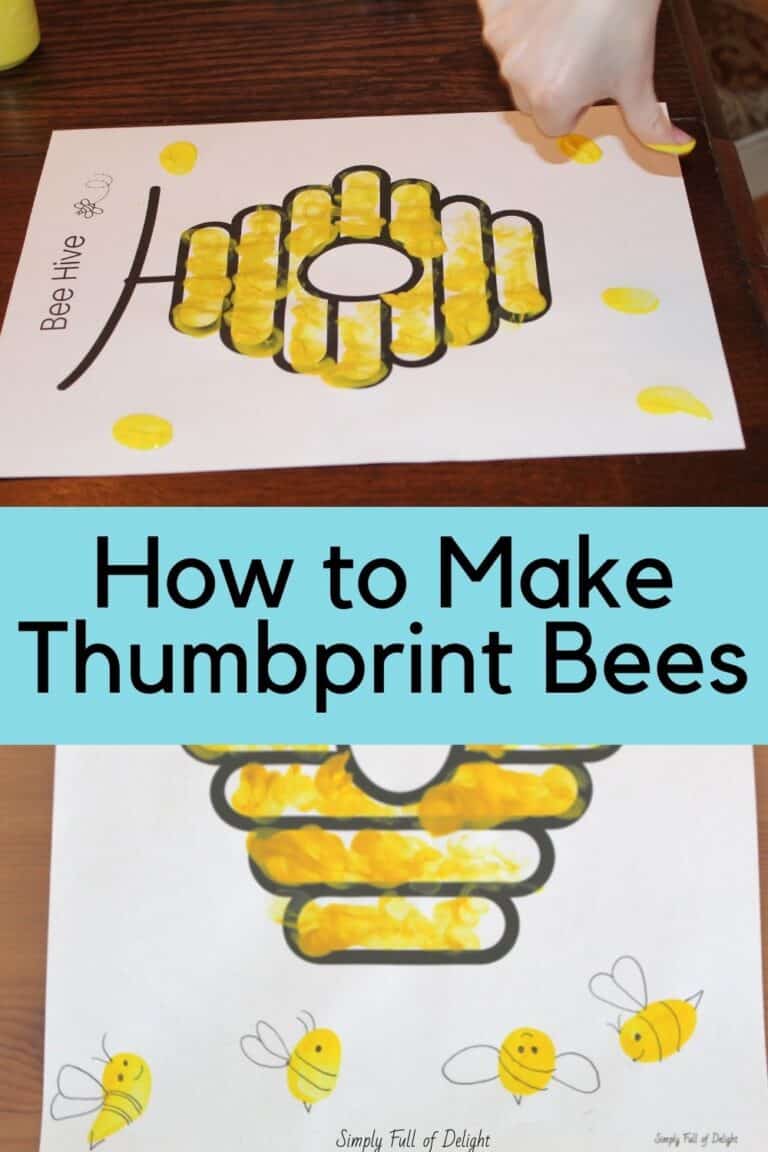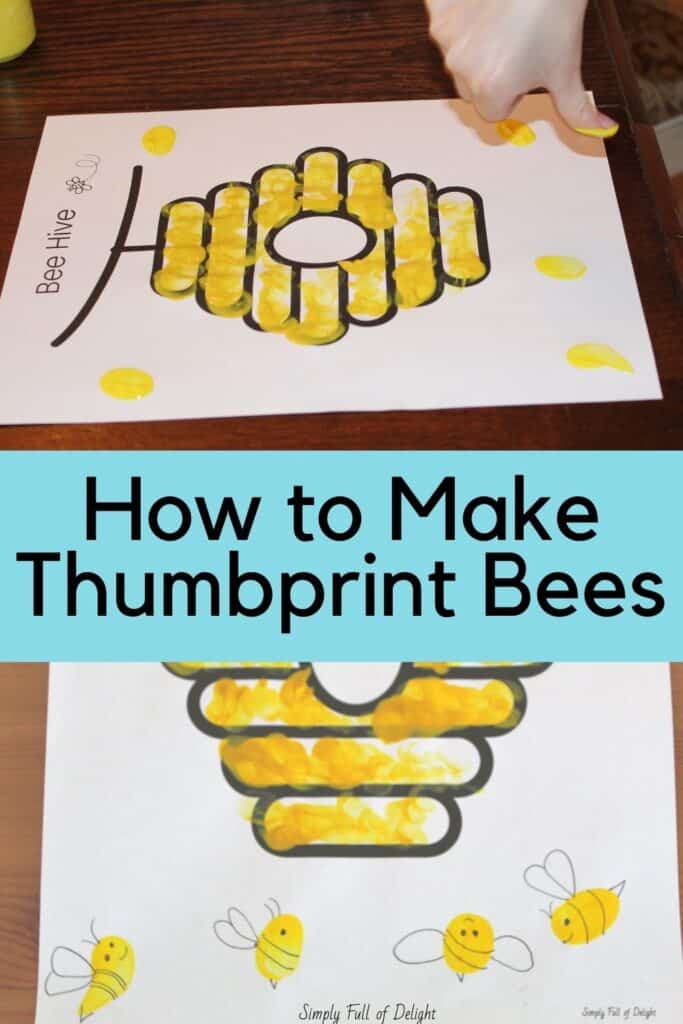 Related Posts