Looking for an easy butterfly craft for kids? This Thumbprint Butterfly is fun activity to mark the start of Spring!
Spring is upon us and we've been crafting insect and flowers like crazy! Crafts that feature fingerprint drawing and handprints are our absolute favorite, so we've been making a series of thumbprint insects!
You can find a thumbprint bee, a fingerprint caterpillar, as well as a thumbprint ladybug. It was natural to go ahead and make a butterfly today to finish off the set!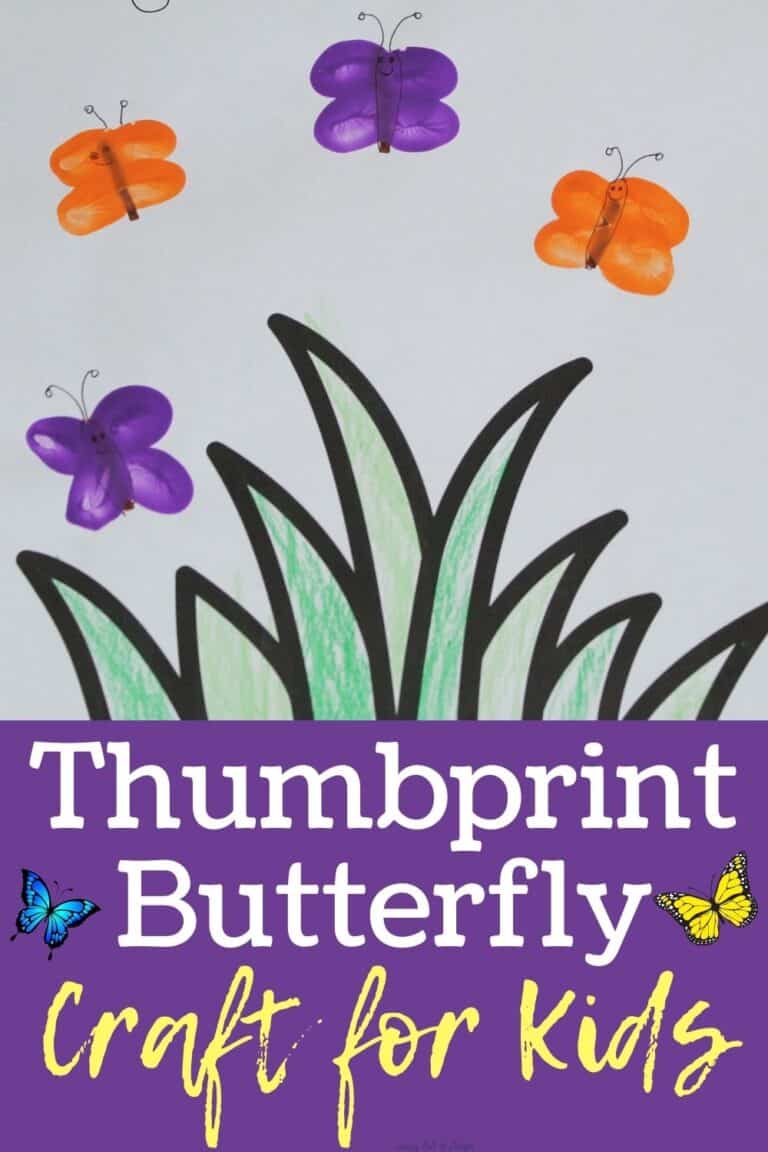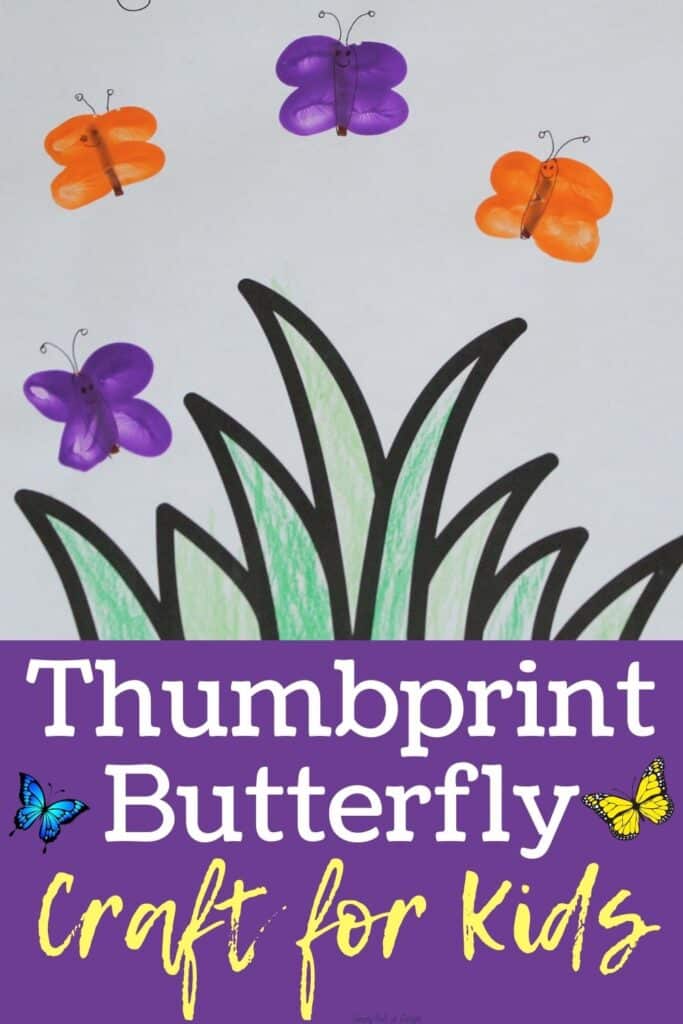 Spring is a great time to talk about butterflies. With all of the insects out and about, it's a great time to teach little ones about the insects around us. Butterflies are my favorite insects, because they are beautiful and not bothersome like other insects.
To make this fingerprint butterfly craft easy, I've created a template for you. You can download the free template of grass for your butterflies at the end of the article.
Before we dive into our craft….
What is Thumbprint Art?
Thumbprint art is created when kids stamp their thumb or finger into ink or paint and then stamp it onto a page. After the fingerprints have dried, kids can use their creativity to make objects from those fingerprint shapes.
Thumbprint art is great for toddlers and preschoolers who are working on fine motor skills. I love thumbprint art ideas because they always unique and never the same!
Let's make our Fingerprinting Butterfly!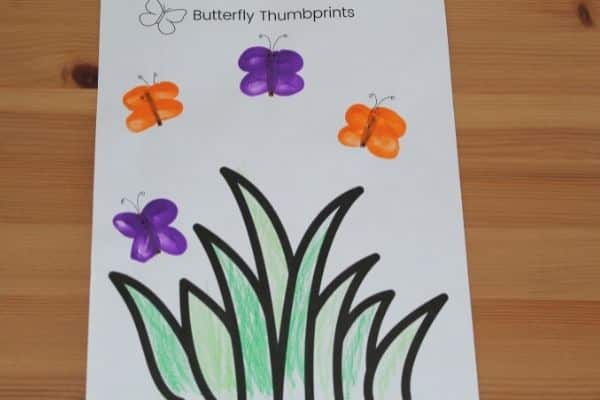 ** Disclaimer: As an Etsy associate and as an Amazon.com Associate, I may earn from qualifying purchases made by readers clicking my affiliate links at no extra cost to you.
Supplies for Butterfly Fingerprint art
For this thumbprint butterflies craft, you will need the following items:
Free Printable Grass Template for Butterfly Thumbprints (You can grab it at the end of this article)
Any Color washable paint (We love this Crayola brand kid paint).
Paper plates or bowl for paint
Black marker or pen
Crayons
Optional: Table cloth, smocks, baby wipes
Also, alternatively you could use ink stamp pads instead of paint (use make sure to use washable ink pads).
How to make a Thumbprint Butterfly
To begin, print out your butterfly grass printable. With crayons, have your child color the grass green.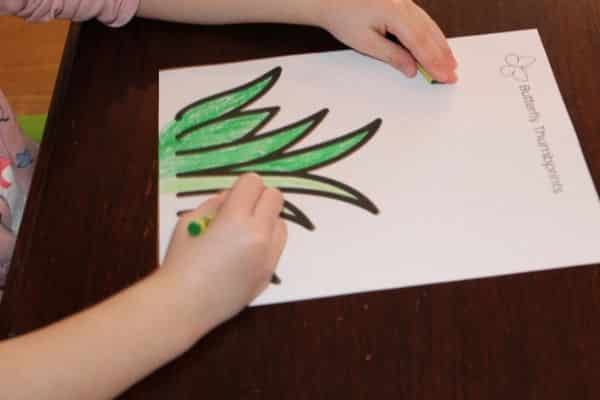 To minimize mess, I recommend putting a table cloth on your work surface and have your child wear an art smock.
Decide how many butterflies to make. I recommend doing only a few because kids can quickly get overwhelmed by the second part if they make too many!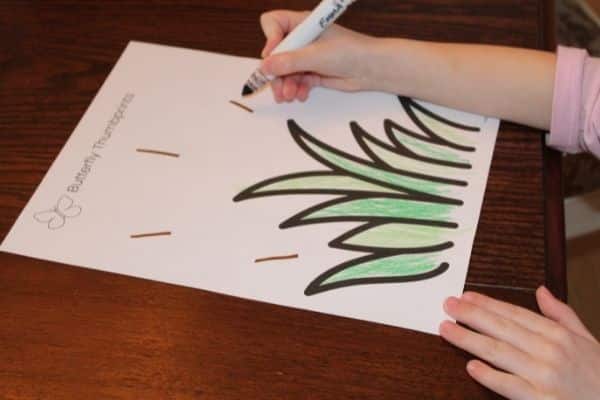 We choose to make 4. Draw a line for each butterfly's middle.
Next, pour some paint on a plate. The color doesn't matter, you can choose whatever color you would like your butterflies to be. We choose to use purple and orange.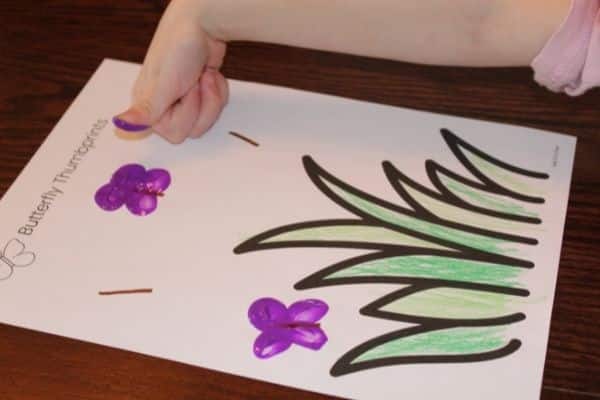 Have your child dip their thumb into the paint and then stamp their thumb 4 times surrounding each line on their printable. Their thumbprint will be each part of the butterflies' wings.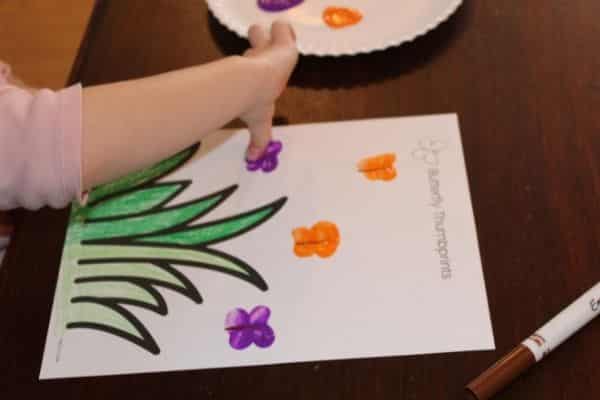 Once each butterfly has been printed, it's time to let the thumb printing butterfly dry.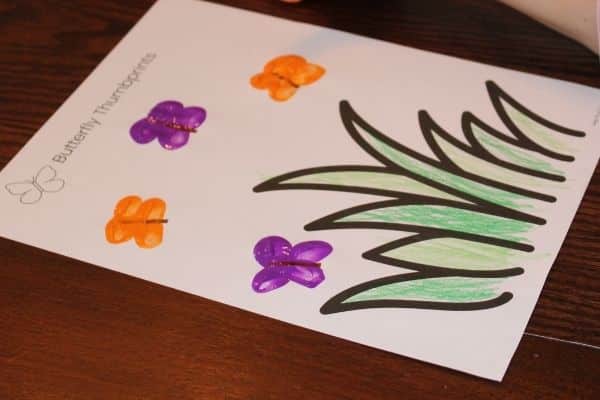 It will probably take several hours to completely dry, depending on how thick the paint is.
Once the fingerprint ladybugs are completely dry, it's time to add details! These are a little more tricky than other fingerprint insects.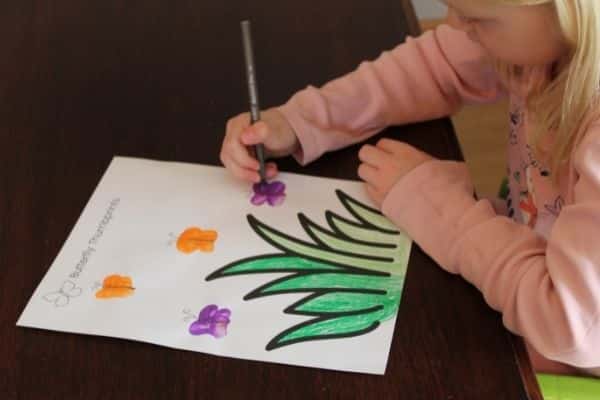 Show your child how to draw a face on the butterfly and to add antennae. We drew an oval around each midsection and added a face to the top portion of that.
And that's it! They are finished!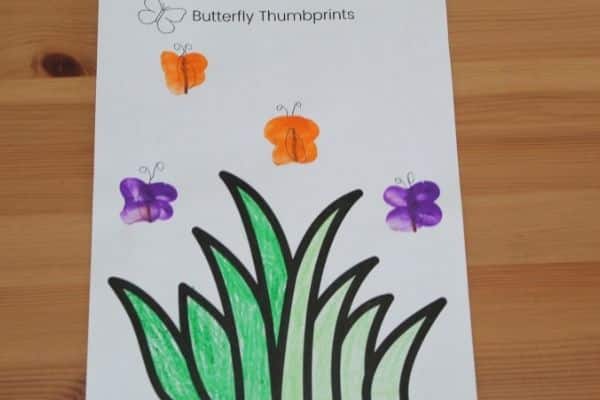 This butterfly thumbprint art makes a fun craft for spring! I hope you enjoy thumb painting with your children.
Free Printable Grass Template PDF for Fingerprint Butterfly Art
To get the free printable grass template just click the black download button.
I hope you have a fun time with this thumbprint butterfly craft! It would work well for a Mother's Day Thumbprint butterfly card or a Happy Spring card.
More Insect Activities for Kids
Looking for more Insect Crafts for kids? There's a Thumbprint Ladybug craft here.
There's an adorable Thumbprint Caterpillar craft here that is perfect for a Very Hungry Caterpillar theme.
You can find a Thumbprint Bee Craft with a free printable hive template here.
There's also a simple paper bee craft here. Kids really enjoy this one because the wings move!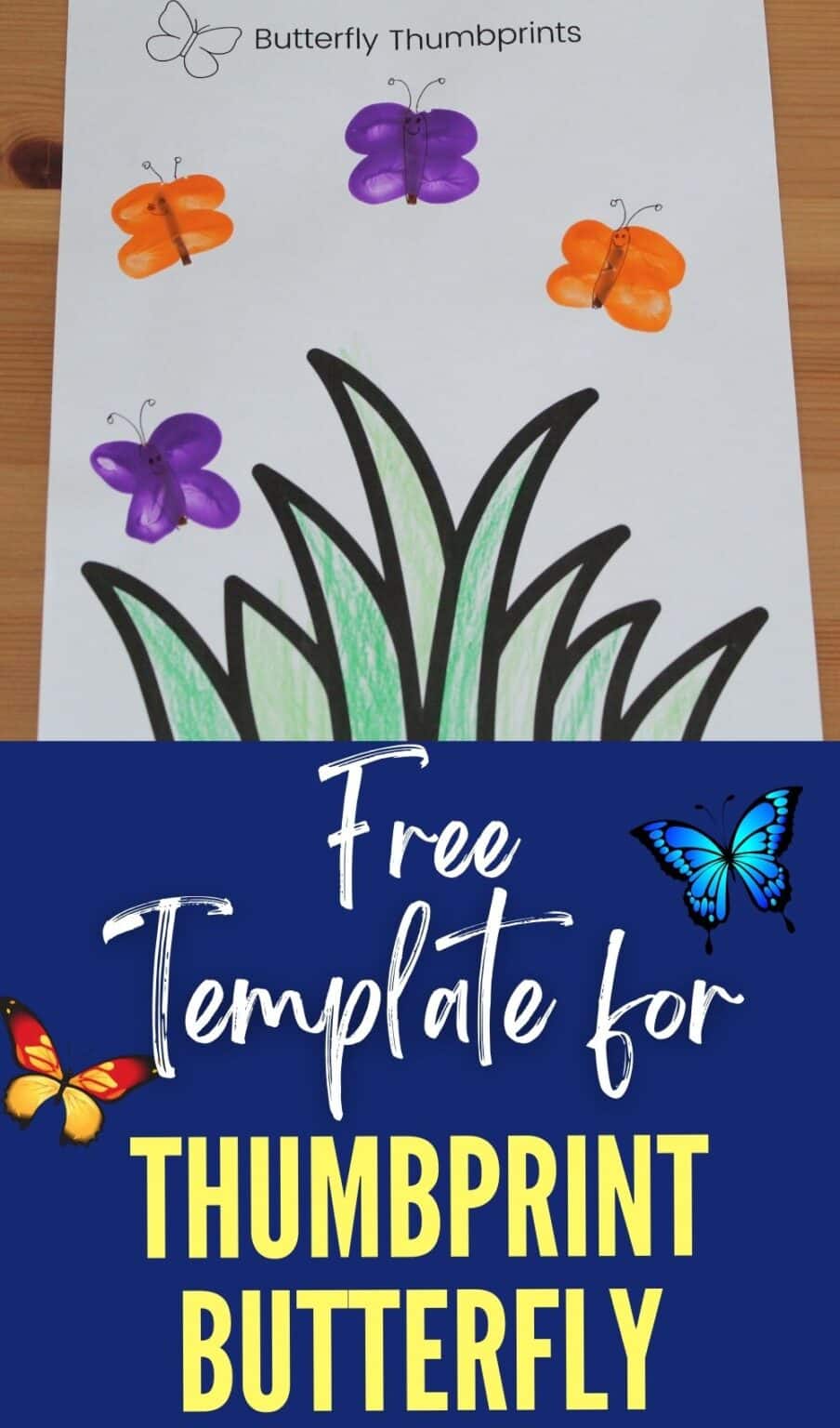 Related Posts