Looking for some cute Caterpillar Coloring Pages for spring? Print out 4 free Caterpillars Coloring pages, grab some crayons, and let the fun begin!
With spring blooming all around us, it's a natural time to start talking about caterpillars and butterflies.
Caterpillars are amazing insects.
Whether you are studying the life cycle of a butterfly or looking for some insect coloring pages, I hope you'll find these free caterpillar coloring pages helpful as you prepare your spring activities.
These Caterpillars coloring pages are great for adding to an art center.
They are perfect for a quick art project or a quiet time activity.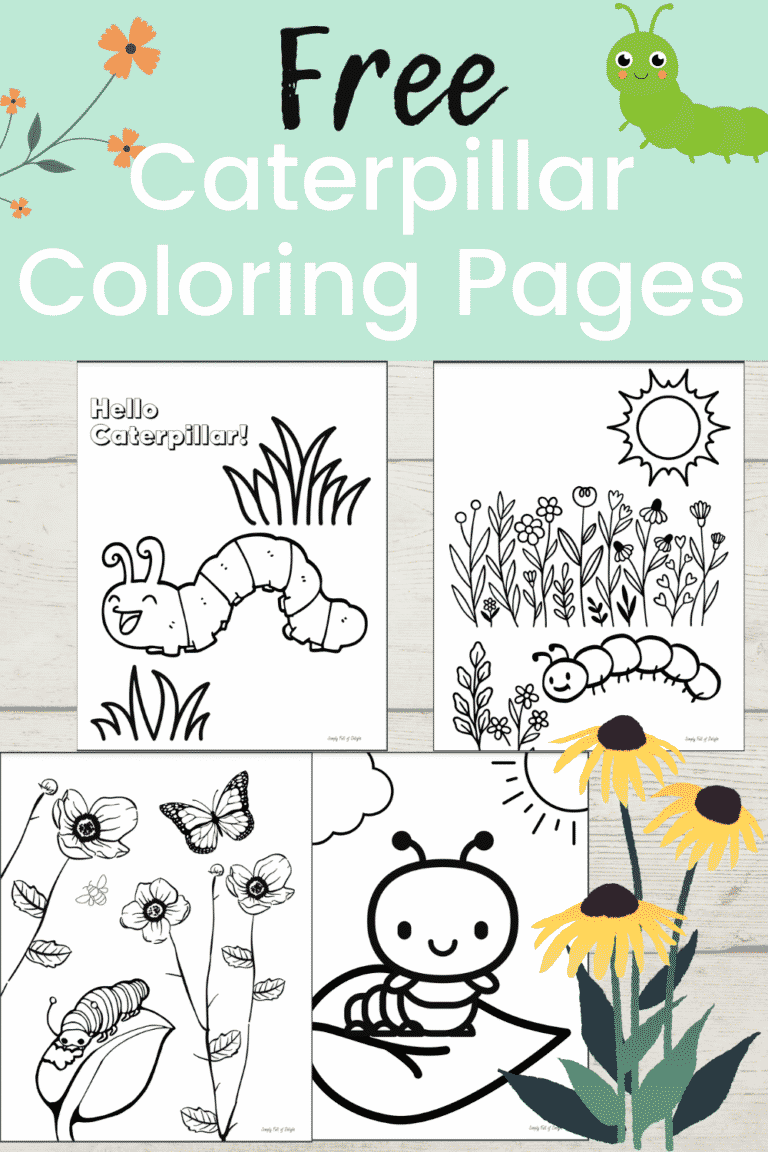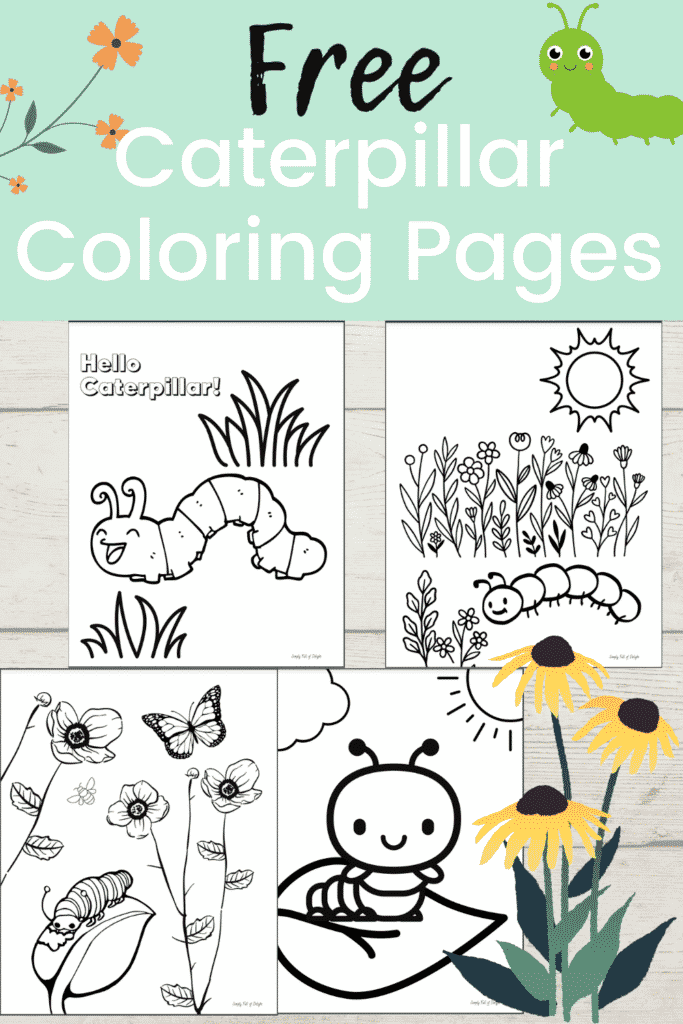 You are welcome to use this unique collection of coloring pages for your own personal use or use them in a classroom or teaching environment.
Alright! Let's dive in!
Let's check out these free printable coloring pages!
** Disclaimer: As an Etsy associate and as an Amazon.com Associate, I may earn from qualifying purchases made by readers clicking my affiliate links at no extra cost to you.
First up is..
Hello Caterpillar Coloring Page PDF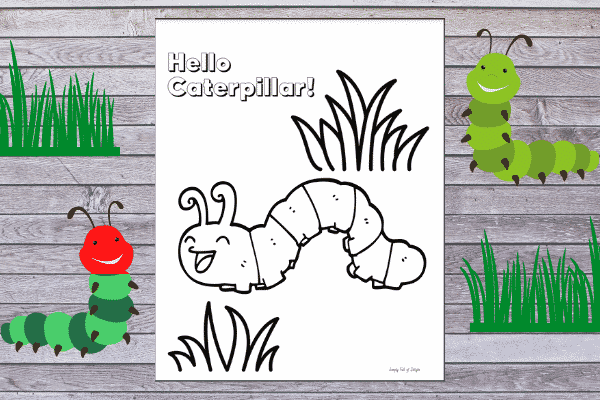 This first free caterpillar coloring page features a large caterpillar smiling as he makes his wriggly movement along through the grass.
The bubble letters "Hello Caterpillar!" can be colored in as well.
My kids used these as Very Hungry Caterpillar coloring pages.
They adore the book by Eric Carle and wanted to mimic the colors of that caterpillar, so this large segmented caterpillar was perfect for that!
You can download this free printable coloring page with the black download button below.
Next up is…..
Caterpillar in a Garden Coloring Page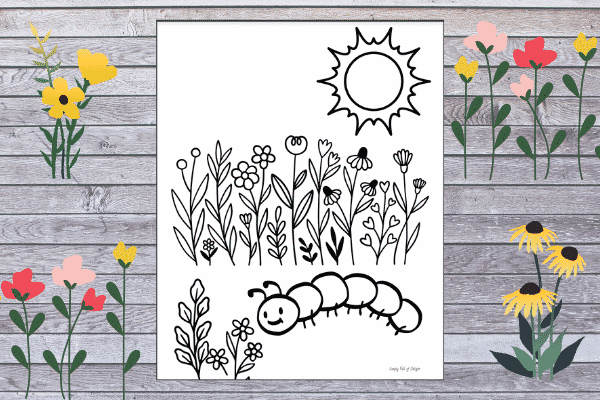 This Caterpillar in a Garden Coloring page will be a favorite with kids!
This free printable features a little caterpillar inching along in a flower garden with the sun in the sky.
There's plenty of tiny flowers to color for kids who love detailed designs.
The caterpillar has sections which are fun to color as well. My kids enjoyed making this caterpillar rainbow colored.
This page is perfect for colored pencils or fine line markers for all of those tiny details. Kids of all ages will enjoy this coloring page.
This is a fun way to build fine motor skills.
Get your copy by hitting the black download button.
Free Printable Caterpillar Coloring Pages for Preschool
Preschool age kids will enjoy this simple picture of a caterpillar to color.
This coloring sheet features a large caterpillar on a leaf, with the sun and a cloud in the background.
Because of the simplicity of the page, this might be great for painting with watercolors or finger paints with young children.
You can download your coloring sheets by clicking the black button below.
Caterpillar and Butterfly Coloring Pages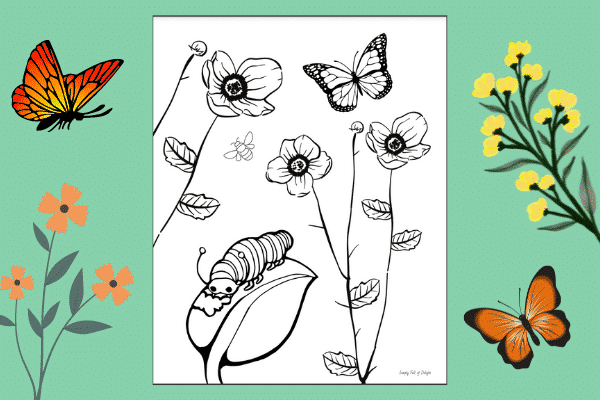 This caterpillar coloring page features a caterpillar eating a leaf, amongst flowers.
There's a butterfly nearby along with a bee as well.
Kids will enjoy coloring the flowers as well as the insects.
My kids loved this page the most.
They enjoyed coloring in the tiny details on the flowers and deciding on the colors for their insects.
You can instantly download your Caterpillar and Butterfly Coloring Page with the black button below.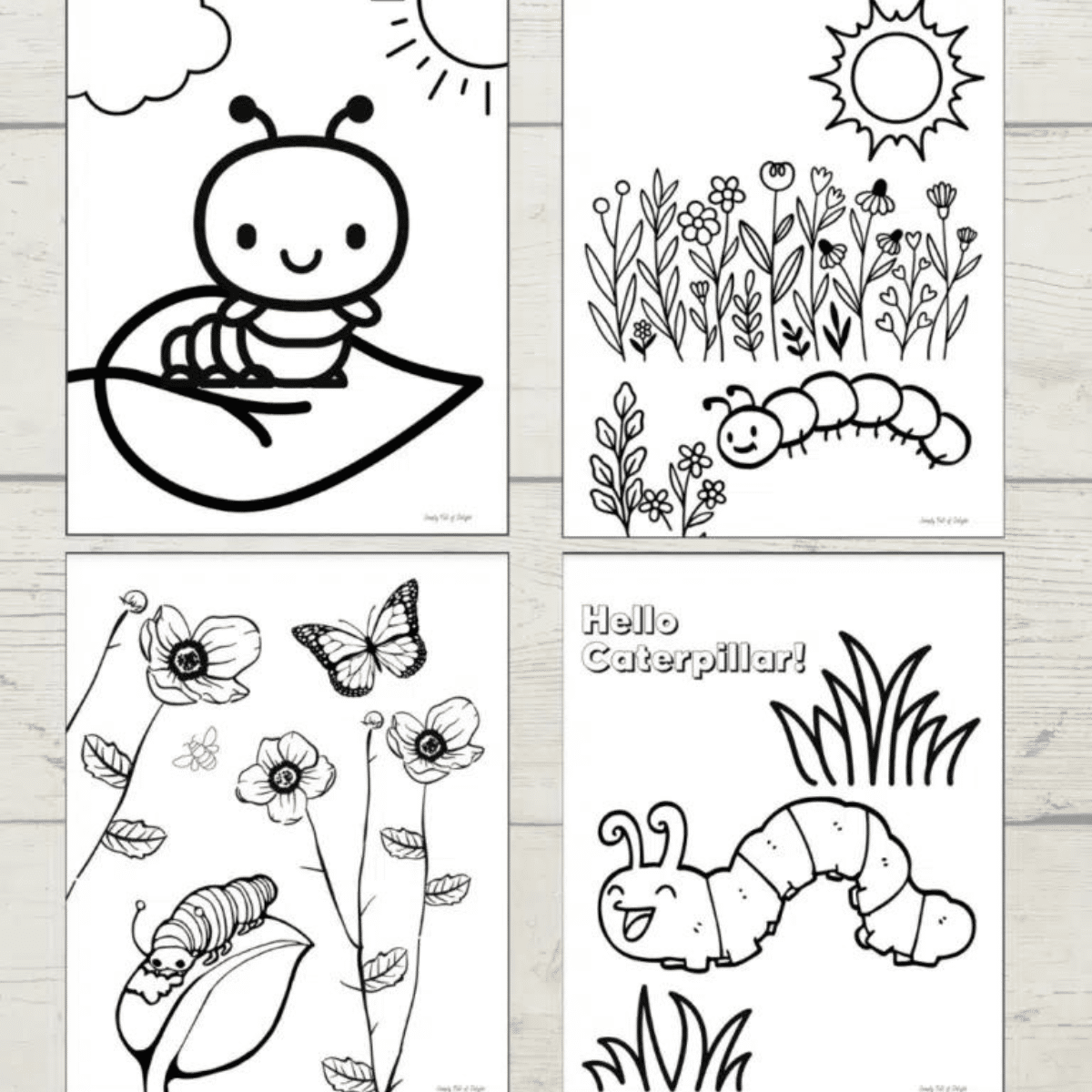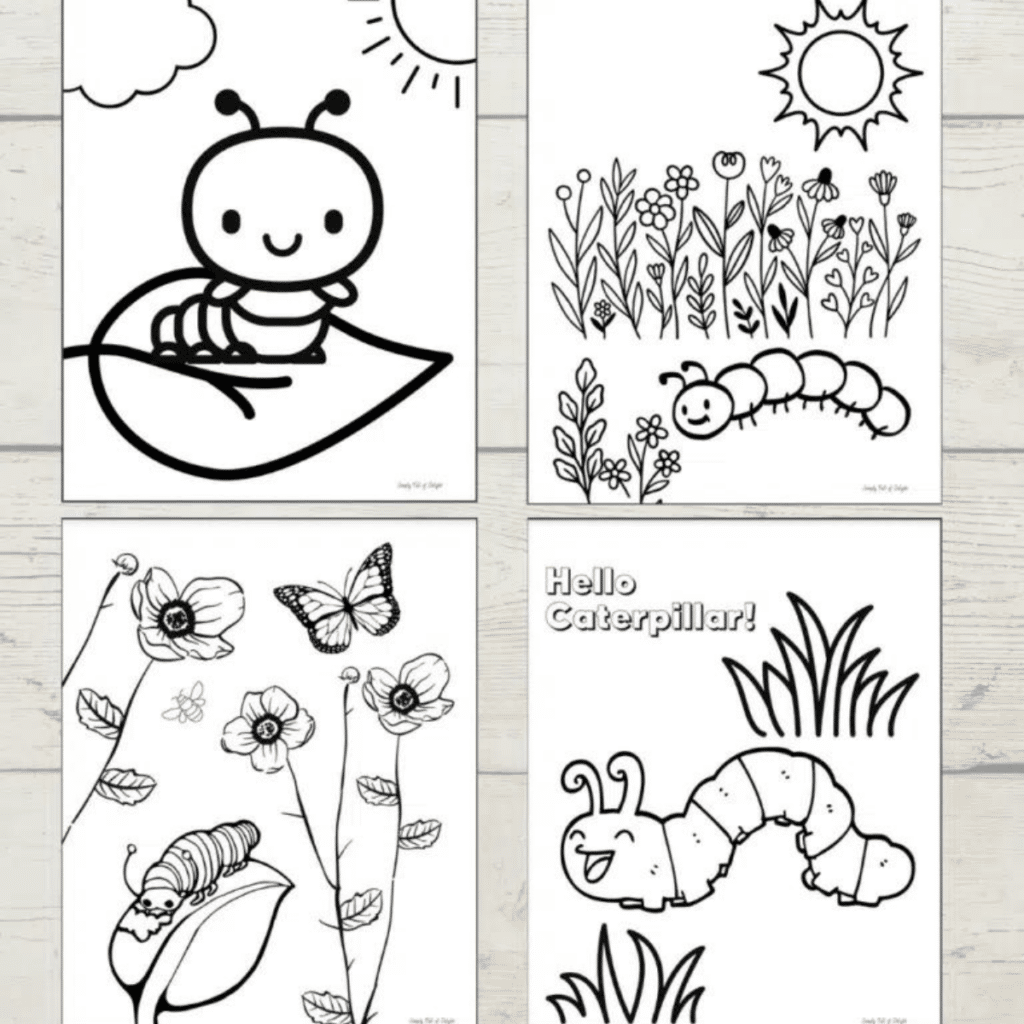 More Ideas for Caterpillar and Butterfly Activities!
I hope you enjoy these cute Caterpillar Coloring pages for preschool as much as I enjoyed creating them!
(And with that in mind…if you've ever wanted to make your own coloring pages check out this out.)
For more Caterpillar learning fun, be sure to check out this Thumbprint Caterpillar craft. Kids can use the free printable leaf to make adorable fingerprint caterpillars.
There's a Very Hungry Caterpillar Coloring Book on Amazon that is super cool, if you have a little one who is a big fan of the story by Eric Carle.
In addition, there's a fun Butterfly Symmetry Craft here. It's super simple with the free butterfly template.
You can find some amazing free Insect Printables here, perfect for your preschool insect theme!
Want more coloring pages? Check out the fun Coloring pages in my Etsy shop!
You will find unique coloring pages for every season as well as popular themes kids love!