Looking for a fun Summer Process Art project for preschoolers? This Lemon Stamping activity is so much fun! Kids will enjoy using citrus fruits to stamp paint onto a page.
We've had a lot of fun lately with stamping with vegetables. You can check out our Shamrock Pepper Stamping here and our Carrot Stamping Craft here.
So naturally with summer coming up, it was time for a summer twist!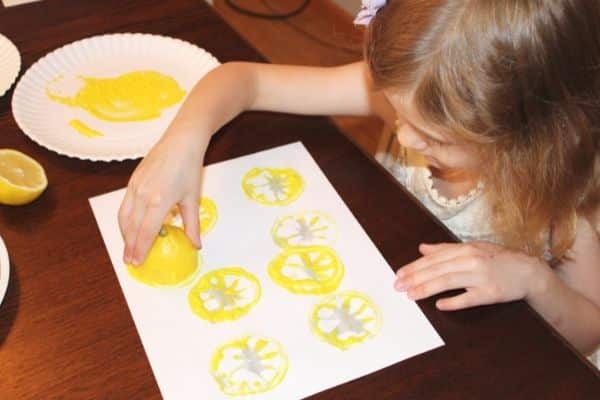 This is an fun lemon stamping craft for preschoolers, kindergarten, and lower elementary grades.
It's an open ended art project, so the finished craft is cool, but it's more about the process of creating!
What is Process Art?
Process Art is focusing on the process of creating art instead of the end result. You provide the materials and then the child has fun creating. Having a finished project at the end is not the goal. For process art, the goal is to allow the child creativity and control over the end result, not step by step directions.
You can learn more about Process Art over at Messy Little Monster.
Feel free to use this lemon stamping craft as process art, or as a teacher led craft.
You know your students and kids best, so do what is best for your situation and your little ones!
** Disclaimer: As an Etsy associate and as an Amazon.com Associate, I may earn from qualifying purchases made by readers clicking my affiliate links at no extra cost to you.
Supplies Needed for Lemon Stamping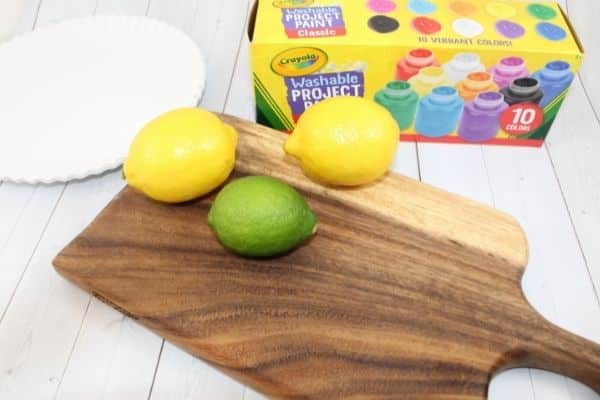 Washable Paint (we love this paint by Crayola)
Paper plate – for the paint
A Lemon
A Lime (optional, but adds to the fun!)
Knife and cutting board
Paper – Any kind will work – We used copy paper, but white construction paper works well too!
Paint Smocks (to minimize the mess!)
How to Prepare the Lemons & Limes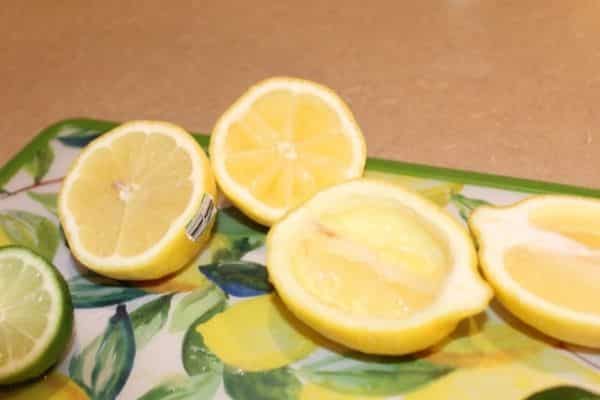 This project can be done 3 different ways.
1) You can simply cut the lemons and limes in half and begin to stamp. However, this won't give you a lemon/lemon looking print. It will have more of a blob effect.
2) If you want it to look like a lemon or lime print, you will need to carefully cut around the fruit's membranes, cutting the juicy sections out and leaving the membranes intact. It takes a while for the juice to run out of the lemon, so your first few stamps won't be your best. Once the stamp has been used a while, you will start to see the "pretty lemon slice effect."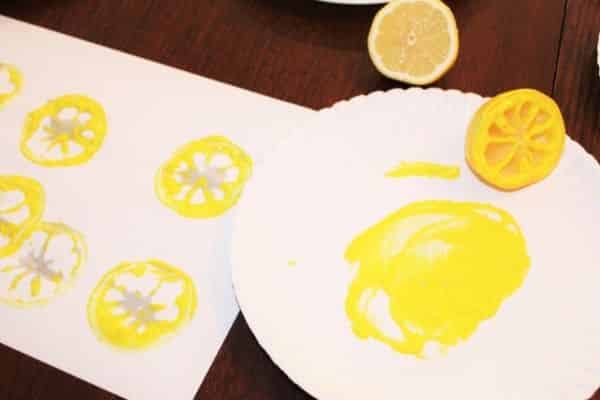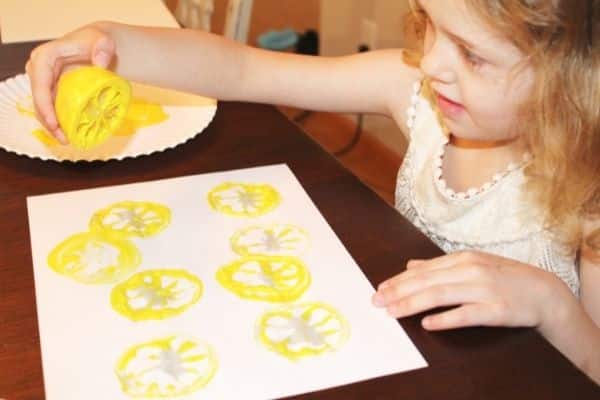 3) A different, less messy way to do this is to cut the lemon lengthwise and cut all of the lemon out, leaving just the rind. This will give you a lemon shape to stamp with, which is a fun effect as well!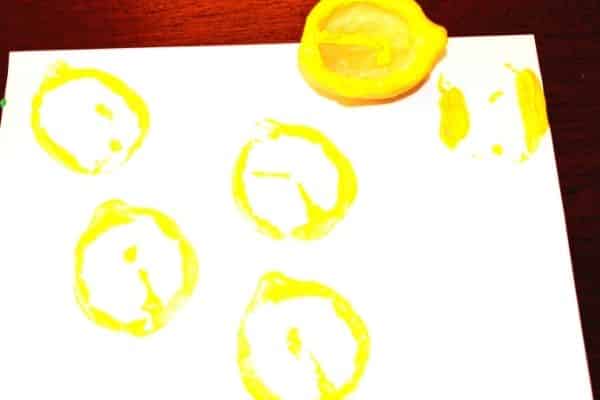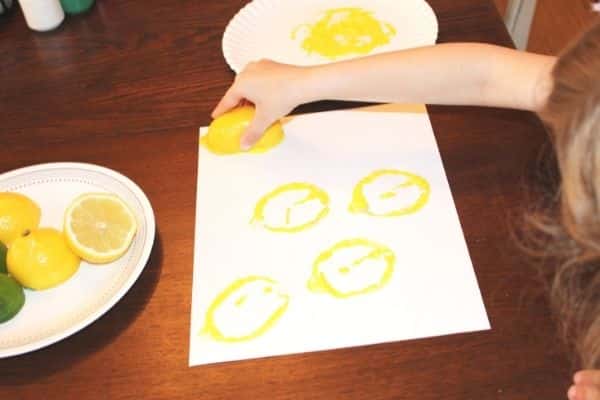 Overall, I'd recommend that you get a couple of lemons and try a few different ways. Keep your end goal in mind.
If you plan to use these as wrapping paper or cards, then you might want to go with the most beautiful option. However, if this is process art for a toddler, I'd go with one of the easier options to prep.
How to do Lemon Stamping
First, put a smock on your child and cover your table with a plastic tablecloth. (As you can see from the pictures, we went rogue.)
I like to cut fruit in front of the kids. Many kids haven't ever seen the inside of a lemon or lime. Show them how it looks on the inside and take the opportunity to teach them about some of the things lemons and limes are used to make.
My daughter enjoyed tasting the lemons and limes.
Next, take your paint and pour it onto the paper plate. We chose to use yellow, pink, and green. I created the light green by mixing green, yellow and white.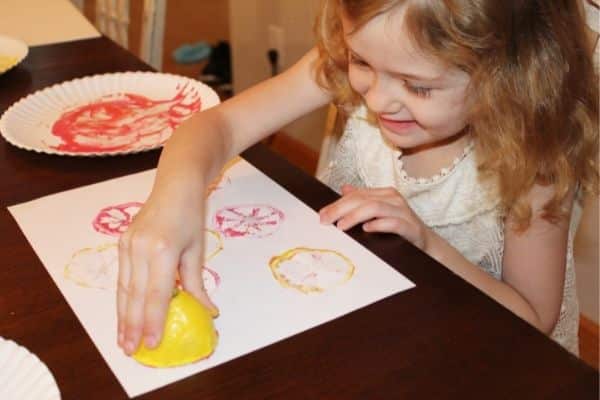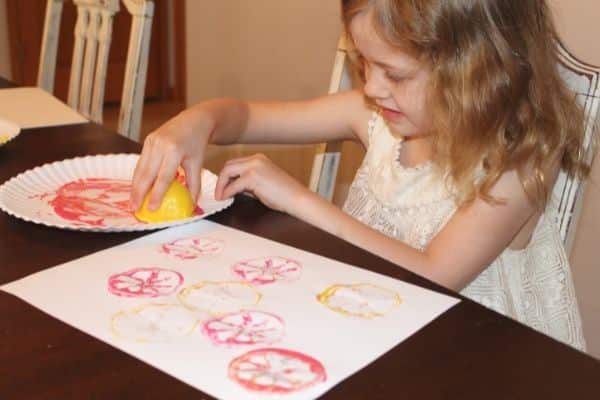 If you use this as process art, provide the kids with the supplies and let them have fun!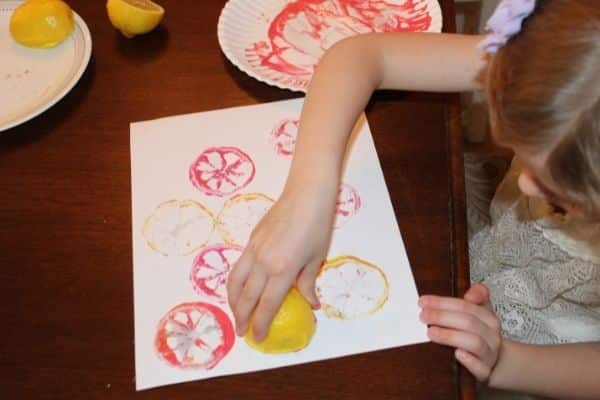 You can also do a more teacher led approach and show the kids how to dip the lemon into the paint and then stamp it firmly onto the paper.
As I mentioned before, this project can be great for open-ended creativity or you can use it to create a fun card or wrapping paper!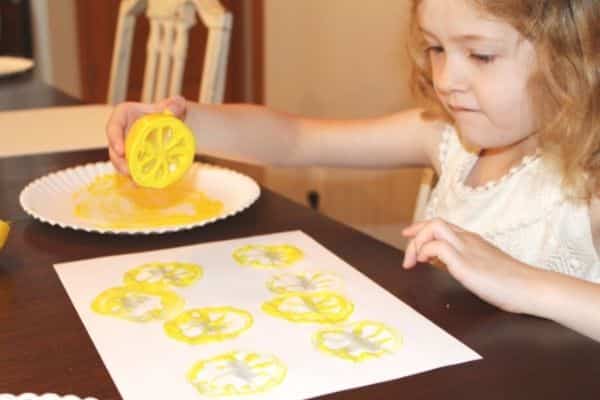 I noticed that the Lime (or at least our lime) was not as juicy, so it could possibly be cut in half and not scooped out. It did make decently good prints just sliced!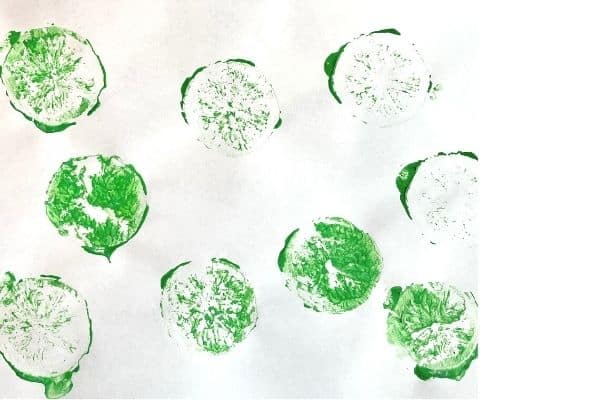 More Fruit and Vegetable Stamping Fun
Love this Lemon Stamping Art?
There's a Pineapple Printing Fireworks craft here. Use the top of a pineapple to create one of a kind art!
Be sure to check out the Pepper stamping here. In this craft, kids use a pepper and green paint to print a shamrock for St. Patrick's Day.
Also, there's a Carrot Stamping Craft here. Kids use an actual carrot to create a row of carrots. We used a fork to print the carrot tops! So cute and so much fun for kids!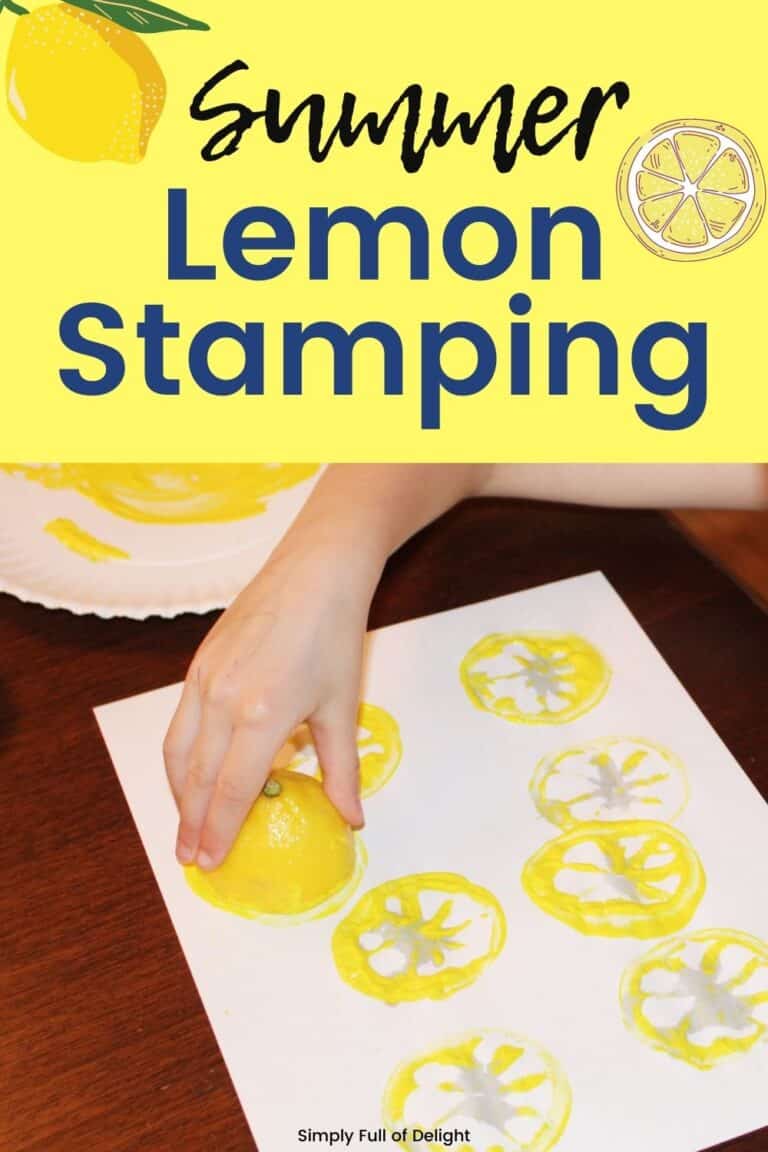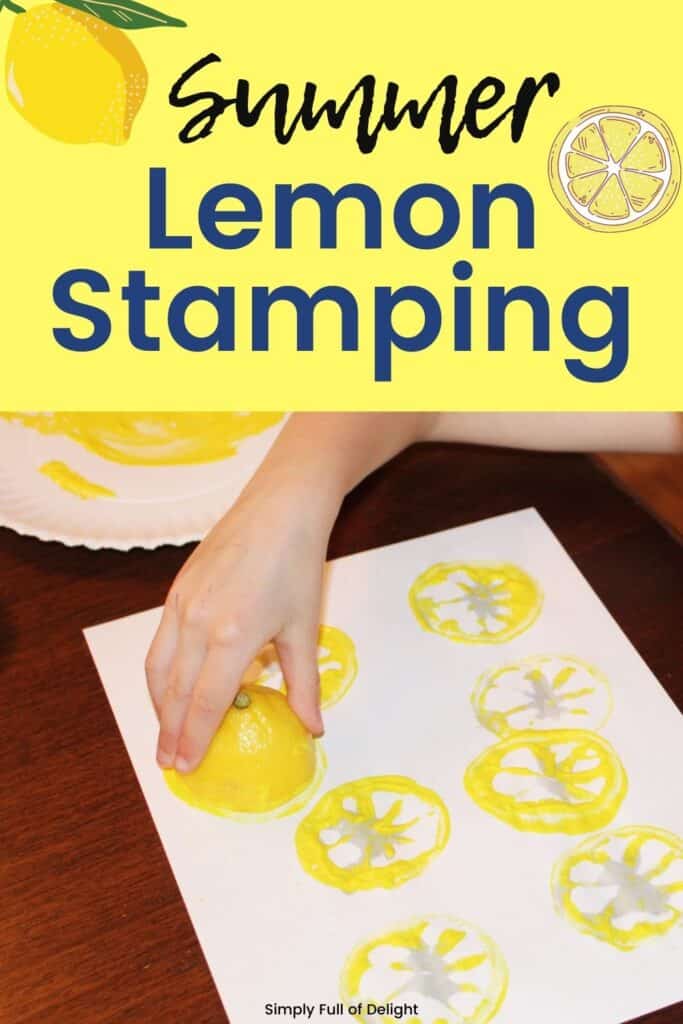 More Summer Crafts & Activities for Kids
Ice Cream is a fun theme for summer time! You can find tons of fun Ice Cream Printables and Activities here.
If you want some patriotic crafts for Independence Day, you can grab a free printable Uncle Sam hat headband here. There's also a free Color by Number American flag here.
You can find 3 free summer themed color by number pages here as well.
If you'd like a whole pack of Summer themed printables, be sure to check out this Summer Preschool Activities Pack in my Etsy shop!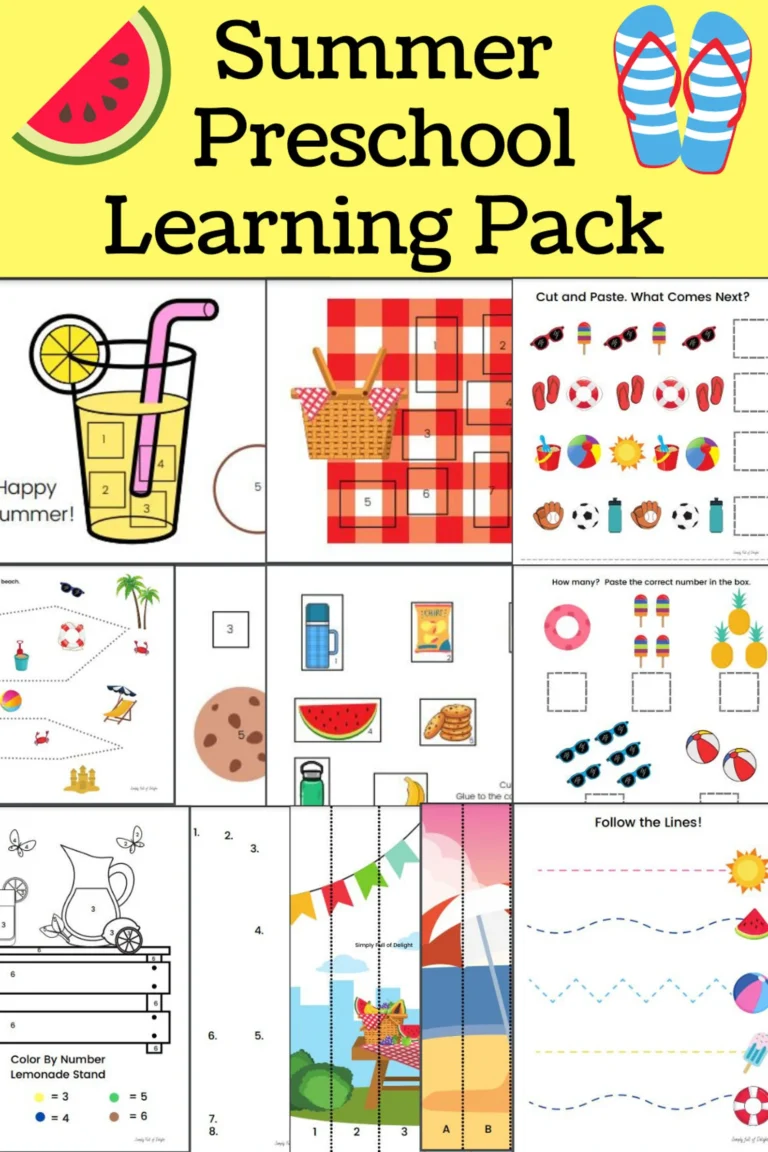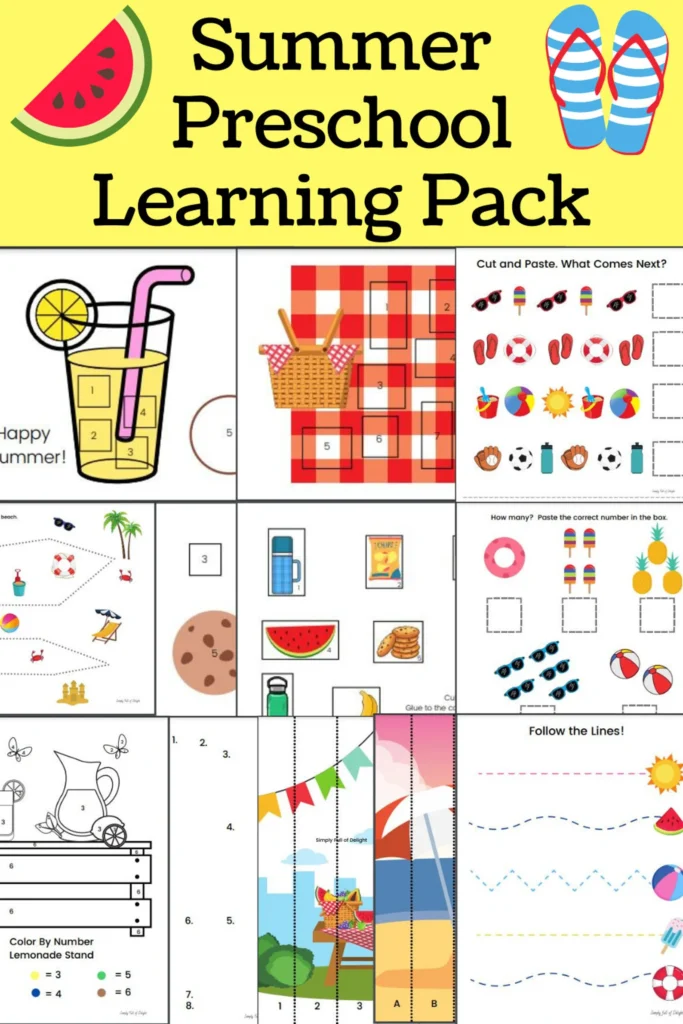 Related Posts