Looking for Fall printables for Kids? Here's some Fall Cut and Paste Activities, a Fall Bucket List, and a few other fall printables to enjoy.
I hope you find some amazing free fall activities for kids!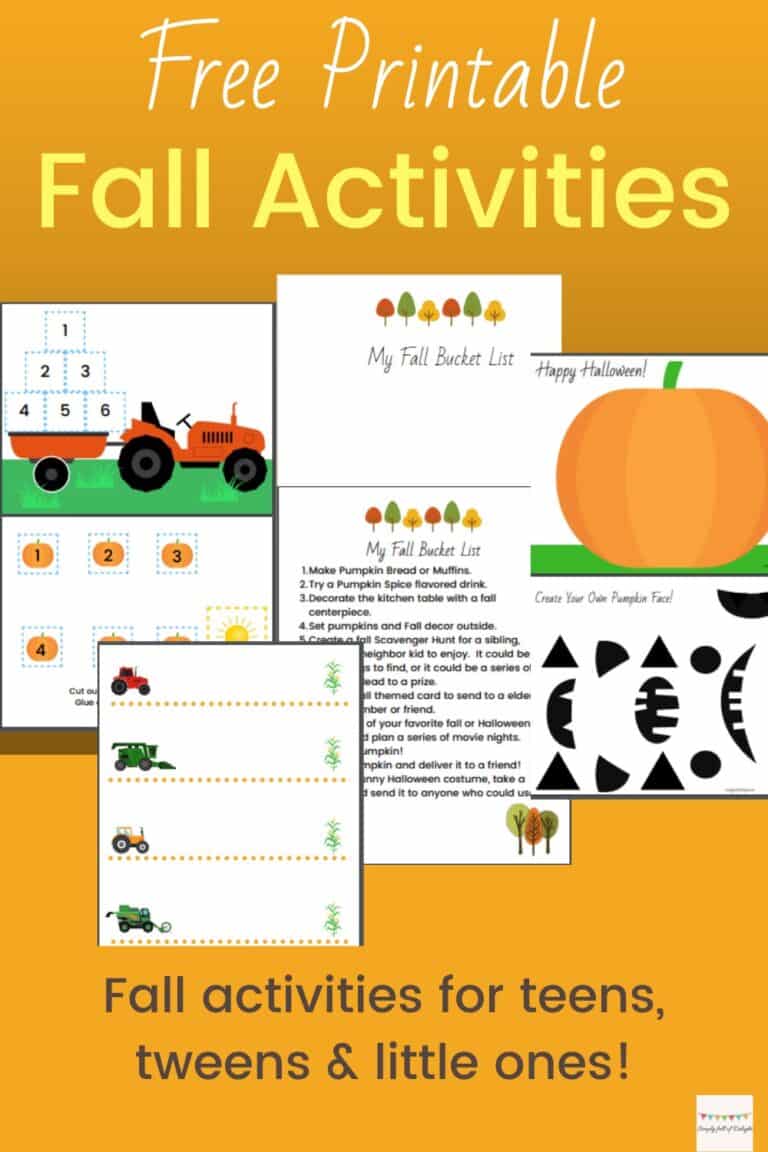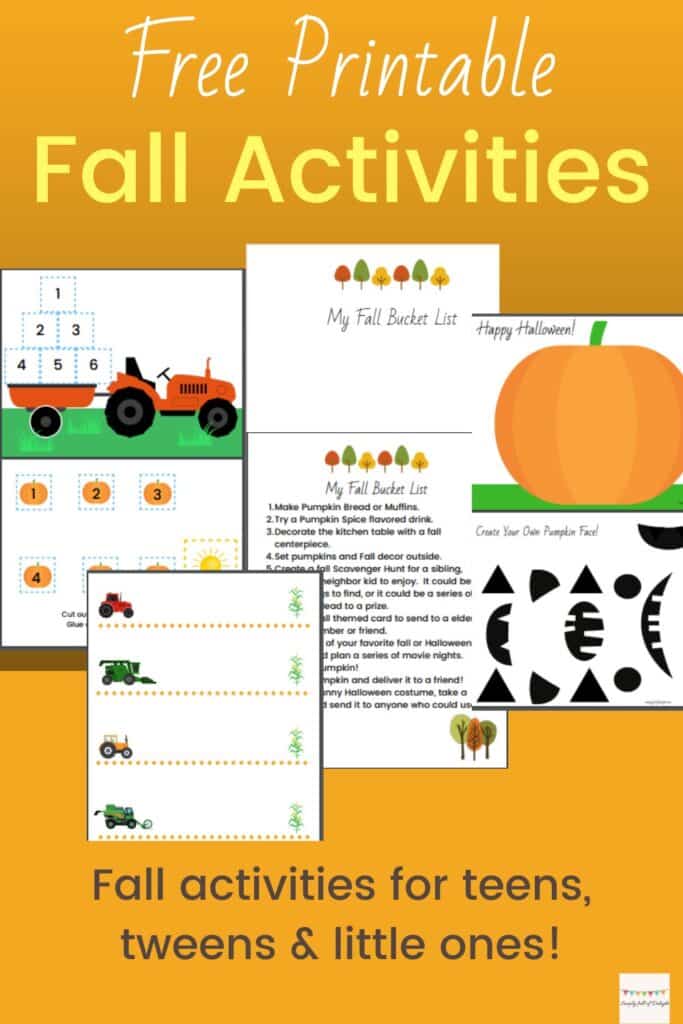 There's a little something for the whole family in this guide! All you need to add is a pumpkin spice latte for mom and a leaf blower for dad! LOL
***Disclosure: As an Amazon Affiliate, I may earn a small commission from qualifying purchases at no additional cost to you. Many thanks for supporting this blog!
The Fall Bucket List – 10 Fun Fall Activities for the Family
This first printable is a Fall Bucket List with 10 ideas for fall family fun! You could definitely add apple picking, trunk or treats, corn mazes, etc. where those options are available.
Ok! Let's Talk Family Fun Fall Bucket List Ideas!
Fall Activities for Kids, Tweens, and Teens
1) Make Pumpkin Bread or muffins.
2) Try a Pumpkin Spice Flavored Drink
3) Decorate the kitchen table with a fall centerpiece.
4) Set Pumpkins and Fall Decor outside.
5) Create a fall scavenger hunt for a sibling, cousin, or neighbor kid to enjoy. It could be a list of things to find or a series of clues that lead to a prize.
6) Create a fall themed card to send to a elderly family member or friend.
7) Make a list of your favorite fall or Halloween movies and plan a series of movie nights. For extra fun, add special themed food!
8) Carve a pumpkin…or a whole pumpkin family!
9) Paint a pumpkin and deliver to a friend.
10) Create a funny Halloween costume, take a picture, and send it to anyone who could use a smile!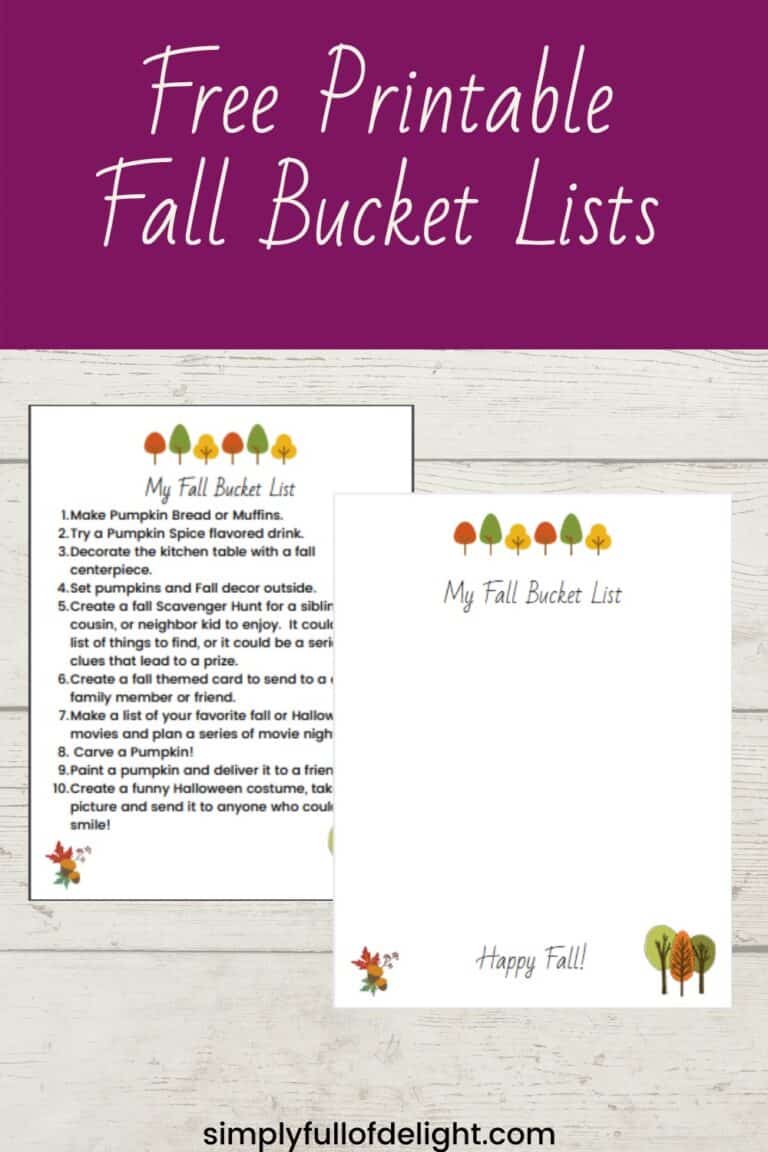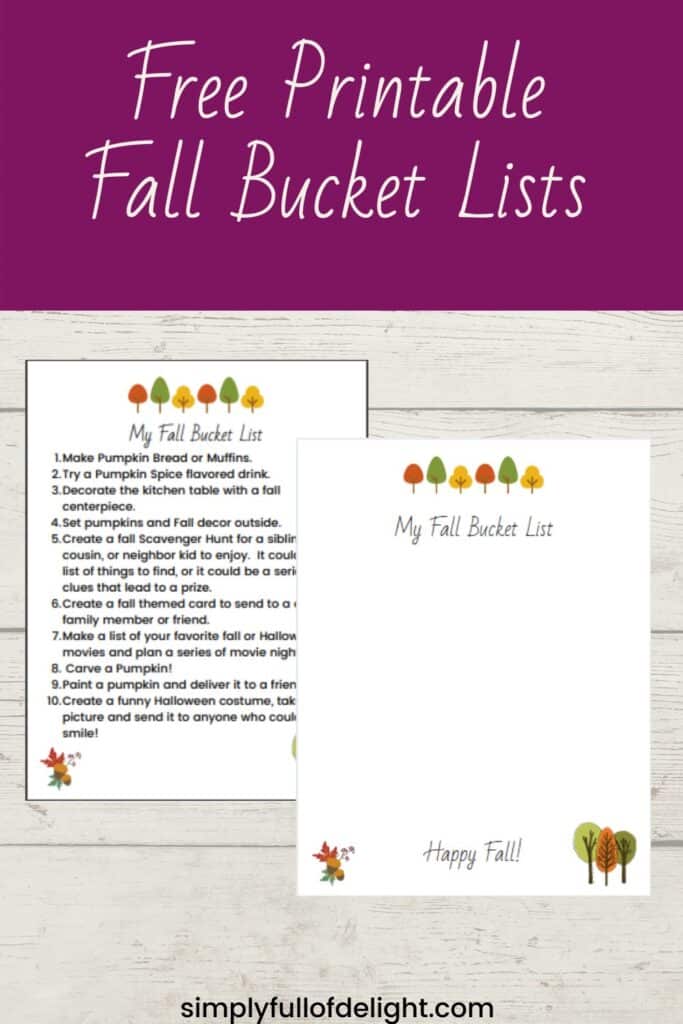 Make your Own Bucket List of Fall Activities for the Family
This second fall printable is a blank Fall Bucket List. Perfect for tweens and teens to create their own Bucket List for Fall!
My 10 year old was delighted by the list above, but even more excited to create her own list, combining some of those ideas and adding some of her own!
Fall Cut and Paste and Scissor Skill Printables for Kids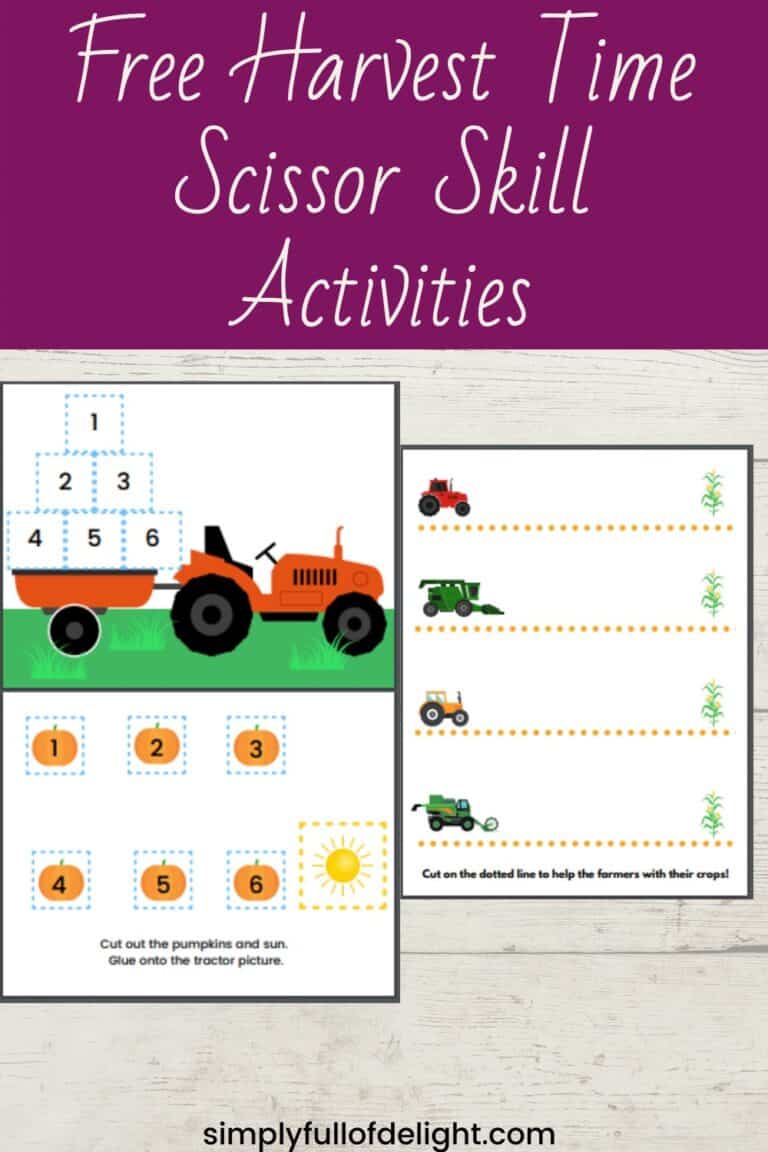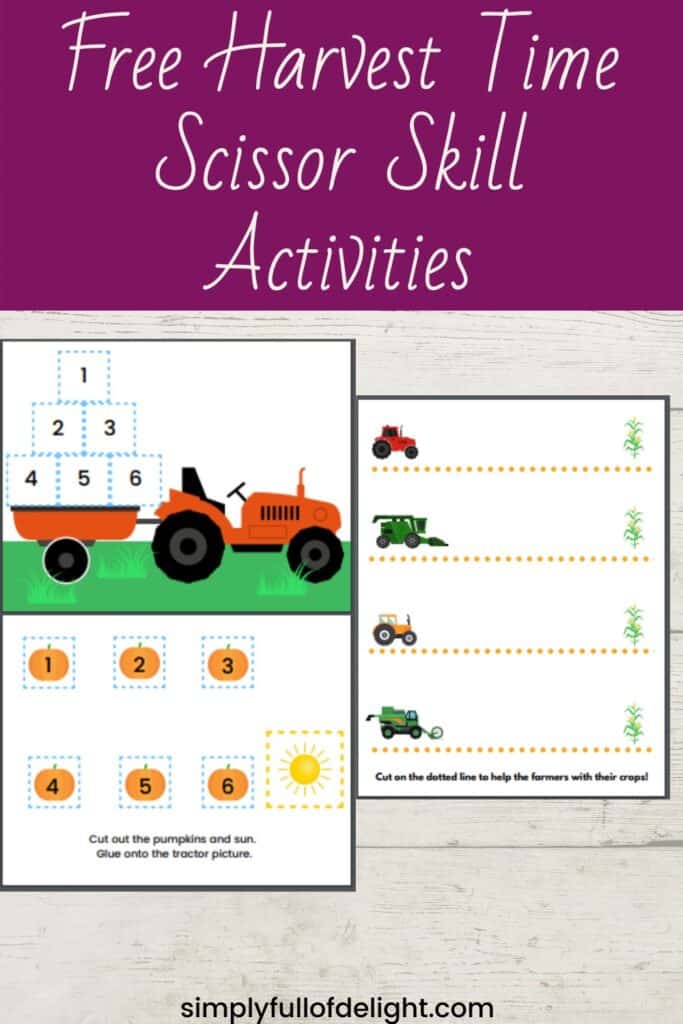 These tractor/combine themed fall printables are for the little ones who are learning scissor skills. The first one is a simple "cut on the line." Simply have the child cut on the dotted line from the tractor/combine to the corn. Perfect for little ones who are learning about harvest time!
This page could also be simply traced or you could laminate it and add it to a busy book!
The second printable is a fall cut and paste tractor with a wagon of pumpkins. This is great for kids who are learning to match numbers and working on their cutting skills.
Have the child cut out the pumpkins and glue to the corresponding number square on the tractor page! My 4 and 5 year olds loved this activity and I love that they were having fun while learning!
This pumpkin tractor could also be used as a busy book page. Simply laminate the page and pieces and attach Velcro.
Decorate the Pumpkin Printable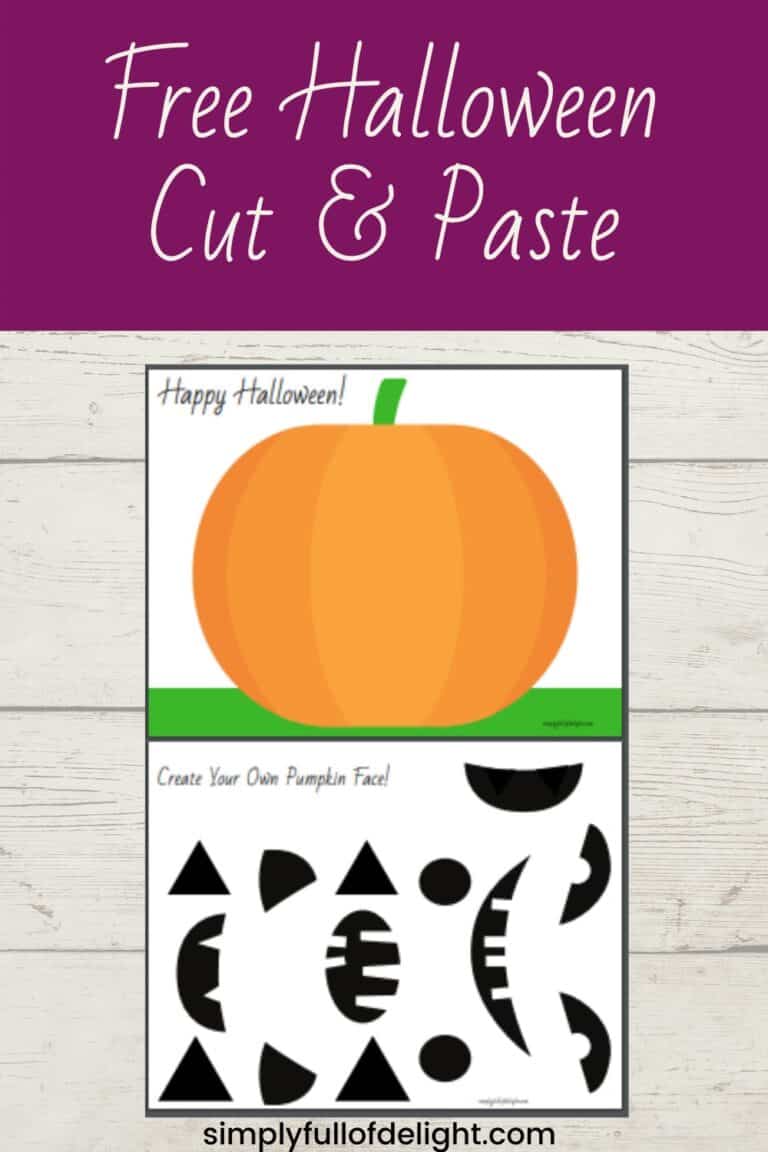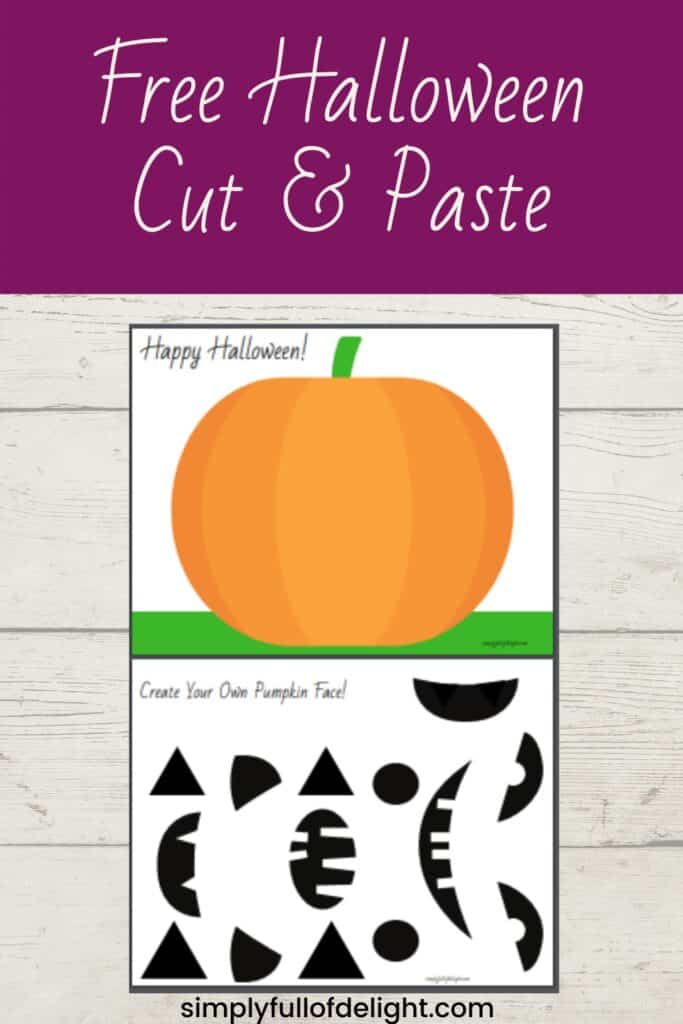 The last printable is Halloween themed and can be used a couple of different ways!
You could use it as a fun fall cut and paste activity for older children. Print out the pumpkin and the pumpkin pieces. Have the children cut out and glue on the pumpkin face pieces to create a Jack-o-lantern face on the pumpkin.
This printable could also be used as a quiet activity for little ones. Print it out on cardstock for durability and cut out all the pieces to the pumpkin. Place the pieces in a plastic bag for easy travel and watch your little one create pumpkin faces over and over! This works great for a quiet time activity while you are on the go, at church, or at restaurants!
To download these fall family fun activity printables and more, visit my Free Resource Library which is Free to my email subscribers!
Enter your email in the form below and get instant access to these free fall printables!
If you enjoyed these fall activities, you can find more activities for kids below!
Be sure to check out this Apple Color Sorting activity and this Fall Sensory Bin idea as well!
You can also grab a free apple template here for a Marble Painting Apple Craft.
For Halloween, there's free Monster Coloring Pages here.
You can grab a free Witch Hat Headband printable here to make a fun wearable Halloween craft! There's also a free set of Five Little Pumpkins Printables here.
Lastly, be sure to check out this List of Halloween Printable Crafts and Activities. SO many cute spooky ideas!
So much fun to be had during autumn!