Halloween is just around the corner and that has my 4 kids thinking about all things spooky! If you're looking for a little fun for kids, here's some free Halloween Monster Coloring Pages!
Halloween is a great time to introduce the concept of real and pretend.
You can use these coloring pages to help kids understand that monsters are not real, but it's fun to pretend that imaginary creatures exist like unicorns, monsters, and mermaids. You might like to have them imagine with you what a monster could be like!
These free monster coloring pages for kids are a fun way to talk about monsters!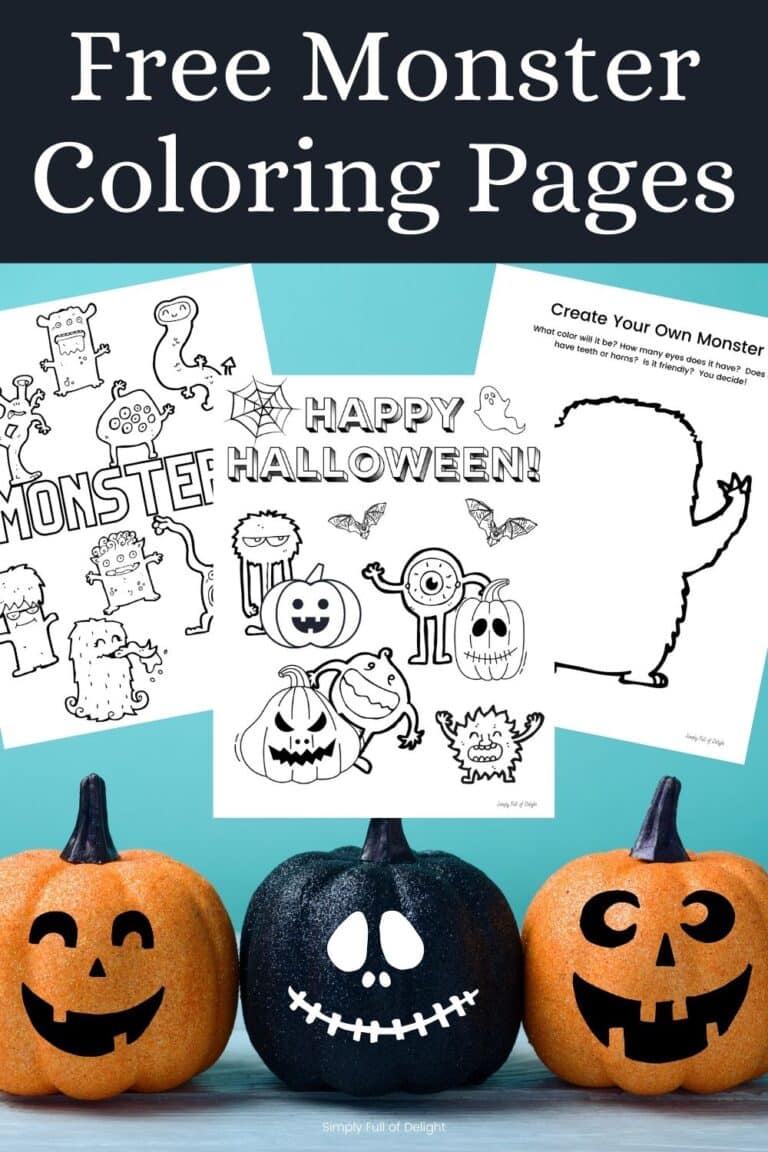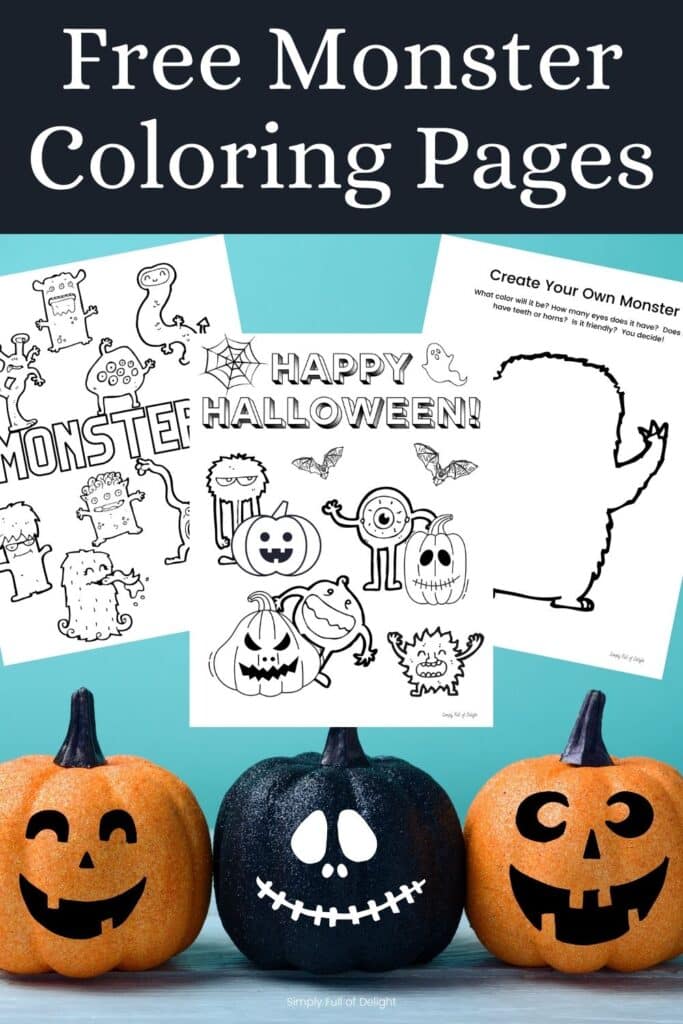 Two of these pages are perfect year round, so you can use them at a Monster themed birthday party or any other time you feel like coloring a monster!
The third page is specifically for Halloween, because it's always fun to have a Halloween coloring page on hand.
** Disclaimer: As an Amazon.com Associate, I may earn from qualifying purchases made by readers clicking my links at no extra cost to you.
These Halloween Monster Coloring pages are great for coloring with crayons, colored pencils or markers!
My little ones love to paint their monster coloring sheets as well. You can use water colors or these cool paint pots by Crayola!
Let's take a closer look at the free coloring pages!
Monster Coloring Page for Kids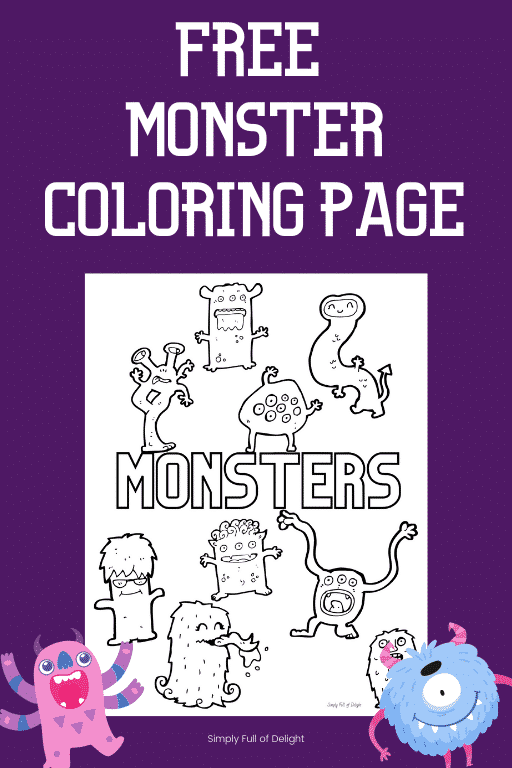 First up is this Monsters Coloring page! It features nine different monsters, none of which I'd personally like to meet. These monsters aren't too friendly looking, but not too scary either!
(No nightmare inducing monsters here! I like my kids to sleep at night.)
Create Your Own Monster Coloring Page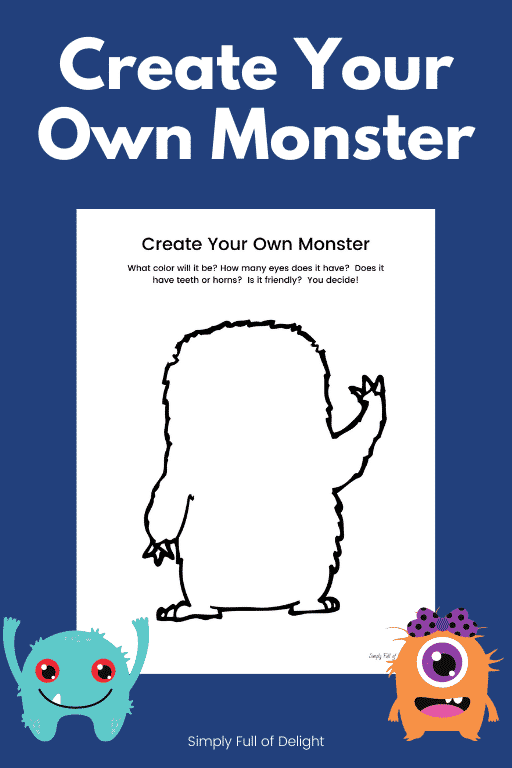 Next, let's take a look at this Create Your Own Monster Coloring sheet! This page features a single furry monster shape, leaving everything else up to your child's imagination!
There's a prompt at the top which says, "Create Your Own Monster! What color will it be? How many eyes does it have? Does it have teeth or horns? Is it friendly? You decide!" Let your child's creativity flow with this fun project. This might also go well with a writing prompt to have kids write about their monster.
To extend the fun, provide your child with yarn, googly eyes, fabric scraps, and glue to add to their fun monster creations!
Happy Halloween Coloring Page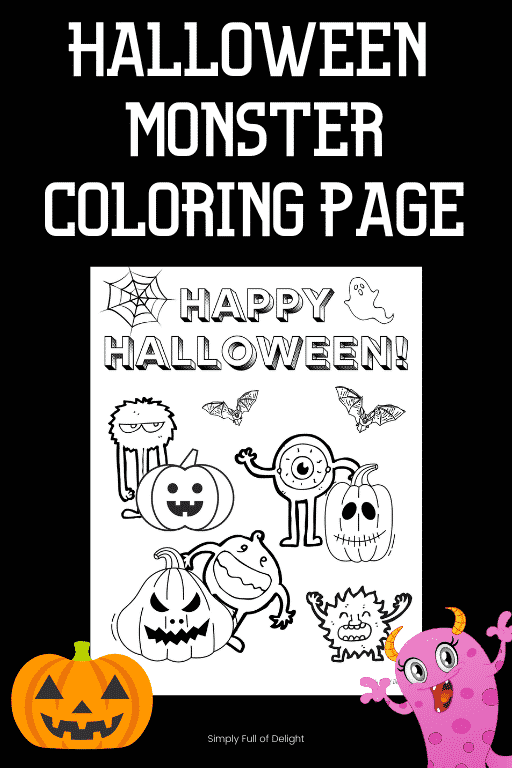 This last page is a Halloween Monsters Coloring Page. It features 4 monsters, 3 Jack-o-Lanterns, 2 bats, a ghost, and a spider web. The words are in block letters so that they can be colored as well!
I love the fine details of this one…perfect for coloring with your favorite crayons or colored pencil set!
This Halloween coloring sheet is great for Halloween parties or a simple fun Halloween printable for kids!
How to Print Halloween Monster Coloring Pages
Love these printable coloring pages?
To snag these free coloring pages simply enter your email address in the box below to become an email subscriber. You'll instantly receive access to these free Halloween Monster Coloring pages, along with tons of other awesome free printables for kids in my Resource Library!
More Halloween Fun for Kids
If you are looking for more Halloween activities for kids be sure to check out this FREE 5 Little Pumpkins printables set. There's a page for practicing scissor skills, a coloring page, as well as a page featuring the poem.
You can also find a fun Jack-O-Lantern cut and paste activity here, as well as a cute little pumpkin tractor.
There's a fun Witch Hat Headband here that makes a super easy preschool or kindergarten craft.
Don't miss these free Connect the Dots Printables for Halloween! There's 4 free dot to dot pages including a bat, a witch hat, a pumpkin, and a ghost. Perfect for preschoolers and kindergarteners!
You can find 51 amazing ideas for non-candy treats for Halloween here.
Finally, as you prepare for Halloween, be sure to check out these cool Outdoor Halloween Decoration Ideas from Etsy.
Love these free Halloween coloring pages?! Pin the image below to save it for later on Pinterest!