Today I am sharing 3 free printable Last Day of School Coloring Pages. These are perfect for teachers in the classroom or homeschooling parents.
It's that time of year again! The weather is getting warmer and our schedules are filling up with end of the year activities.
Special days, field trips, picnics, programs and more! Whew! It's always a race to the finish!
​I decided to make some fun coloring pages to mark the end of the school year.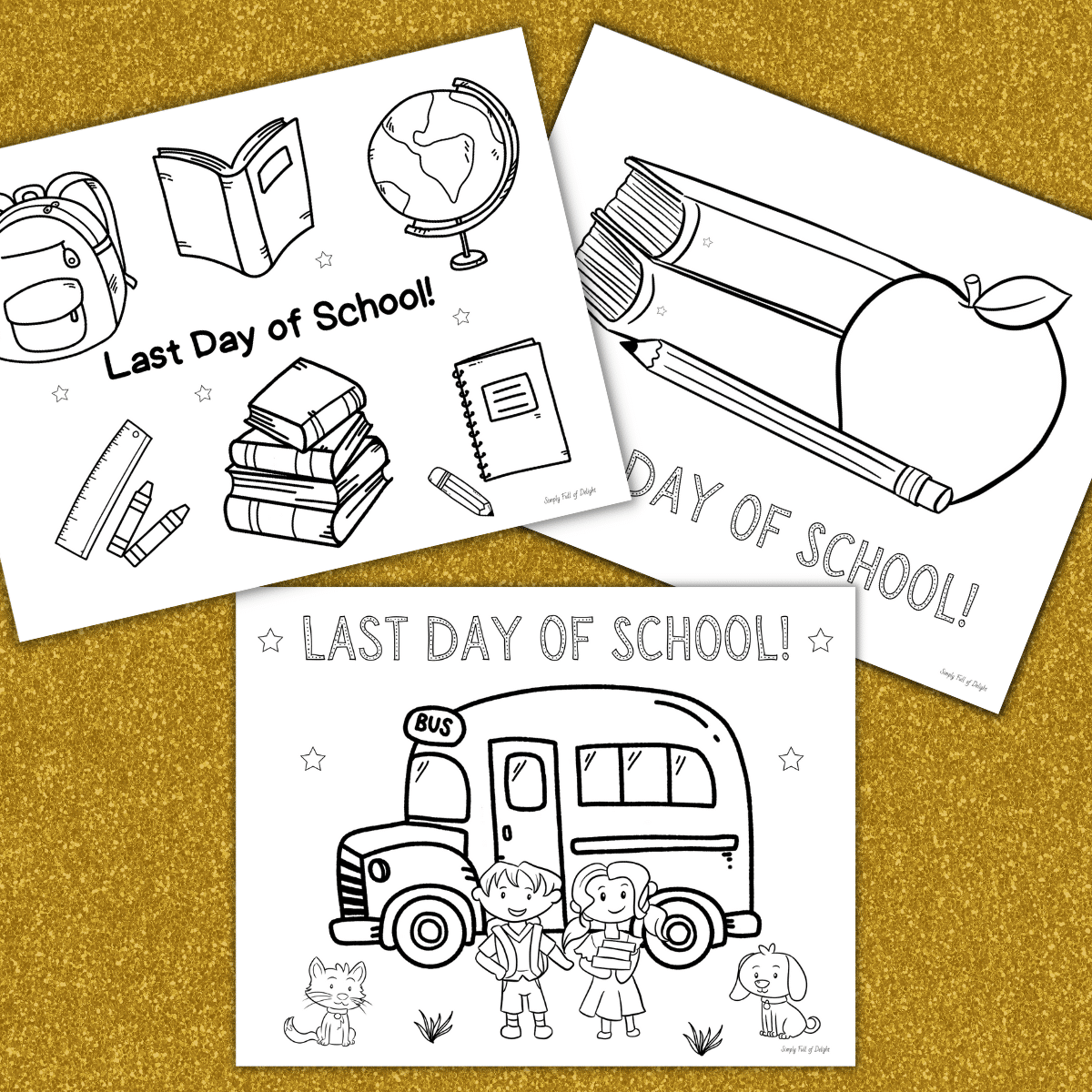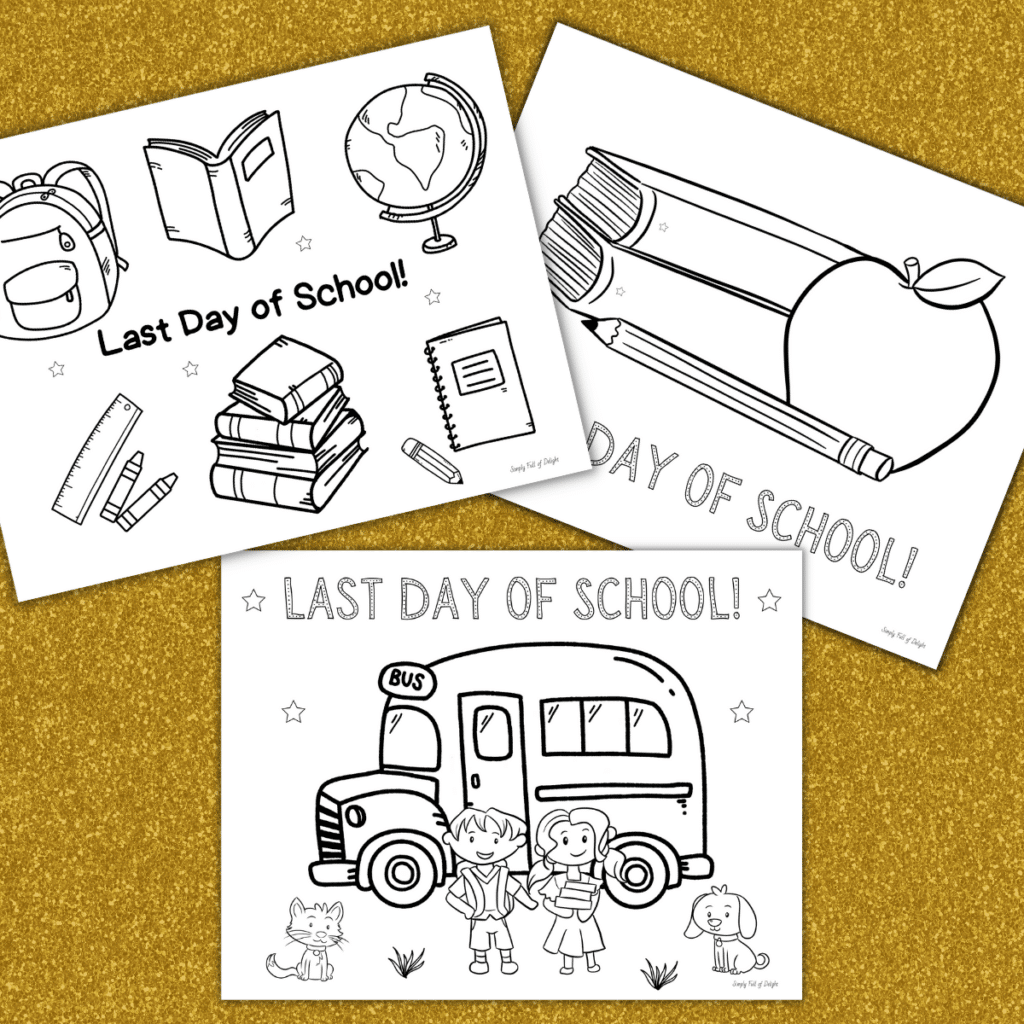 These free coloring pages are a fun way to keep kids engaged on those last days of school.
Perfect for fine motor skills and these make a great activity when you need a few minutes to prep all of those end of year activities.
You might also like to use these in a student portfolio of their work for the year or they also make a great keepsake for parents – to show how far their students have come!
Let's dive in and check out these free last day of school coloring pages!
Last Day of School Coloring Page – School Bus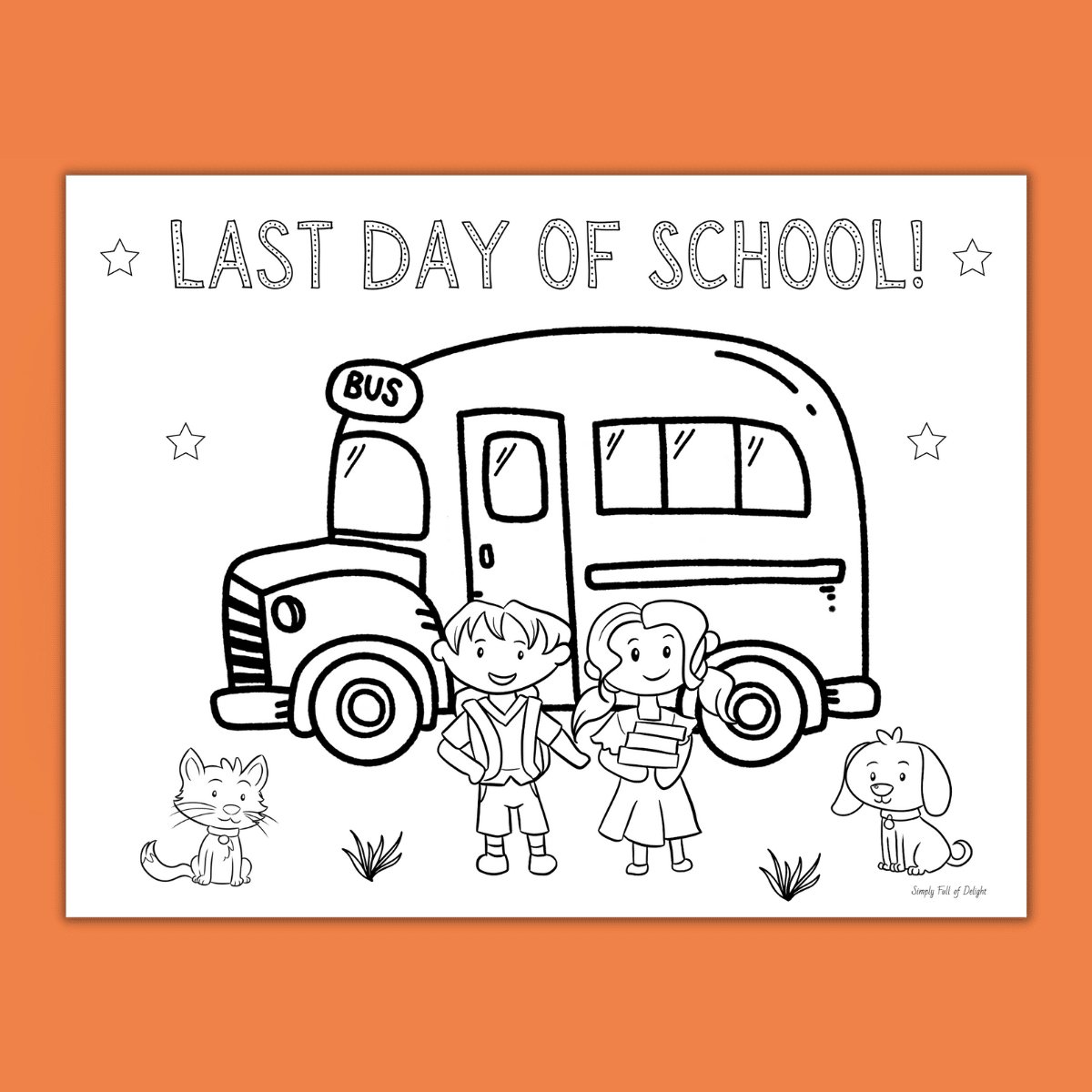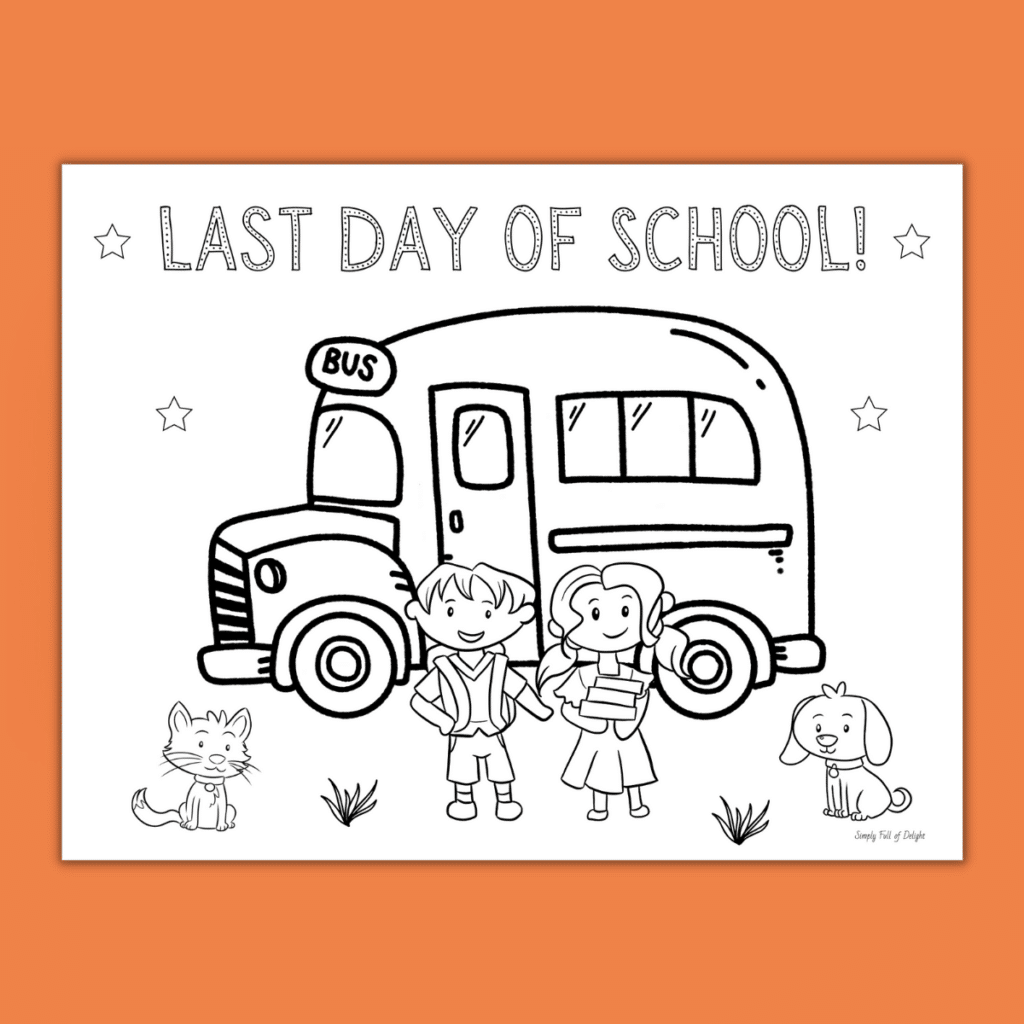 This School Bus Last day of School coloring page features 2 kids getting off of the school bus. The boy and girl have their cat and dog ready to greet them as their summer begins!
The bubble letter words can be colored. They say "Last Day of School!"
Kids of all ages will enjoy this coloring sheet as there's plenty of details on the bus, the kids and the pets to color.
Want to grab it now?
​You can print the pdf file by clicking the black download button directly below.
School Supplies Last Day of School Coloring Sheet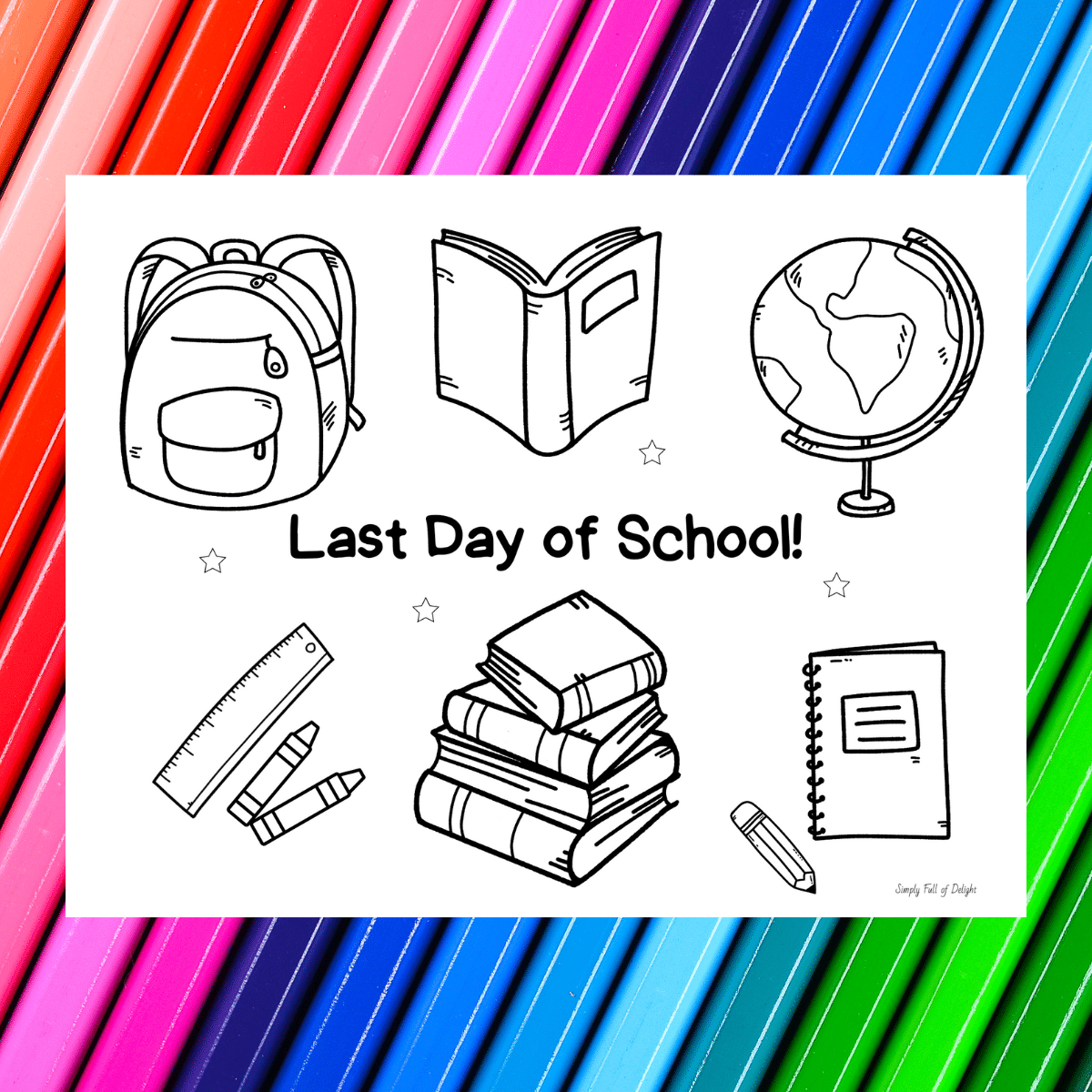 This next free coloring page features some fun school supplies. Kids will enjoy using their favorite colors on this cute coloring page.
There's a backpack, open book, globe, ruler, crayons, stack of books, pencil and notebook to color. So much fun!
This page has plenty of details and a lot of things to color making it great for older kids as well.
I believe this coloring sheet would also be a great way to increase little ones vocabulary by asking them to identify each object in the picture or to point to each one as you say the name of it.
So many ways to have a great time with this free printable!
You can download this free Last Day of School Coloring page by clicking the black button below.
Easy Last Day of School Coloring Page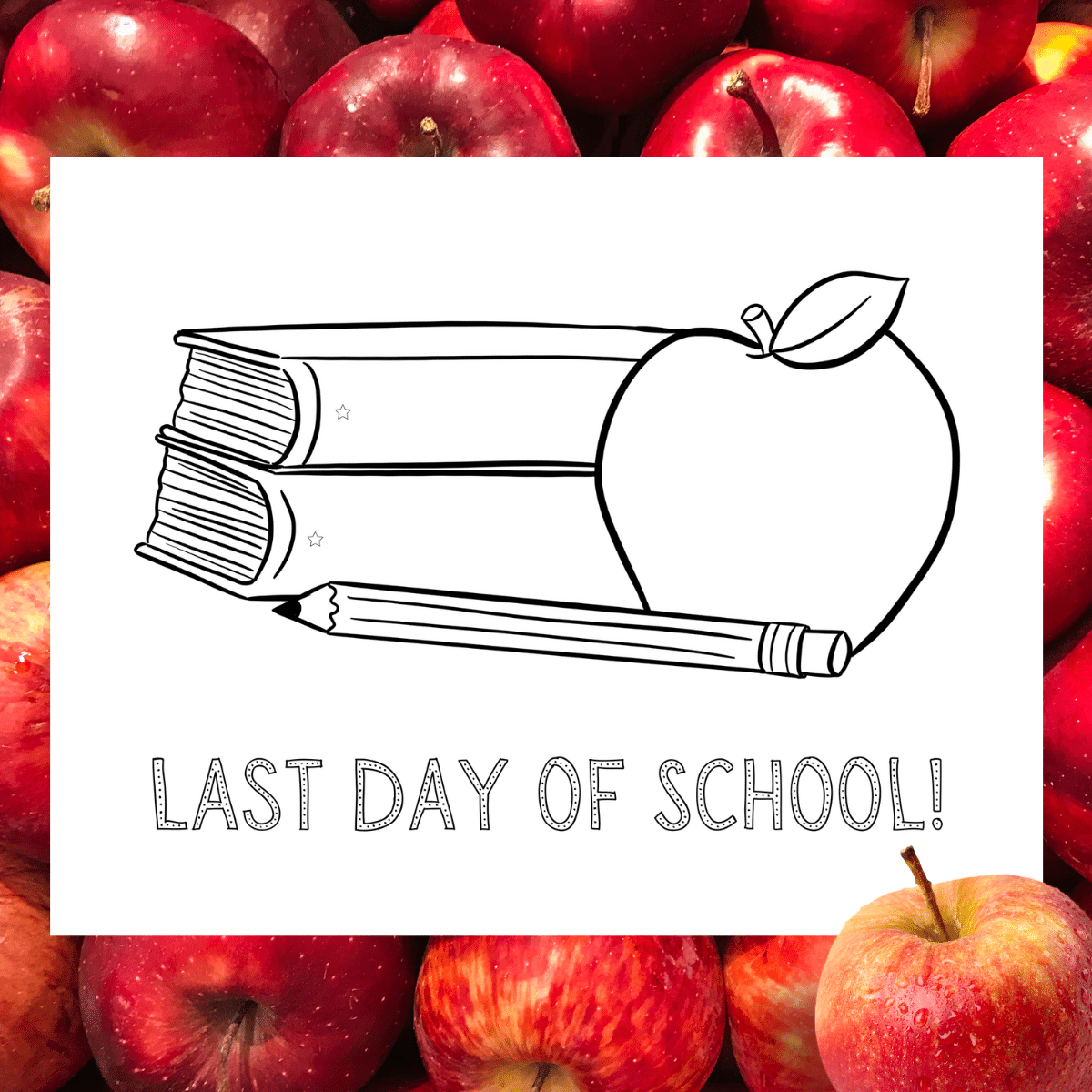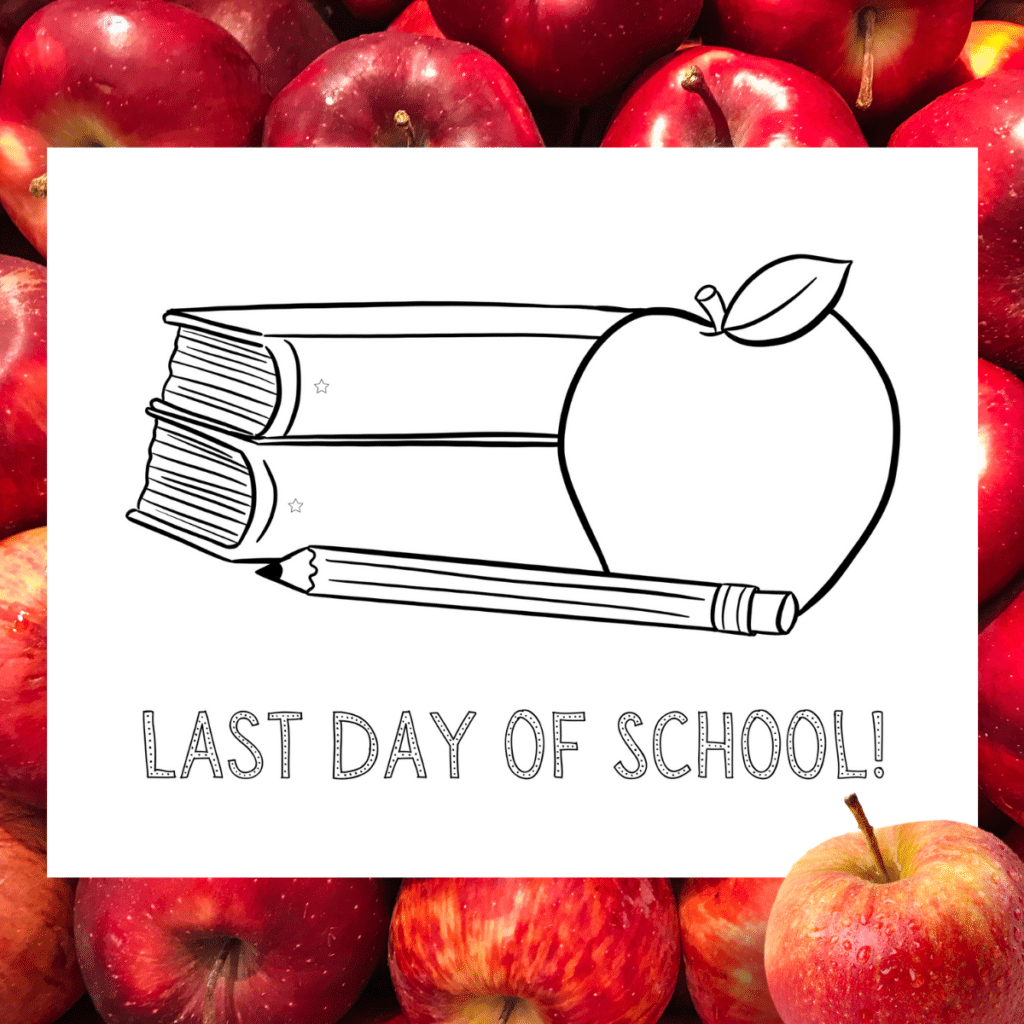 The last page I have for you is perfect for little ones. It's pretty simple with just a few items to color.
There's 2 books with an apple and a pencil.
The bubble letters say "Last Day of School!"
This page would be perfect for painting with watercolors or crayons. Either way, it will make a fun activity for little ones.
Older kids might enjoy writing their favorite subjects on the books.
To download this Simple Last Day of School Coloring page just click the black download button below.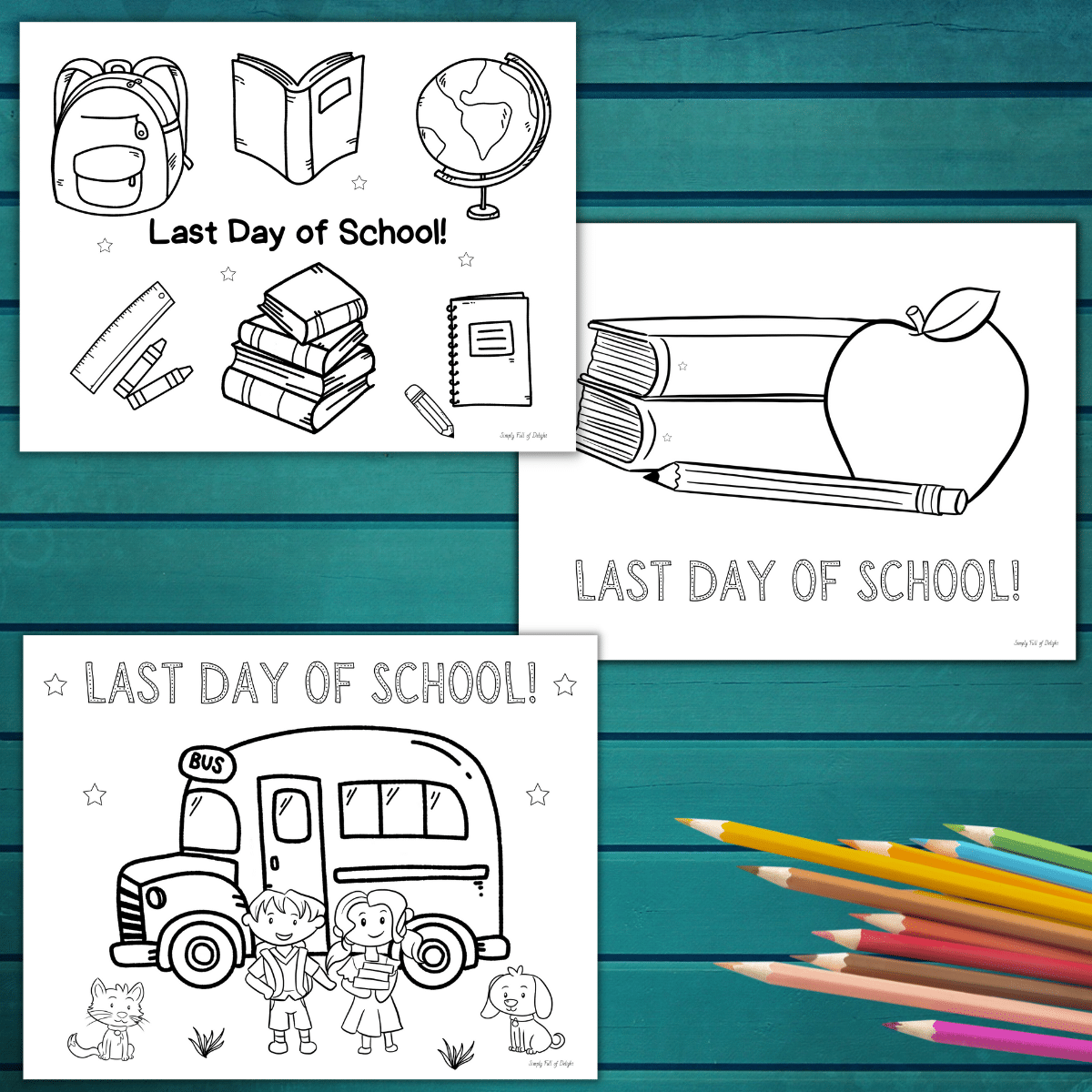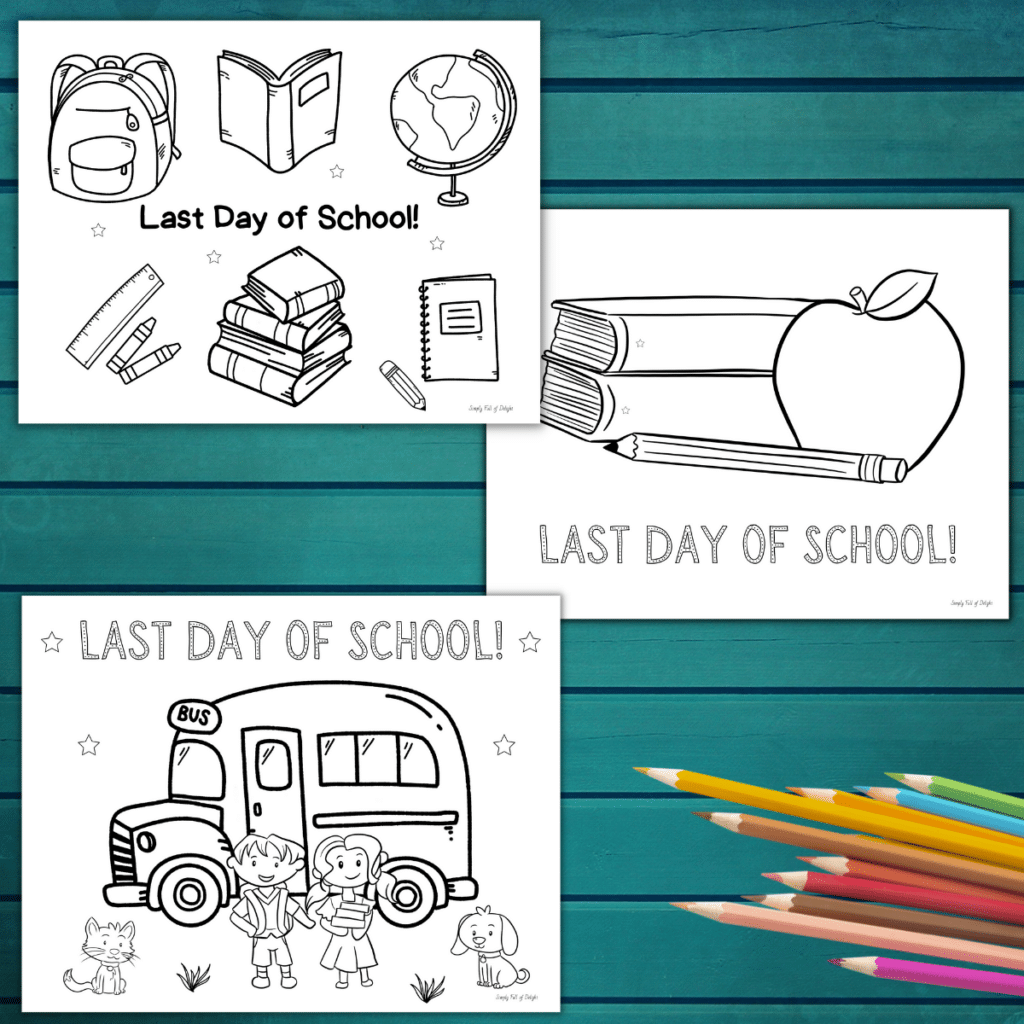 More Last Day of School Activities
Looking for more fun ideas for the Last Day of School?
There's a fun Apple Marble Painting Craft here. Kids use marbles to paint the free apple printable.
There's some free printables to make Self-Portraits here. The end of the year is the perfect time to have kids make another self-portrait. It's fun to compare these to how they drew themselves when the year started!
You can find some fun Ice Cream Activities here. As the weather heats up for summer, ice cream makes a perfect theme for preschoolers and kindergarteners!
There's also some fun Free Ice Cream Coloring Pages here. You can grab 3 free printable coloring sheets featuring cool treats!
Plus, there's also some free printable Summer themed Color by Number pages here. Kids can use the color code and their number recognition skills to color these pages. There's an ice cream treats page, a beach picture, as well as a picnic themed page.
Plus don't miss this list of over 80 Free Coloring pages – you'll find free coloring sheets for every holiday, season, and more!
I love it when learning is fun!
And lastly, if you are a parent looking for an appreciation gift for an amazing teacher in your child's life – be sure to check out the unique Teacher Gift ideas here.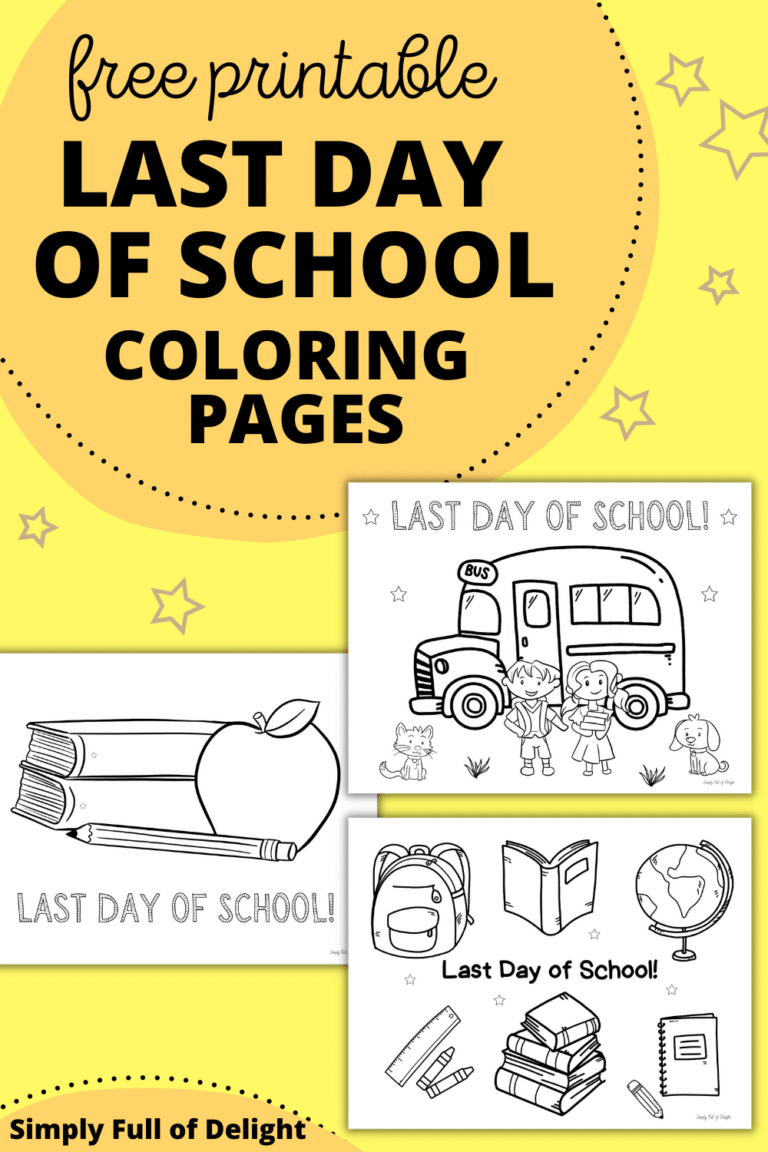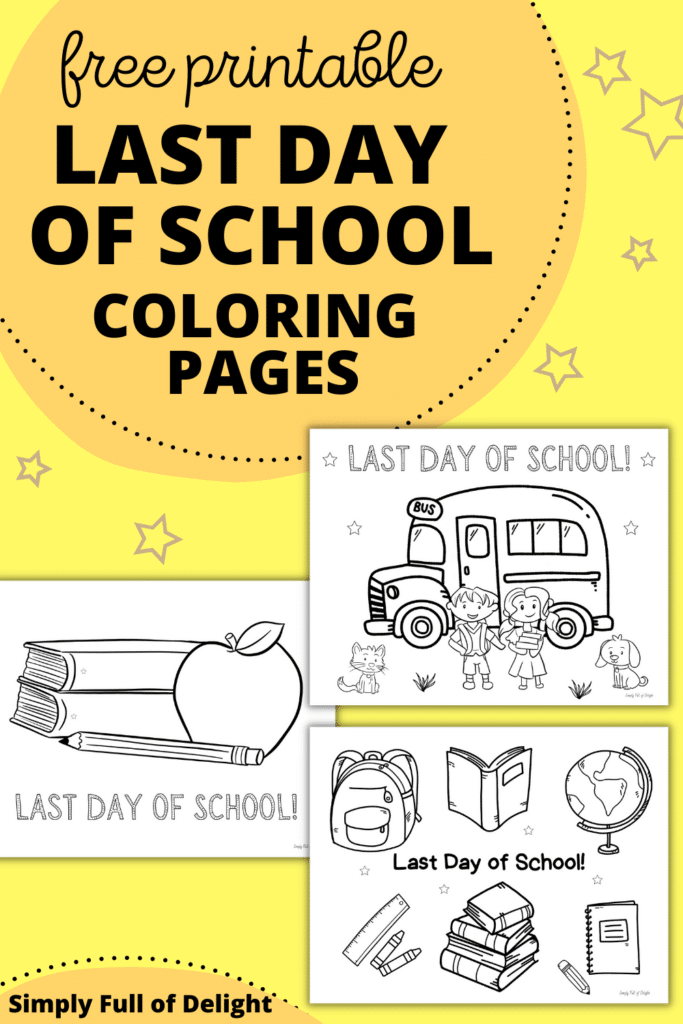 First Day of School Activities
As we get ready for the end of school, it's only natural to start thinking about the First Day of School as well!
You can find some free First Day of School Coloring pages here. These are personalized for each grade level. You'll find pages for preschool, kindergarten, first grade, second grade, third grade, and then a plain "Welcome back to School" page for any other grade level.
There's also a fun First Day of School Worksheet here. Kids can tell the class and their teacher about themselves with this All about me page.
There's fun ideas for an All about Me theme here. You'll find free printables, snacks, activities, crafts and more!
Plus you can find some fun First Day of School Printables here. There's coloring pages, printable activities and more!
Want to save these free printable Last Day of School Coloring pages for later? Pin the image below to your End of Year Activities board on Pinterest.