Planning your First Day of School content? Check out these All about Me Activities for Preschoolers!
Find 18 All about Me activities to help kids learn about each other, share about themselves, communicate with others, and build friendships.
The All about Me theme is a great way to begin the school year as kids are meeting new people, making new friends, and learning about their classmates.
These All about Me theme activities include crafts, printables, large group activities, and more! So many inspiring ideas your All about Me lesson plans for preschool!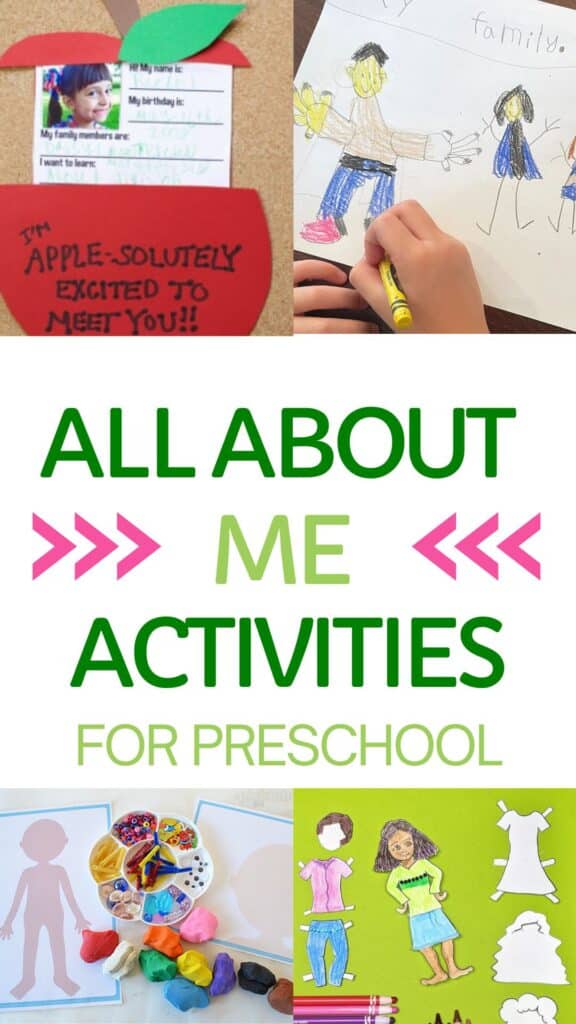 Let's dive in and talk about these fun All about Me preschool activities!
** Disclaimer: As an Etsy associate and as an Amazon.com Associate, I may earn from qualifying purchases made by readers clicking my affiliate links at no extra cost to you.
1) All About Me Self Portrait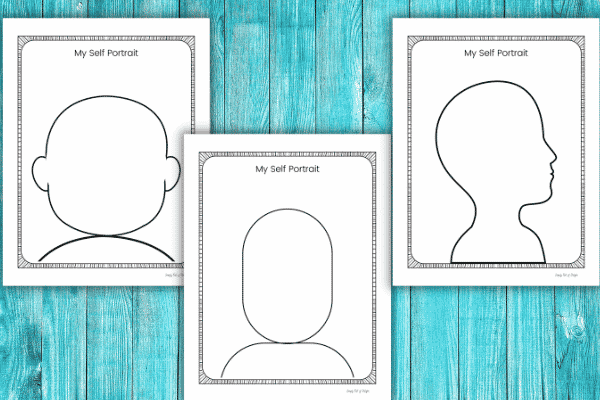 A great way to begin your All about Me unit is with a self portrait! You can grab 3 free self portrait printables here on my blog Simply Full of Delight. There's a side profile, a round face, and an oval face.
Pick your favorite and let kids draw their self-portrait to show others how they see themselves. I love to see how kids draw their own facial features, add eye color, and different colors of hair. These always turn out so cute and make a fun bulletin board display for your All about Me theme!
2) All About Me Worksheet Book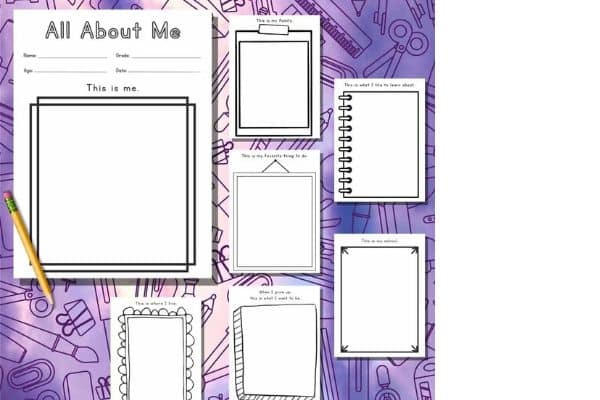 This All about Me Worksheet Book is by Literacy Learn. This free printable worksheet book includes pages for the following: this is me, my family, where I live, favorite things, favorite subject and more! There's even pages for drawings of your school and what you want to be when you grow up.
3) Design Your Own Paper Dolls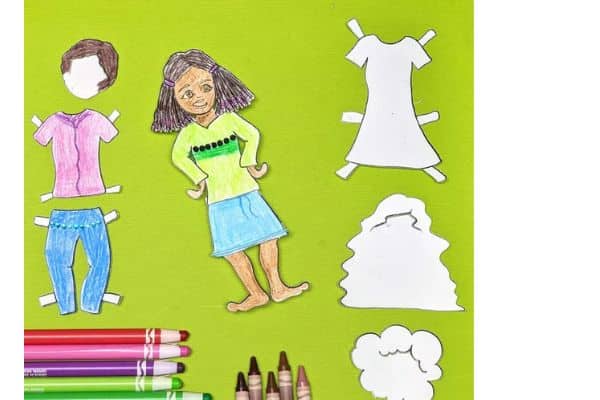 These free printable Design Your Own Paper Dolls are by Moms and Crafters. Kids can color the paper dolls to look like themselves and their friends.
There's tons of hair styles to choose from and cute clothing to swap out as well. So much fun for an All about Me unit!
4) First Day of School "All about Me" Worksheet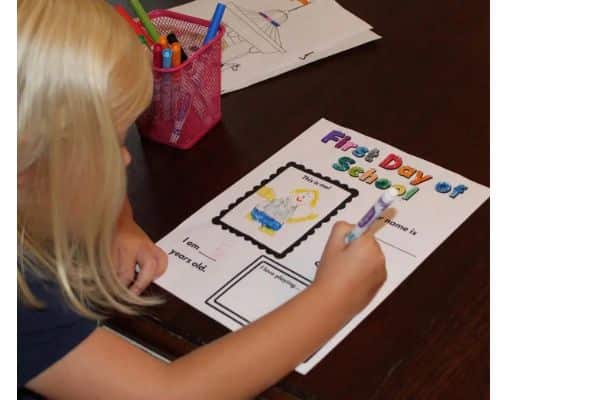 This First Day of School Worksheet is a great way for kids to begin an All about Me theme. This free printable from my blog Simply Full of Delight has a space for kids to draw themselves.
There's a place for their name, age, favorite color, and favorite activity! So much fun!
5) Friend Sidewalk Chalk Drawing Activity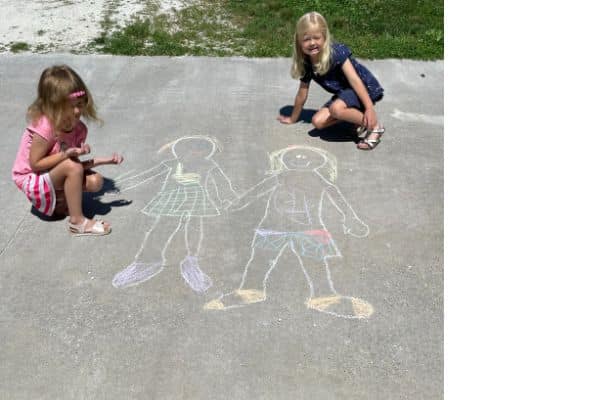 This Friend Sidewalk Chalk Drawing Activity is a fun way for kids to interact with their new friends! Simply provide kids with sidewalk chalk and show them how to outline their friends.
Once each child has been outlined by a friend (or a grownup), kids can complete the details of their own outline, coloring on the hair, eyes, nose, mouth, and clothing.
I recommend having the chalk drawn friends hold hands, it's even more adorable!
6) All about Me Playdough Mats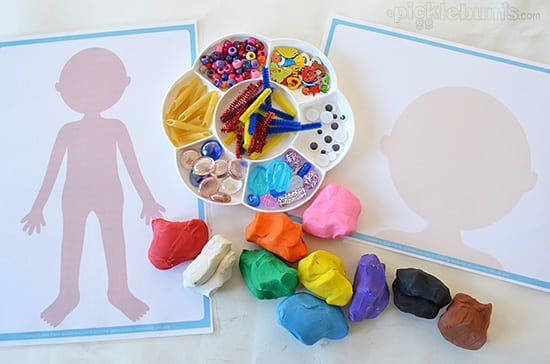 These Free All about Me Playdough Mats are from Picklebums. Kids can use playdough and loose parts to create themselves, a friend, or a family member.
I love how this activity engages a child's creativity and of course it will keep little ones busy a long time! These free printables are the perfect way for young kids to develop fine motor skills through dough play.
7) All About Me Crayon Craft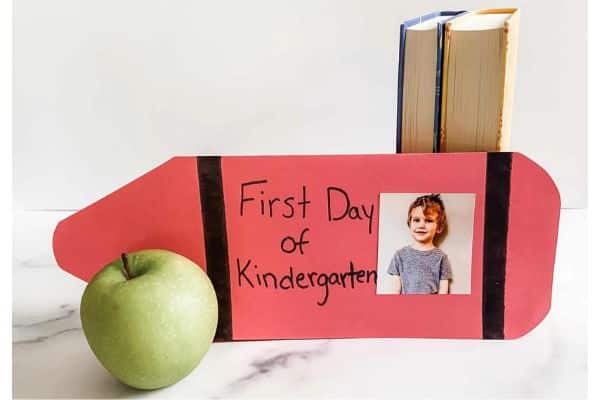 This All About Me Crayon Craft is by Wonder in His World. Kids can share some of their favorites as well as some of their learning goals for the year.
Such a cute project that is perfect for an All About Me theme.
8) All about Me Worksheet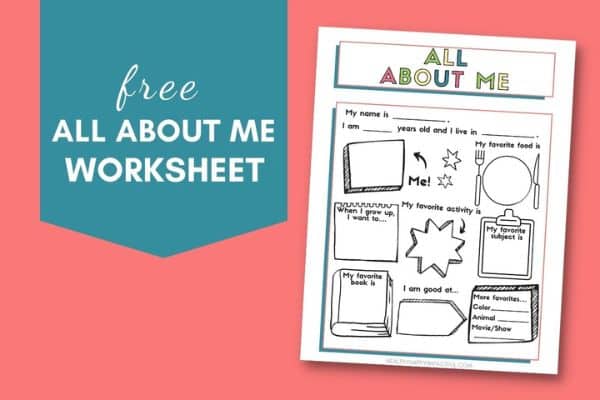 This All about Me Worksheet is by Healthy Happy Impactful. There's plenty of questions and spaces to either write or draw the answer.
Some of the fun items on this questionnaire include favorite food, favorite book, subject, and activity. Such a great way to document some of your child's favorites or to share information with classmates!
9) Make a Face Activity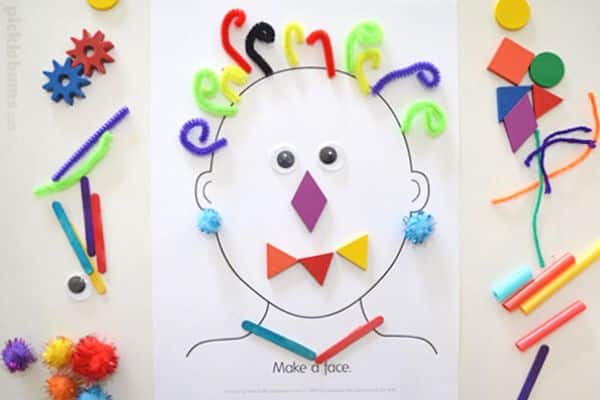 This Make a Face Activity is by Picklebums. Using the face printable, kids can make a collage face, a loose parts face, or a play dough face.
Plus this article has more ideas for how to make a face or a self-portrait! So many great hand-on activities for an All about Me theme!
10) About Me Apple Craft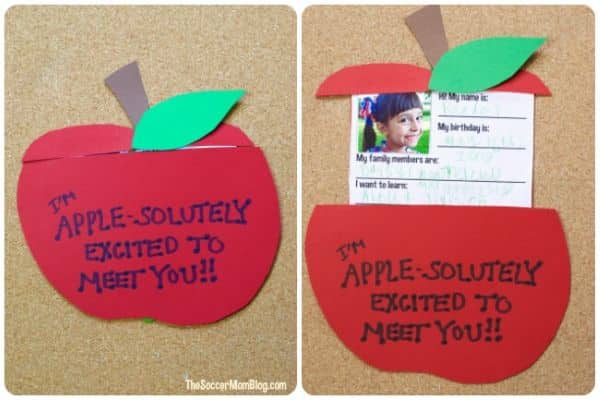 The About Me Apple Craft is by The Soccer Mom Blog. This cute apple craft is a pop-up card, but it would also make an adorable craft for students sharing "all about me" with classmates.
I love how the apple opens up to reveal the information. Such a fun, unique idea!
11) Rainbow Colors of Me Activity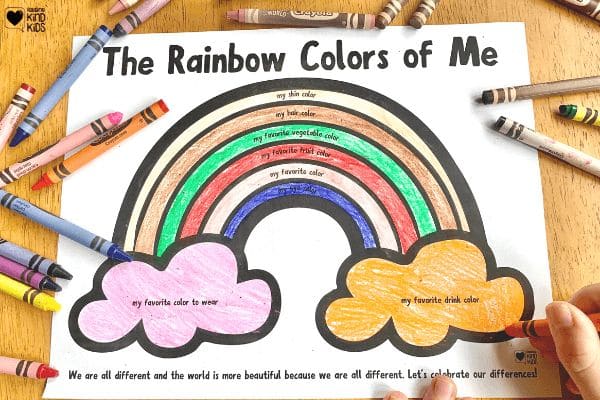 This Rainbow Colors of Me Activity is from Coffee and Carpool. Celebrate diversity with this fun printable that has kids color the prompts.
Kids share their skin color, hair color, favorite vegetable color, favorite color, favorite fruit color, and more!
Such a creative way to celebrate how we are similar and different from our friends!
12) Mixed Media Portraits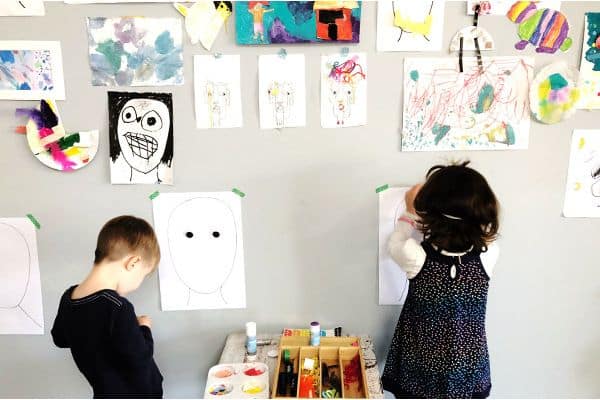 Learn how to make Mixed Media Portraits over at Picklebums. Kids can use various craft materials to create their own portraits.
So many great ideas that are perfect for your preschool All about Me unit.
13) All about Me Snack Idea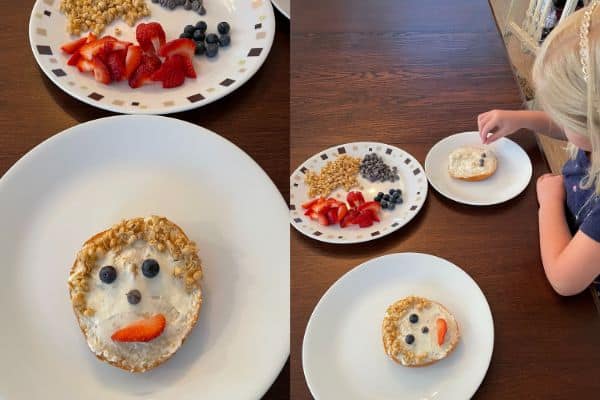 For this fun art meets snack idea, grab a bagel, a piece of toast or a sugar cookie! Spread it with your choice of topping – cream cheese, peanut butter, or icing.
Provide kids with items to create a face on their "snack portrait."
You might use cut veggies, raisins, cut fruit, candy, fruit snacks, etc.
We chose to use a toasted bagel spread with cream cheese, blueberries, strawberries, chocolate chips, and granola.
This snack portrait idea is so much fun. Young children always love activities that they can eat!
14) Life Size Self-Portraits
Kids can create Life Size self-portraits indoors with a few simple supplies. Grab a roll of Kraft paper (or you might be able to acquire the end of a newspaper roll from a local newspaper printer).
Tape the extra large paper to the ground. Have each child lay down on their paper.
Either an adult can trace around them or another student (depending on age and artistic abilities). Once the tracing has been done, let the child color their body parts to create an extra large self portrait of themselves using the outline.
If you like, yarn can be used for hair and other craft supplies like sequins or buttons can be added as well. Such a fun, memorable All About Me art project.
15) Learning Resources All About Me Family Counters
These All About Me Family Counters by Learning Resources are a great way for little ones to talk about their families.
Kids can find pieces to represent each of their family members and share with small groups, or during circle time, about each member in their family. Such a fun resource that kids will enjoy playing with!
16) All about Me Sorting Neighborhood
This All about Me Sorting Neighborhood by Learning Resources is a fun way to bring various sorting activities into your All about Me unit.
Kids can sort by color, size, and more. So much fun for little ones and perfect for your All about me preschool theme!
17) What I Like About Me Book
What I Like About Me by Allia Zobel Nolan is one of my favorite books to read during an All About Me unit. It's a cute book with flaps and interactive parts.
It celebrates differences and is a great way to show that everyone is different but also very similar.
18) Family Portrait – All about Me Activities for Preschoolers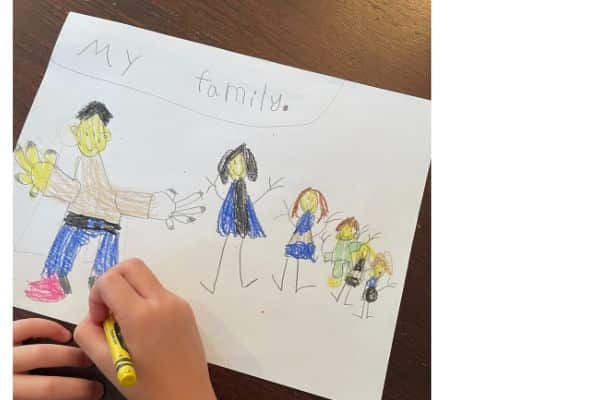 One of my favorite activities for this unit is having kids draw a family portrait. This is a fun activity for the start of the school year and a great addition to your all about me unit.
Kids simply draw a picture of their family. I recommend labeling the people for each student as it is fun for parents to look at these family drawings later.
What a great activity that is also a super cute keepsake for families!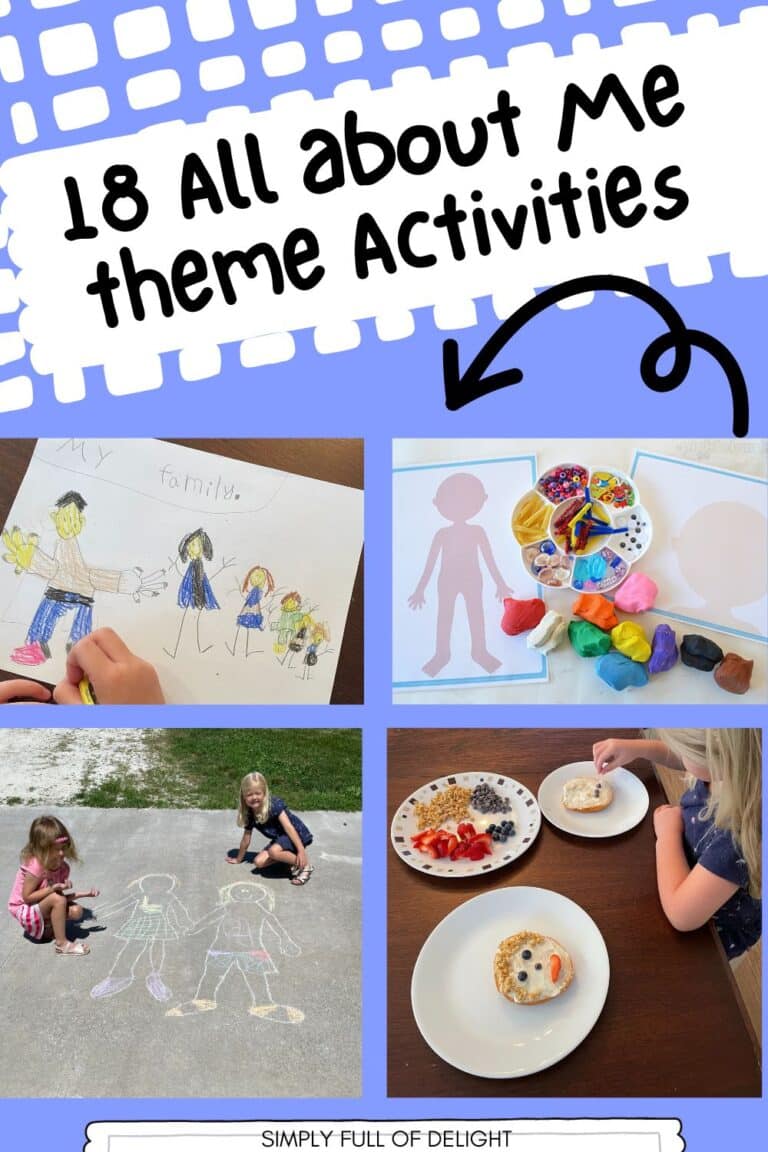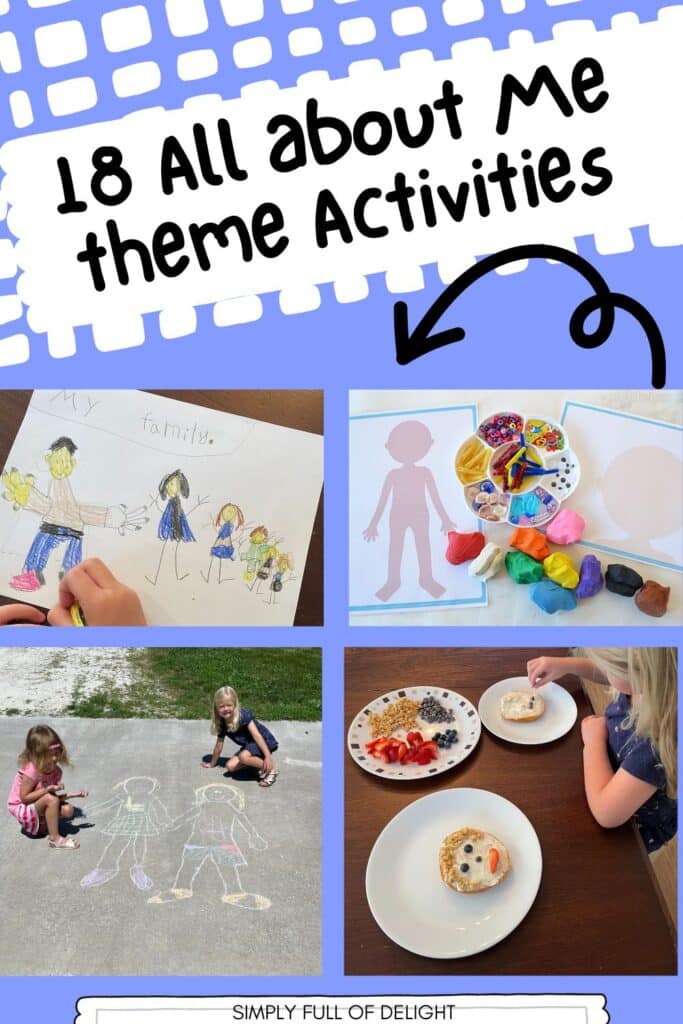 More First Week of School Activities
Looking for more fun activities for the beginning of the school year?
Be sure to check out these First Day of School Activities. You'll find plenty of printables, craft ideas, and even sensory play ideas.
There's some great ideas for Preschool Large Group Activities here. You'll find ideas for circle time as well as activities that involve the whole classroom.
Also, don't miss these First Day of Preschool Printables. You'll find apple crafts, printable activities, first day of school signs, and beginning of the year printables that are perfect for your preschool classroom.
There's also some free back to school coloring pages that are fantastic fun for a meet the teacher night or that first day of school!
I hope you've found some great additions to your All about me thematic unit for little learners.
Be sure to pin the image below to save these All about Me activities for preschoolers for later!