Looking for easy paper flowers for preschoolers? These DIY Paper Flowers made from straws are perfect!
Whether you want an easy flower craft for spring or a Mother's Day flower craft, this 3D Flower Craft for preschoolers is so much fun!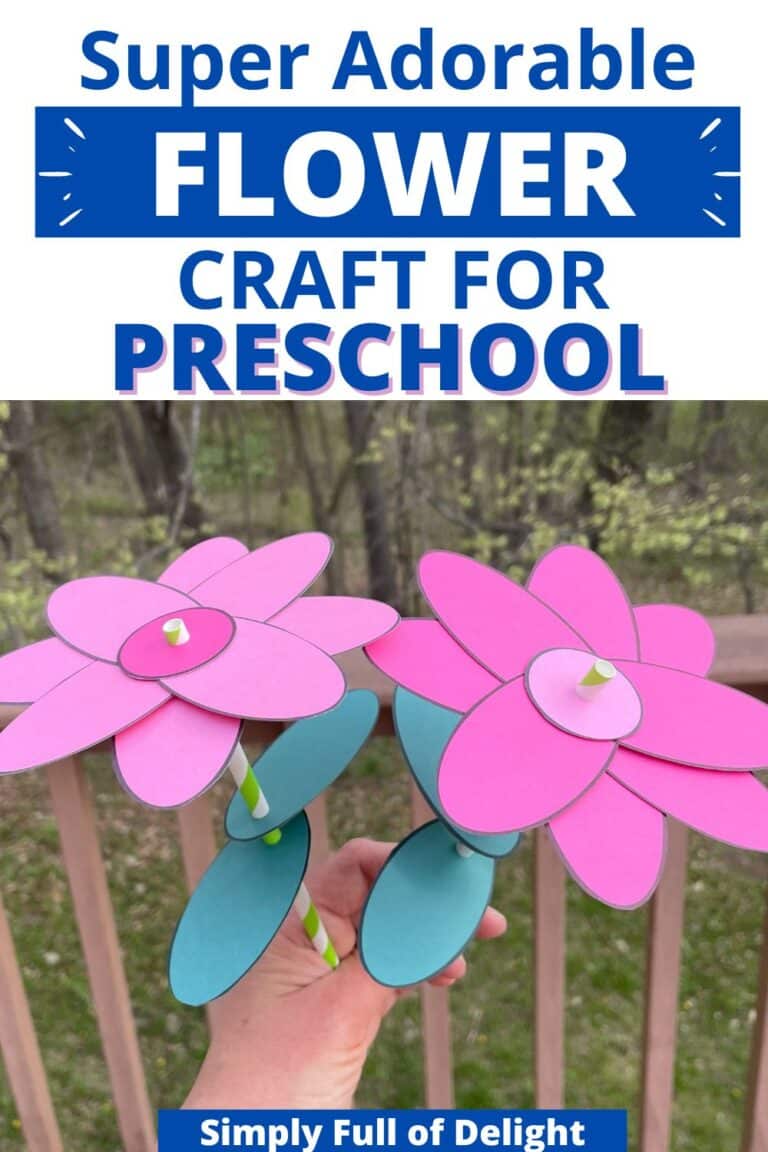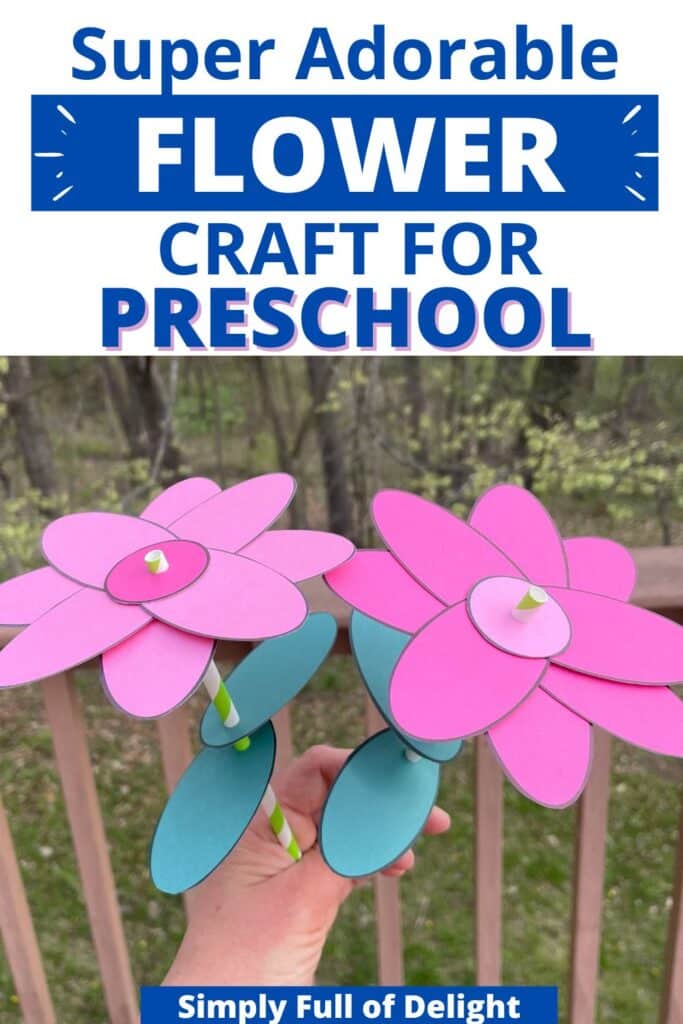 With Spring upon us, we've been enjoying a lot of fun gardening crafts and sensory play. This paper straw flower craft for preschool is a fun addition to the mix.
Kids can cut out the petals and then thread them onto a straw!
This simple flower craft is so easy and adorable.  Such a unique and fun way to make spring flower crafts!  
Even though these are geared towards younger kids, older kids will love this craft project too.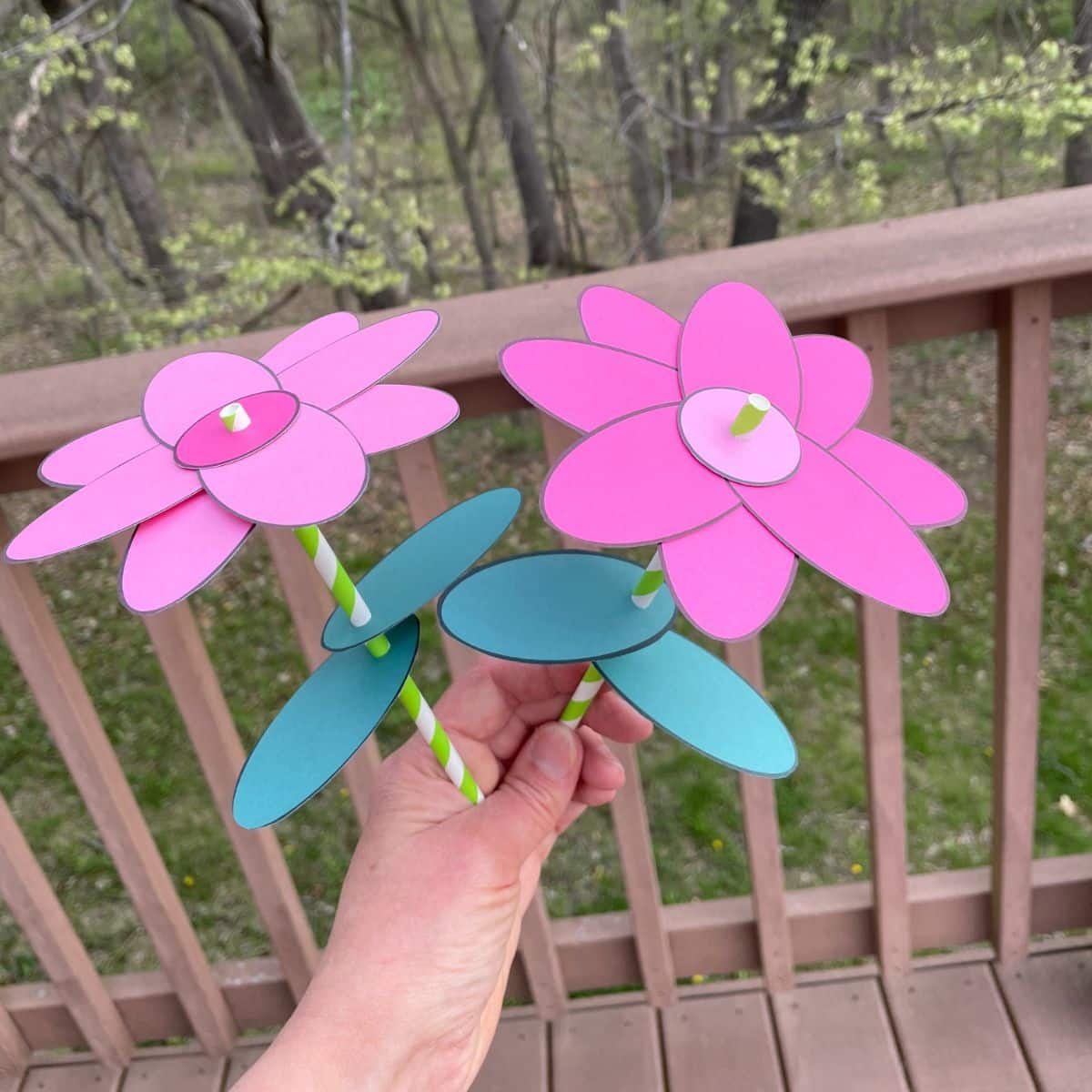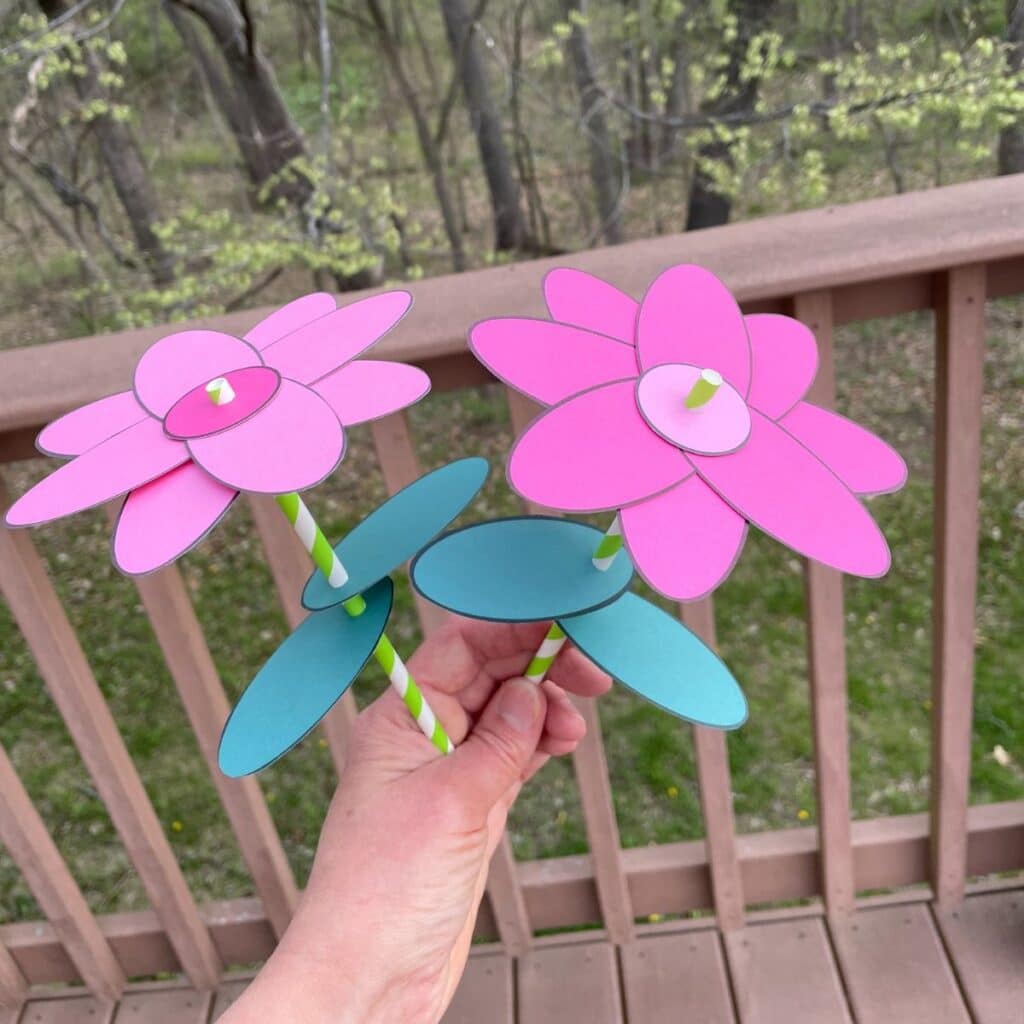 You are going to love these drinking straw flowers! They are too cute and absolutely perfect for Mother's Day!
Supplies Needed for Flower Craft – Preschool
For this flower art and craft for preschool you will need the following craft supplies: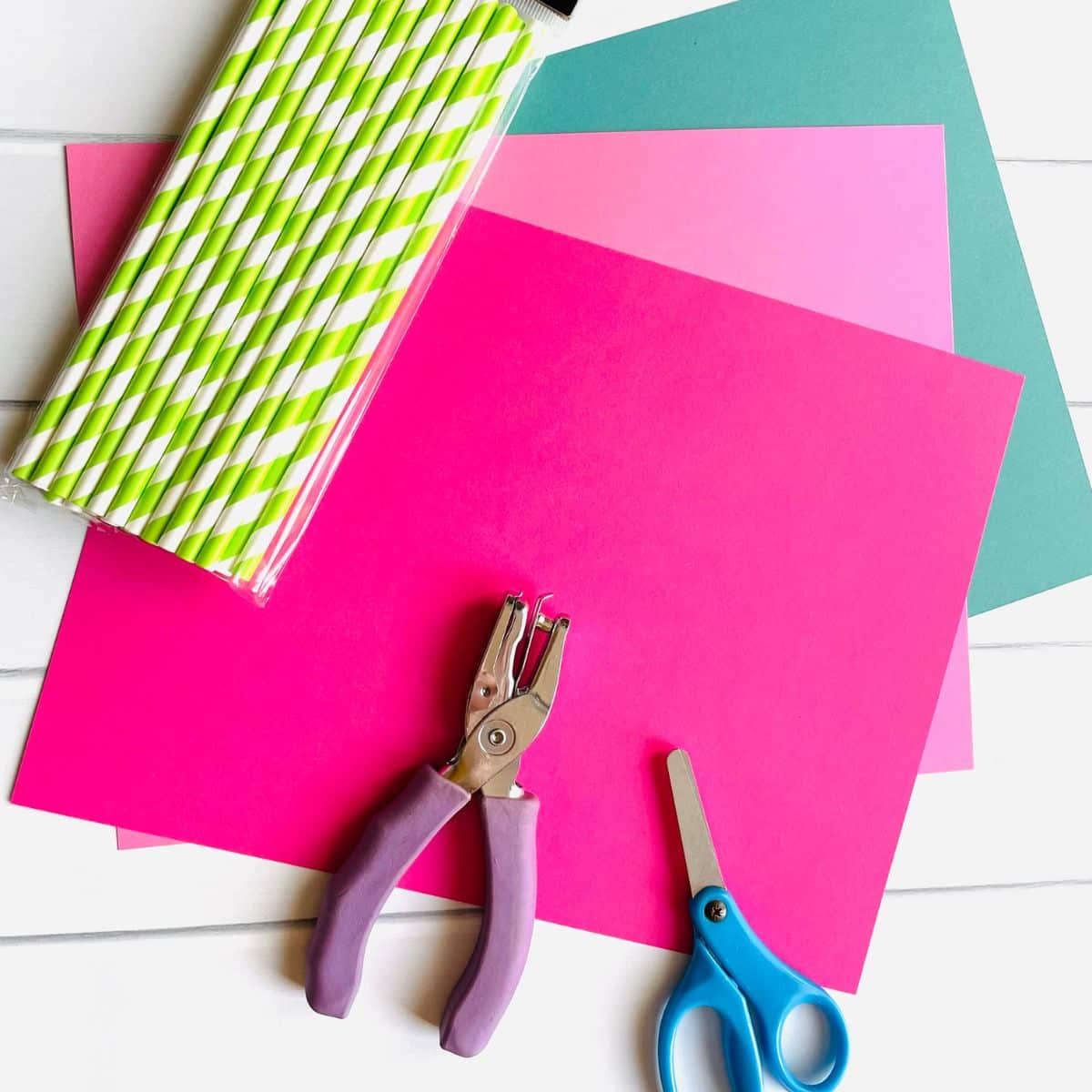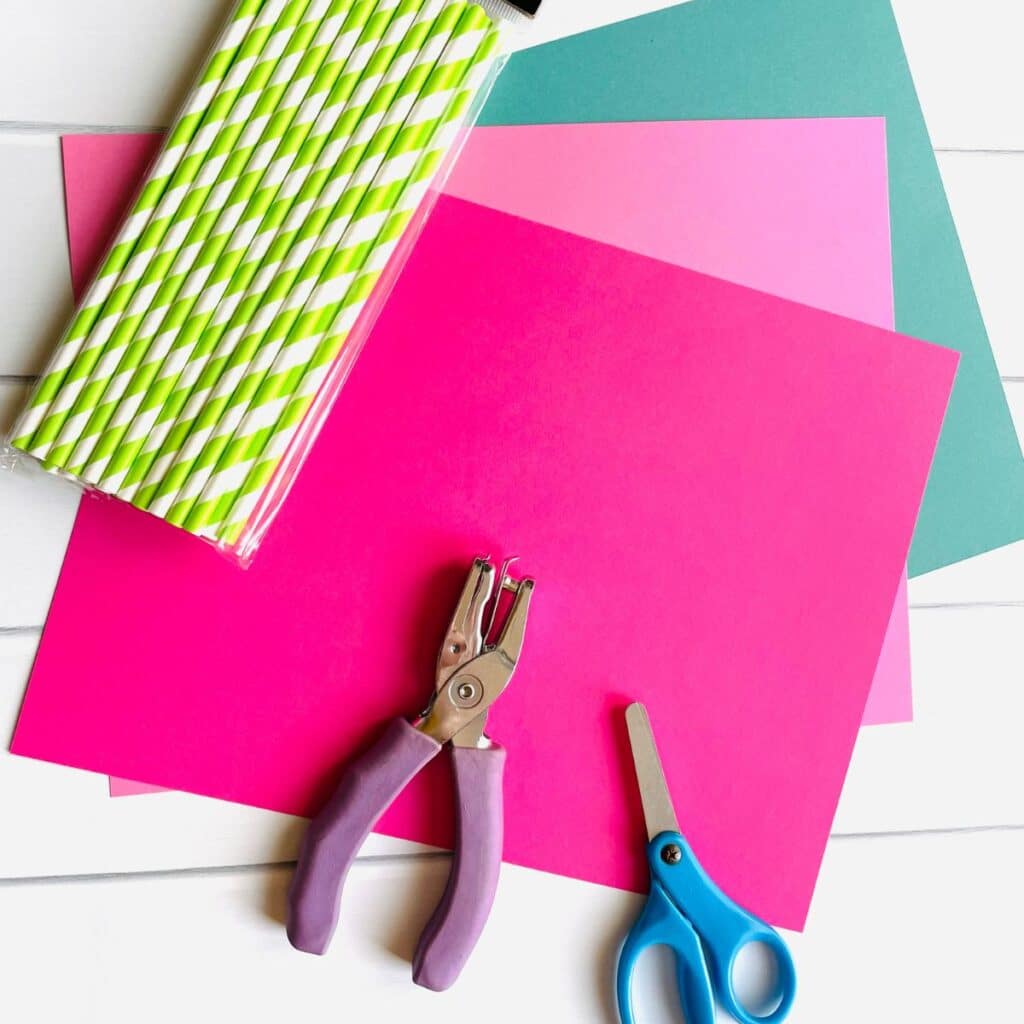 ** Disclaimer: As an Etsy associate and as an Amazon.com Associate, I may earn from qualifying purchases made by readers clicking my affiliate links at no extra cost to you.
Free Printable Flower template (found at the bottom of this article).
Alright!  Let's get started on these beautiful flowers made from drinking straws!
How to make a Paper Straw Flower Craft – Preschool
First, we need to print out the flower craft preschool printable.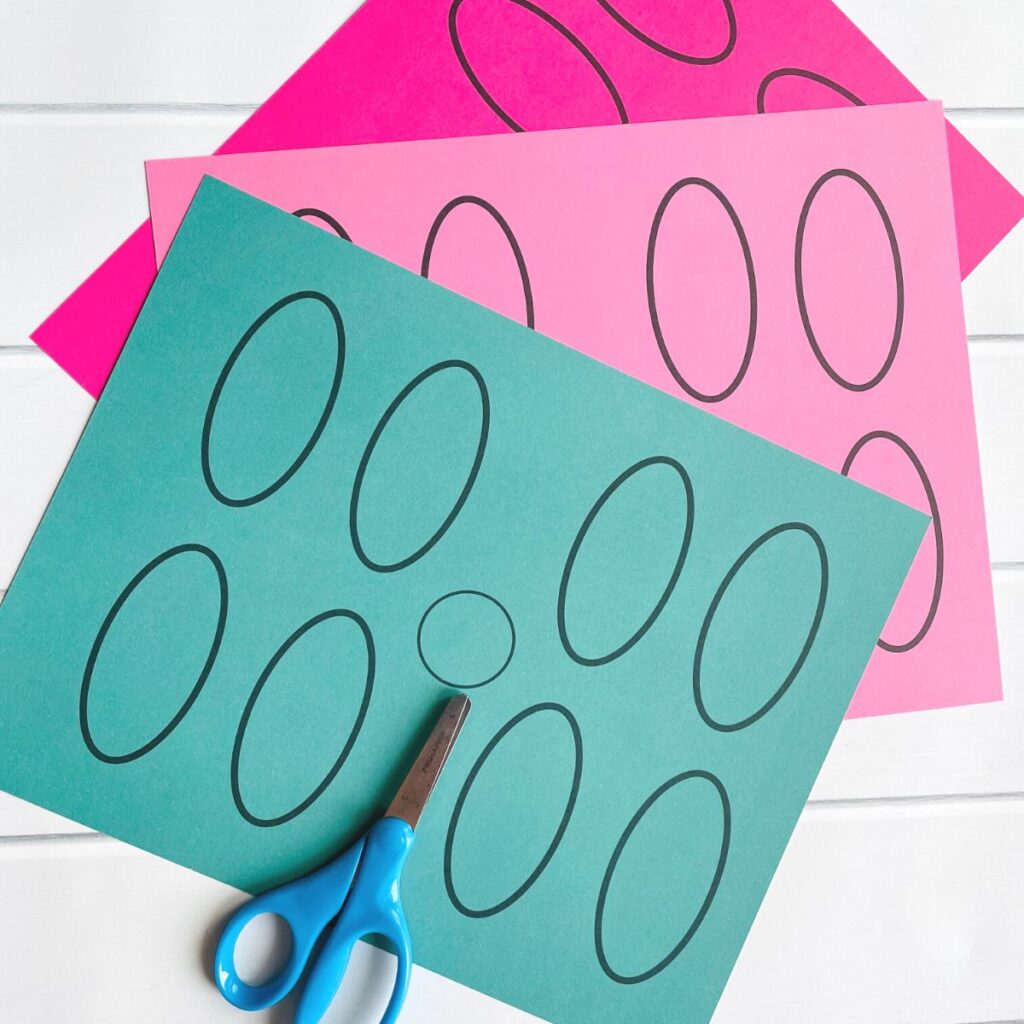 Decide what color you want the petals to be, then load your cardstock into the printer and print the petal page on that color.
You can see that we printed out the template on green, pink, and dark pink. Then we interchanged the pieces to create the flowers we wanted.
Have your child cut out the petals with blunt tip scissors. Your flower can have 5-8 petals. I think it looks best with 7-8 petals, but to simplify things you can go with less.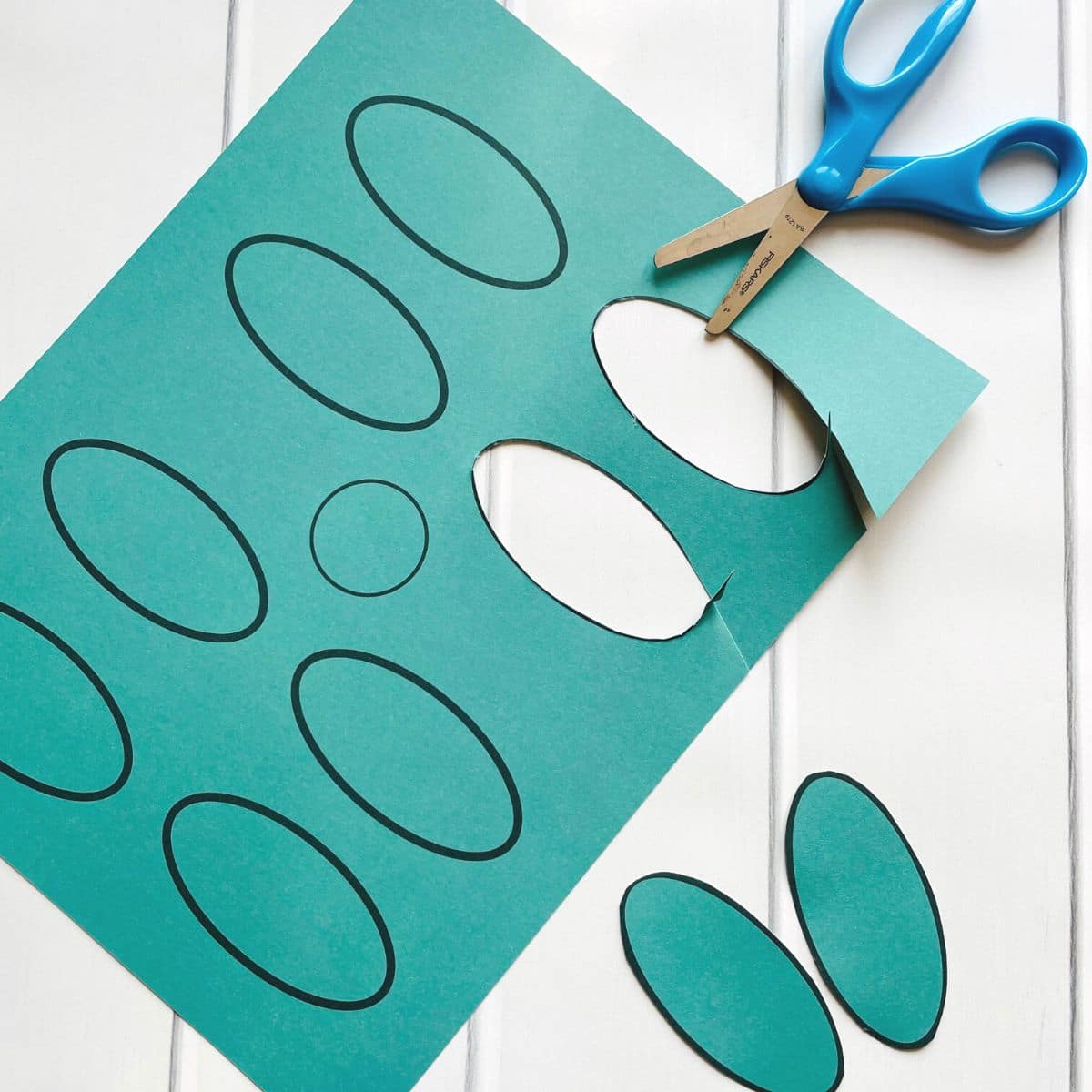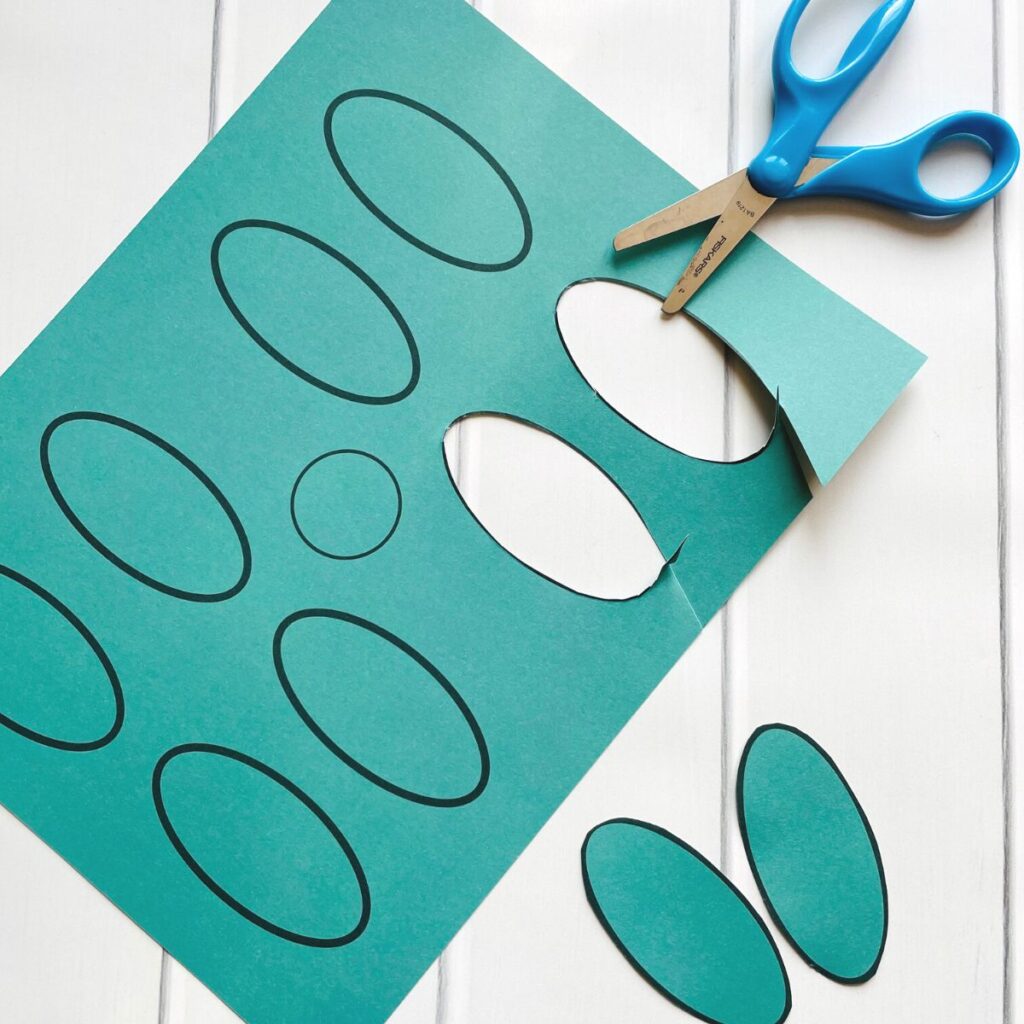 Once the petals are cut out, it's time to cut some leaves. The leaves are the same template as the petals. I printed the template on green and gave each child 2 green petals to cut).
Alternatively, you could use a petal as a template, and trace 2 petals onto green paper. Then cut them out.
Last, we want a circle. It's best if the circle is a different color than the flower petals. For this, kids can either trace the circle onto another color of paper – or if the kids are using different colors, they can trade with their neighbor.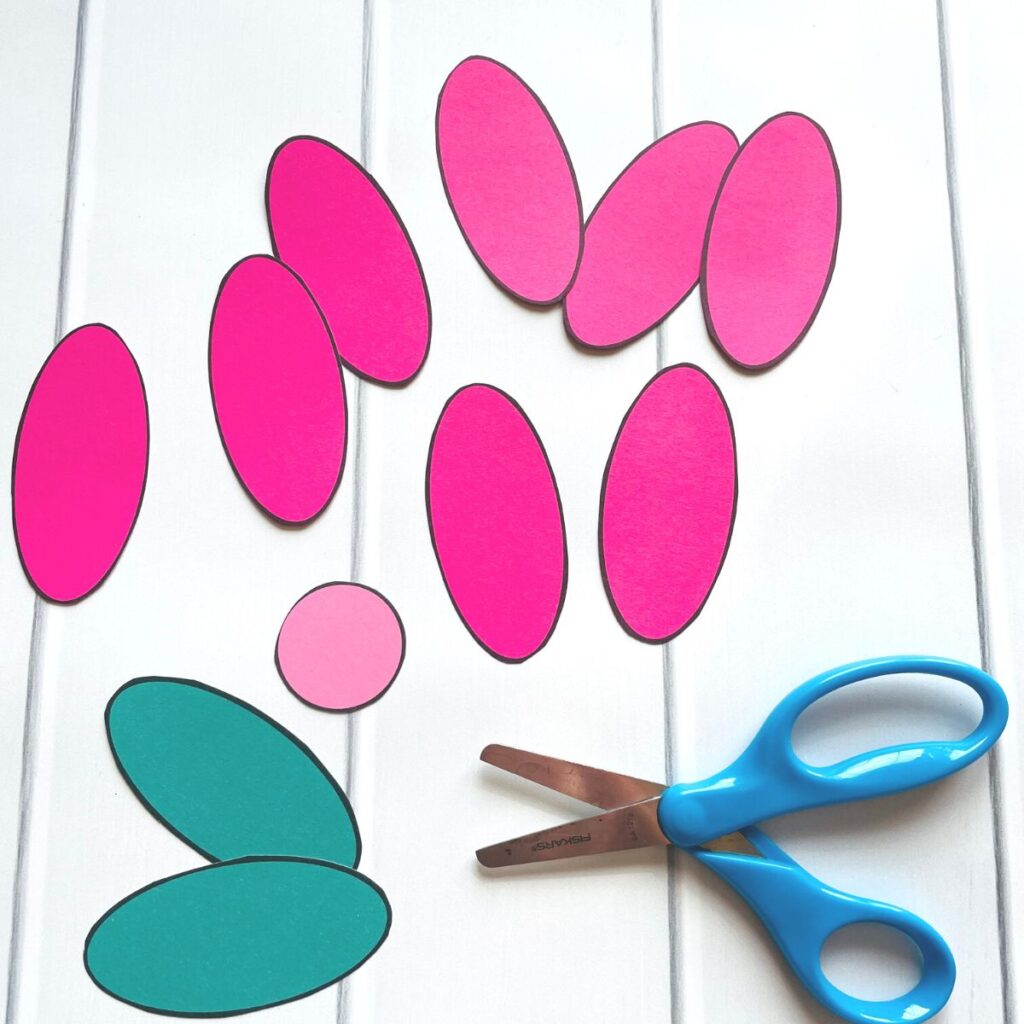 For your convenience I have placed the circle both on the petals page and on a separate page, so that you can use it either way.
Once you have cut out the petals, 2 leaves, and a circle for the center of the flower, it's time to use the paper hole punch!
First, punch a hole in the center of the circle. This is the bud of the flower.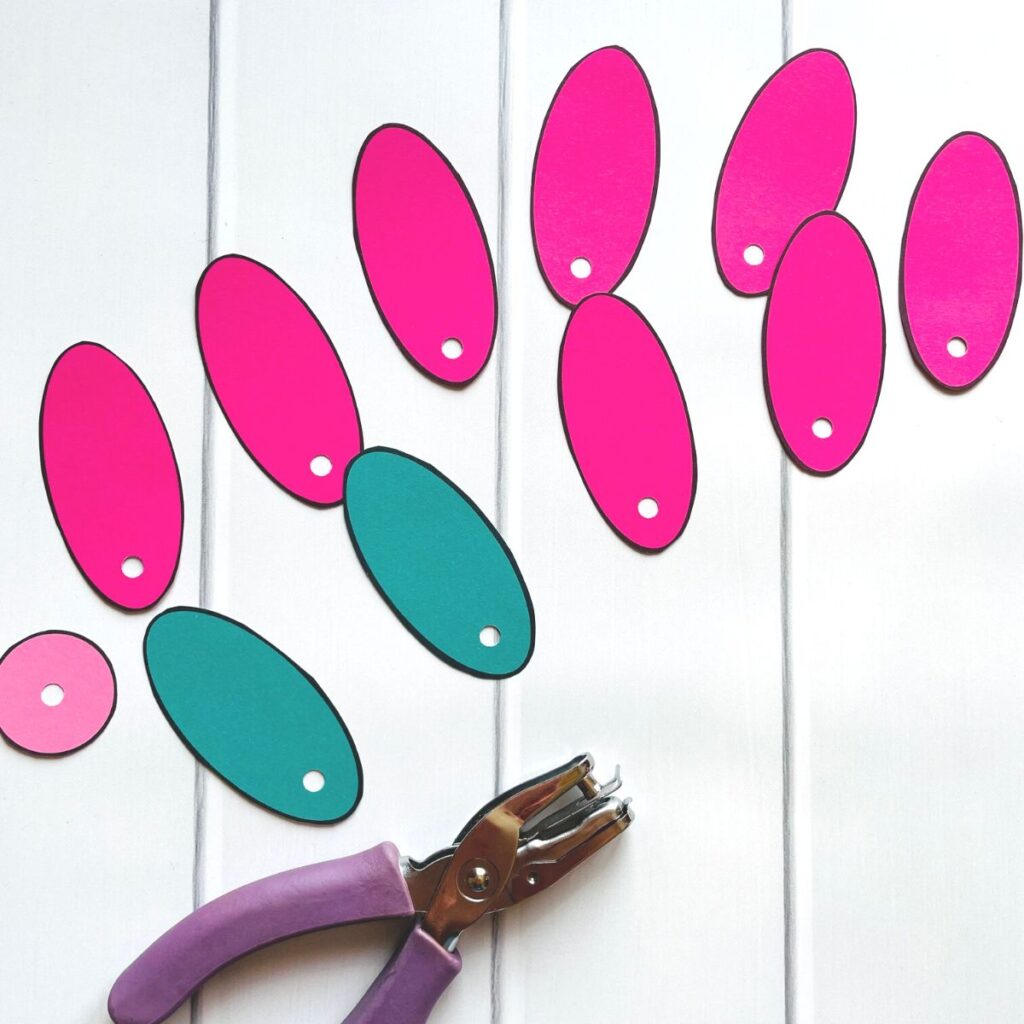 Next, punch a hole in each of the petals and the leaves. You'll want the hole to be close to one of the edges, but not so close to avoid rips.
Once everything has been hole punched, it's time to assemble the flowers.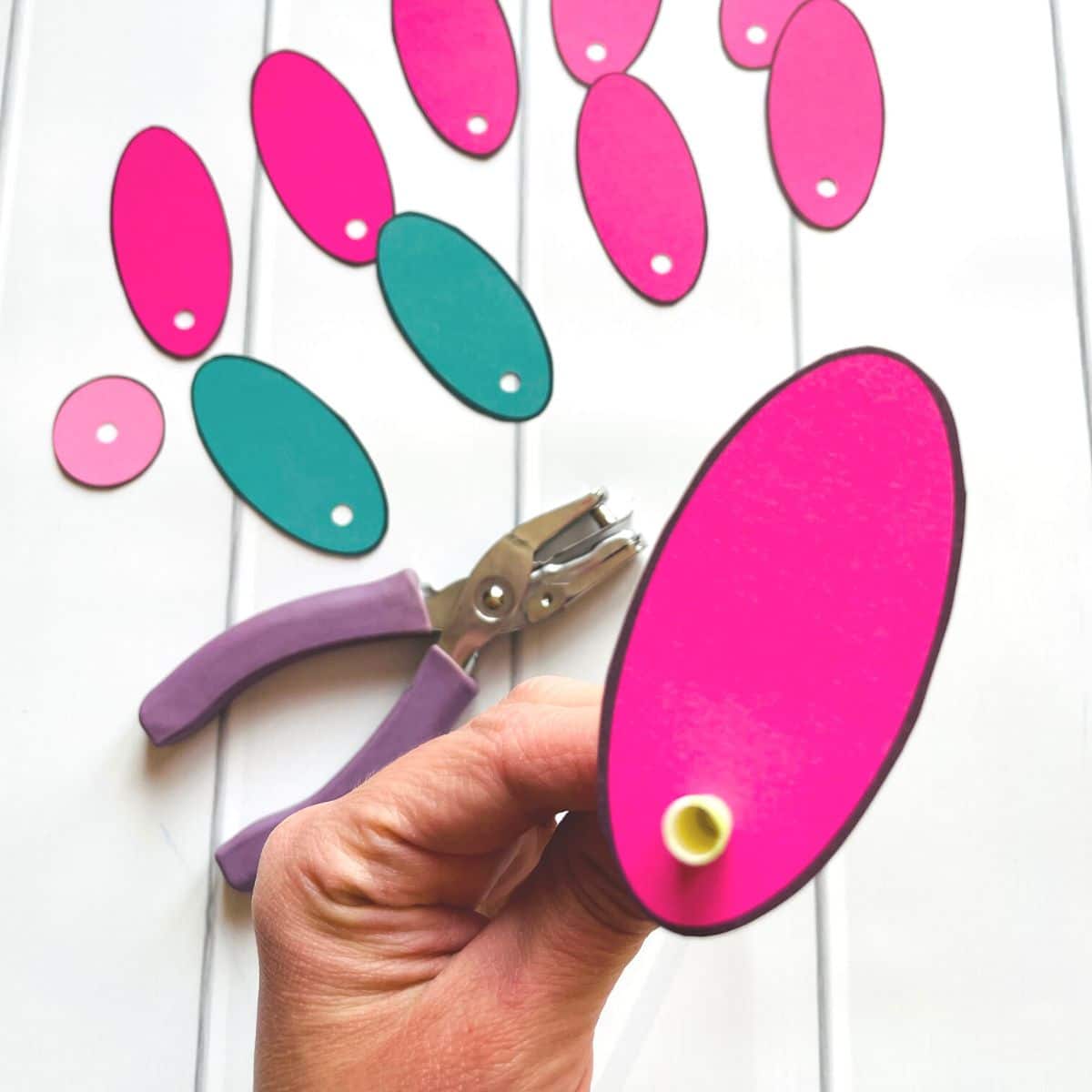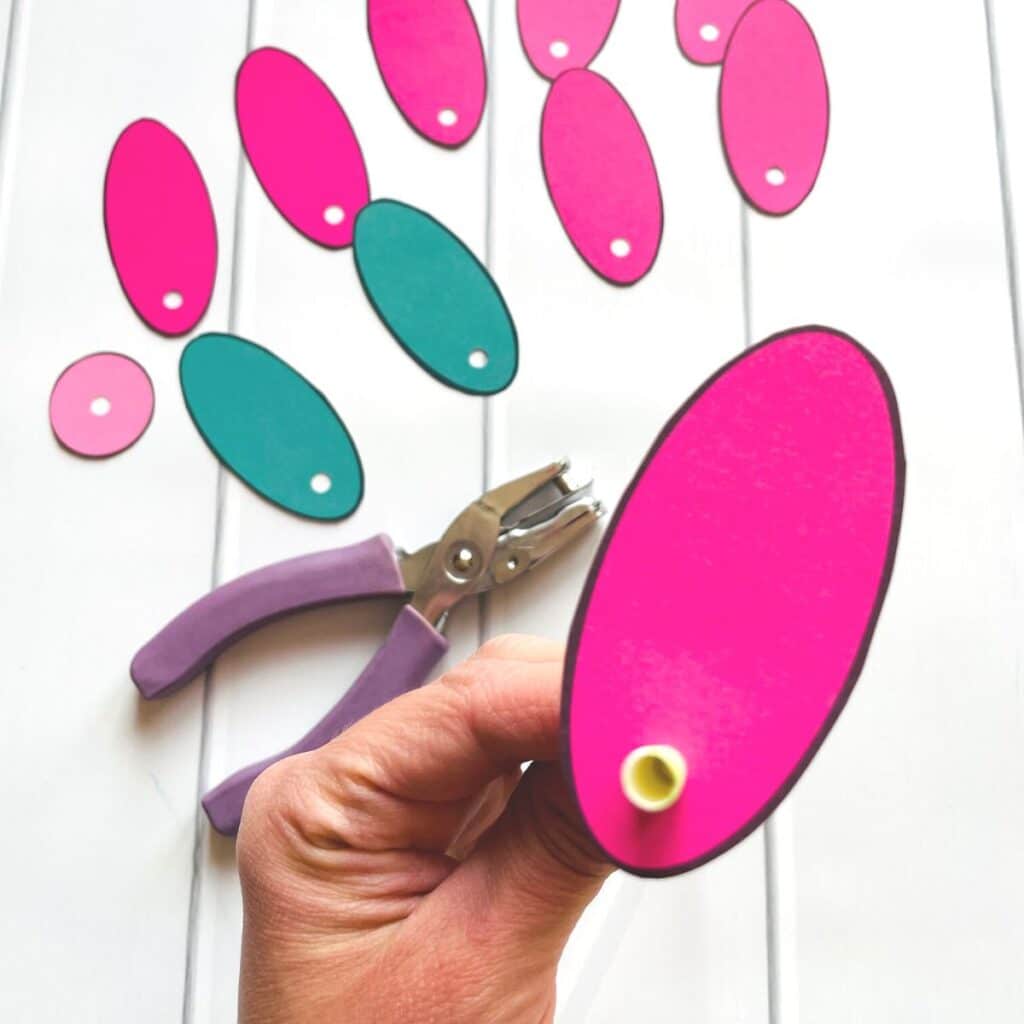 First, take a petal and carefully thread it onto the top end of the straw. Take a second petal and do the same.
Keep threading petals until they are gone and you have a nice full looking flower shape. I think this flower looks best with 7-8 petals.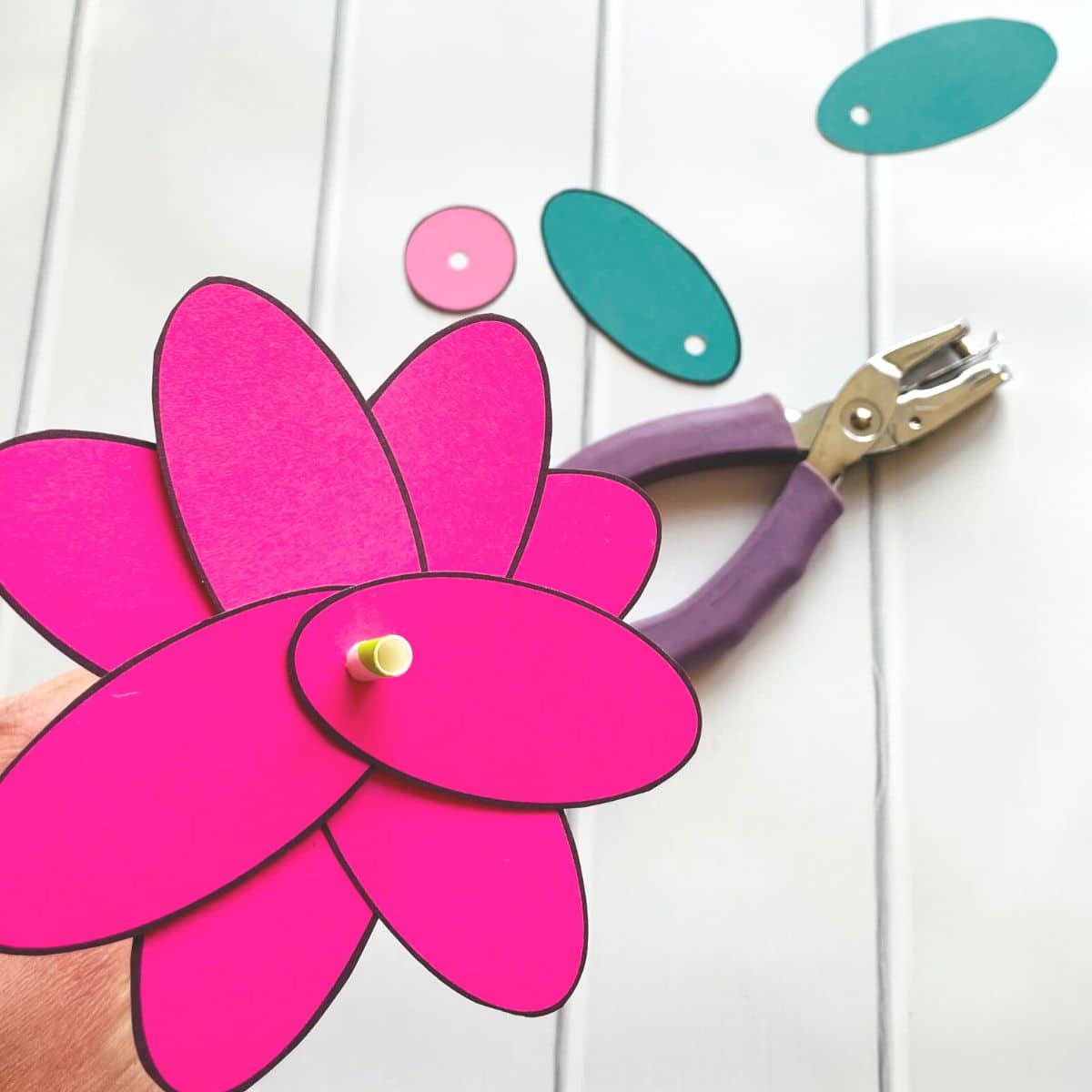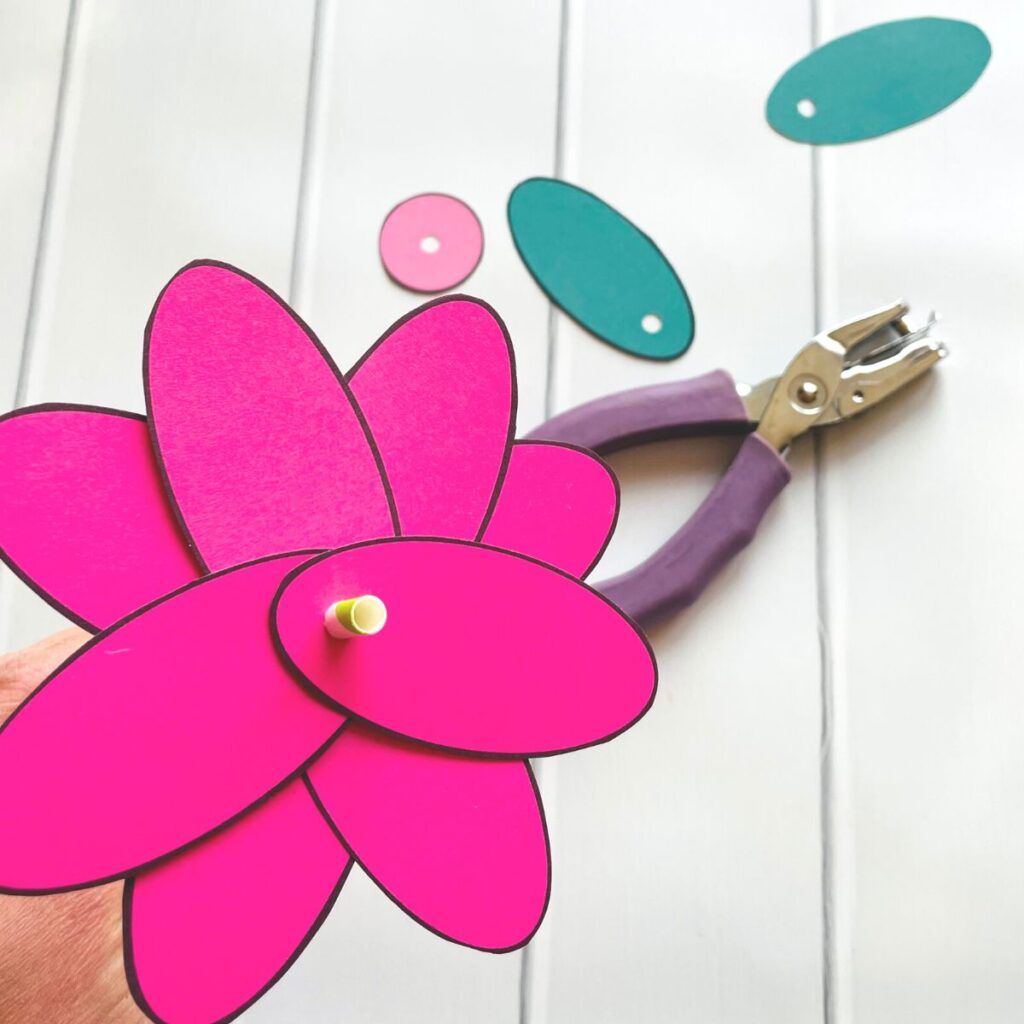 Next, thread the small circle onto the top of the flower.
Last, we are going to carefully thread the leaves onto the flower from the bottom. Push them up onto the middle of the straw.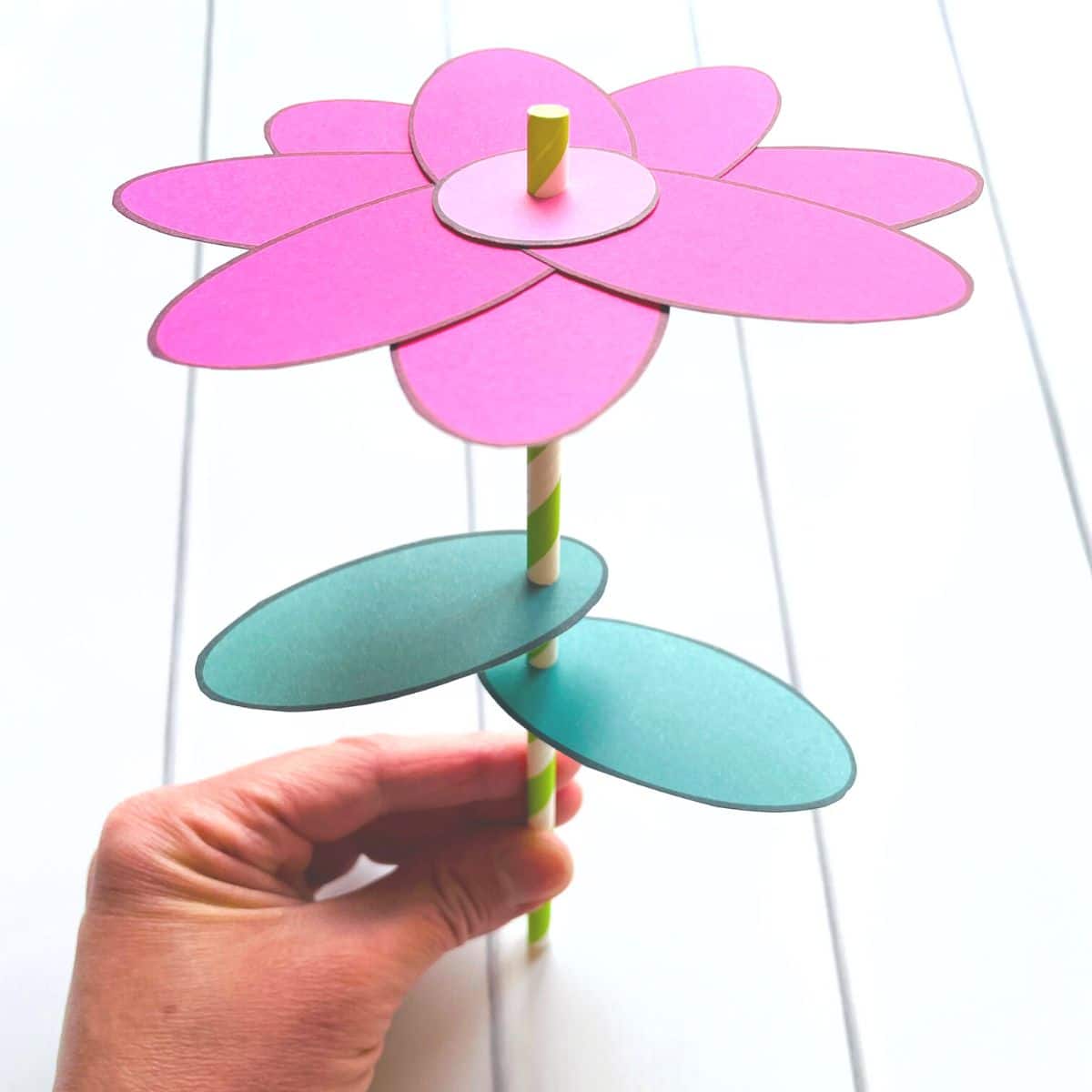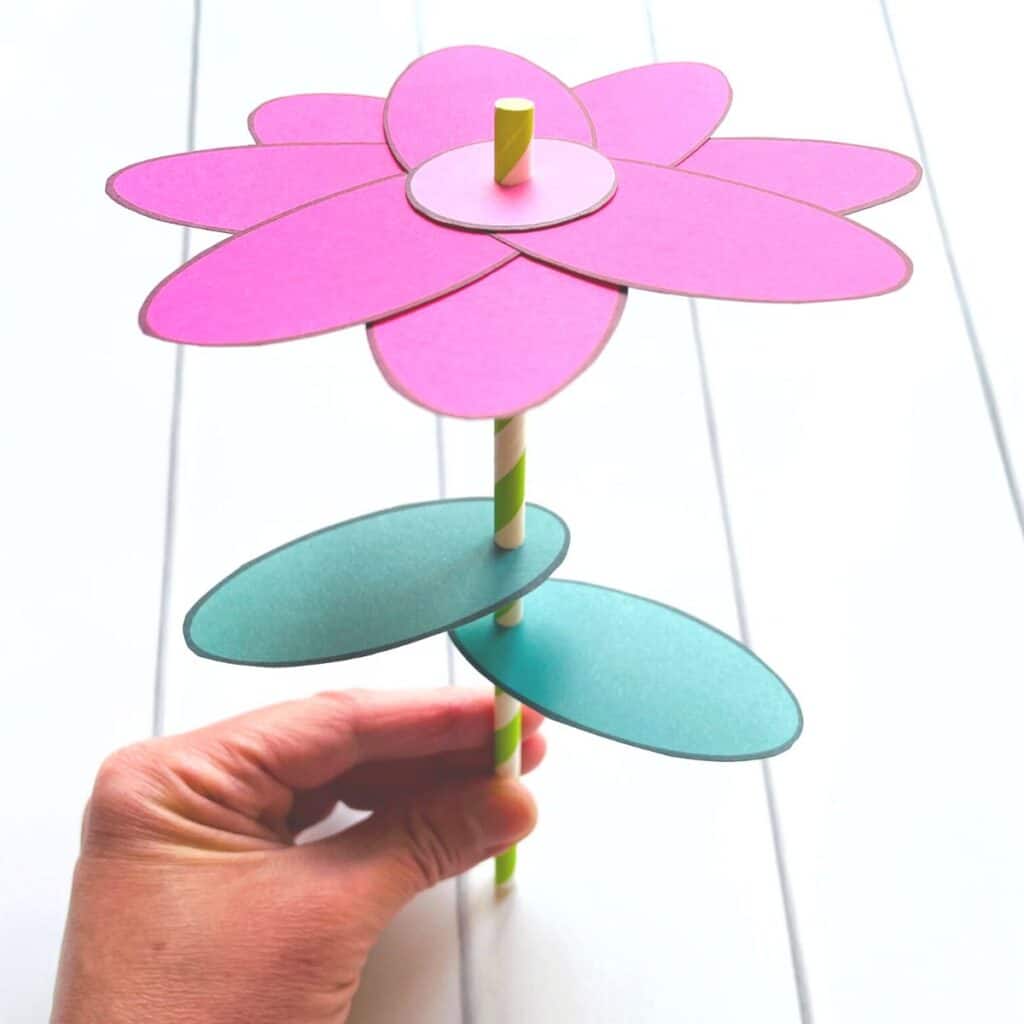 And….that's it! What a fun little preschool flower craft!
This activity is a great way for young children to practice fine motor skills and hand-eye coordination.  They might enjoy it so much they might want to make an entire floral arrangement.  
Kids of all ages will be so excited to present their beautiful bouquet of bright colors to mom!  
This is also a great project for teaching the parts of the flower.  Such a wonderful way to have fun learning while making a colorful flower craft!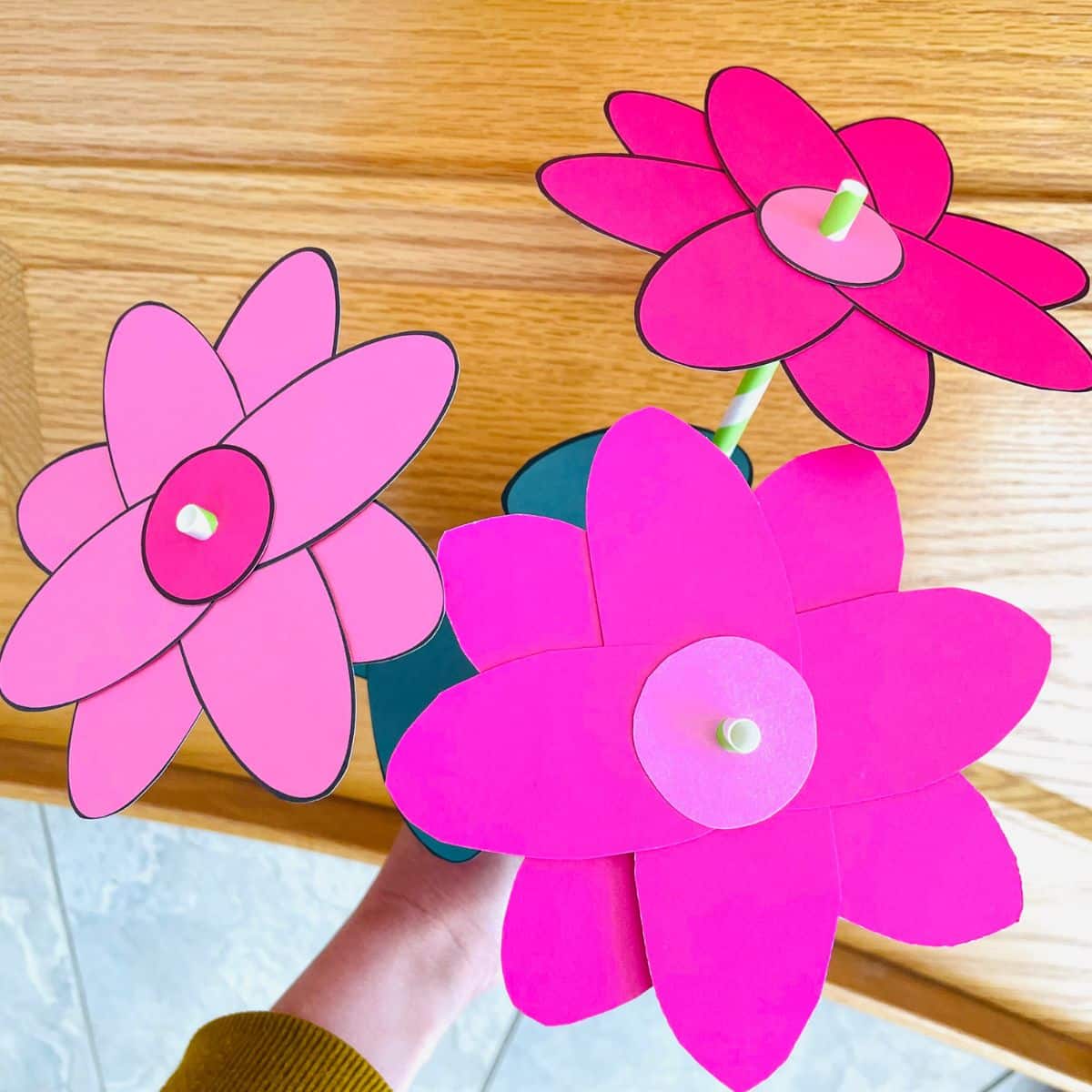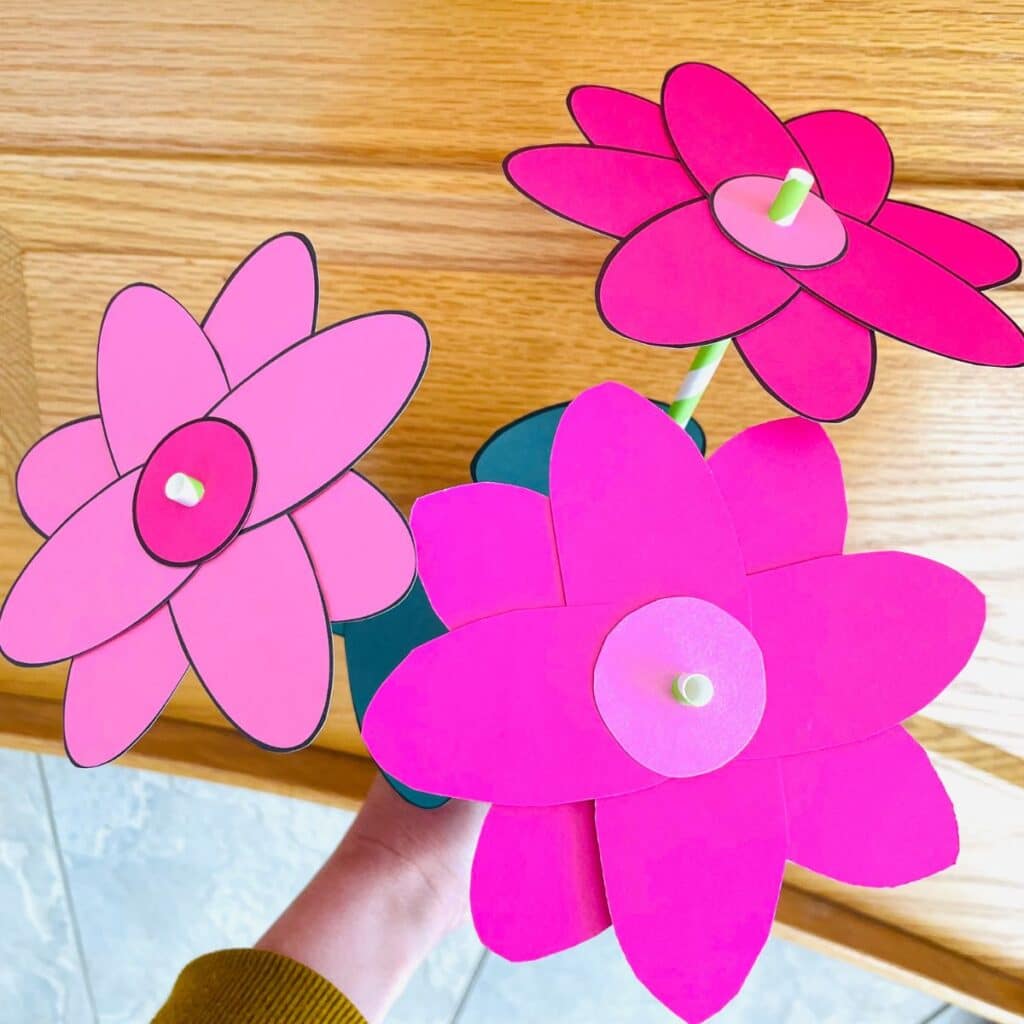 More Spring Activities and Crafts for Preschool
Looking for some fun Preschool Spring Crafts? Here's some fun ideas!
This Garden Sensory Bin is full of fun! Kids will enjoy scooping, digging, planting, and working in this fun garden themed sensory bin.
Get ready for Spring with this Muddy Boots craft. Spring often means mud season – so here's a cute little craft to celebrate the muddiest time of year! Kids paint the free boot printable with chocolate pudding. Too cute and such a fun craft for little hands!
Spring is a great time to talk about Insects! Here's a TON of free insect printables. There's fun crafts, worksheets, scavenger hunts and more! You are sure to find the perfect activity or a great craft to teach little ones about insects in a simple way!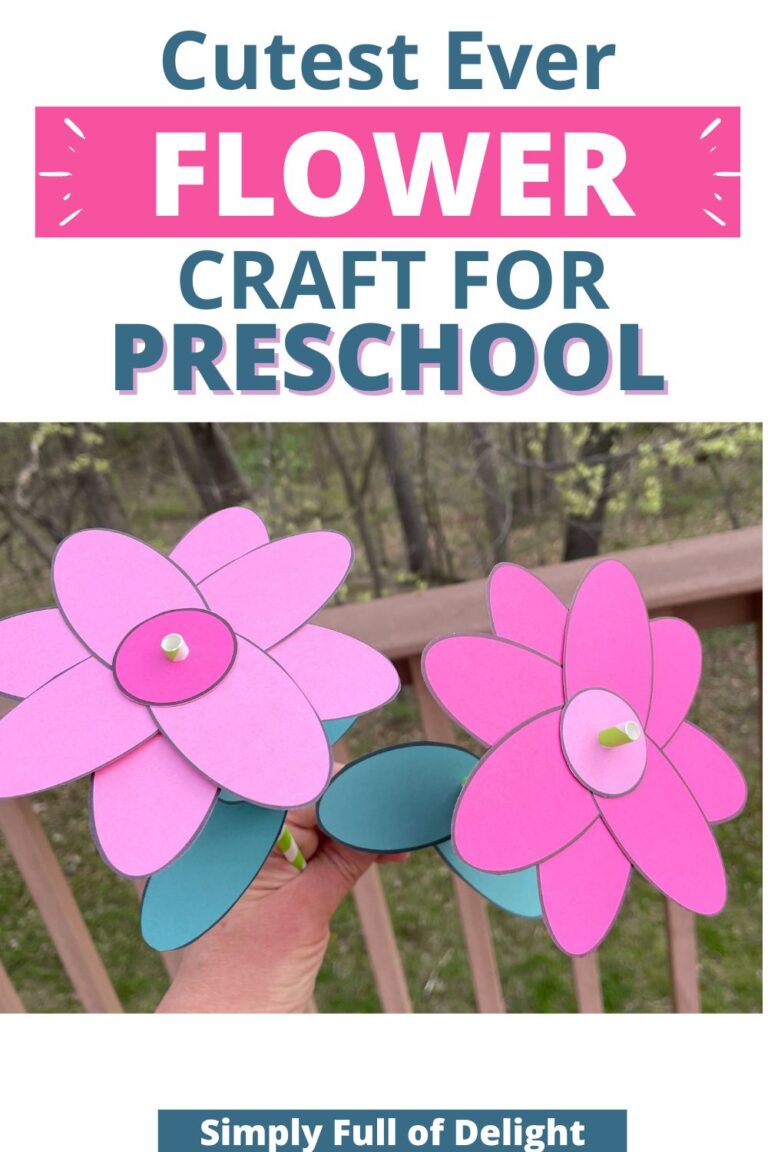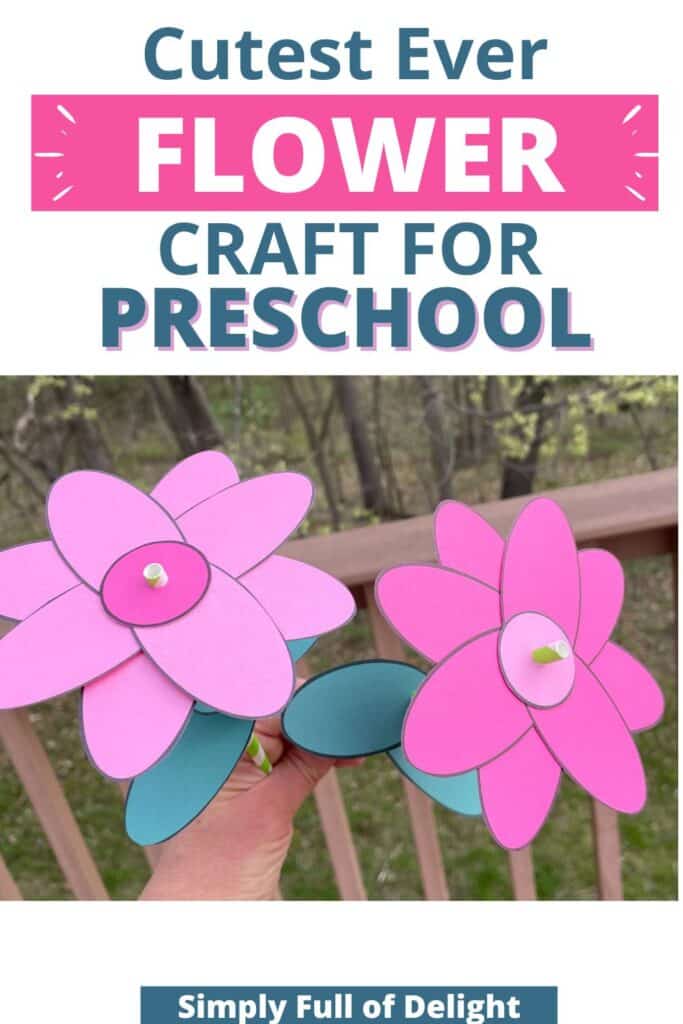 More Mother's Day Craft Ideas
Looking for more ideas for Mother's Day?
Here's some fun All about Mom and All about Grandma printables. Mom (and grandma) will laugh and smile about what their kids say about them.
There's a fun Mother's Day Poem Printable here. With 3 different versions you are sure to find the perfect one for your Mother's Day craft idea.
You can also find 30 amazing Flower Craft ideas for Mother's Day here. There's paper plate flowers, flower prints, cupcake liner flowers, colorful flowers from egg cartons, flower art project ideas, and more.   So many creative ways and different ways to create flower craft projects, you are sure to find the perfect flower craft!
Grab the Free DIY Paper Straw Flower Template
Ready to print out the free flower template to make this fun paper flower craft? Click on the black download button below to grab this flower craft preschool printable.
Printable Flower Craft PDF:
Want to save these preschool flower crafts for later?  Pin the image below to your favorite flower crafts board on Pinterest!