Looking for some summer fun? These free printable Cute Ice Cream Coloring Pages are perfect for summer! Grab some crayons and get ready for an easy fun activity for kids.
My kids love and eat ice cream all year long, but we especially enjoy it in the summer time. It's wonderful to cool off on a hot day with a delicious scoop of ice cream or a delicious ice pop. (Personally, I love mint chocolate chip ice cream and strawberry sorbets the best! YUM!)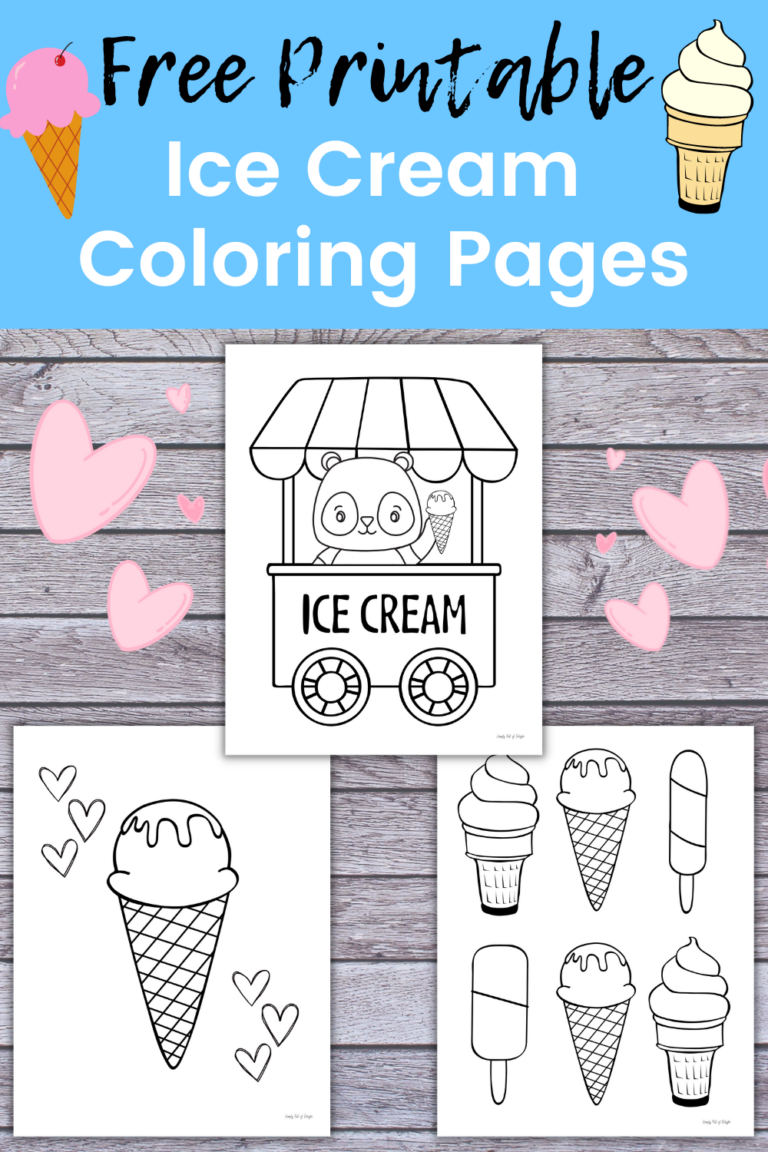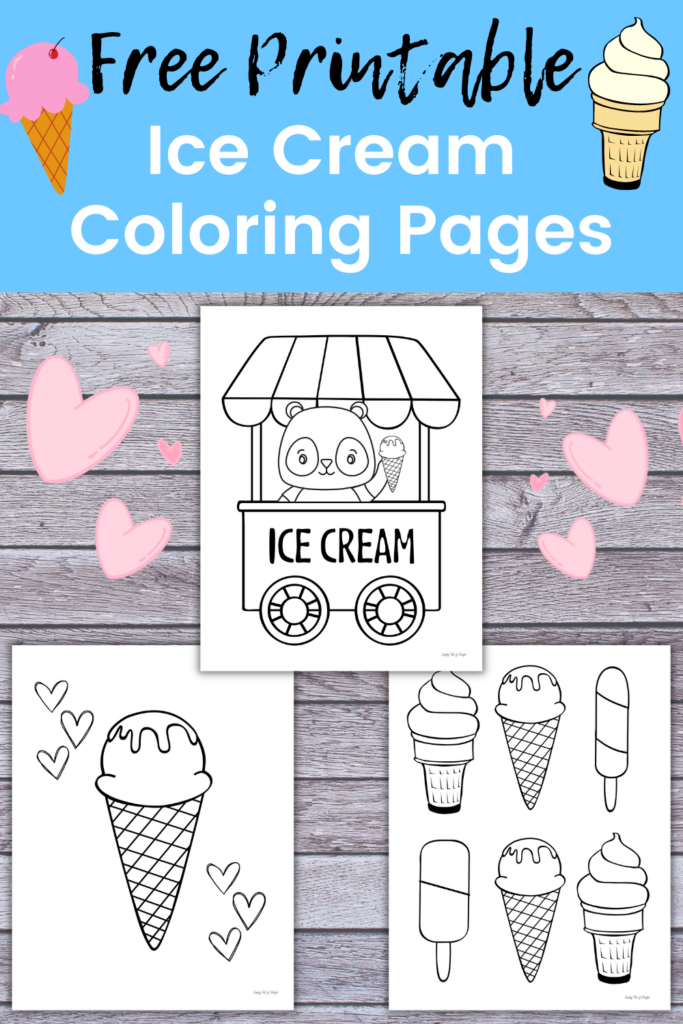 These printable ice cream coloring pages mix the fun of coloring with the excitement of ice cream. You'll find an adorable ice cream cart page, a page filled with ice cream treats, as well as a simple ice cream cone page.
These free coloring pages are a fun way for kids to practice their fine motor skills. You might like to use these ice cream pictures for national ice cream month in July. But no matter when you use them, kids will have fun coloring these summer coloring pages all season long!
** Disclaimer: As an Etsy associate and as an Amazon.com Associate, I may earn from qualifying purchases made by readers clicking my affiliate links at no extra cost to you.
Ice Cream Cone Coloring Sheet – free printable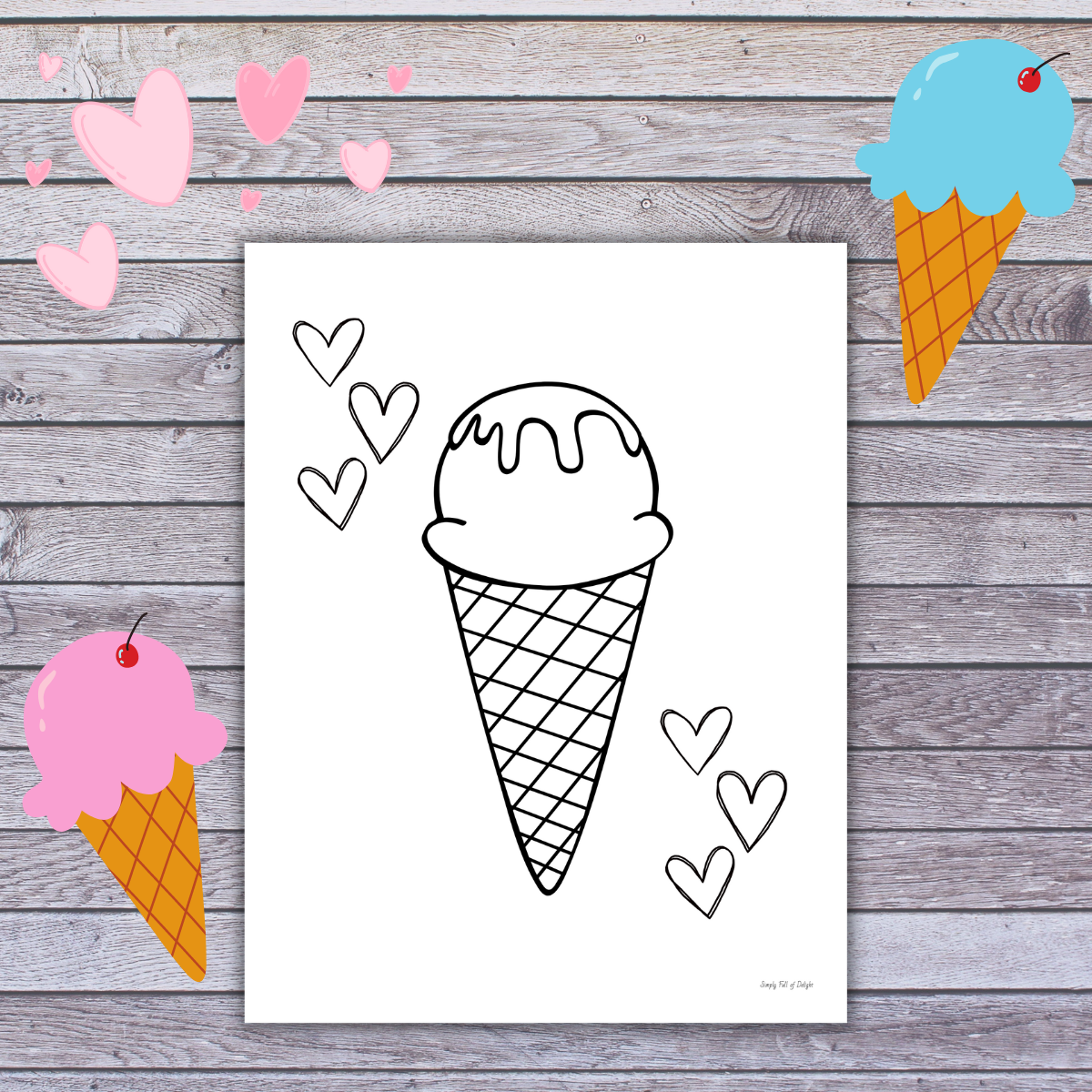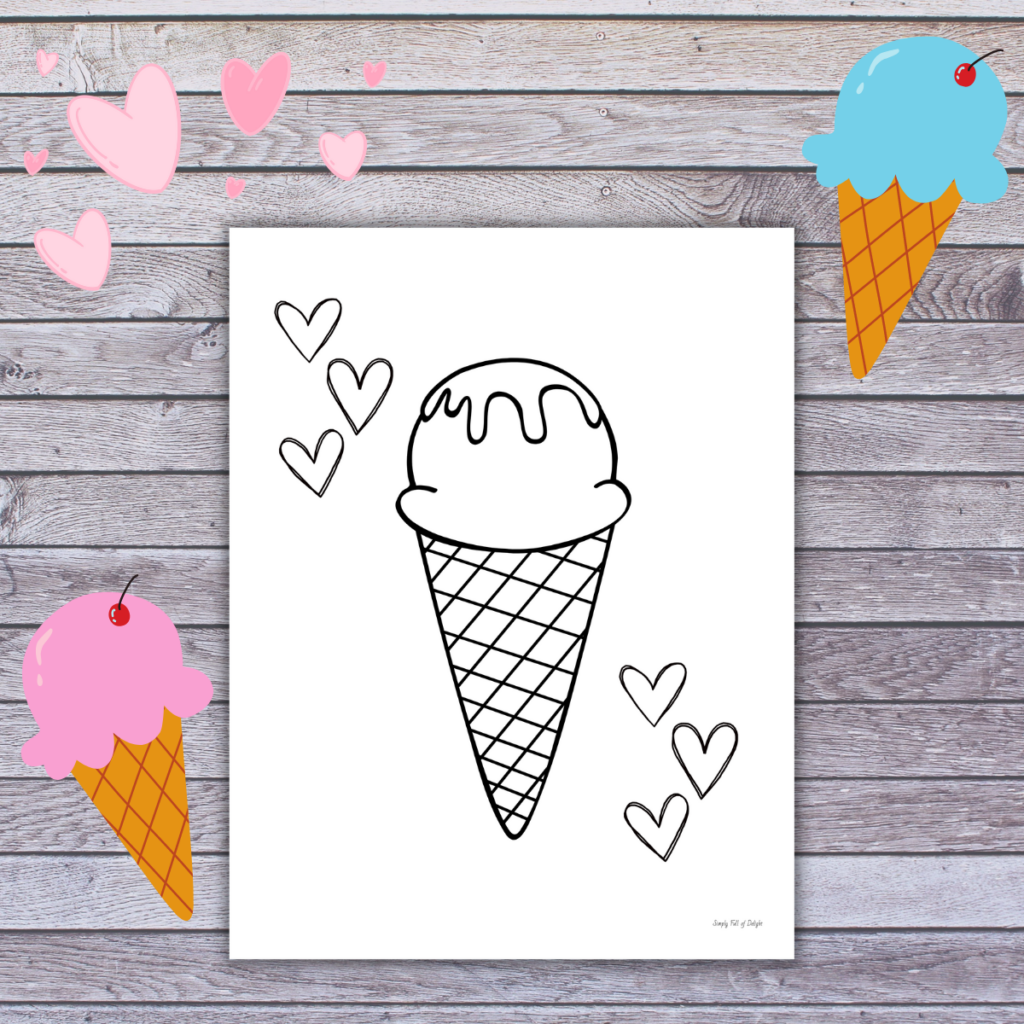 This first coloring page is a simple Ice Cream Cone Coloring Sheet. Kids will enjoy coloring the ice cream to look like their favorite flavors.
There's a simple large waffle cone to color and the ice cream has a splash of a topping to add a bit of dimension and decoration.
Hearts surround the simple ice cream cone. Kids will enjoy coloring the hearts different colors as well.
This is an easy ice cream coloring page that is perfect for little ones, but kids of all ages will enjoy it as well!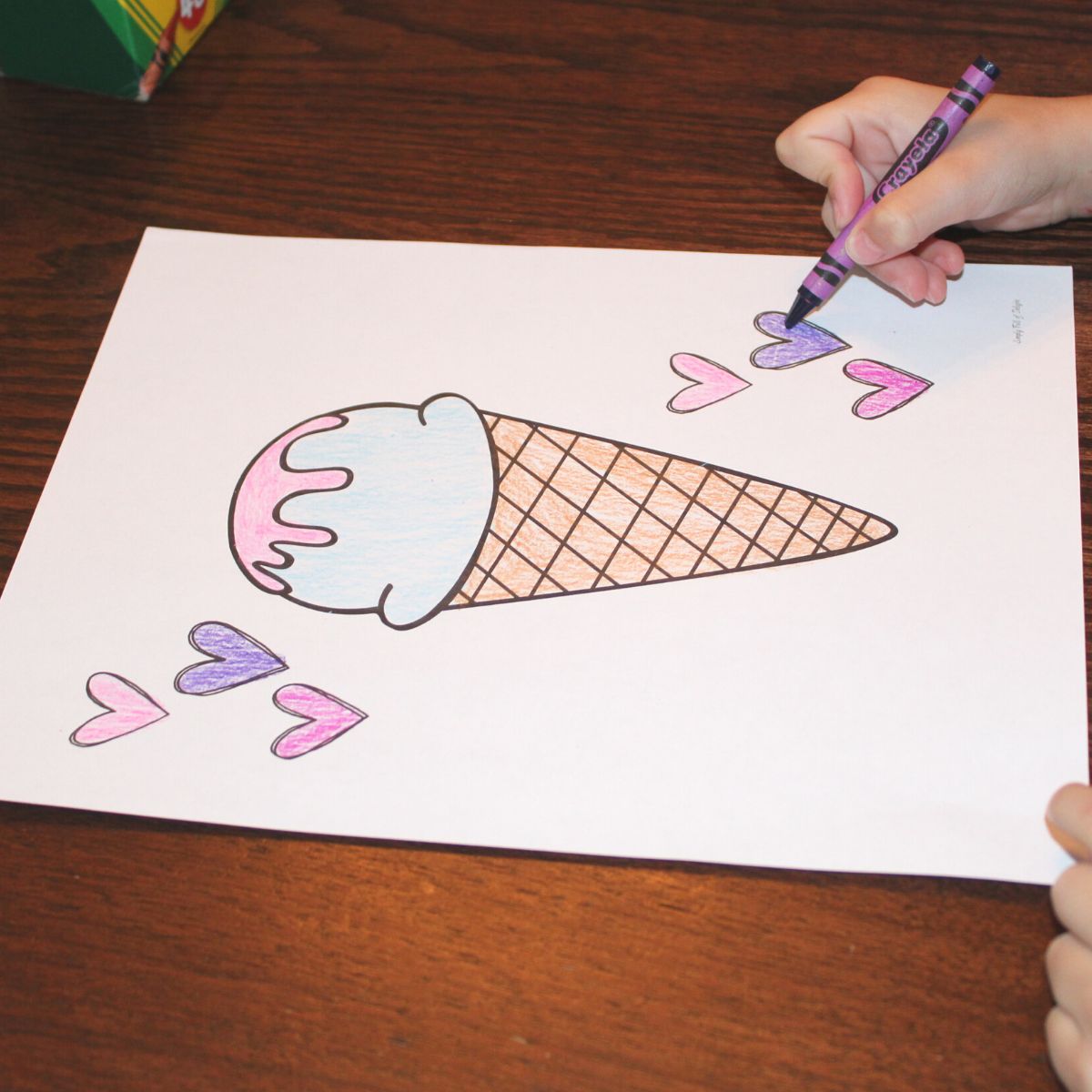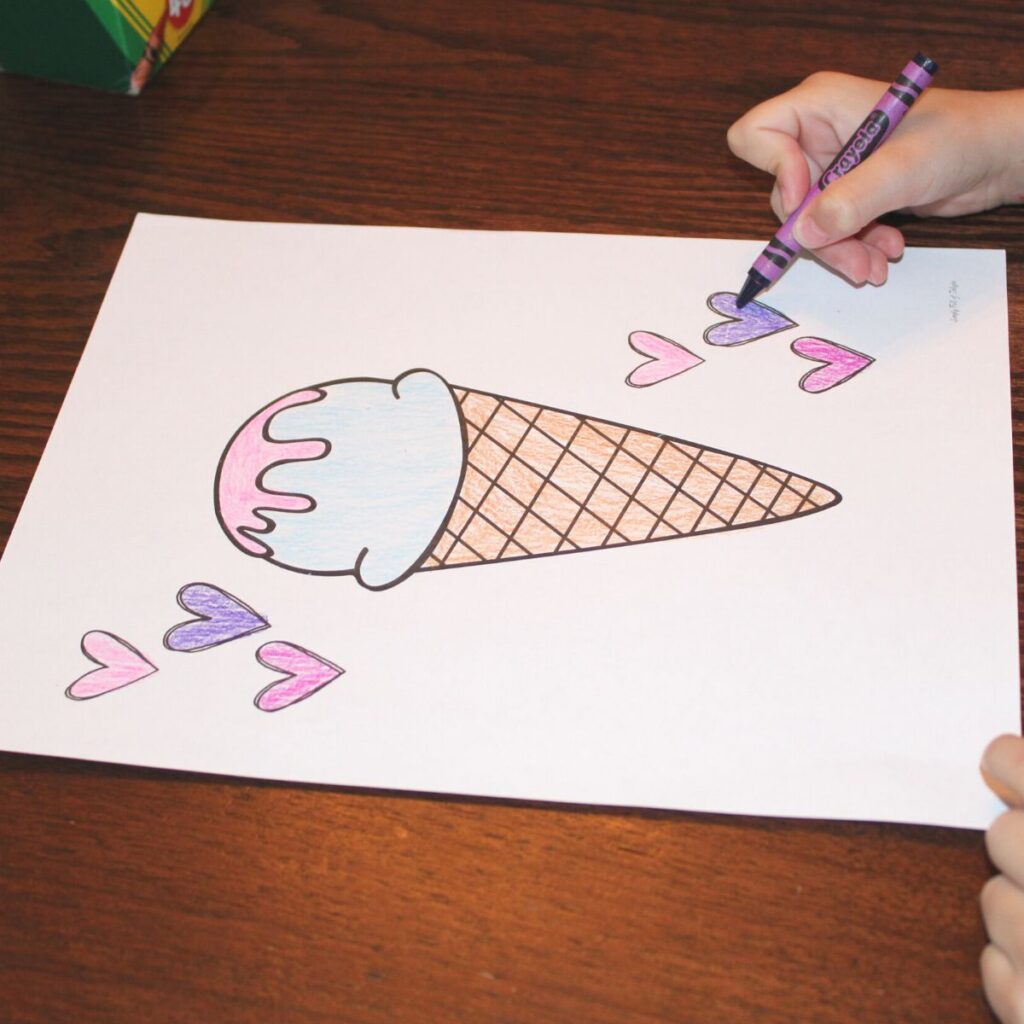 My kids enjoyed coloring with crayons and markers, but older children may like using colored pens. You can get this simple ice cream coloring page by clicking the black download button.
Cute Ice Cream Coloring Sheet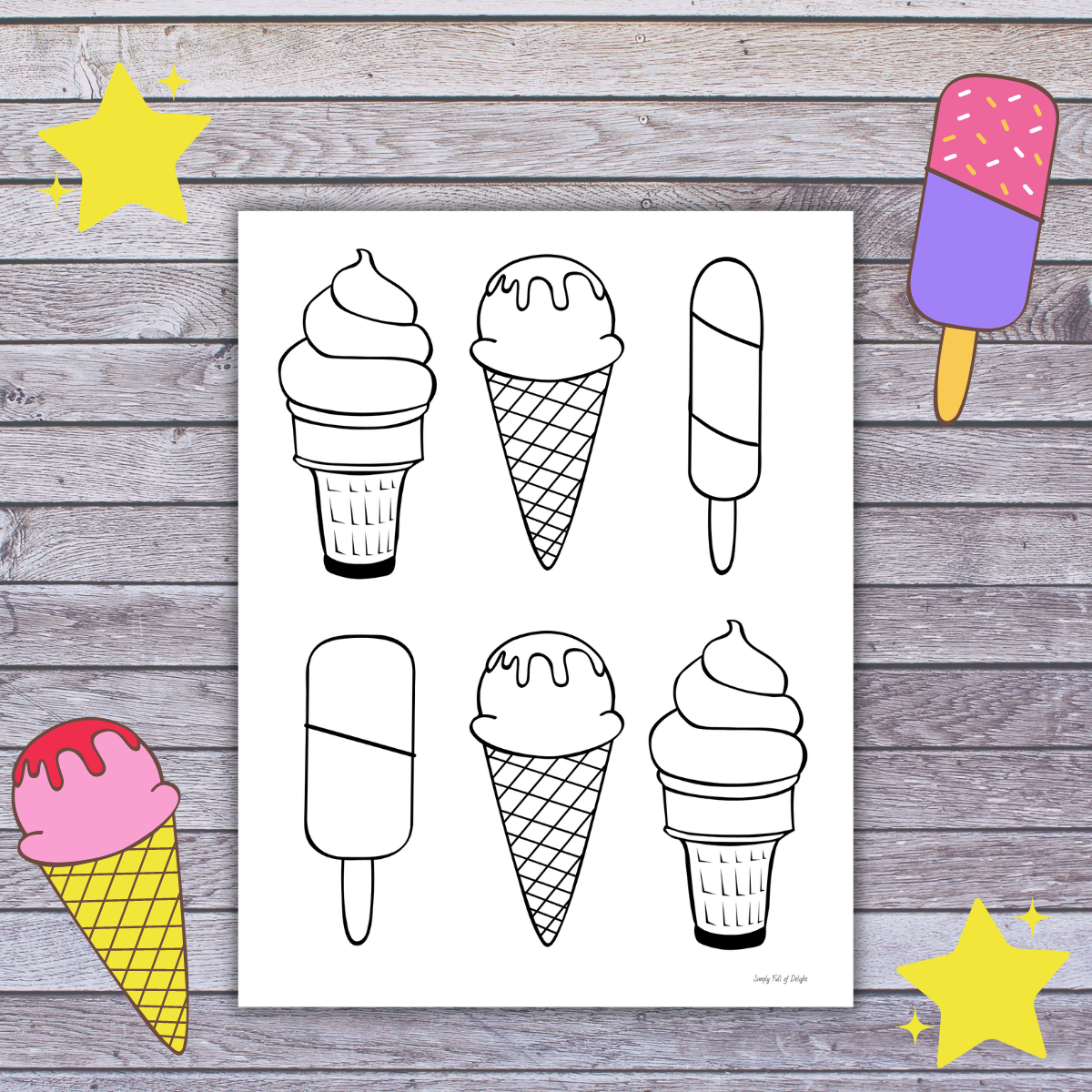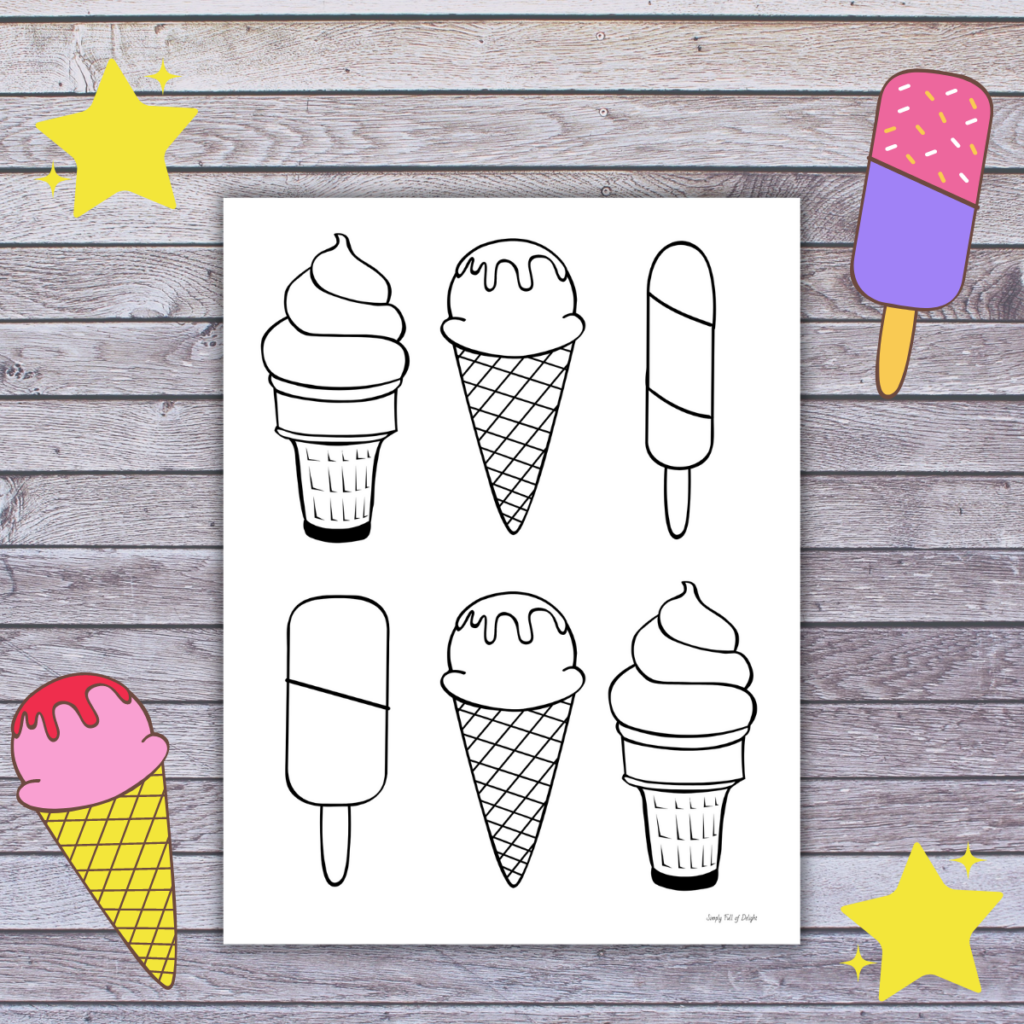 This next printable is my favorite of the ice cream coloring pictures! This Cute Ice Cream Coloring Sheet features 6 cool treats. There's 4 ice cream cones to color as well as 2 popsicles.
Two of the ice cream cones are waffle cones, while the other two are a standard "cake cone" that you usually see with soft-serve ice cream.
Older kids will enjoy making designs on the popsicles while little ones will enjoy looking at the tasty treats and choosing their favorites as they color.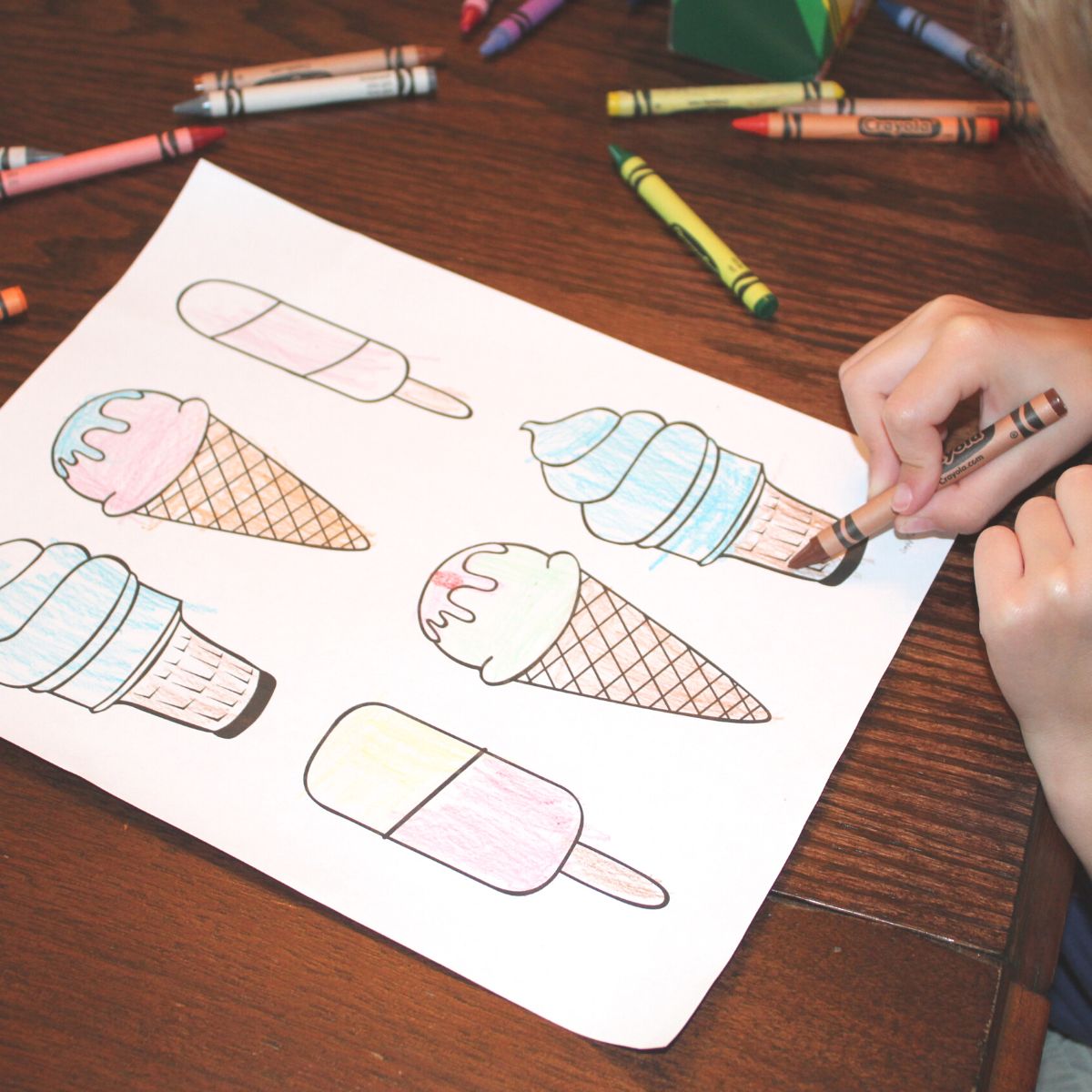 Click the black download button below to get the cute ice cream coloring page PDF file.
Ice Cream Cart Coloring Page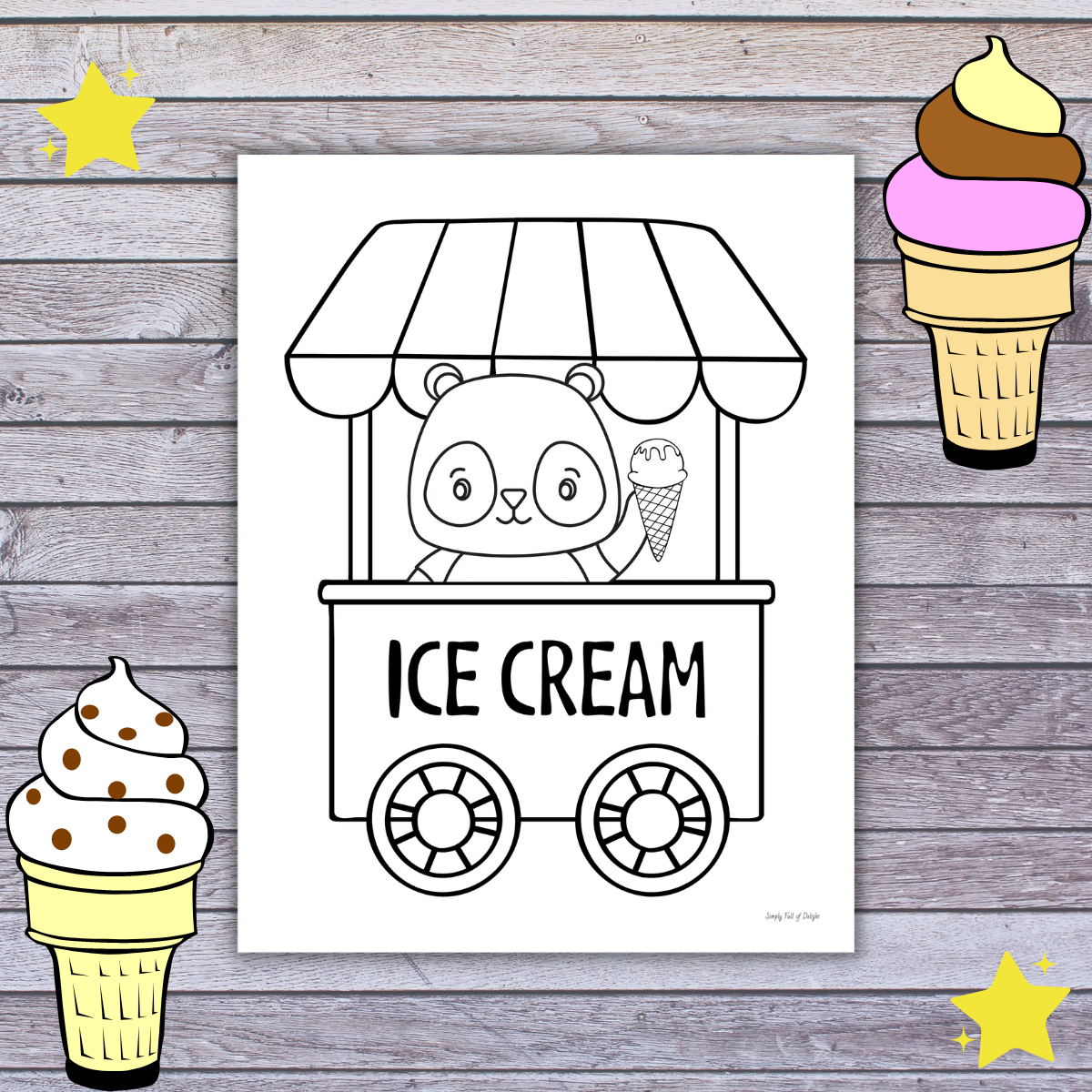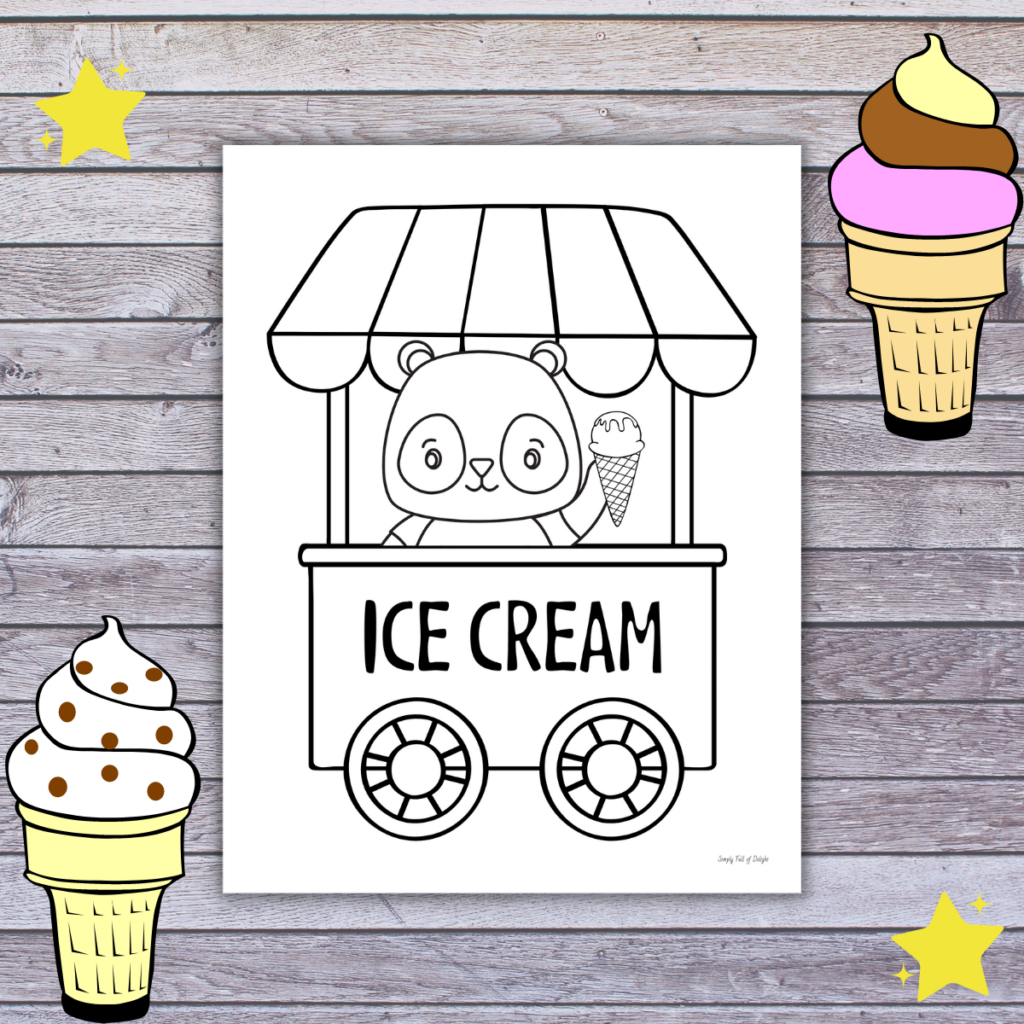 This last free printable is an Ice Cream Cart Coloring Page.
Kids will enjoy coloring the panda bear who is selling ice cream from a cart!
The ice cream cart features a striped awning to shade the panda as he sells delicious ice cream cones. What a fun picture to color!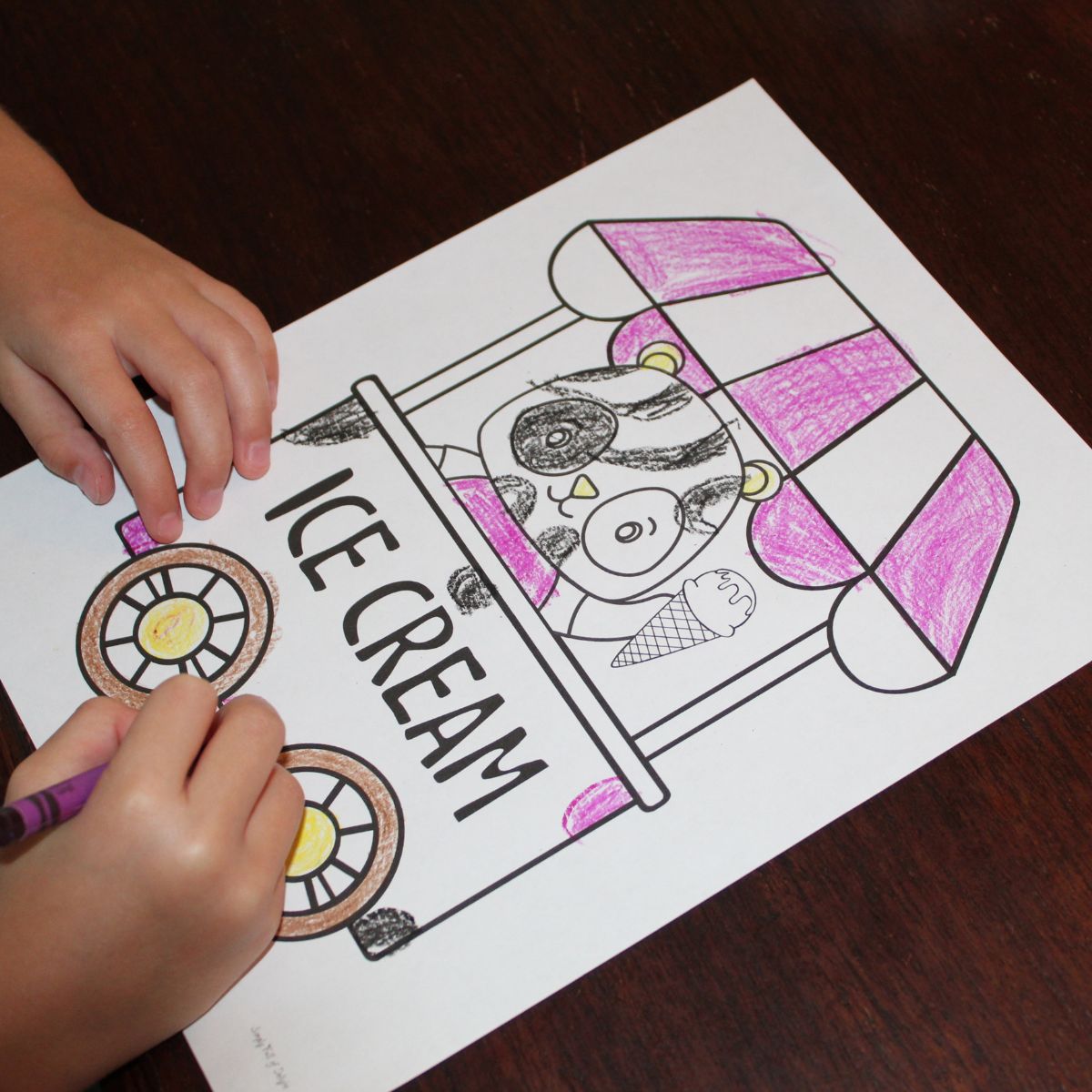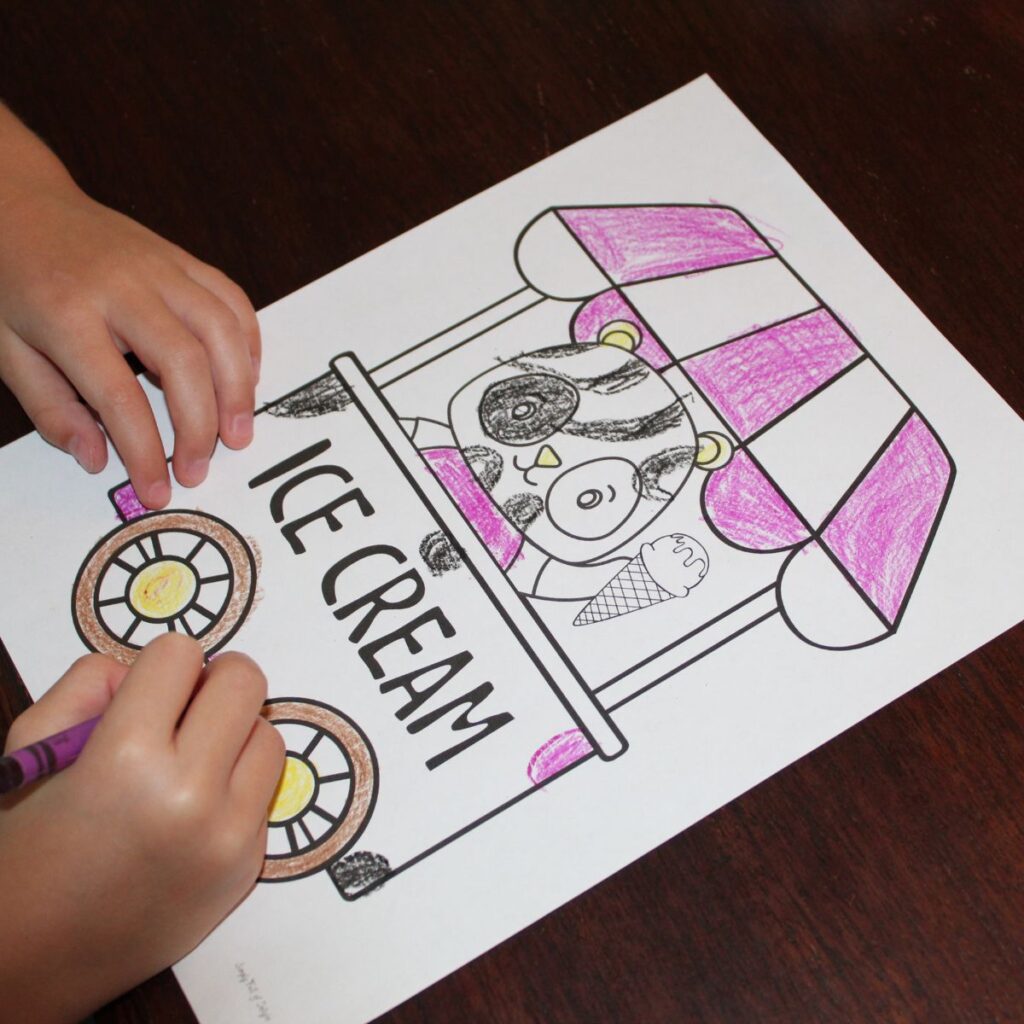 You can get this free printable page by clicking the download button below.
More Coloring Fun
Want to save these ice cream coloring pages for later? Pin the image below to your Summer Fun for Kids board on Pinterest!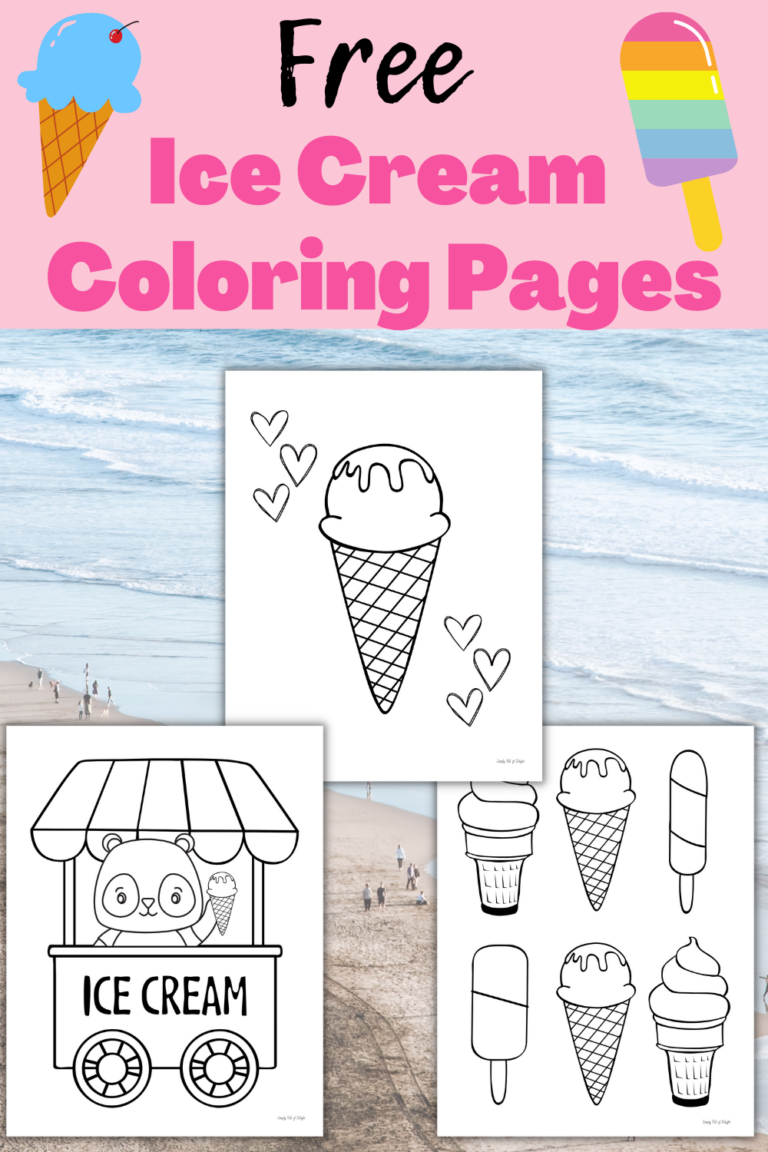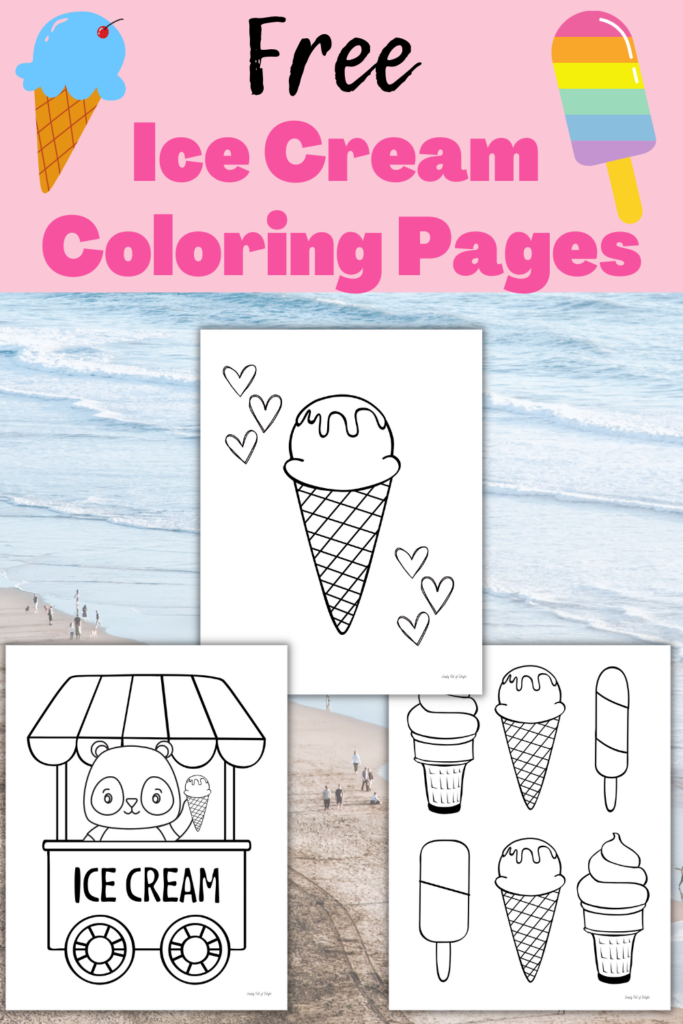 I hope you enjoy these free ice cream coloring pages as much as I enjoyed creating them for you! If you'd like to learn how to make your own coloring pages, be sure to check this out.
Looking for more fun coloring pages? You can find some free Mermaid Coloring sheets here. They are the perfect way to engage your mermaid loving kids!
If you have a child who LOVES coloring, be sure to check out this amazing art supply kit. One of my daughters literally uses this kit every day. It has everything that she needs to be inspired and color right at her fingertips. This set is totally worth it to keep her creativity flowing!
You can also find some free Caterpillar coloring pages here. They are super cute and absolutely perfect for talking about the life cycle of the butterfly in the warm weather months.
Lastly, you can find some free cat coloring pages on my blog as well. So many adorable coloring sheets for your cat lovers.
More Ice Cream Coloring Pages
Want more Ice Cream Coloring Pages? Get the full set of 10 Ice Cream Coloring Sheets here in my Etsy shop.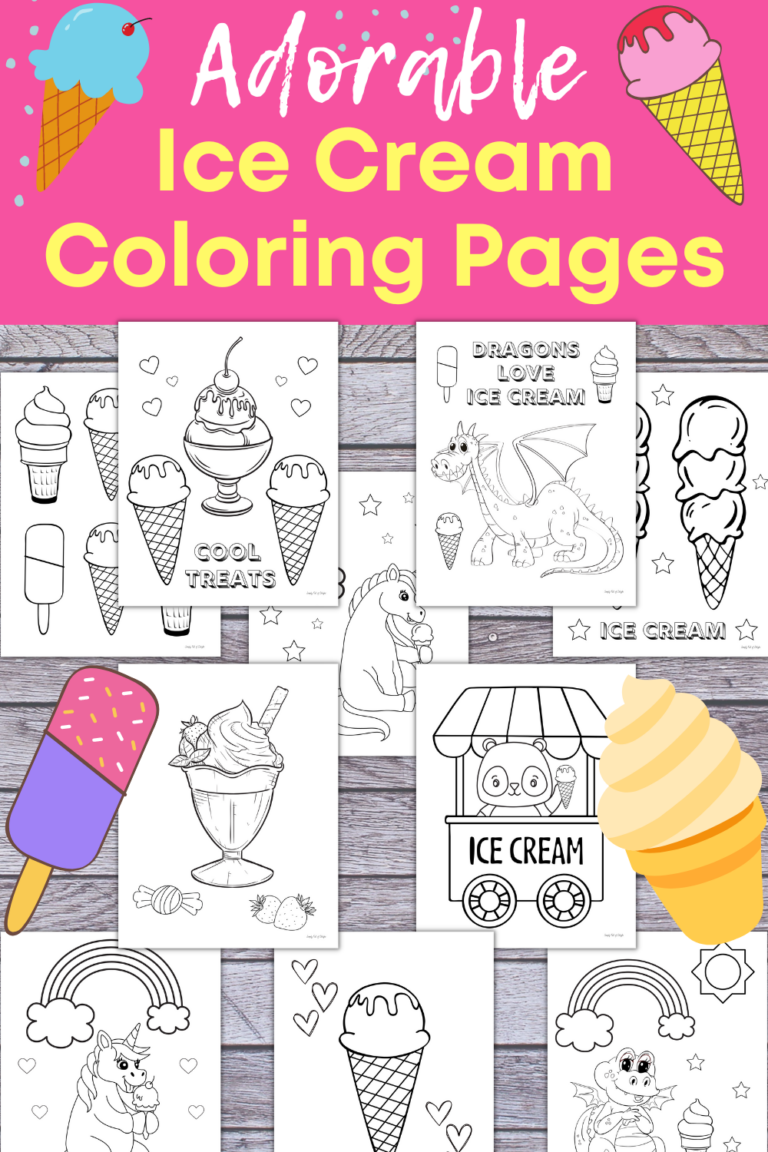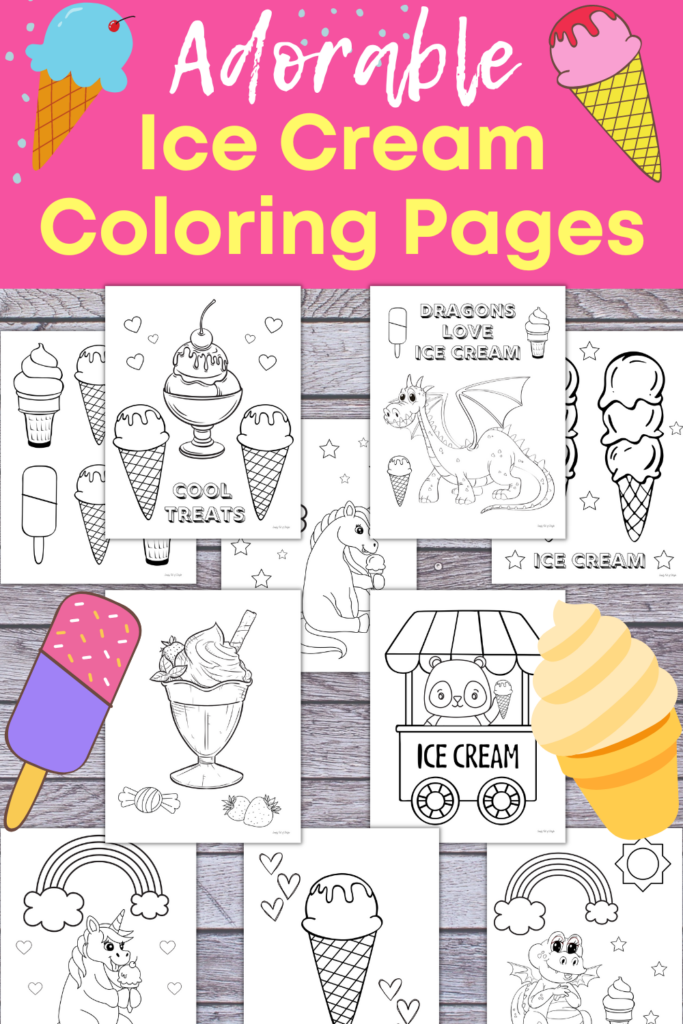 You'll find dragons and unicorns eating ice cream, lots of ice cream cones, as well an ice cream sundae. So much coloring fun for your ice cream lovers! My favorite is the triple layer ice cream cone page while my kids went crazy over the unicorns and dragons eating ice cream. LOL
Plus, for a limited time, use coupon code ICECREAM to get 15% off this coloring pack! Get your Ice Cream Coloring Pages pack here.
Related Posts