Looking for a fantastic St. Patrick's Day craft idea? Your kids will love learning how to make a Leprechaun Hat Headband! It's a fun craft for kids of all ages.
There's two versions of the Leprechaun Hat. One is a full-color version, for a quick print, cut and assemble. The other one is a black and white version that is perfect for coloring and then cutting out and putting together.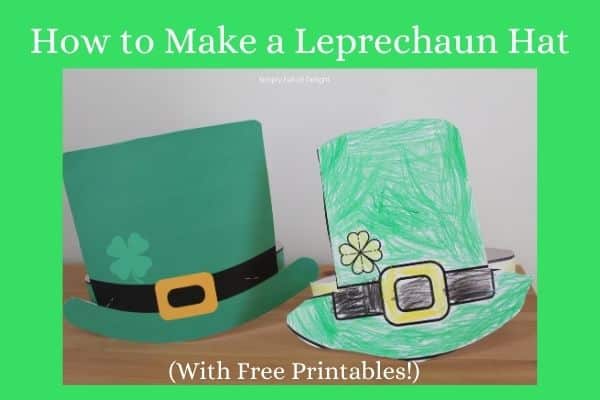 I love that this St. Patrick's Day craft is fast and easy and low mess. It also gives little ones a chance to practice their scissor skills!
But first, let's talk about….
Why do we Wear Green on St. Patrick's Day?
According to National Geographic Kids, leprechauns are the reason we wear green on St. Patrick's Day! The myth behind this tradition is that wearing green will make you invisible to leprechauns, who like to pinch people.
So, if you don't wear green, you risk getting pinched! Some people believe that wearing green will bring good luck, and others wear green to honor their Irish ancestry.
Whatever the reason, wearing green on St. Patrick's Day is a fun tradition and if it keeps you from getting pinched by family and friends, even better, right?!
Alright! Let's get started on our Leprechaun Hat headband!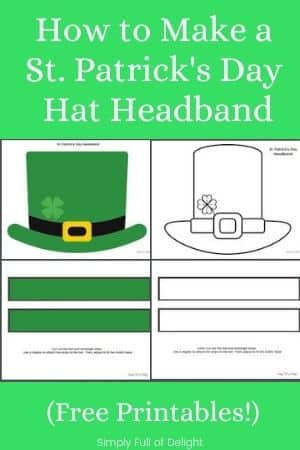 Supplies to make a Leprechaun Hat Headband
For this project you will need:
– A printed copy of the Leprechaun Hat template Headband You can find it in the Resource Library for my email Subscribers here. (I recommend printing on cardstock)
– Scissors
– A Stapler
– Crayons/Colored Pencils (if you are doing the black and white version)
How to Make a Leprechaun Hat
First, print out a copy of the Leprechaun Hat template printable. I recommend printing on cardstock to make it more sturdy, but regular paper will work as well.
Next, provide your child with crayons or colored pencils to color the hat. (If you've chosen the full-color version, you can skip this step!)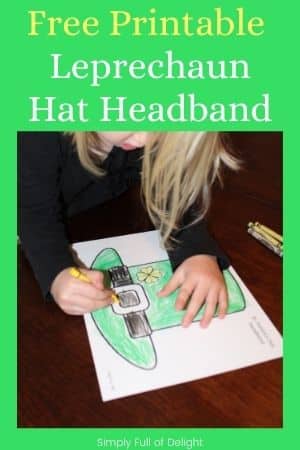 Now you are ready to cut. Have your child cut the hat out and the strips of paper for the headband. My 3 and 4 year olds were able to cut out this hat, but if your child is a little younger they may need some help.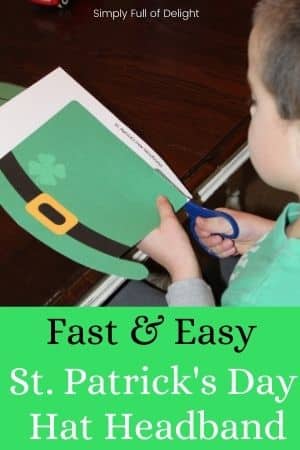 After all the pieces have been cut out, use a stapler to attach the strips of paper to the hat to create the headband. Adjust the headband to fit your child and cut off the excess paper.
Now your child is all set to celebrate St. Patrick's Day in style!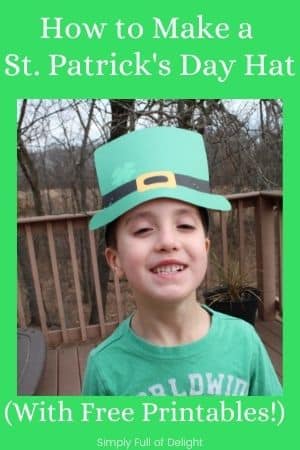 I hope you've enjoyed making this leprechaun hat craft!
Print the Free Leprechaun Hat Template
To get the free printable leprechaun hat template simply drop your email in the box below. You will receive instant access to my Resource Library where you can get this free printable along with many other free printables for parents and kids!
Already an Email Subscriber? Go straight to the Resource Library and use the password that's in nearly every email I send!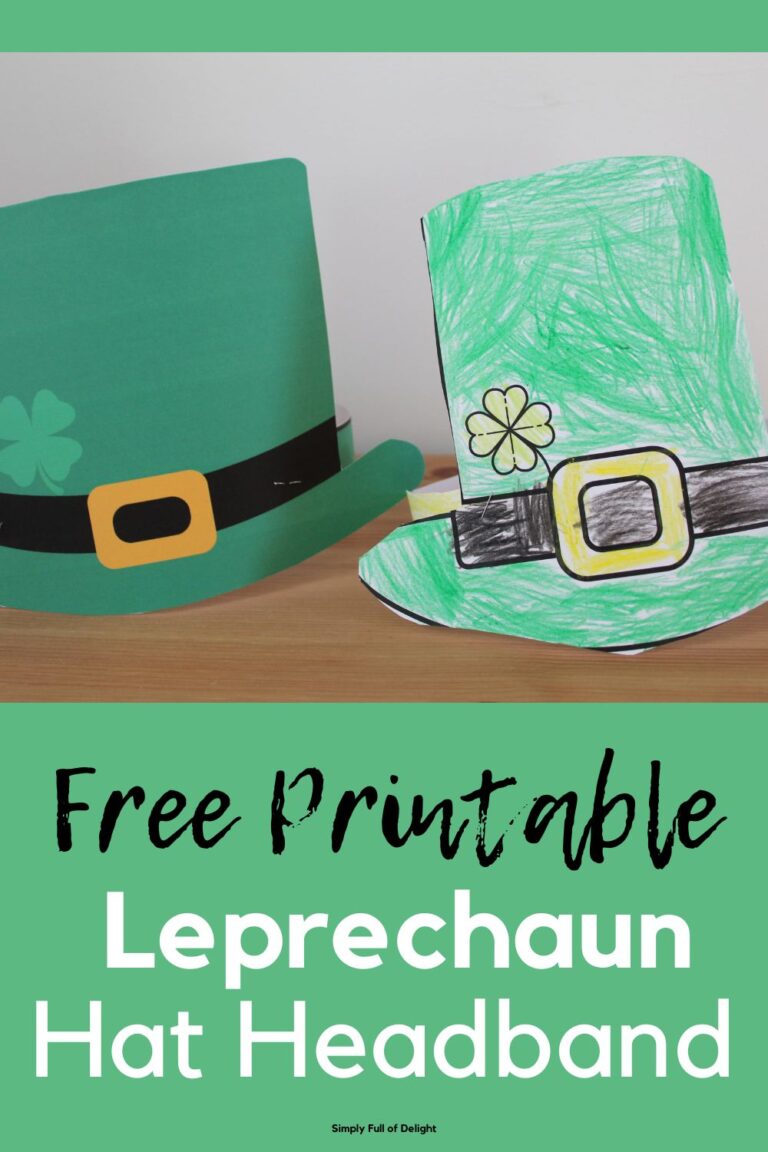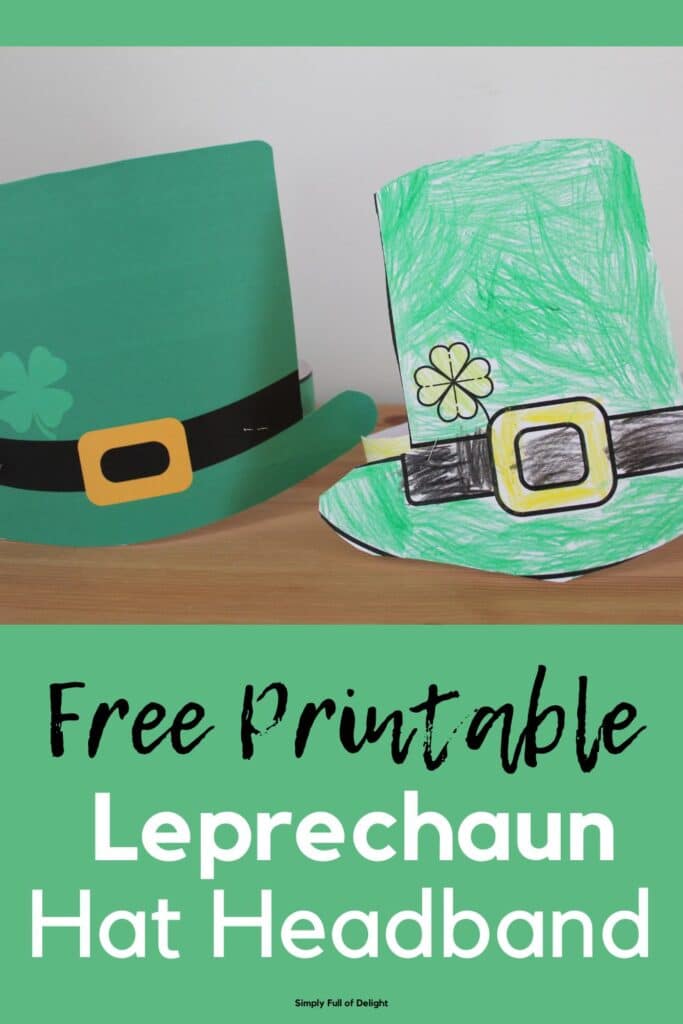 More St. Patrick's Day Activities for kids
If you enjoyed this activity be sure to check out these free St. Patrick's Day coloring Pages! There's 3 free printables perfect for a quiet time activity!
You can find tons of other Free St. Patrick's Day Printables here including word searches, word scrambles and I Spy pages! So much fun!
Lastly, be sure to check out this super adorable Pepper Stamping Shamrock Craft for kids. Your child will love it.
And of course you can find other Kid Activities here for all seasons on my blog.
If you are looking for more St. Patrick's Day printables, I have a fun preschool St. Patrick's Day learning set in my Etsy shop!
Happy St. Patrick's Day!