Looking for some fun Bible Story Curriculum? Here's a free printable Queen Esther Coloring Page!
This is the first of many fun Sunday school activity ideas I will be sharing!
Today's topic is the book of Esther. It's a story of great bravery. A righteous woman uses her faith to conquer the wicked plots of a man named Haman.
If you aren't familiar with the story of Esther, I'm written a short synopsis below. Of course, you'll want to go ahead and read the book of Esther as it's a relatively short book and definitely one of my favorites.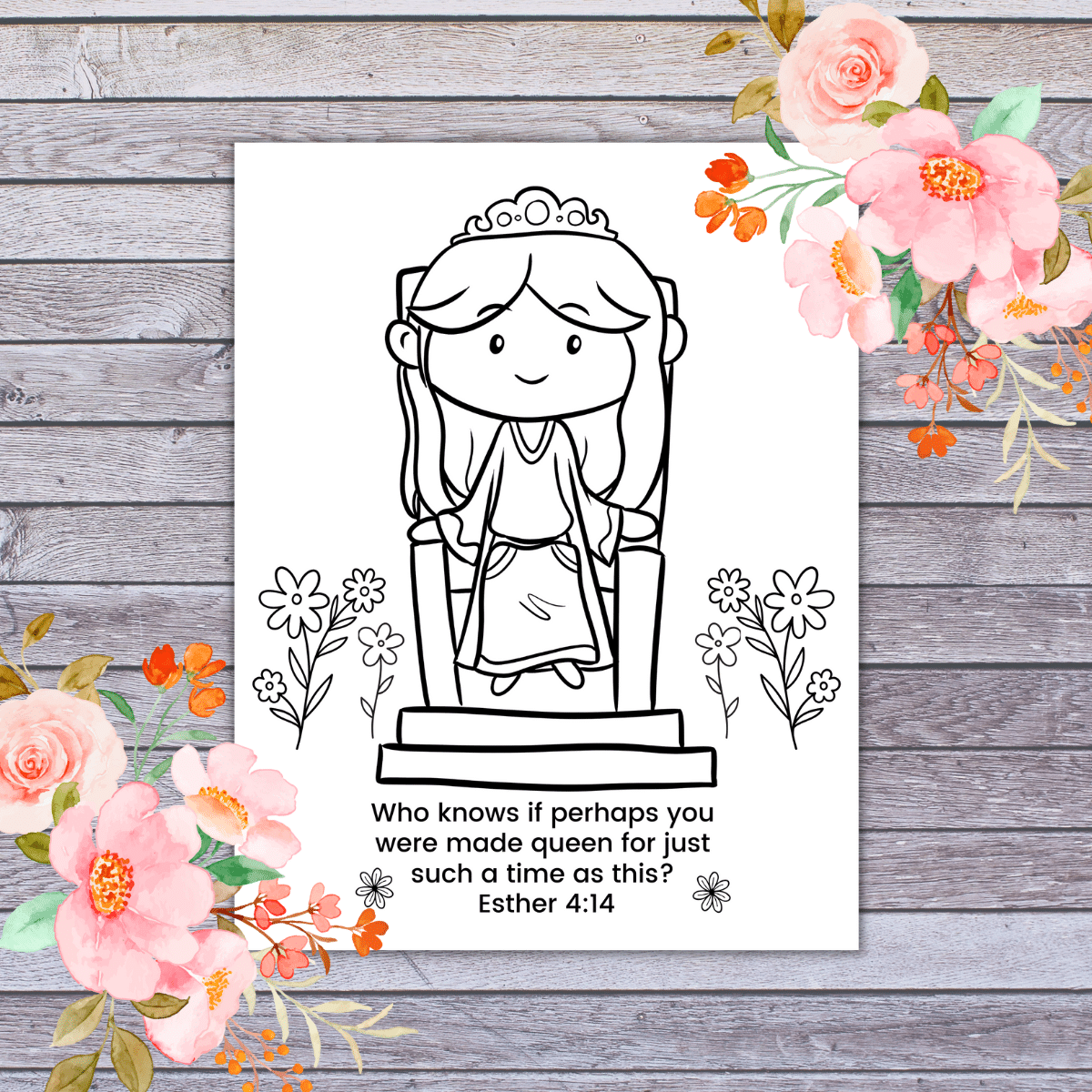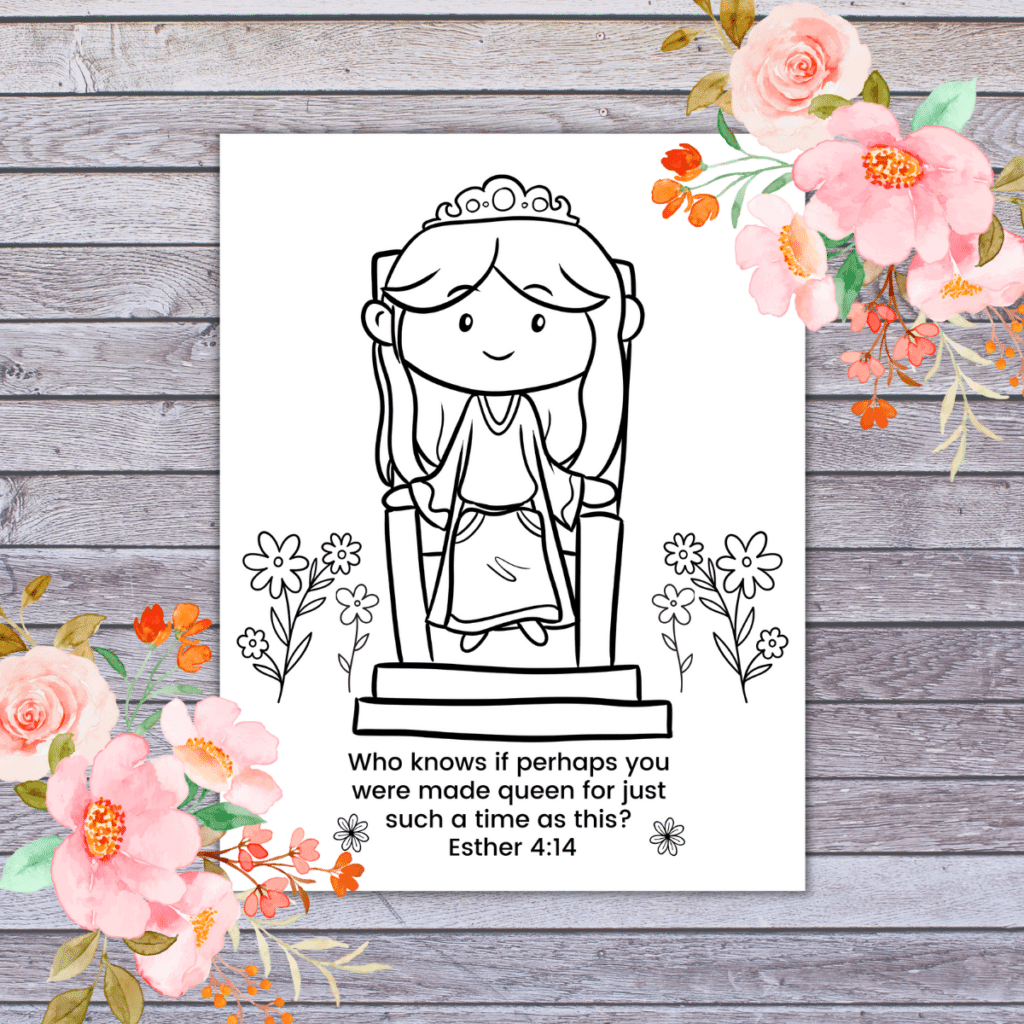 This free Bible Coloring Page is perfect for Sunday School lessons, kids church, or homeschooling. I also have linked at the end of this article a fun Esther themed activity pack that you might find works well for multiple lessons.
My background is that of a preschool and elementary teacher, but I have been a Sunday School teacher for many years.
I've included a short kid-friendly synopsis (I personally wrote) from the biblical account of the book of Esther. I hope you find it useful! If you don't need the story synopsis, you can scroll on down to the printable Esther coloring page near the bottom if you like.
Alright, let's dive in!
Story of Queen Esther – Part 1
King Xerxes of Persia had a great celebration. He invited all the princes and nobles of the provinces. For 180 days, he showed the great wealth of his kingdom. Then he gave a banquet that lasted 7 days. King Xerxes commanded his wife Queen Vashti to come before everyone wearing her crown so he could show off her beauty.
But she refused to come.
King Xerxes became angry and asked his advisors what he should do about Queen Vashti.
His advisors told him that he should take away her position and make someone else the Queen, otherwise all the women will think it's fine to disobey their husbands. The king agreed and made a proclamation that women should respect their husbands.
The search began for a new queen for King Xerxes. All the beautiful young women in the area were brought to the palace.
Among them was Esther. She was beautiful and she won the favor of everyone who saw her. Esther was raised by her relative Mordecai. He took her to be his daughter after her parents died. Mordecai stayed near the palace each day and would check in to see how Esther was doing.
Story of Esther Part 2
King Xerxes was charmed by Esther. He declared that Esther would be his wife. So he set the royal crown on her head and made her Queen instead of Vashti. Esther's relative Mordecai had told her not to tell anyone that she was a Jew. So, Esther did not reveal this to the King.
One day Mordecai overheard two guards plotting to kill the King. He told Esther who reported it to the king (giving credit to Mordecai). There was an investigation and the plot was found to be true. The guards were stopped, but the king forgot to reward Mordecai.
One of the king's advisors, Haman, becomes angry with Mordecai because he won't bow to him. Haman became so angry he not only wanted to kill Mordecai, but all the Jews.
Haman deceptively advised the King to get rid of Mordecai and the Jews because they did not follow the King's laws.
When Mordecai hears about the King's edict to destroy the Jews, he put on sackcloth and wailed loudly. Queen Esther heard about Mordecai and sent one of her attendants to find out why he was upset.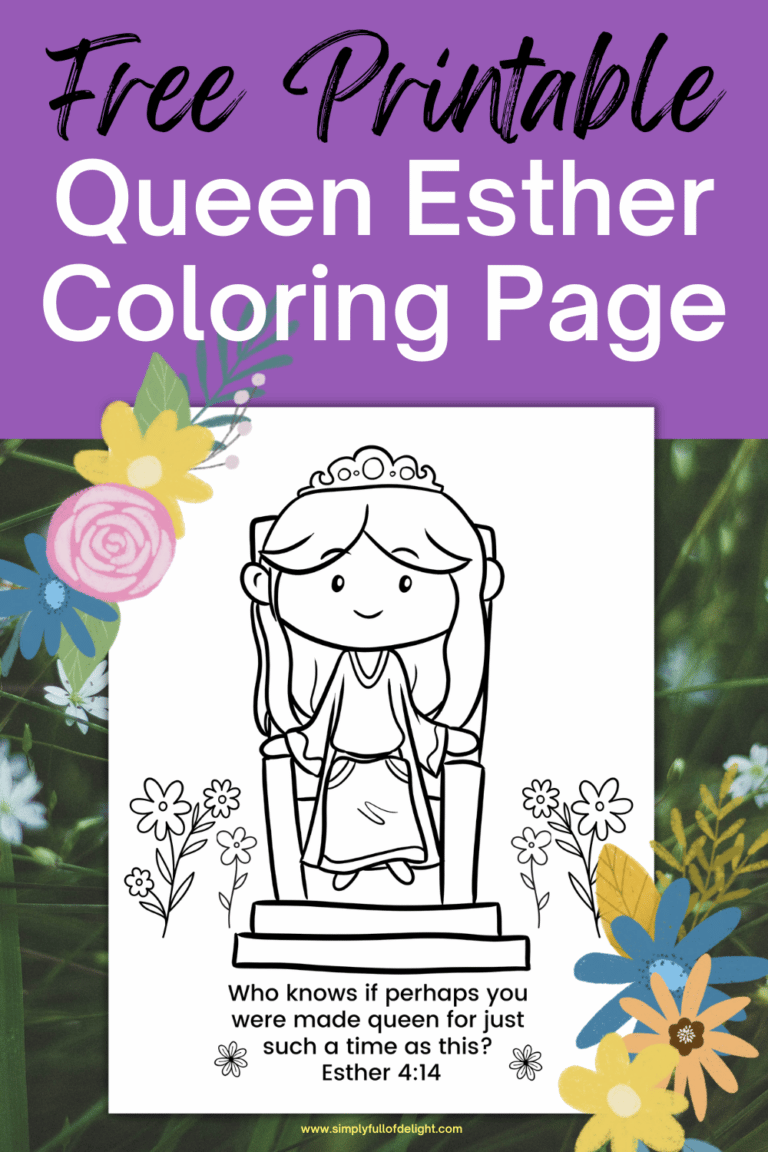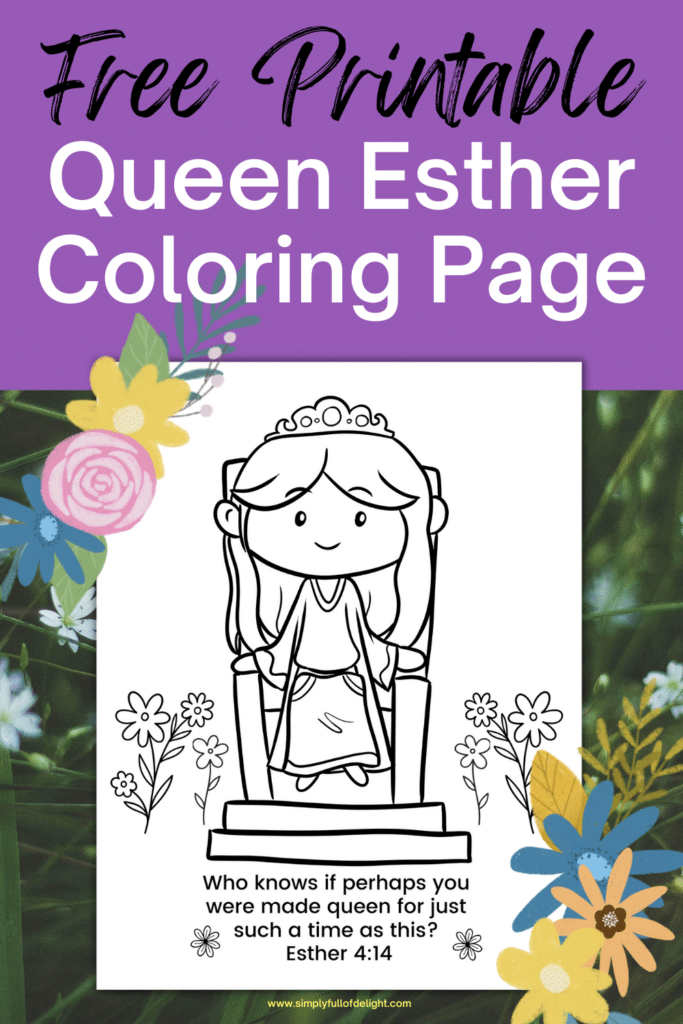 Mordecai told Esther about the plan to kill the Jews and told her that she needed to talk to the King. He told her that perhaps she became queen for such a time as this.
Queen Esther asked Mordecai and the Jewish people to fast for 3 days along with herself and her attendants. Then she would approach the King, even though she might be killed for doing so.
Esther Story Part 3
On the third day, Esther put on her royal robes and stood in front of the King's hall. When the King saw Esther he was happy and held out his scepter so that she could approach him.
Esther asked the King and Haman to come to a banquet. At the banquet, she asks the King and Haman to come to a second banquet.
That night, the King couldn't sleep so he asked for the record of his reign to be read. He heard about how Mordecai had saved his life. He asked what had been done to reward Mordecai and found that nothing was done.
Haman was in the inner court and the King called out to him and asked him how he should reward someone he wanted to honor. Haman assumed that the King wanted to honor him. So he told the King that he should place a royal robe on the person and let the person ride the King's horse and be led by a noble prince through the city proclaiming "This is what is done for the man the king delights to honor!"
The King responded "Go do this for Mordecai!" Haman did and was deeply grieved.
At Esther's 2nd banquet, she told the King she said, "If I have found favor with you, Your Majesty, and if it pleases you, grant me my life – this is my petition. And spare my people – this is my request." She told King Xerxes all about Haman's plot to kill the Jews.
The King sentences Haman to death. The Jews victoriously defend themselves from attackers and Mordecai becomes 2nd in rank to the King.
I hope this synopsis was helpful. This is a kid-friendly version – no impaling mentioned. For the full graphic story, you can check out the book of Esther.
Free Queen Esther Coloring Page
Ready to grab this free Queen Esther Coloring Page to use with your classroom or at home?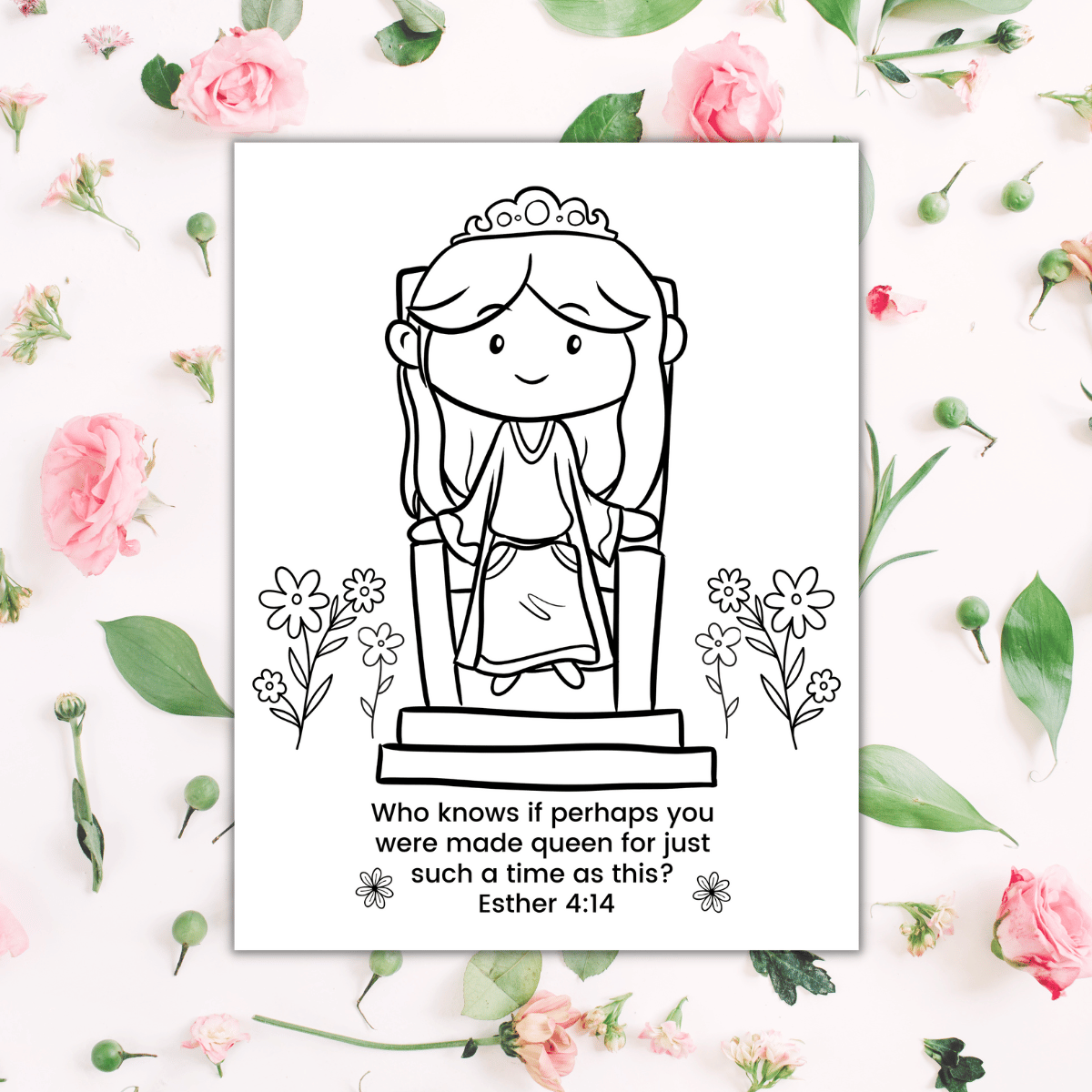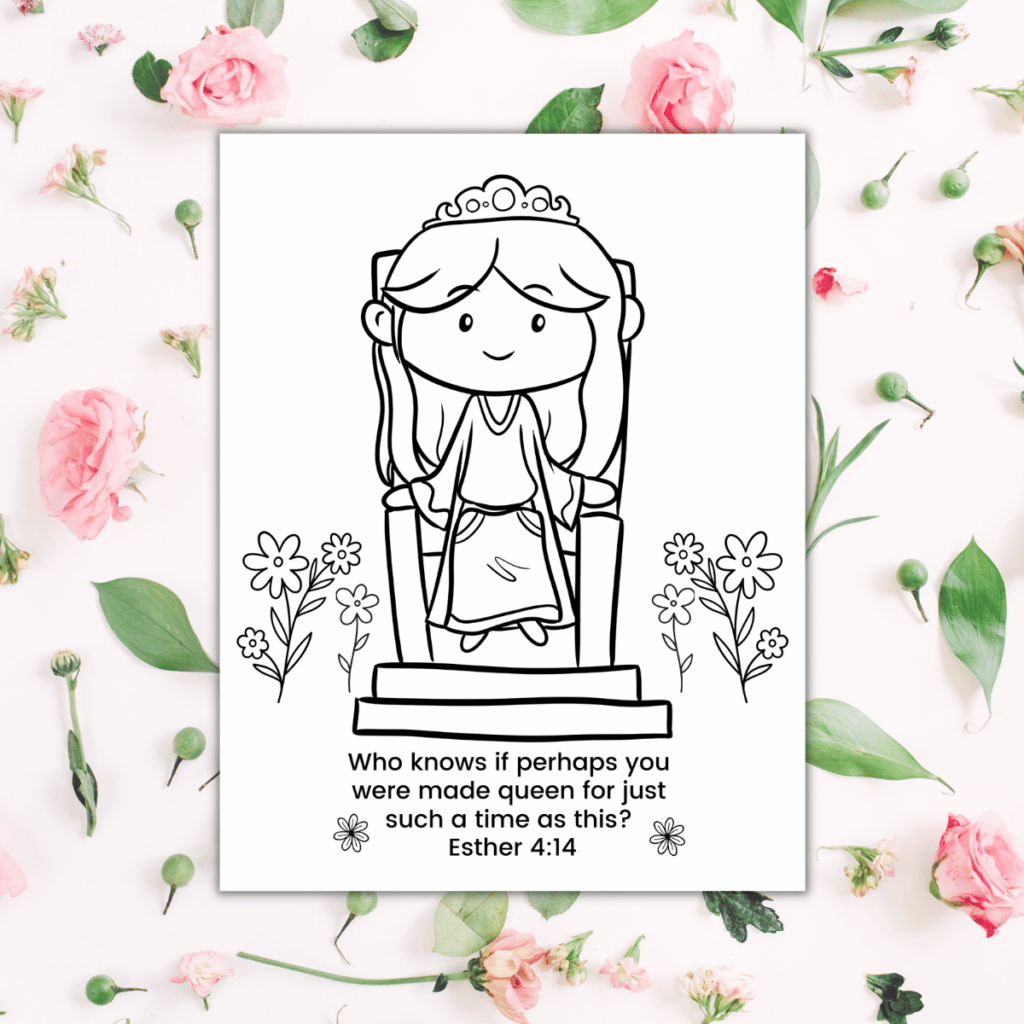 This free printable Queen Esther coloring sheet features Esther with a crown on her head, sitting on a throne. There's flowers surrounding her and a relevant bible verse. It says "Who knows if perhaps you were made queen for just such a time as this?"
Download the Free printable Esther Coloring page here:
More Queen Esther Activities and Games for Kids
***As an Etsy affiliate, I may earn a commission from readers clicking my links at no additional cost to you.
Looking for more fun ideas for the Story of Esther? Here's few fun ideas!
You can Make a Crown. Simply using construction paper, cut it is a zigzag pattern to create a fun crown headband to wear. Kids can decorate it with crayons and stickers! What fun!
And if you'd like a few more ideas, I have a fun printable Queen Esther Activity Pack in my Etsy shop! It's full of fun activities like: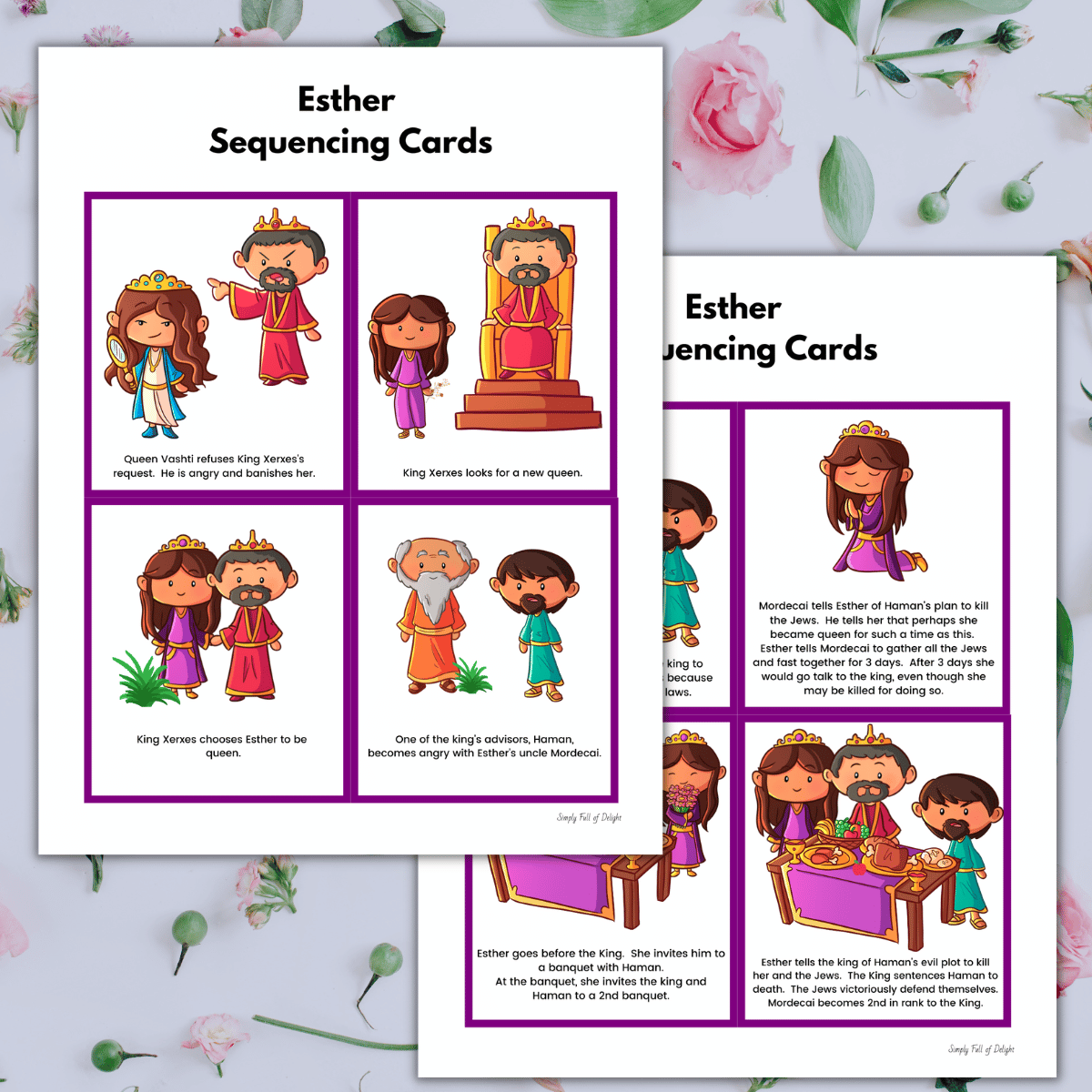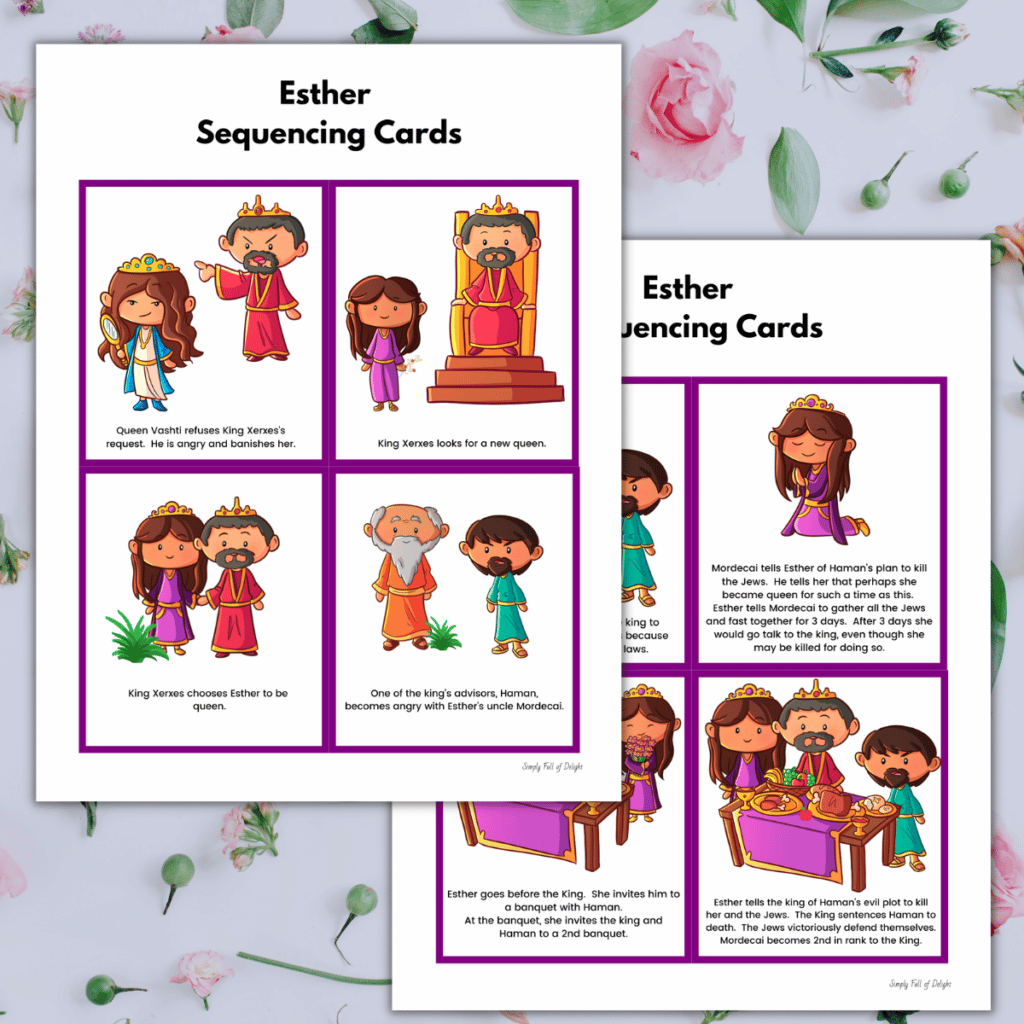 Queen Esther Sequencing Cards – Kids can use these picture cards to retell the story of Esther. They can work together as a team to put them in order. If you want, you can take it up a notch and make a game of it. Hide the cards around the room and then have the kids find them and put them in order. If you like, add a timer to make them beat the clock!
Queen Esther Paper Craft – Color the picture of Esther, cut her out and use a brad to attach her legs so she can move.
Esther Mazes – Kids will enjoy finding their way through the mazes. There's 2 different ones – one easy and one more difficult.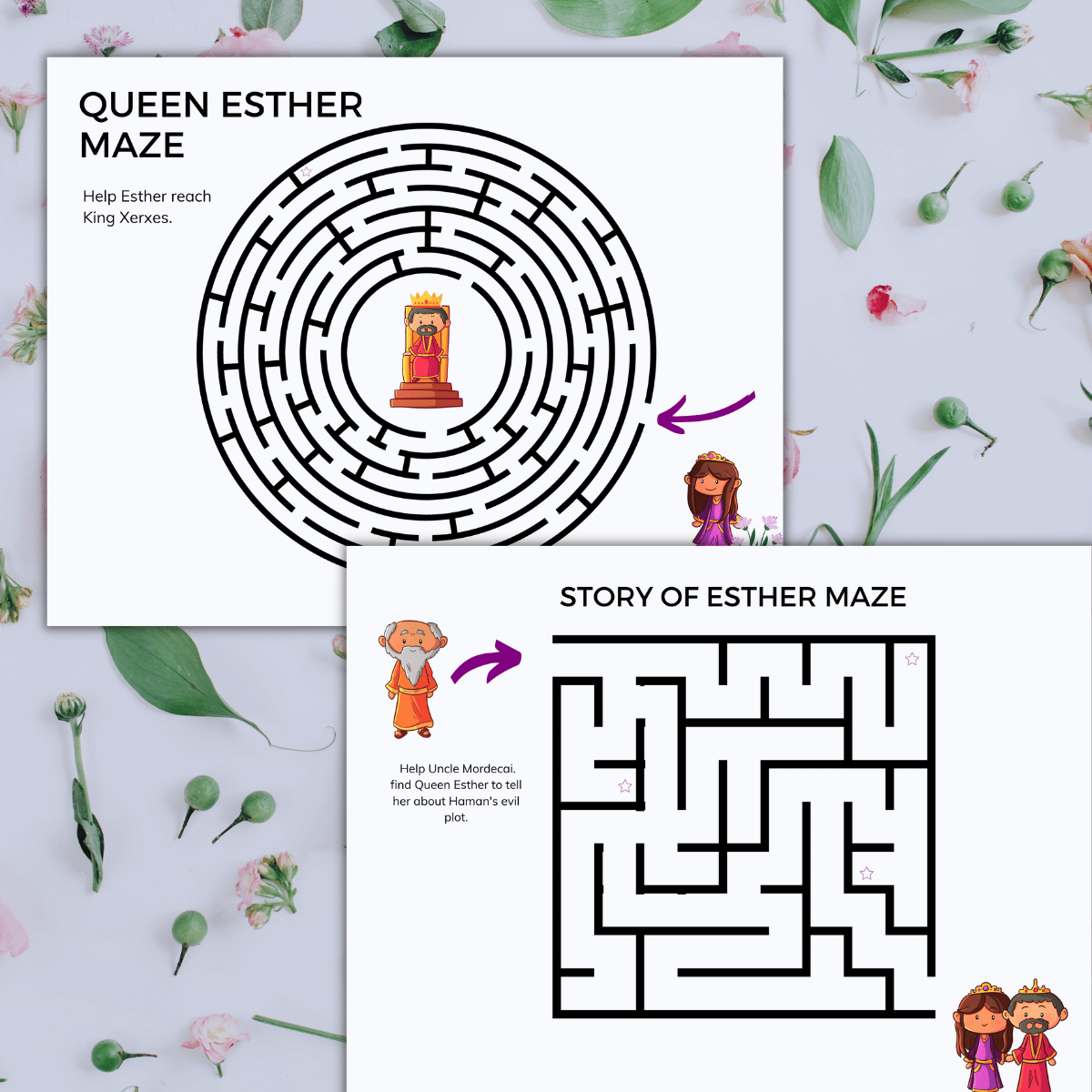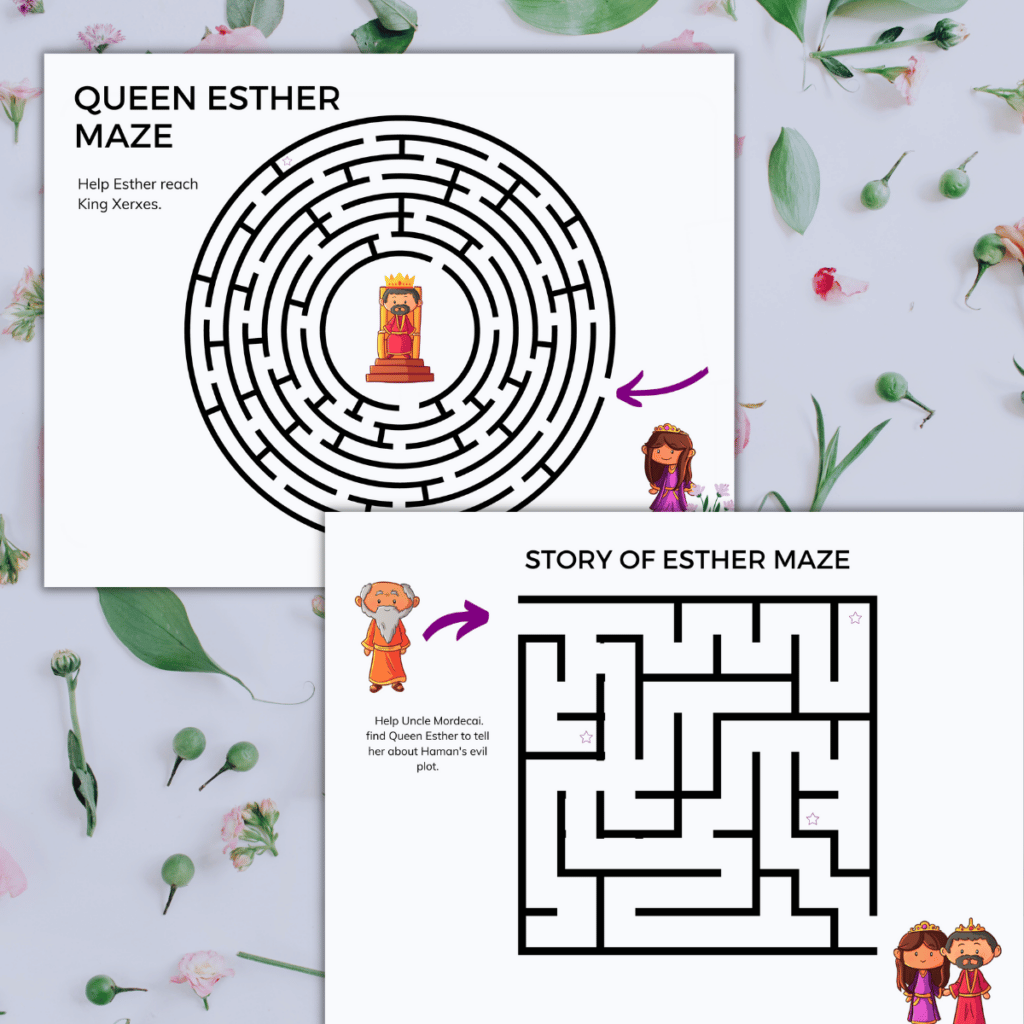 More Esther Coloring Pages – There's a coloring page with a bible verse Esther 4:14 to trace and another page featuring Haman, King Xerxes, and Esther at the banquet with a bible verse that says "If I have found favor with you, Your Majesty, and if it pleases you, grant me my life – this is my petition. And spare my people – this is my request."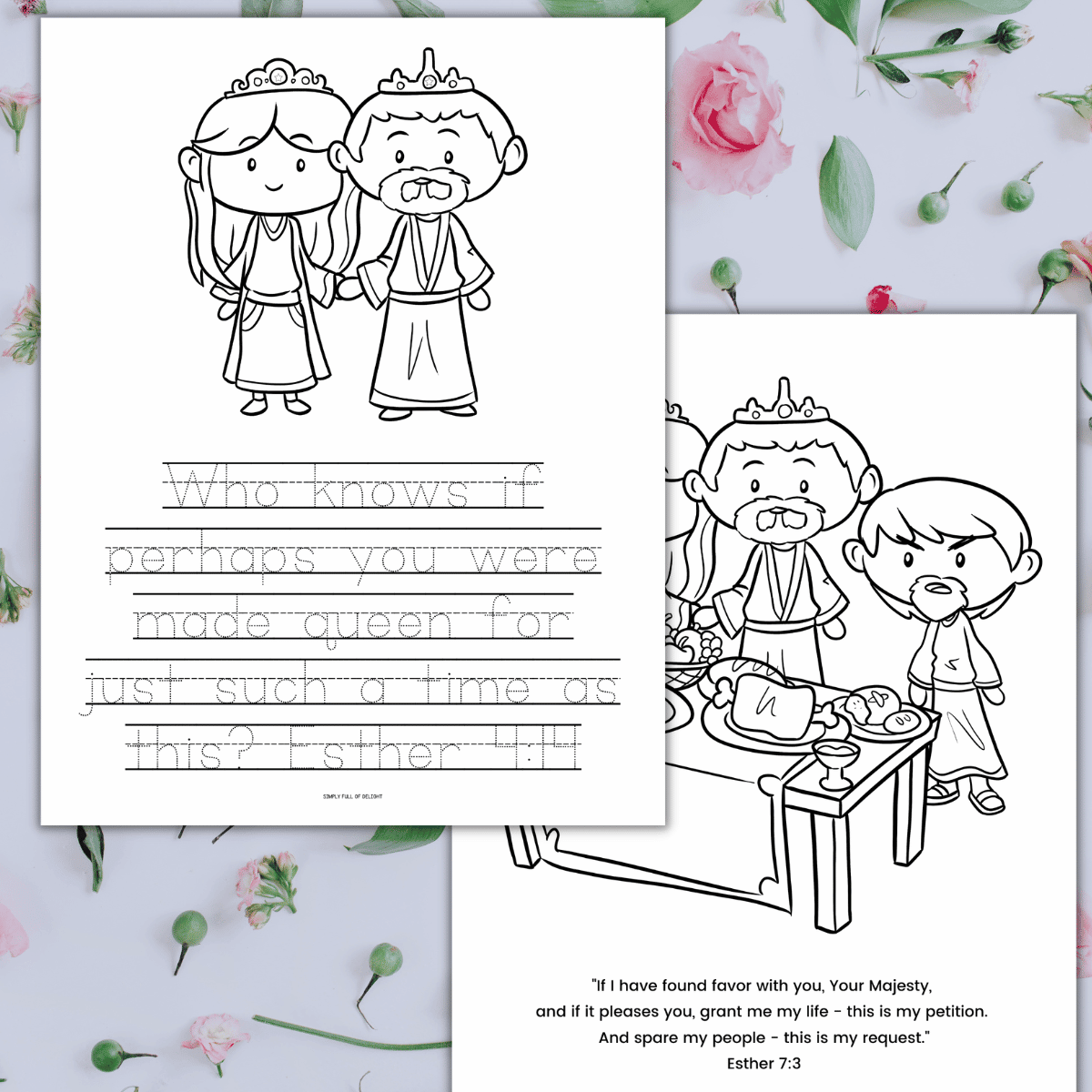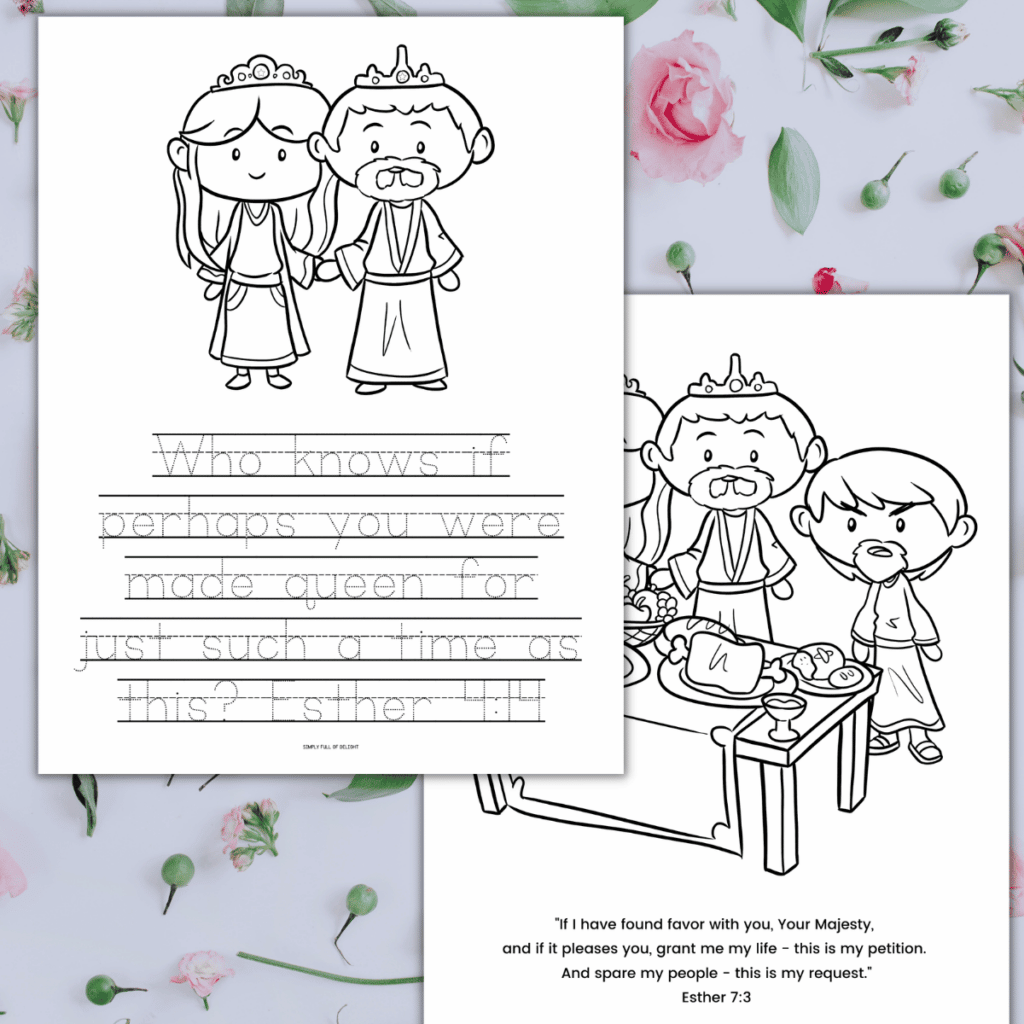 Plus, you also get a printable version of the story synopsis above, an Esther Word Scramble and some "color your own" printable crown headbands!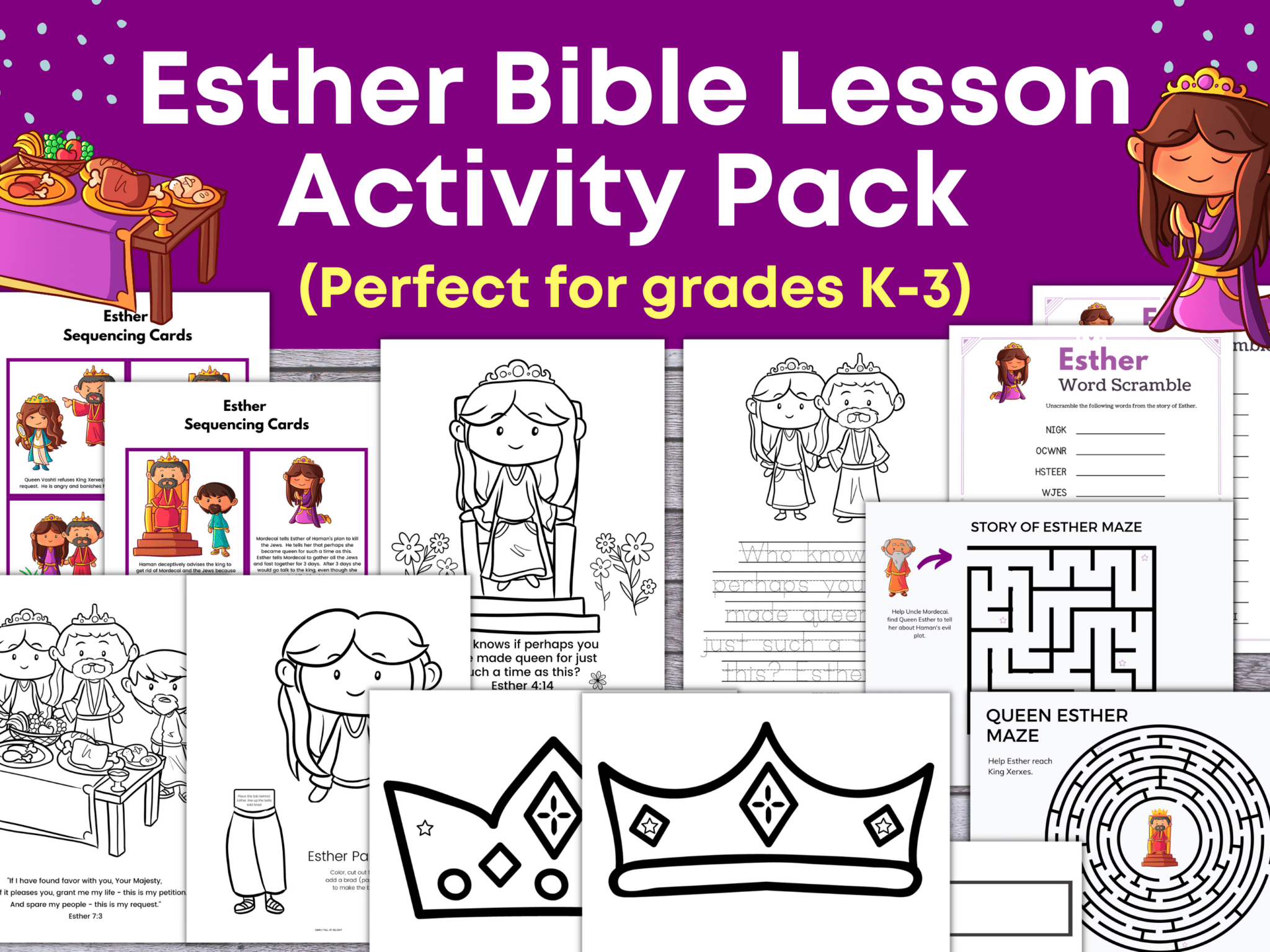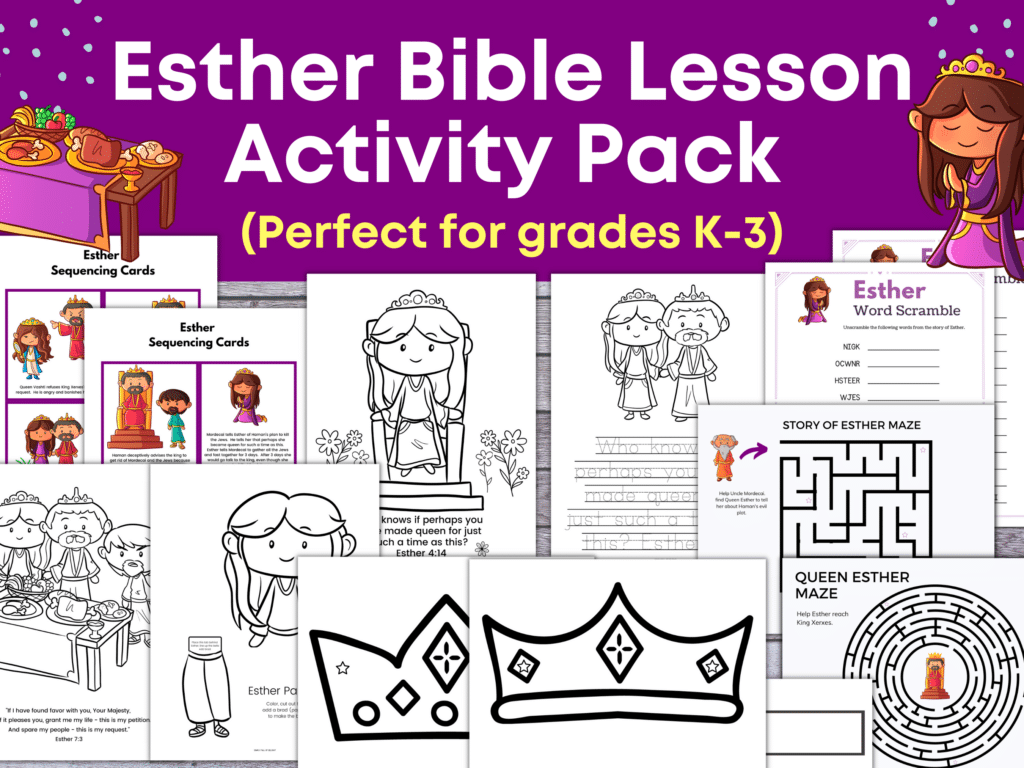 Get your Esther Bible Activities Pack here. It's made for kids preschool to 3rd grade! (Aside from the Word Scramble, which is for your kids who read, most activities in this pack are for children of all ages!)
More Bible Activities for Kids
Looking for more fun Bible Activities? You can find a fun Marble Paint Apple Craft here. It's perfect for talking about Adam and Eve or what God made.
There's also a free David and Goliath Coloring Page here. You'll also find fun activity ideas for this story as well.
You can also find some amazing ideas for Books of the Bible activities for kids here.
Also, if you'd like to see other lessons like this, drop me a note in the comments section!
Want to save this article for later? Pin the image below to your Bible Lessons for Kids Pinterest board.