Looking for easy an polar bear craft? Here's a Free Polar Bear Printable along with a super easy craft idea!
We're in the midst of winter here in the Midwest, so naturally, we've been talking about snow, cold environments and the winter season.
We enjoyed making these adorable Paper Penguin Crafts as well as doing a fun Arctic Ice Sensory Bin.
We did our penguins to go with talking about Antarctica, but I knew I wanted to do a craft with polar bears for our Arctic animals unit. So, I decided to create a free printable polar bear template to share with you.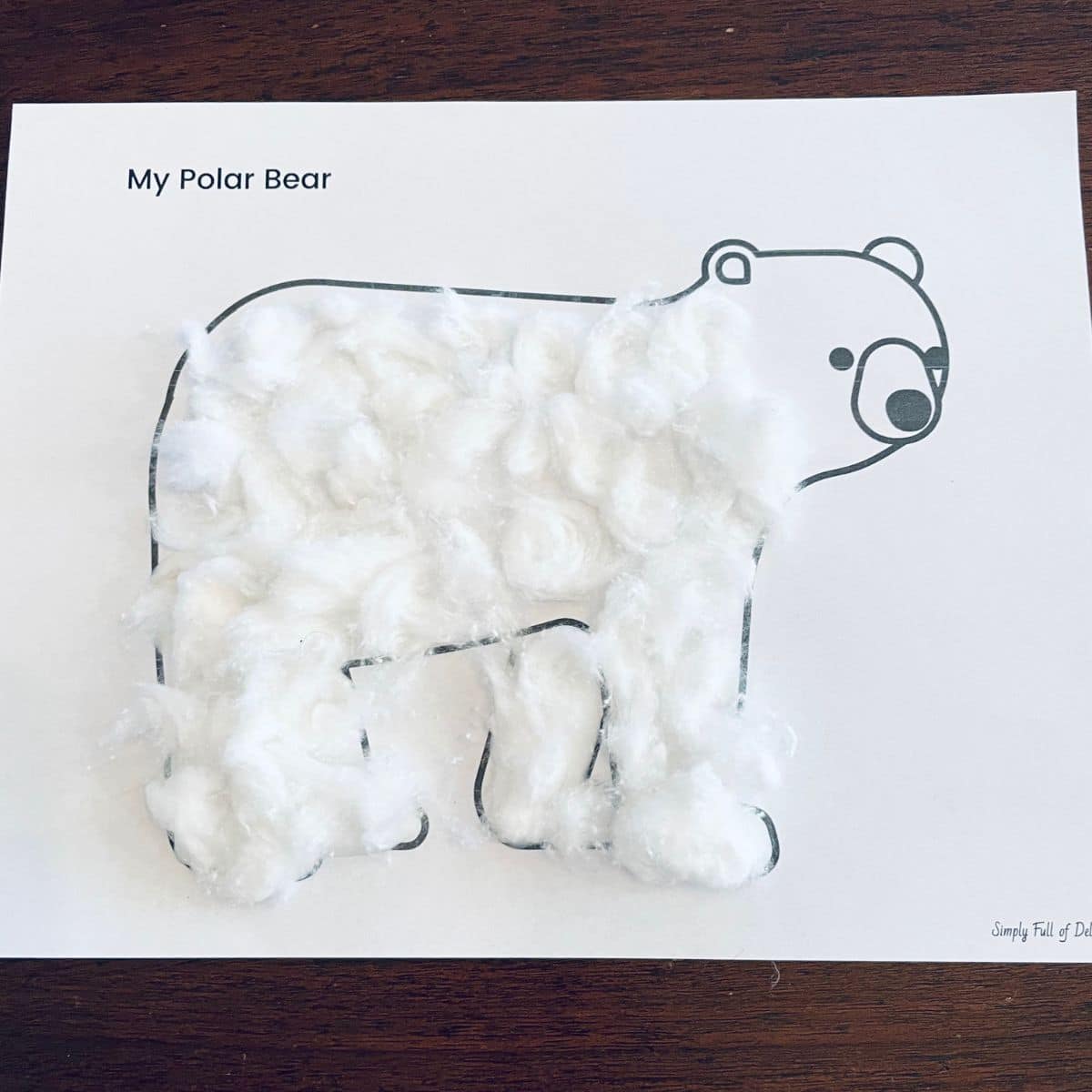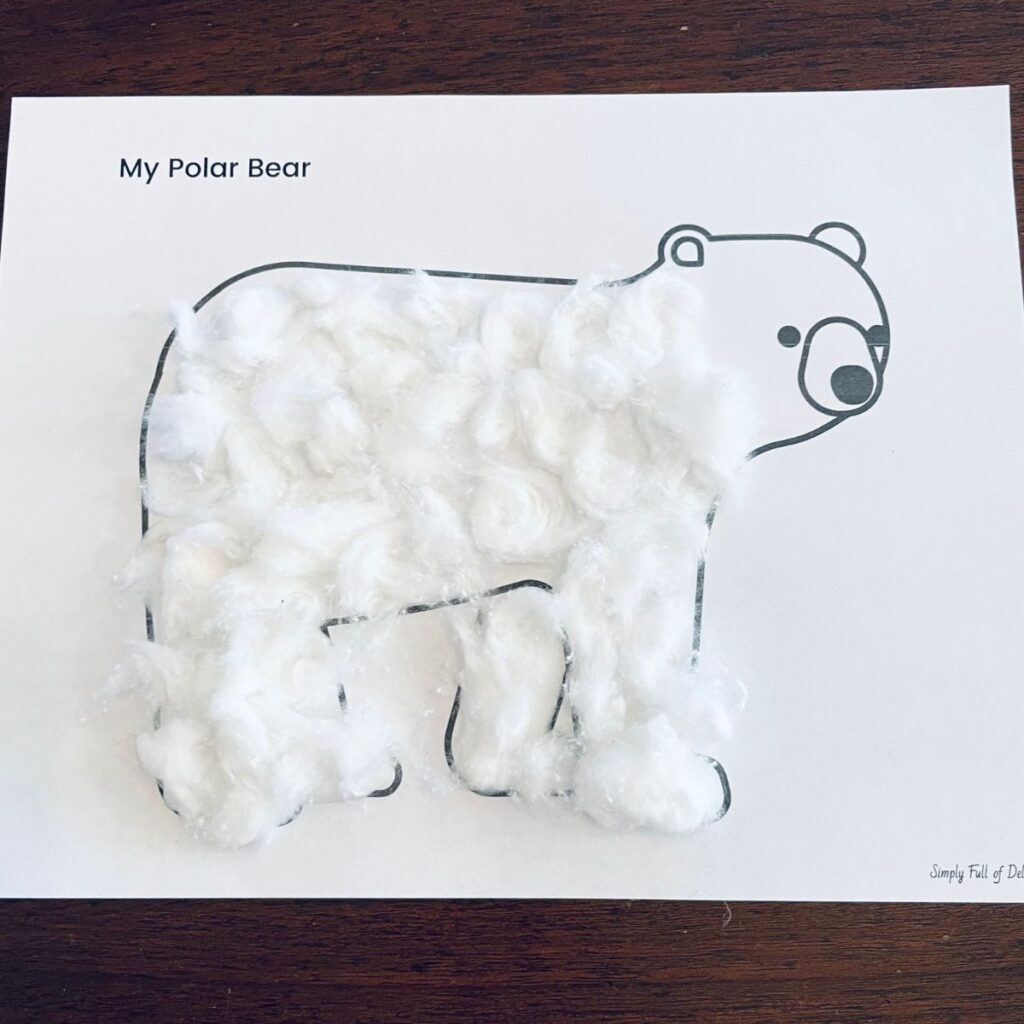 It's just a simple polar bear outline. It's perfect for all your great ideas for polar bear activities. Today I'm going to show you the cute polar bear craft we made using cotton balls and the polar bear printable. It's a great addition to your Arctic unit or preschool winter theme.
Let's get started!
Supplies Needed for Easy Polar Bear Craft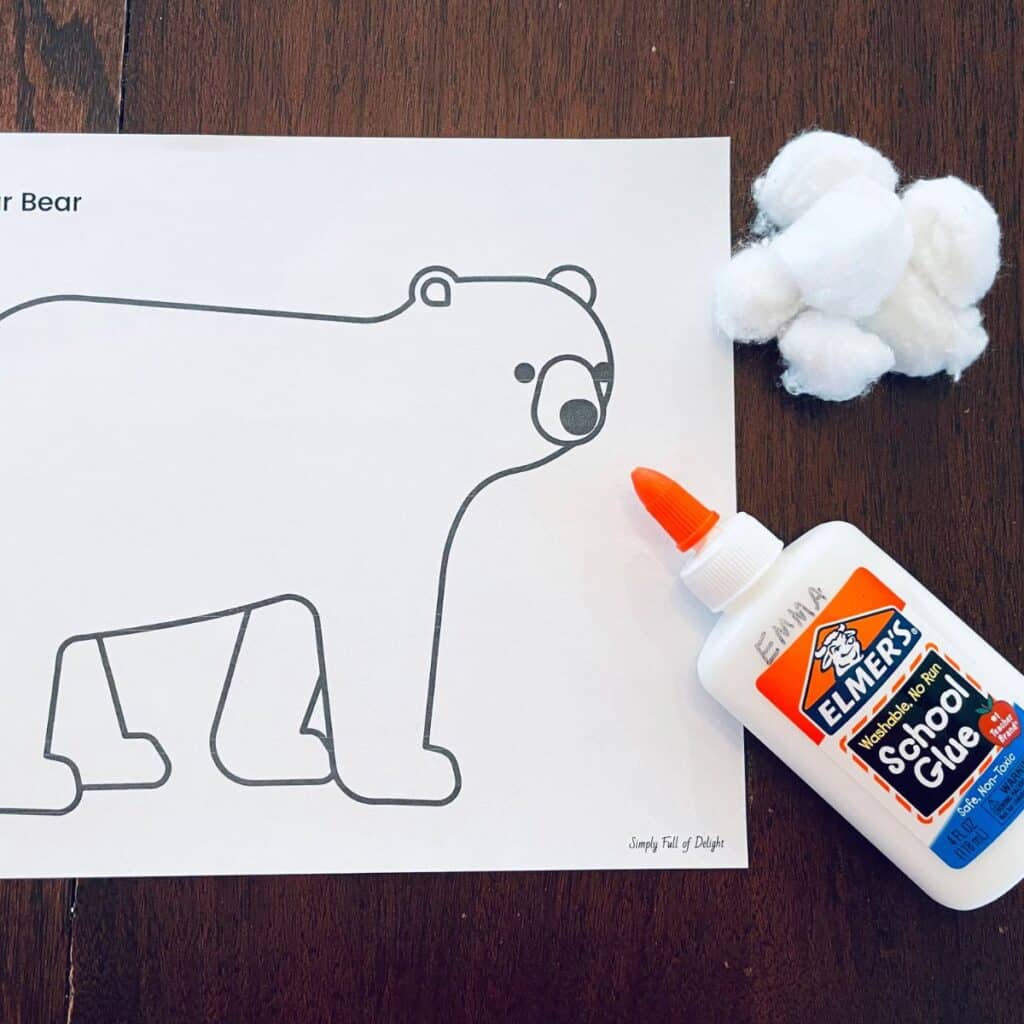 For this cute polar bear craft you will need the following items:
Free polar bear template
liquid school glue
cotton balls
Yes, just 3 items! How simple is that!
How to make Preschool Polar Bear Craft
First print out the free printable template. We printed it on plain white paper, but you might enjoy using blue construction paper or cardstock instead for a fun wintery background.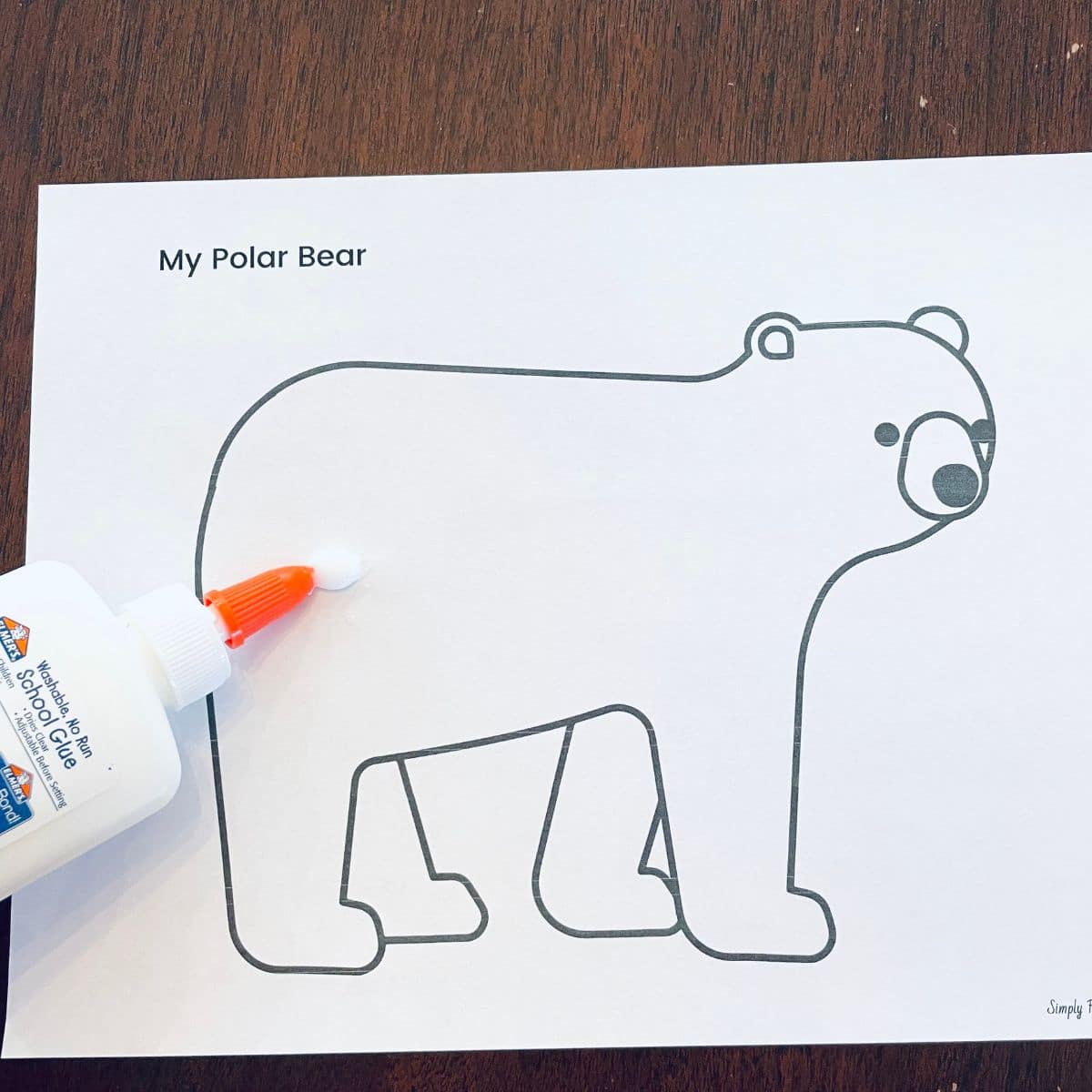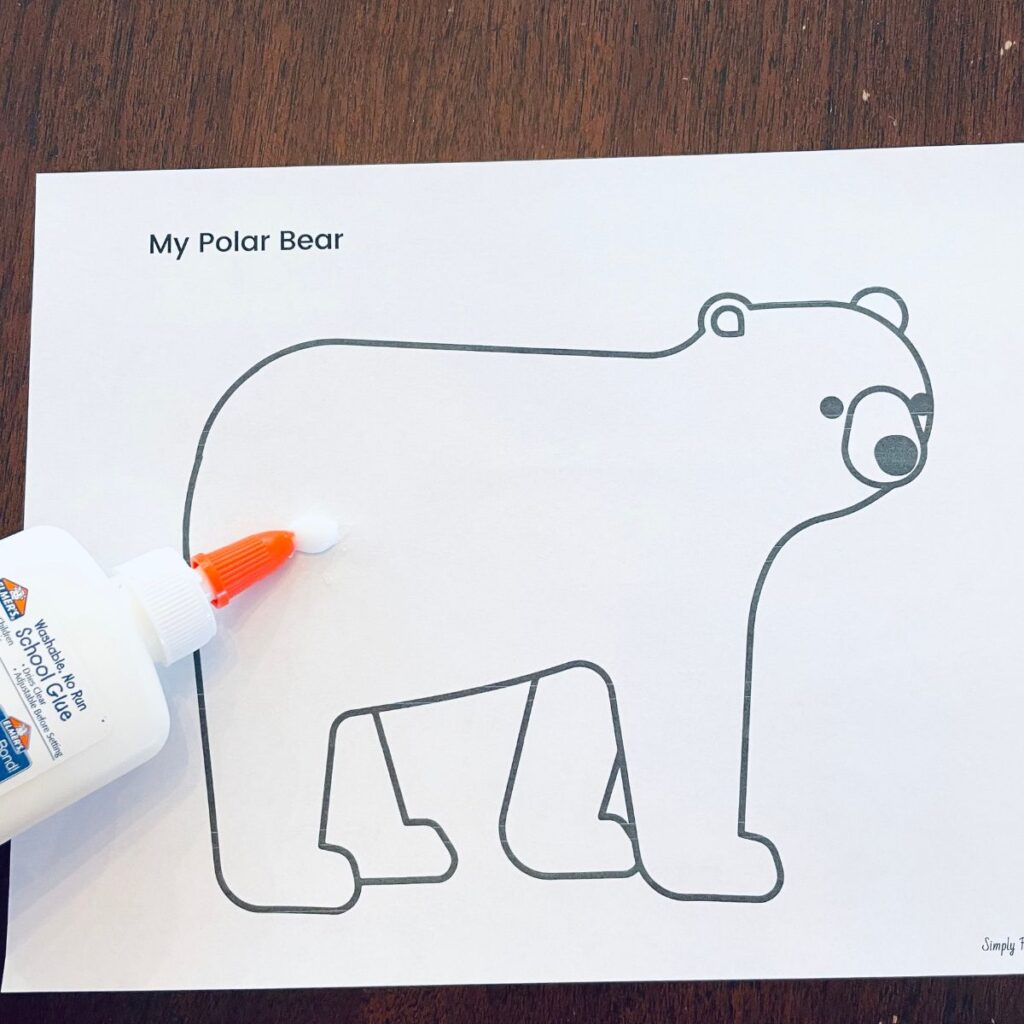 Show your child how to add a bit of glue to the polar bear shape.
Young children might need a bit of help adding glue and being reminded that "Just a dab will do it!" (Or is it just my kids that always seem to make a puddle of glue?!)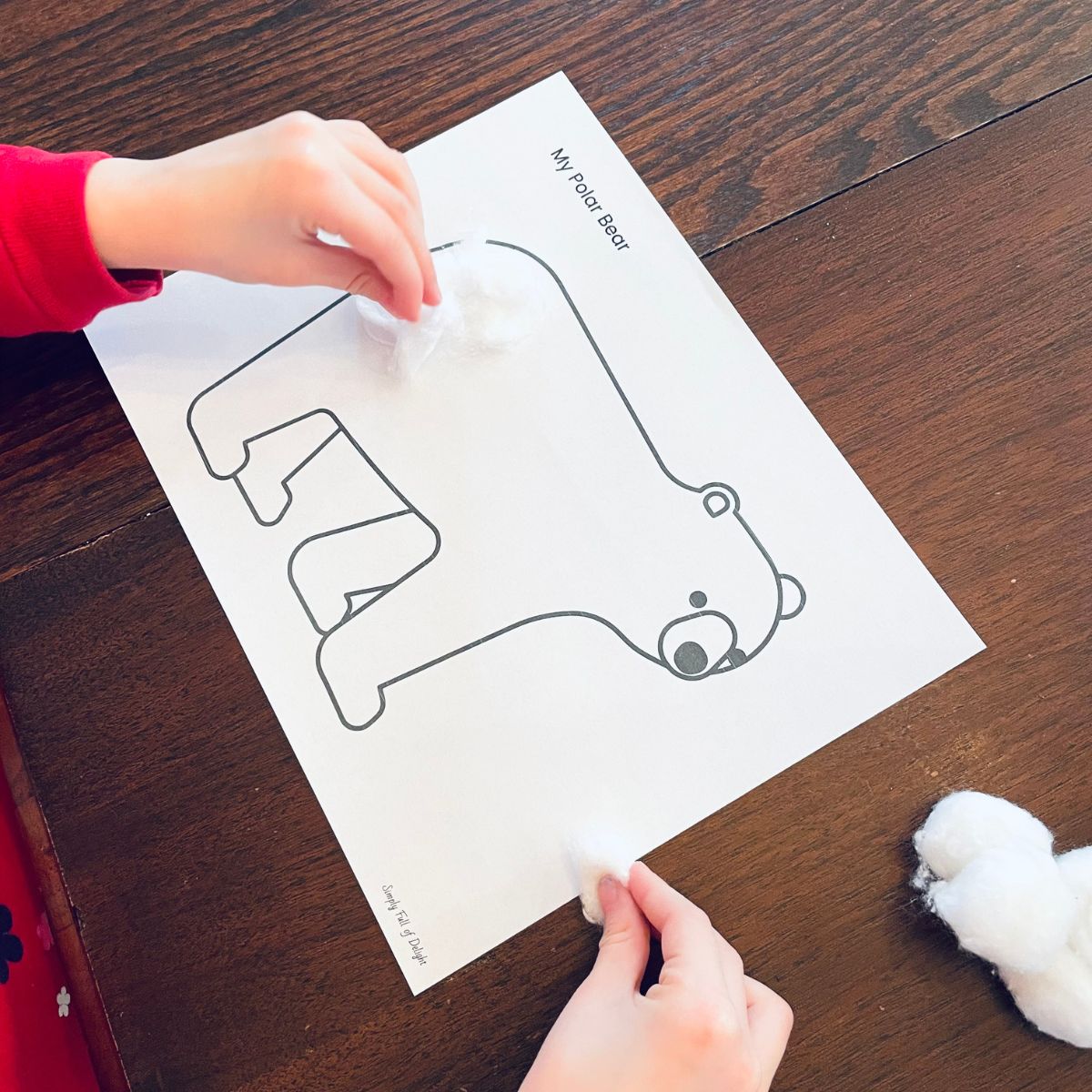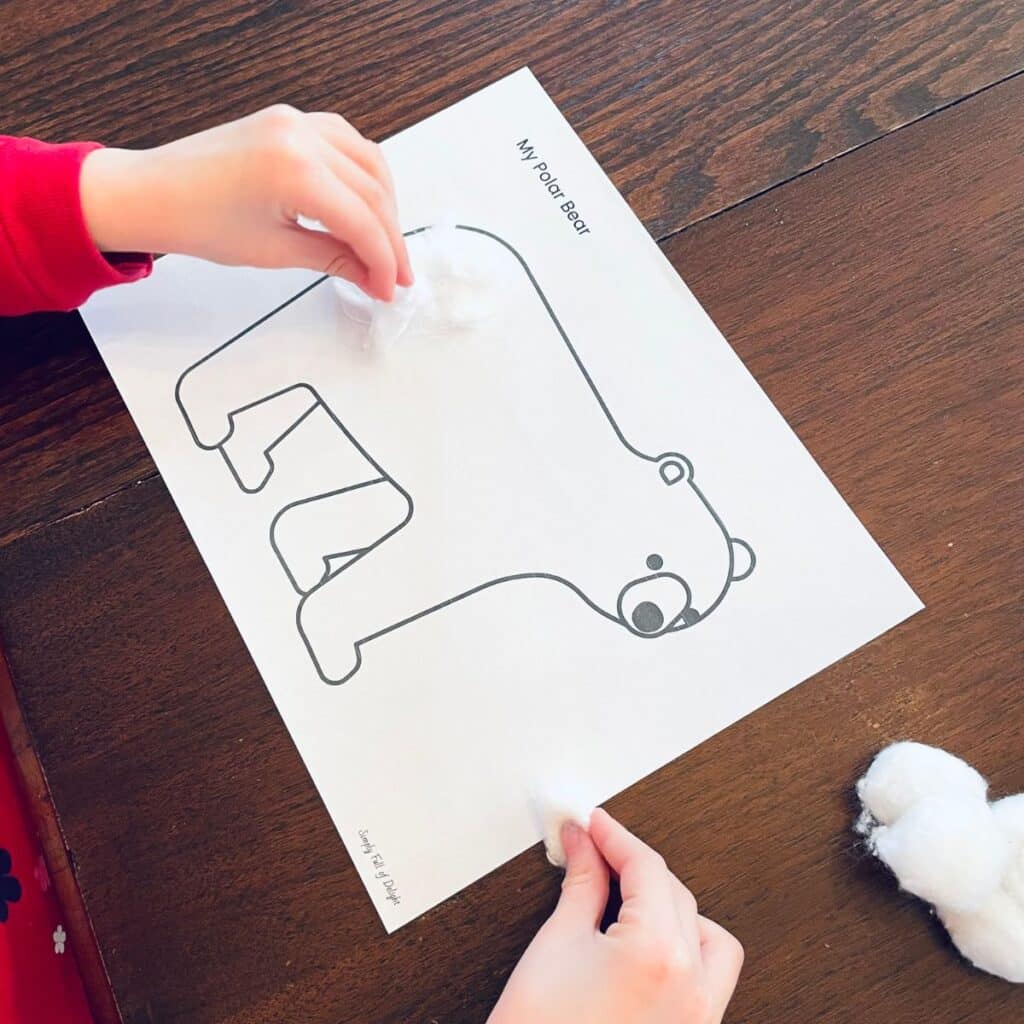 Next, pull some cotton from a cotton ball. Place the cotton on top of the glue.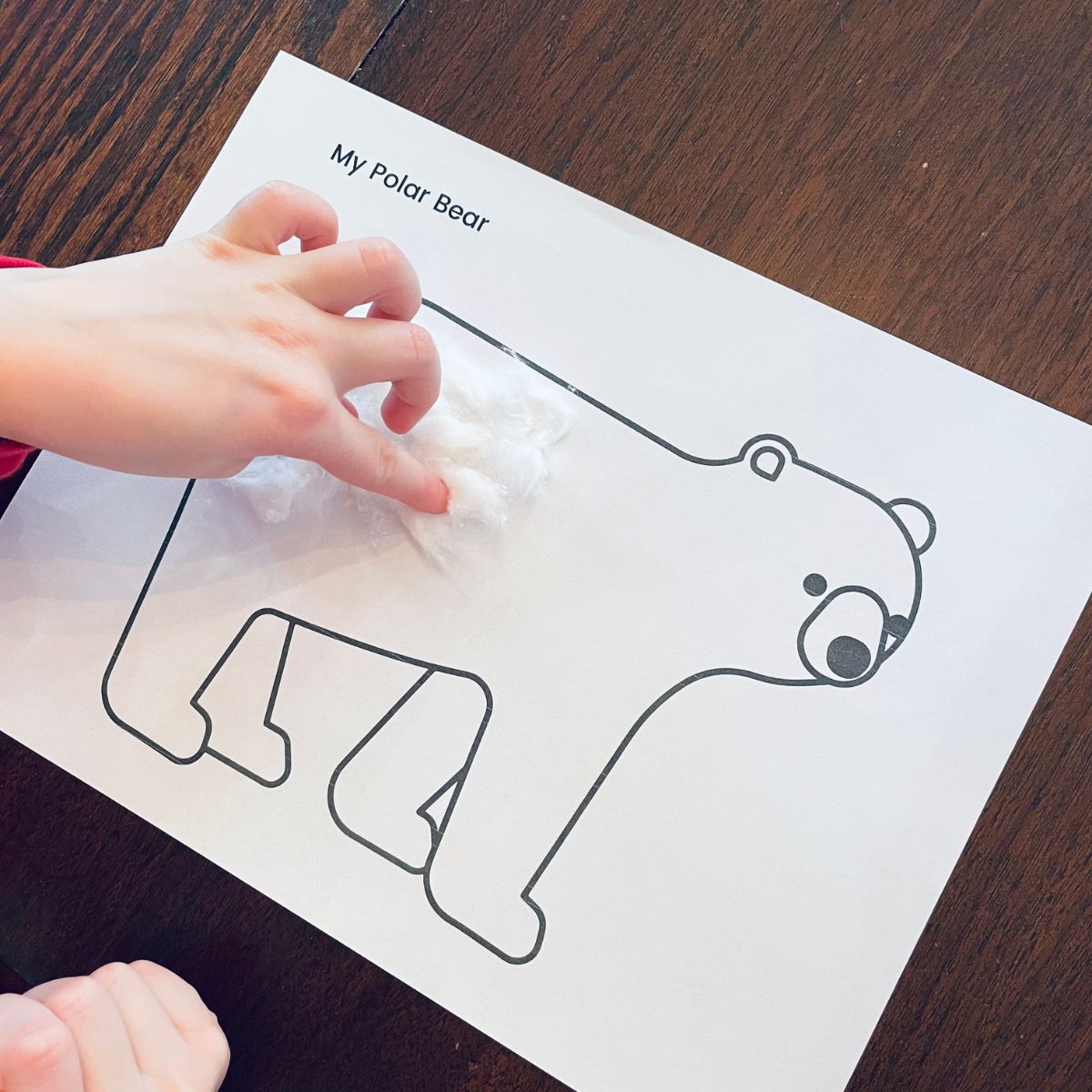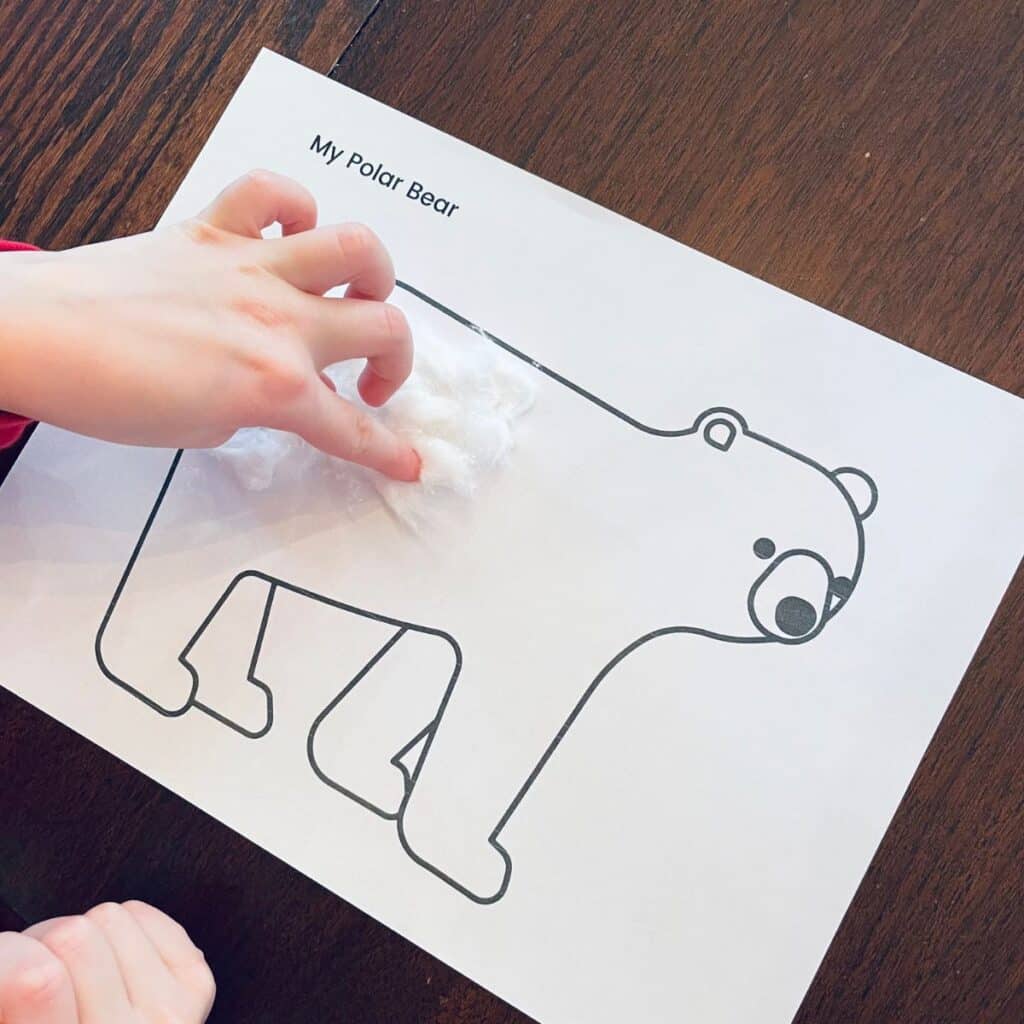 Keep adding more glue and more cotton until the polar bear is fully covered in his white fur.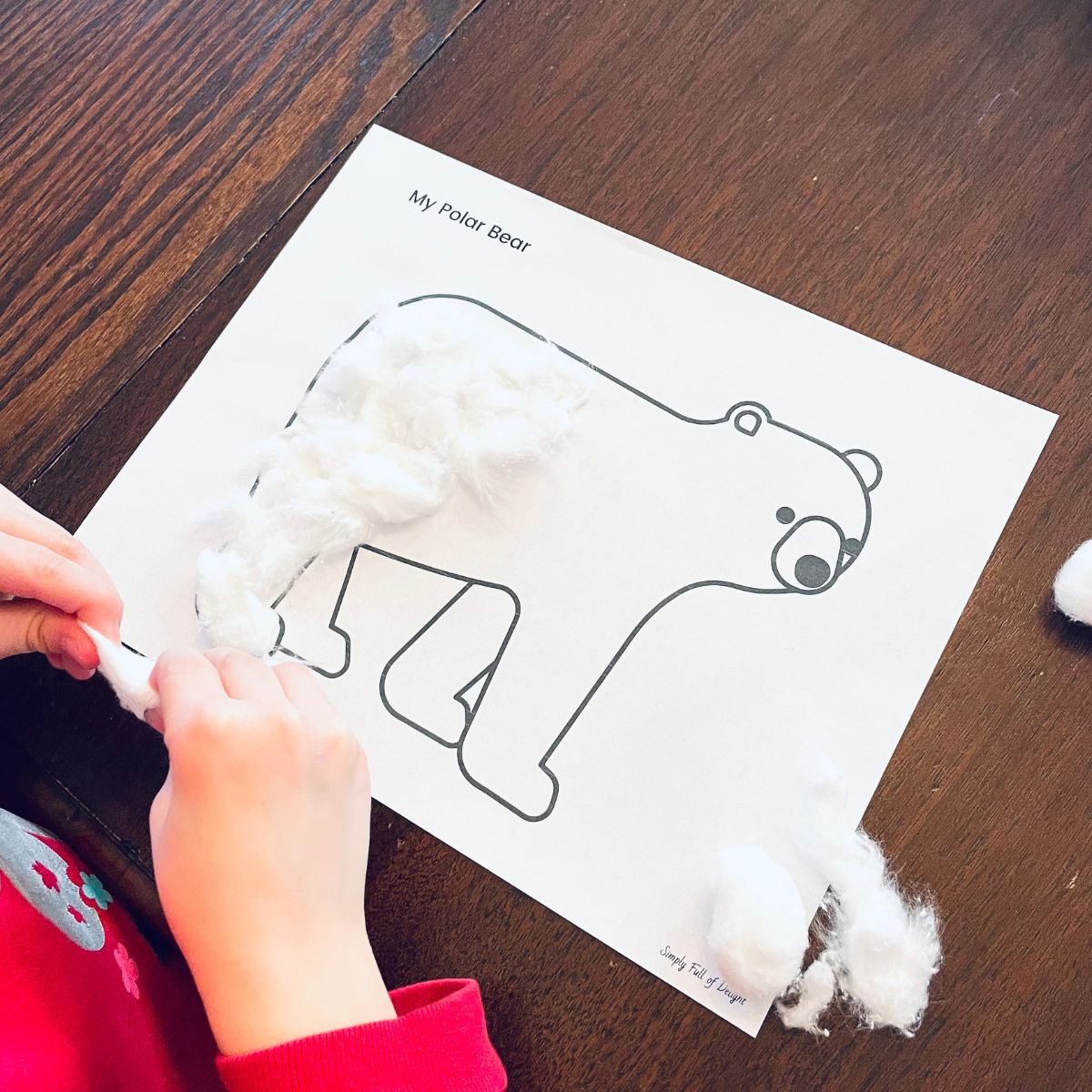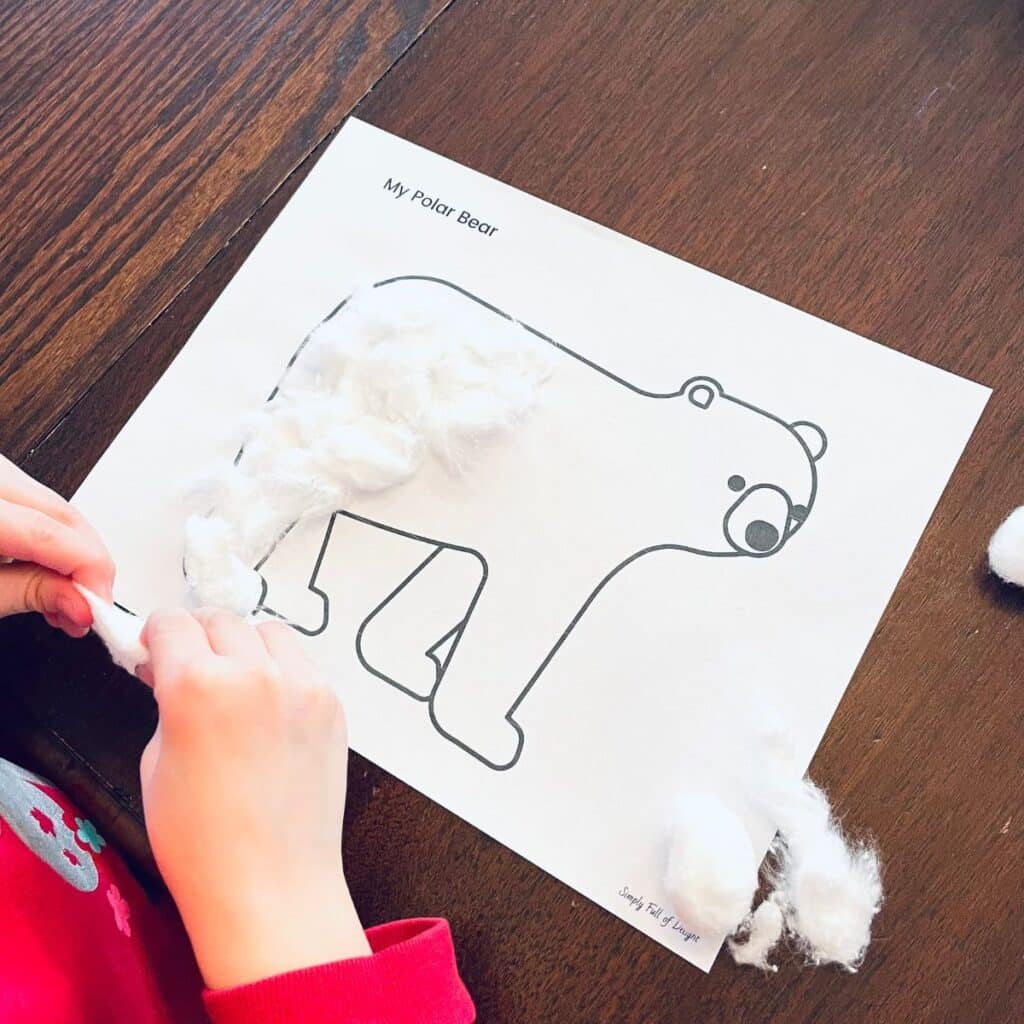 We left the face mostly uncovered so that you could still see the eyes and shape of the polar bear's face.
To make things even easier you could definitely glue cotton balls whole. However, we preferred to pull a bit from the cotton ball, giving the bear a cute furry coat! (Plus you don't need to use as many cotton balls either if you do it this way!)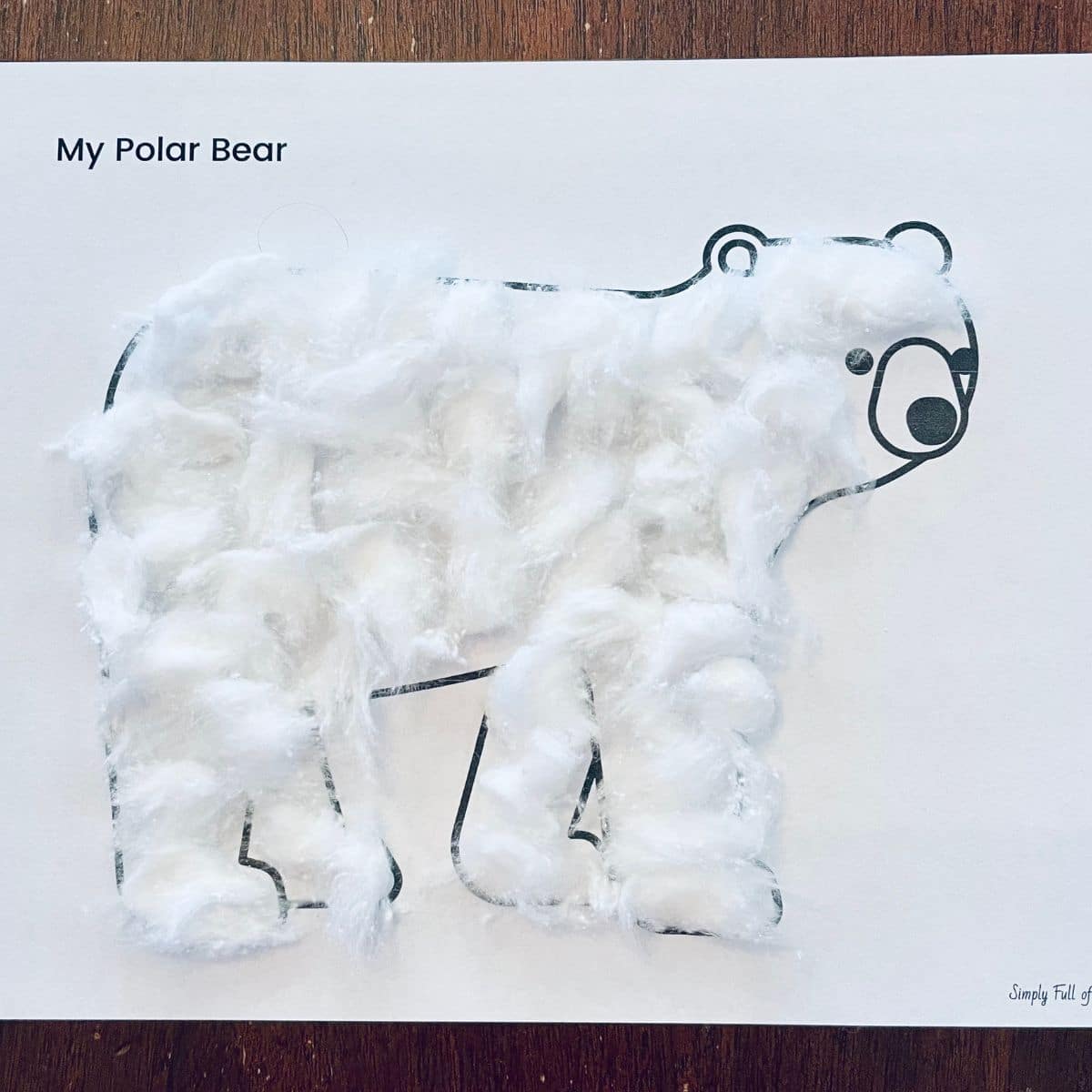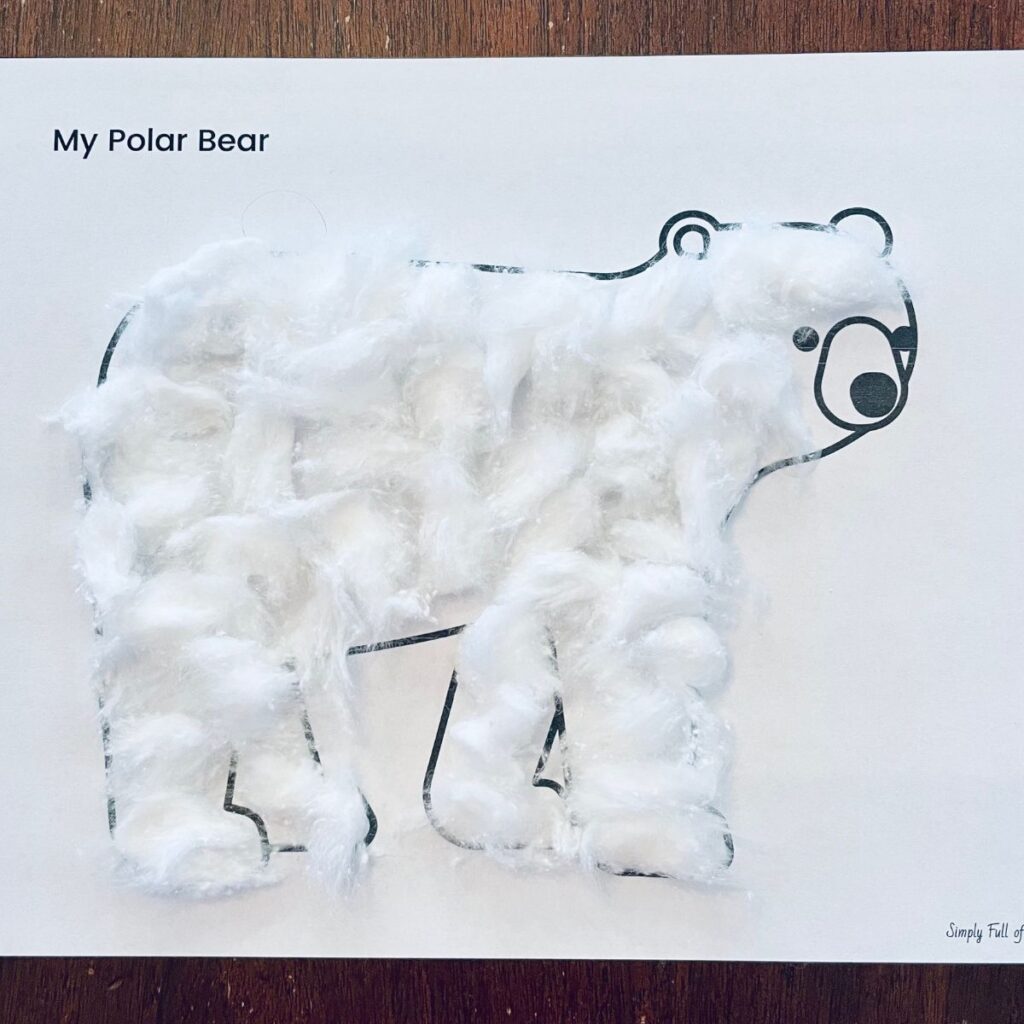 Kids of all ages will enjoy making this fun polar bear craft. My kids really loved how soft the bear becomes and couldn't stop petting the polar bear's fur! It's so soft and Too cute!
More Ideas for This Polar Bear Printable:
Looking for more craft ideas for this polar bear craft template? Here's a few more ideas!
You could:
Add torn paper to the polar bear shapes – Print the polar bear printable on blue paper. Then add glue to the outline and torn white paper to create a one of a kind polar bear.
Use puffy paint to make your own polar bear soft. This is one of my favorite ideas! Puffy paint is soft to the touch when it is dry. Plus gives the project a cool 3-D look. (Puffy paint is just 1 part glue and 1 part shaving cream). Kids will love adding this puffy paint to their polar bear and then of course, petting the soft polar bear after it dries! What fun!
Use cotton swabs to paint the polar bear – print the template on blue paper to make the white paint stand out. The background needs to be colored so that the white paint can be seen. Using cotton swabs, paint the polar bear as well as some fun snow around him! To make the snow, we dotted our page with white dots of paint.
Make a paper shred polar bear. Use decorative white paper shred or reuse shredded paper for this fun craft!
Use it for polar bear coloring pages – these printable pages make great coloring sheets – because sometimes kids want to make fun polar bear characters that are rainbow colored!
Alternately, you can use pom poms, paint brushes, cotton balls, or finger paint to paint this cute polar bear!
I hope you have lots of fun with these ideas!
Looking for fun polar bear facts? Be sure to check out all the interesting facts about polar bears over at National Geographic Kids.
Get the Polar Bear Template
Ready to grab the free pdf files? To grab the free printable polar bear craft you can simply click the download button found directly below.
Want to save this polar bear template for later? If you aren't quite ready to print right now, just pin the image below to your Winter Crafts Pinterest Board.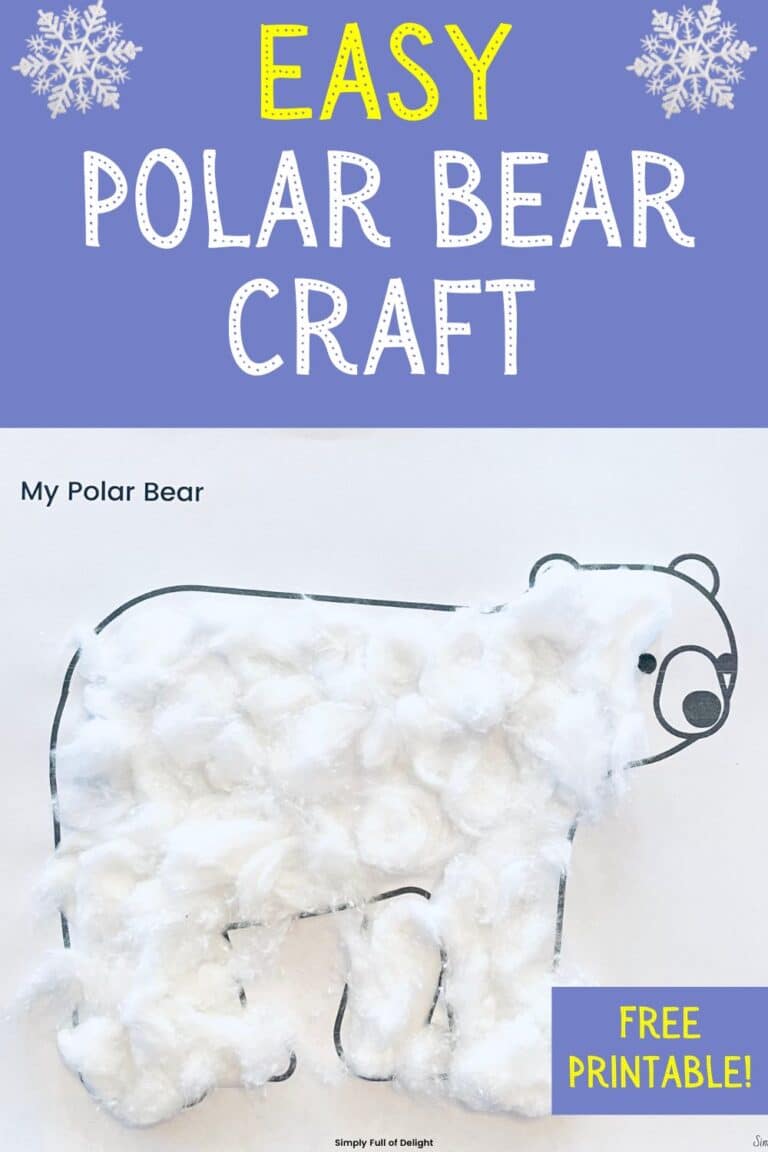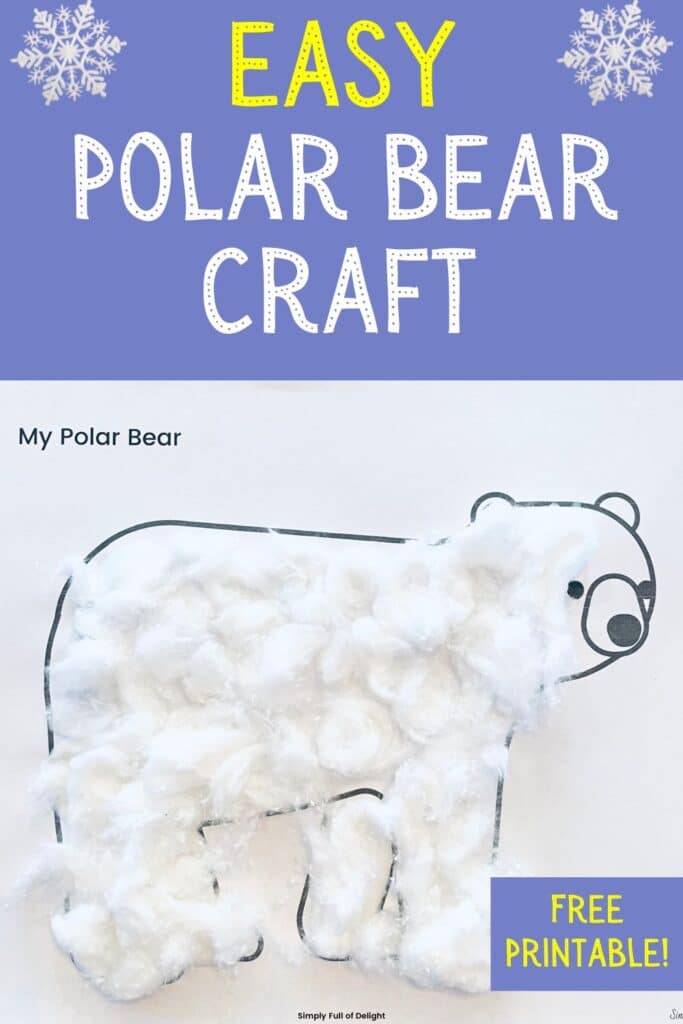 More Winter Crafts and Activities for Kids
Looking for more winter craft ideas for kids?
There's an adorable Paper Penguin Craft here. Kids will love that it's flippers move with the help of a paper fastener. Perfect for talking about Antarctica!
You can find a Simple Snowman Craft here. Print white circles using white paint and cups. Then decorate with various craft supplies. It's a fun way to let kids get creative!
This Build a Snowman Craft is perfect for younger children. It's a simplified cut and paste that's perfect for practicing fine motor skills.
Don't miss this free Winter Tree Printable. There's several craft ideas too, to spark your creativity!
You can find a Fake Snow Recipe here that's perfect for sensory play. Kids will love this easy 2 ingredient recipe.
Don't miss this Arctic Ice Sensory Bin. It's the perfect companion to this polar bear craft! It's an engaging sensory play experience kids of all ages will enjoy.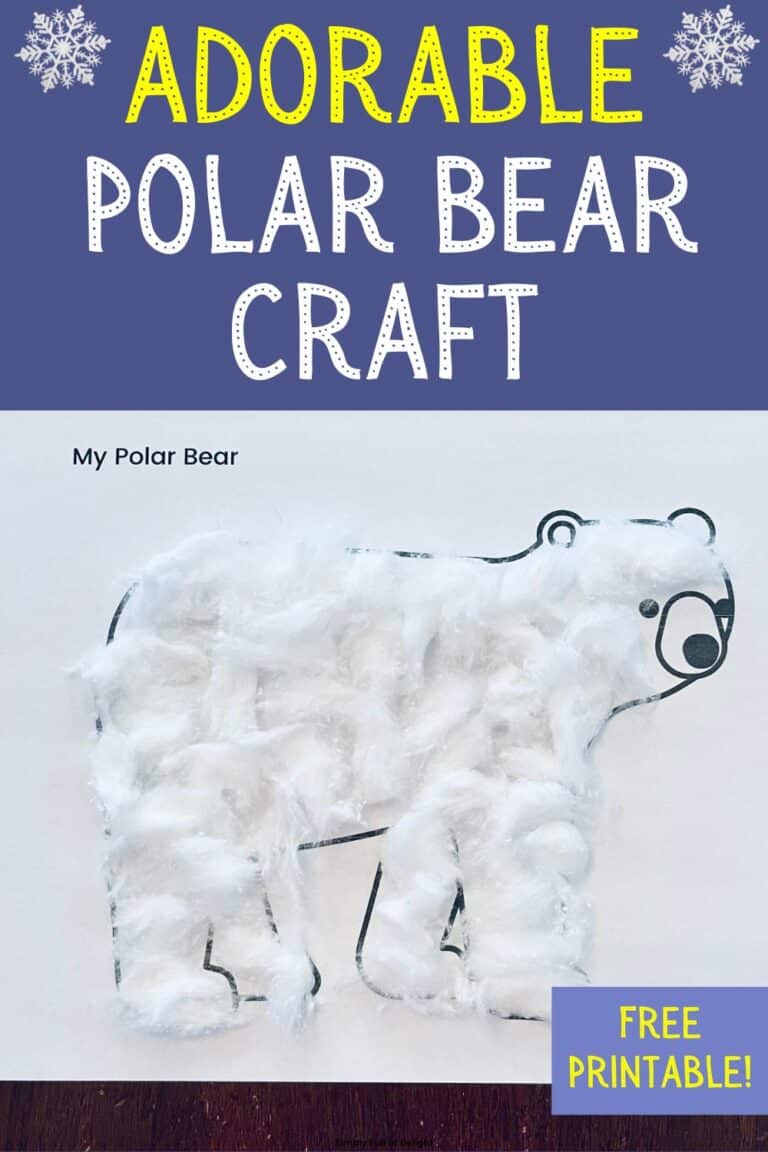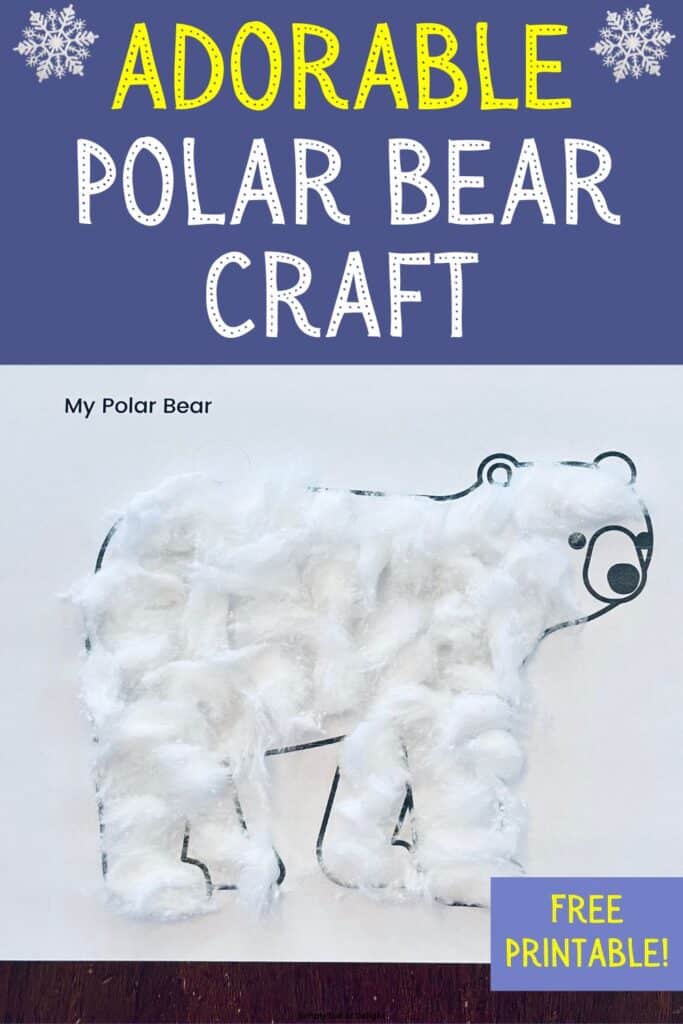 ** Disclaimer: As an Etsy Associate, I may earn from qualifying purchases made by readers clicking my affiliate links at no extra cost to you.
Winter Preschool Learning Pack
Looking for some more winter fun? Check out all the fun winter learning activities in my Etsy shop.
This Winter Preschool Learning Pack is full of fun. There's cut and paste activities, tracing, patterns, color by number and more! Kids will have so much fun, they won't even realize they are learning!
This learning pack makes a great quiet time activity. Get your Winter Preschool Learning Pack here.