Looking for a way to teach little ones about gratitude and thankfulness during the thanksgiving and holiday season? This Gratitude Scavenger Hunt printable will help your children understand gratitude in a fun way!
Why is it important to teach our kids about gratitude?
Expressing thankfulness can truly have an impact on our daily life.
Thinking about the positive things in our life and being grateful for what we have helps us to change our outlook on life and shift toward the positive.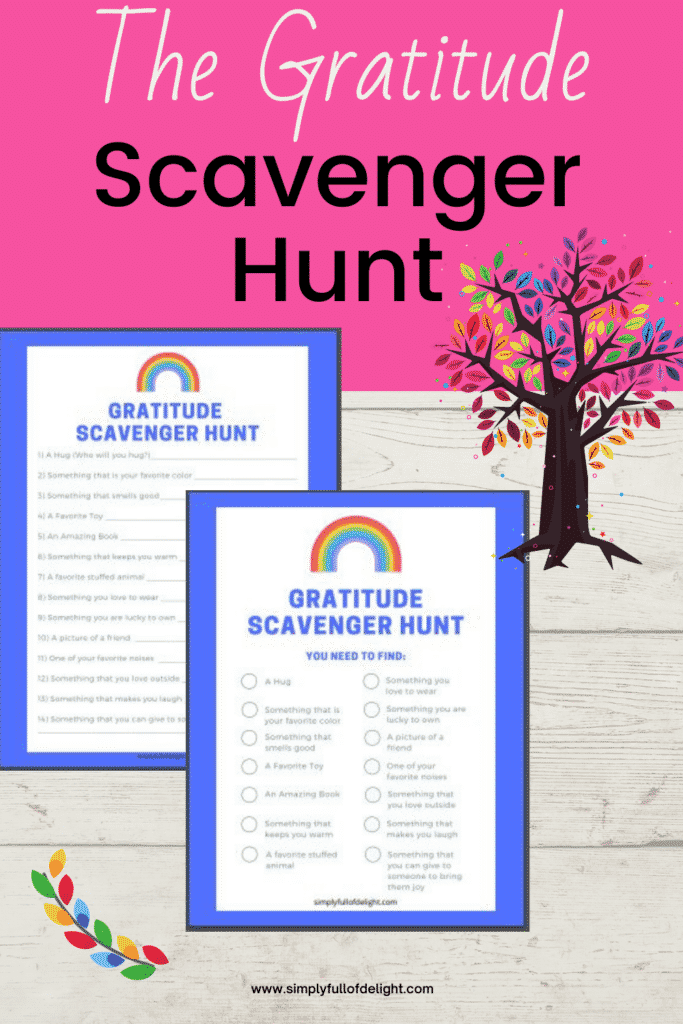 *** Disclaimer: As an Amazon Associate I earn from qualifying purchases by readers clicking my affiliate link at no additional cost to you..***
Harvard Medical School has done research about expressing gratitude and they found that being thankful is very strongly correlated with greater happiness.
Gratitude leads to increased positive emotions, improved health, stronger relationships, and can help us deal with adversity.
How can we teach our children gratitude?
Children learn thankfulness best by adults modeling gratitude.
Talk to your children about what you are thankful for.
Make it a habit.
It doesn't have to be time-consuming.
As a parent, you can talk to your kids as you drive together about being thankful for your car, thankful for the changing of the seasons, the weather, or even fun things.
You can start simple conversations at the dinner table about what each member of your family is grateful for that day.
My kids take turns thanking God in prayer for things we are thankful for before we eat.
Be sure to model thankfulness when people do something nice for you or give you a gift.
Little ones are always watching our actions and imitating us.
Christmas time and birthdays are a great time to practice those gratitude skills.
Be sure to coach your children before they are given gifts about how to say thank you and show gratefulness.
When the moment arrives, be right there to urge them to say thank you to the person who gave them the gift, if they forget.
Learning to say thank you is always a good thing!
Another excellent gratitude activity is to have your child write thank you notes.
If they are too young to write one by themselves, have them stick stickers on a note you have written, write a script for them to copy, or have them draw a picture.
Writing a thank you note is becoming a bit of a "lost art" in our society, but thank you notes are a great way help others feel appreciated and loved while your family reaps the benefit of teaching your children gratitude.
The Gratitude Scavenger Hunt PDF
This printable scavenger hunt will help you teach your little ones gratitude in a fun way.
Much like a scavenger hunt gives clues to find items, this game allows your child to look around the house or yard to find items to match the prompts.
Sometimes it's easy to overlook some of the blessings in our life, and this gratitude scavenger hunt pdf was created to help remind us of finding blessings in our every day situation and in the little things.
This thankful scavenger hunt printable will have your kid look for the following:
1) A Hug
2) Something that is your favorite color
3) Something that smells good
4) A Favorite Toy
5) An Amazing Book
6) Something that keeps you warm
7) A favorite stuffed animal
8) Something you love to wear
9) Something you are lucky to own
10) A picture of a friend
11) One of your favorite noises
12) Something that you love outside
13) Something that makes you laugh
14) Something that you can give to someone to bring them joy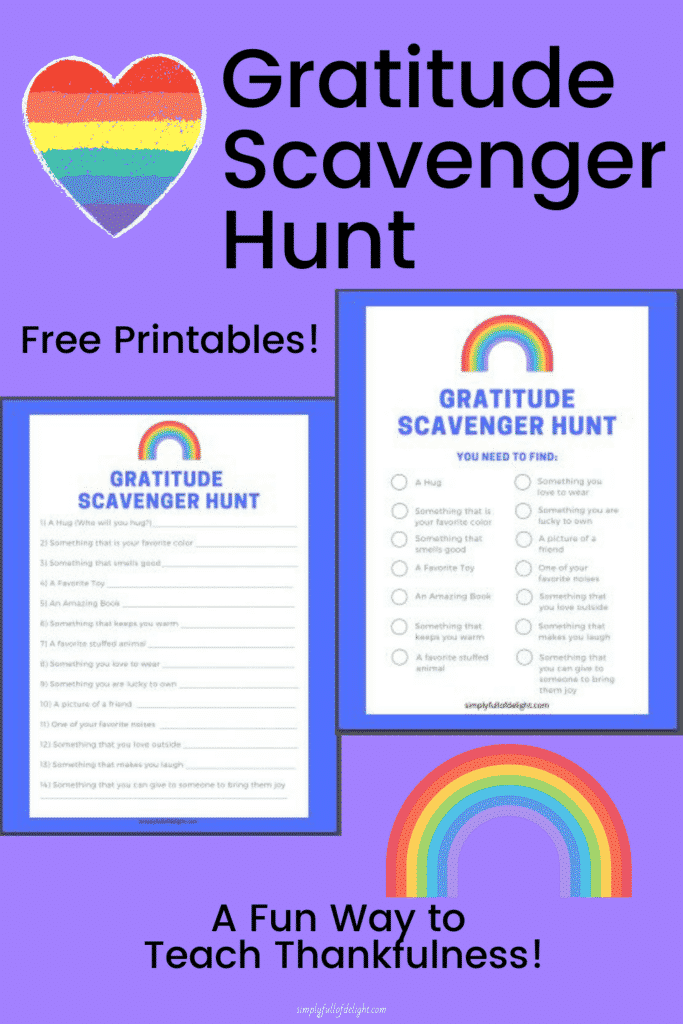 Free Printable Gratitude Scavenger Hunt PDF
You can grab a printable checklist for the little ones and a fill-in-the-blank page for older kids!
I hope this free gratitude scavenger hunt printable is helpful to your family as you teach your children about thankfulness!
To get your free printable gratitude scavenger hunt pdf file join my email list below. You'll get instant access to these free printables along with many others available in my Resource Library.
May your family find inspiration and have fun with this gratitude scavenger hunt pdf! You might like to turn this into a gratitude photo scavenger hunt, or a gratitude prompt for young kids.
Whichever way you do it, it's a great activity to include in your Thanksgiving activities.
You can find more free printable scavenger hunts here.
There's over 55 Free Thanksgiving Printables for Kids here.
You can also find more kindness ideas to help your child or students learn to do volunteer work here.
Other related posts you might enjoy:
How to Avoid Stress During the Holidays
**As an Etsy Affiliate, I earn from qualifying purchases made by readers clicking my links at no extra cost to you.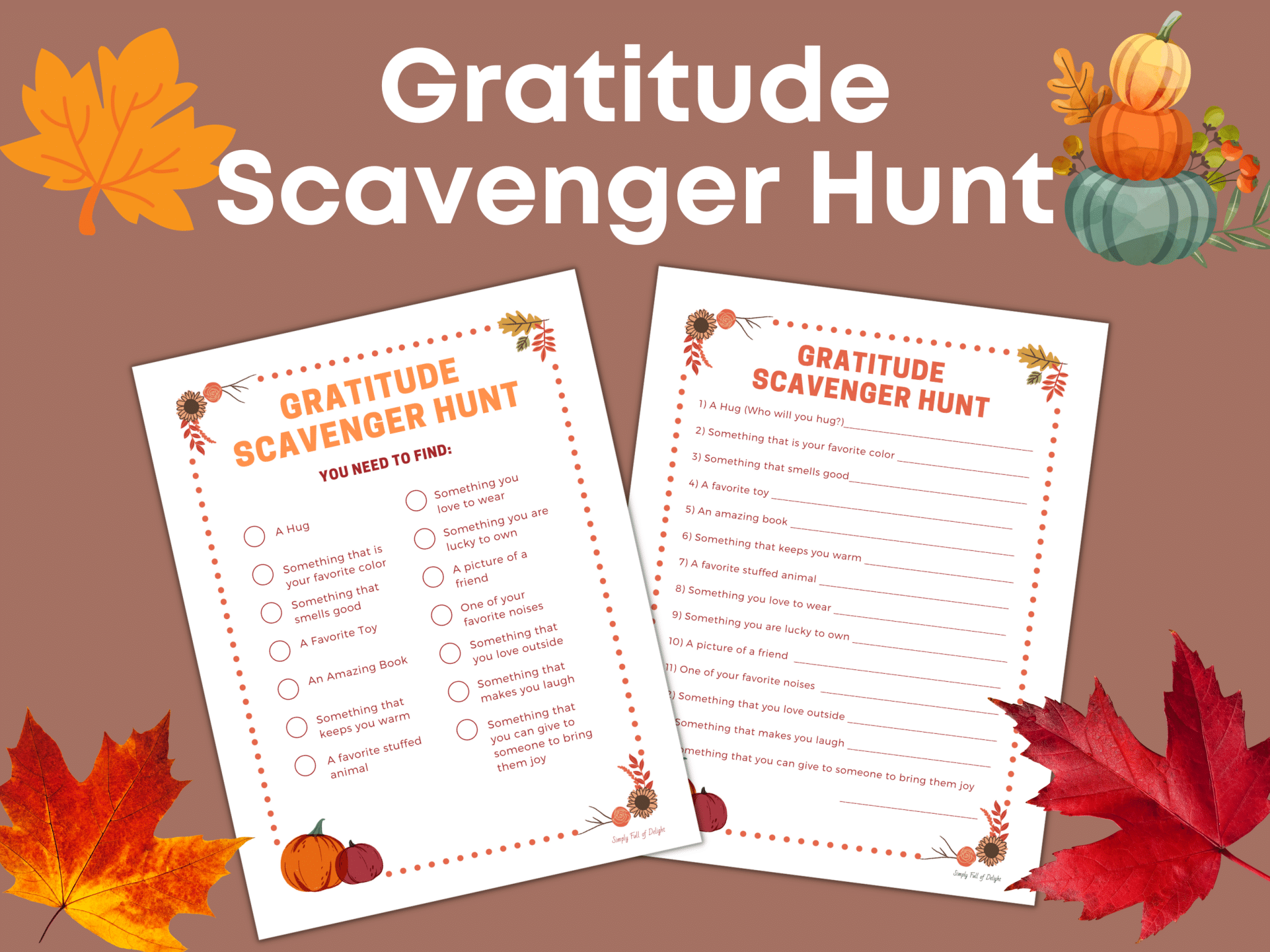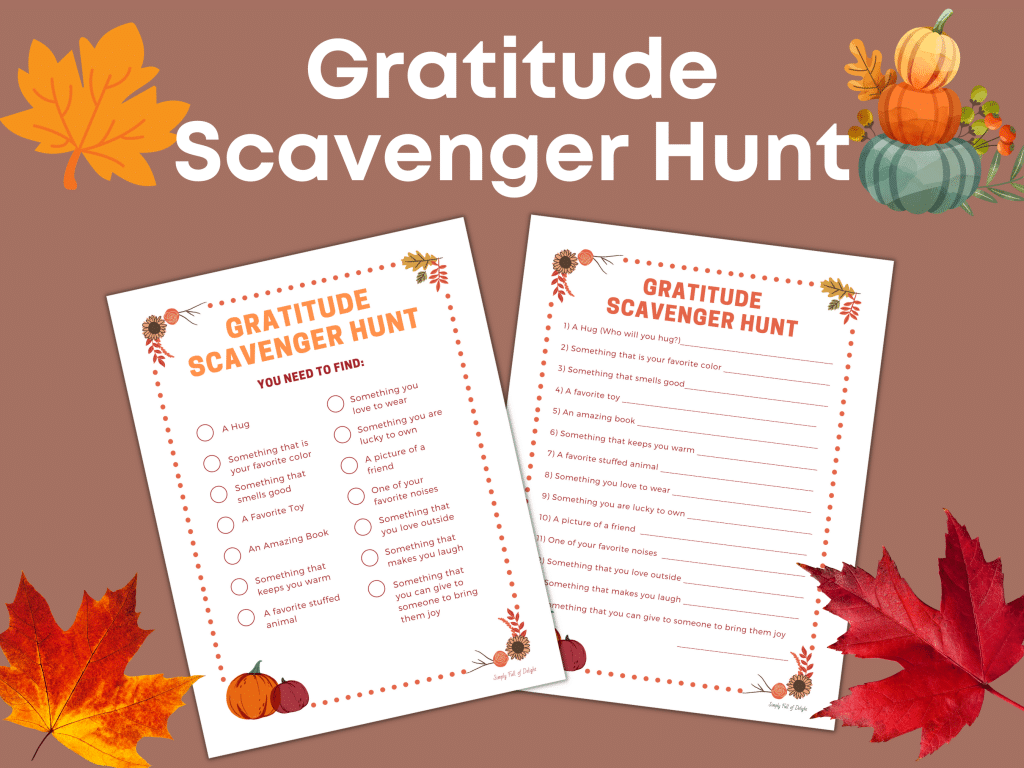 Want to Grab a Fall Version of this Gratitude Scavenger Hunt?
You can find one in my Etsy shop! This is the same Gratitude Scavenger hunt as above, but it has a beautiful Fall theme – perfect for Thanksgiving! Get your Fall Gratitude Scavenger Hunt here.
If you enjoyed this article Pin it or share on Facebook!