Planning a birthday party? Here's 29 Incredible Ideas for a Party Bag!
It's always fun to send something home with your birthday party guests to say thank you for coming to celebrate with us!
However, party favors tend to lean towards one of two things. Either they are full of sugar or they are cheaply made and junky. Nobody wants that!
As a mom of 4, I've both hosted and went to a lot of birthday parties. So, today I'm sharing the very best ideas for birthday party goody bags!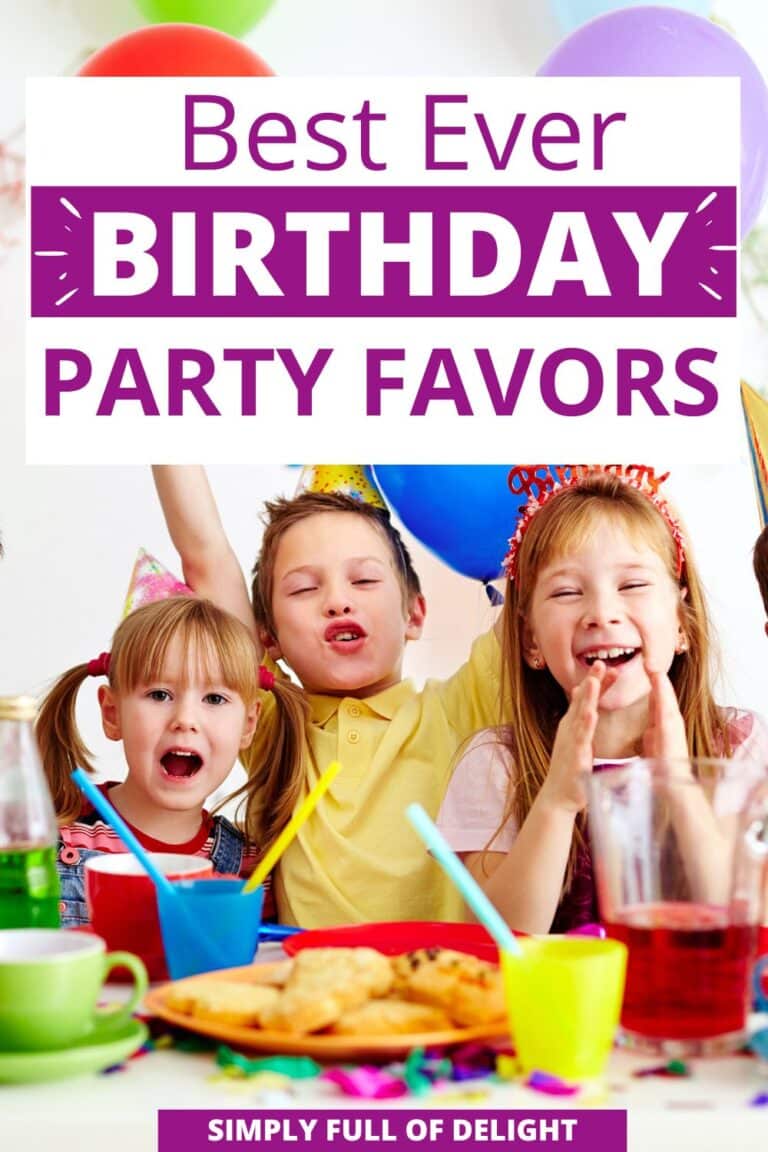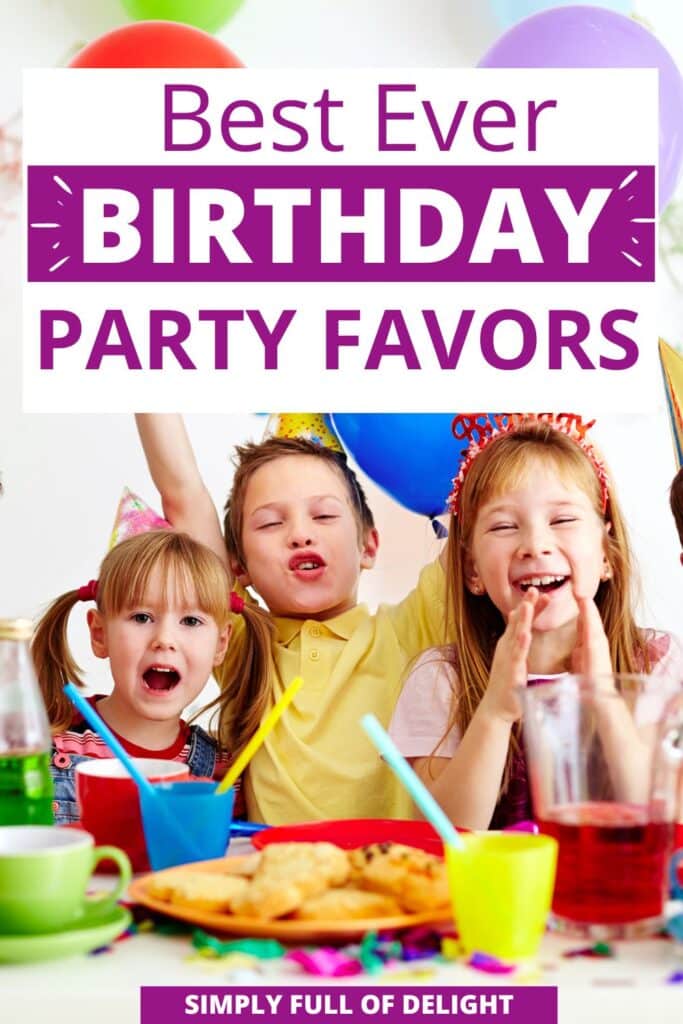 I hope you find some fun ideas that are perfect for your party theme and some unique party bag ideas that make planning your party a little easier!
***Disclaimer: As an Etsy affiliate and an Amazon.com associate, I may earn from qualifying purchases made by readers clicking my links at no additional cost to you.
1) Large Foam Airplane Gliders
These Large Foam Airplane Gliders are super cool. My kids have these and they are incredible. These foam airplanes are fairly large and can fly really high outside just by being thrown. You can adjust the tail of the plane to make it fly straight or do a loop.
These are so much fun and guaranteed to be a hit at your party!
They are definitely one of the best party favors out there and are great for outdoor parties!
2) Kinetic Sand
Did you know you can find individual jars of kinetic sand that are perfect for party favors? These are so much fun! Perfect for promoting sensory play for kids!
3) Dinosaur Egg Dig Kit
These fun Dinosaur Egg Dig Kits would be great for a dinosaur themed party. You get 12 different dinosaur eggs with 12 excavation tools.
Kids can excavate their dinosaur at the party and take home the little mini dinosaur and it's matching information card. What fun! You can also find other creatures to excavate too here.
4) Play Dough Kits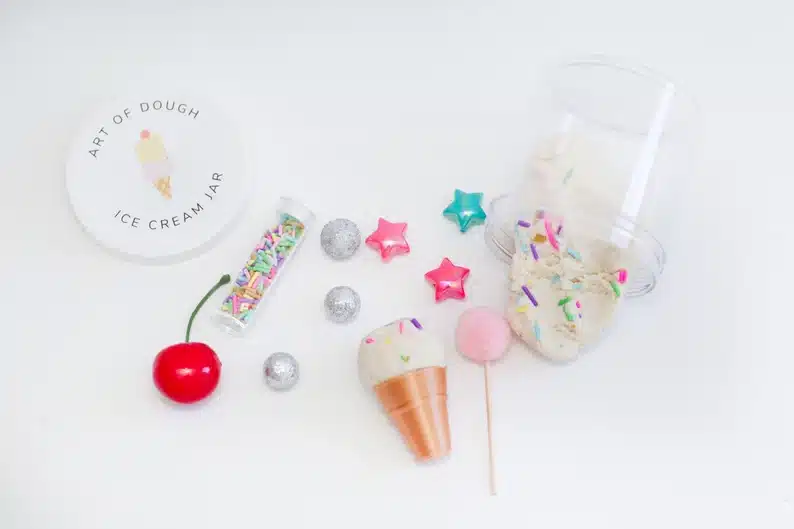 These playdough kits by Art of Dough make the perfect party favors for kids! You can pick a theme that goes with your party. This particular shop even has 3D printed custom cookie cutters. AMAZING!
5) Solar Printing Kits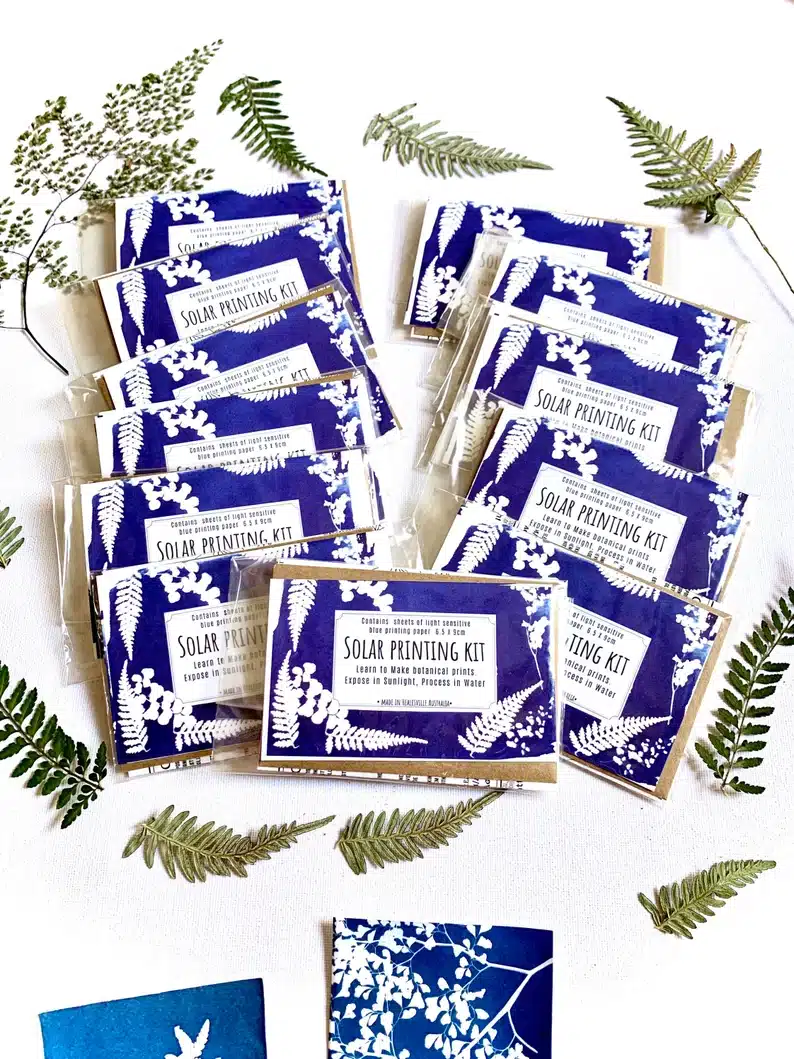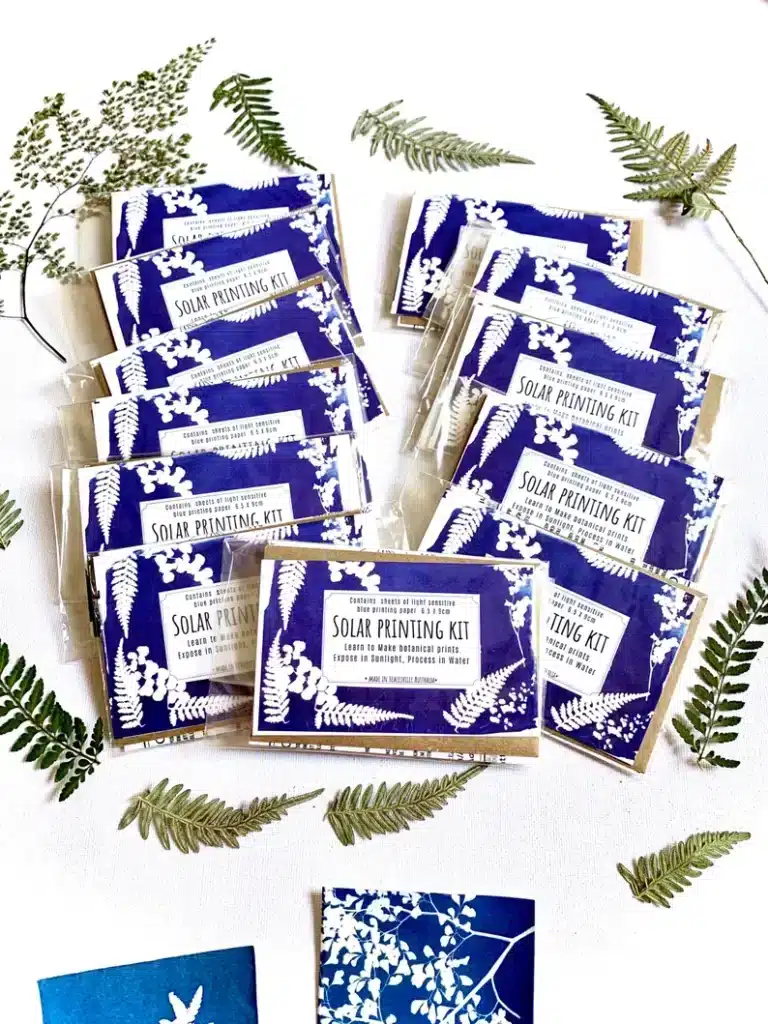 Looking for something incredibly unique? These Solar Printing Kits by Elemental Leaf are super cool! Kids can take home their very own DIY solar printing kit. What an amazing ideas for a party bag alternatives!
6) Mini Play Dough Mats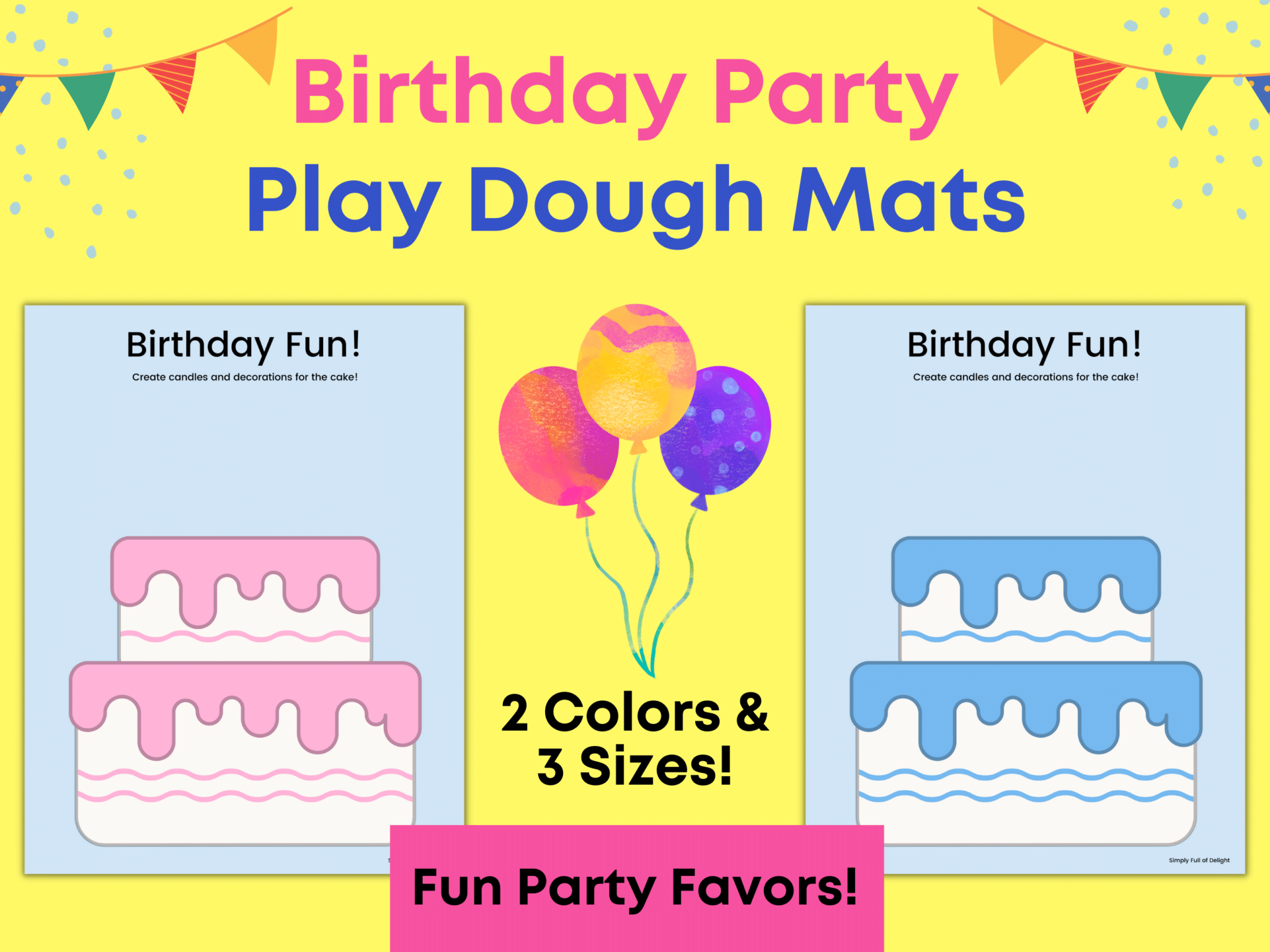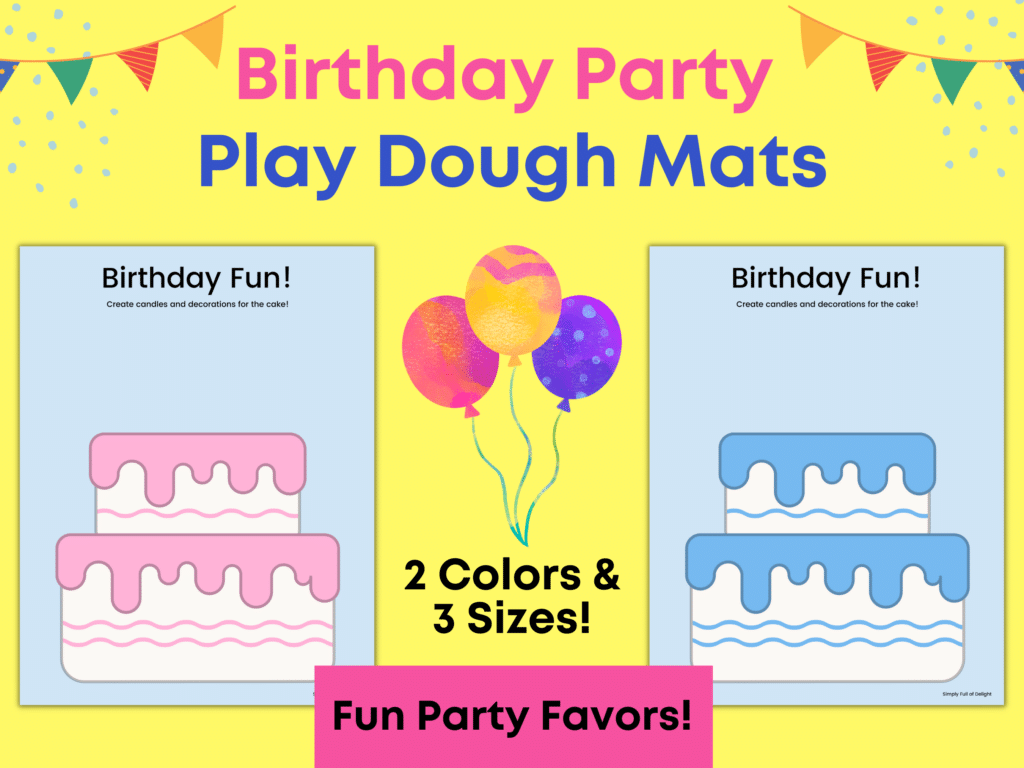 These Printable Birthday Play Dough Mats from my Etsy shop make fun party favors! You can print pink or blue cakes for each child and there's 3 different sizes to choose from!
What a fun party bag idea to pair with some store bought or homemade play dough.
7) Play-Doh
" target="_blank" rel="noreferrer noopener sponsored nofollow">Play Doh is a classic idea for your party favor bags. It pairs well with printable play dough mats, a cute cookie cutter, or just some fun dough toy items to spark imagination for dough play!
8) Bubbles
Bubble wands are a classic item that spans multiple age groups. Little ones love bubbles, but so do the older kids! This is often our go-to last-minute party favor idea!
9) Make A Face Sticker Pages
These Make A Face Sticker Pages are perfect for adding to your party favours bag! These would pair nicely with a few smaller items or candy.
10) Punch Balloons
Here's a blast from the past…these Neon Punch Balloons are an oldie but a goodie… for your goodie bags! Kids will enjoy bopping along with these large balloons that are perfect for play. What fun classic party bag fillers!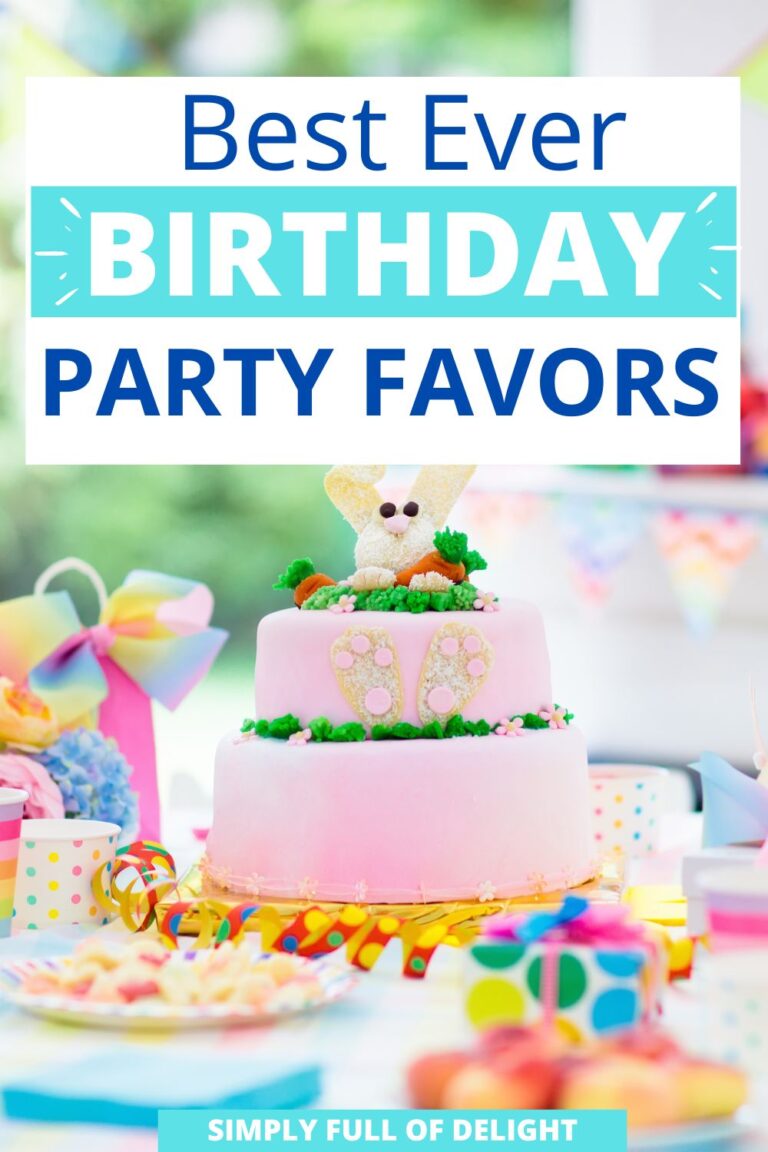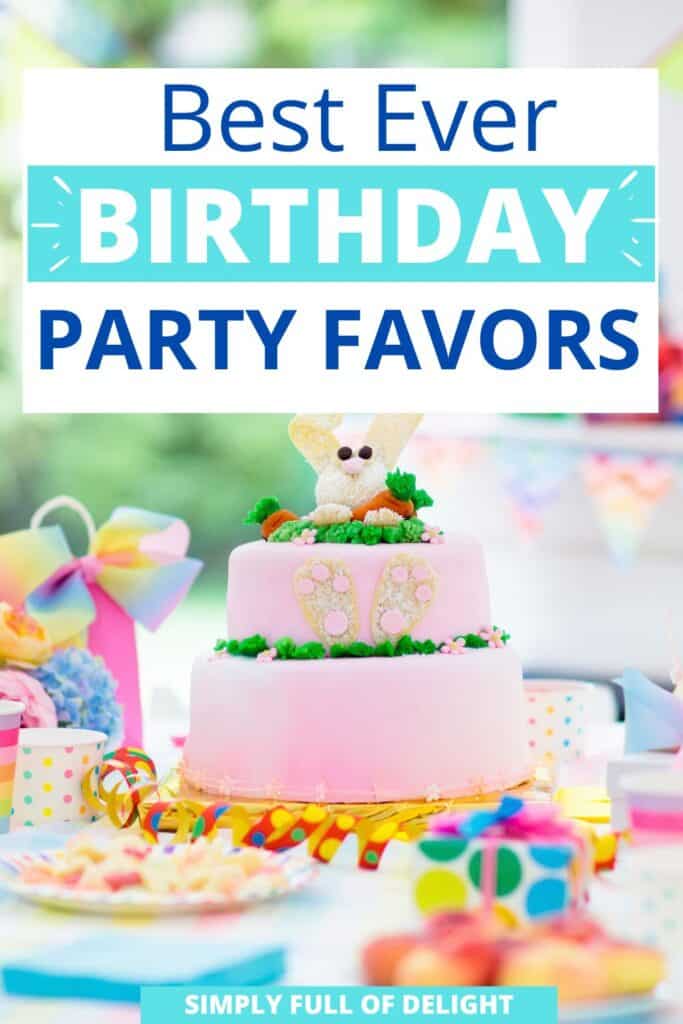 11) Custom Crayons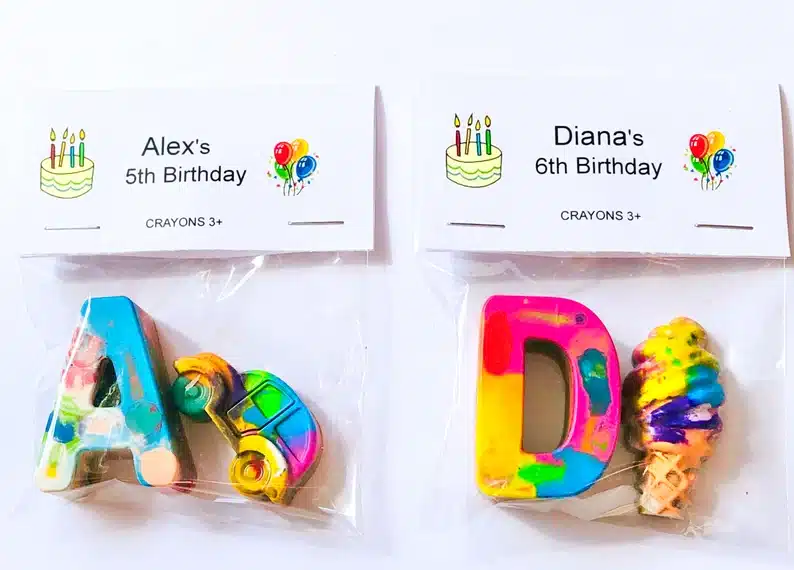 These cute Custom Crayon Packs are by Velvet Suds on Etsy. There's so many choices for the shape of crayons and you can choose the letter as well! Such a cool custom item for your party favors!
12) Sidewalk Chalk
As a parent, we love it when our kids get items that are 100% usable! Sidewalk chalk makes are great birthday party favor idea.
You can find chalk in lots of different shapes and colors. We LOVE this
" target="_blank" rel="noreferrer noopener sponsored nofollow">Melissa and Doug Ice Cream and Cake Chalk Set. It's so much fun!
13) Parachute Toy
These Parachute Toys are the perfect size for goodie bags! I love that these promote outdoor play and get kids moving.
My kids like to take theirs outside to run and even have fun launching them down from the top of our playground. So much fun!
14) Glow Sticks
Glow Sticks are always a hit with kids. Grab a huge set (or 2) for plenty of glow in the dark fun!
15) Children's Books
Share your love of reading with friends by giving each of them a book! This Curious George book set contains 6 paperback books that your little one could share with friends.
We did this party favor for my daughter's 4th birthday. What fun!
16) Scratch Art Pads
Kids LOVE Scratch Art! You can grab a large set of scratch art pads to pop in your goodie bags and delight kids of all ages.
17) Bath Bomb Favors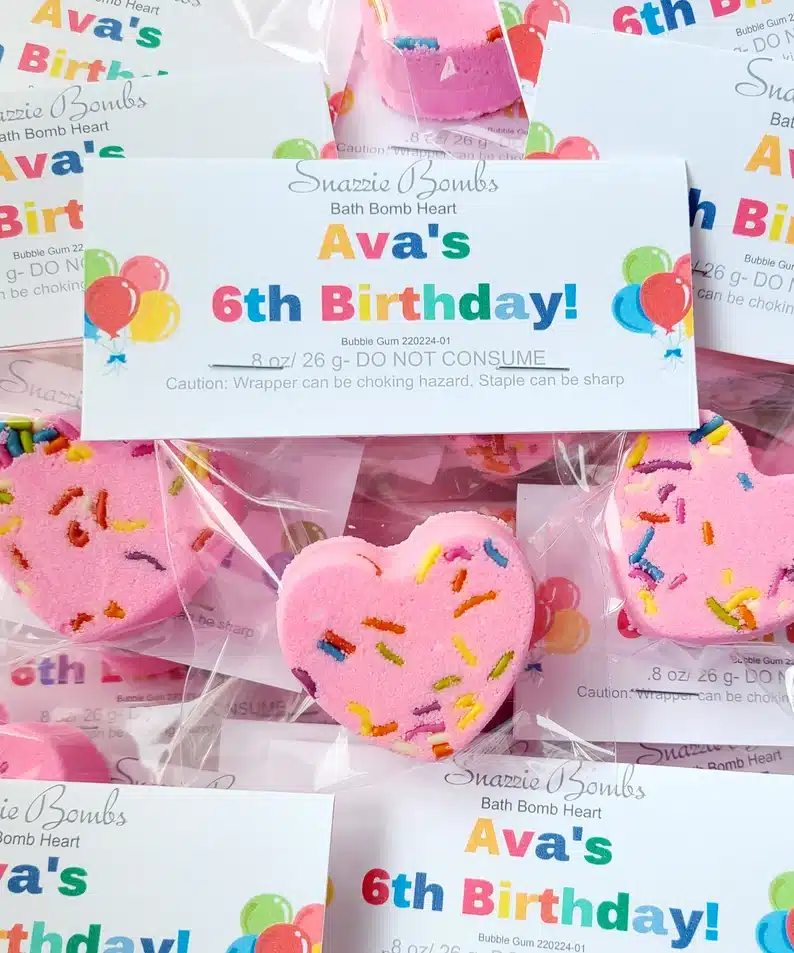 Bath Bombs are a fun surprise for kids party favors! These awesome Bath Bomb Favors are by Snazzy Bombs on Etsy.
These come in their own little cute gift bag and I love how these are such unique party favors!
18) Paint Your Own Dinosaur Kit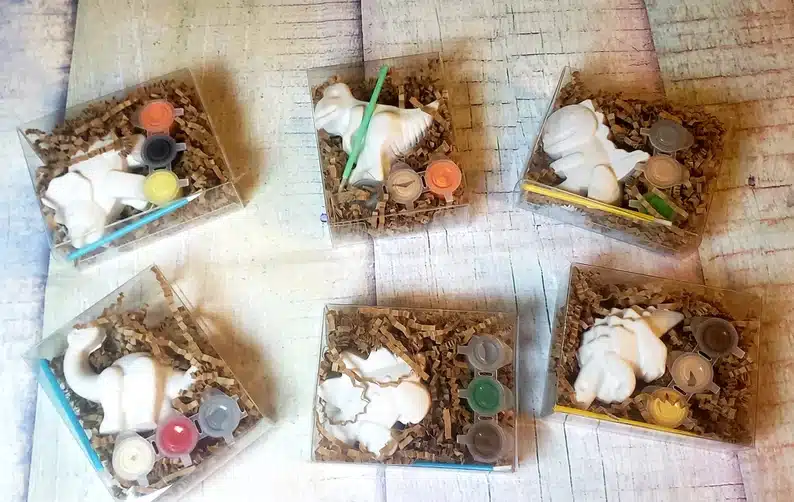 Looking for something super crafty? Grab a Paint Your Own Dinosaur Kit by Snazzy Dazzy Crayons on Etsy for each of your party goers!
Each kit contains everything you need to paint a fun little dinosaur. What great goody bag ideas for your child's birthday party!
Be sure to check out all the different themes. You'll find plenty of options!
19) Fidget Pop Toys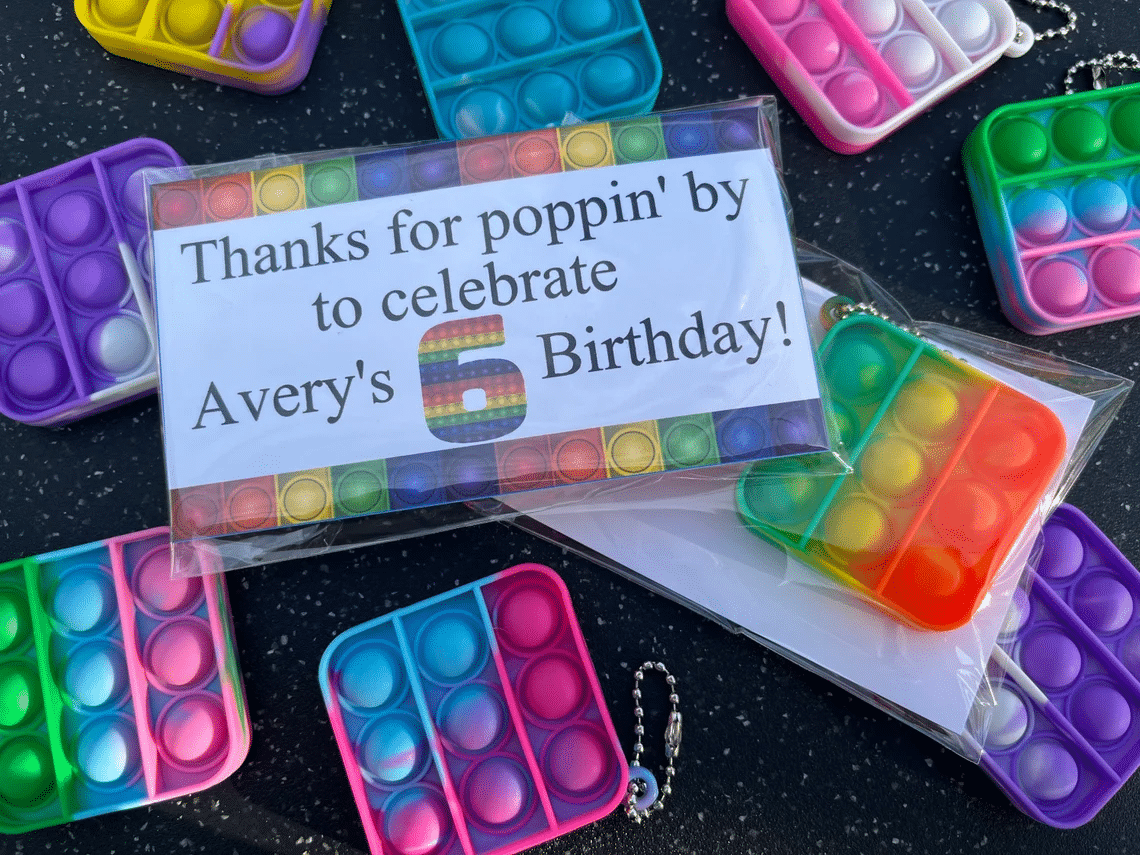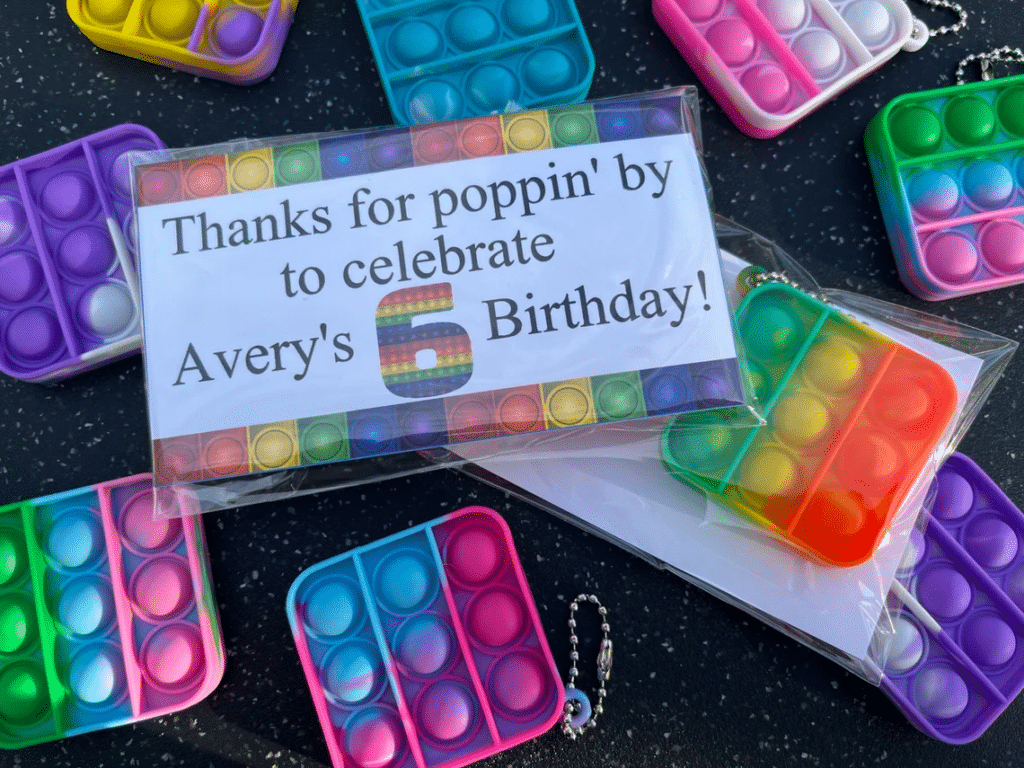 These Fidget Pop toys from Artistry by Amanda are so cute with the personalized printable. Fidget pop toys are great for a variety of ages.
I love that you can get your child's name on the loot bags with these cool key chains inside! What perfect birthday party favors for your child's party!
20) Slime
Slime is all the rage right now, so you can count on the kids being totally overjoyed by receiving slime in their party bag!
21) Scrunchies
Hosting a girl birthday party? Scrunchies and other hair accessories make a great party favor! Check out these awesome velvet scrunchies that have rave reviews.
22) Multicolor Ballpoint Pen
These Multicolor Ballpoint Pens will be a hit with kids of all ages! 6 colors of ink in one pen make this a super fun item for kids!
23) Octopus Keychain Pop Fidget
These Octopus Pop Fidget Keychains are great for kids' backpacks. I love that they are fun and a great way to give kids something to play with on the go.
24) Ribbon Wands
We have given out these Ribbon Wands a few times at my kids' parties. They are always the biggest hit!
Perfect for your backyard birthday parties or kid's party outdoors!
25) Mini Magnetic Drawing Board
These Mini Magnetic Drawing Boards are always fun! These are great for kids to play with on the go and encourage fine motor skill development.
Perfect for your younger children.
26) Beach Towels
Having a pool party? The perfect party favor is a fun beach towel!
You can find adorable patterns for each child. (Keep in mind this item probably is cheaper to buy locally).
27) Personalized Flashlight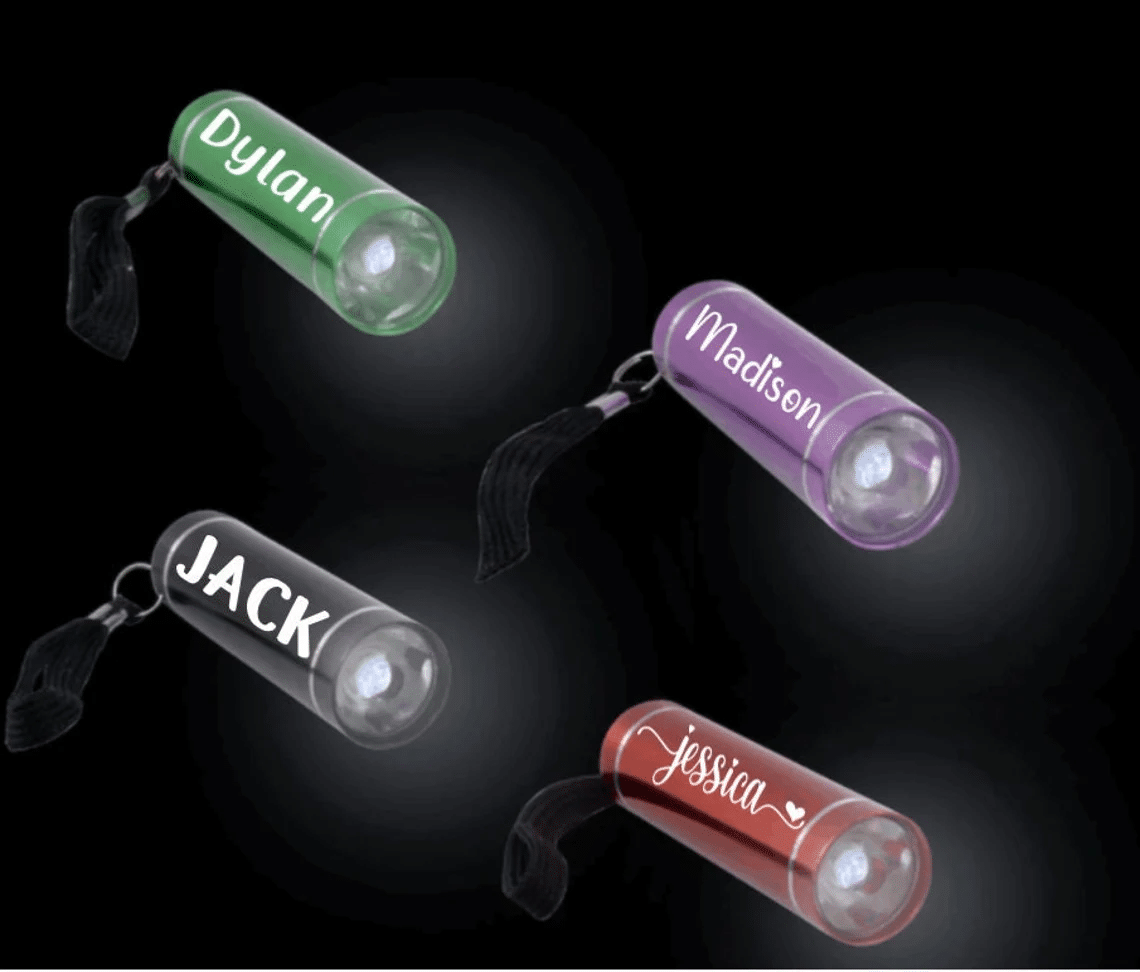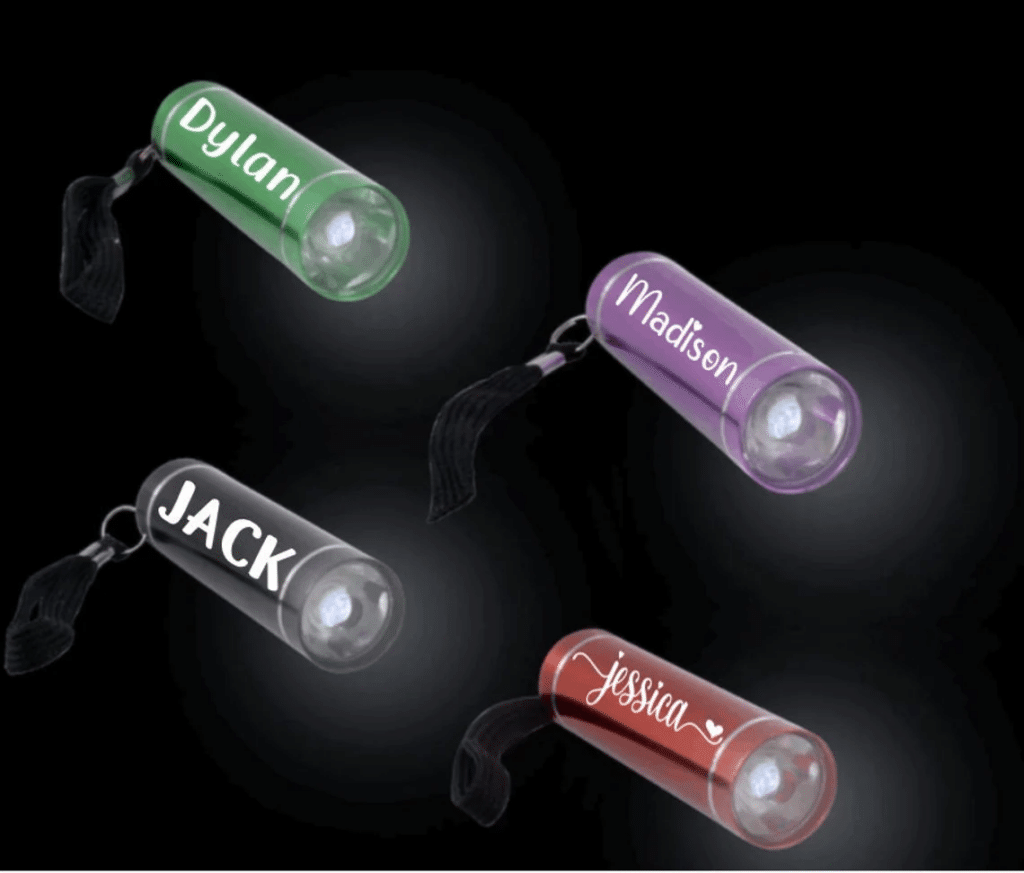 How fun is this! You could get each child their own Personalized Flashlight from Purple Crush Creations on Etsy.
What fun they would have with this party favor!
28) Mini Fairy Garden Kit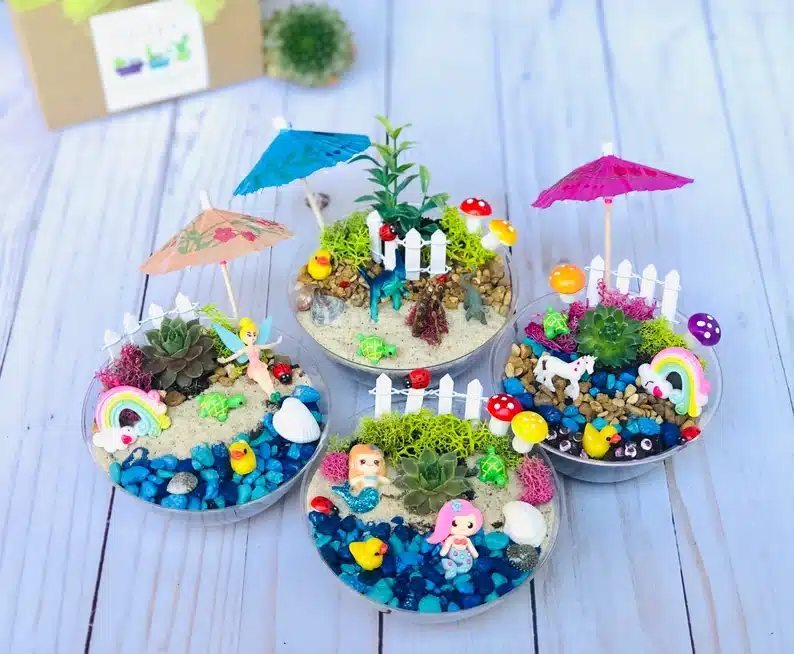 Kids would go crazy over these amazing Mini Fairy Garden Kits! These are from Partyn With Plants on Etsy.
Such a neat take home gift…. but kids would also have a blast assembling them together making it a fun party activity!
29) Card Games
These Kid Card Games make great party favor ideas! These mini games are a great option for 6 year olds and older. This pack has an assortment of games including Old Maid, Go FIsh, and Hearts. Such a great idea for your party bags!
Alright! That's it! I hope you found some great party bag fillers! Drop a comment below if you have a fun idea to share for birthday party goodie bag ideas!
More Birthday Party Planning Ideas
If you are looking for more party ideas be sure to check out these Birthday Party Games for Kids. There's tons of ideas and inspiration to help you plan your birthday games!
Planning a first birthday? Check out all the best First Birthday Themes here. So many cute ideas!
Need Birthday Gift ideas? You can find cool Birthday gifts for Kids here.
There's First Birthday Gift ideas here. And you can find tons of other gift ideas here as well!
Want to save these ideas for a party bag for later? Pin the image below to your Birthday Party Ideas board on Pinterest!