Ready to do some Apple Stamping today? This Fall Apple Basket Craft for Preschool is a fun way to celebrate apple picking season and the fun of fall!
To do this fun apple craft for kids, all you need is the free printable, crayons, washable paint, and apples!
Our family loves apple picking season! We planted our own apple trees a year ago, in hopes of bringing the joy of apple picking to our own home.
But did you know it takes apple trees years before they start producing apples? According to University of Minnesota Extension, Dwarf tress will bear fruit after 2-3 years, but apple orchards with standard apple trees can take up to 8 years to bear fruit! (We *might* have planted the wrong ones!)
While our trees grow, we will just have to enjoy apple picking at our local orchards.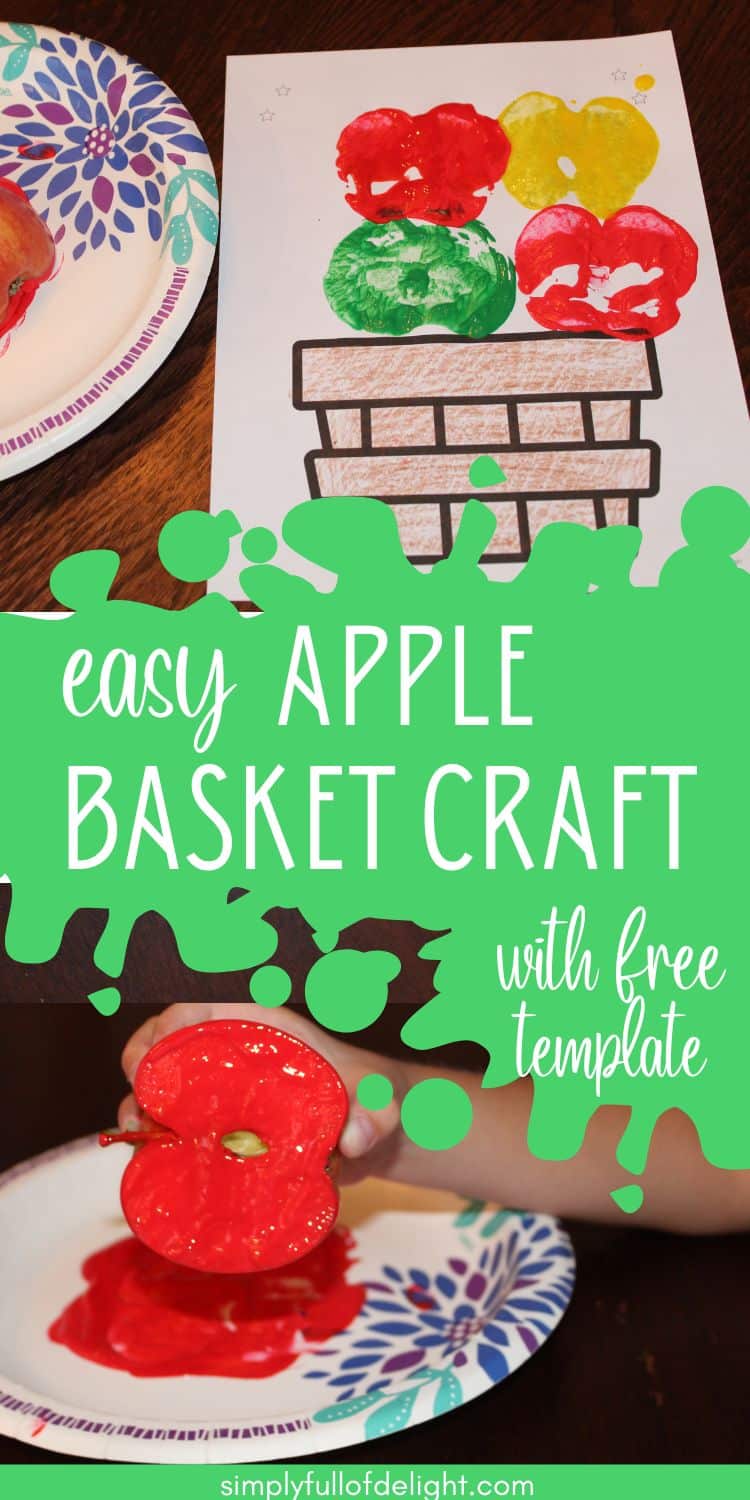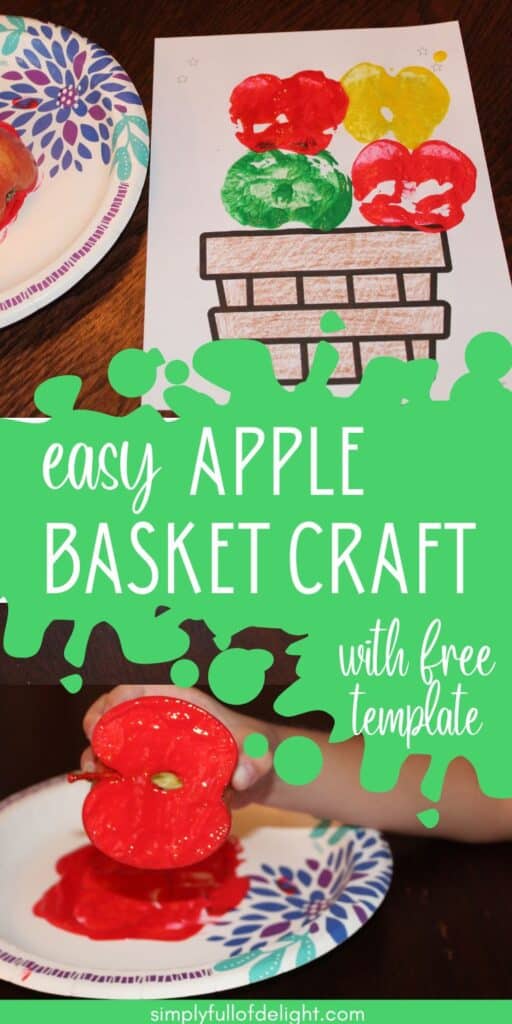 Let's dive into this cute apple basket craft for preschool!
** Disclaimer: As an Etsy associate and as an Amazon.com Associate, I may earn from qualifying purchases made by readers clicking my affiliate links at no extra cost to you.
Supplies Needed for Apple Stamping – Apple Basket Craft
For this simple preschool apple stamping craft, you will need the following craft supplies: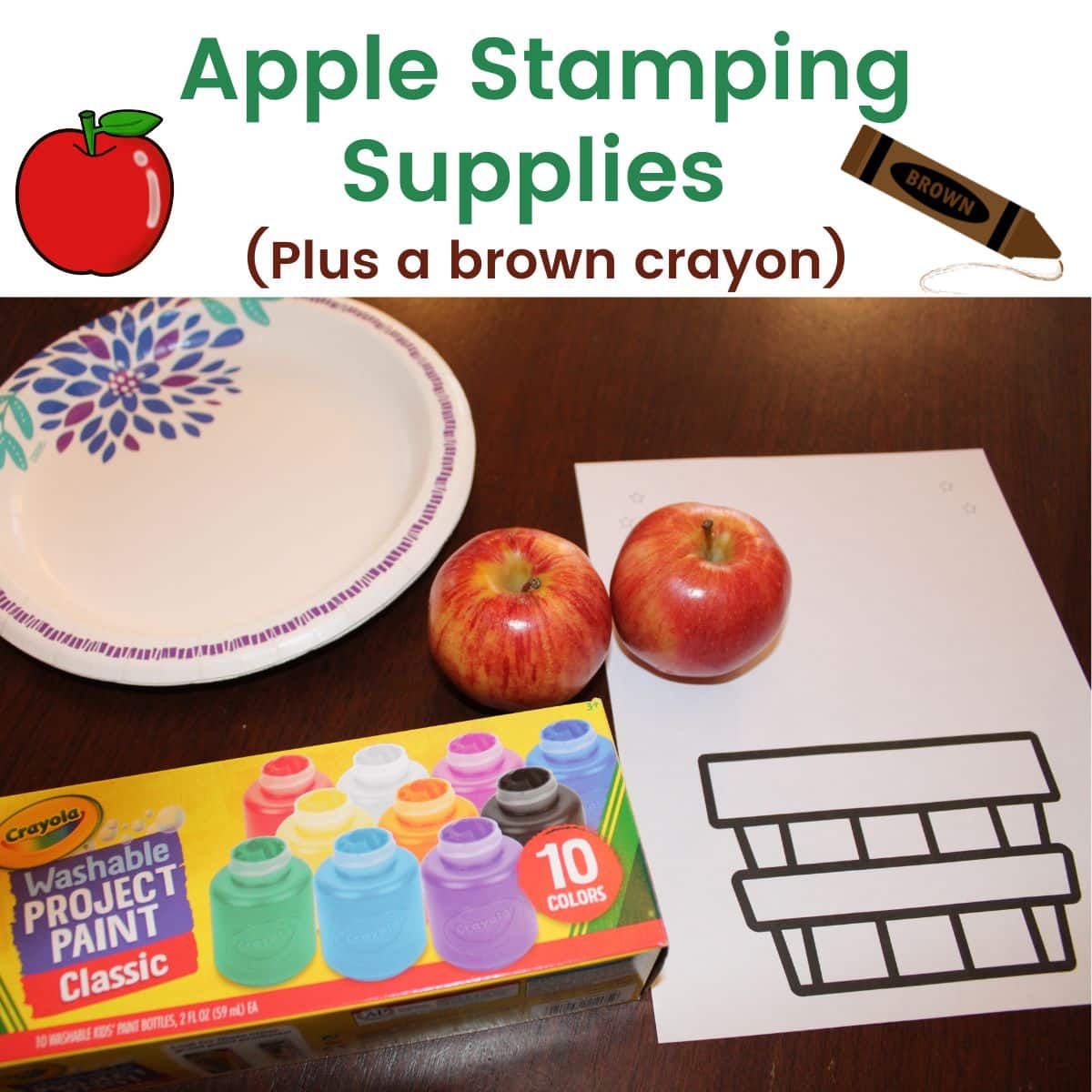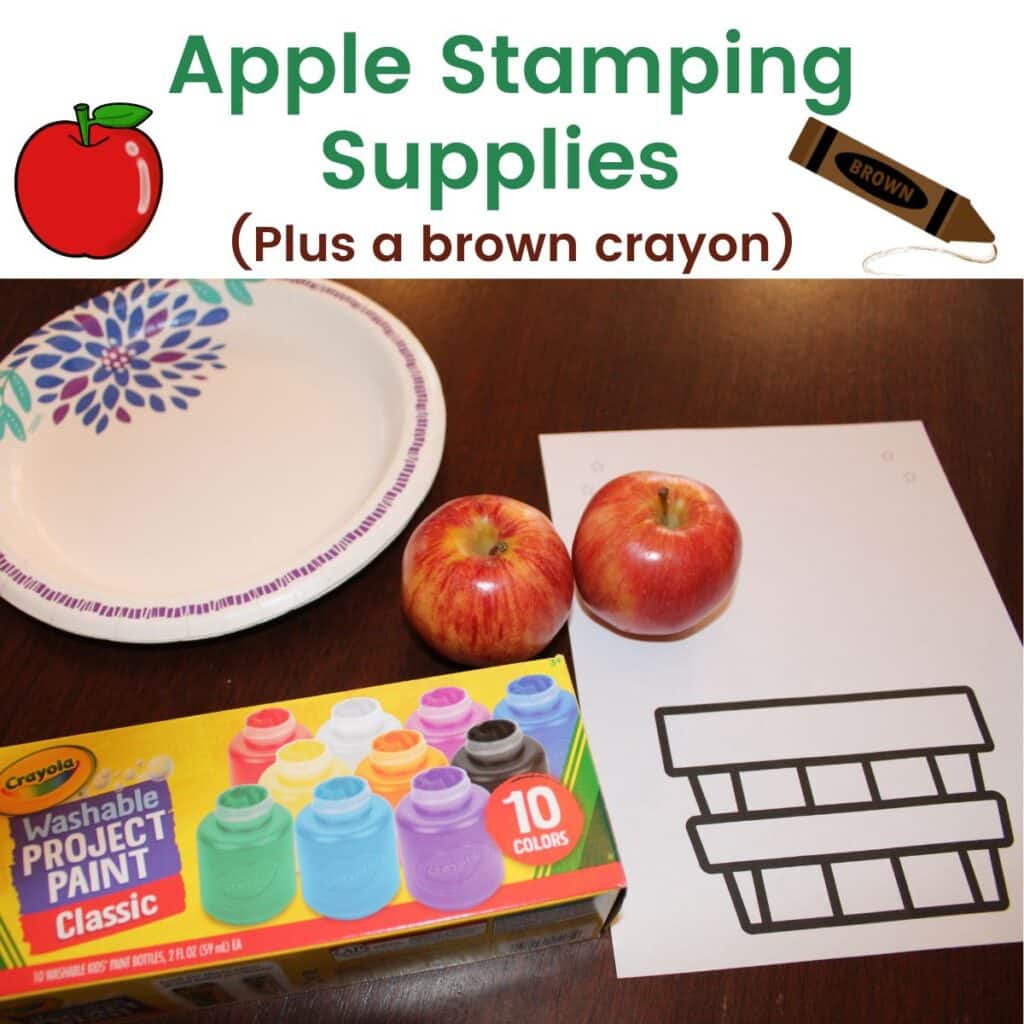 Apples (smaller apples work best for this project!)
Washable Paint (I like to use 2 or 3 colors – red, yellow, and green paint)
Apple Basket Template Printable PDF
Paper plate
Plastic Table Cloth (or newspapers)
Crayons
Let's get started with this apple stamping art!
How to Make this Preschool Apple Basket Craft
First, print out the apple basket template.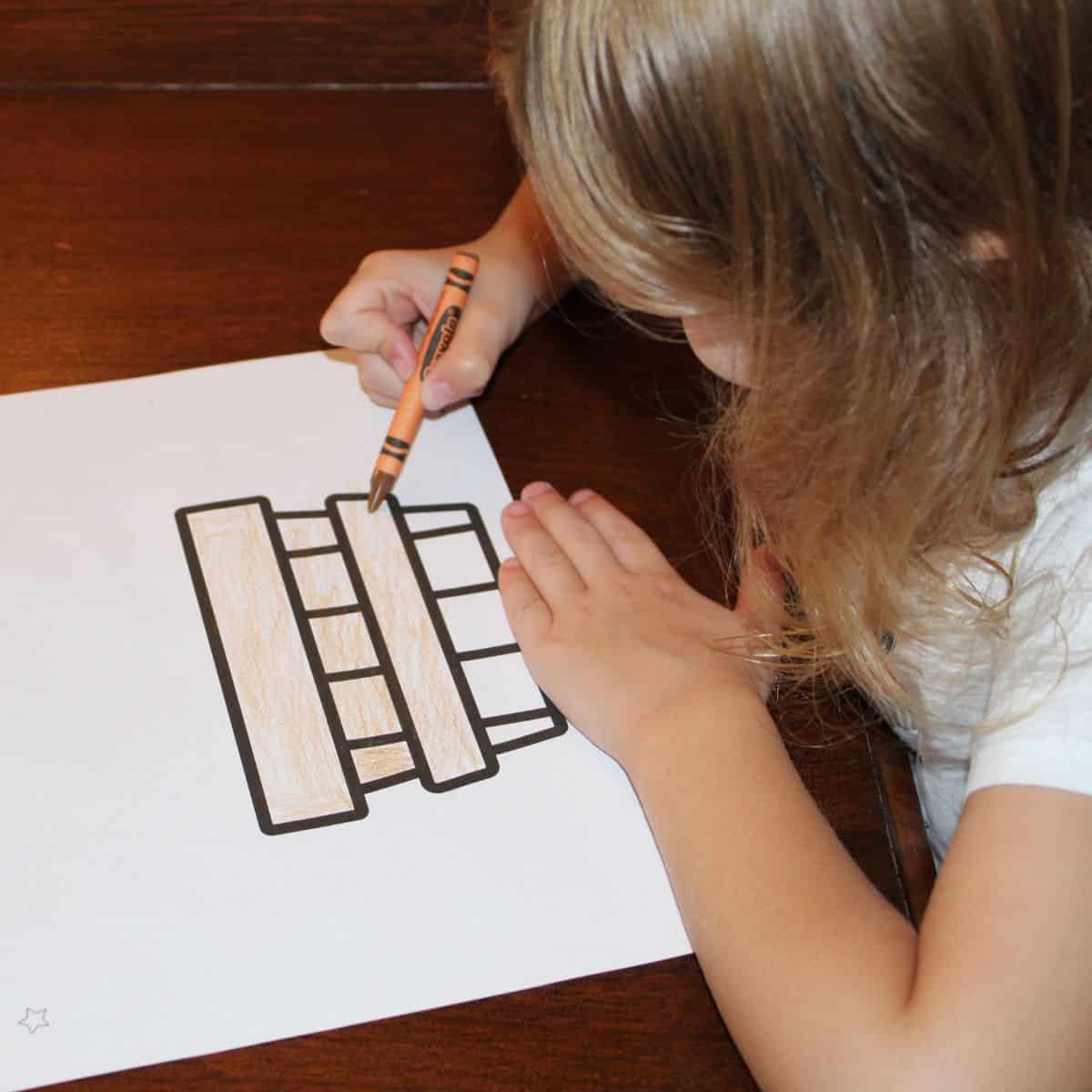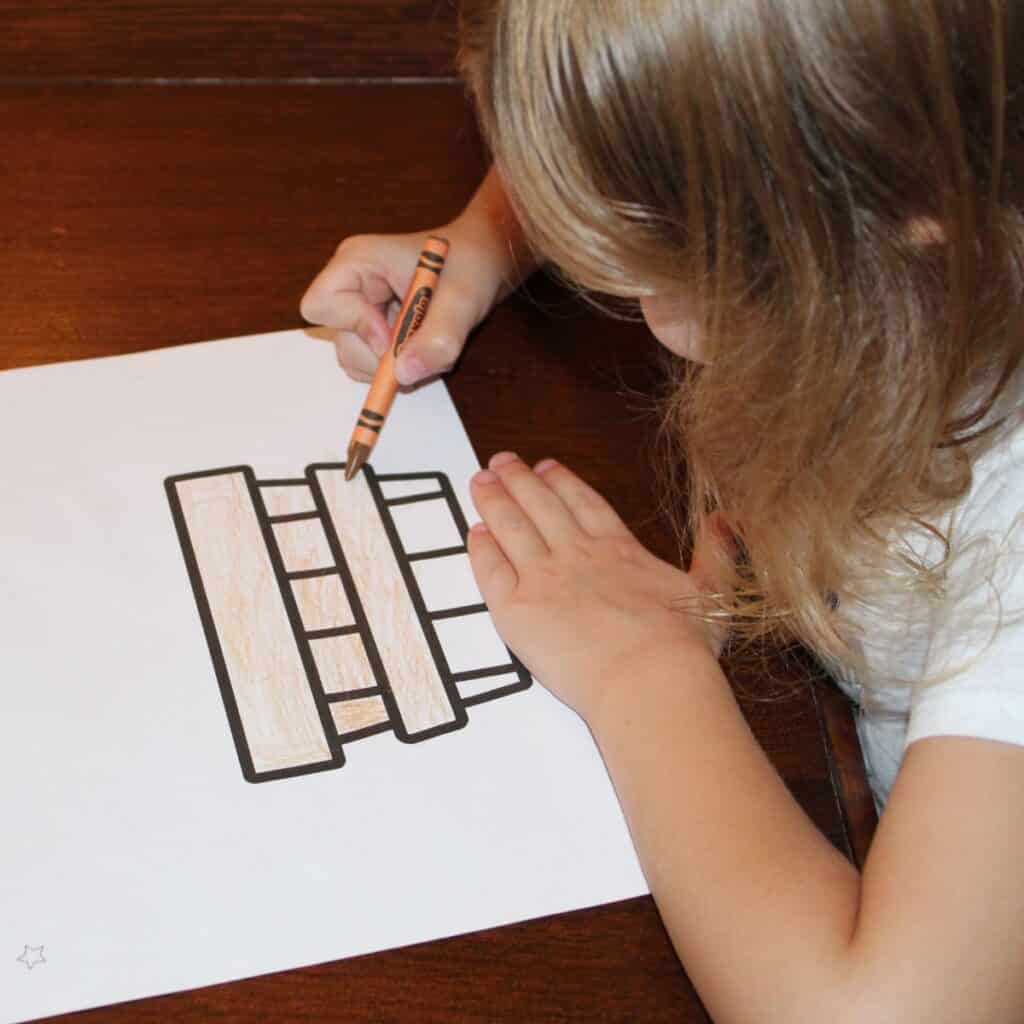 Provide your child with a brown crayon to color the apple bushel basket. It could be any color, but brown looks natural and nice like those classic woven baskets!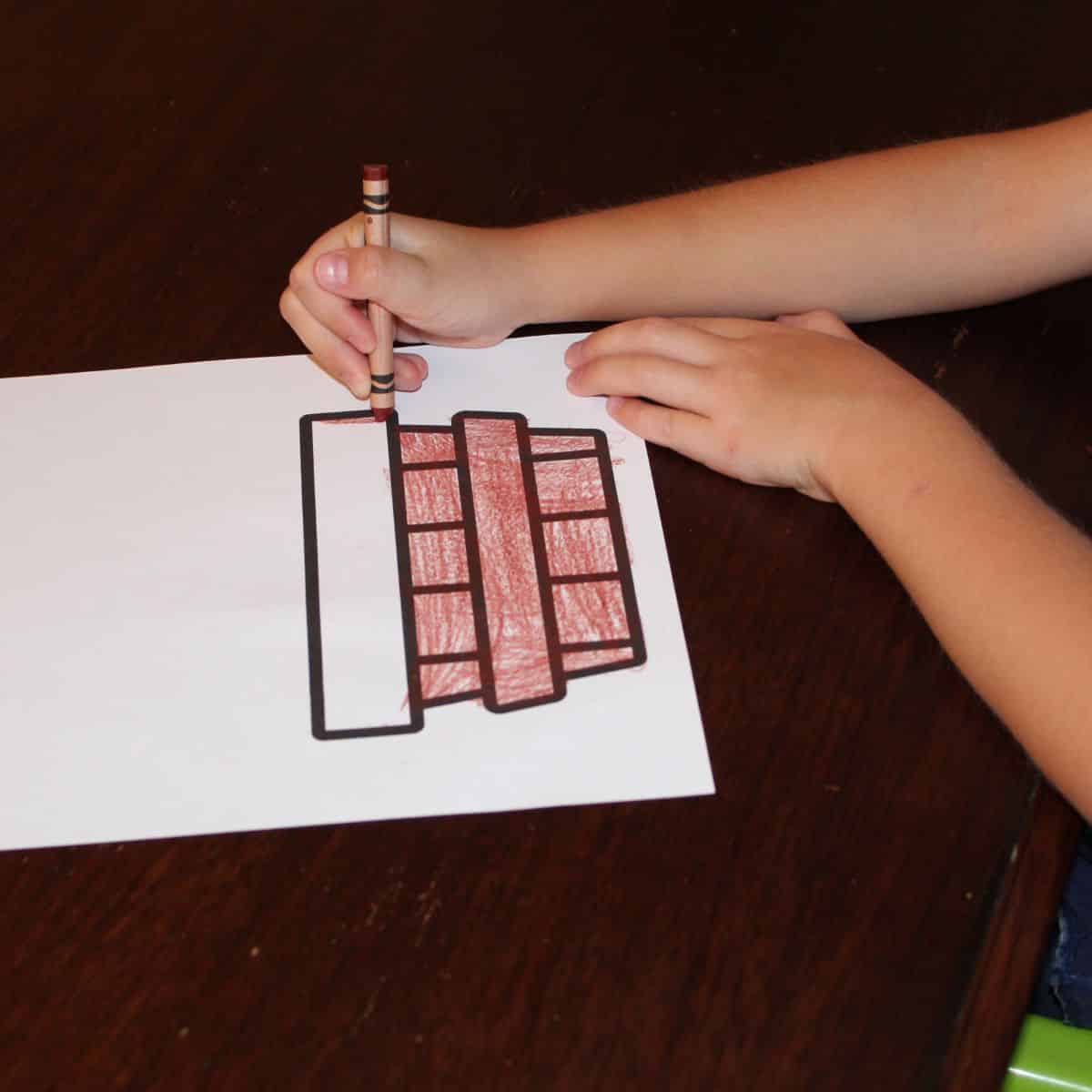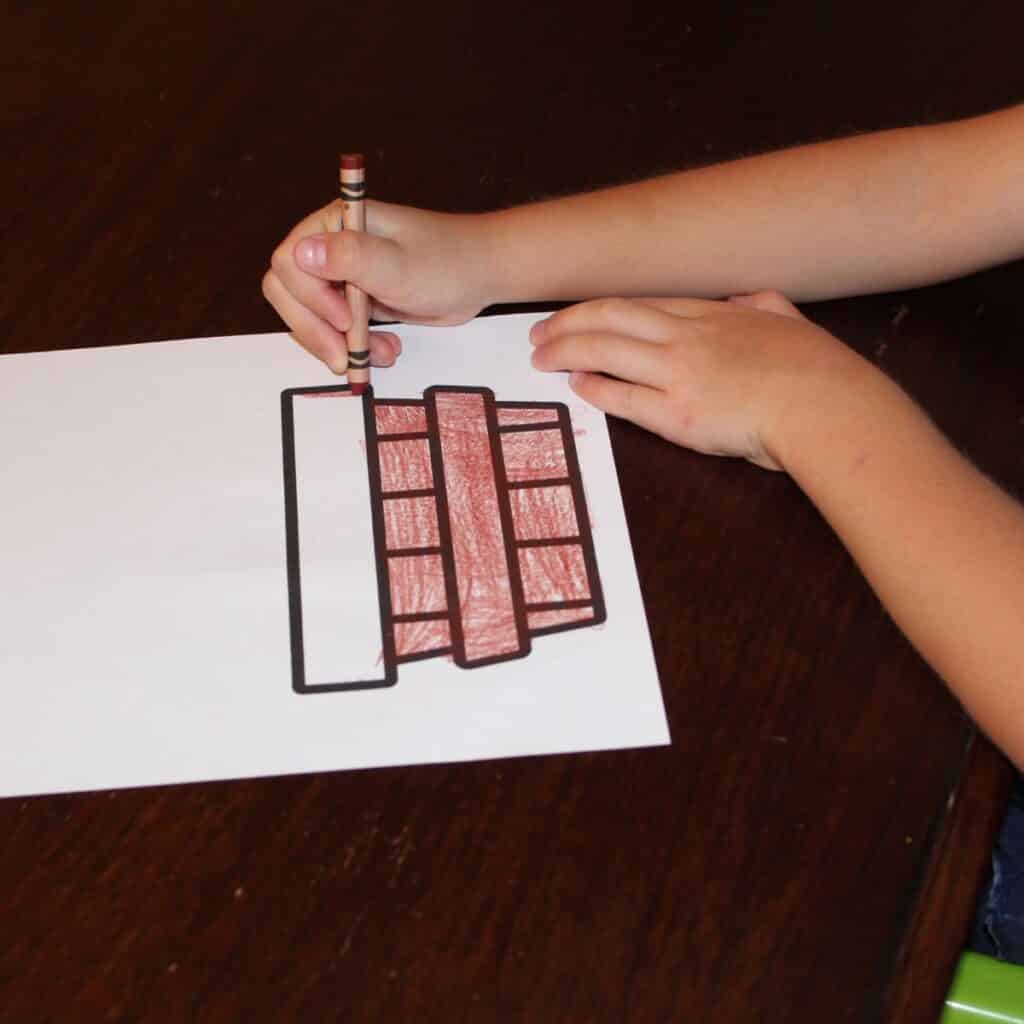 Now, it's time to cut open your apples! I like to cut the apples in front of my kids and show them the seeds! Kids love seeing the inside of real apples as oftentimes they only see it cut into wedges without the seeds.
This is also a great opportunity to talk about the simple parts of an apple: apple stem, seed, core, skin, and flesh.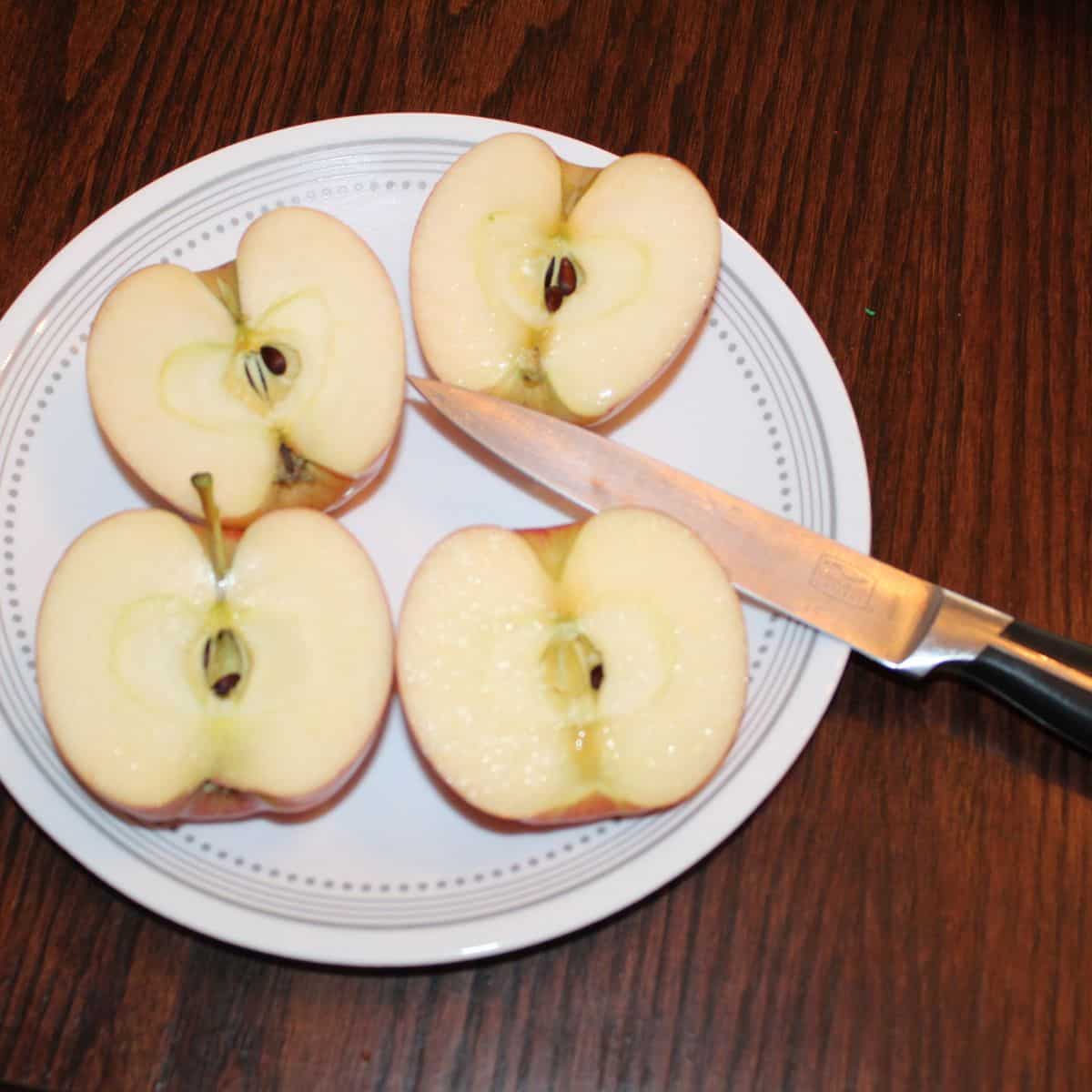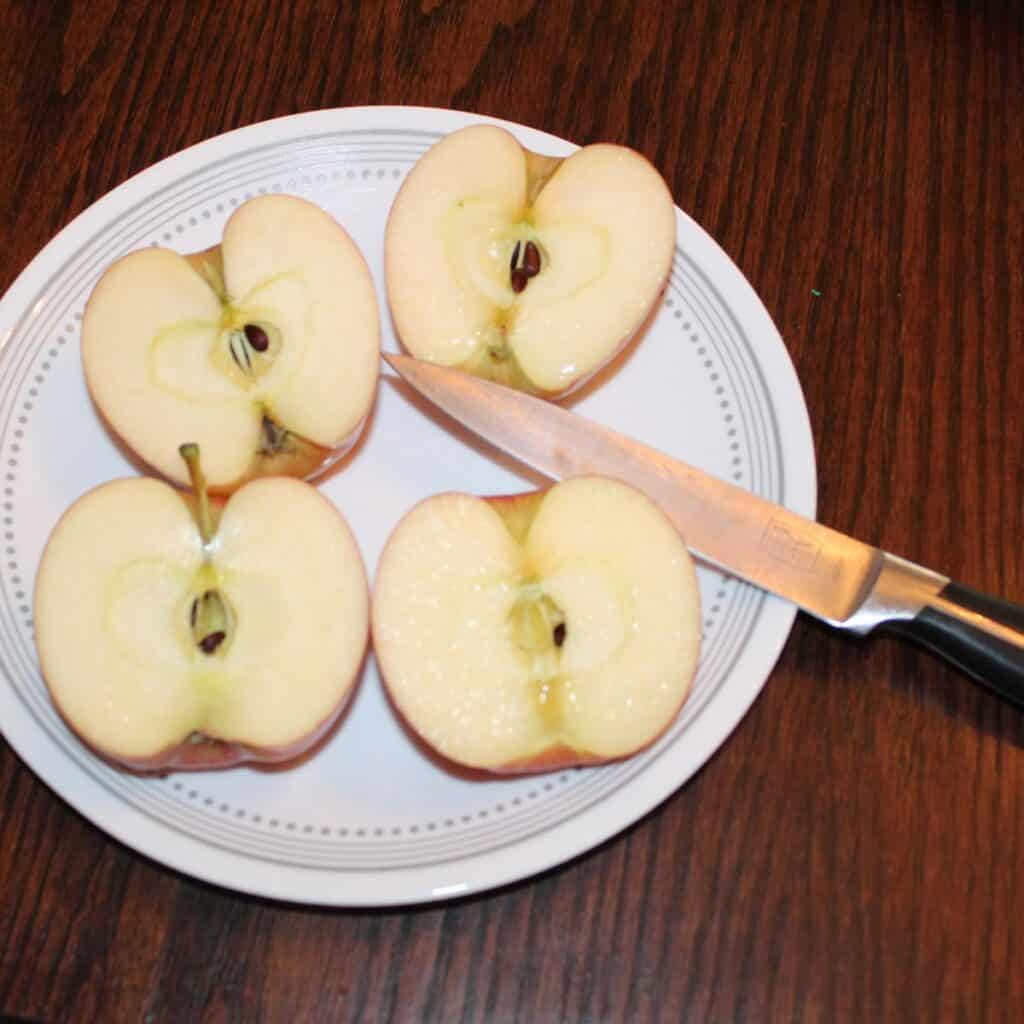 If you want to do more than one color, be sure to cut an apple half for each color you intend to use. This will help prevent the paint colors from mixing too much (if that matters to you!)
Next, pour some red paint onto your paper plate.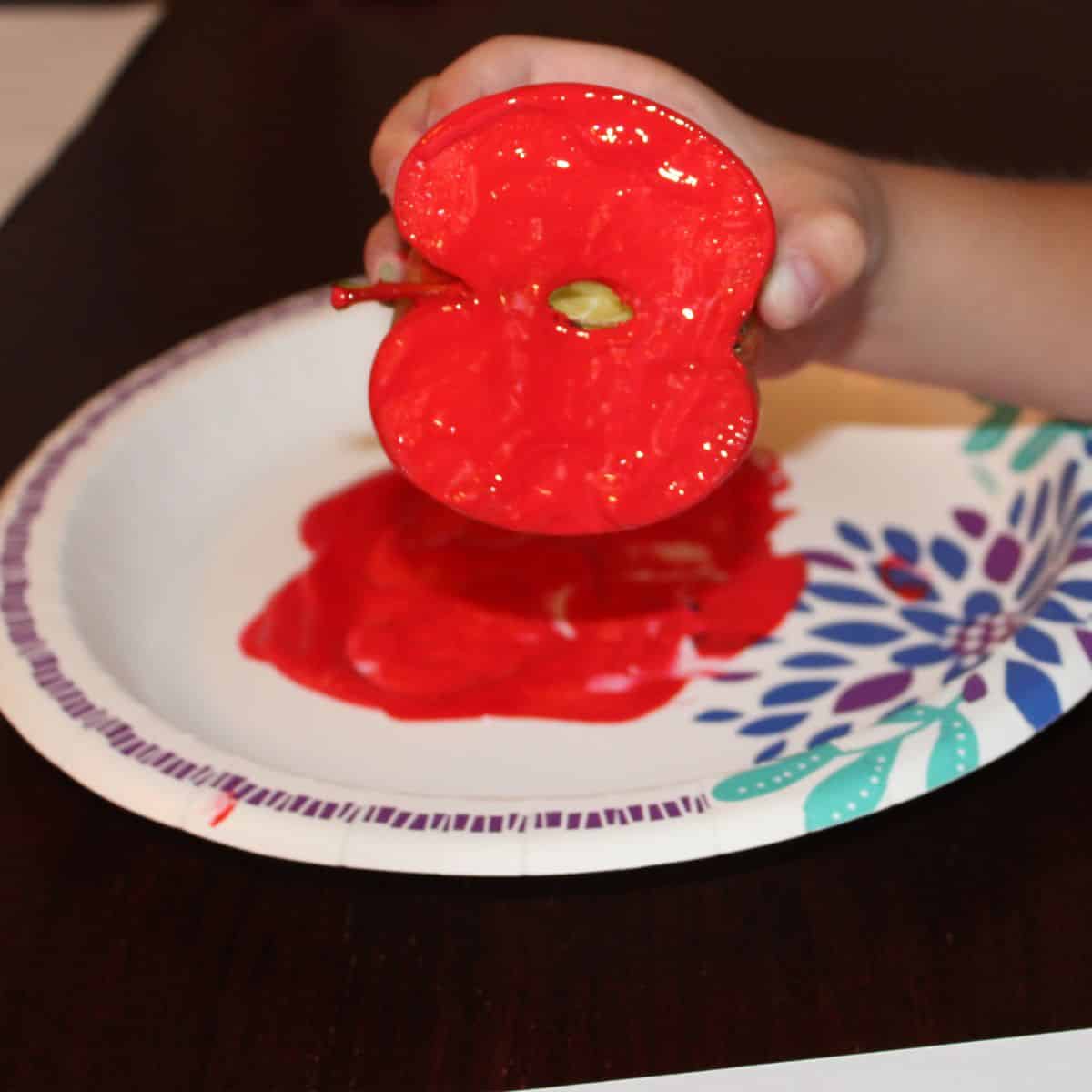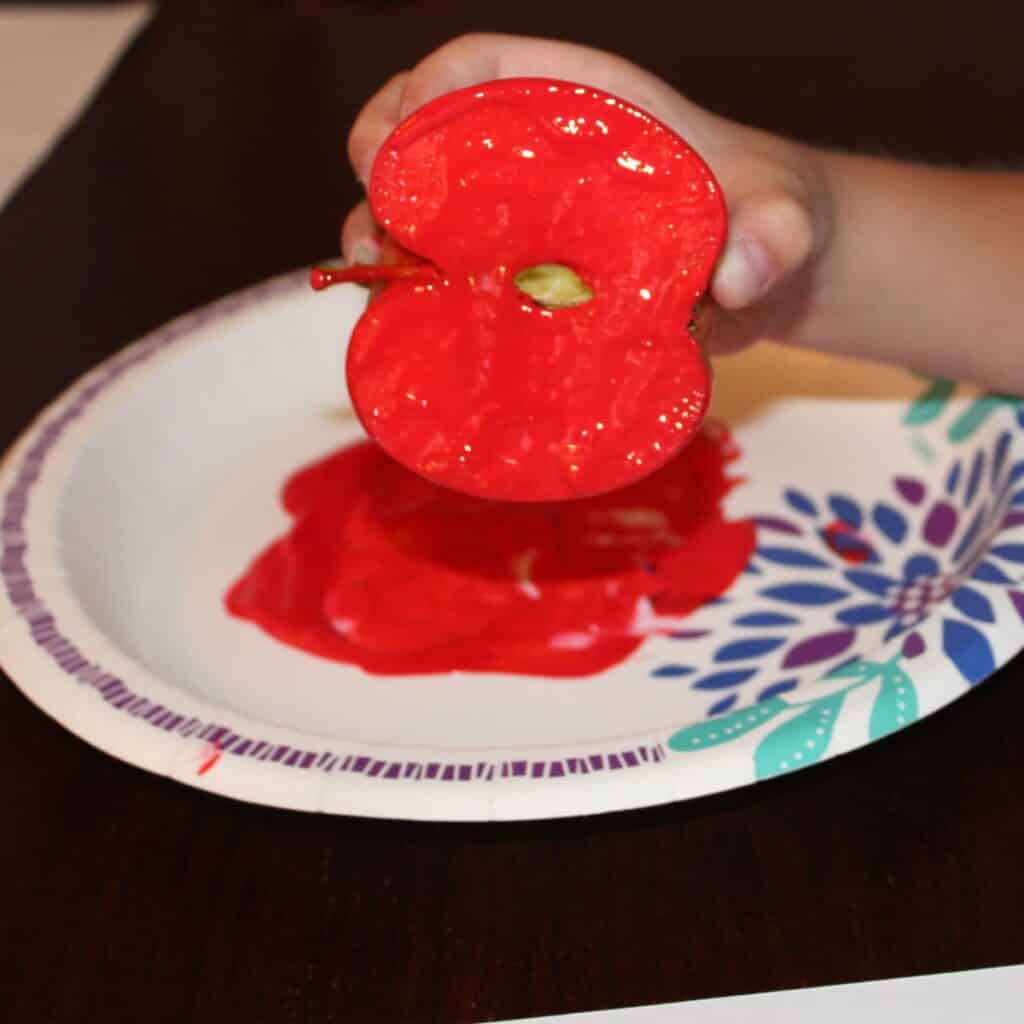 Show your children how to dip the apple into the paint and stamp it onto the page.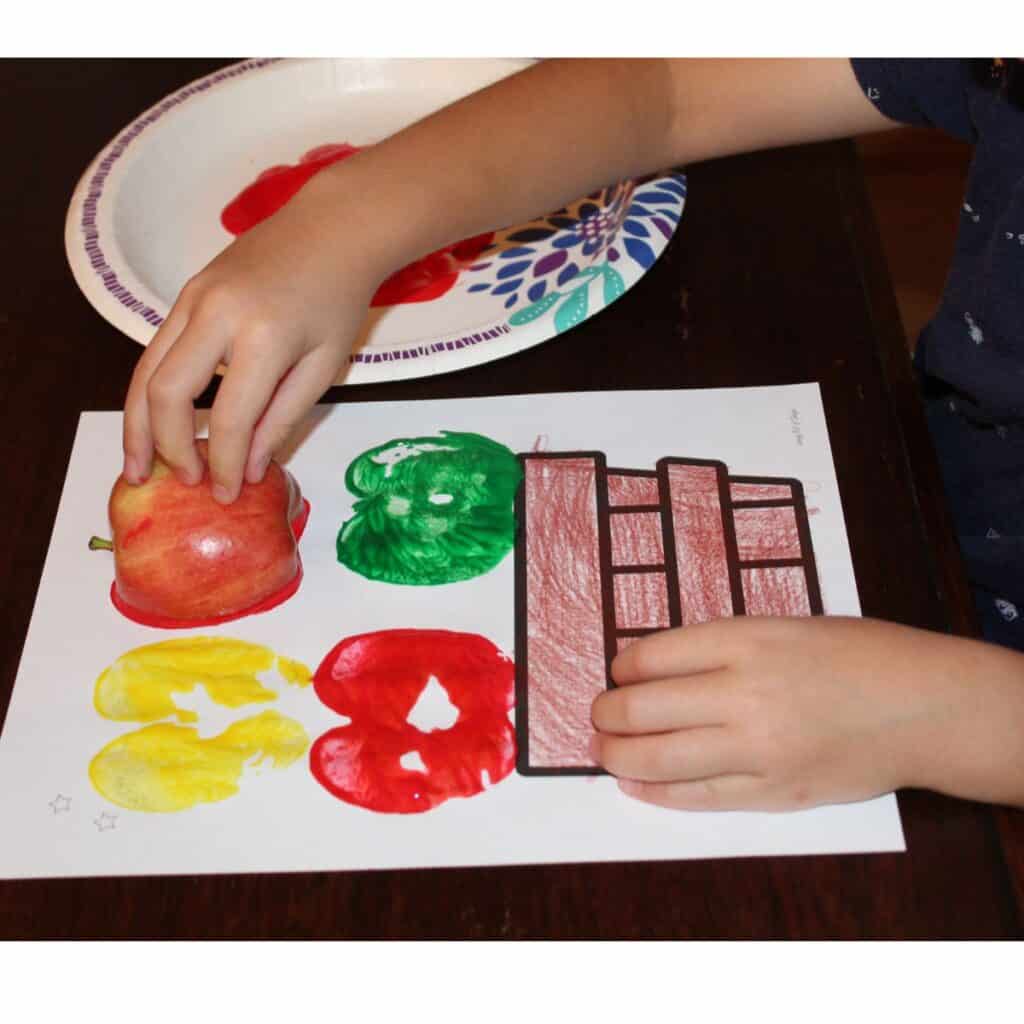 If you want to do multiple colors, I would suggest putting your yellow paint on its own plate and the green paint on its own plate as well. Again, this will help the colors from mixing too much.
FYI: Some color mixing will happen no matter what!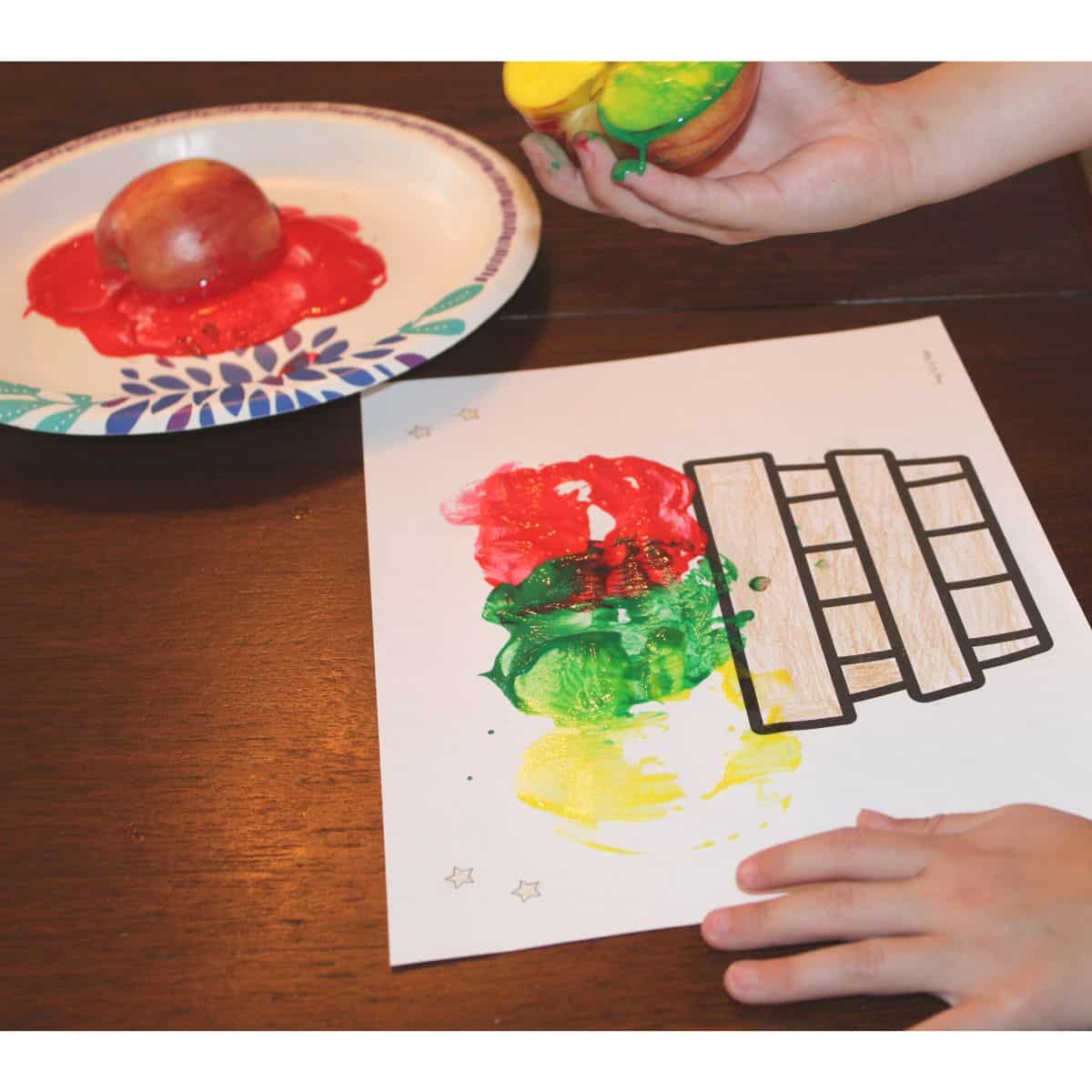 Let your kids have fun stamping the apples onto the page!
We enjoyed stamping the apples to make them look like they were in and around the basket! You might like to provide extra paper, so the kids can continue to enjoy painting with apples.
Also, we kept our pictures simple, but you might enjoy adding brown construction paper stems or adding a piece of construction paper for a leaf.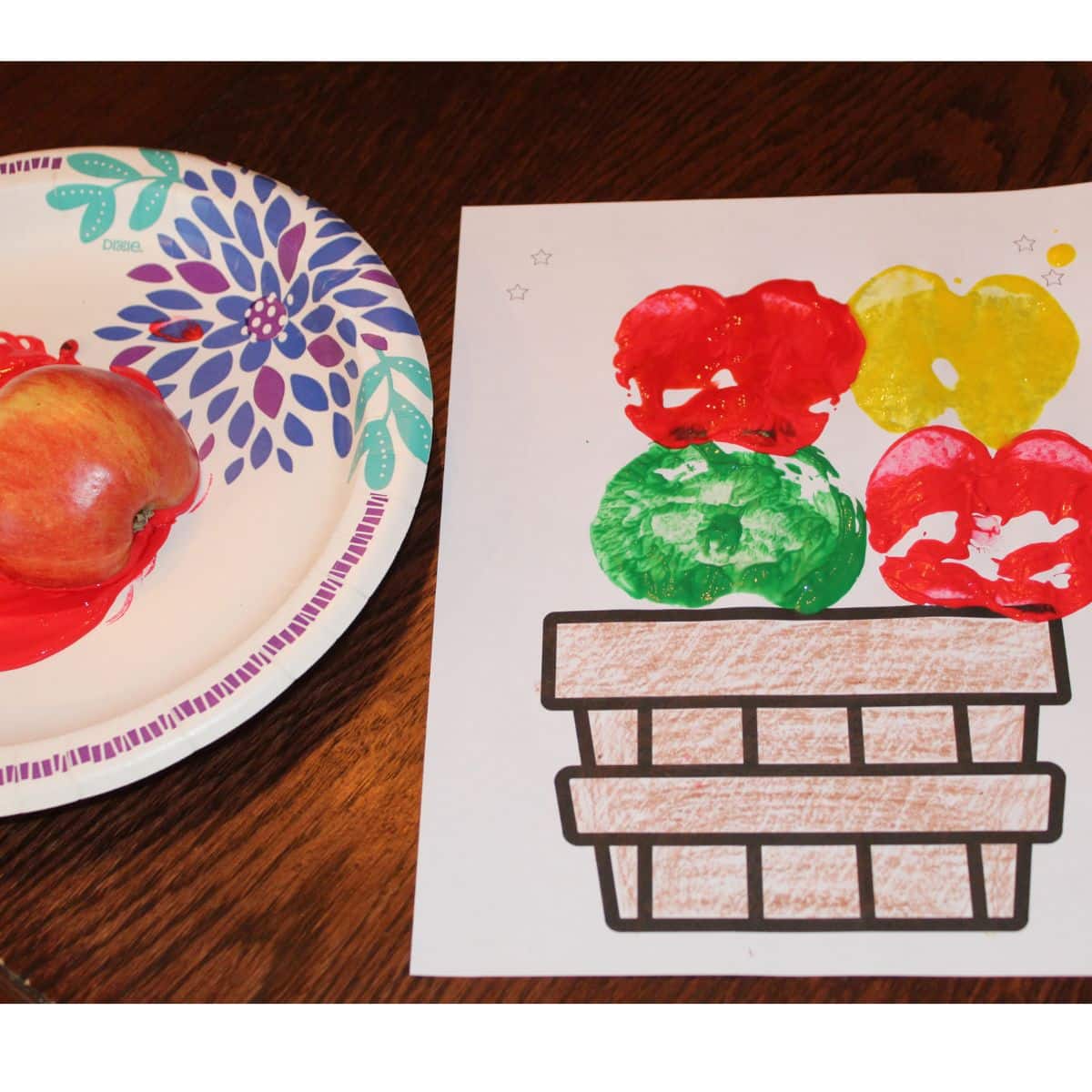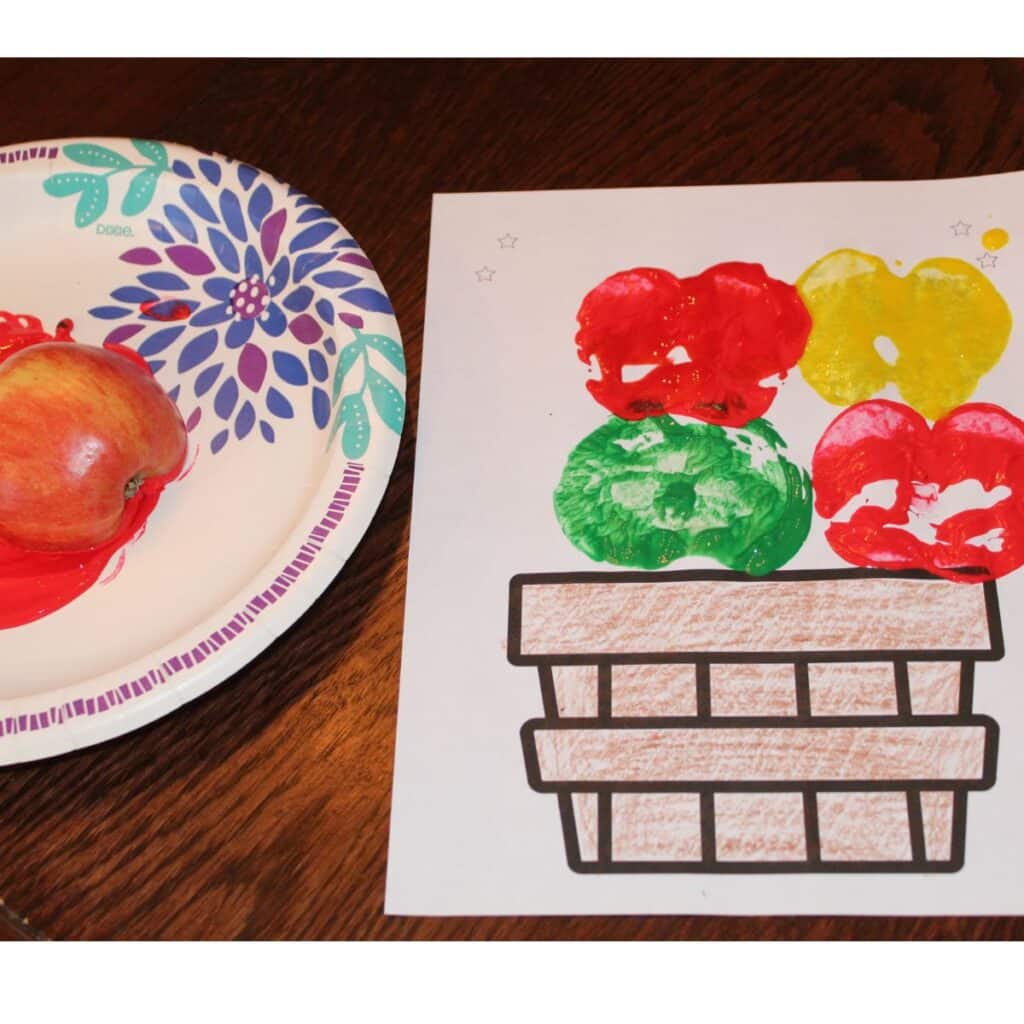 I hope you enjoyed this Apple Stamping Fall Apple Basket Craft for Preschool!
More Apple Activities for Preschool
If you are looking for more Apple activities for preschool be sure to check out all the autumn craft ideas on my blog!
This fun Color Sorting Apple Activity is perfect for little ones. Kids use the free printable to sort cereal onto the correct apple tree. Such a fun project for fruit picking season.
Also, check out this adorable Marble Paint Apple Craft. With the free apple template, kids can paint an apple with marbles! Such a fun apple painting craft for preschoolers!
Plus, don't miss this giant list of Apple Activities for Kids. There's sensory play ideas, printables, and plenty of apple craft ideas as well.
More Fruit and Vegetable Stamping
Plus, if you love fruit and vegetable stamping, don't miss the other cool related projects!
We've stamped with green peppers, the spike of a pineapple, lemons in the summertime, and carrots in the spring! Such cute craft ideas!
Get the Free Printable Apple Basket PDF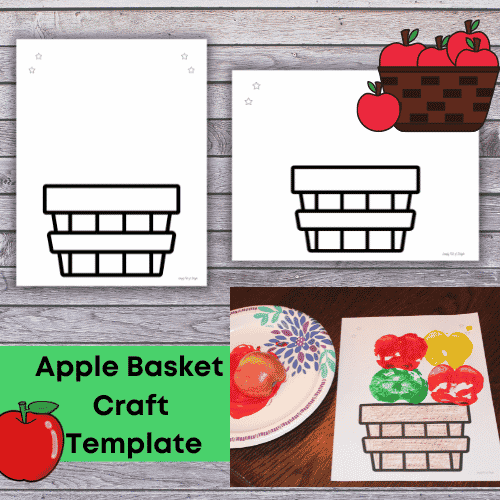 To get the free printable apple basket template for this apple basket craft for preschool, enter your email address in the blue/gray box below to become an email subscriber.
You'll have instant access to this printable and all of the other free printables in the Resource Library for my email subscribers!
And if you already are an email subscriber, just grab the free printable apple basket template PDF in the Resource Library. (Password is in nearly every email I send!)
Alright! That's it! Happy Fall and Happy Apple Season!
Want to save this lovely fall apple craft for preschool idea for later? Pin the image below to your Apple Crafts and Activities board on Pinterest.