The nursery rhyme called 5 Little Pumpkins Sitting on a Gate is a classic Halloween favorite! It is often taught to preschool and lower elementary grade levels.
Today, I'm sharing some fun 5 Little Pumpkins Activities for kids. I have a 5 Little Pumpkins coloring page for your kids, a Printable of the poem, as well as a 5 Little Pumpkins activity. Let's get started!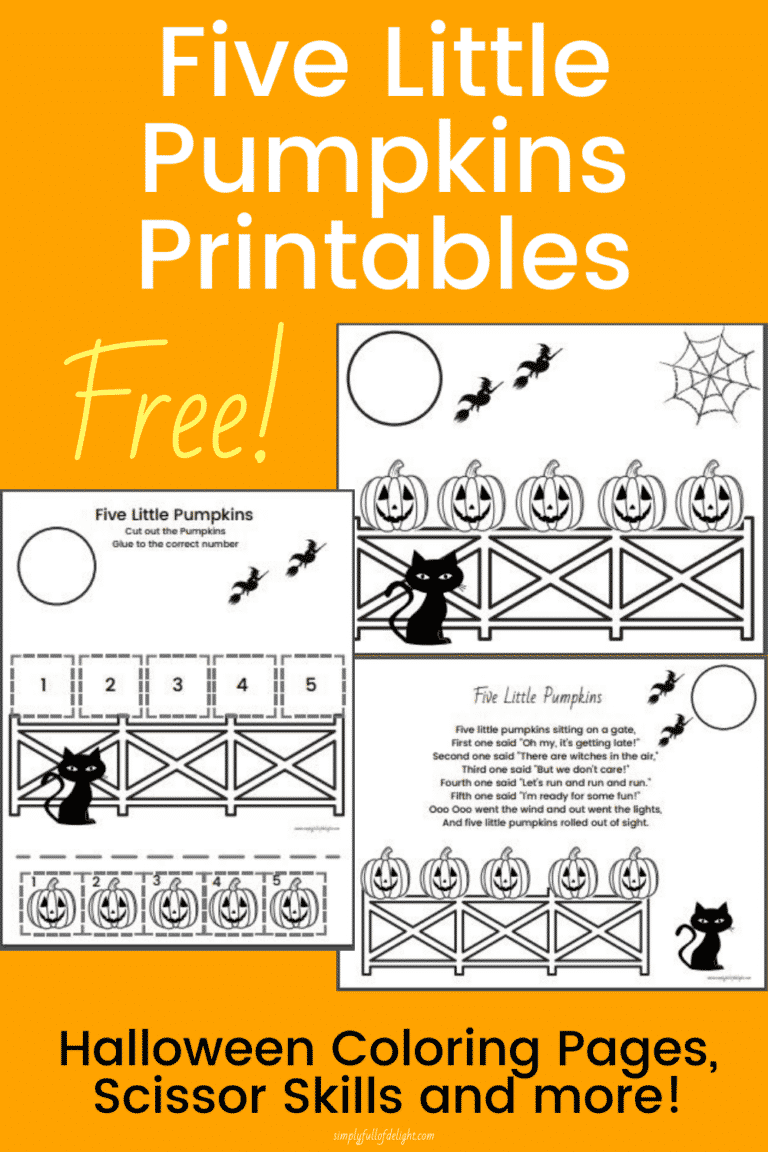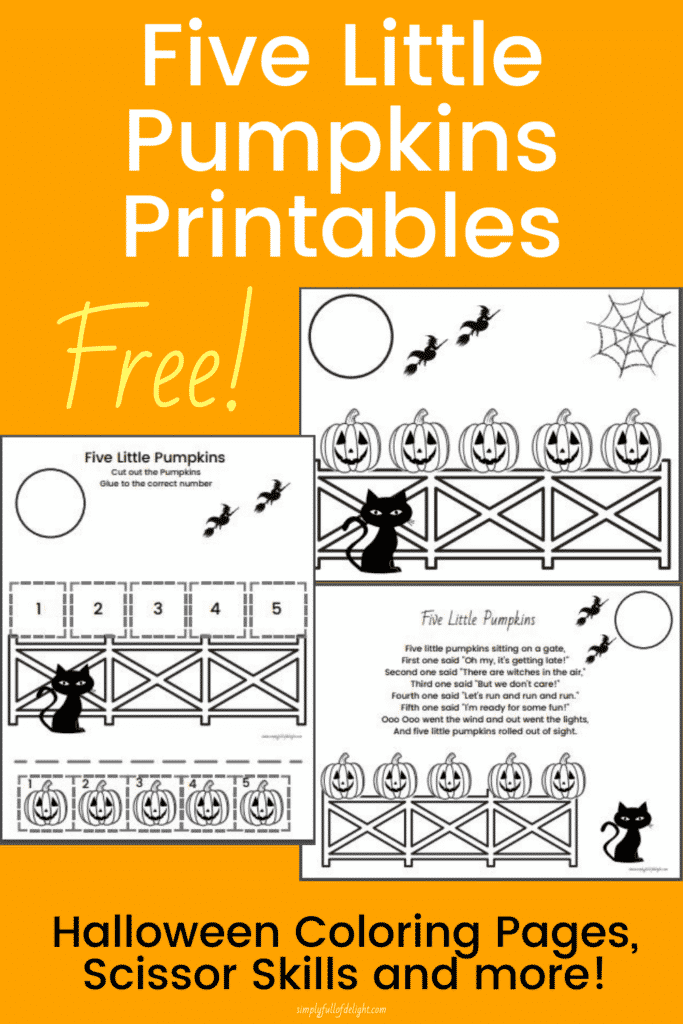 ** Disclaimer: As an Amazon.com Associate, I earn from qualifying purchases made by readers clicking my links at no extra cost to you.
First, if you don't have the book, you can find a copy of 5 Little Pumpkins here. You can also find a video of the classic poem here.
5 Little Pumpkins Coloring Page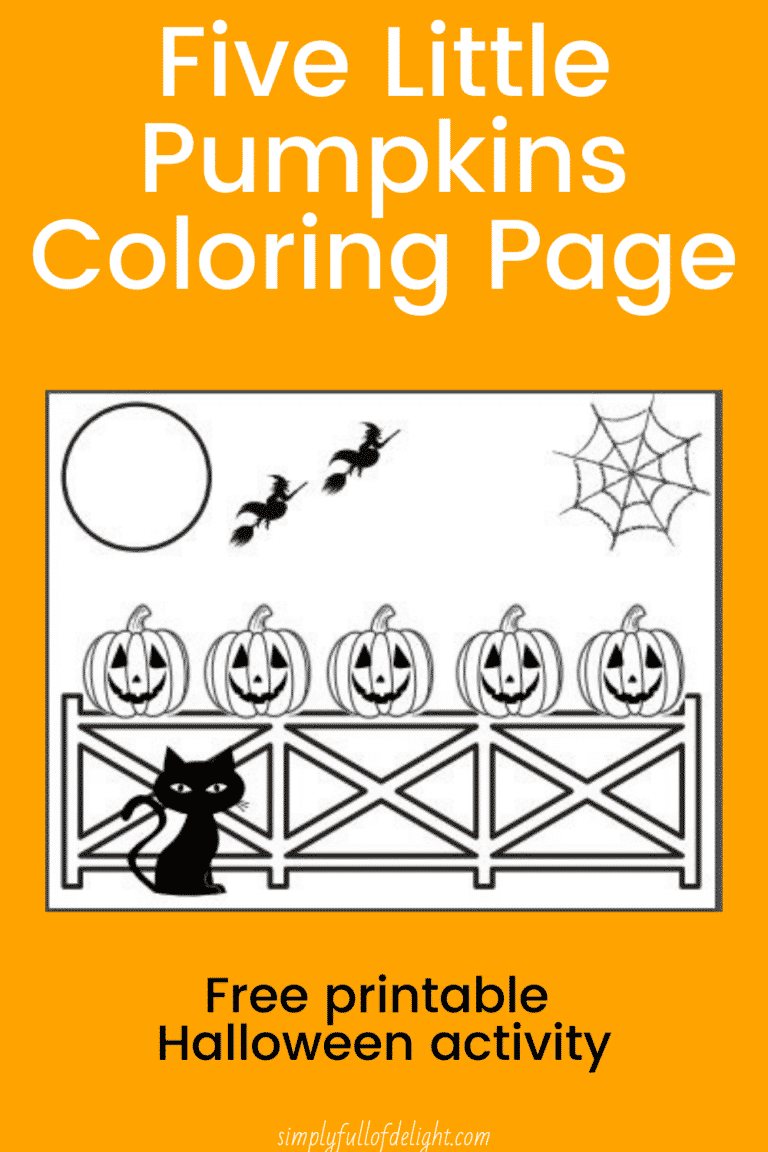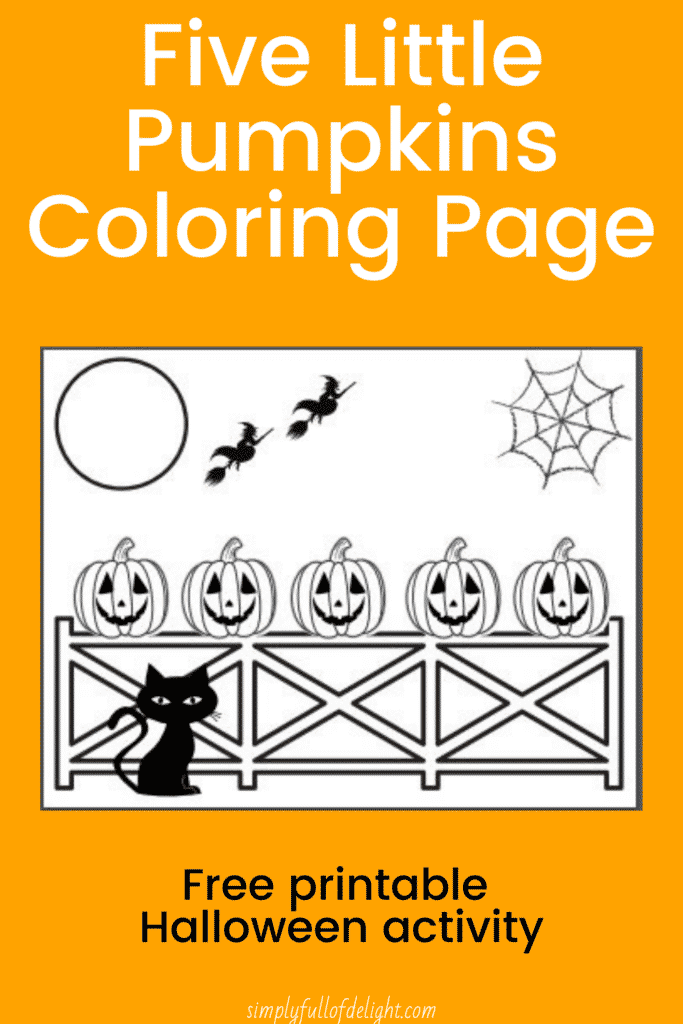 First up is this fun Five Little Pumpkins Coloring sheet! You can print as many as you like, for home or for use in a classroom. Be sure to provide your kiddos with plenty of shades of orange! If your child isn't much of a coloring fan, try colored pencils, markers, or these fun Crayola paint pens that my kiddos love.
5 Little Pumpkins Lyrics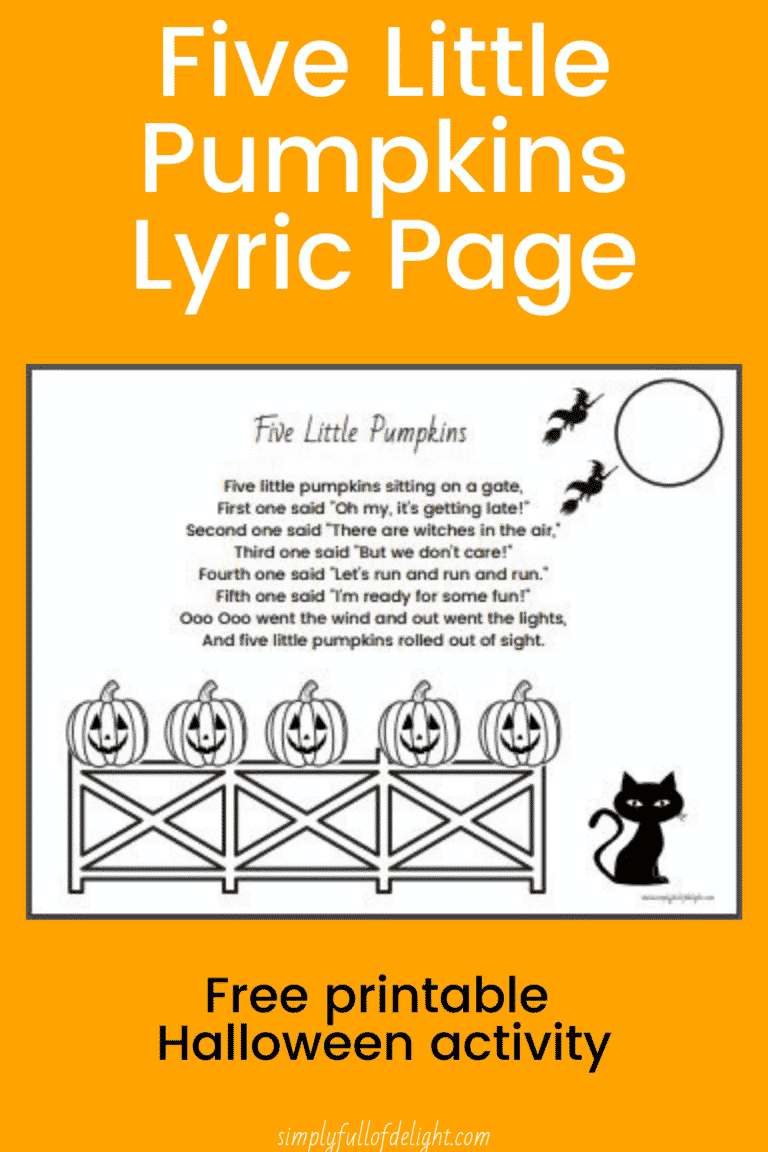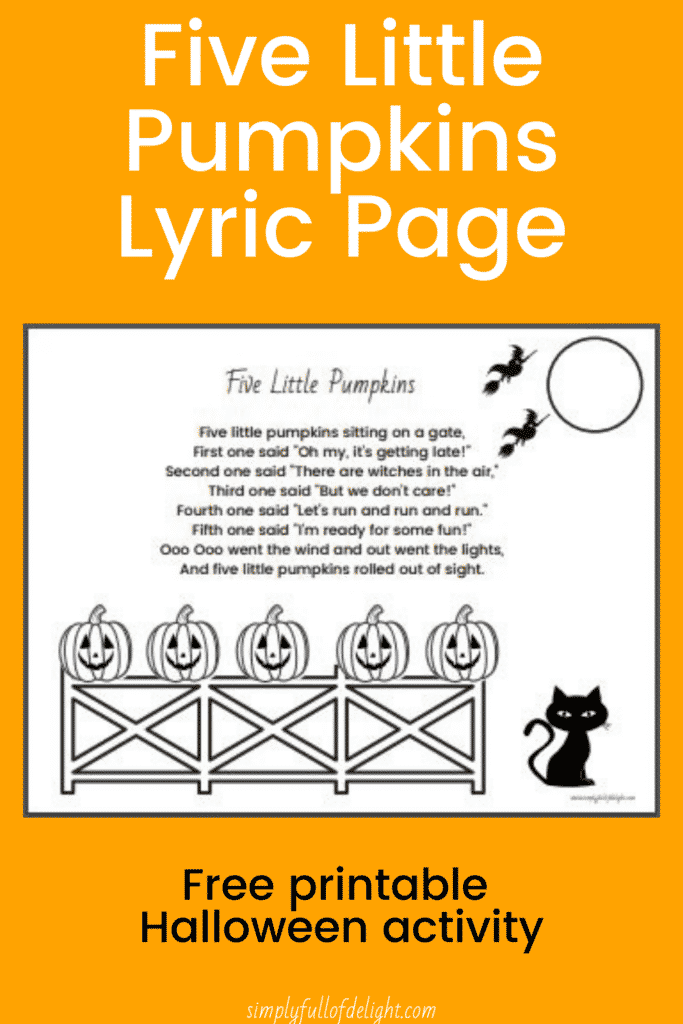 Here's the lyrics to the classic poem!
Five Little Pumpkins
Five little pumpkins sitting on a gate,
First one said "Oh my, it's getting late!"
Second one said "There are witches in the air,"
Third one said "But we don't care!"
Fourth one said "Let's run and run and run."
Fifth one said "I'm ready for some fun!"
Ooo Ooo went the wind and out went the lights,
And five little pumpkins rolled out of sight.
I've provided a printable version for you as well. This page would be great for teaching fine motor skills. Provide colored pencils or thin line markers to color the small details on this poem page. You could also do some sight word work. For example, you could ask your child to circle the word "one" every time they see it.
Five Little Pumpkins Activity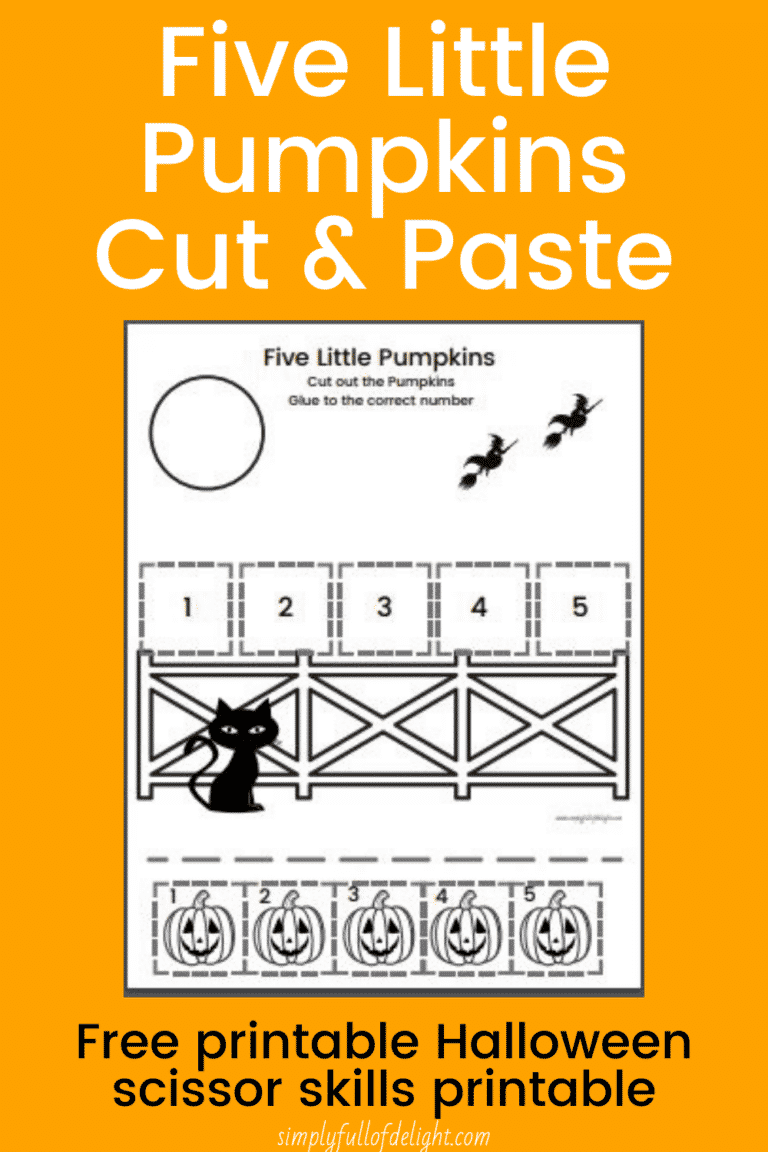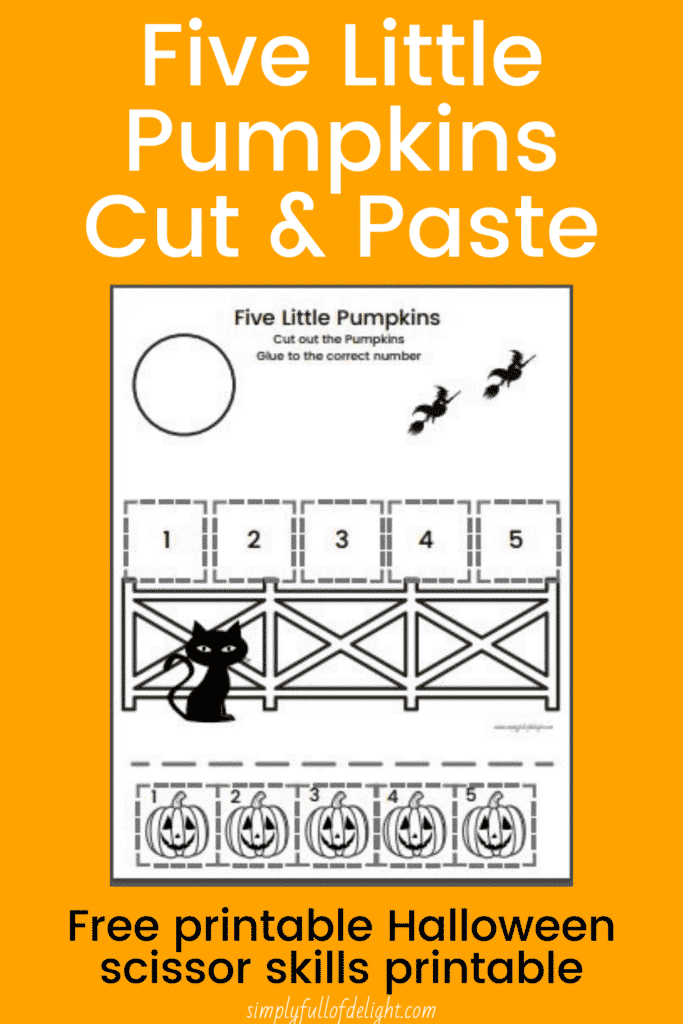 This simple 5 Little Pumpkins activity only requires the printable, scissors and glue! Perfect for preschool or lower elementary age children.
First, print out the activity paper. Have the children color the page and cut out the pumpkin squares. Next, have the kids paste the pumpkin to the corresponding number on the fence.
I hope your children enjoy these fun 5 Little Pumpkin activities! To get the free Five Little Pumpkin Printables, join my email list below and get instant access to all of these plus more freebies in my Resource Library.
More Halloween & Fall Articles:
If you'd like more fall fun check out Fall Activities for the Family (& Free Printables!) There's a free printable Jack-o-Lantern, pumpkin tractor, fall bucket list and more!
You can also grab free Monster Coloring pages here. There's a Create a Monster page as well as 2 more fun monster coloring pages.
To make a fun wearable craft, check out this free Witch Hat Headband printable.
For apple picking season/autumn, check out this Apple Color Sorting activity, this Marble Painting Apple Craft and this Fall Sensory Bin idea as well!