Today I'm sharing a Free Winter Tree Printable with you! Plus, you'll also find some winter tree craft ideas that use this fun winter printable.
It's winter time in the Midwest, so we've been having lots of fun with winter crafts for kids!
We enjoyed this Build a Snowman paper craft and this fun Mitten Craft as well.
I knew I wanted to do some winter tree art with my kids, so I decided to create a free printable winter tree template to share with you.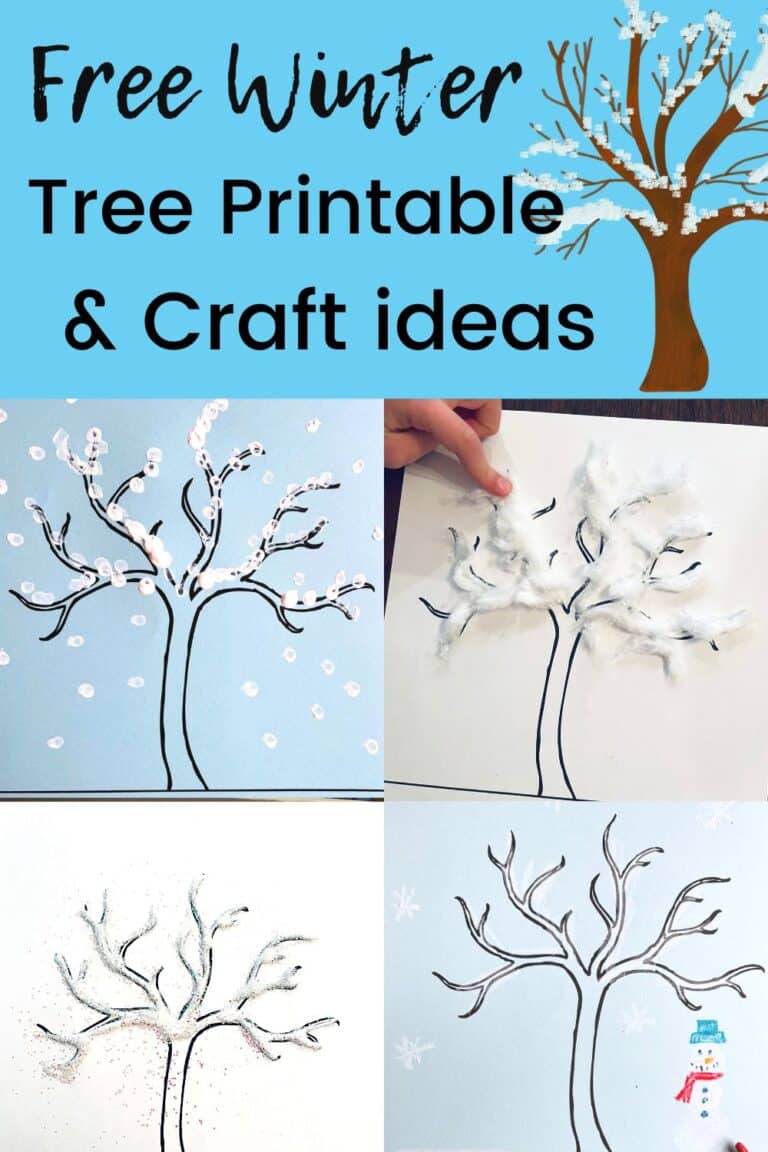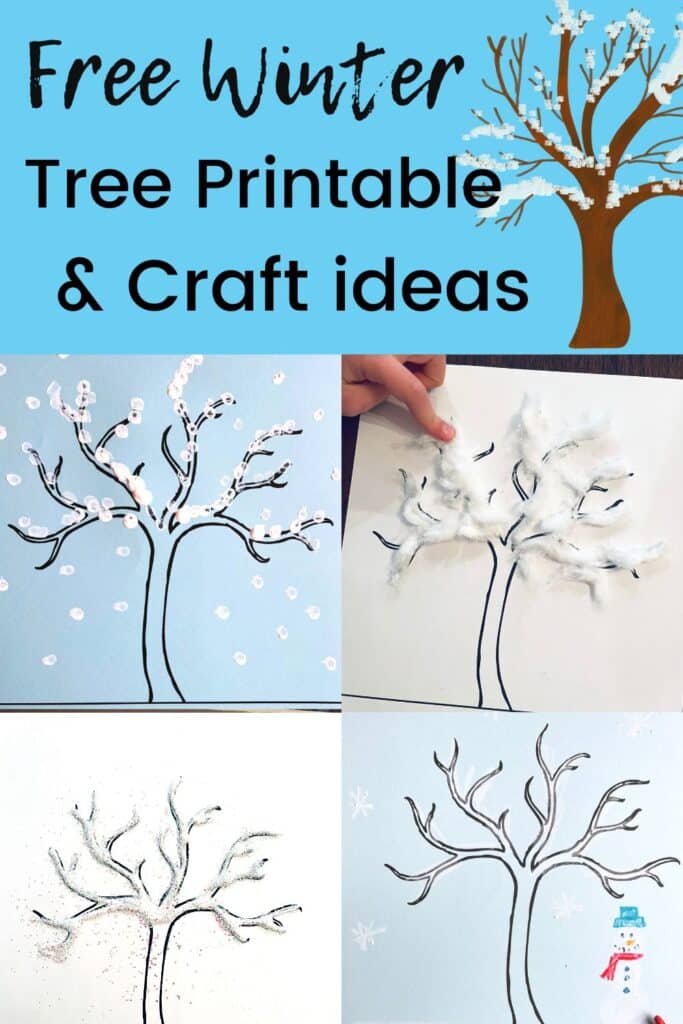 It's just a simple tree trunk with bare branches. It's perfect for all your great ideas for winter art projects.
I am going to show you 5 ways you can use this bare tree template for winter crafts!
** Disclaimer: As an Etsy associate and as an Amazon.com Associate, I may earn from qualifying purchases made by readers clicking my affiliate links at no extra cost to you.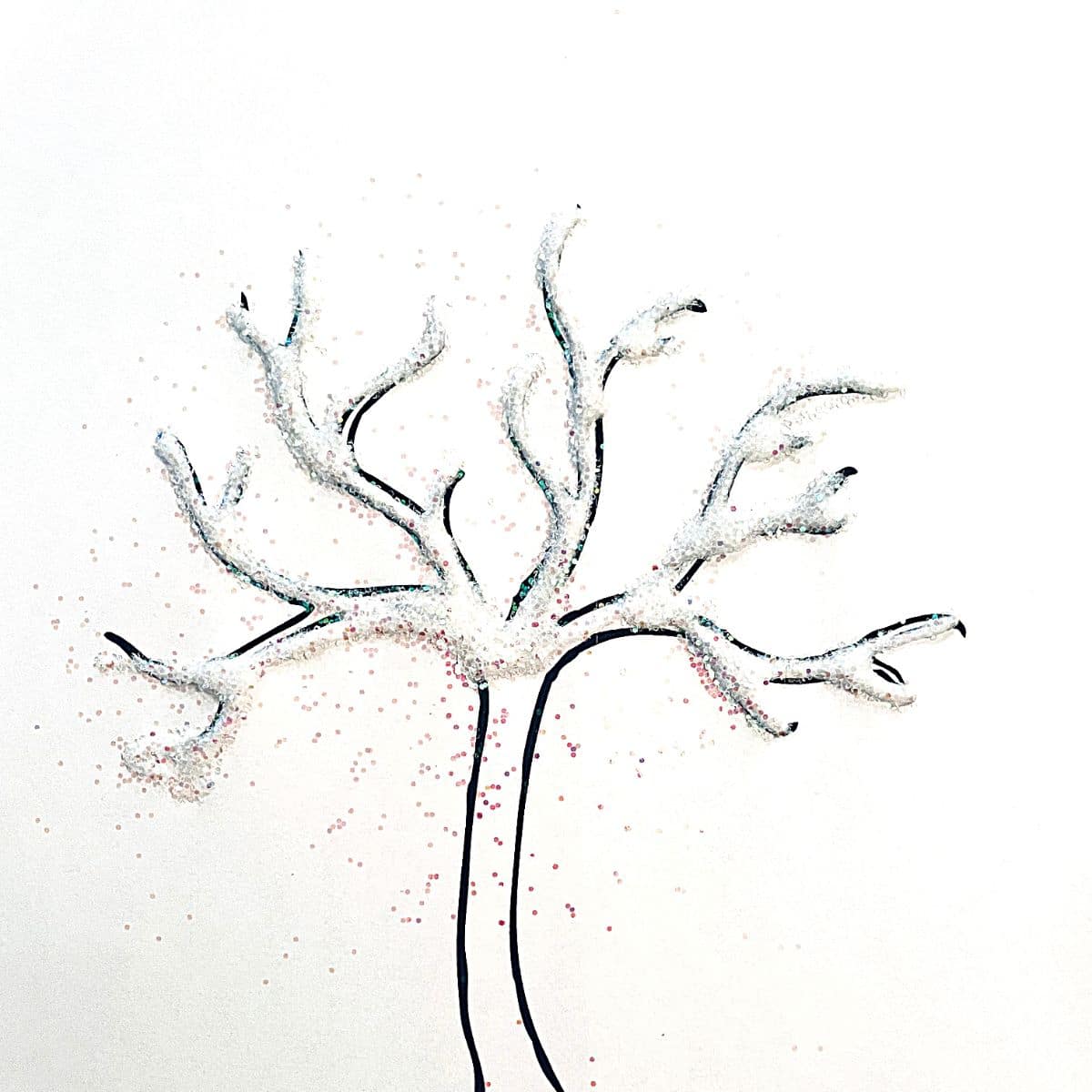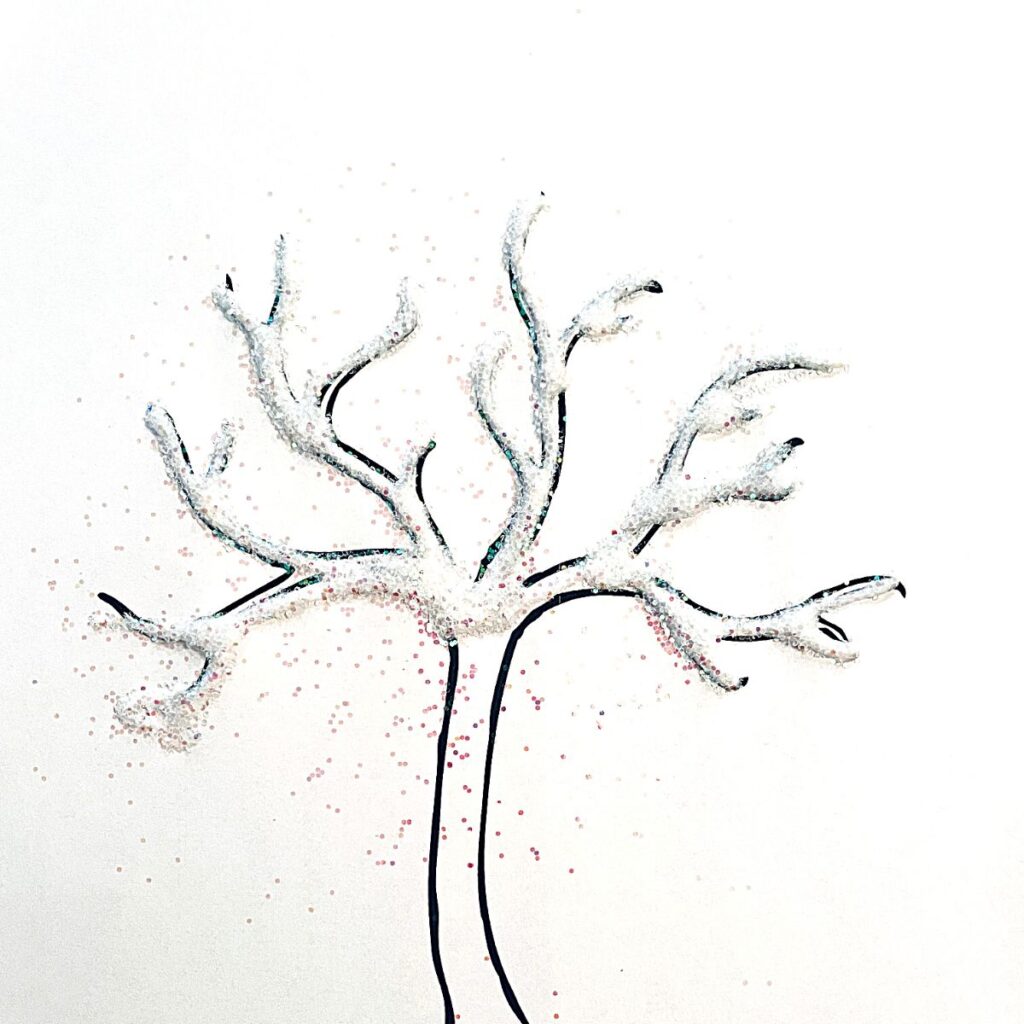 1) Glitter Winter Tree
The first idea is a fun one for all those little ones who love glitter!
Simply print the free tree template and outline the branches with liquid glue. We like to use Elmer's school glue.
Once the branches have been outlined, sprinkle small amounts of iridescent glitter onto the glue. Then shake off the excess.
We find that this project is easier when we do it inside a shallow box. It helps keep the mess of glitter contained (somewhat!)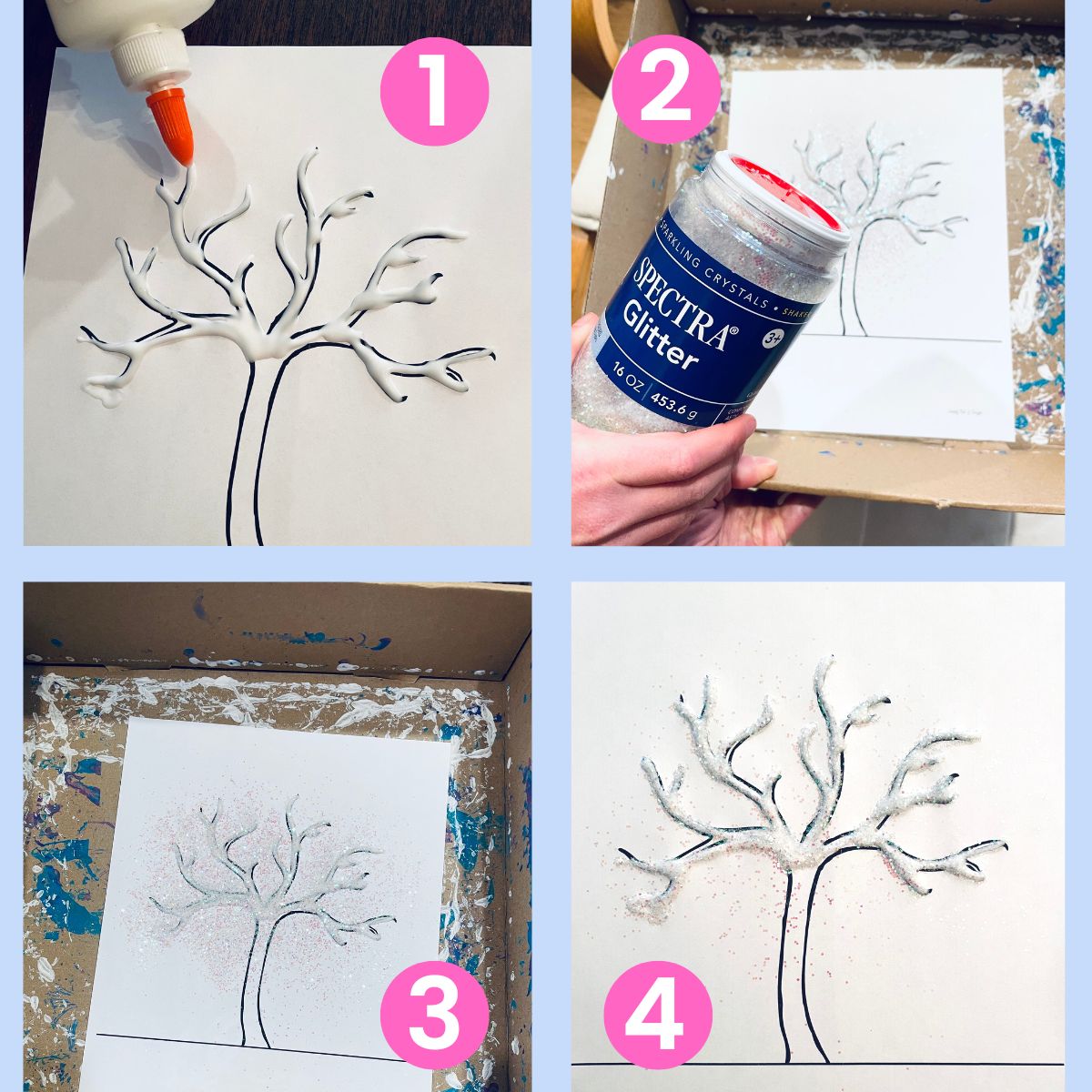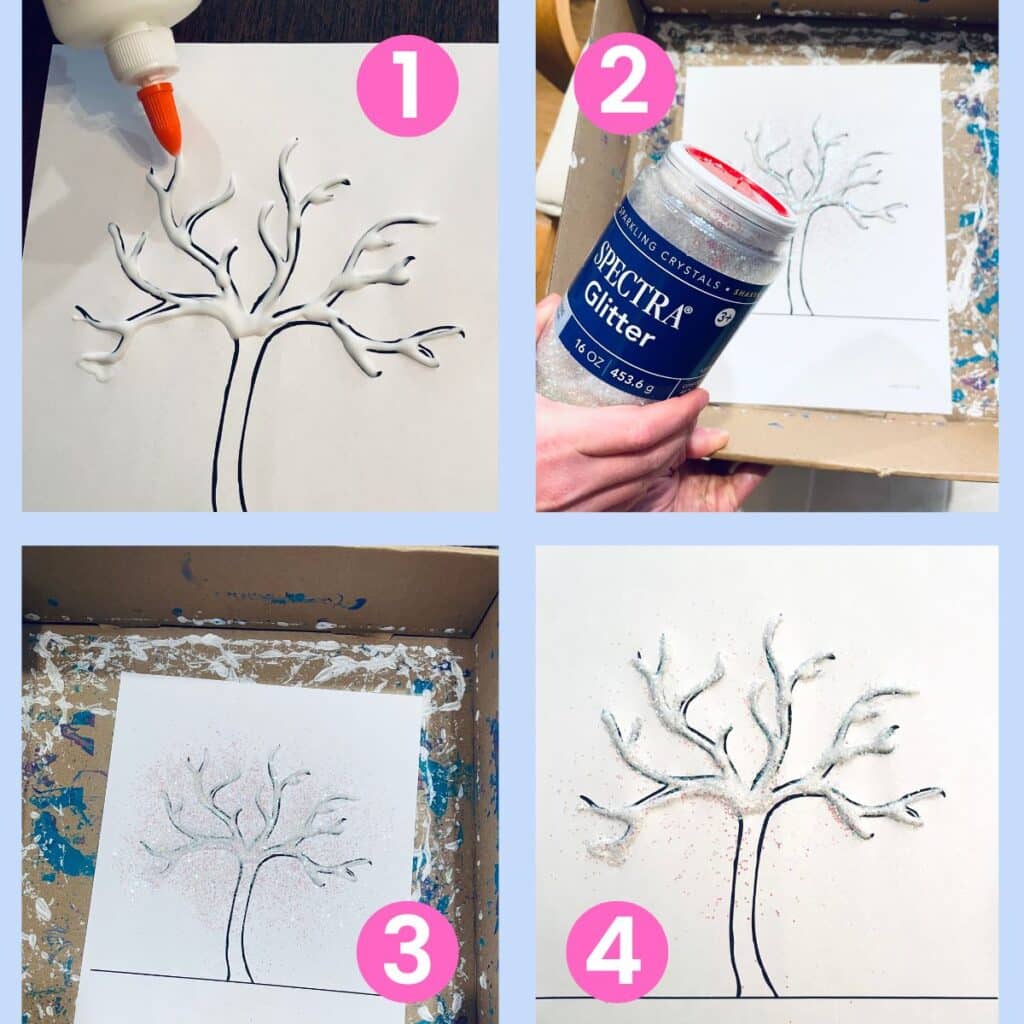 My kids had a great time making a magical winter wonderland looking tree!
2) Cotton Ball Tree
Another fun way to use this winter tree printable template is to glue cotton balls to the tree to look like snow.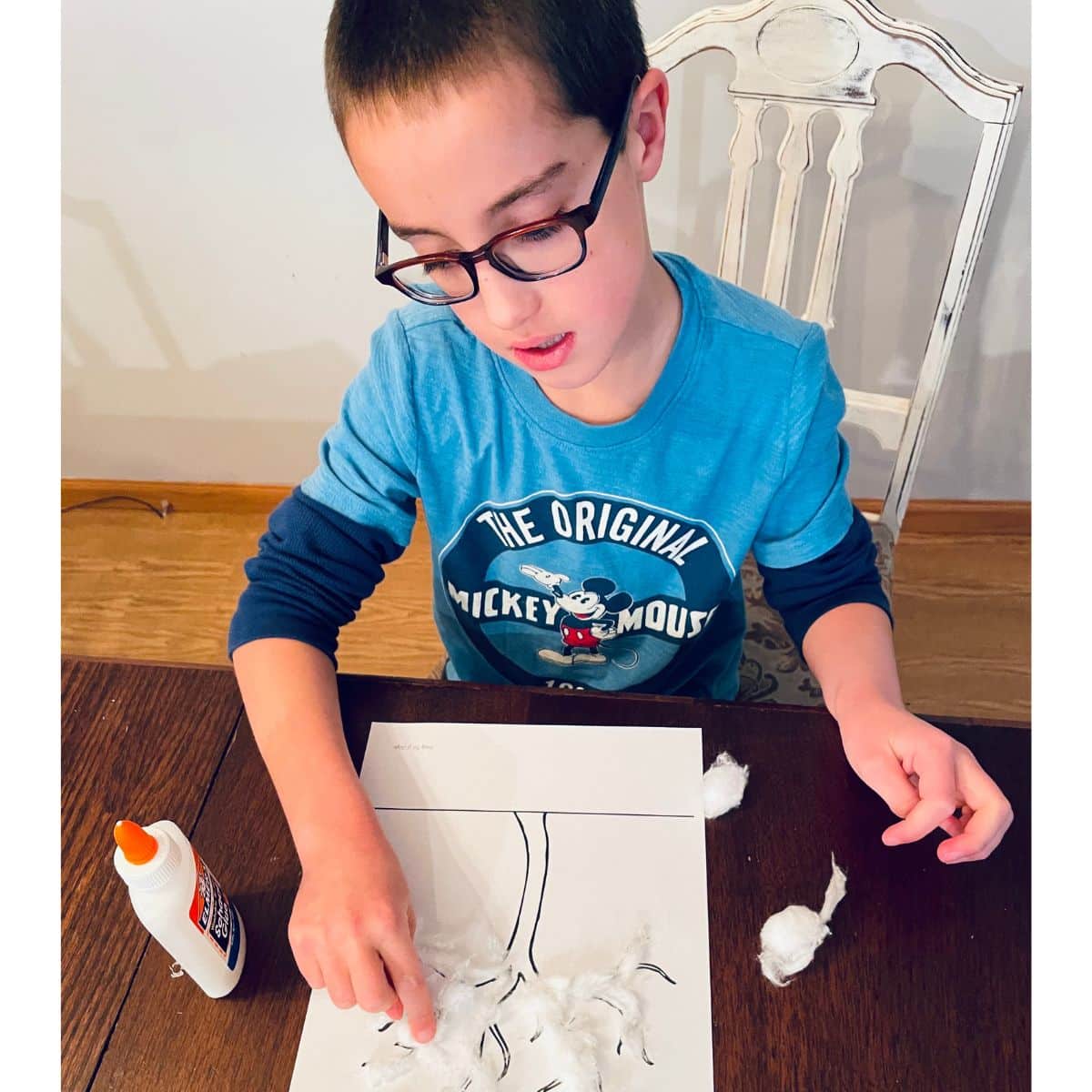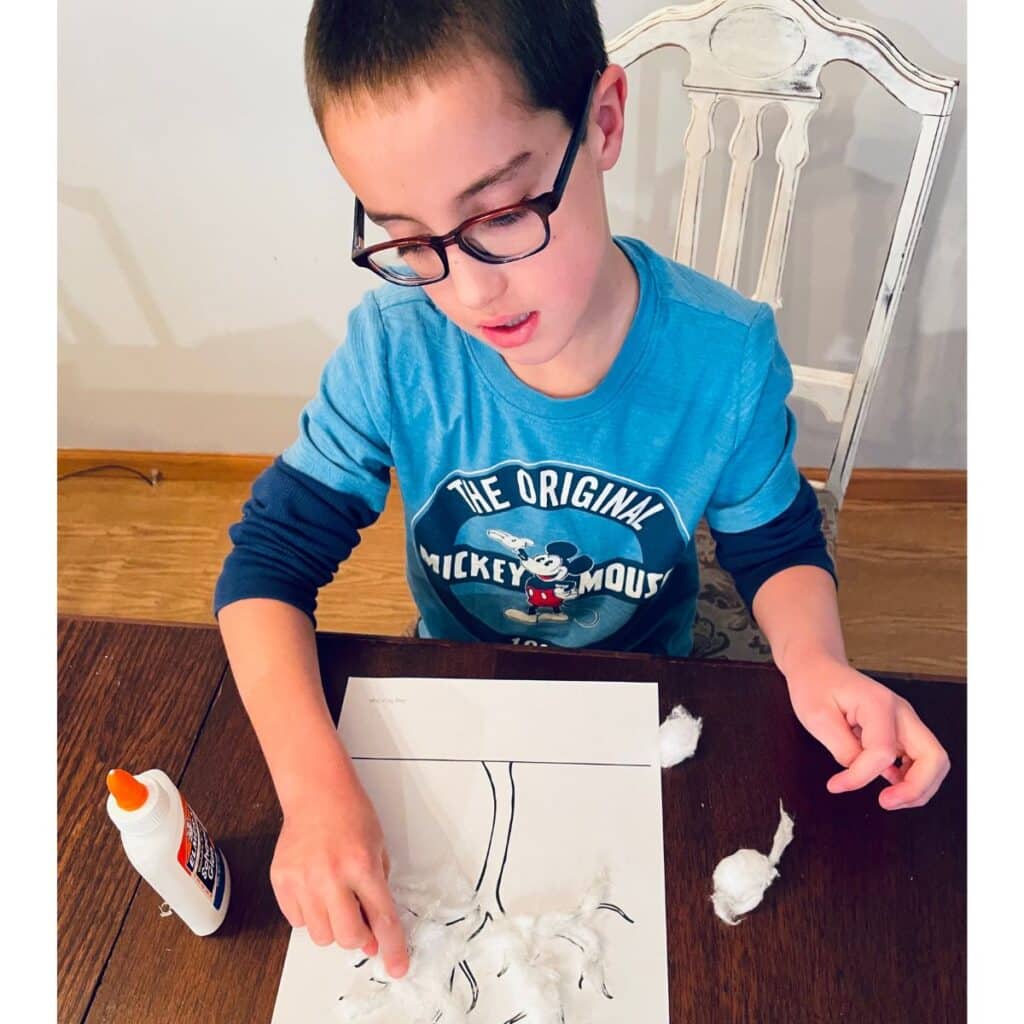 To do this project, we outlined the paper tree branches with glue.
Then we pulled small amounts of cotton off of the cotton balls and added it to our winter tree printable.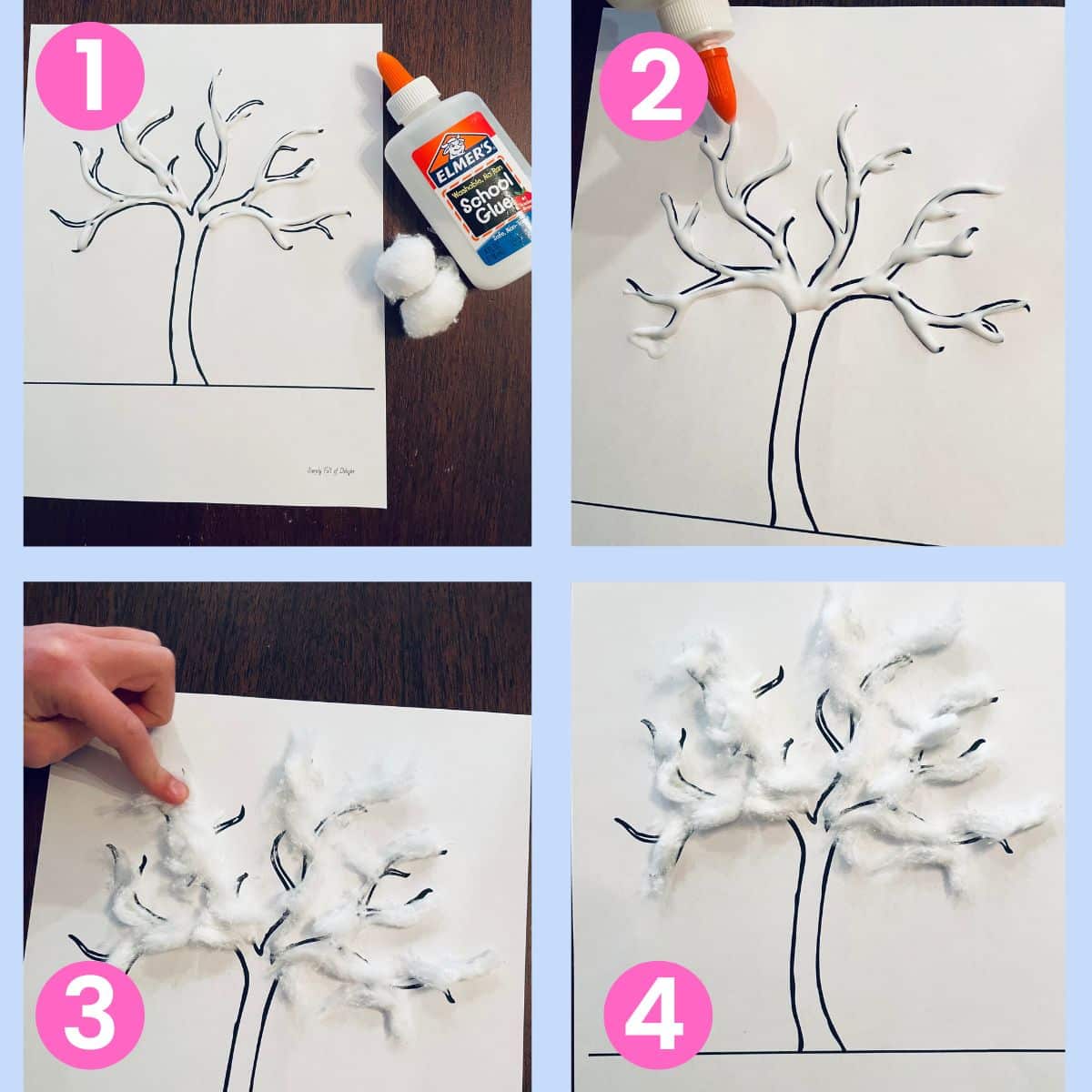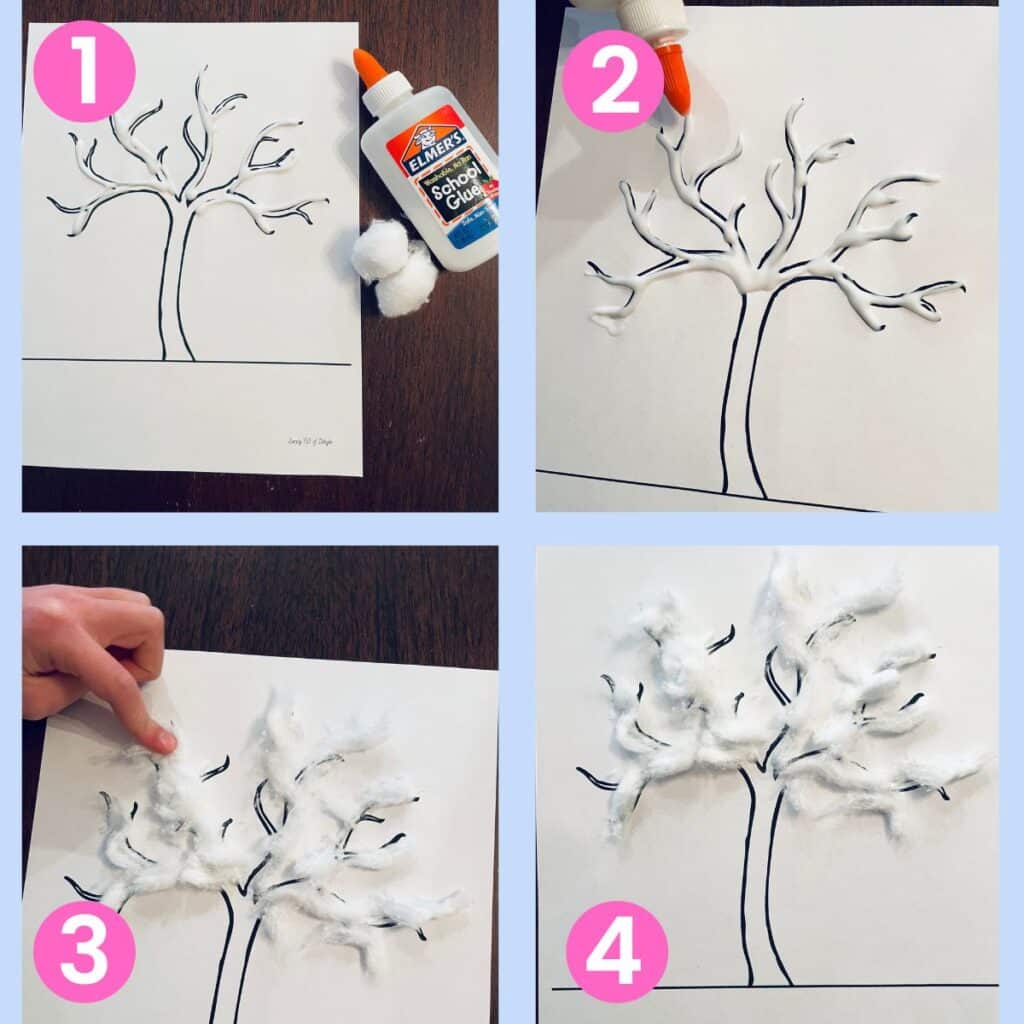 My little artists really loved how soft their tree turned out! They couldn't stop touching it – they loved it!
You might like to add some fun snowflake stickers to really make the picture pop! Or if you are feeling really adventurous, you could add snowflakes from dabs of glitter glue.
3) Painting a Winter Tree
This next idea requires the tree outline printable to be printed on blue paper, blue cardstock or blue construction paper.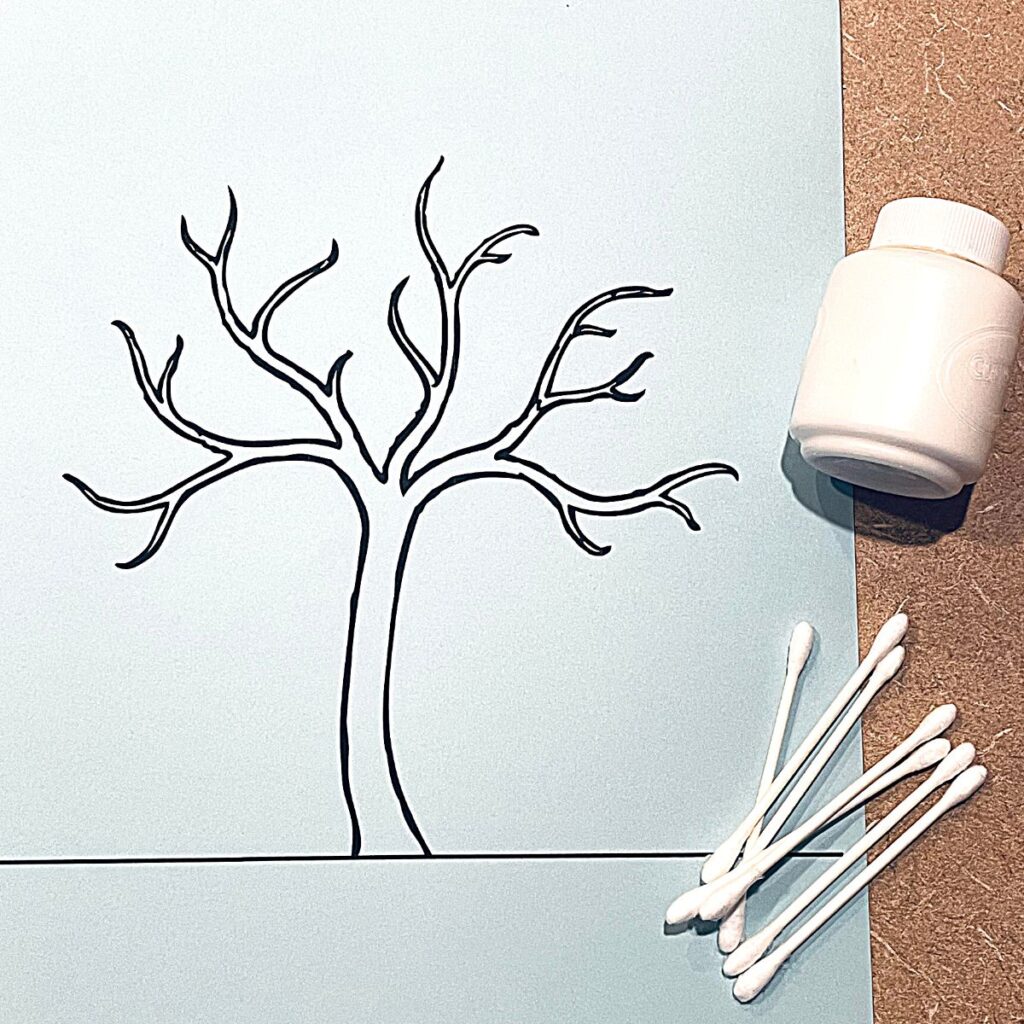 We want our background to be colored so that the white paint shows up! I recommend a pastel blue so that you can both see the white but also see the winter tree outline.
We used Cotton Swabs to print white dots of paint onto our wintry tree picture.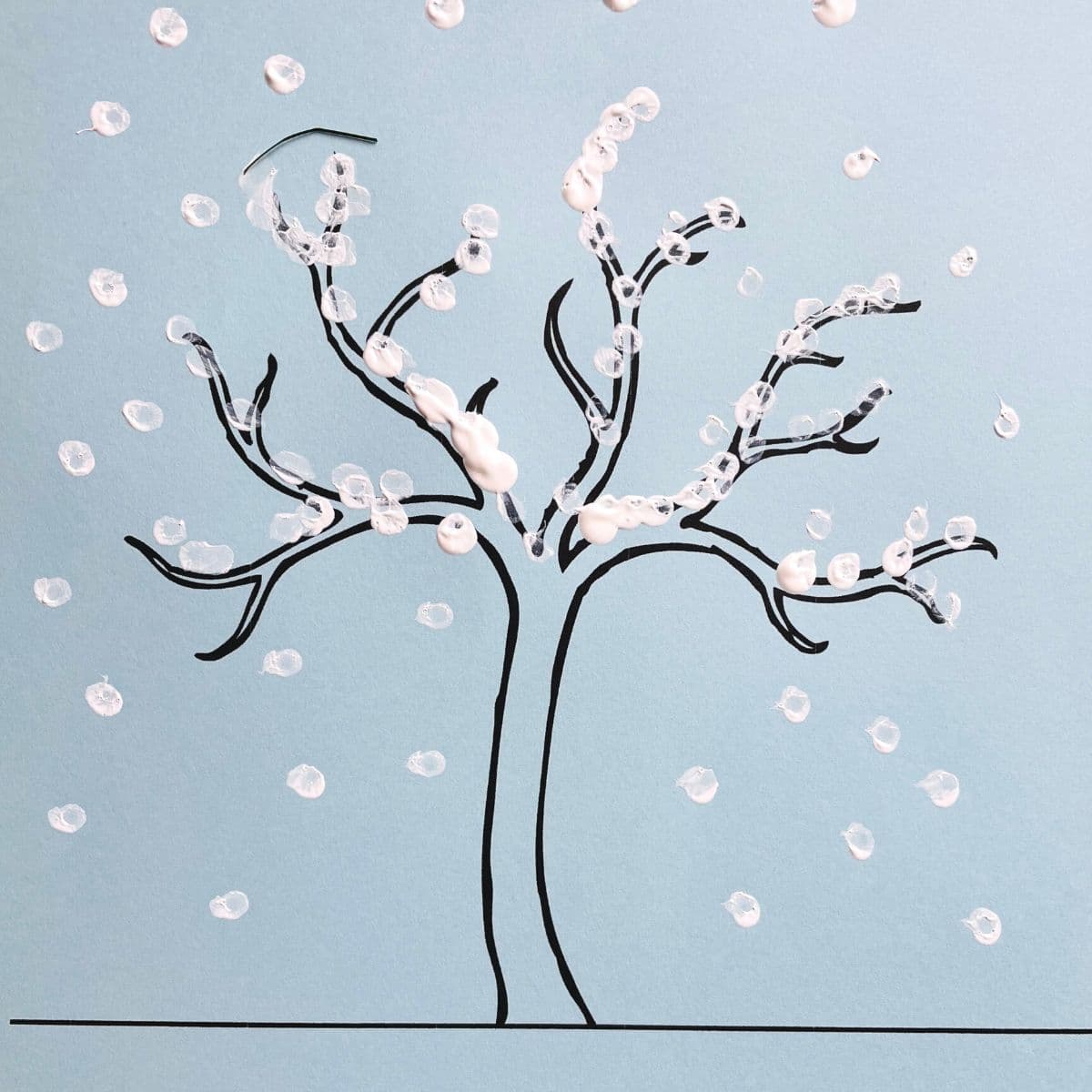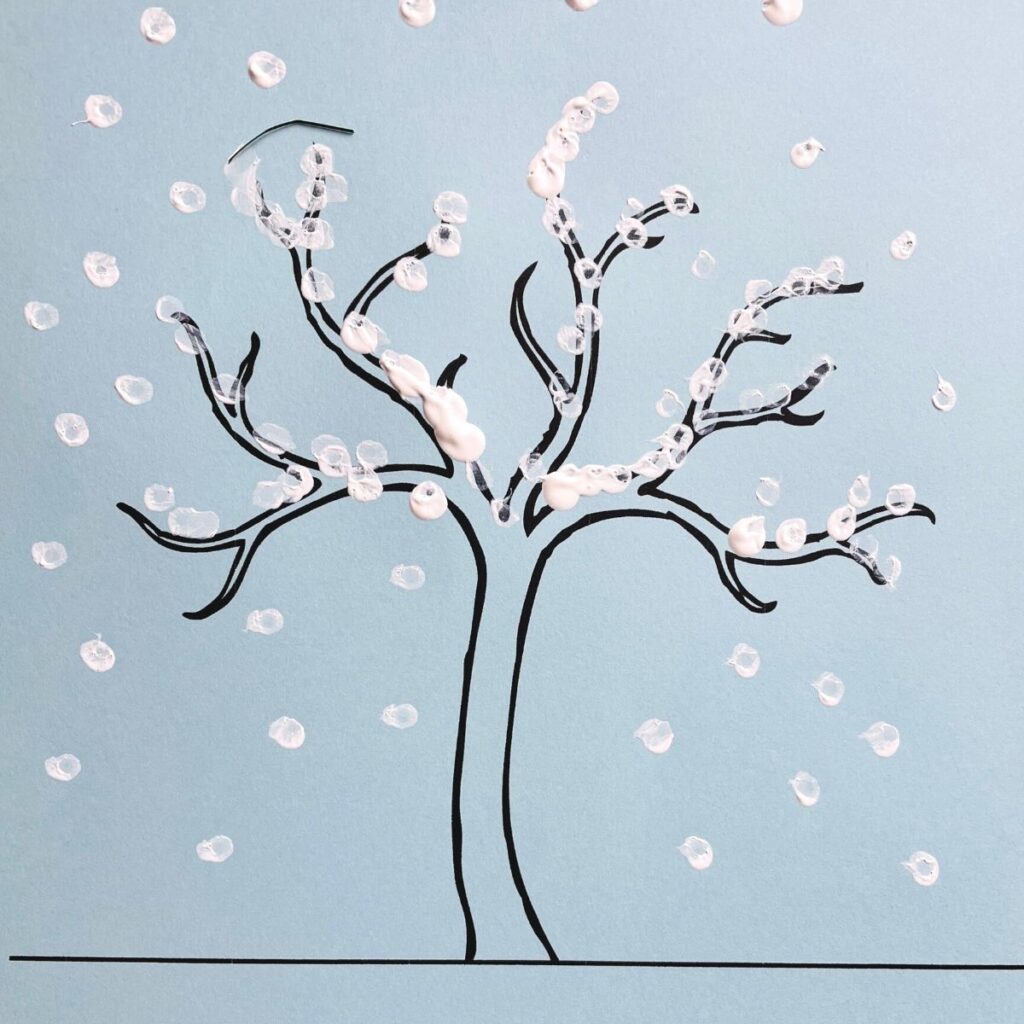 Alternately, instead of cotton swabs you might like to use pom poms, cotton balls, or even finger paint! You could also try the eraser tip of a pencil, a straw, or printing with blocks.
For a different look, you might like to have little ones color the trunk of the tree ahead of time with a brown crayon.
There's so many ways to make cute winter tree art!
4) Winter Tree coloring page
This idea is the most simple of the bunch!
You can give this large tree template to your kids as winter tree coloring pages.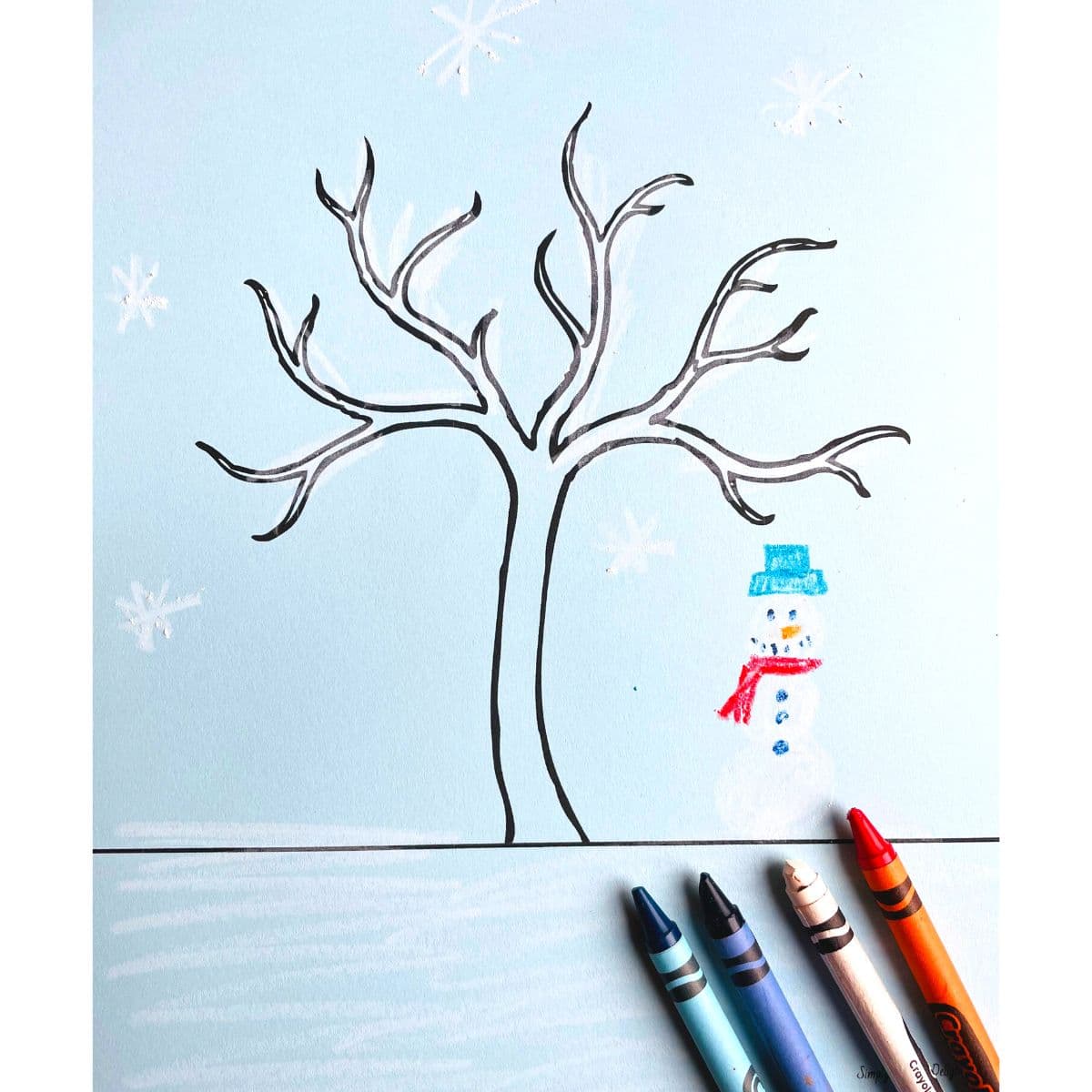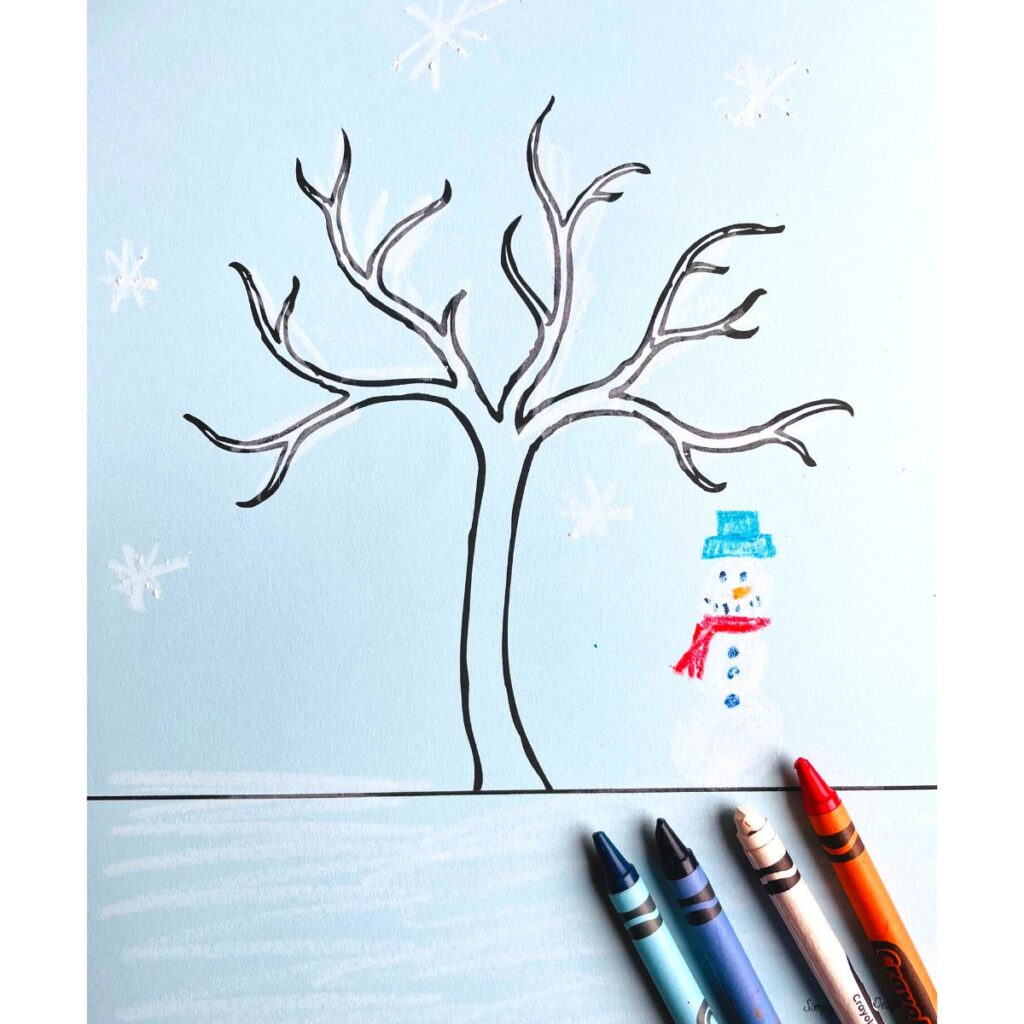 They can color on the snow with light blue. Kids can use it to draw a wintery scene. They might like to add a snowman, or kids playing in the snow.
We colored on blue paper, but this could also work on white as well. Kids could use light blue to represent snow.
Or stepping away from the winter theme, they might like to color on this bare tree printbable to create their own picture. They might color on green leaves for spring, blossoms, or make an apple tree! So many possibilities with this tree template.
5) 4 Seasons Trees
You might like to use a series of these tree printables to make trees for all 4 seasons. This could make a great lesson for little ones to observe how trees change throughout the year.
You might like to make a budding spring tree, a green summer tree, a fall tree with colorful leaves, and a winter tree with snow on it.
All you need is the template and several different colors of paint and cotton swabs!
Want to save these ideas for later? Pin the image below to your Winter Activities Pinterest Board.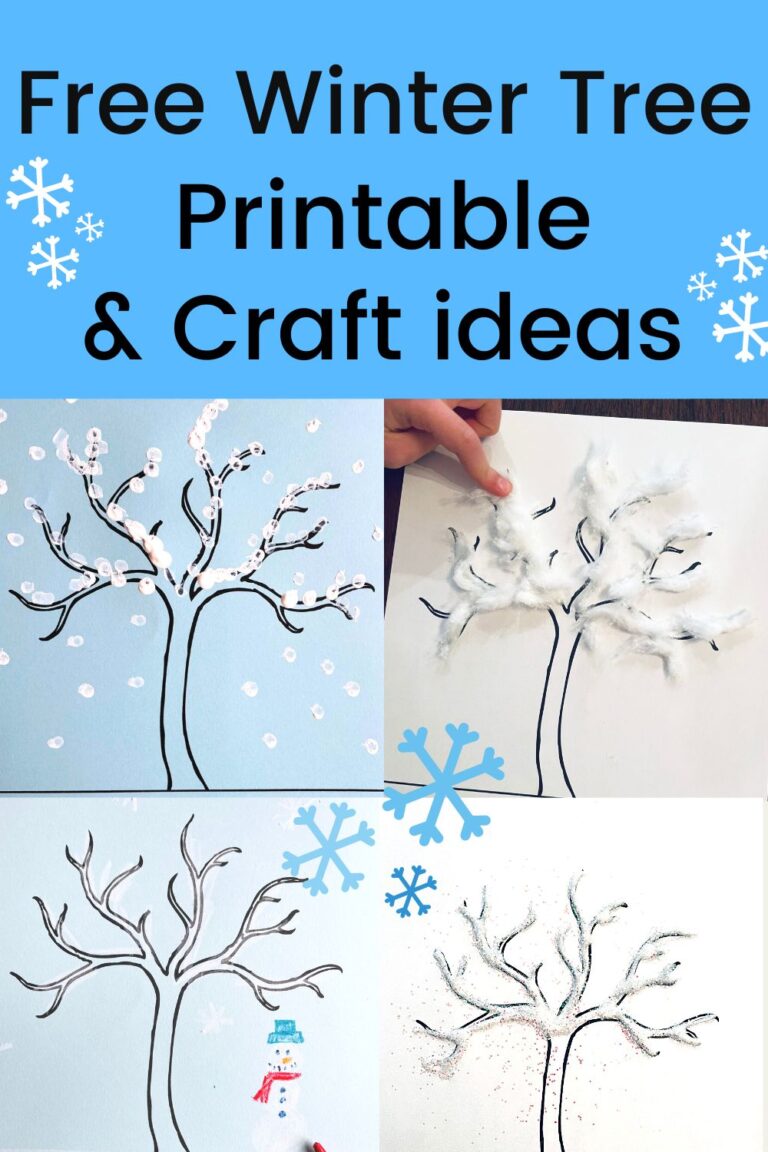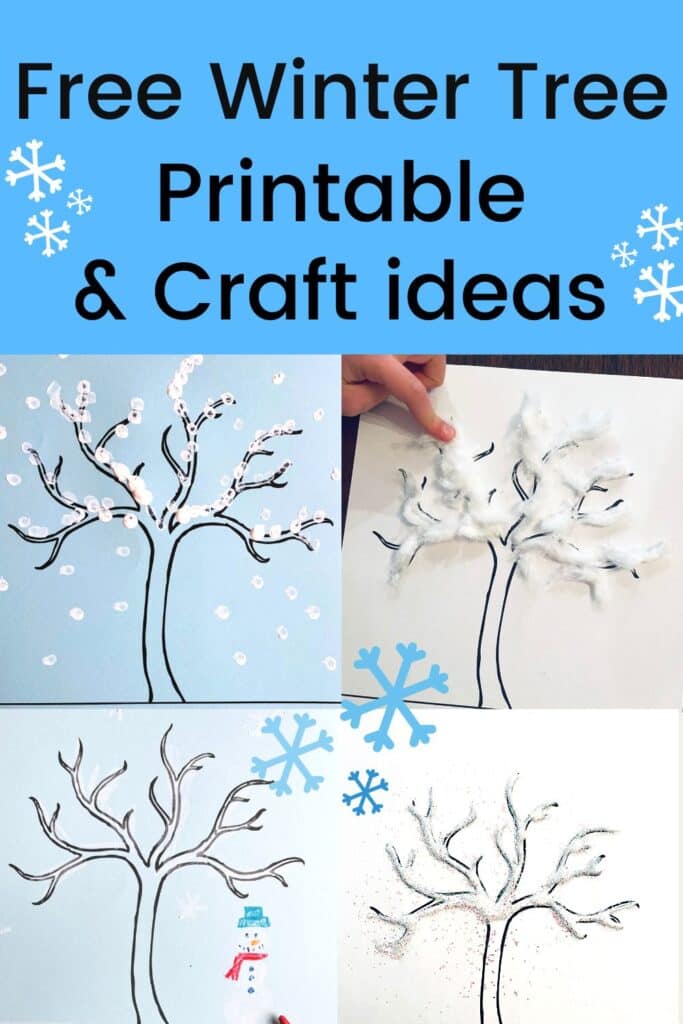 Get the Winter Tree Template
I hope you've found some fun craft projects! You can download the free printable tree template below by clicking the download button.
More Winter Crafts and Activities for Kids
Looking for more winter craft ideas?
Kids will enjoy this Simple Snowman Craft. A snowman is printed onto the page using white paint and then decorated with various craft supplies. Kids of all ages will enjoy getting creative and you'll love how each snowman has it's own personality!
There's a fun Fake Snow Recipe here that's perfect for sensory bins! Kids will enjoy playing in their own winter wonderland with this easy 2 ingredient sensory play idea.
Younger kids will love this Build a Snowman Craft. It's an easy cut and paste that's great for little ones developing fine motor skills.
You can find a cute Paper Penguin Craft here. It has moveable flippers with the help of a paper fastener. So cute!
Another fantastic idea for winter is this cute Mitten Craft. Kids can paint or color the mitten and then decorate it. It's so cute and perfect for talking about the winter season!
We loved this Marble Paint Winter Tree craft as well. It's such a fun tree craft that makes a beautiful bulletin board display. It's great for children of all ages who don't put things in their mouths… And….it's just plain fun too!
And if you want something for the holiday season, be sure to check out this Decorate a Christmas tree craft. If you can't tell, we love printable activities as it simplifies the process. This Christmas tree craft is super easy as kids add string, sequins, beads, pom poms, and other craft supplies to decorate the Christmas tree printable. What fun!
** Disclaimer: As an Etsy Associate, I may earn from qualifying purchases made by readers clicking my affiliate links at no extra cost to you.
Winter Count and Clip Cards
Looking for some more winter learning fun? Be sure to check out all the amazingly fun learning activities in my Etsy shop. There's coloring pages, preschool learning packs, count and clip cards, and more!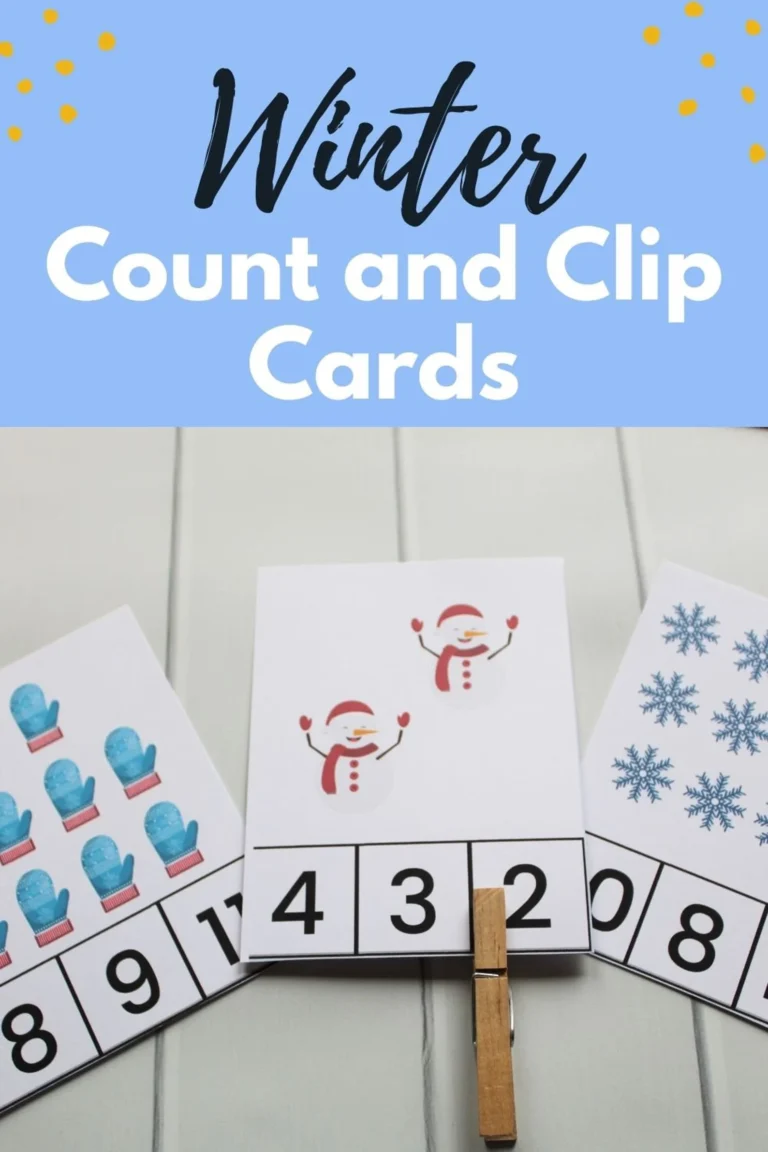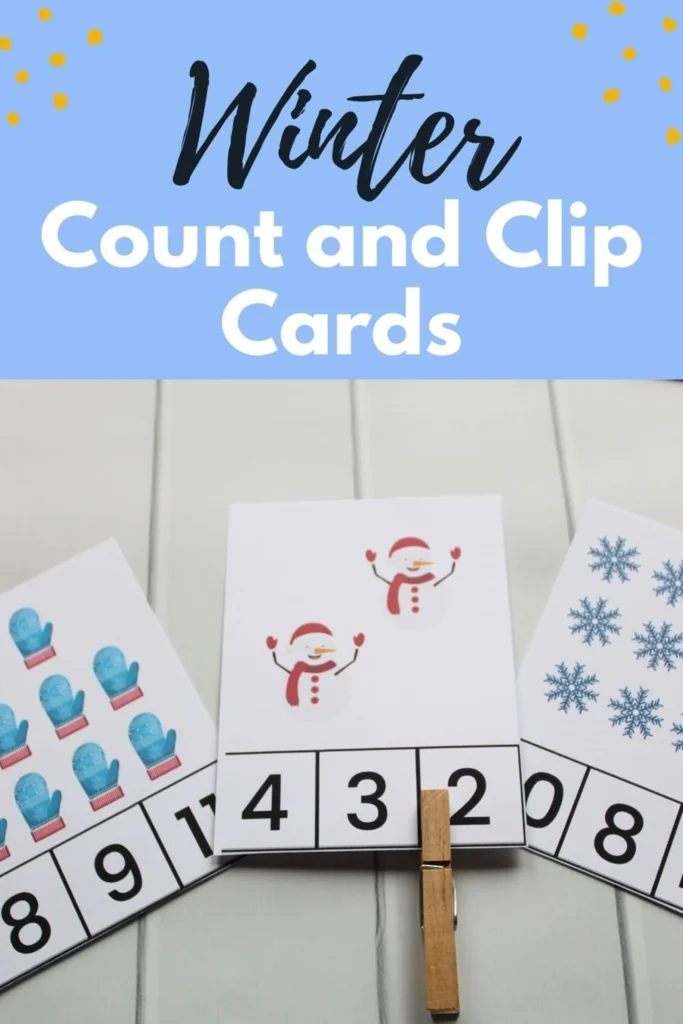 These Winter Count and Clip cards are perfect for teaching little ones 1 to 1 correspondence, number recognition, and fine motor skills. Simply print the cards and have kids clip a clothespin to the correct number. So simple and so much fun!
These make a great quiet time activity or a fun idea for your math center. Get your Winter Count and Clip Cards here!