Here's a simple tutorial on how to make colored sand for sand art!
Back when I taught preschool we did a lot of fun sand craft projects. The kids always had lots of fun and it brought out a lot of creativity in the little ones!
I introduced sand art to my kids recently and they loved it! As we started doing more and more sand art projects I noticed that colored sand is a little bit expensive and you don't get much sand in those expensive bottles.
So we came up with our own DIY colored sand!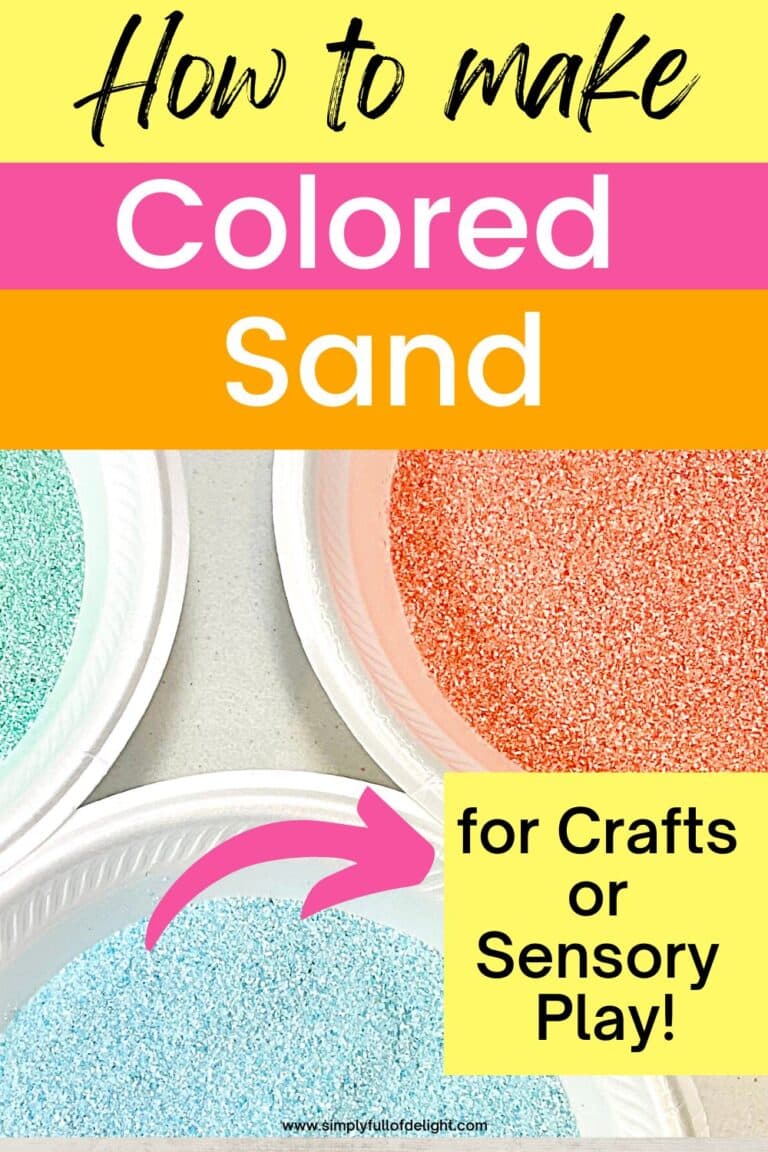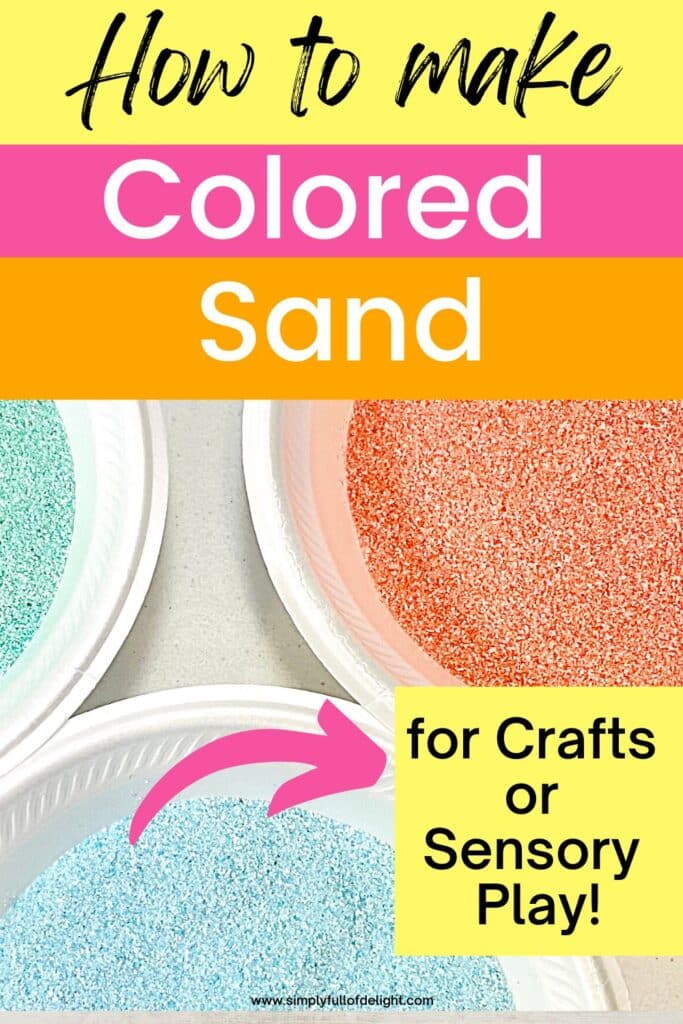 This colored sand is great for little ones as it does not leave color on your fingers and the colors are vibrant.
I hope that this tutorial makes it super easy for you to make coloured sand for your own craft project ideas and sensory play!
** Disclaimer: As an Etsy associate and as an Amazon.com Associate, I may earn from qualifying purchases made by readers clicking my affiliate links at no extra cost to you.
Supplies for Making Colored Sand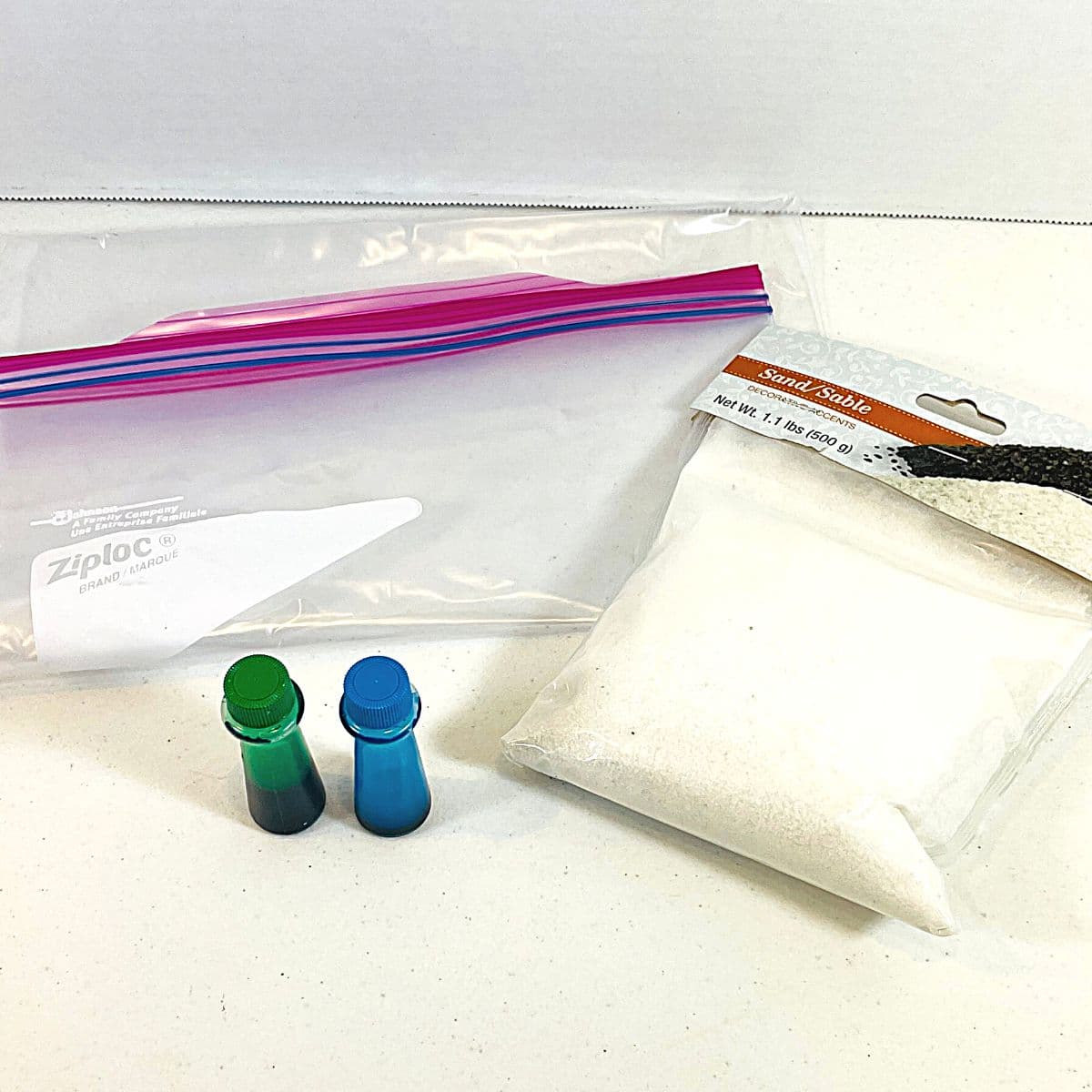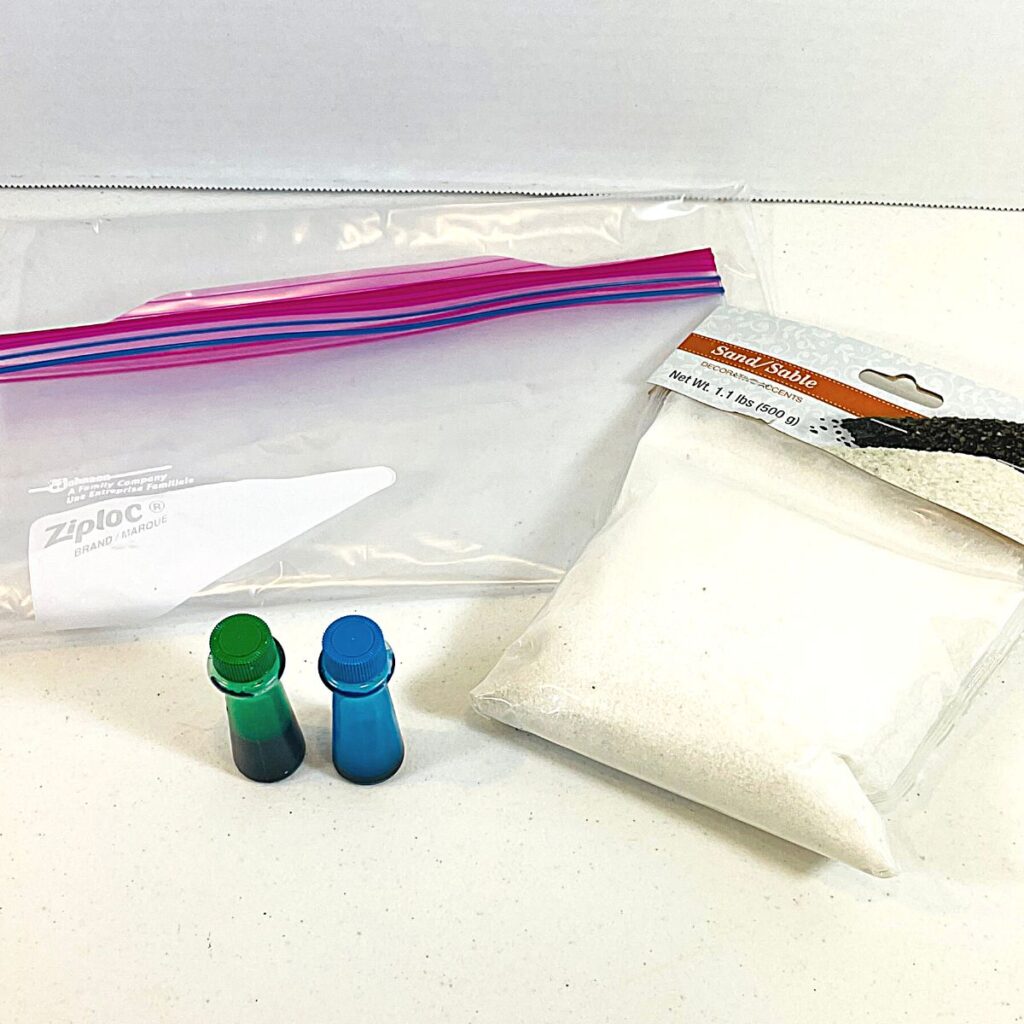 To make your own colored sand, you will need the following craft supplies:
How to Color Sand with Food Coloring
Take your uncolored sand and divide it into the gallon size zippered bags. You will need one bag for each color you want to create. I've placed 1.5 cups of sand into each of my bags.
Next, add 5-8 drops of food coloring to your bag. How much food coloring you add will depend on the level of vibrant color you are looking for.
I always start with less food coloring and add more if needed.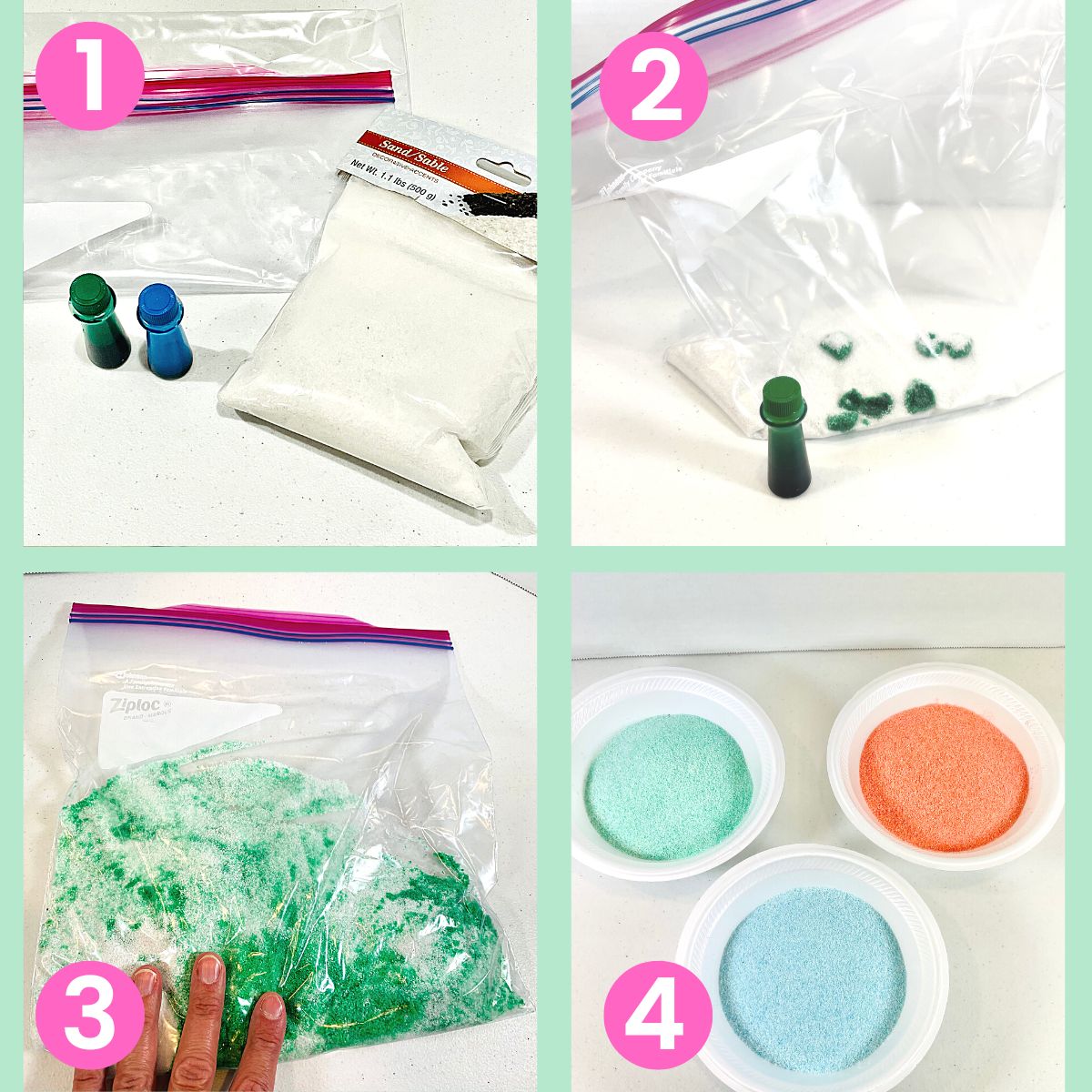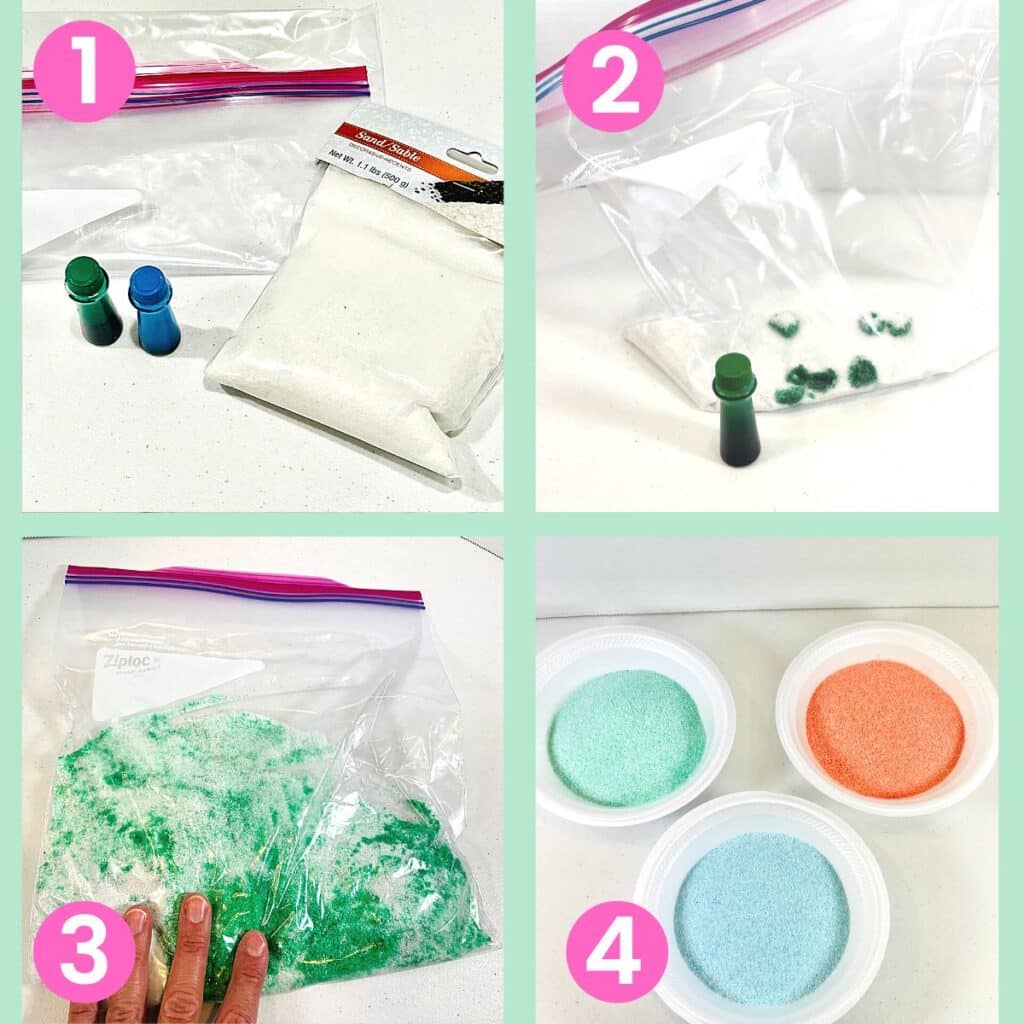 Zip the bag up and begin to squish the color into the sand. My sand immediately evaporated the color, and was ready to craft with!
If you find that your sand is a bit wet, simply take a baking sheet and line it with a piece of parchment paper and then a layer of paper towels. Spread your colored sand onto the tray in a thin layer and set it aside to dry.
And….that's it! You've made DIY Colored Sand!
How to Make Colored Sand Video
Here's a short video showing the process of how to make colored sand for sand art!
What can you do with Colored Sand?
There's a lots of different ways to use your colorful sand!
Sand Art Bottles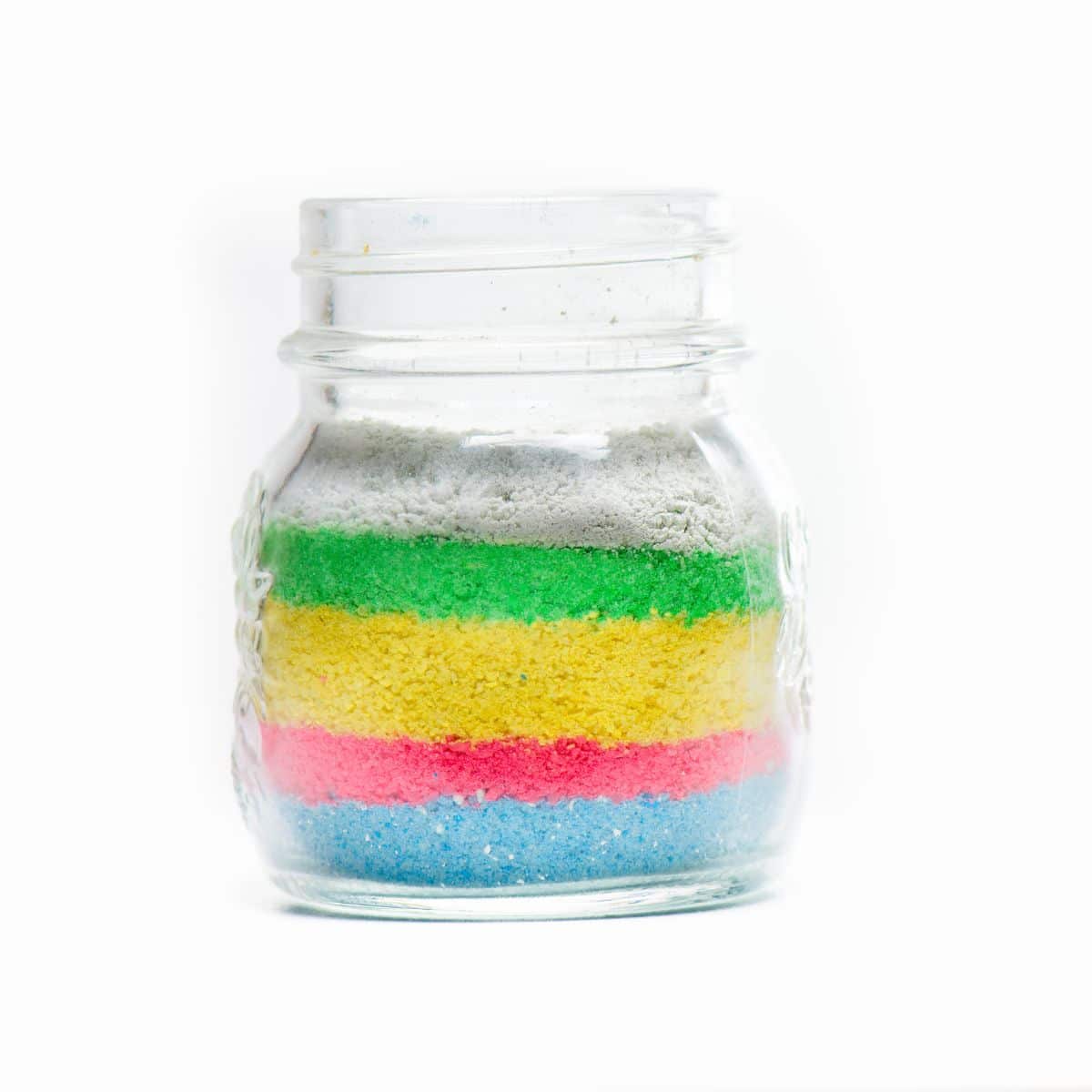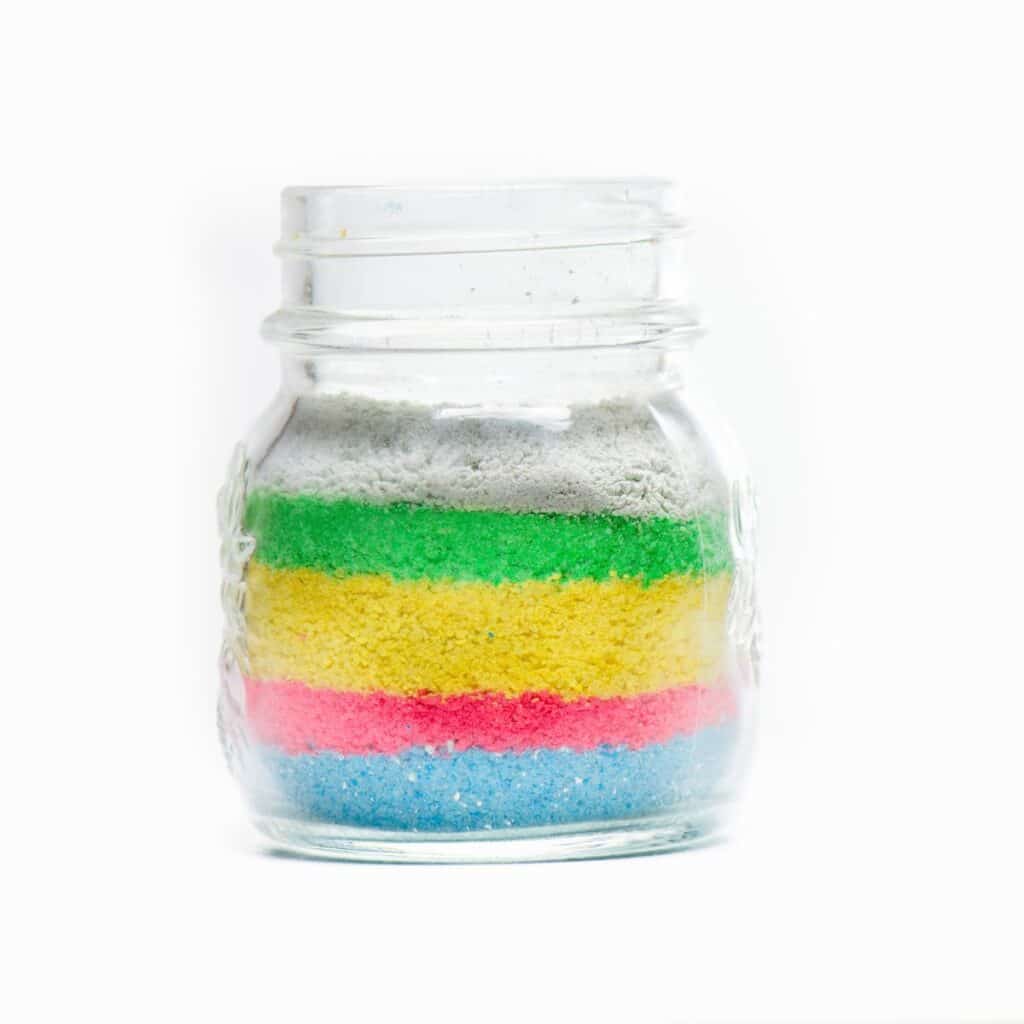 There's the typical Sand Art Bottles that children love to make. It's a summertime classic craft and always so much fun! All you need is colored sand and a clear container to layer the sand into. Provide kids with a jar (with a lid) and several colors of sand.
We like to put our sand into paper bowls with spoons. My kids spoon the sand into their jar and create beautiful patterns. Add a lid to the jar to keep your creation safe!
Sand Art Crafts
Provide kids with templates to outline/trace with glue. After they have outlined a section of the template, have them place their page into a box. Provide them with several colors of sand.
Kids can shake a bit of sand onto the page, onto the glue. Then gently shake the extra sand that doesn't stick into the box. Then pour the extra sand from the box back into the bowl.
If colors get mixed, simply make a bowl of mixed colors (it's still pretty!) Kids can add more glue to the template and then add more sand, alternating between glue and sand as they make cool designs on their page.
We made a cool Skeleton Sand Art Craft for Halloween this year. There's a free template to make it super simple!
Letter Tracing Box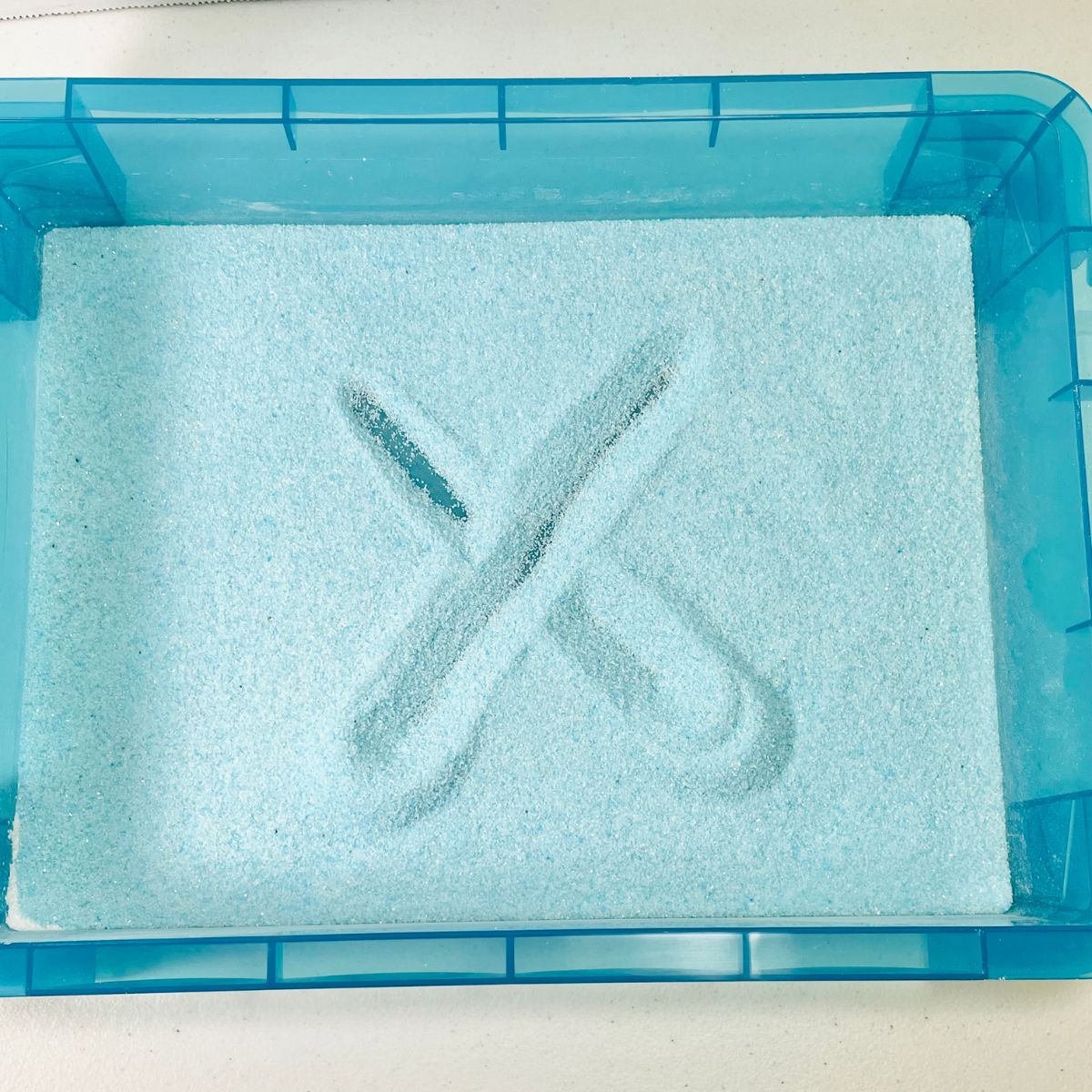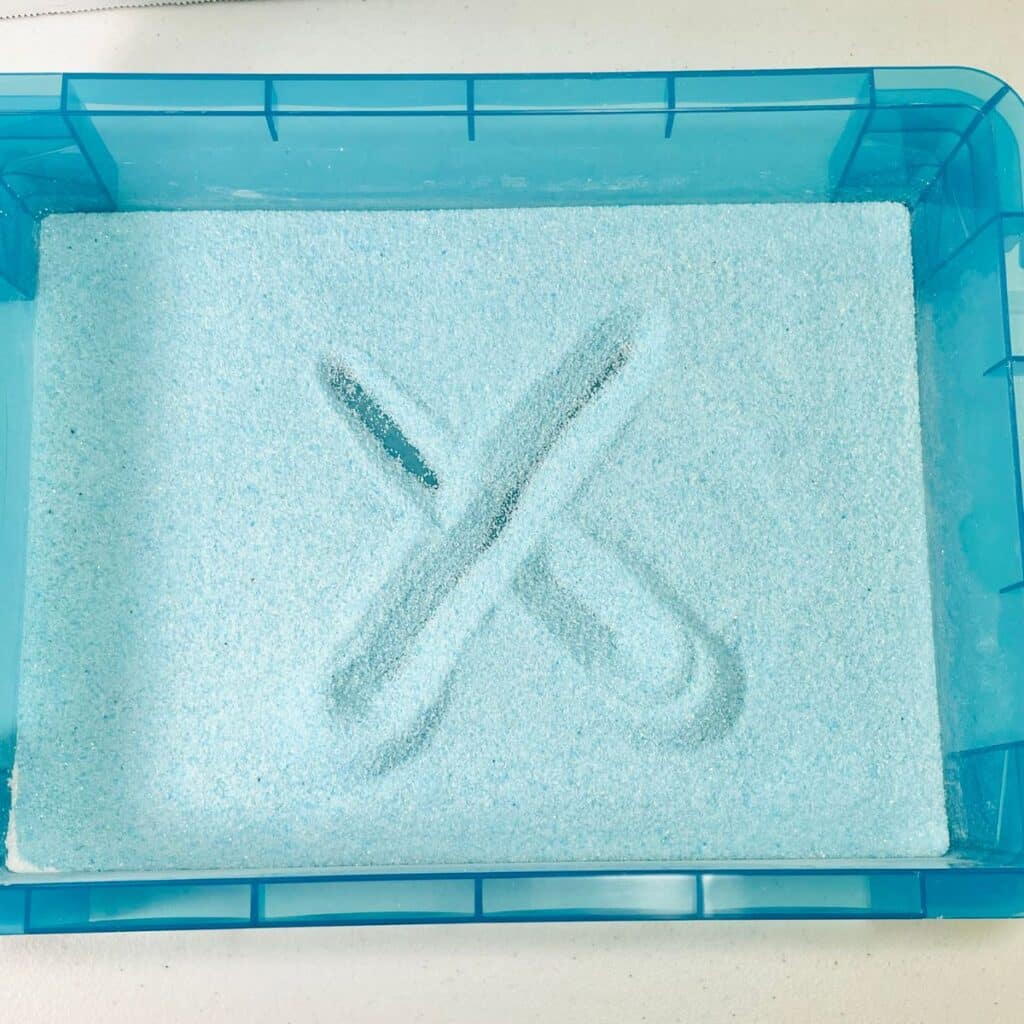 You can use colored sand in your letter writing tray. Just add sand to a sturdy box and make a layer that covers the base. Provide alphabet flash cards for kids to see letters and how they are formed. Kids can trace letters into the sand, practicing letter formation. What a fun activity!
Sensory Play
Add your colored sand to a sensory bin. You can use blue to represent water or green for grass. Sensory play is a great activity for kids who are practicing fine motor skills and it builds imagination! Here's some of our favorite sensory bins for inspiration.
Kinetic Sand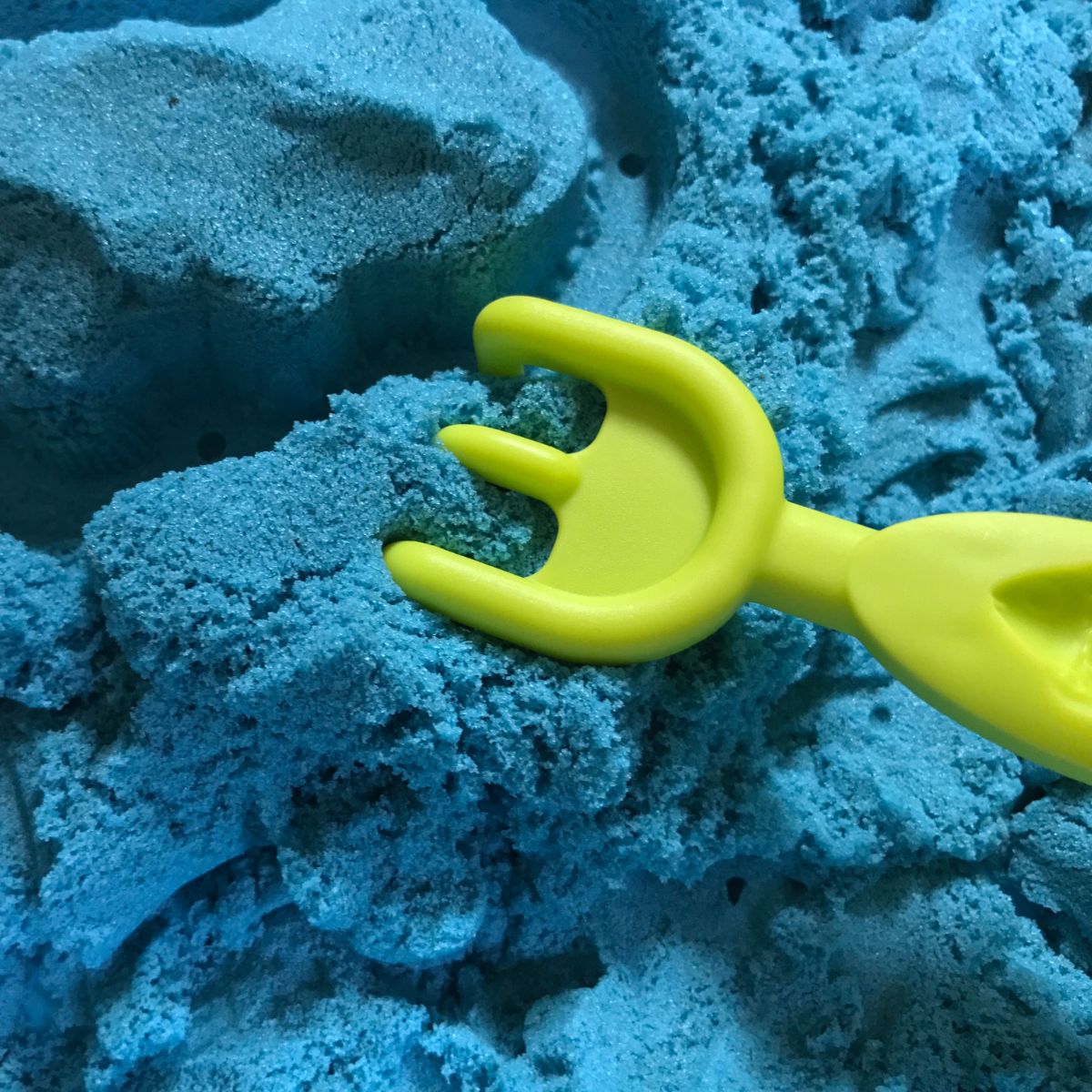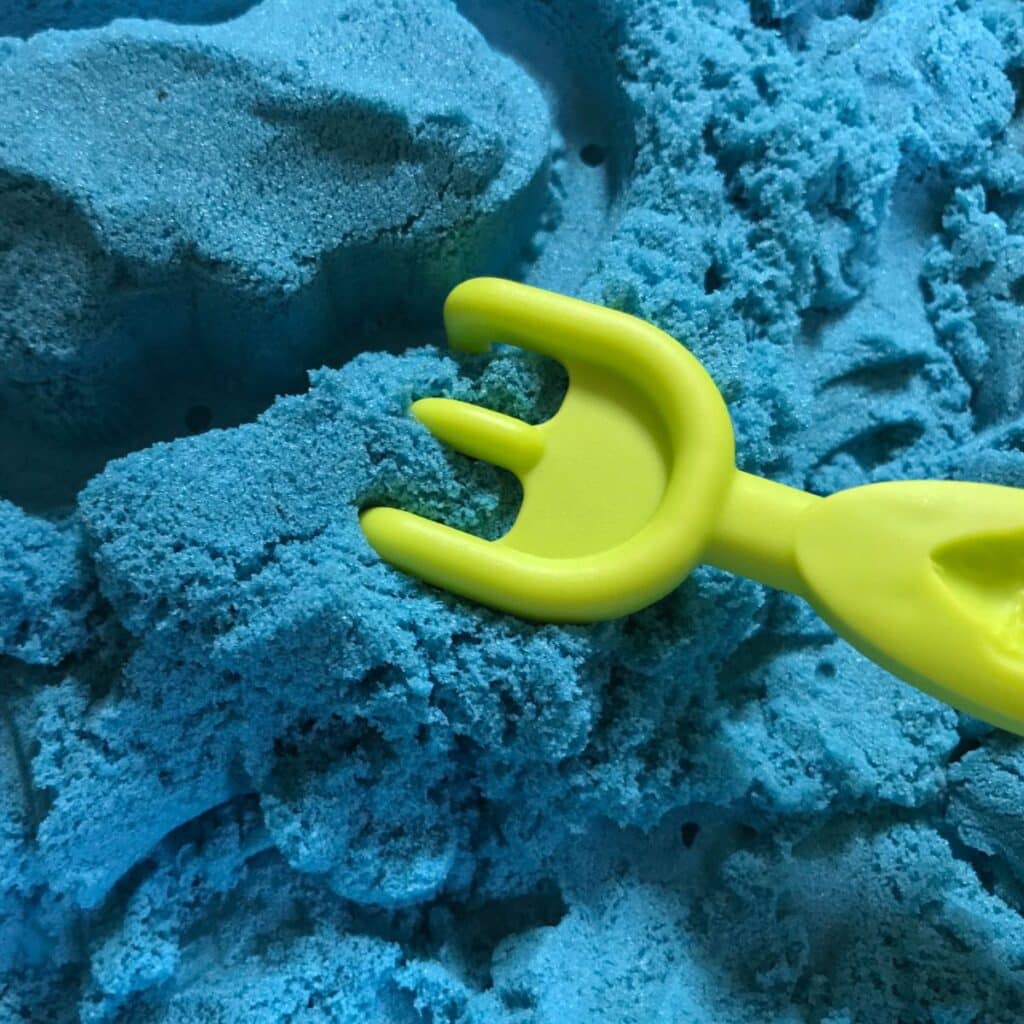 You can use your colored sand to make your own kinetic sand.
Centerpieces
Colored sand also makes lovely centerpieces for birthday parties, baby showers, and other events. Simply add it to a flower vase or mason jar to make a cool decoration.
FAQ on How to Make Colored Sand
Can I use salt instead of sand?
Yes! You can definitely use salt instead of sand. Just know that it may behave differently as you mix your colors, so you might need to adjust the amount of food coloring used.
Can I use gel food coloring to dye sand?
You can, however, it tends to be more wet, so you will need to allow extra time for it to dry. Also, the colors may not be as vibrant.
What if my Colors aren't Mixing in?
If your food coloring is not mixing in very well, simply add a teaspoon of water. Damp sand absorbs food coloring better than dry sand.
I hope you enjoy making your own colored sand in your favorite colors!