Looking for an easy Patriotic Craft for Kids? This Preschool Handprint Flag Craft is perfect!
I absolutely love handprint crafts, so any time I can work one into our curriculum, I do!
This child's handprint craft makes a great keepsake for parents and it's so cute!
I love USA Flag Crafts because they can be used for multiple events including Fourth of July, Veteran's Day, Memorial Day, Presidents' Day and any other patriotic holiday.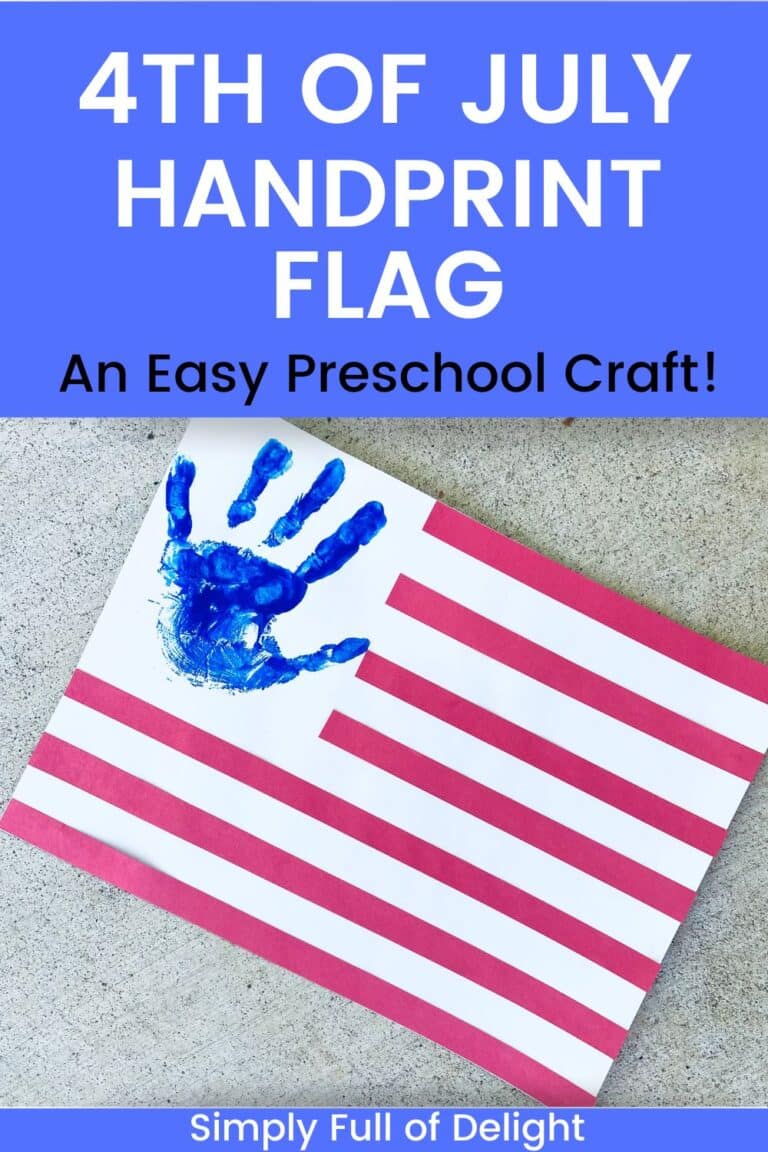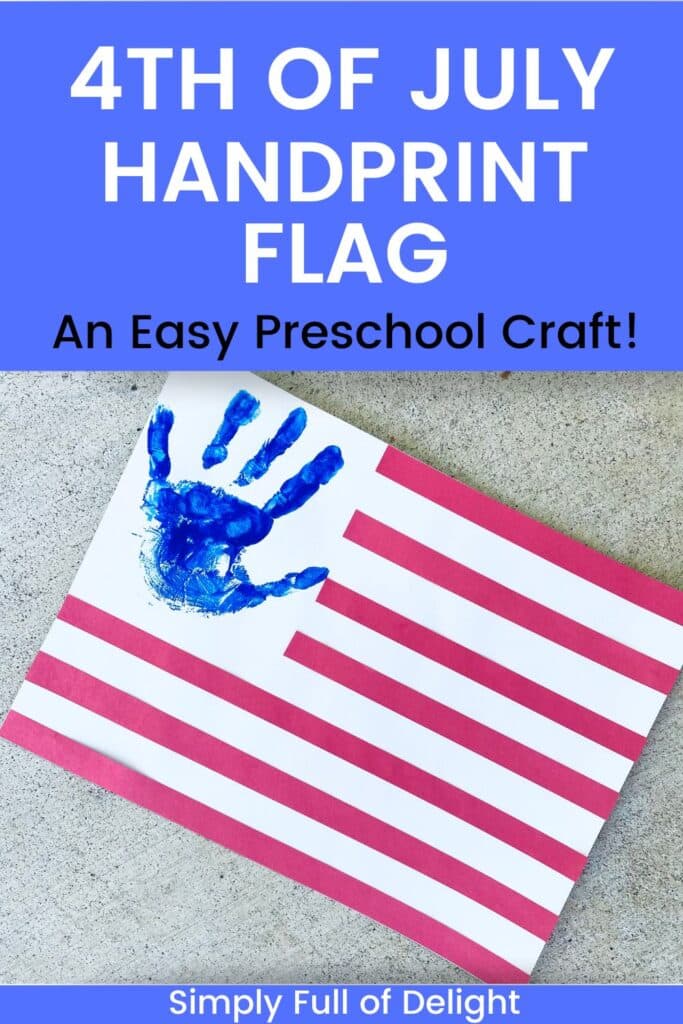 Let's dive in and take a look at this easy paper flag craft!
** Disclaimer: As an Etsy associate and as an Amazon.com Associate, I may earn from qualifying purchases made by readers clicking my affiliate links at no extra cost to you.
Supplies for Handprint Flag Craft
For this simple American flag craft you will need the following supplies: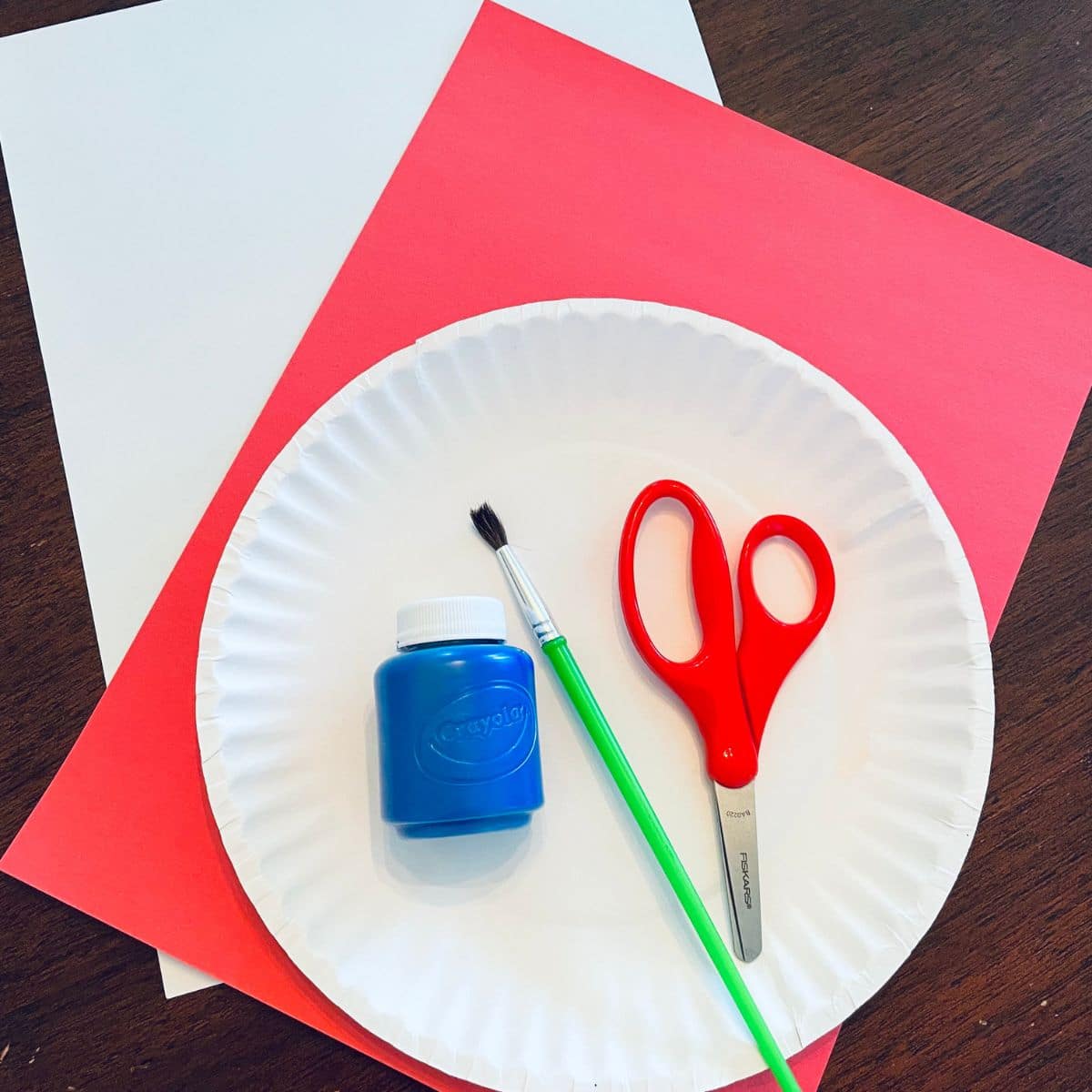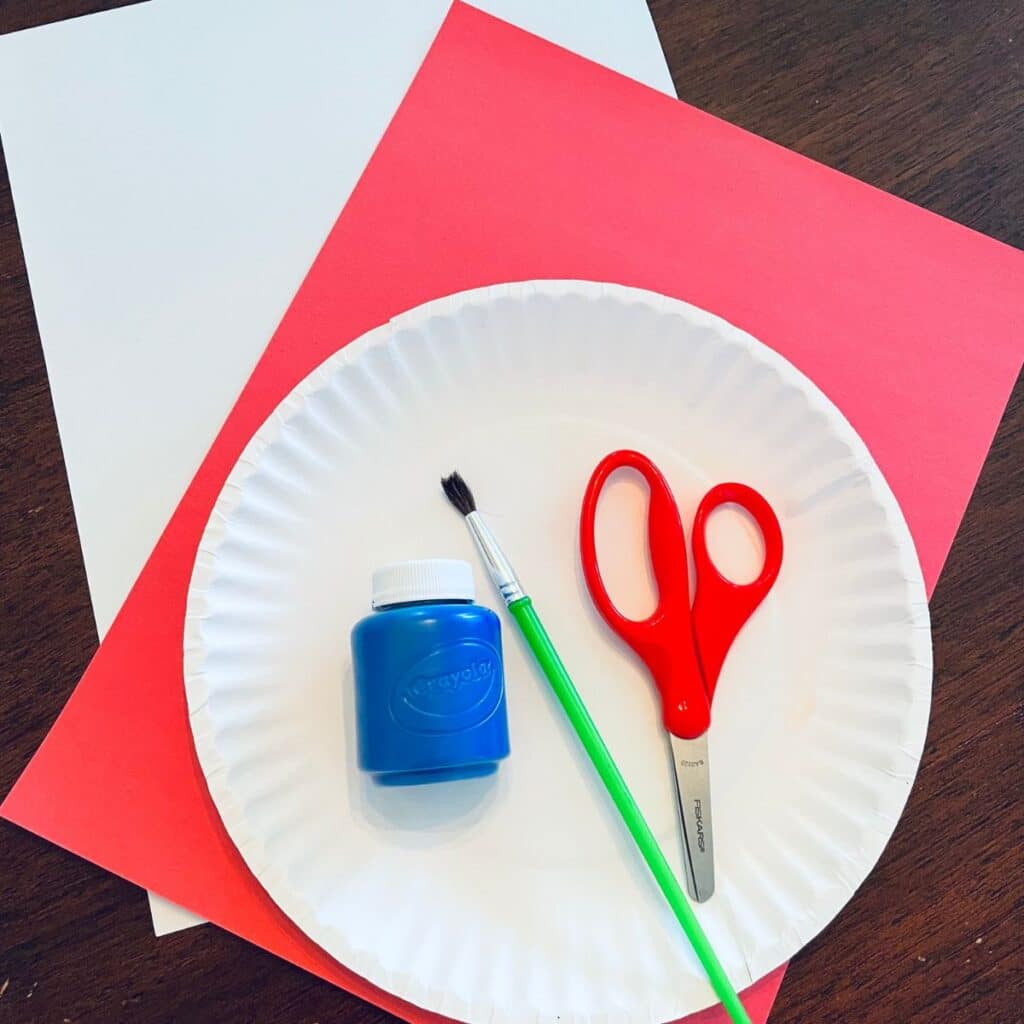 ​- White construction paper
– Blue paint – we like this washable paint from Crayola.
– Paper Plate
– Scissors or a paper cutter
– Glue – we used a glue stick (oops! Forgot to add this into the picture!)
Measuring the Red Stripes for Your Easy Handprint Flag Craft
First, you'll want to decide if you are cutting the red stripes or if you want the kids to cut them.
In favor of making this an easy craft, I decided to cut the red strips of paper with my paper cutter so that the kids could just glue them on quickly.
Next, measure your paper. I used white construction paper that measured about 23 cm x 30.5 (Or rather, 9×12 inches).
Take the length measurement and divide it by 13 (for the 13 stripes on the United States Flag.)
This will tell you about how big you will want each of the red stripes.
You'll notice my white stripes are a bit bigger than my red ones.
Not quite Pinterest perfect! LOL ​
You will need 3 long red stripes and 4 short red stripes for your flag.
Being an American, I tend to measure in inches. However for this project, centimeters makes measuring a bit easier, so bear with me on that.
If you are curious what measurements I used….My long red stripes are 1.5 cm x 30.5 cm. The short red stripes are 1.5 cm x 9 cm.
You won't need white stripes because the white paper will act as your white stripes.
How to make a Preschool Handprint Flag Craft
Once your stripes are prepared it's time to make the handprint flag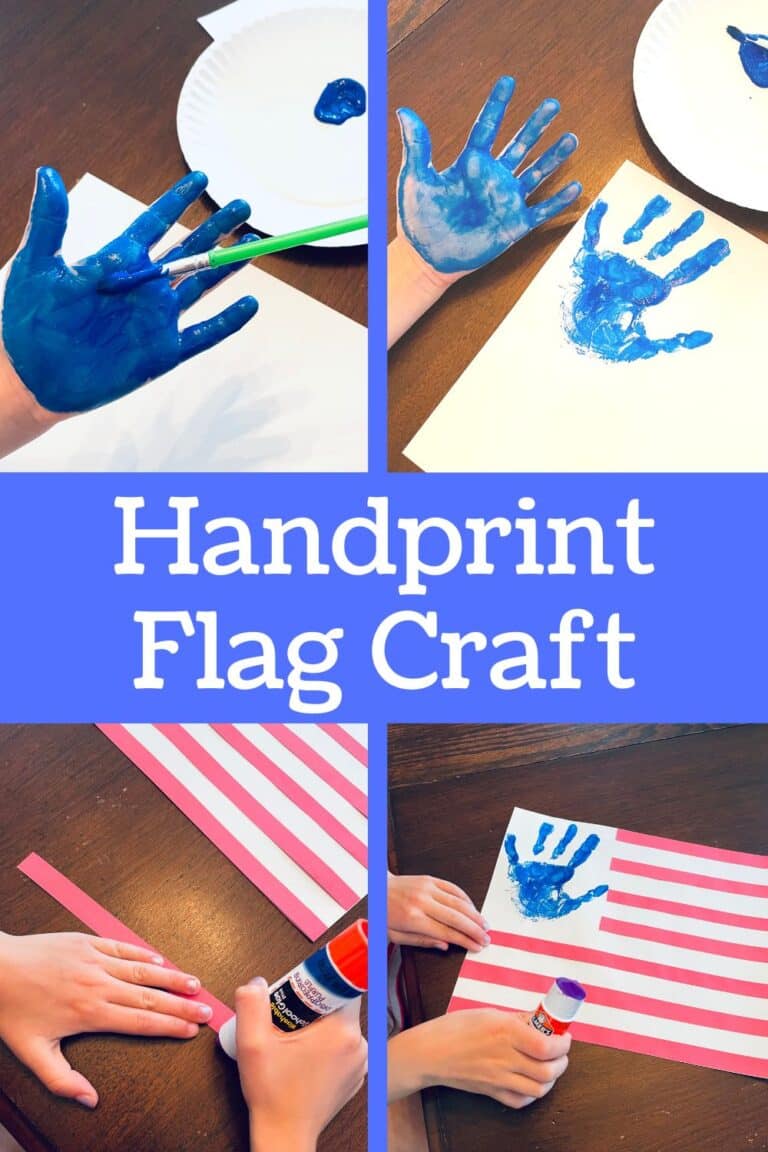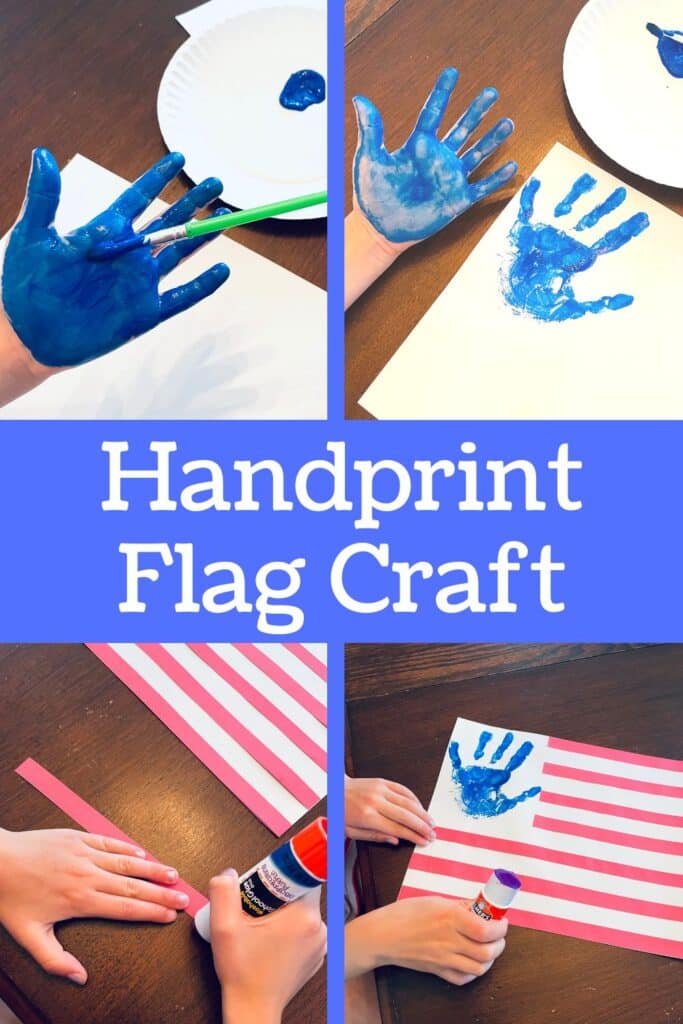 Place blue paint on a paper plate. Take the child's hand and paint it with washable blue paint. I used a paint brush to thoroughly cover the hand.
Next make a handprint. Make sure to help the child place the handprint in the left corner of the page. Your paper should be landscape for this flag craft.
For best results, press the hand and fingers down firmly to get a great blue handprint.
Depending on how old your group is, you may wish to allow the handprint time to dry.
Now it's time to glue the red stripes onto the handprint American flag!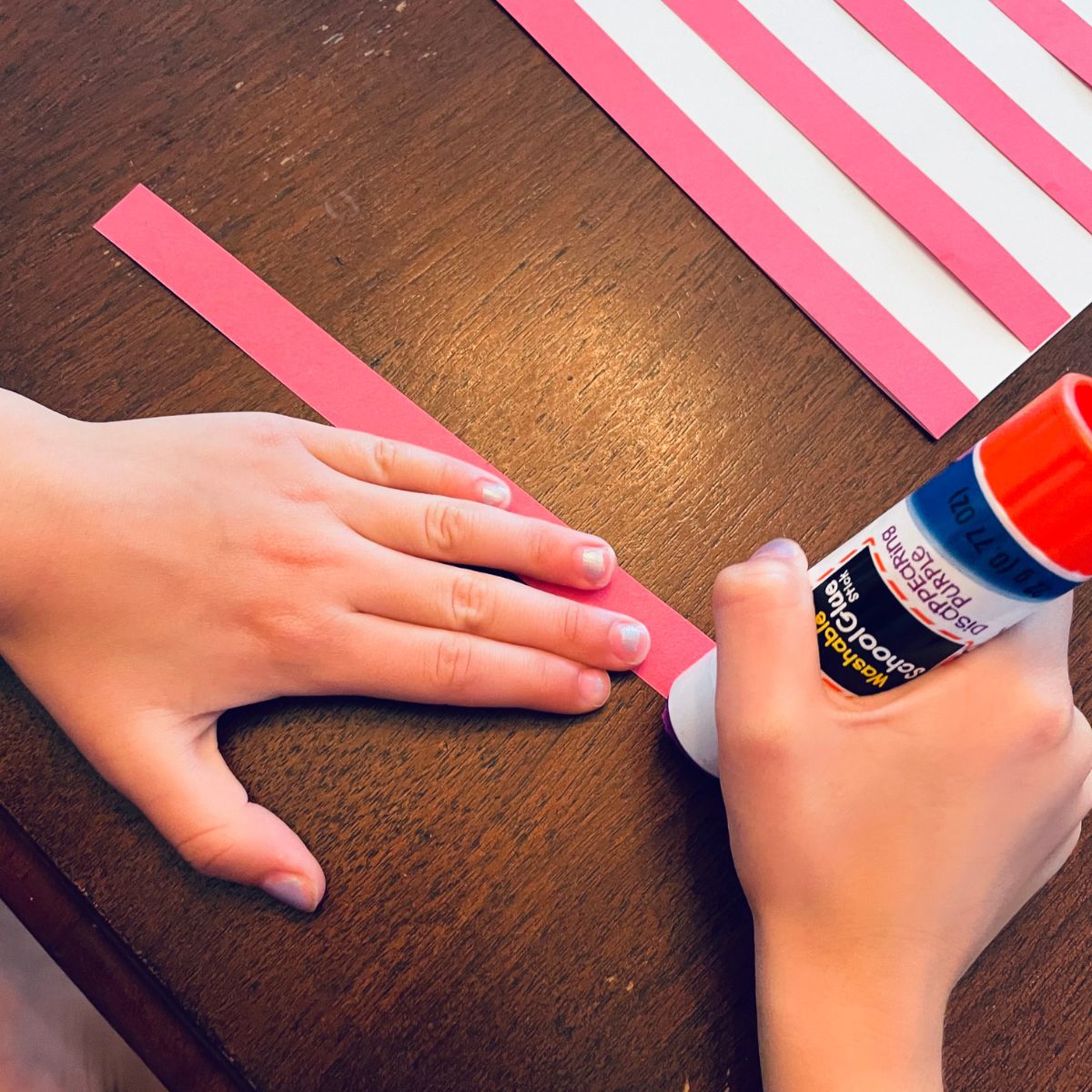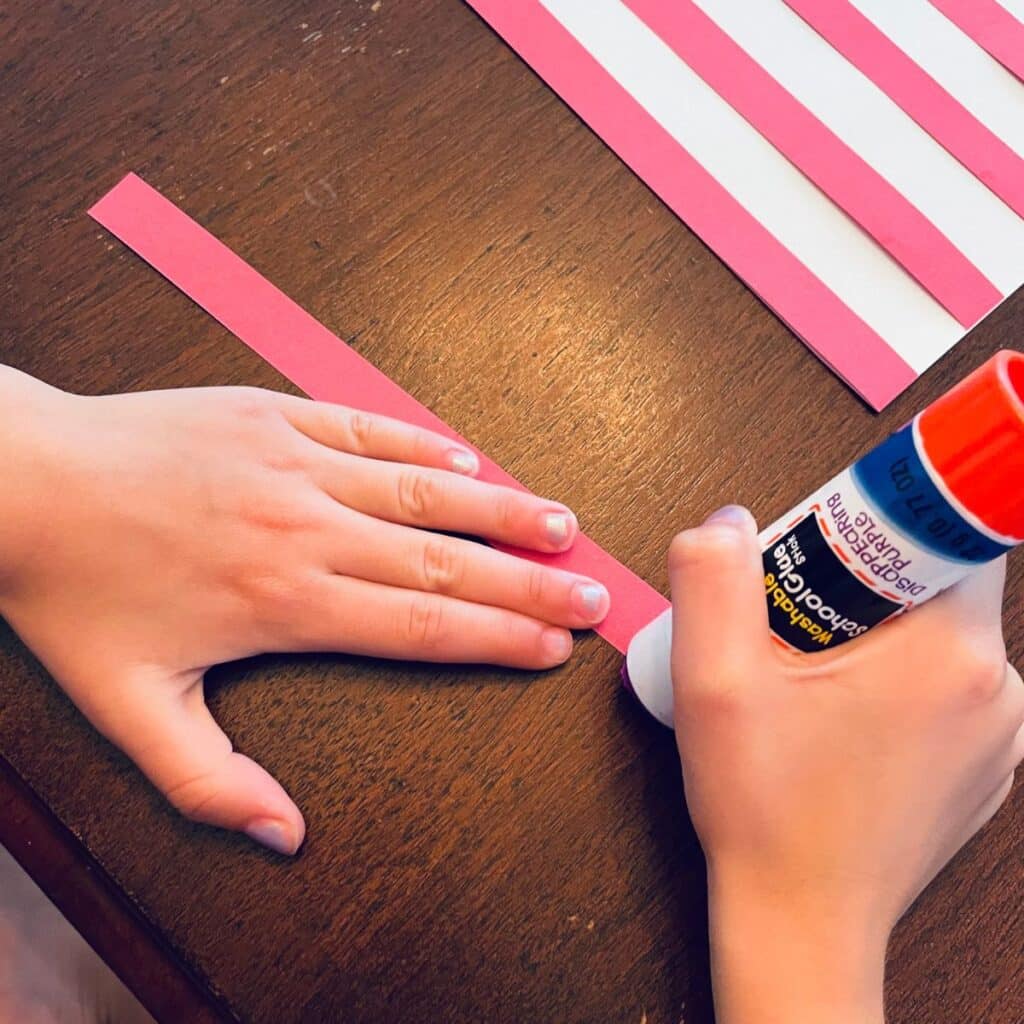 Instruct the kids to place their stripes on the page to see where they want to glue them.
A short red stripe should be on the very top of the flag.
And of course, a long red stripe should be a the very bottom of the flag. Then space out the other stripes in between. Once everything is in place, go ahead and glue down the stripes.
​Once they have added all the red stripes, the American Flag Handprint Craft is finished!
What a cute Patriotic Keepsake that's perfect for Independence Day!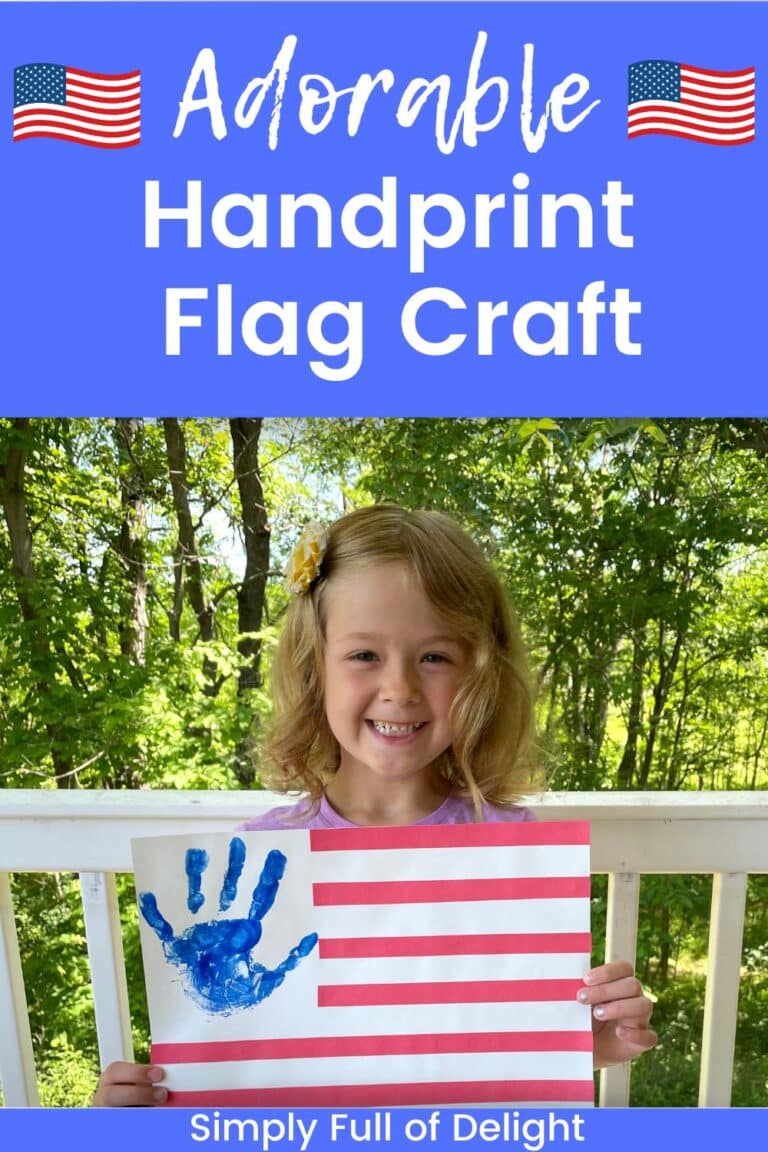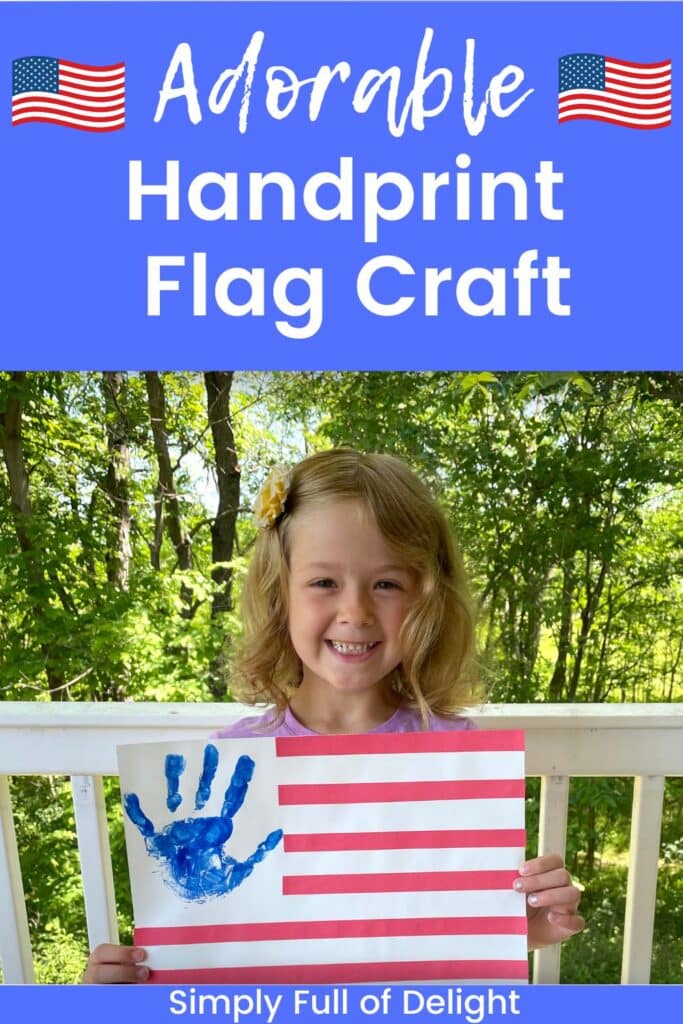 Alternate Ideas for this Handprint Flag Craft
​Looking to mix things up a bit with this fun handprint art? Here's a few ideas!
You could:
Have kids fingerpaint the red stripes.
Have kids cut the paper (instead of using a paper cutter).
Make a blue construction paper rectangle and add white stars by dapping the rectangle with white paint.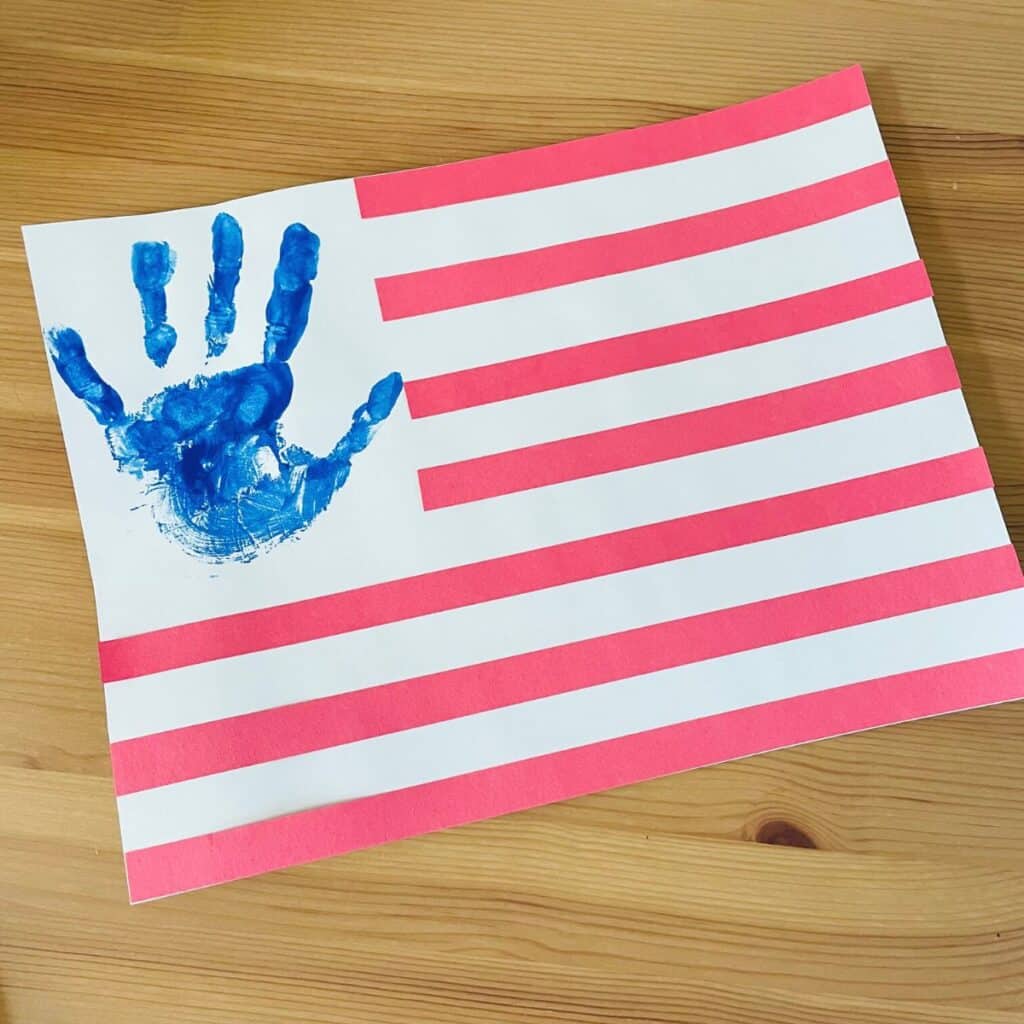 More Patriotic Crafts for Kids
​Looking for more patriotic kids crafts?
You can find a fun US Flag Color by Number printable here. Kids use the simple color code to make this patriotic American flag craft! This one is great for Veterans day and Memorial day as well.
There's a Patriotic Process Art idea here. Kids an create Fireworks Art by stamping pineapple crowns.
Need a patriotic hat? This Uncle Sam hat headband is fun! Young children will love this easy art project that is wearable!
This July 4th Scavenger hunt is full of fun. It makes a great activity for older children at your backyard bbq or 4th of July party! You can grab the free printable file today.
There's also some free 4th of July Coloring pages here.  Kids of all ages will enjoy these patriotic flag design pages.  These make a great craft for little hands to practice fine motor skills.
Lastly, you can find tons of amazing 4th of July Activities for kids here. There's sensory play, games, crafts and more!
Want to save this Patriotic Handprint Craft for later? Pin the image below to your Preschool Fourth of July Crafts and Activities board on Pinterest.