Looking for a patriotic activity for preschoolers or kindergarteners? This Free Color By Number American Flag is great for number recognition, following directions, and of course celebrating one of our many American patriotic holidays or events!
This free printable features a large picture of the United States flag. I've left the white portions of the flag unnumbered to make it more aesthetically pleasing and of course because the white stars and stripes do not need to be colored.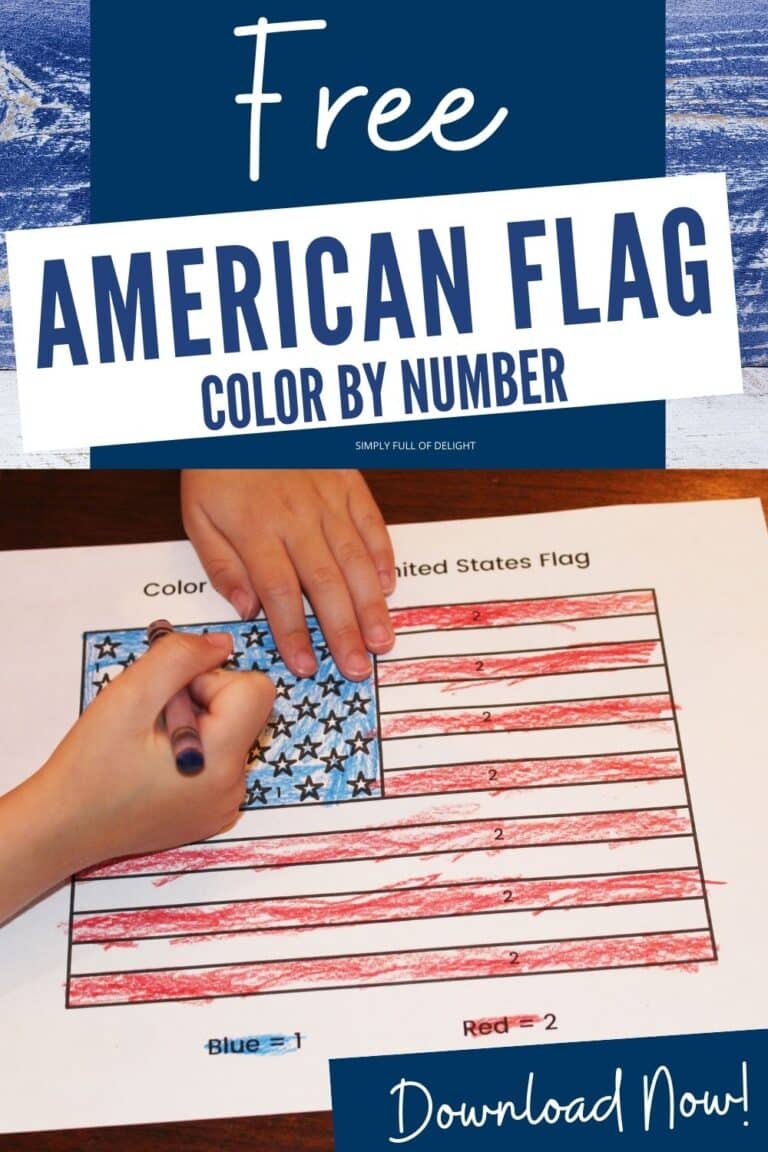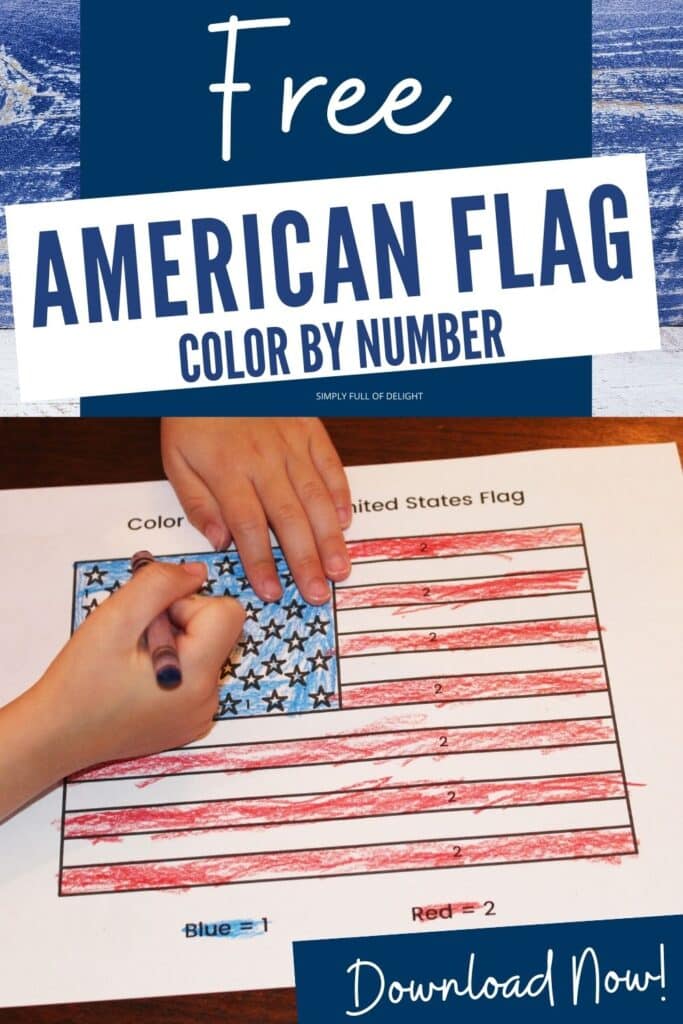 Fun Facts about the American Flag
The American flag has 13 stripes alternating red and white, representing the 13 original colonies that became the first states in the U.S. The blue portion of the flag features 50 white stars representing the 50 states.
The United States National Flag is also known as Old Glory, the Star Spangled Banner, and the Stars and Stripes.
What are the Benefits of Color by Number?
Color by Number pages have many benefits to young learners. Here's a few!
– Number Recognition – Color by Numbers allow children to practice their number recognition skills as they search the page for each number!
– Following Directions – Children can practice using a color key and following simple directions with a Color By Number.
– Fine Motor Skills – Coloring helps develop fine motor skills.
– Focus – Color by number motivates even the less "art inclined" children into an engaging activity.
What are the Patriotic Holidays?
This color by number American flag is perfect for one of the many patriotic holidays or events in the United States.
Here's a few of the most common Patriotic Holidays:
1) 4th of July (Independence Day)
2) Memorial Day
3) Labor Day
4) Veterans Day
5) President's Day
6) Martin Luther King Jr. Day
7) Flag Day
8) Election Day
9) Constitution Day
10) Bill of Rights Day
If you'd like more information about any of these Patriotic holidays you can visit the National Archives page here.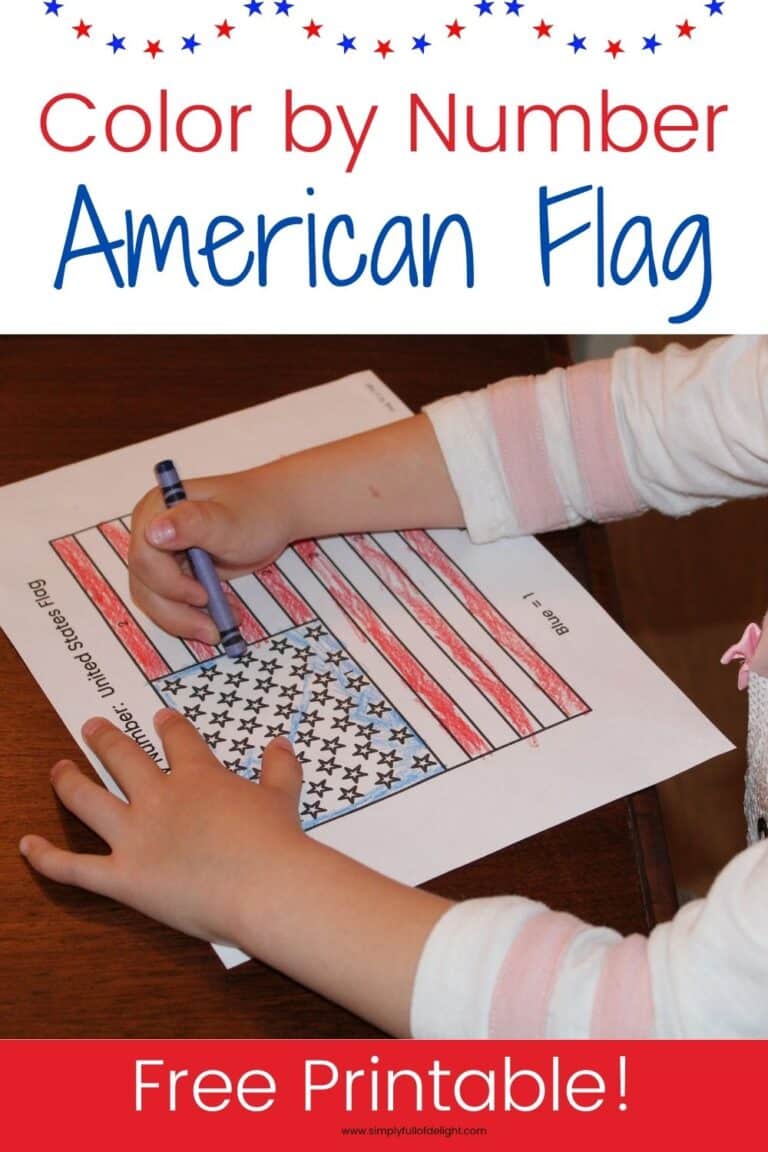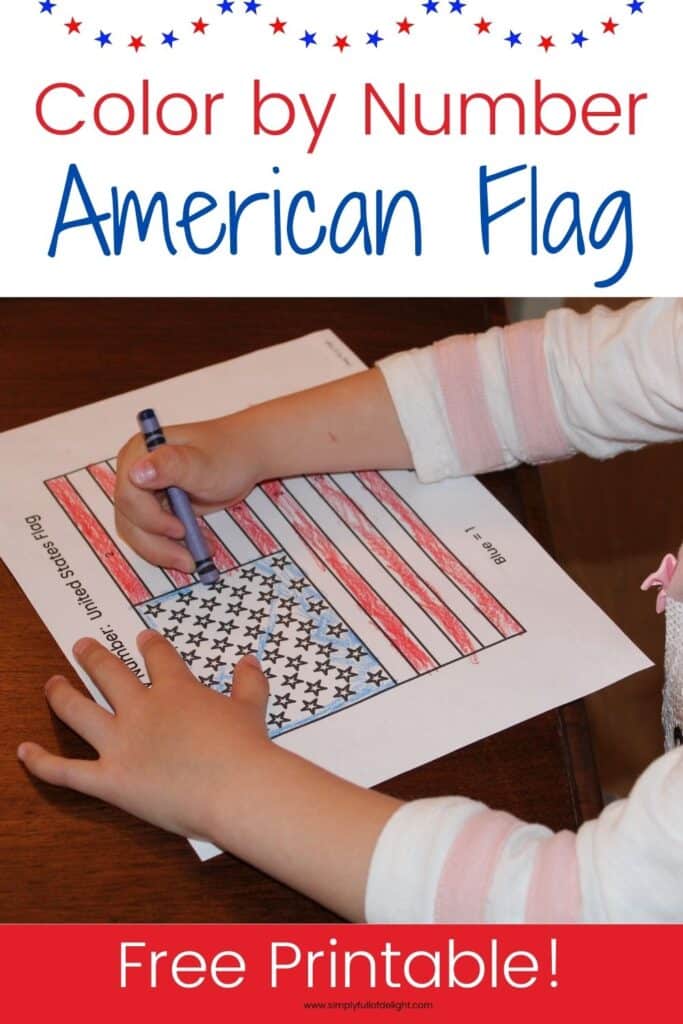 Free Printable Color By Number American Flag
You can grab your free printable Color by Number American Flag by entering your email in the box below. You will instantly gain access to this free color by number American flag coloring page, along with many others in the Free Resource Library for my subscribers.
If you are already a subscriber, just visit the Resource Library and use the password that is found in almost every email from Simply Full of Delight.
More Patriotic Fun for Kids
You might like to paint this United States of America flag color by number as well. I'd recommend water color paints if you do so. Our flag is fairly simple with just the blue field and white star corner and the alternating red and white stripe, so it could be a great painting project.
You might also like to teach your children about the national anthem, about flag design, and the role of the armed forces. There's lots of great books on Amazon about these topics.
Here's a few more ideas for patriotic fun around my blog and Etsy shop:
There's a fun pineapple printing Fireworks craft here.
You can grab this free printable 4th of July Scavenger Hunt for some patriotic fun on Independence Day!
Here's a Patriotic Preschool Activities pack from my Etsy shop. There's cut and paste fun, patterns, line tracing and more! Best of all, it is themed as Patriotic, so you can use it for any of the Patriotic Holidays! I hope you find something fun for your kids!
There's also a fun Uncle Sam patriotic hat headband here, which works well alongside any American flag paper craft.
You can find more Color by Number Worksheets and free Coloring Pages in the Resource Library for my email subscribers.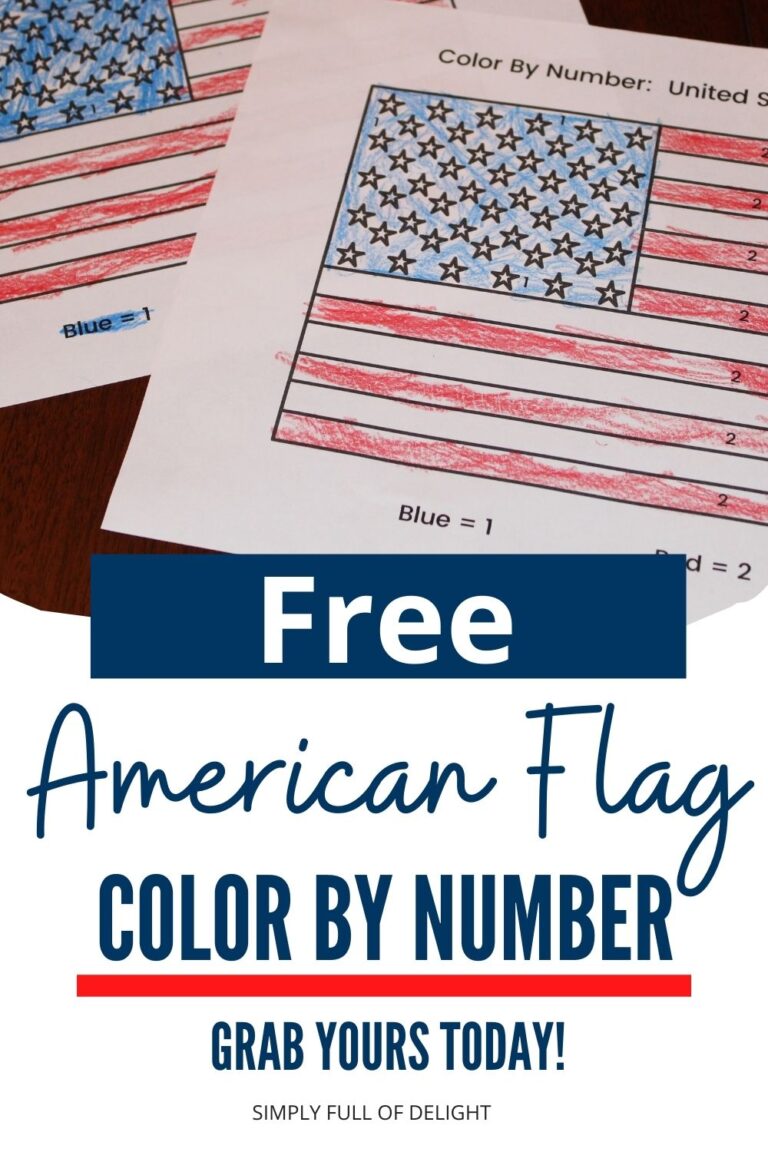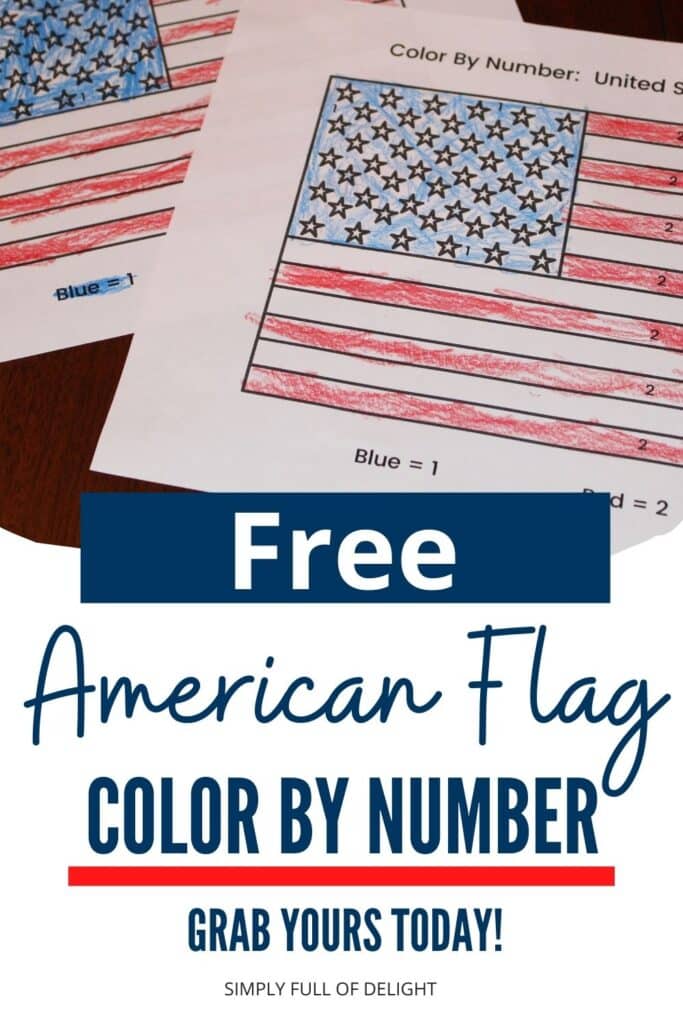 Related Posts