Looking for a fun bunny book for your child's Easter basket? Here's 29 of the Best Children's Books about Bunnies.
I'm a mom of 4, so our family's bookshelf naturally has quite a few bunny books on it. If you factor in our foster daughters' obsession with bunnies, that adds to the number even more!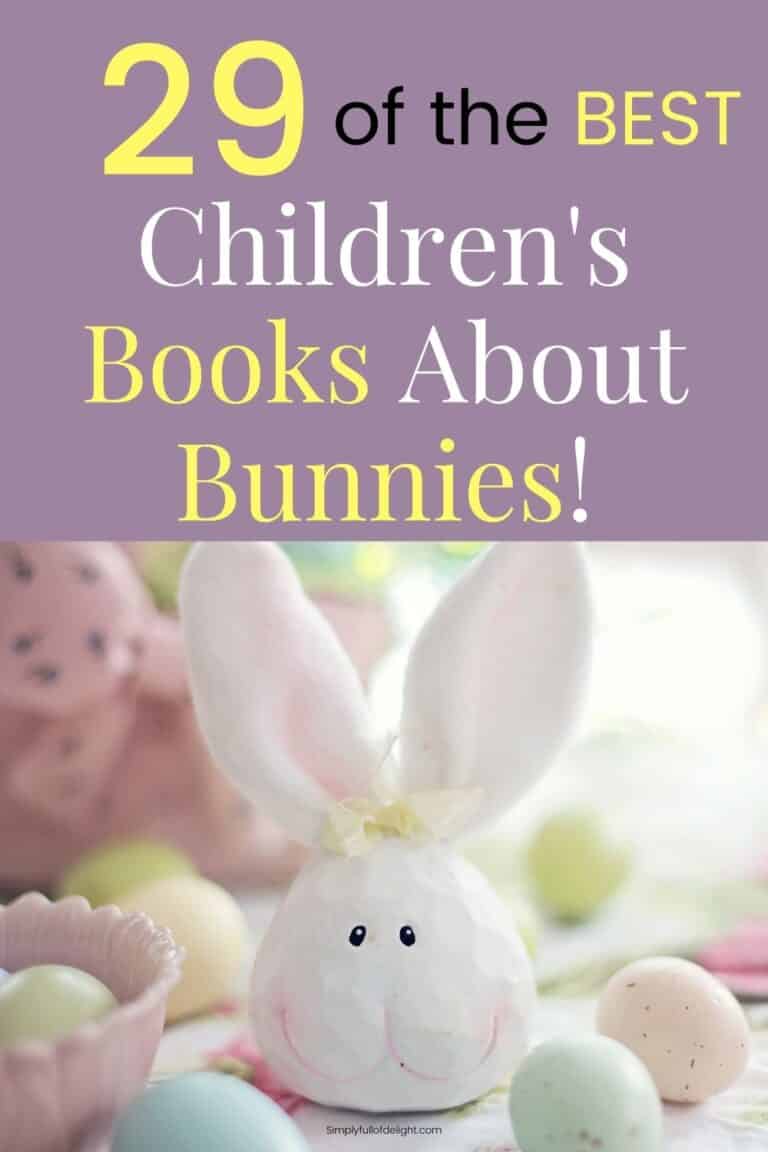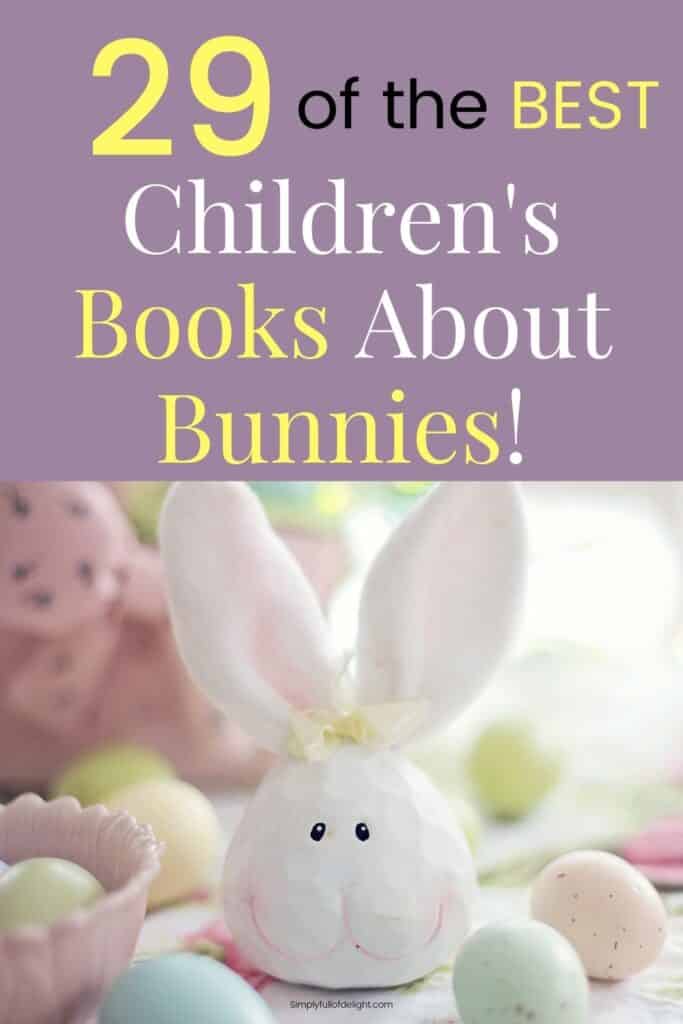 ** Disclaimer: As an Amazon.com Associate, I earn from qualifying purchases made by readers clicking my links at no extra cost to you.
My foster daughters are obsessed with bunnies because when they first arrived, it was right before Easter. When my husband was at the store buying diapers, toothbrushes, and such for our newest little friends, he went down the Easter aisle and grabbed each of our little girls a super soft plush bunny.
Our girls quickly attached to those bunnies and have been in love with bunnies ever since then.
So now, 4 years later, with 2 bunny fanatics in our home, it's safe to say we own more bunny books that anyone we know.
Coming from a self-proclaimed bunny book expert, here's 29 amazing children's books about bunnies!
Let's go down the rabbit hole!
1) I am a Bunny
I am a Bunny is by Ole Risom and illustrated by Richard Scarry. This book is my Top Pick for ages 3 and under!
The vivid pictures in this book make it one of my family's favorite bunny books. Admittedly, there isn't really much of a plot, aside from watching a bunny go through the seasons. Our love for this book is more about enjoying the beautiful pictures and laughing over the funny things the bunny likes to do.
2) Muncha! Muncha! Muncha!
Candace Fleming's Muncha! Muncha! Muncha! is one of our absolute favorite books! This book is my Top Pick for children 4 and up.
This hilarious story is about 3 bunnies who keep sneaking into Mr. McGreely's garden each night. Every morning he discovers they have chewed up his vegetable plants and he furiously builds something new to keep them out. It's an adorable story that will have your children laughing!
3) Tawny Scrawny Lion
Tenggren's Tawny Scrawny Lion is by Kathryn Jackson. This book is very dear to my heart as I read it with my parents as a child. The story is about a lion who never seems to get enough to eat until he meets a wise little rabbit who introduces him to carrot stew.
It's one of those stories that our family loves to read over and over. If you are looking to add a classic story to your child's book shelf, this is perfect! It's definitely a favorite in our house.
4) The Tale of Peter Rabbit
The Tale of Peter Rabbit is by Beatrix Potter. This is the classic story of a little bunny who doesn't listen to his mother and sneaks into Mr. McGregor's garden. He quickly finds himself in trouble and regrets not listening to his mother.
5) Richard Scarry's The Bunny Book
The Bunny Book is by Patsy Scarry and illustrated by Richard Scarry. This sweet book tells the story of a bunny family imagining what their baby bunny will be when he grows up.
Each family member comes up with an occupation for the bunny, but the little bunny already knows what he wants to be and he reveals it at the end of the story. This is a great book to introduce different occupations to your child.
6) The Little Rabbit
The Little Rabbit by Judy Dunn and photos by Phoebe Dunn is a beautiful book. My kids love the real photograph pictures of the sweet little bunnies. This story is about little girl who owns a rabbit and watches it grow into a mother with babies. This is a great book for introducing how to care for a bunny and baby bunnies.
7) Snowy Valentine
Snowy Valentine by David Petersen is a Valentine's Day tale of a bunny who is looking for something special to give to his wife. He travels all around his neighborhood talking to other animals looking for the perfect idea for a Valentines' Day gift for his sweetheart.
In the end, he unknowingly has created the most special gift when he looks back at the journey he's taken and his footprints have formed a heart for his sweetheart to enjoy.
8) Naughty Bunny
Naughty Bunny by Richard Scarry is about a little bunny who always gets into trouble. One day, he tries very hard to be good and does a great job until the end of the day when he inadvertently does something naughty when he's trying to be sweet.
9) Home for a Bunny
Home for a Bunny by Margaret Wise Brown is a sweet story of a bunny on a journey to find a home. He explores where different animals live and what kind of a home is right for a bunny. This is a great book with lots of repetition that little ones will love!
10) Bunnies
Richard Scarry's Bunnies explores all the different kinds of bunnies. This book covers every kind of bunny you could imagine from real breeds of rabbits to chocolate bunnies.
My kids laugh over the bunnies who get dressed up to be in storybooks. It's a great book that little ones will enjoy!
11) The Night before Easter
The Night Before Easter is by Natasha Wing. This book is the Easter version of the rhyme "Twas the night before Christmas." It's a fun poem about what happens the night before Easter and how the Easter bunny does his job.
12) The Velveteen Rabbit
The Velveteen Rabbit is by Margery Williams. This classic story tells of a stuffed animal rabbit who wants to become real. He goes through the cycle of being forgotten amidst other toys. Then he is found and is the boy's favorite companion especially through a time of sickness.
He is so loved by his boy that he actually eventually does turn into a real bunny through the magical love of a child. This is one of those classic children's books about rabbits.
13) Guess How Much I Love You
Guess How Much I Love You by Sam McBratney is a sweet story of a little rabbit named Little Nutbrown Hare and his daddy Big Nutbrown Hare.
The little rabbit tries to explain how big his love for his daddy is. Each time he does, he comes up with an even bigger way to explain his love, as his daddy does the same by telling him how much he loves him.
14) Goodnight Moon
Goodnight Moon is by Margaret Wise Brown. This is the classic bedtime story of a little rabbit who is getting ready for bed. He says goodnight to everything around him.
The rhythm and simplicity of the story make it the perfect bedtime picture book for little learners.
15) The Bunny Hop
The Bunny Hop by Sarah Albee is the perfect bunny book for Sesame Street fans. Bunnies are popping up everywhere on Sesame Street and no one knows where they came from. This rhyming Children's Book about Bunnies is full of fun!
16) Pat the Bunny
Looking for baby books about bunnies? This one is perfect! Pat the Bunny by Dorothy Kunhardt is a classic touch and feel interactive book for your little one.
Young children are invited to pat the soft bunny, smell the flowers, play peek-a-boo, look in a mirror and more! This is the perfect bunny book for babies and toddlers!
17) Alice in Wonderland
Walt Disney's Alice in Wonderland by R. H. Disney tells the classic tale of a girl named Alice who follows a white rabbit down a hole. She has a wild adventure in Wonderland and finds all sorts of odd creatures.
Alice has a tea party with the Mad Hatter and she finally catches up to the white rabbit when she meets the Queen of Hearts. So much nostalgia in this fun book!
18) How to Catch the Easter Bunny
How to Catch the Easter Bunny by Adam Wallace is a funny book about trying to catch the Easter Bunny. You'll learn that the Easter Bunny has all kinds of tricks to hide from people and he's really fast too! If your kids enjoy other "How to Catch a" books, they will love this one!
19) Grandma's Kitchen
Grandma's Kitchen by Madison Lodi is a sweet story of a grandma bunny who bakes cookies with her grandchild. The story is simple but so very precious to anyone that has baked with their grandma. The pictures are beautiful and so is the storyline that goes with it.
20) The Easter Egg
The Easter Egg by Jan Brett is about a bunny named Hoppi who wants to decorate the best egg, so that he can win the honor of helping hide the Easter eggs with the Easter Bunny.
He visits other bunnies in search of the perfect idea to decorate his egg. On his search, he finds a mother and egg in need of help. This is a beautiful story of how Hoppi shifts his focus from winning to helping someone in need. What a great Easter book.
21) Peek-a-Flap HOP
Peek-a-Flap HOP by Jaye Garnett is a fun interactive book for little ones. Your child will love lifting the flaps to reveal the beautiful pictures of eggs, chicks, and bunnies. I love that this book is durable and draws in even the smallest readers.
22) Somebunny Loves You – Bunny books for Toddlers
Looking for bunny books for toddlers? Somebunny Loves You by Minnie Birdsong is a sweet little rhyming story about a bunny and his mom and all the different ways she shows she cares for him. You'll love the sweet pictures that go along with this simple bunny story for toddlers.
23) A Little Bunny – Childrens Books about Bunnies
A Little Bunny by Rosalee Wren is an adorable book with lovely pictures and facts about bunnies. It's written for little ones, but the information about bunnies is excellent. You just might learn a thing or two about bunnies. (I know I did!)
24) Curious George Flies a Kite
Curious George Flies a Kite by Margret Rey is a classic story about a curious monkey named George who gets into all sorts of trouble.
One of the storylines within this book is about Curious George and the bunnies. George wants to play with a bunny, but when he lets it go, he loses it. He has to figure out a clever way to get the bunny back.
25) Manana, Iguana
Manana, Iguana by Ann Whitford Paul is very much a Spanish version of the story of the Little Red Hen. The rabbit, tortoise, and snake (all going by their spanish names) make excuses for not helping the Iguana prepare for a party. When it is time for the party, they learn that if you do not help, you do not get the rewards. There's a great moral to this story and along the way, your children are learning the days of the week in Spanish as well as the names of some animals.
26) So Many Bunnies Board Book: A Bedtime ABC and Counting Book
So Many Bunnies Board Book: A Bedtime ABC and Counting Book is by Rick Walton. Count with Mother Rabbit as she tucks in her baby bunnies with names from A to Z. Your child will love this rhyming charming bedtime story.
27) Tippy-Tippy-Tippy, Splash!
Tippy-Tippy-Tippy, Splash! by Candace Fleming is the sequel to a book mentioned above (Muncha! Muncha! Muncha!) In this book, Mr. McGreely takes off to the beach to get some time away from the rabbits that have annoyed him at his house. When he gets to the beach, he discovers the bunnies have come along with him. He spends the first part of his day annoyed, but when he realizes that he could win a sandcastle contest with the help of the rabbits, he decides teaming up with them could have its benefits.
28) Too Many Bunnies
Too Many Bunnies by Tomie dePaola is the sweet story of a large rabbit family planting their garden. Every bunny in the family has a job, but they have to learn to wait their turn to get the job done correctly. This is a fun Children's Book about Bunnies and it can be used to introduce the idea of twins, triplets, quadruplets, and quintuplets too.
29) Too Many Carrots
Too Many Carrots by Katy Hudson is about a rabbit who loves carrots so much that he fills his house with them. He goes from friend to friend trying to find a place to stay with all his carrots, but causes a lot of chaos along the way. In the end, Rabbit finds the joy of sharing. This is a great bunny book for teaching empathy!
That's it! 29 of the Best Children's Books about Bunnies. I hope this has helped you find some new bunny books for storytime with your rabbit lovers! Be sure to check out this article on Easter gift ideas for your child for more Easter basket fillers! Happy Easter!
Other Easter Articles:
Free Easter Coloring Sheets and Activities