With Easter approaching, I scoped out the most adorable and unique Easter gifts from Etsy! If you are looking for unique Easter basket ideas for kids, Etsy is definitely the first place you want to shop!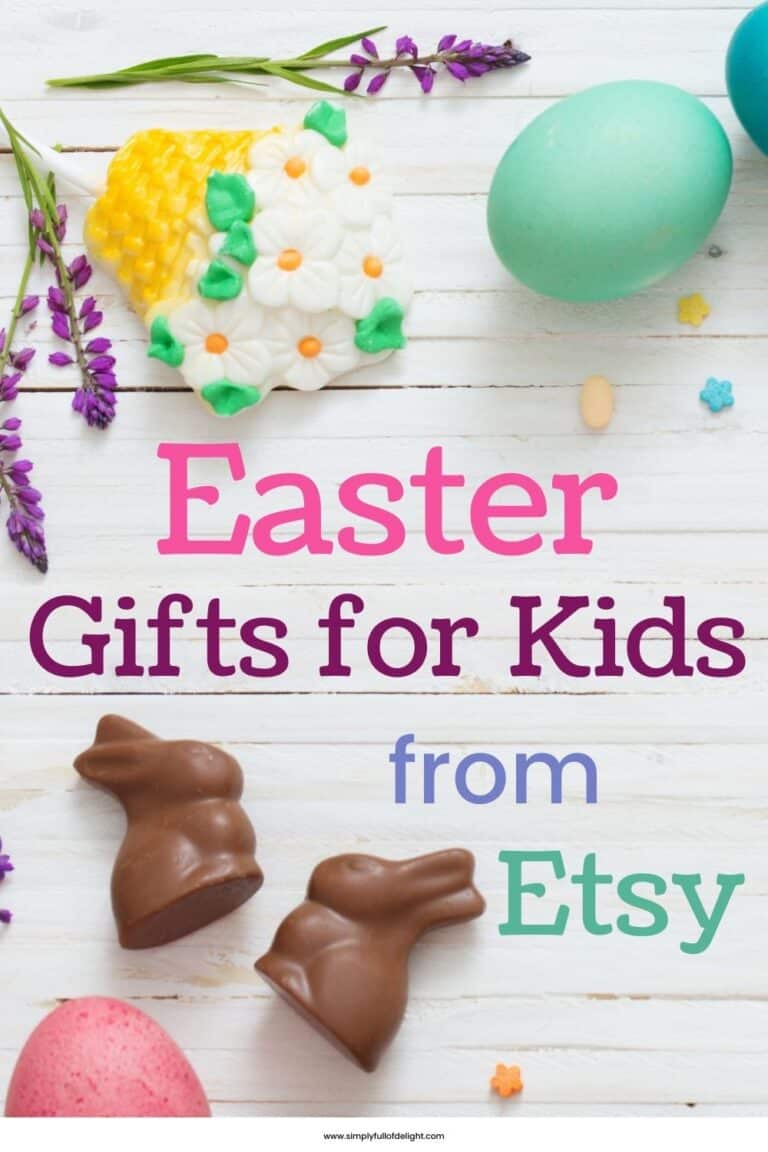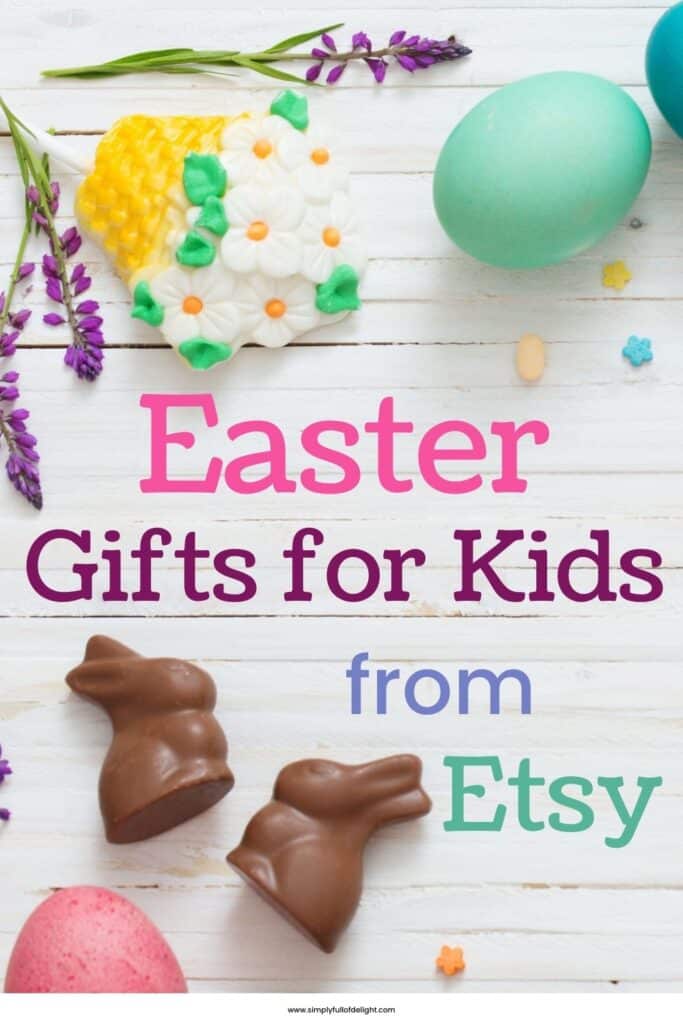 Disclosure: This post contains Etsy affiliate links. If you click on the link and purchase an item from Etsy, I receive an affiliate commission.
If you find something you absolutely adore, I recommend buying early, as handmade and personalized gifts often take longer to make and of course, you want to receive your items in plenty of time before Easter!
Let's dive in!
1) Mountain Cave Felt Play Set
This adorable Mini Woodland Playmat is made by Zooble on Etsy. This handmade set is made entirely of felt and wood. Other pieces to accent the set are available as well. I love that this beautiful set sparks the creativity and imagination of little ones. Check out this Etsy shop and see all of the other amazing sets including castles, camping scenes, volcanoes, and more!
2) Handmade Personalized Bunny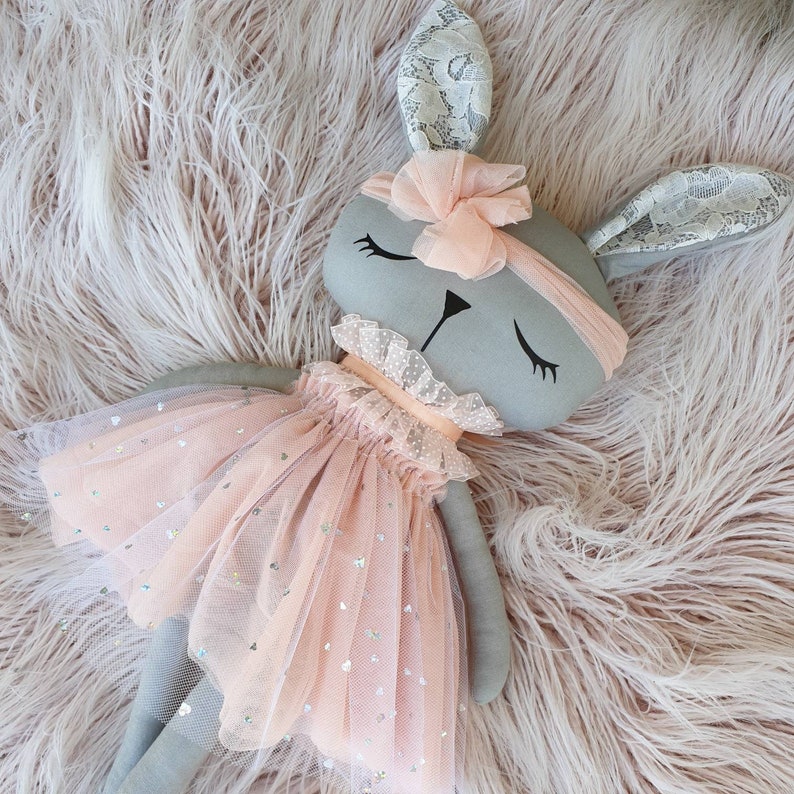 This Handmade Personalized Bunny is by Sweet Pea Dolls. It has beautiful lace ears and a removable tulle skirt. You can have it personalized with your sweet child's name. This Etsy shop is full of adorable handmade dolls, bunnies, deer and koalas. There are so many beautiful colors and designs available!
3) Wooden Easter Eggs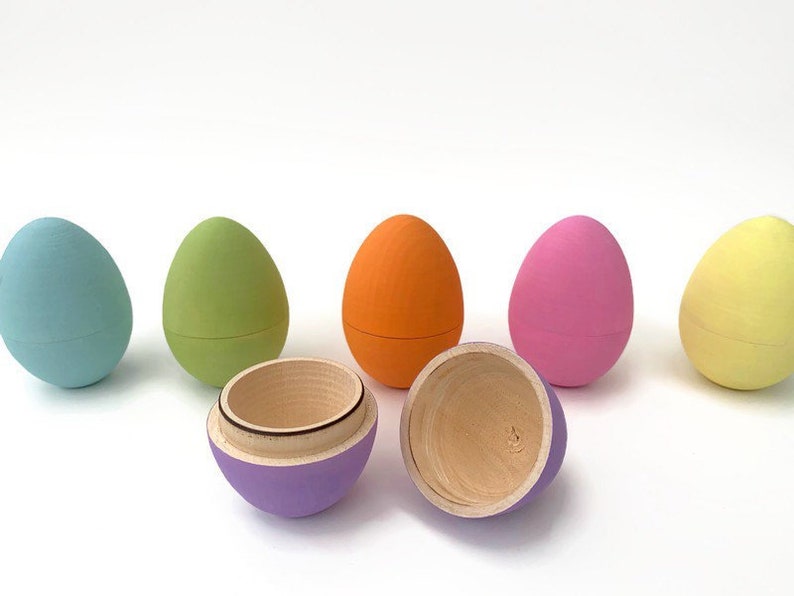 This eye-catching Wooden Easter Eggs are the perfect unique Easter gift for toddlers! Opening and putting together the eggs promotes hand-eye coordination and builds attention span. This beautiful eggs are made by Red Barn Toys on Etsy. This amazing shop also has lacing cards, pretend food, and other amazing Waldolf toys.
4) Bunny Necklace – Unique Easter Gifts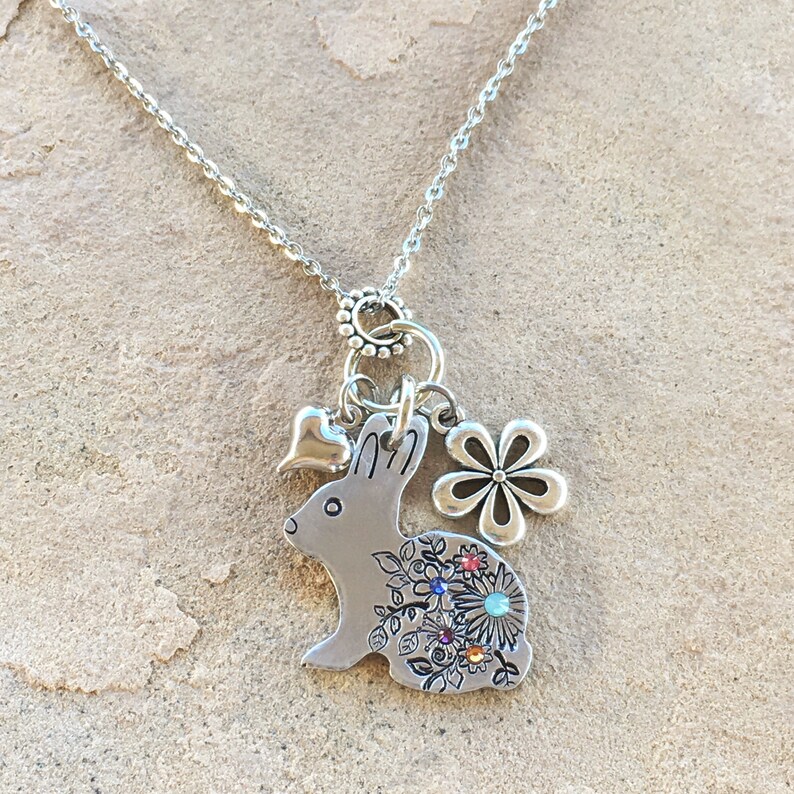 This adorable Bunny Necklace by Stamped Serendipity would make a great Easter basket filler. Made from aluminum, this bunny is decorated with Swarovski crystals and accented with heart and daisy charms. You can customize the length of the chain for your child. Shop the other unique jewelry in this amazing Etsy shop.
5) Montessori Hand Kite Instrument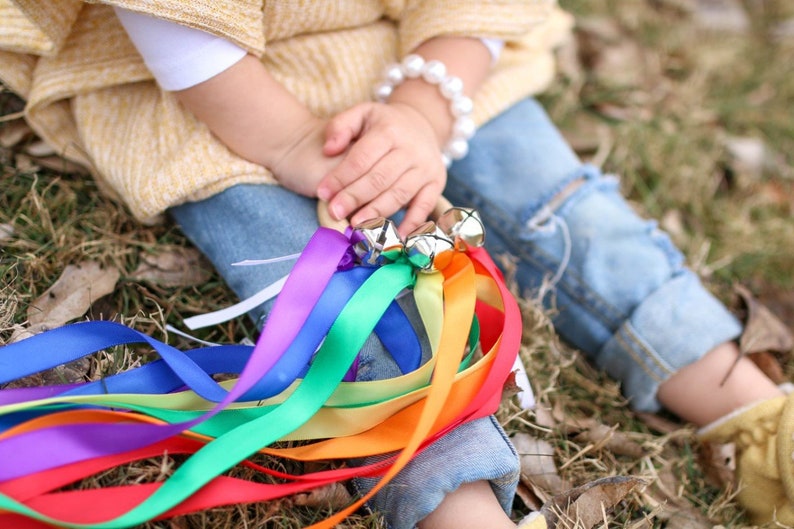 This Montessori Hand Kite Instrument combines the colorful ribbons of a hand kite with the fun of bells! I love that this toy encourages outdoor play and experimenting with music! Your little one will love running and watching the hand kite ribbons flying in the wind. These kites are made by Legacy Learning on Etsy. Explore more learning toys and activities for your little ones in this shop!
6) Custom Easter Bunny Plush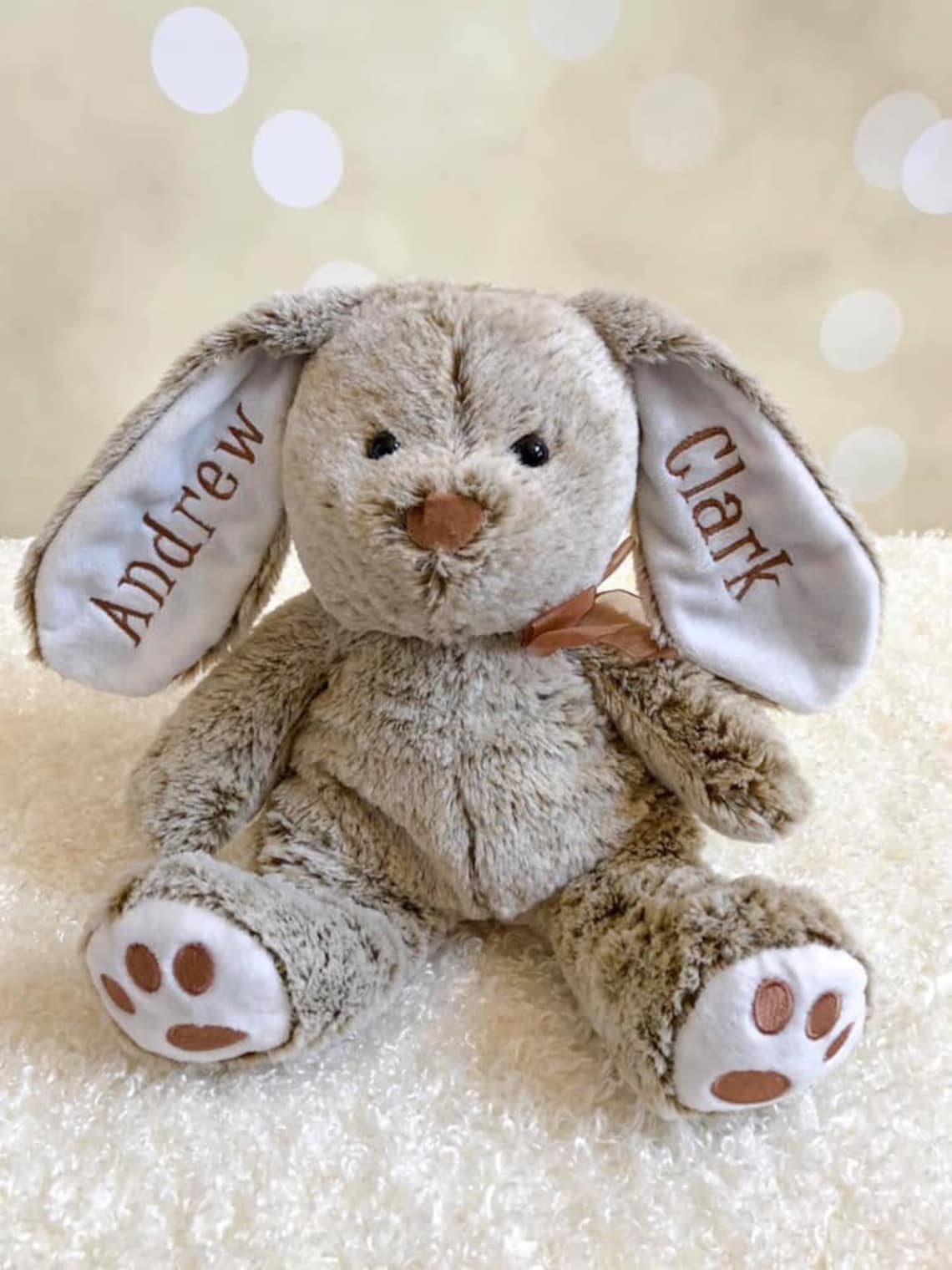 These adorable Custom Easter Bunny Stuffed Animals by Petit Fleur de Lis are perfect for any child's Easter Basket! You can pick the color of bunny along with whether to monogram one ear or both! These super soft bunnies will be a quick favorite of your little ones. Check out the other amazing items in this Etsy shop!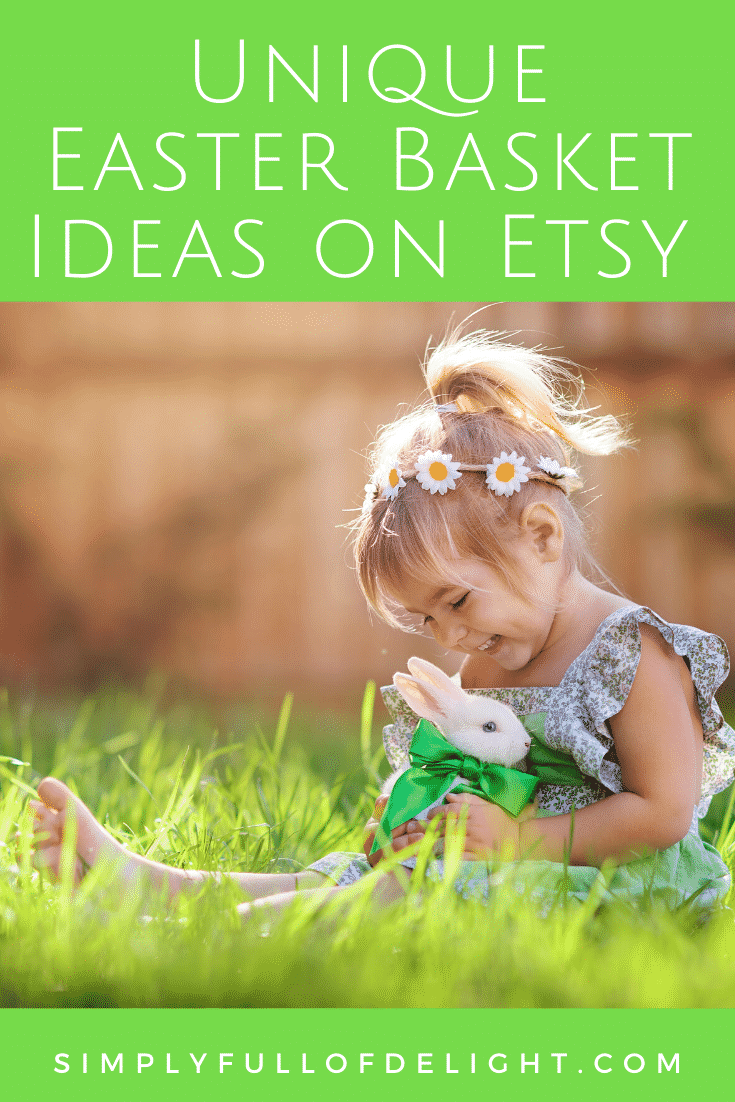 7) Quiet Books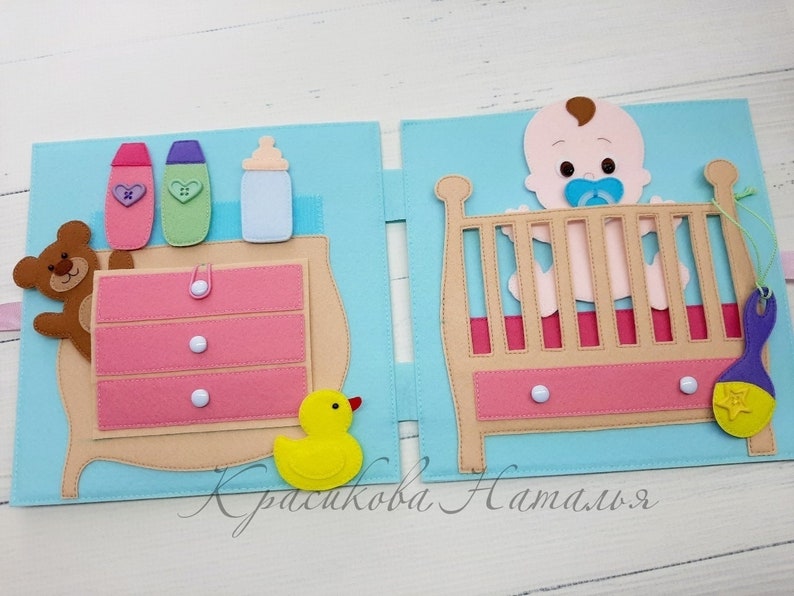 This awesome Doll House Quiet Book is made by My Felt Book on Etsy. What is a quiet book? It's a book filled with activities to engage toddlers and teach fine motor skills and simple concepts. Perfect for keeping your child busy while you are on the go! This shop has many other Quiet Books available as well.
8) Personalized Wand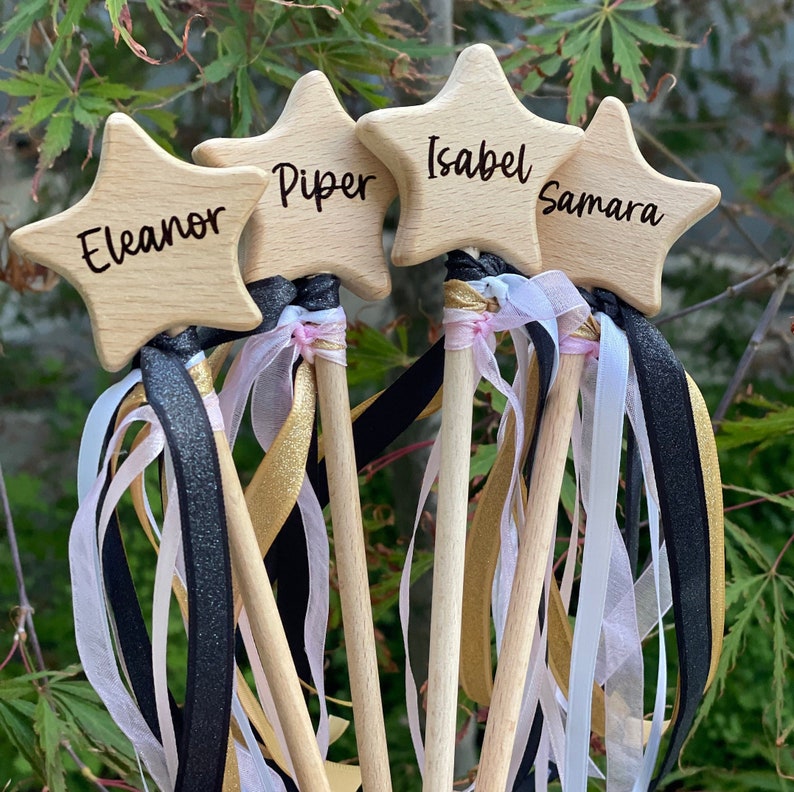 This Personalized Fairy Wand from Evy Little Design is sure to delight any young girl! You can have it customized with a name, date, event, etc. So much fun!
9) Felt Solar System Play Set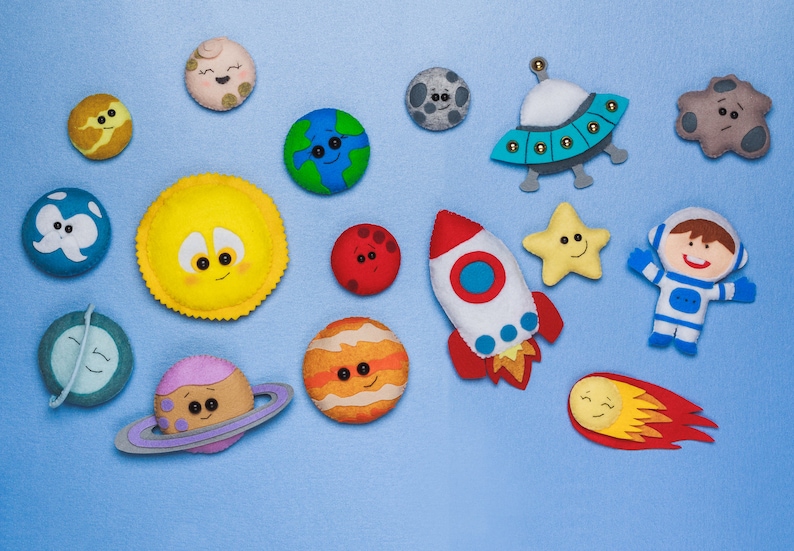 This charming Felt Solar System Play Set is made by Mollis Toys on Etsy. I love that this set promotes hands on learning about the solar system, space, and astronauts. You can have magnets placed inside these to make them a refrigerator magnet toy! Mollis Toys also makes ocean creatures, farm animals, woodland friends, dinosaurs, and much more! You are sure to find unique Easter basket ideas in this Etsy shop!
10) Alphabet Flash Cards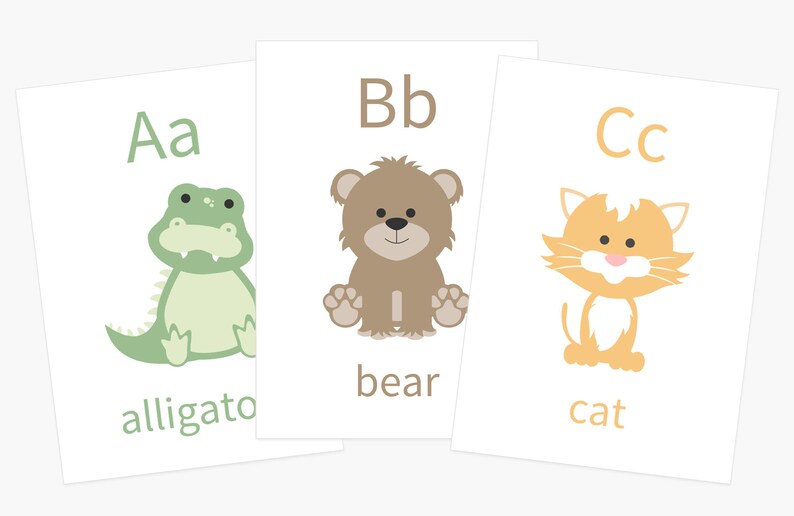 These Alphabet Flash Cards by Goodnight Fox Studio are the perfect learning tool for preschoolers! Your child will enjoy looking at all of the adorable animals while practicing letter recognition. This Etsy Shop also has personalized nursery art, memory card games, additional learning activities, and much more! You can buy digital versions or have prints shipped to your home!
11) Tractor Pencil Case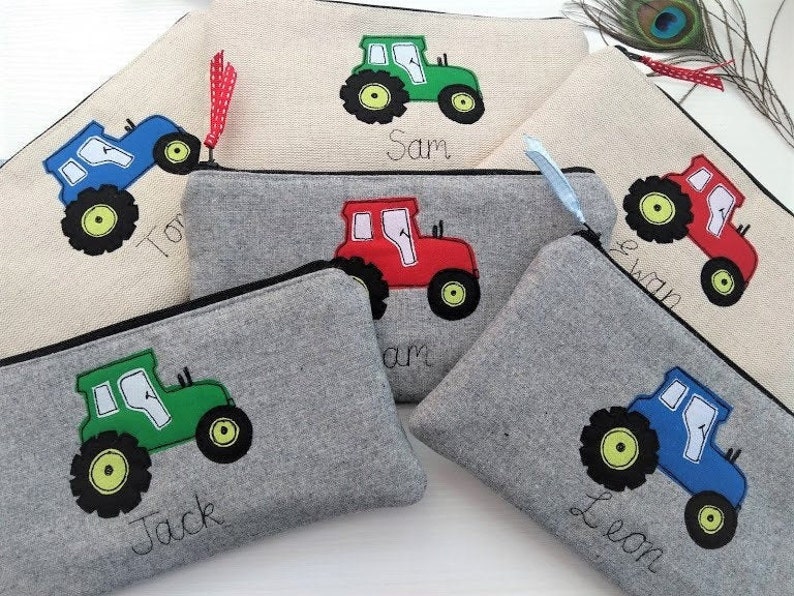 An Tractor Pencil Case makes an excellent unique Easter basket idea! Perfect for storing art supplies or small toys for the diaper bag! These beautiful pencil cases are made by Peacock Emporium Lady on Etsy. This shop has many different colors and prints so you are sure to find something your child will love!
12) Glitter Gel Pens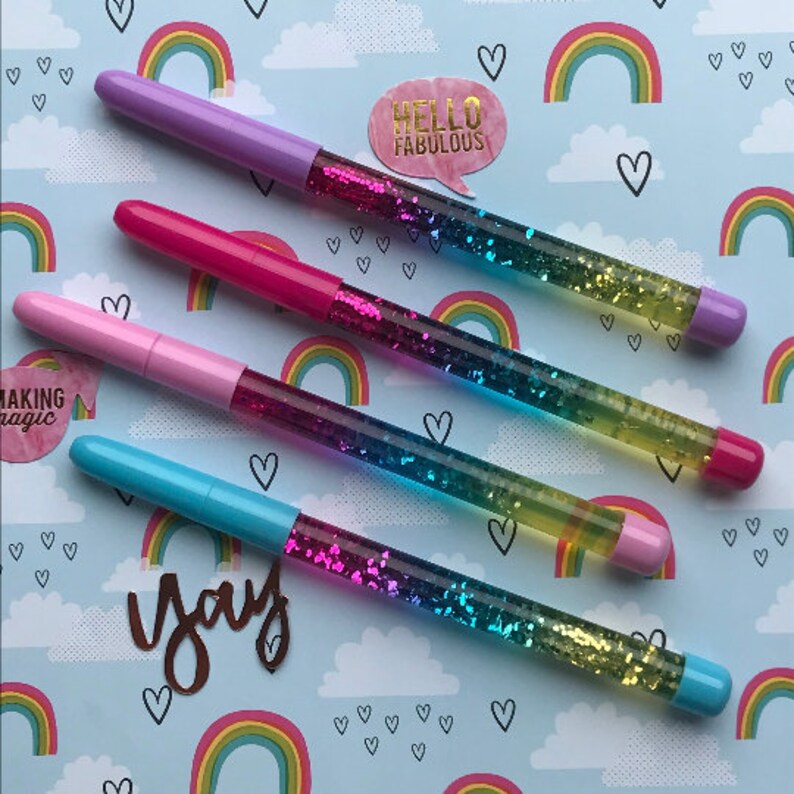 A Set of Glitter Gel Pens by The Pensnickety Co would make a unique Easter basket gift for older children. Kids love writing with pens and these sparkling pens take that excitement up a notch! Shake the pen and watch the glitter move around! This shop is full of amusing and unusual pens, pencils and stationery!
13) Personalized Peg Dolls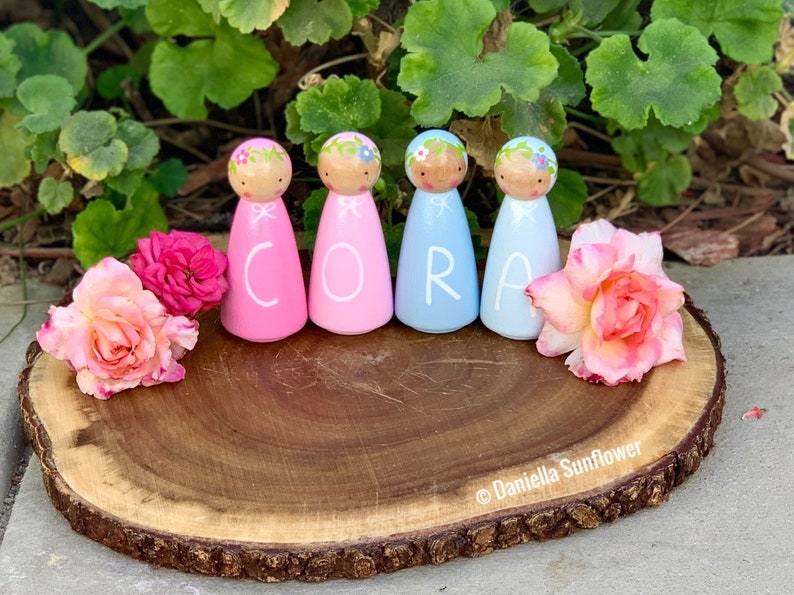 These Personalized Peg Dolls made by Daniella Sunflower on Etsy are perfect for toddlers and preschoolers who are learning to spell their name and love imaginative play. This shop also has gnomes and other various peg dolls that work well with dollhouses and play sets.
14) Woodland Camping Set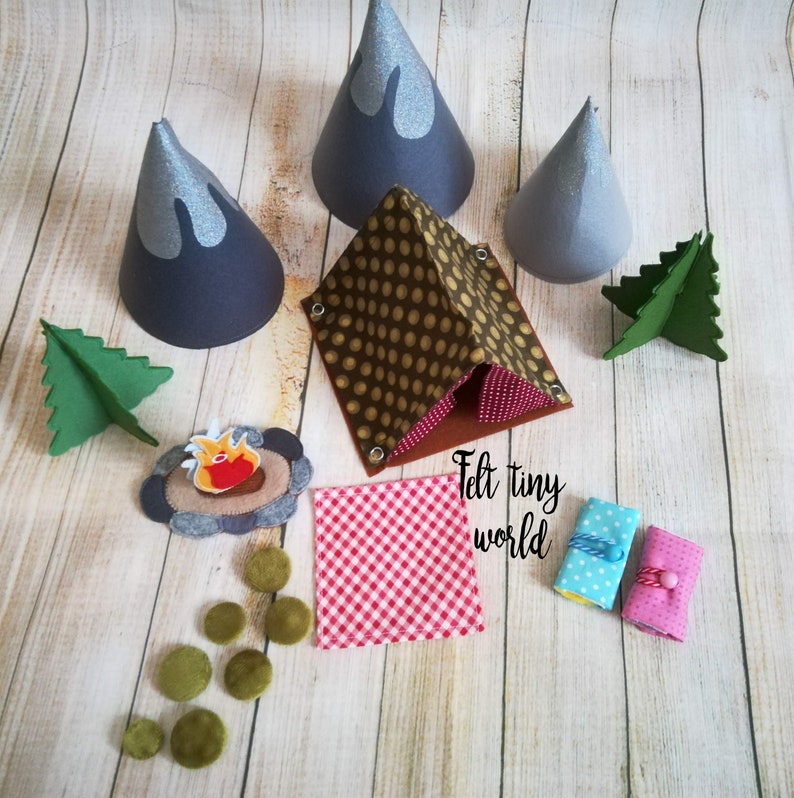 This handmade Woodland Camping Set is made by Etsy shop Felt Tiny World. It is the perfect size for peg dolls or other small dolls. Everything folds flat for easy storage! Be sure to stop by this shop and admire all of the adorable felt playsets!
15) Felt Toy Carrots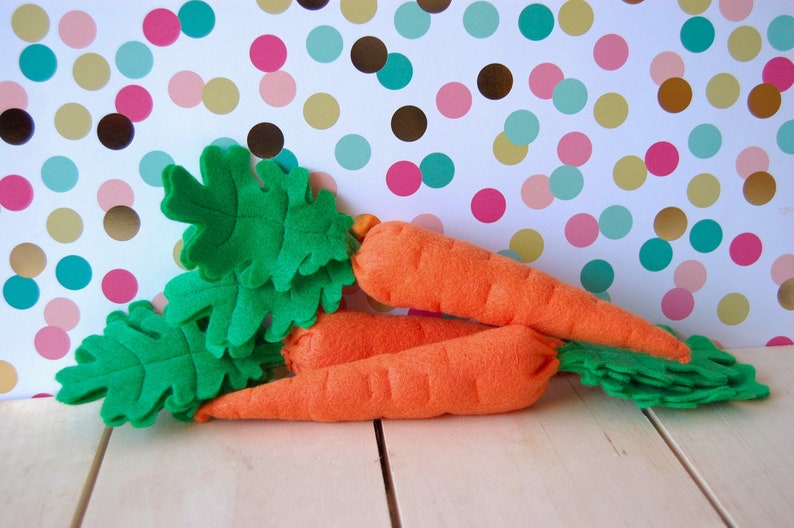 These Felt Toy Carrots by The Bumble Be would be so adorable in a child's Easter basket! I love that these carrots spark imaginative play as kids can pretend to feed their stuffed animal bunnies and horses. This Etsy shop also has felt Easter peeps, smores, donuts, and more. Everything is so realistic, you will surely find something that your child will treasure!
16) Easter Bunny Hair Clip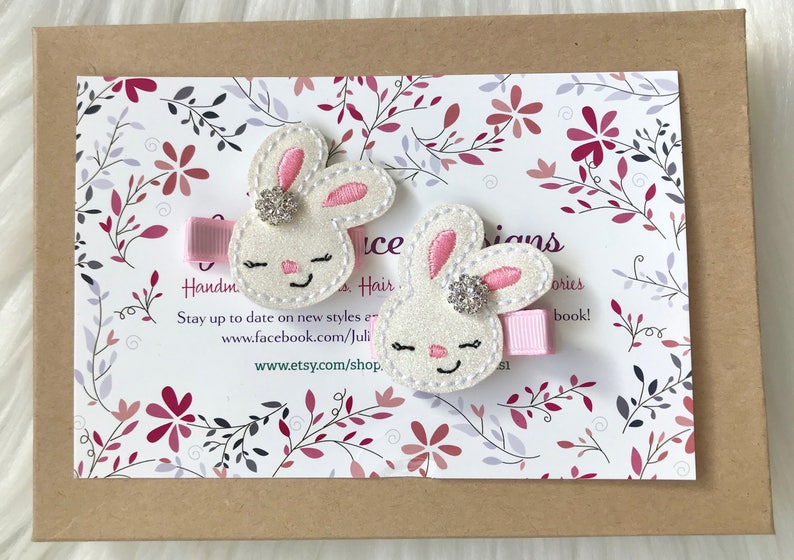 Easter Bunny Hair clips are an adorable and functional gift idea! These clips are from Julia Grace Designs. This Etsy shop is full of beautiful hair accessories including baby headbands and hair clips. You'll find hair accessories for every occasion at Julia Grace Designs.
17) Truck Toy Play Mat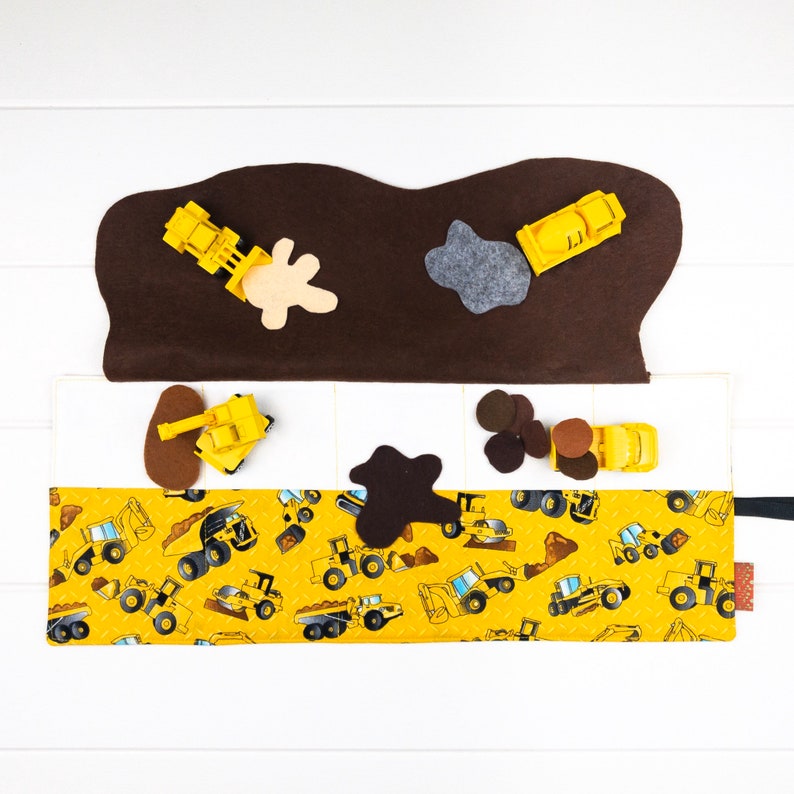 This Toy Truck Play Mat by Little Seb is an amazing travel toy! Perfect for tucking inside your bag for to keep little ones busy at church, appointments, or restaurants. This set comes with a play mat, 4 trucks, and 10 pieces of felt dirt and rocks. The trucks can be parked inside the pockets of the mat. This shop also has crayon holders, pencil cases, and much more!
18) Bunny Ears Headband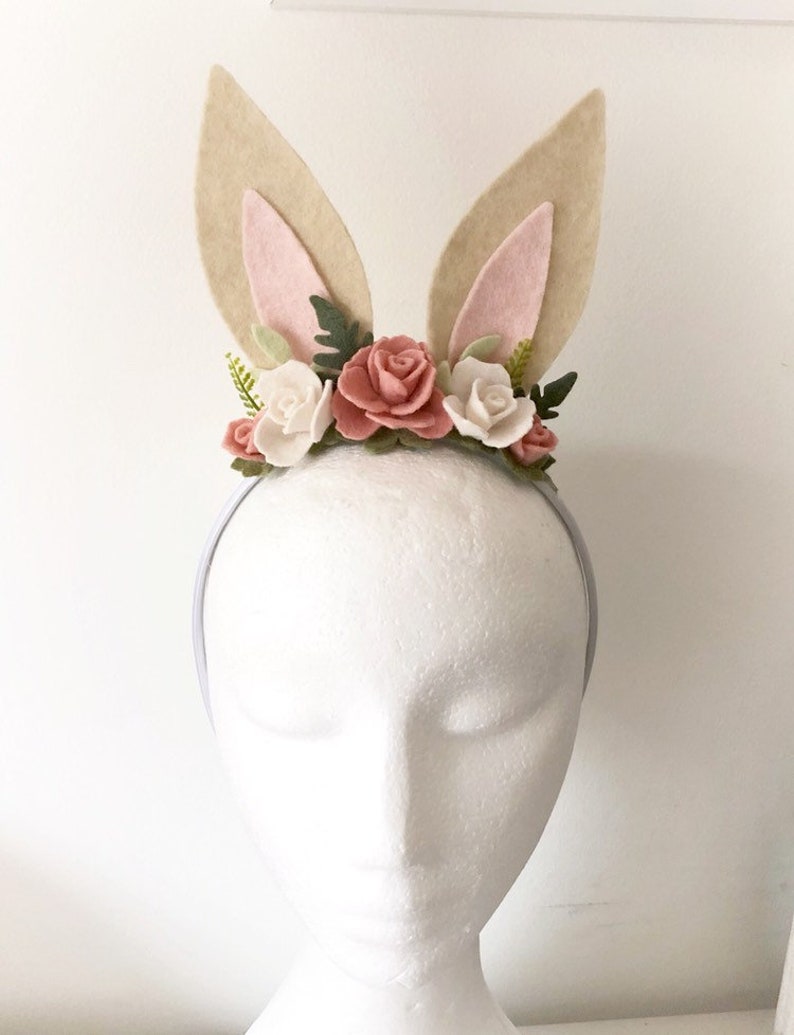 This Bunny Ear Headband by The Felt Meadow is the perfect unique Easter basket idea! Just think of the adorable Easter pictures you could get of your little one in these bunny ears! After Easter, your little one will love putting on bunny ears for imaginative play. The Felt Meadow is the kind of Etsy shop that makes you want to look at every item! Everything is positively unique and utterly perfect!
19) Easter Play Dough Kit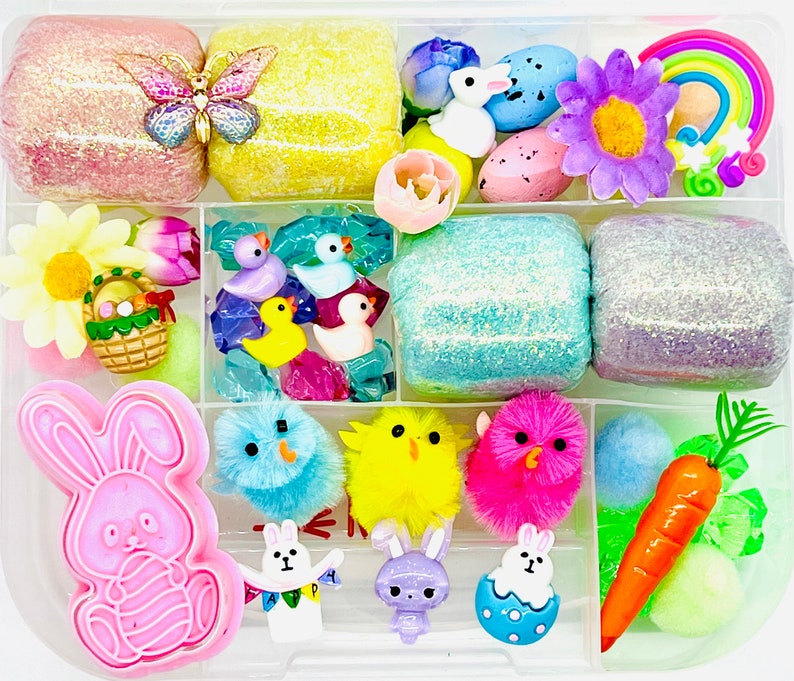 This Easter Play Dough Kit by Magical Inventions is perfect for any child 3 or older. Sensory play helps children develop language and fine motor skills. Easter themed kit comes with homemade scented play dough, plenty of chicks, bunnies, and more. Shop more themes and amazing sensory play sets in this Etsy shop!
20) Felt Breakfast Play Food Set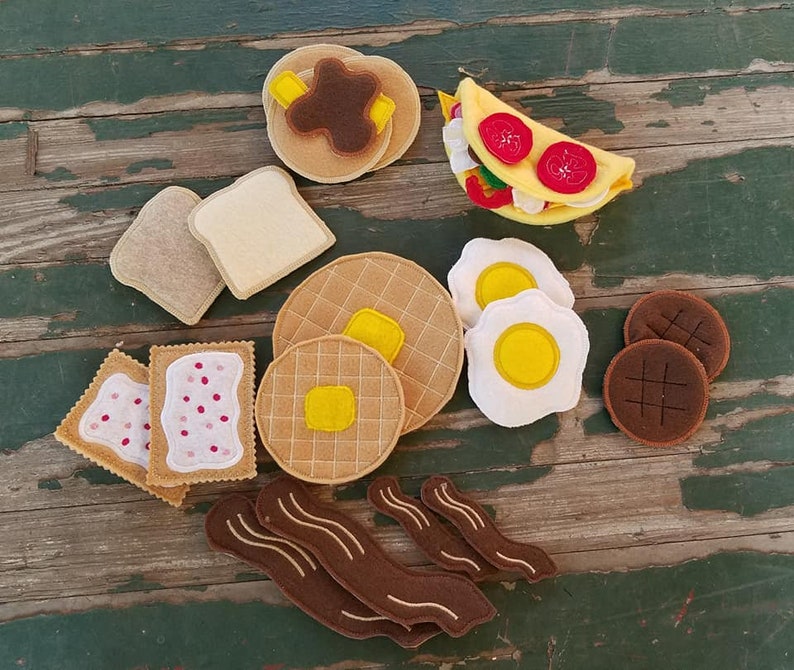 This Felt Breakfast Play Food Set is made by That's Sew Personal. This set includes everything your child needs to make a delicious pretend breakfast! This shop has the most unique food sets I have ever seen! There are amazing dinner sets, a brown bag lunch sack set, cotton candy, and popcicles that you just have to see!
21) Easter Play dough Mat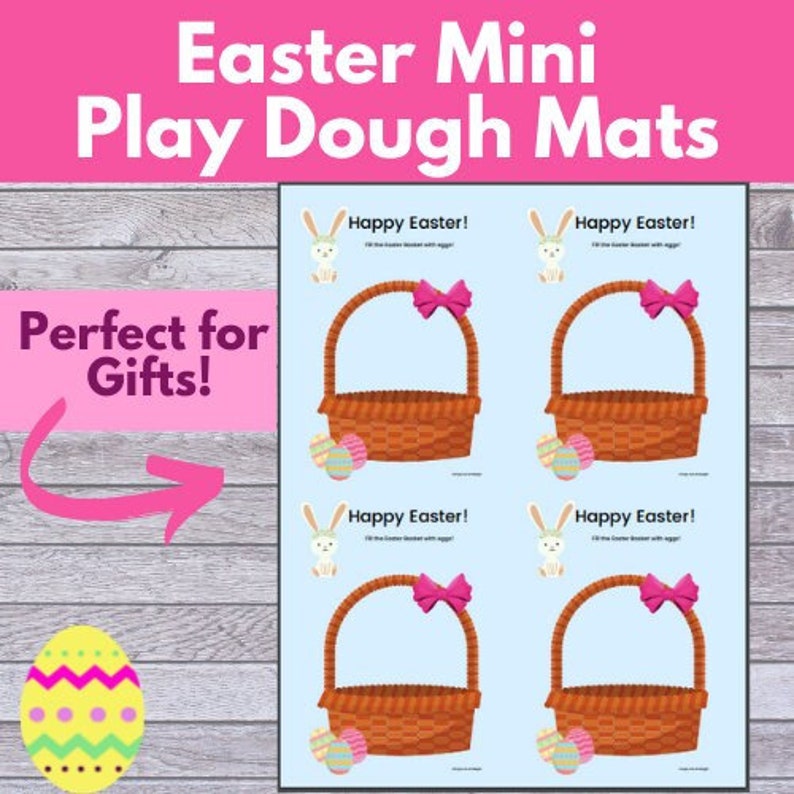 This Easter Play dough Mat is from my Etsy Shop Simply Full of Delight. Simply download, print, and laminate! Make one for each of your kids (or students) and pair it with a bit of playdough and you've got a great Easter gift for kids!
22) Bunny Baby Teether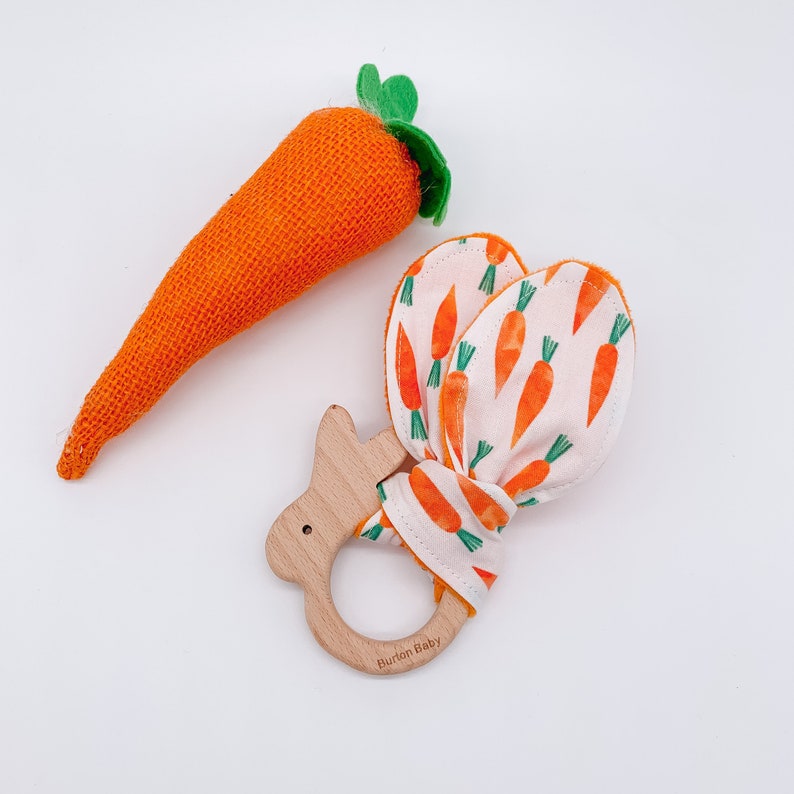 This adorable Bunny Teether is from Burton Baby Design on Etsy. This is the perfect Easter gift for babies! So cute and absolutely functional, this teether has the sweetest little bunny design. Sure to be a favorite!
23) Unicorn Child Size Purse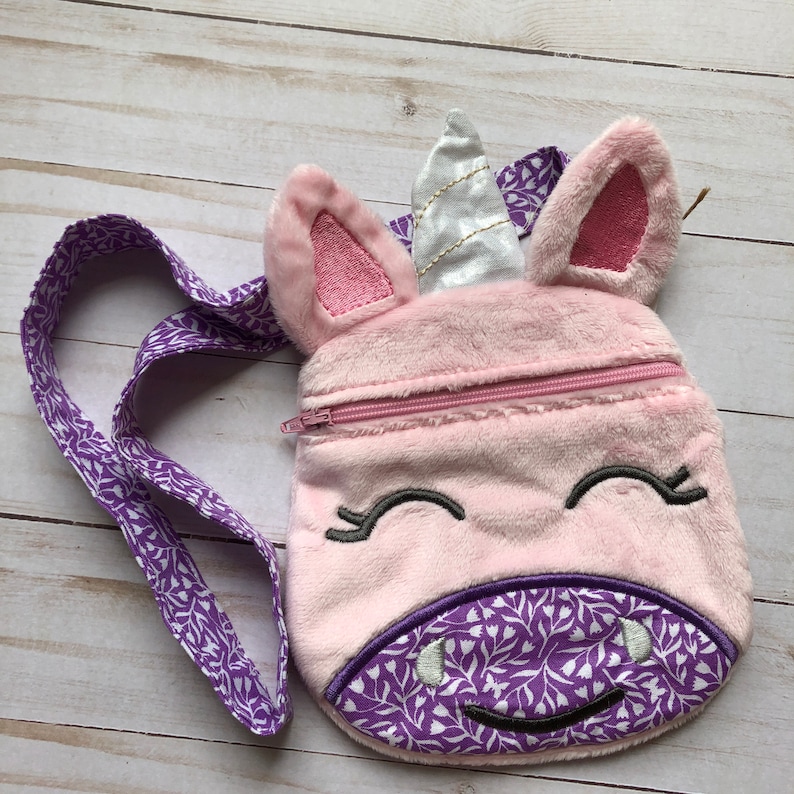 This Unicorn Child Size Purse by Sew a Smile Boutique is the perfect size purse for your little girl! Children will be delighted by the soft texture of the unicorn. This Etsy shop also has a variety of animal and sports themed pouches for boys and girls as well as adorable custom dolls and stuffed animals.
I hope you've found some unique Easter gifts for kids! Etsy is a great place to find one-of-a-kind items!
Comment below with your favorites from this list of unique Easter gifts!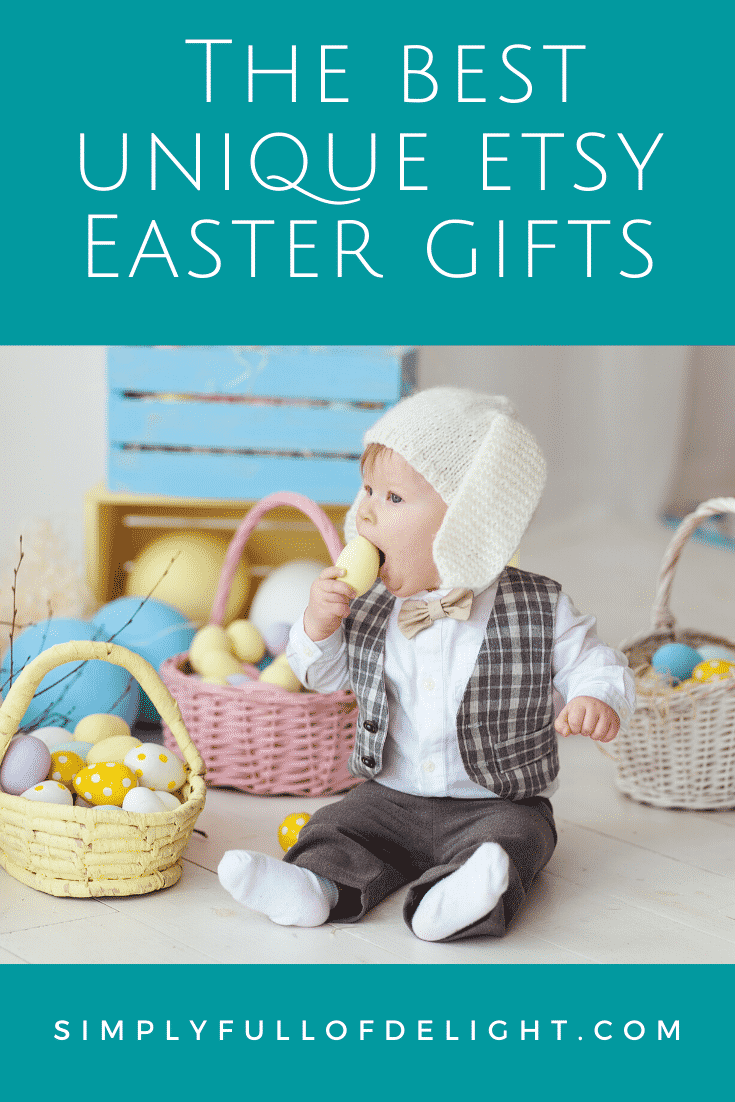 Other Articles You Might Enjoy:
29 Best Children's Books about Bunnies
Unique Toys from Etsy – Handmade Gifts
Free Easter Coloring Sheets and Activities