Looking for a fun Preschool Dinosaur printable? This Easy Paper Dinosaur Craft for kids is so simple with the free template.
Kids will enjoy creating their very own dinosaurs with moveable head and tail! It's a fun and easy craft with the free printable dinosaur template.
I've been wanting to do a preschool dinosaur theme for a while now! After we did this Dinosaur Sensory Bin, my kids have been fascinated by dinosaurs.
When kids naturally interested in a topic, it's a great time to lean into that particular interest to build that life long love of learning! According to Education Corner, kids learn best when they choose what to learn.
So, yes, we are reading tons of dinosaur books, doing dinosaur math, dinosaur sensory play, and of course doing some fun dinosaur crafts like these cute dinosaurs!
This easy preschool dinosaur craft is a fun way for kids to practice cutting skills and of course, fine motor skills. Coloring is a fun way to build hand strength and practice pencil grip too! Plus it works great as a D is for Dinosaur craft!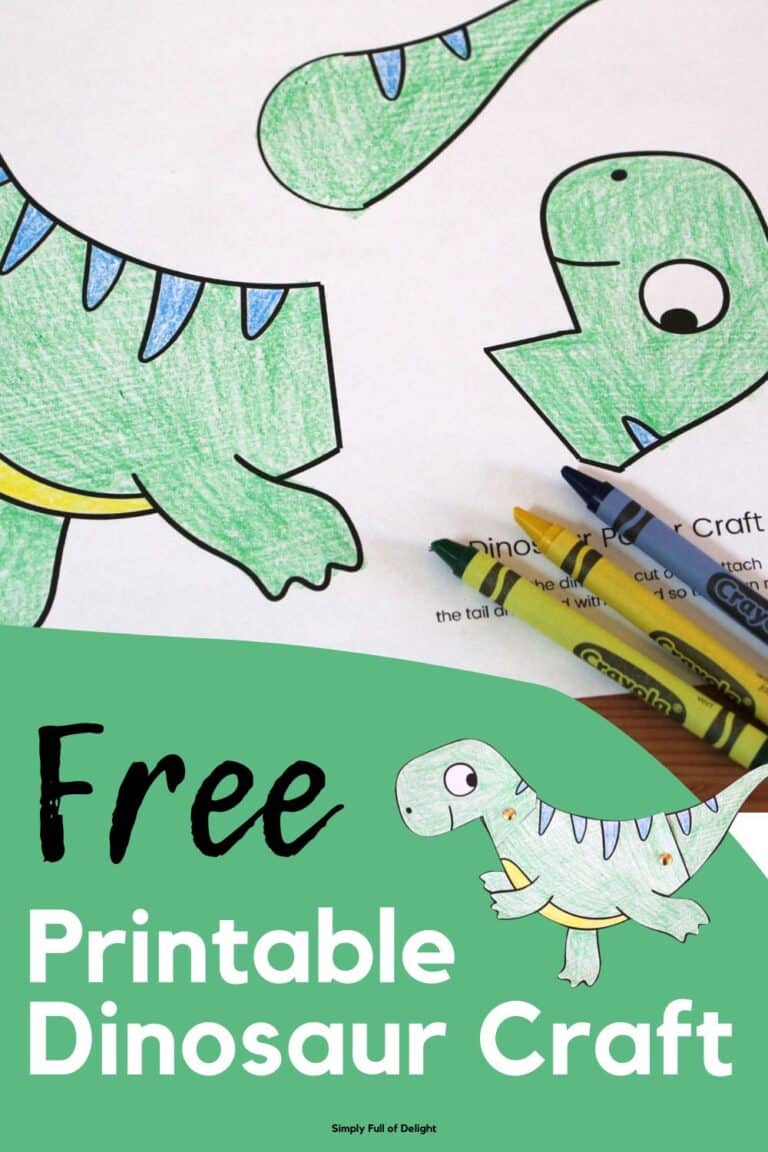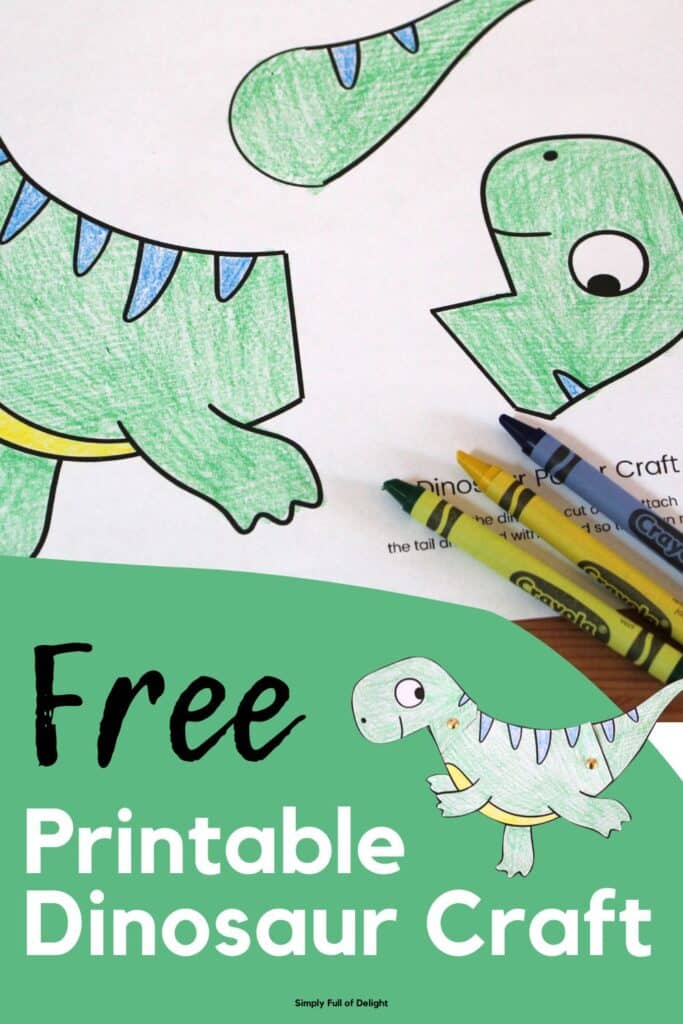 You might even use it as a fun activity at a dinosaur themed birthday party. This easy dinosaur craft is perfect for a rainy day or any time you need a simple craft!
My kids enjoy many different dinosaurs, but of course Tyrannosaurus Rex tops the list of their favorite dinosaurs. This easy dinosaur craft template is a friendly version of the T Rex, making it a fun craft for even young kids who might be scared of dinosaurs.
Let's dive into this cute little dinosaur paper craft for kids!
** Disclaimer: As an Amazon.com Associate, I may earn from qualifying purchases made by readers clicking my affiliate links at no extra cost to you.
Supplies for Easy Dinosaur Paper Craft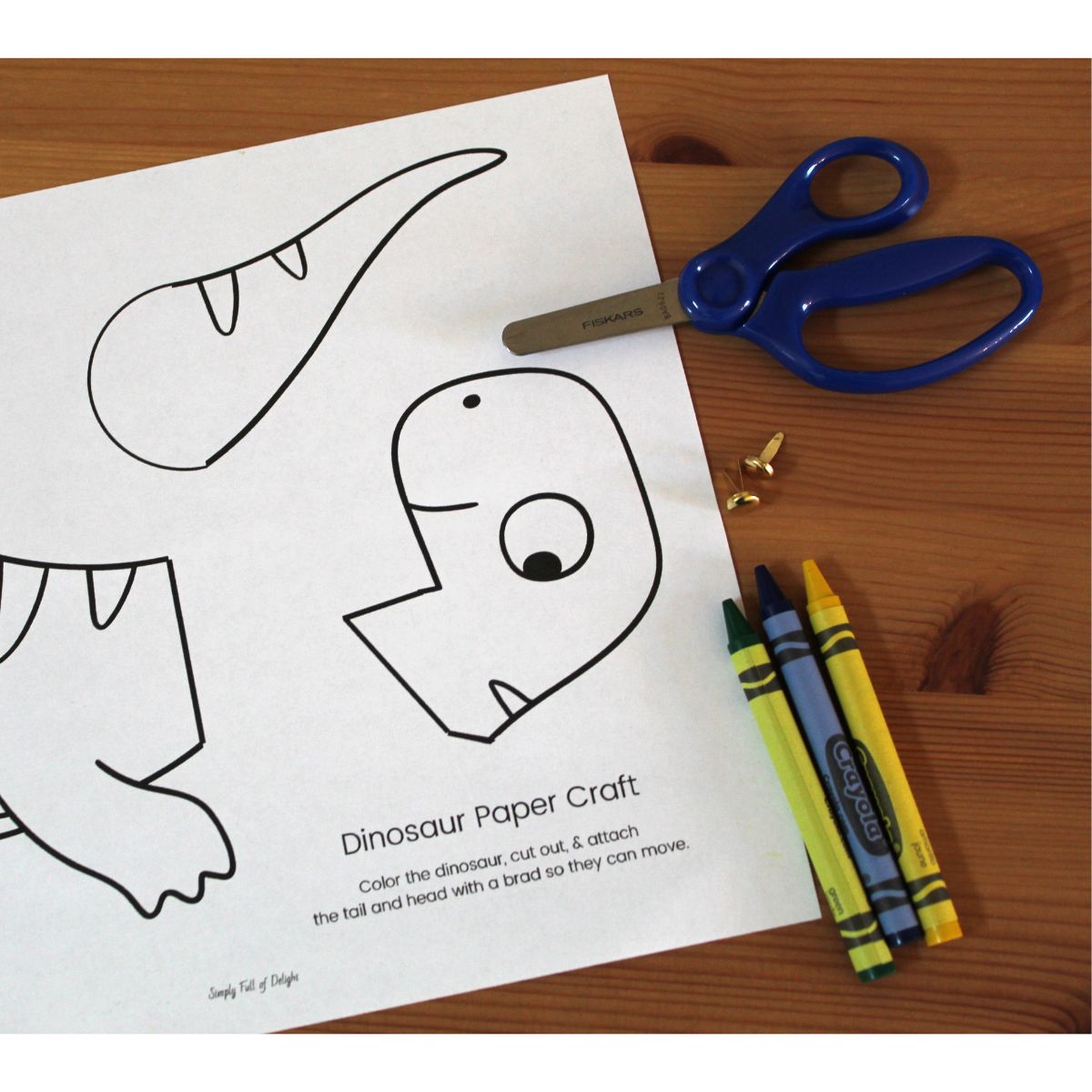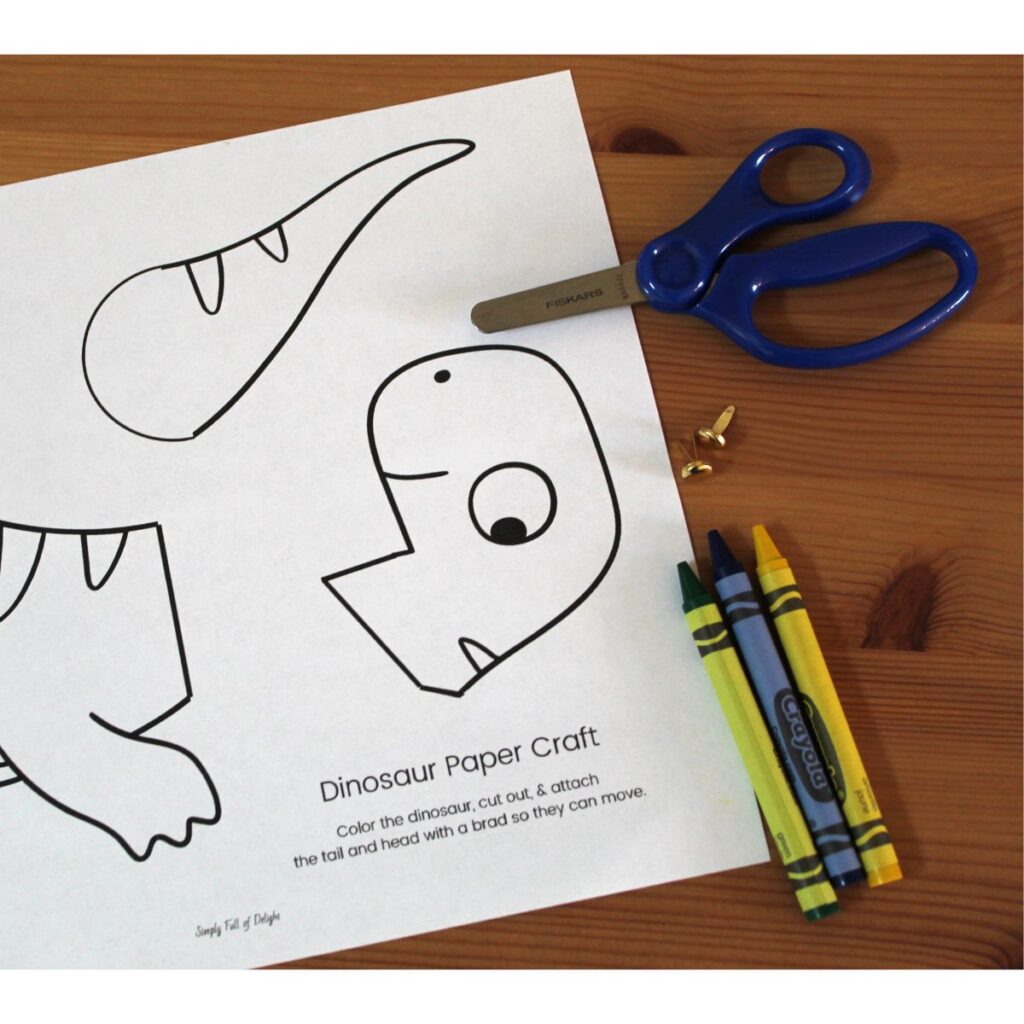 For this cute dinosaur craft, you will need the following items:
Free Dinosaur Template PDF printed on white paper (You can access it in the free Resource Library, available to all of my email subscribers. Need to join my email list? There's a form at the end of this article!)
Crayons (Crayola really are the BEST!)
Brads (otherwise known as paper fasteners) – You'll need 2 – one for the head and one for the tail!
Child safe Scissors – Fiskars brand are the best!
Optional: Cardstock – You might like to print this project on white cardstock to make it more durable.
Also optional: glue stick – if you wish, instead of a moveable dinosaur, you can skip the brads and just glue the different pieces of the dinosaur together. It won't move, but it's still a great craft for your dinosaur fan.
Let's get started on this fun dinosaur craft!
How to Make a Preschool Paper Dinosaur Craft
First, print out the dinosaur craft template from the Resource Library (free to my email subscribers! If you haven't joined yet my email list yet, there's a blue and gray box to join below!)
You can print the dinosaur shape template onto regular copy paper or you can use card stock to make it more durable.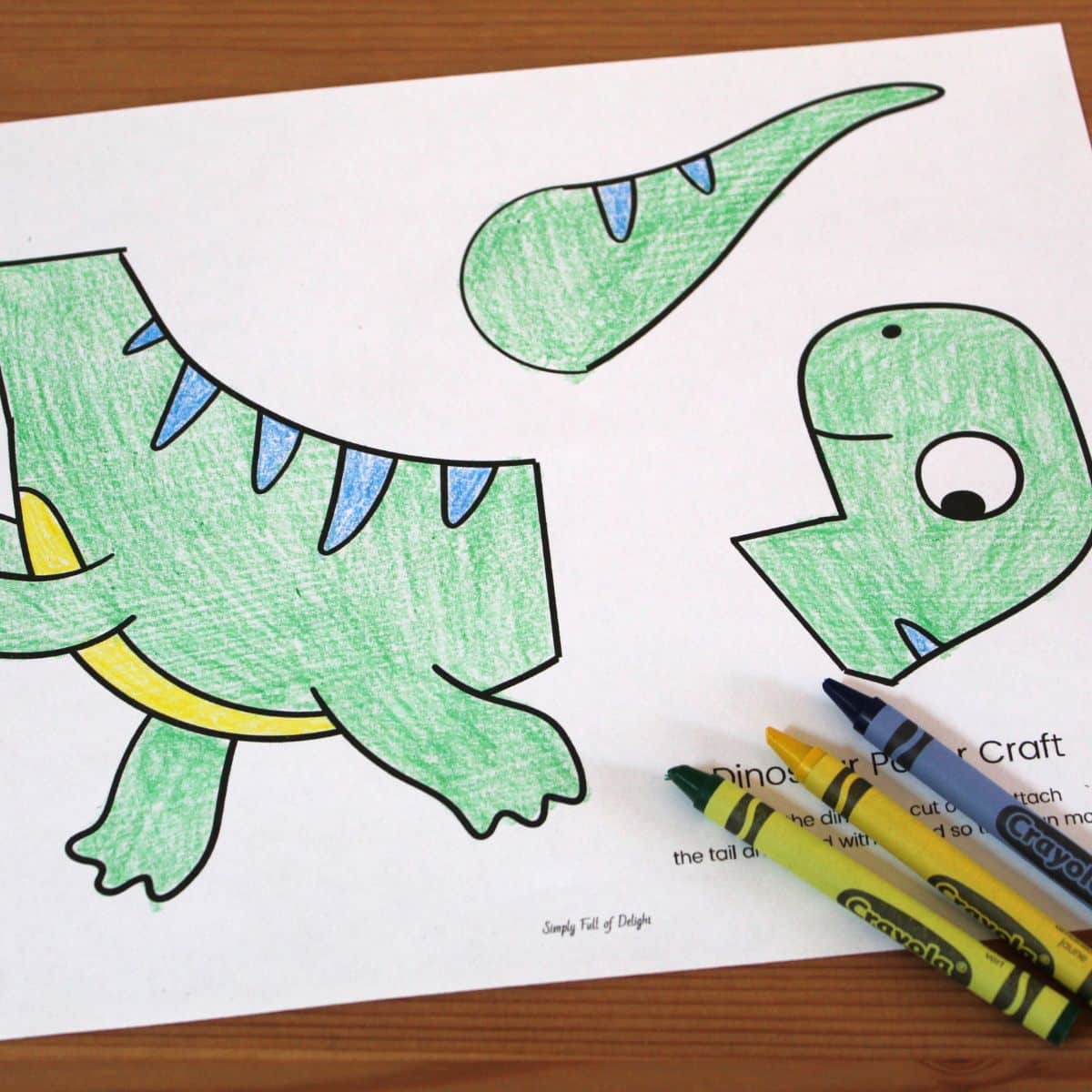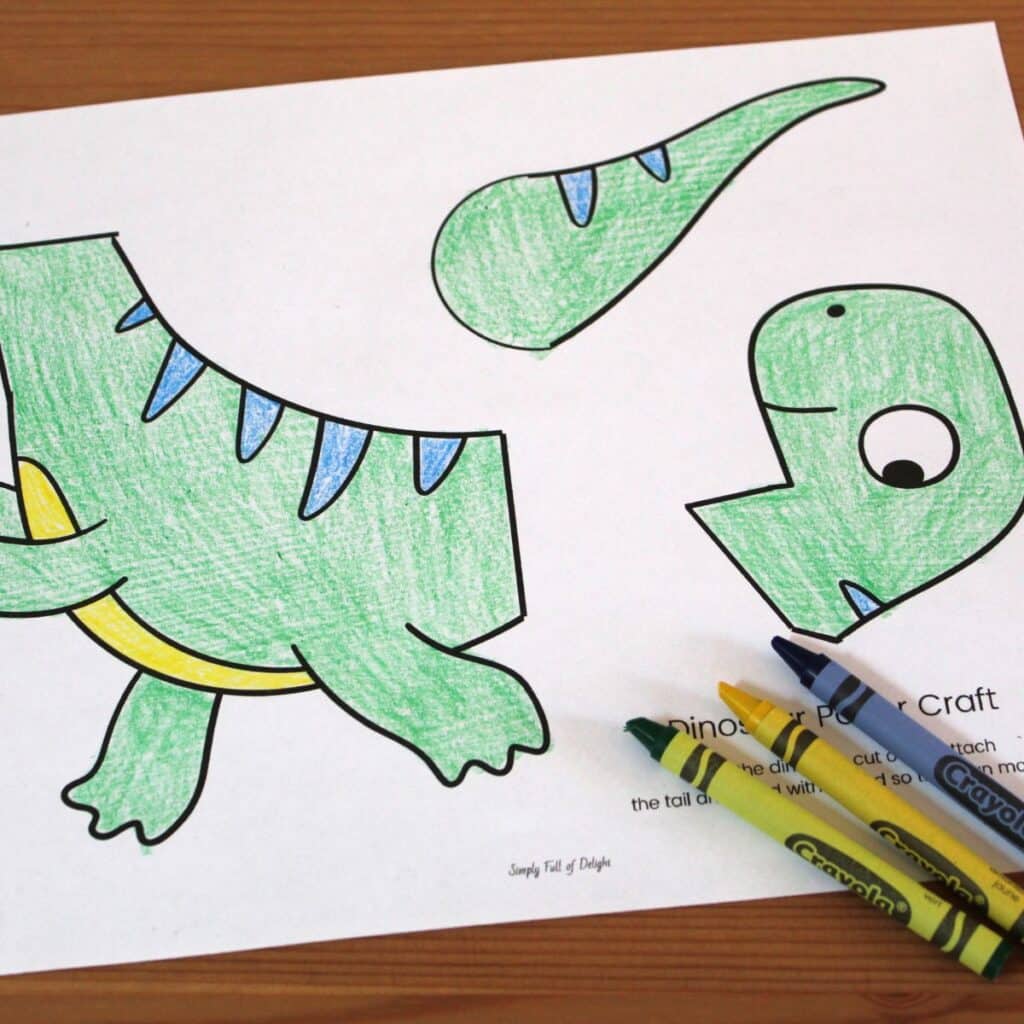 Now it's time to color! Give your child crayons. It's always fun to see what color kids decide the dinosaur should be! Encourage them to use different colors for the stripes and body.
Next, it's time to cut. Give your kids blunt tip child safe scissors and have them cut out all 3 pieces of the dinosaur including the head, body, and tail.
You might encourage little ones to cut straight across on the claws on the body of the dinosaur as they are a little more difficult to cut around.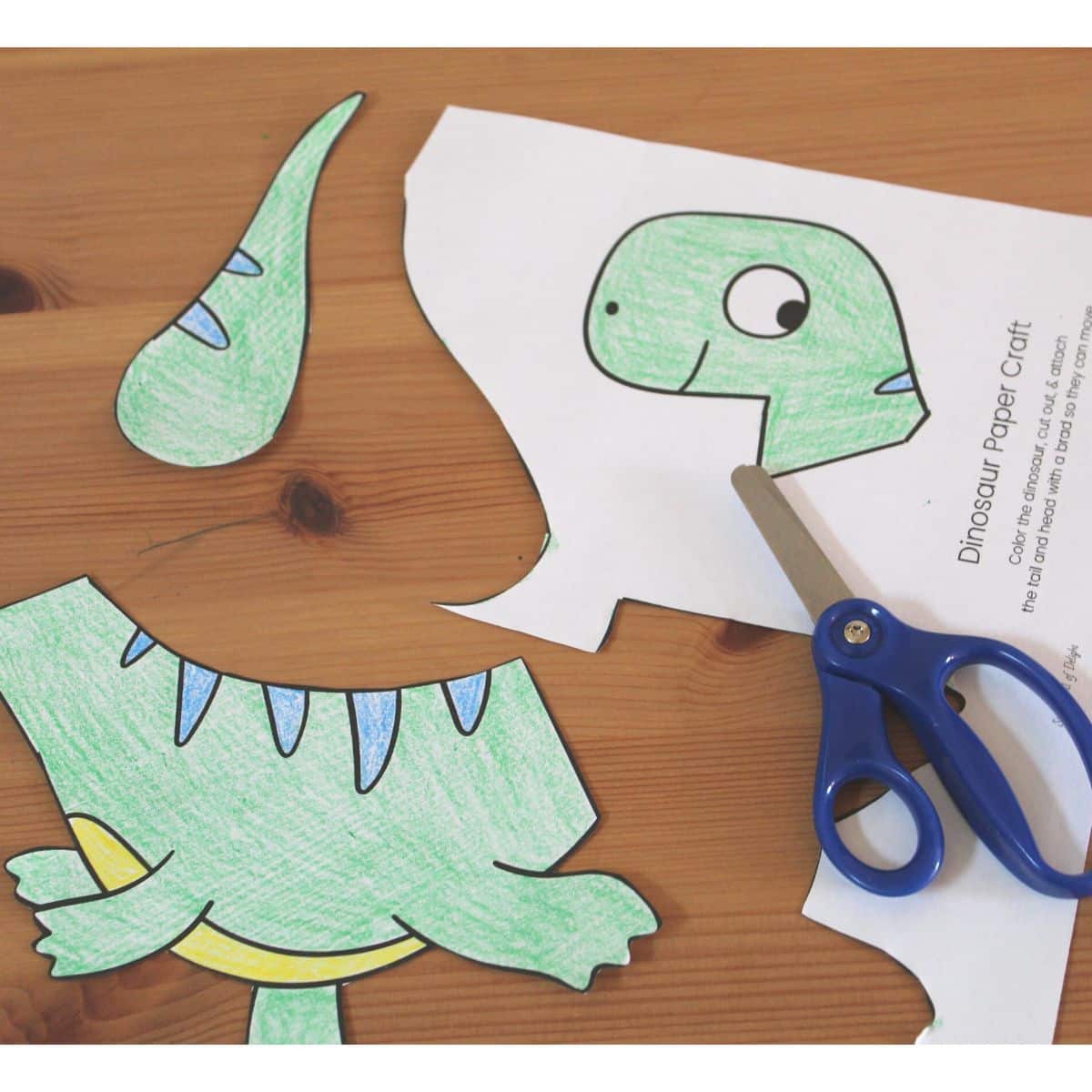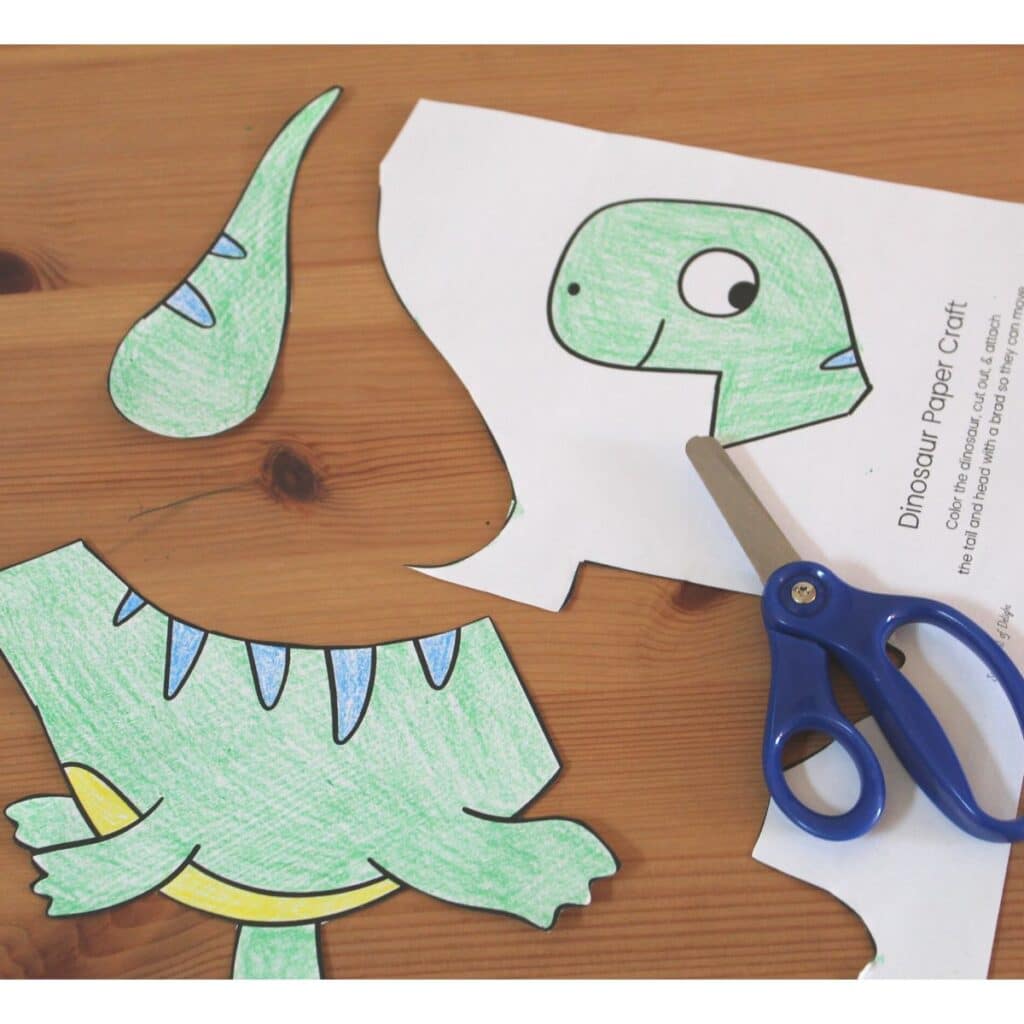 Once they have cut out all 3 pieces, help them attach the dinosaur's head to the neck of the dinosaur's body with a brad. Then take the 2nd brad and use it to attach the tail to dinosaur's body.
Note: For the head, the first stripe is meant to overlap with the first stripe on the body. This will give your dino some extra paper buffer so that the head doesn't tear as easily. You may want to trim a little off of the long neck if it seems too long.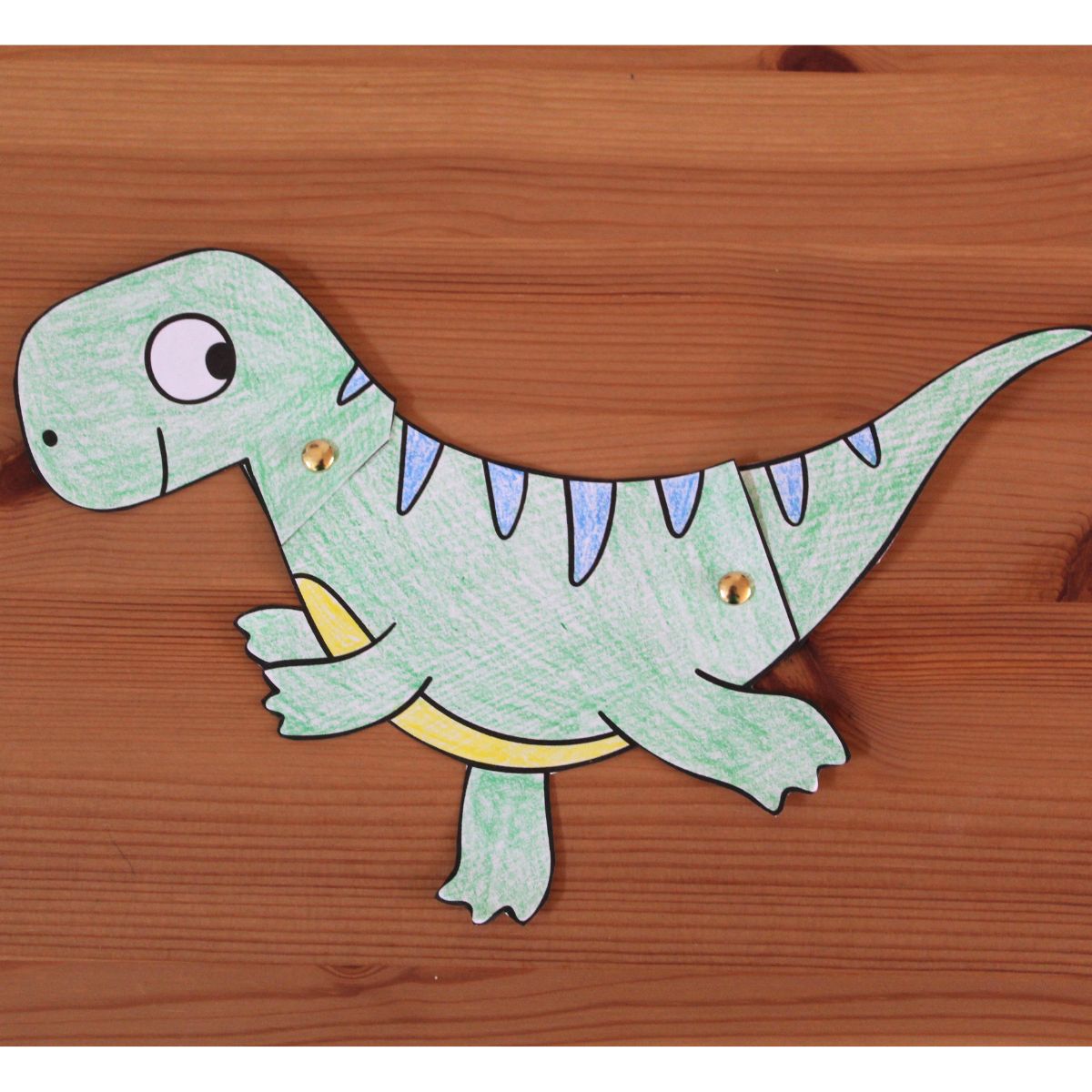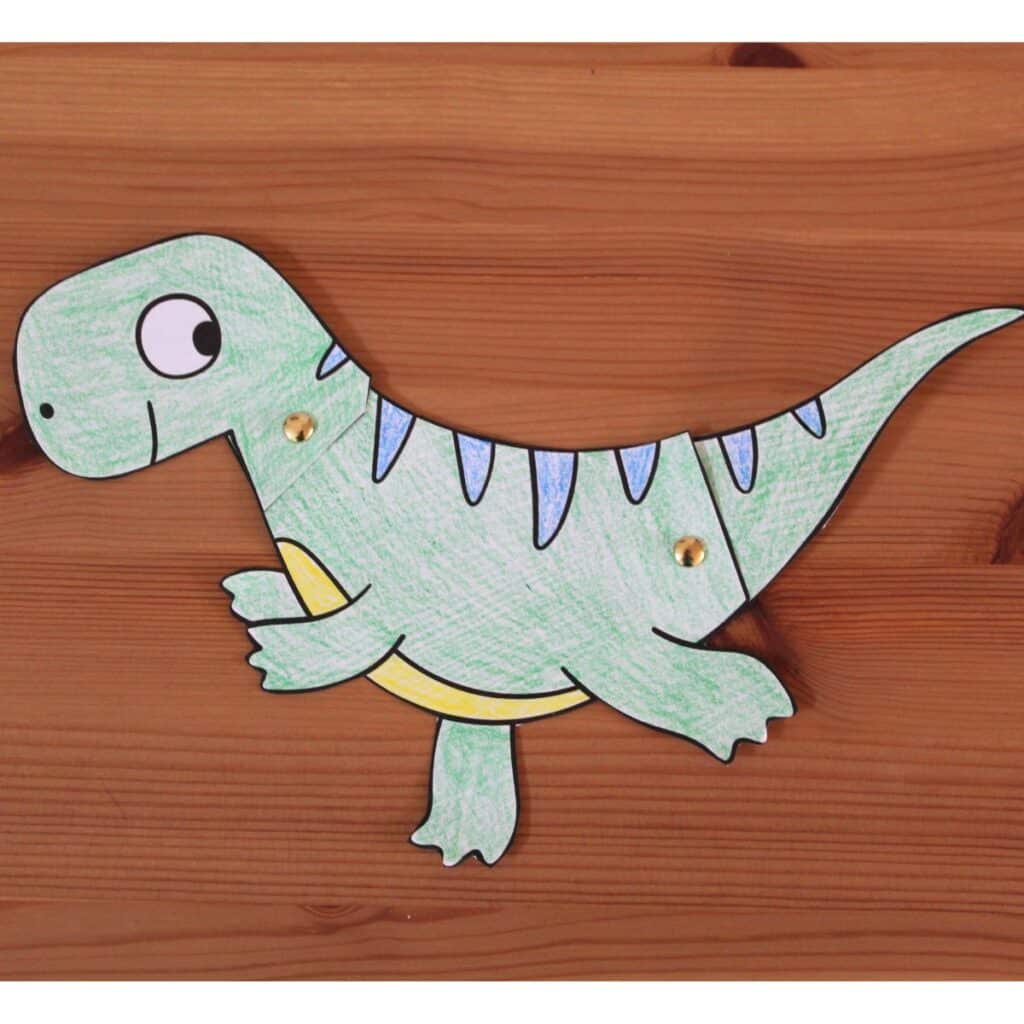 And…. you're finished! Such a easy peasy fun craft! I hope this adorable dinosaur craft makes a great addition to your fun dinosaur activity unit.
Grab the Free Dinosaur Paper Craft Template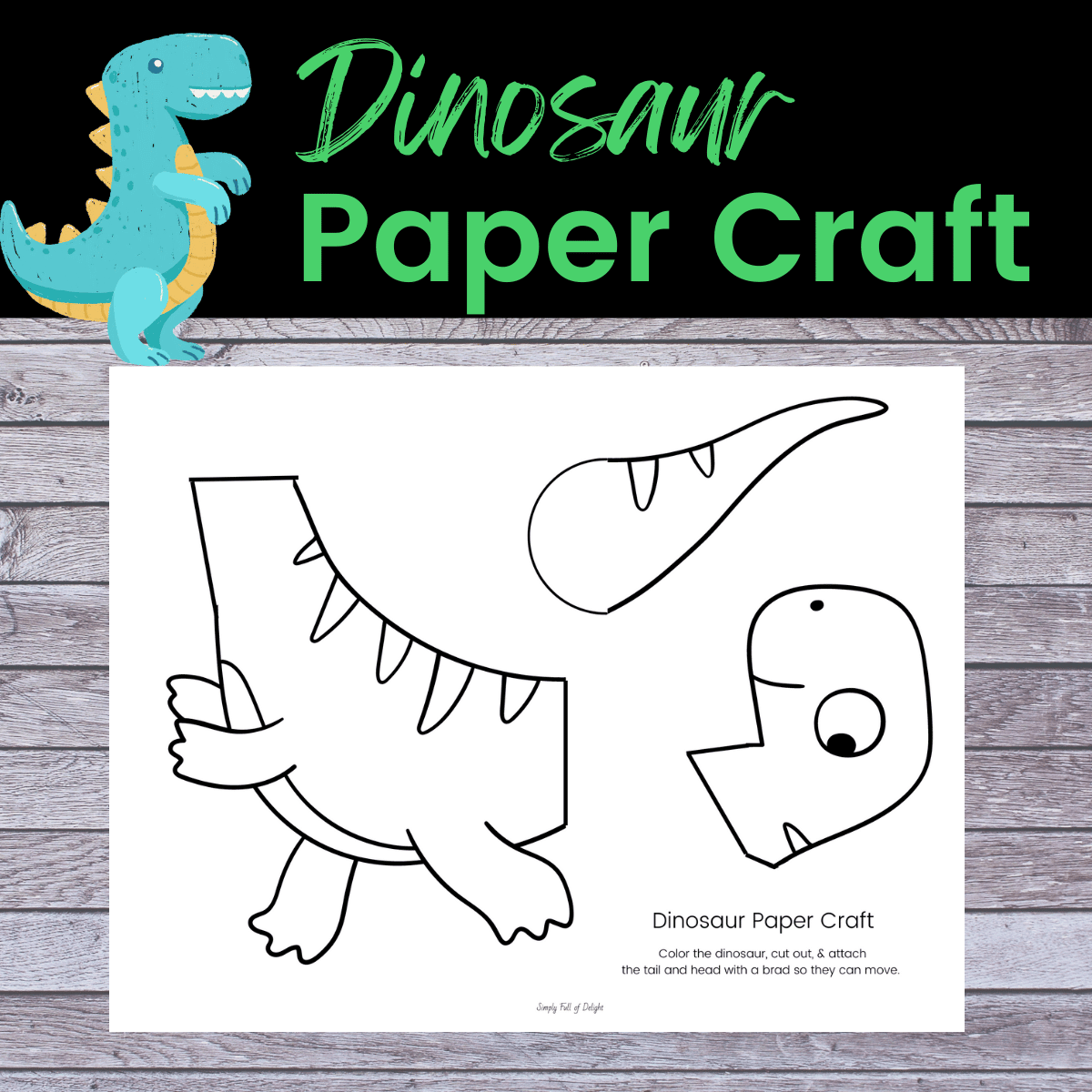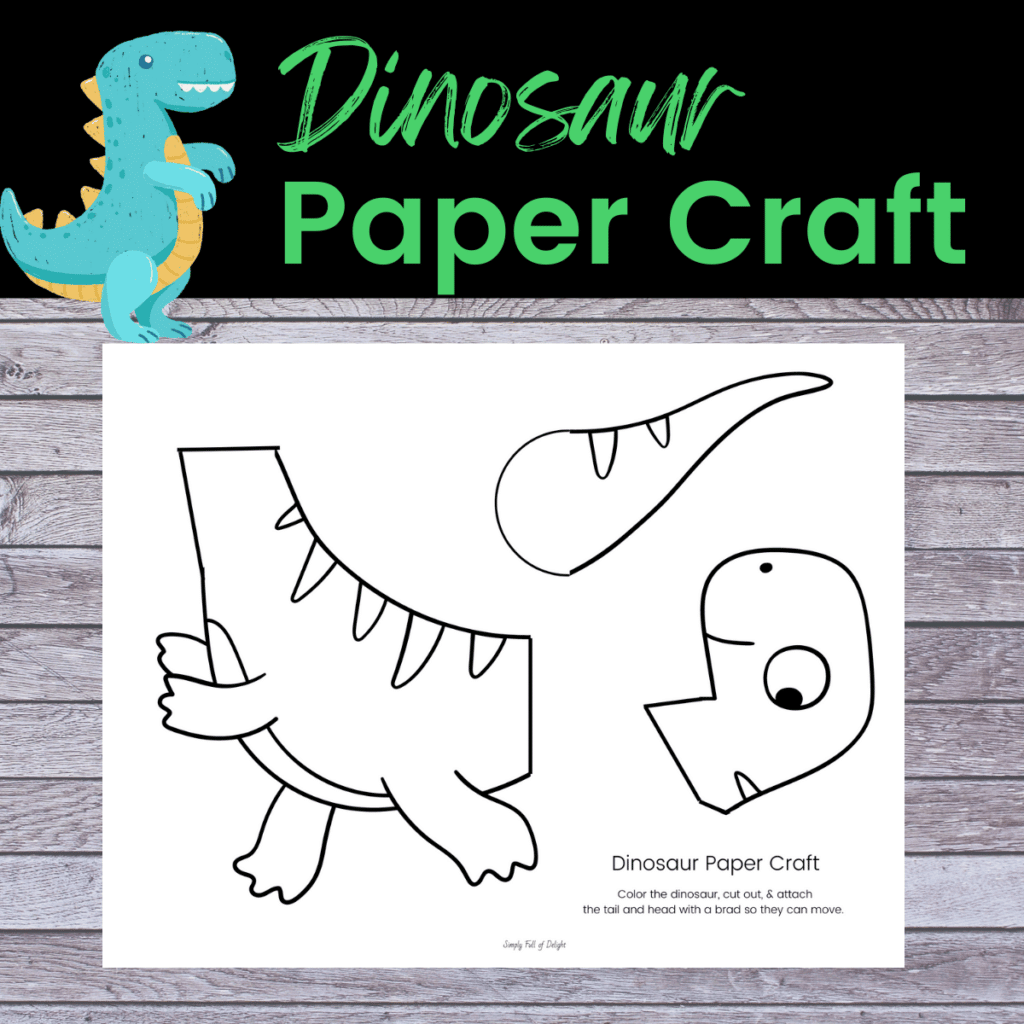 Want to make this craft? You can grab the free paper dinosaur craft template PDF in the free Resource Library which is available to my email subscribers. To Join my email list, simply type your email in the blue and gray box directly below.
You will get instant access to all the free printables in my Resource Library including this easy Preschool Dinosaur Craft!
More Preschool Activities
Looking for more dinosaur preschool crafts for younger kids to go along with these paper dinosaurs? You can find a Dinosaur Sensory Bin here.
You can find some amazingly Free Printable Dinosaur Coloring Pages here. Perfect for your dino loving kids!
Also, here's a huge list of Dinosaur Activities for Preschoolers including paper plate dinosaurs, construction paper dinos, and dinosaur fun for kids of all ages!
There's some cool dinosaur eggs here on Amazon, that are super fun for older kids. Little ones can unearth different types of dinosaurs by chiseling away as though they were searching for dinosaur fossils.
They might also enjoy these Take Apart Dinosaur toys. Kids can put on the dinosaur head, tail, legs and other moveable parts with the construction drill. What a perfect gift for little boys and girls who love dinos!
Looking for a great Dinosaur Book for kids? This Book of Dinosaurs is a filled with all kinds of interesting facts for your dino loving kids! Plus the book makes sounds of each dinosaur, AND you get 12 large dinosaur figures as well! So much learning fun to be had!
Did your young children love the moveable parts on this dinosaur craft? Here's 3 more similar paper crafts with moving parts: There's a Paper Ladybug, a fun little Paper Squirrel, and a cute little Paper Bee Craft as well. So much fun for little ones and a great way to practice scissor skills.
Want to save this dinosaur paper craft idea for later? Pin the image below to your Preschool Dinosaur ideas board on Pinterest!