Have a dino loving kid? Here's 3 Free Printable Baby Dinosaur Coloring Pages for Kids!
My kids have been loving our Dinosaurs theme lately! We made a fun dinosaur paper craft with moveable tail and head last week.
We also have enjoyed "hatching baby dinos" in our dinosaur sensory bin as well.
So naturally, it was time to create some fun dinosaur themed coloring pages!
I focused on creating some baby dinosaur coloring sheets as I thought they would be more preschool friendly than a large dinosaur with sharp teeth.
I love these cute baby dinosaur coloring pages because there's no easier activity than coloring! Just print out your dino coloring pages, grab some markers or crayons, and let the fun begin!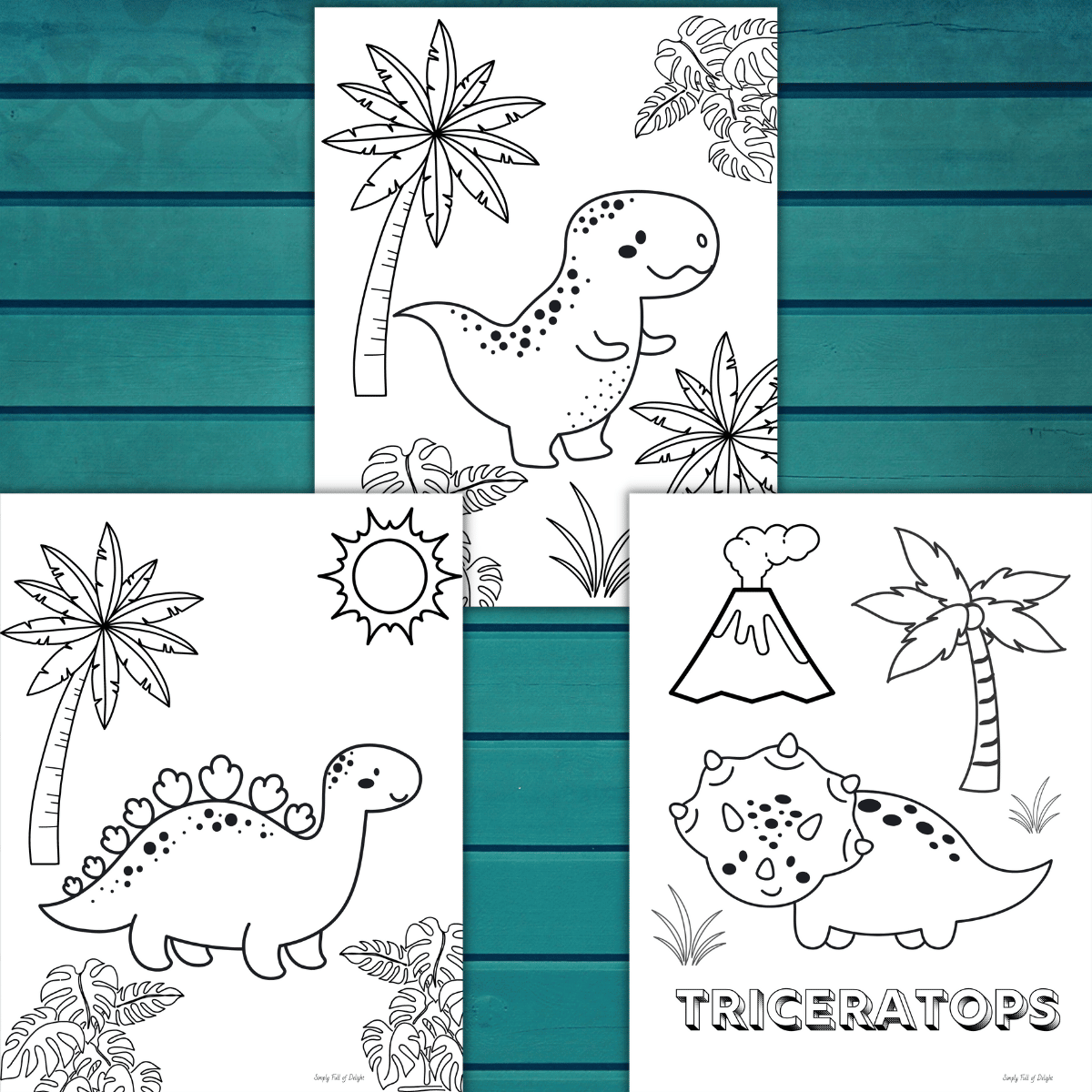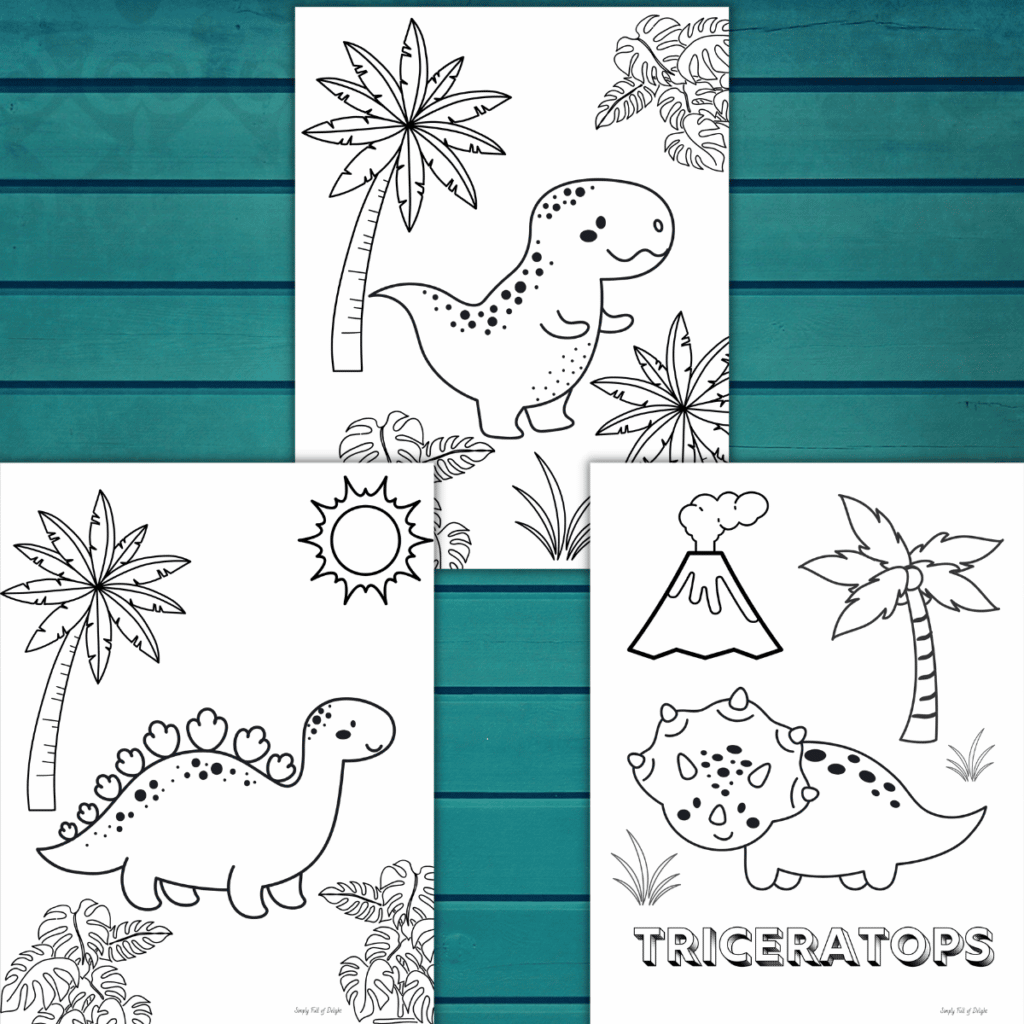 Coloring these dinosaur pictures is a great way to build fine motor skills or a fun screen free activity for older kids. Also, these free printable coloring pages are great for teaching little kids the official name of different dinosaurs.
These free printable dinosaur coloring pages are great for adding to an art center. They are perfect for a quick art project or a quiet time activity. We also enjoy painting with watercolors or washable kid paints!
Feel free to use these free dinosaur coloring pages for your own personal use or in a classroom, daycare, or homeschooling dinosaur unit.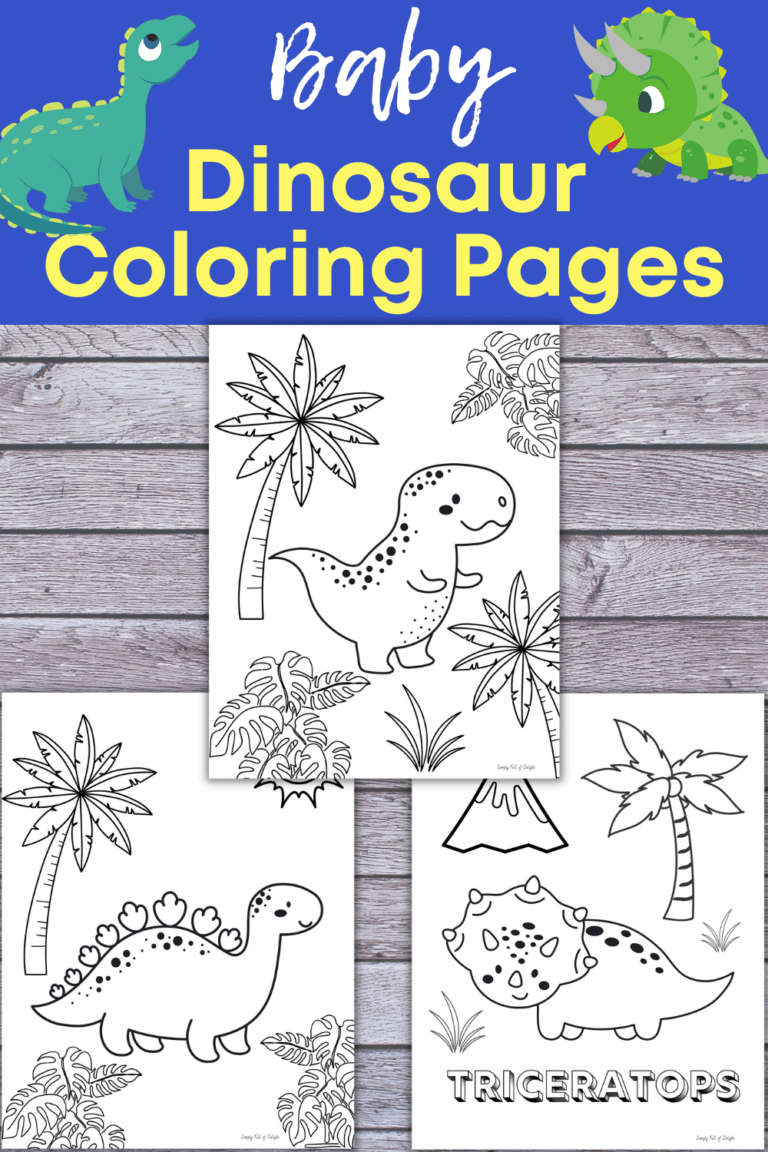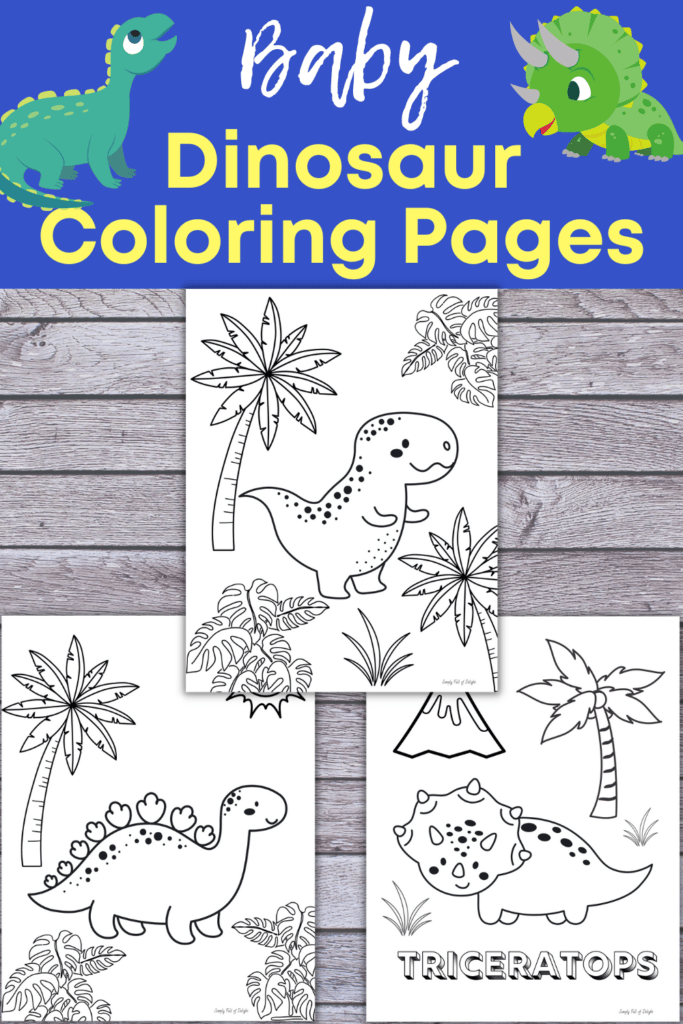 Let's dive in check out these free baby dinosaur printable coloring pages!
** Disclaimer: As an Amazon.com Associate, I may earn from qualifying purchases made by readers clicking my affiliate links at no extra cost to you.
First up is the infamous T. Rex!
Tyrannosaurus Rex Coloring Page PDF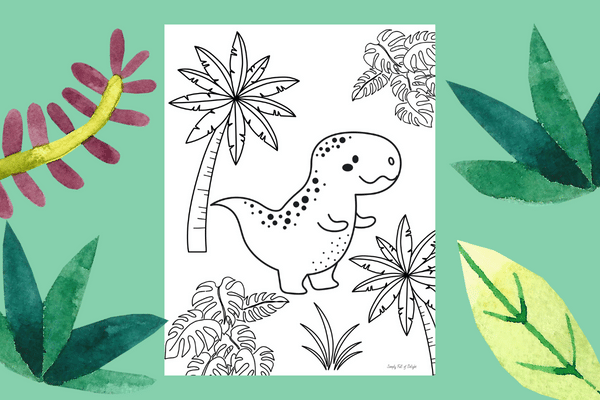 This first free dinosaur coloring page features a smiling dinosaur. It's a cute baby Tyrannosaurus Rex looking rather friendly as he stomps through the jungle. There's palm trees and a variety of tropical plants to color as well.
Your little girl or boy will enjoy using bright colors to color the grass green or plants vibrant colors! My daughter colored her T. Rex pink, while my older child made a fun rainbow colored dinosaur!
While your child colors the Tyrannosaurus Rex, you might like to share some fun facts with them about this huge dinosaur!
According to National Geographic Kids, some fun facts about the Tyrannosaurus Rex include:
The name Tyrannosaurus Rex means 'Tyrant Lizard King'.
The T. Rex lived during the late Cretaceous Period in what's now the United States and Canada.
Scientist believe the Tyrannosaurus Rex could run as fast as 17mph.
The T. Rex was really smart with a brain twice as big as other giant carnivores.
You can download this free dinosaur printable coloring page with the black download button below.
Next up is…..
Free Stegosaurus Coloring Page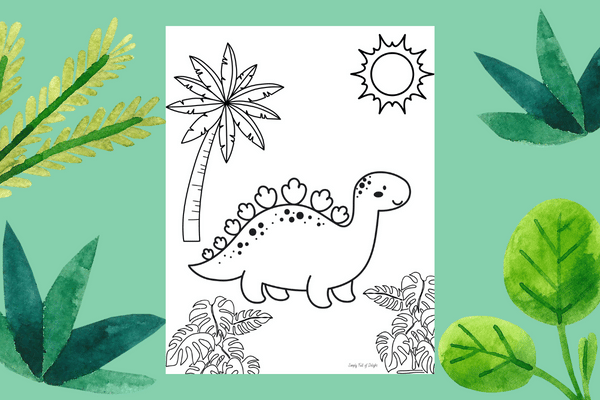 This baby dinosaur Stegosaurus Coloring page will be a favorite with young and older children alike!
This free printable features a little baby Stegosaurus wandering through tropical plants with the sun in the sky. There's plenty of plants to color for kids who love detailed designs.
My child enjoyed coloring the Stegosaurus's armored body rainbow colored with each plate a different color.
That's what happens when a unicorn and rainbow loving kid colors a dinosaur!
This cute dinosaur coloring page is perfect for colored pencils or fine line markers for all of those little details. Kids of all ages will enjoy this coloring page. What a fun way to build fine motor skills!
Some fun facts about the Stegosaurus from Science Kids:
The Stegosaurus was a herbivore (plant eater) who had plates and spikes on their back and tail.
It lived during the late Jurassic Period in North America and Europe.
A full size Stegosaurus was about 30 feet long and 14 feet tall. However their brain was about the side of a dog.
Scientists believe that the Stegosaurus could only run about 7mph because of it's stubby legs.
Get your Stegosaurus dinosaur coloring page by hitting the black download button.
Free Printable Triceratops Coloring Page PDF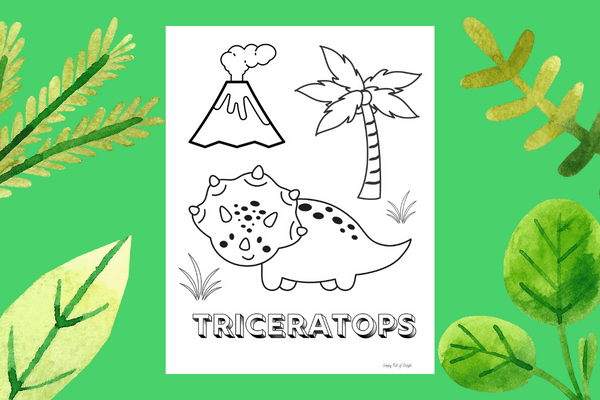 Preschool age kids will enjoy this simple picture of a Triceratops to color.
This coloring sheet features a baby Triceratops, a palm tree, plants, and an active volcano in the background. Big kids will like coloring the bubble letters that read "Triceratops" while little ones will be focused on coloring their own dinosaur a fun color!
To extend the fun, these free coloring pages might be great for painting. I'd recommend using Crayola watercolors or finger paints with young children. Older kids might enjoy adding glitter paint to make the perfect design on these pages of dinosaurs.
Some fun facts about the Triceratops from Wikipedia include:
Triceratops means 'three-horned face.'
It lived during the Late Cretaceous period and was found in the United States.
The Triceratops could be up to 30 feet long.
Triceratops were herbivores (plant eaters) and because their head was so low to the ground, they primarily likely ate mostly low growing vegetation. It is possible that they might have been able to knock down taller plants with their horns and brute strength.
Coloring or painting this free printable baby dinosaur coloring page is a great activity for little boys and girls that are preschool or kindergarten-aged kids. However, these simple dinosaurs might be fun for older students as well.
You can download your coloring sheets by clicking the black button below.
More Ideas for Dinosaur Activities!
I hope you enjoy these cute Dinosaur Coloring pages for preschool as much as I enjoyed creating them!
(And…if you've ever wanted to make your own coloring pages be sure to check out this out.)
For more Dinosaur learning fun, check out this super easy Paper Dinosaur Craft. Kids can color and cut out the dinosaur template. It even moves! Kids can make the dinosaur's head and tail move with the help of brads (or paper fasteners!) So much fun!
Need a fun Dinosaur book? This DK Smithsonian Dinosaur Book is perfect for your dinosaur fan! It's full of dinosaur information and detailed pictures. So much learning fun for the dinosaur fanatic!
There's an amazing Dinosaur Egg Excavation Set on Amazon that is super cool. Little ones can pretend to discover their own dinosaurs just like a real paleontologist! I love that this particular set has dinosaur information cards on each dinosaur to help extend the learning.
Also, there's a cool Dinosaur Sensory Bin here. Kids can stomp the dinosaurs, hatch the baby dinos from eggs, and more! Great for fine motor skills and encouraging imagination!
You can find awesome Dinosaur gift ideas here. Perfect for finding the best dino gift for birthdays or Christmas gifts!
Lastly, you can find 30 amazing Dinosaur Activities for kids here! So many cool printables and activities!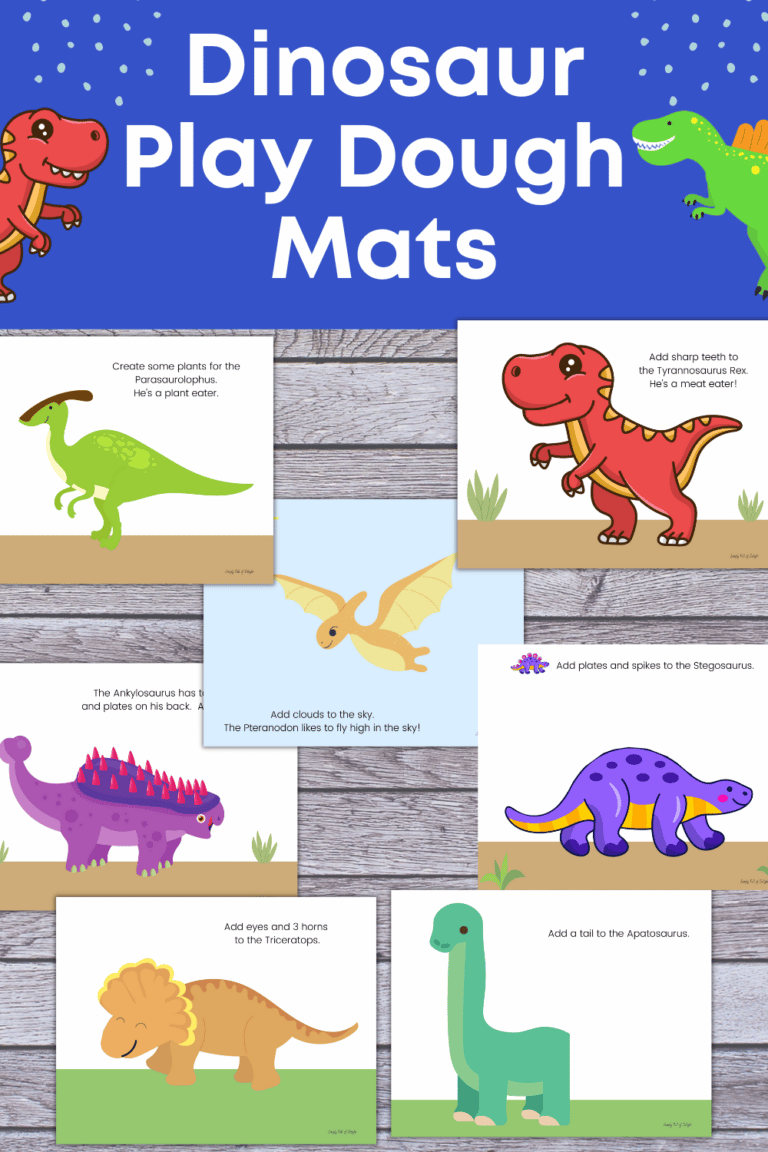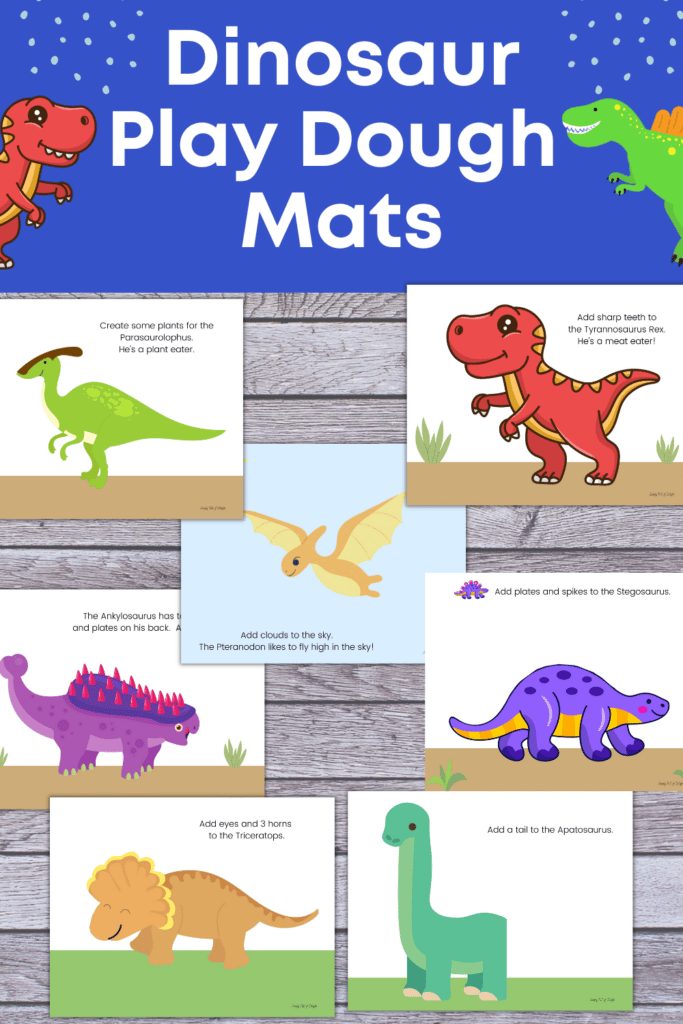 You can also find some awesome Dinosaur Play Dough Mats in my Etsy shop! Each mat has a picture and a prompt to complete with dough. So kids can add sharp teeth to the Tyrannosaurus Rex. Or they create plates and spikes from dough to add to the Stegasaurus.
There's 7 awesome play dough mats you can use over and over to engage creativity and activate the imagination! What a fun activity for dinosaur lovers!
Get your Dinosaur Play Dough Mats here.
Alright! That's it! I hope you've enjoyed all these fun dinosaur activities!
Want to save these free baby dinosaur coloring pages for later? Pin the image below to your Dinosaurs theme (or Fun for Kids!) Pinterest board!