Looking for a fun Christmas game? This How Many Words Can You Make From Merry Christmas Printable is lots of fun!
For this Christmas holiday game, all you need is the free printable (found in this post) and a pencil.
This game is a great way to bring the whole family together. You might like to use this Christmas words game for classroom parties, celebrations in your workplace, or at family gatherings during the holiday season.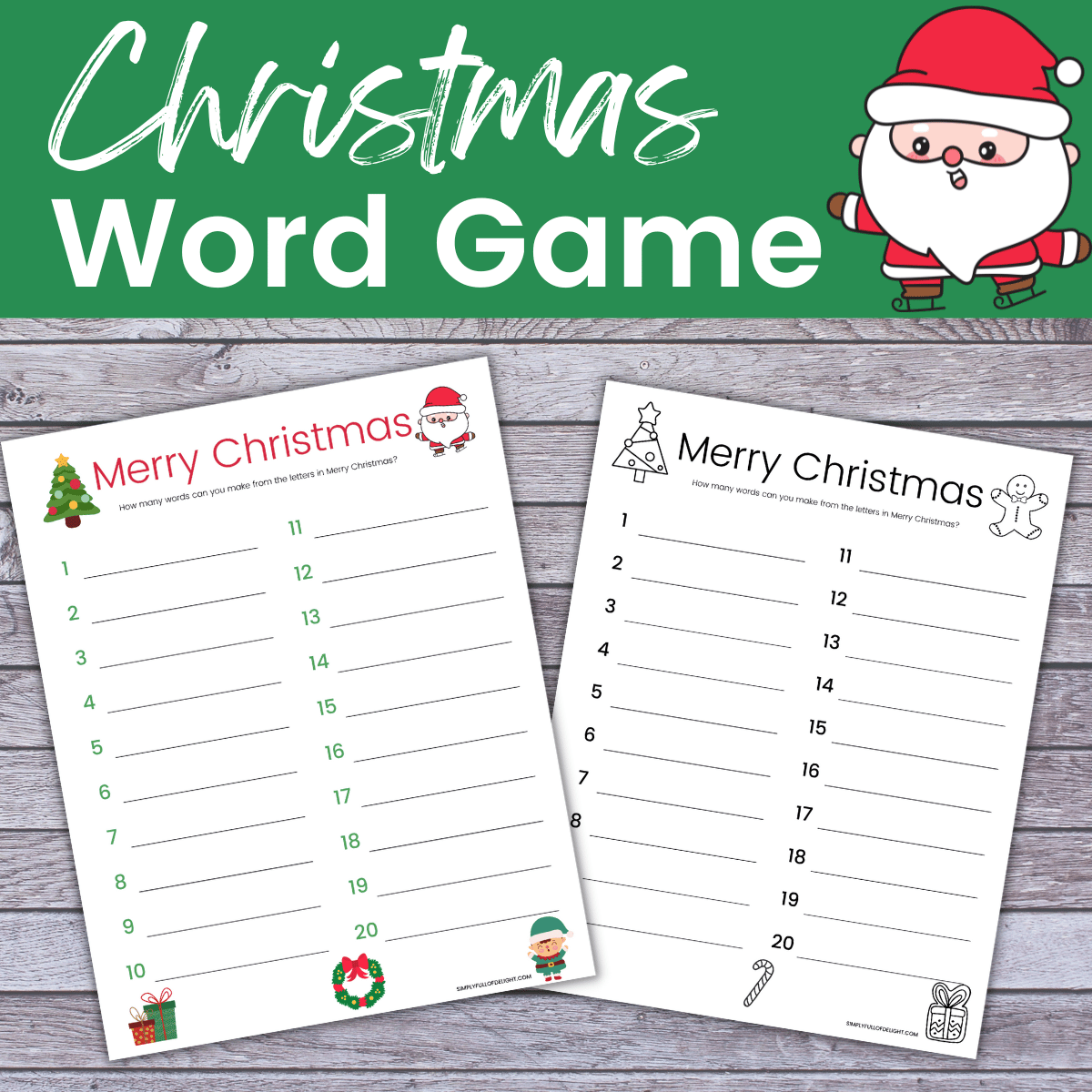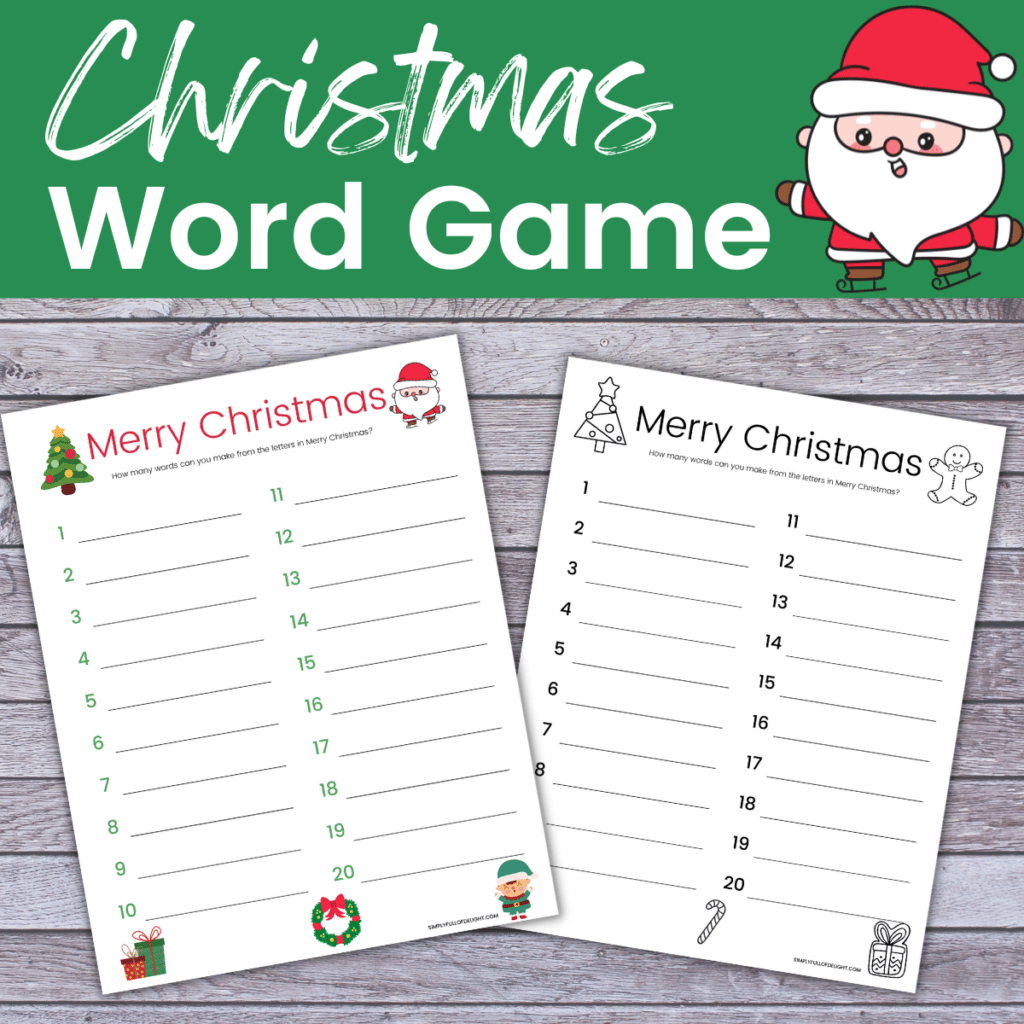 You will find 2 different versions of this "How Many Words Can You Make From Merry Christmas" Printable. There is a full color printable as well as a copy-friendly black and white version.
You can download these fun Christmas activity pages right here in this article!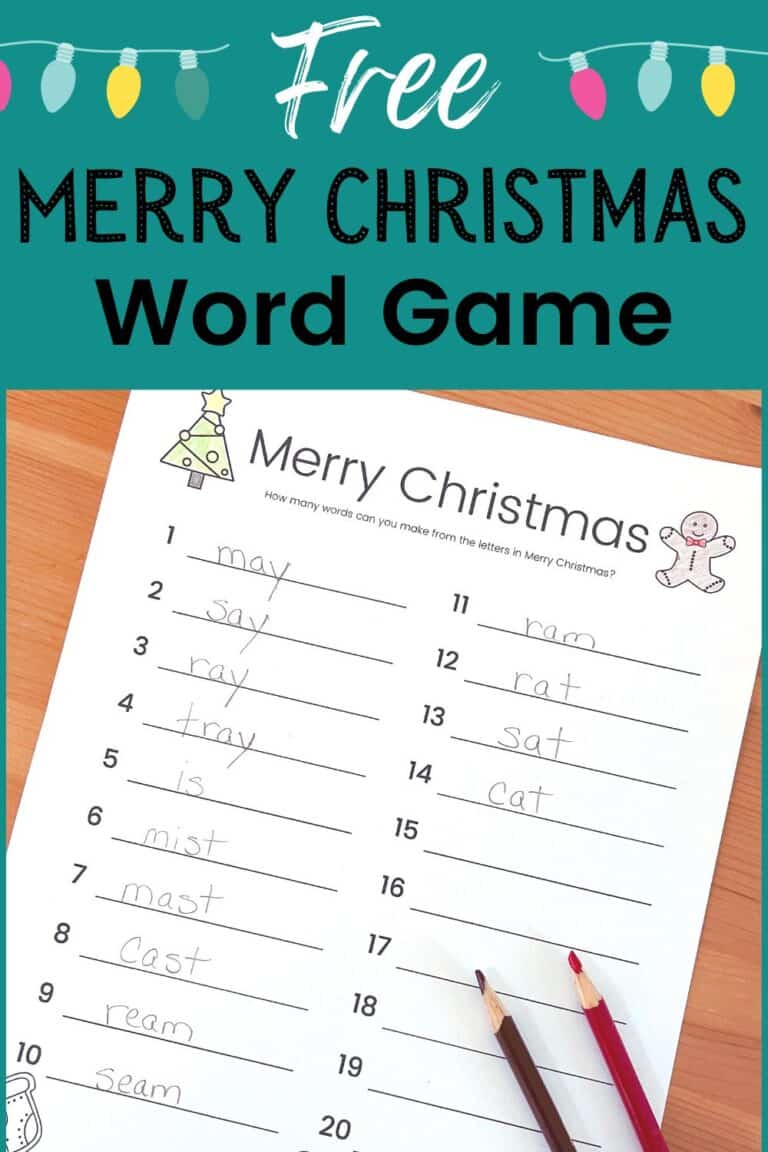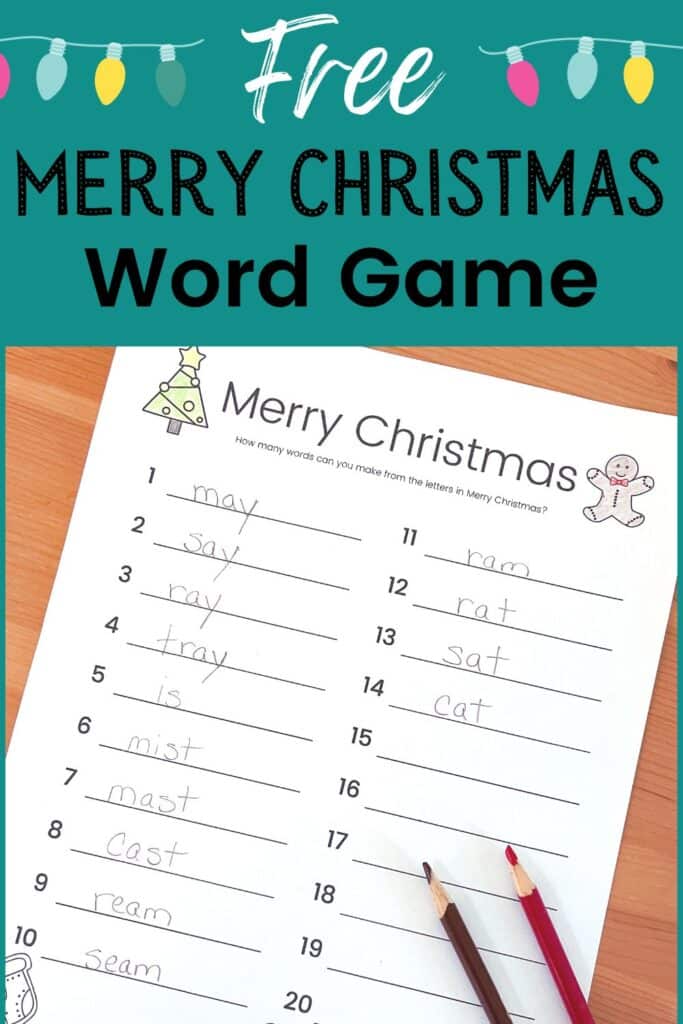 How to Play this Christmas Word Game
To Play this Christmas Word Game, players simply write down as many different words as they can make with the letters from Merry Christmas. They can only use each letter one time in each word.
This word game is a bit like a word scramble and similar to word searches, only you are using letters from Merry Christmas.
This game is age appropriate for first grade and up, as children need to be able to spell words in order to play.
You may like to have everyone start at the same time and then set a timer to see who can create the most new words within a certain amount of time. Or you can have children work in pairs to come up with words together.
Alternatively, you could have the first person to hit 20 words be the winner. So many fun ways to play this game!
Consider setting some ground rules as you see fit. For example, you might like to say that you can't write down Merry or the word Christmas as new words. Or another rule could be that words must be 3 letters or more, etc.
It's your game, you make the rules!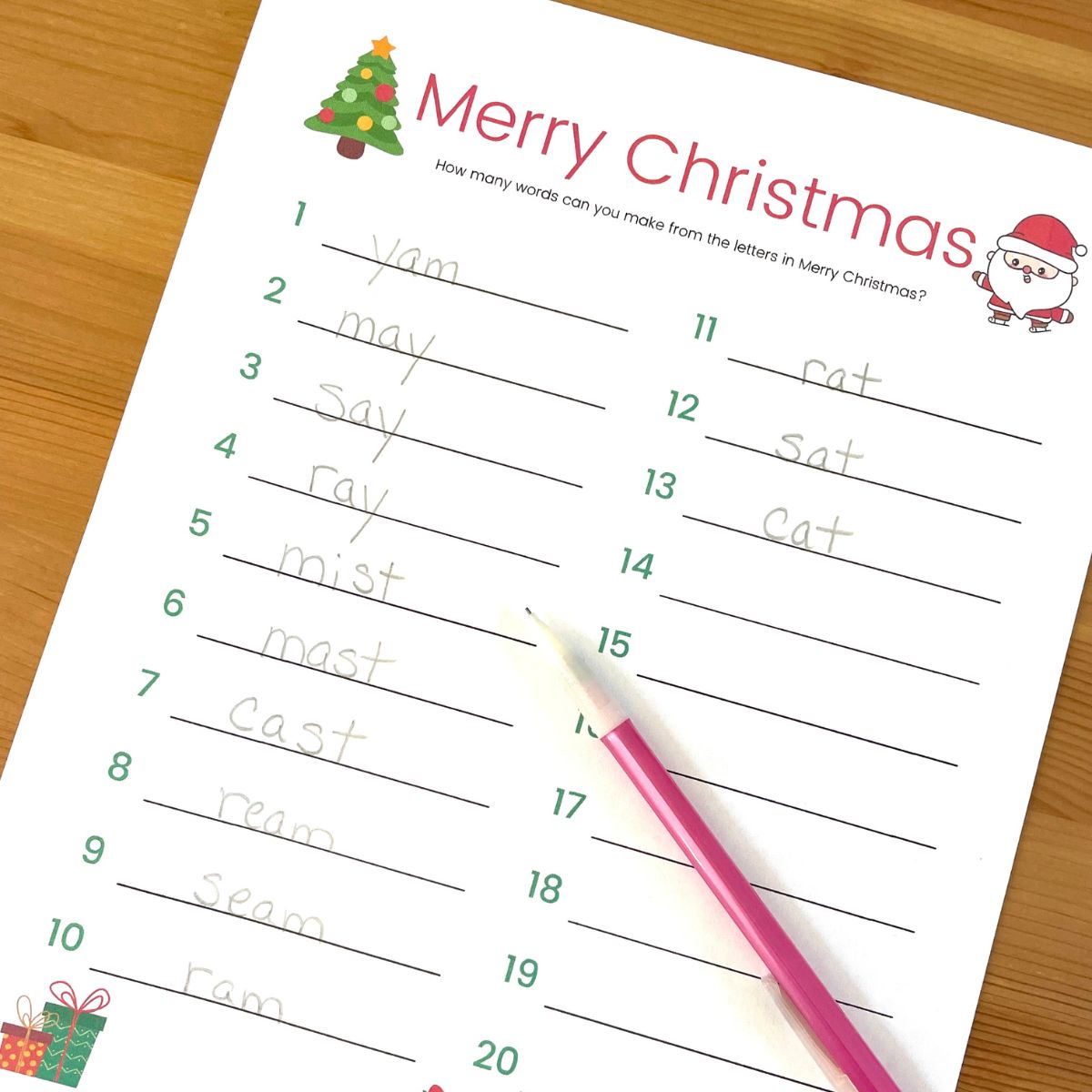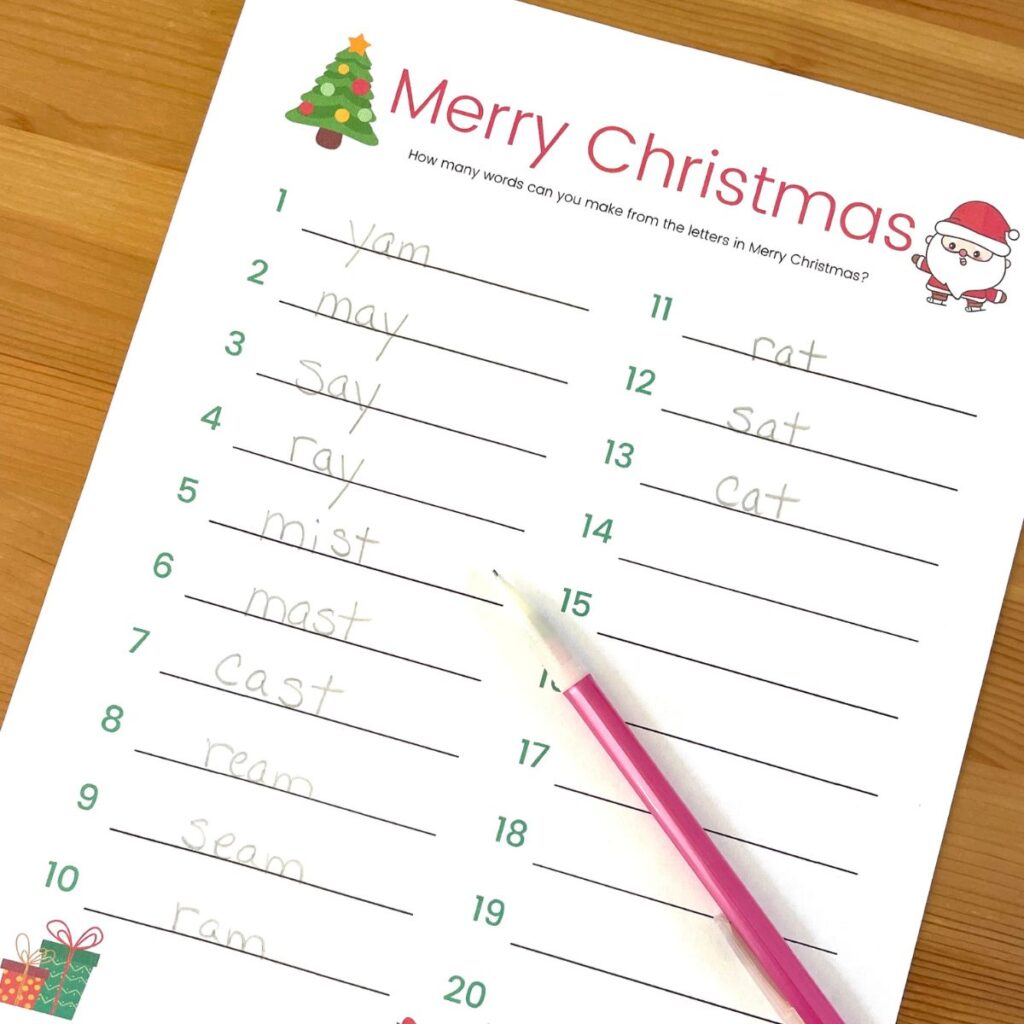 Answer Key
It's a bit unbelievable, but there are over 300 words you can create with these letters!
Here's just a few of the words you can create:
the
sis
cat
sat
mat
ream
cream
team
seam
Alright! Now that we've talked about how the game works, let's dive in and grab these printable activities!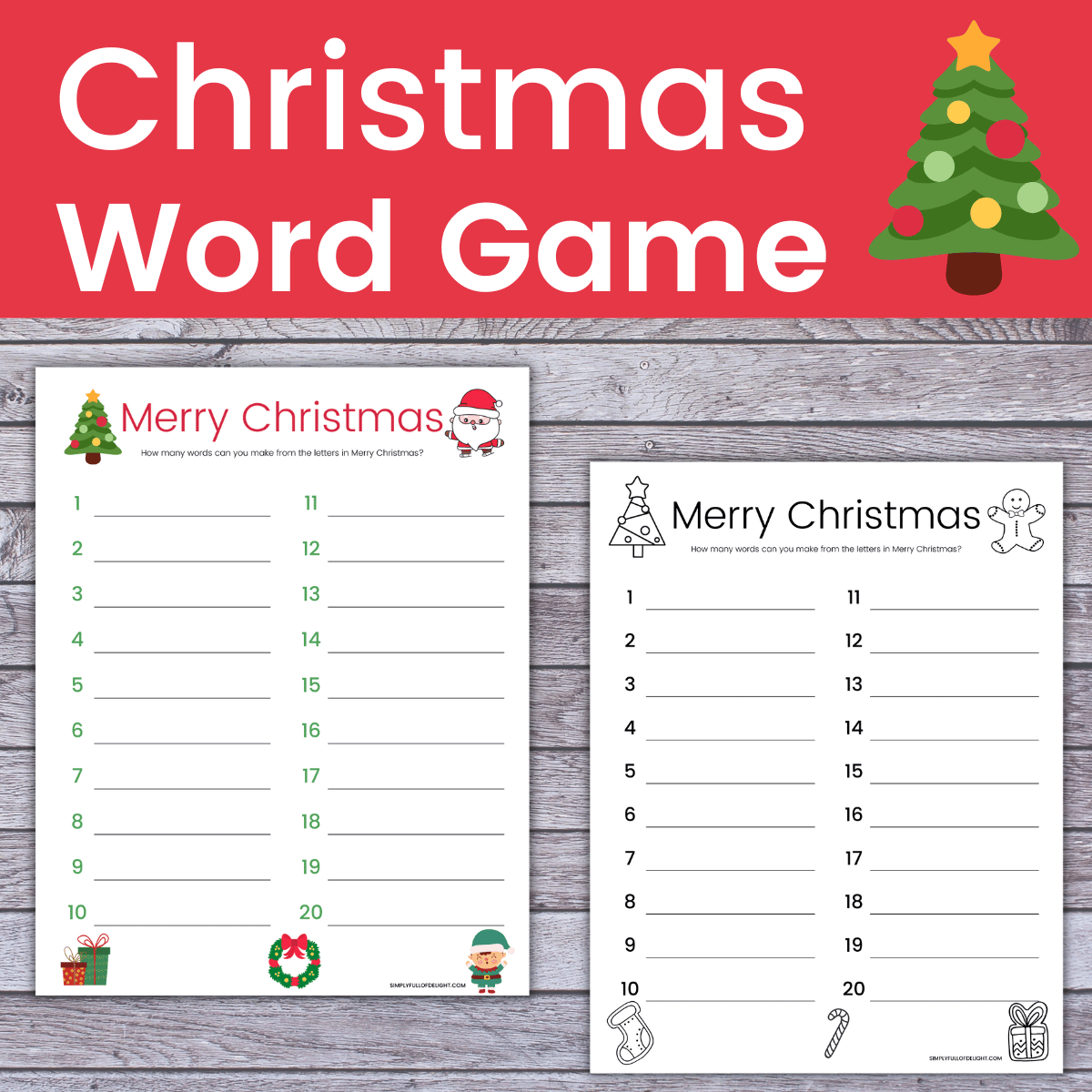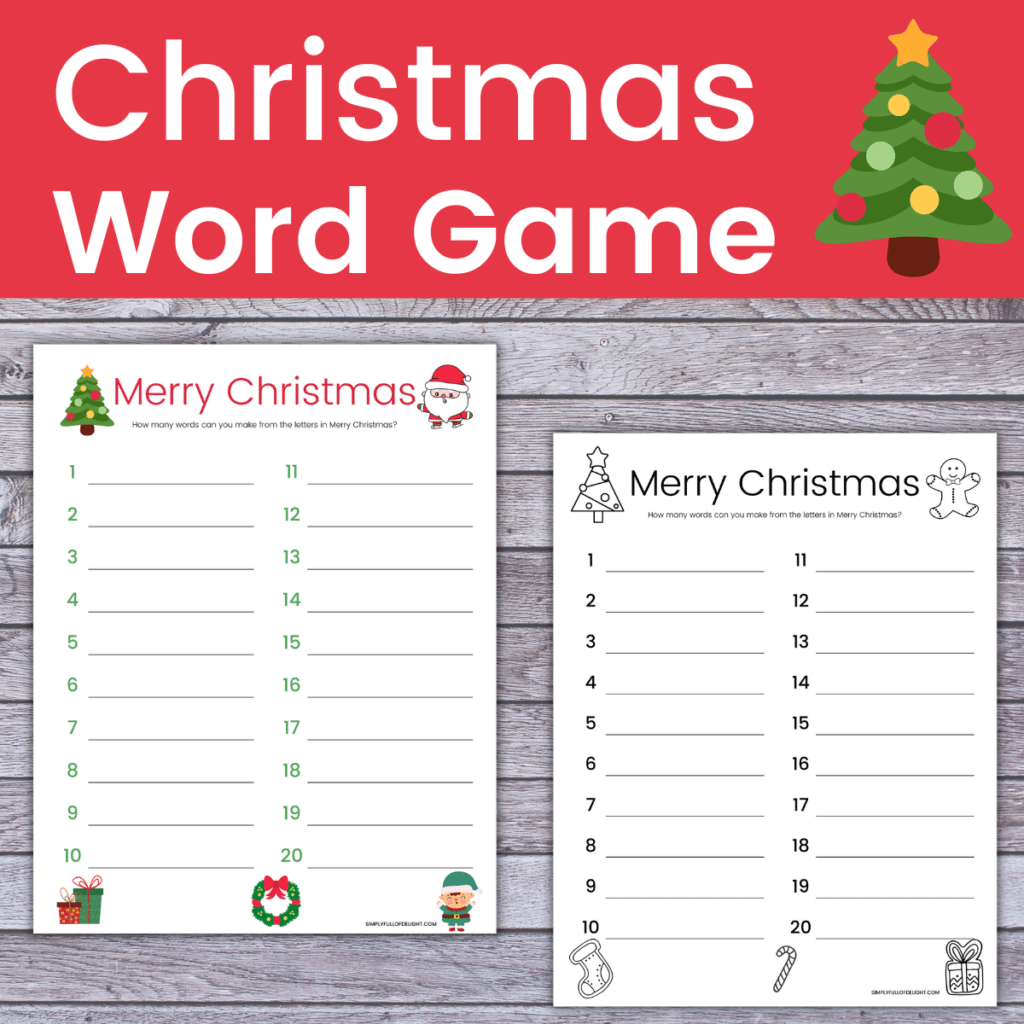 Download The How Many Words Can You Make From Merry Christmas Printable
The full color Christmas Tree themed Merry Christmas Word Search Puzzle features the words Merry Christmas in red with a Christmas tree and a Santa.
There's room to write up to 20 words on the front (and for those overachievers, they can keep going on the backside!) You can find a cute elf, gifts, and a Christmas wreath on the bottom of the sheet. It's a super cute printable Christmas game!
And bonus, I couldn't decide which Santa and Elf I liked best, so I included both choices for you! (Yes, there's 2 full color versions!)
You can also get a black and white version as well. It features a Christmas tree, a gingerbread man, a stocking, a candy cane, and a gift. Everything is in black and white making it easy to copy for a large gathering or classroom. Kids might also enjoy coloring the page after the game is over.
To grab your free Christmas printables click the black download button here:
More Christmas Activities & Printables
Looking for more Christmas fun for kids? You can find lots more holiday printables and Christmas Activities here on my blog!
Be sure to grab these adorable Puppy Christmas Coloring Pages. Each coloring sheet features a dog enjoying some holiday fun!
If you have little ones, be sure to grab these Free Printable Santa Hat headbands. Kids can color, cut out, and assemble their very own paper Christmas hat to wear. What fun!
Want to save this Fun Christmas game printable for later? Pin the image below to your Christmas Fun board on Pinterest!