There's so many Awesome First Birthday Themes with the word One or First. I've collected 20 of the most Unique First Birthday Party Ideas in 2023 from Etsy!
If you are looking for an fun first birthday theme to make your child's 1st birthday party bash memorable and full of smiles, you are sure to find the perfect theme today.
Get ready for a cuteness overload with these 20 Best First Birthday Theme Ideas. Let's go find the perfect theme for your Sweet One!
Here we go!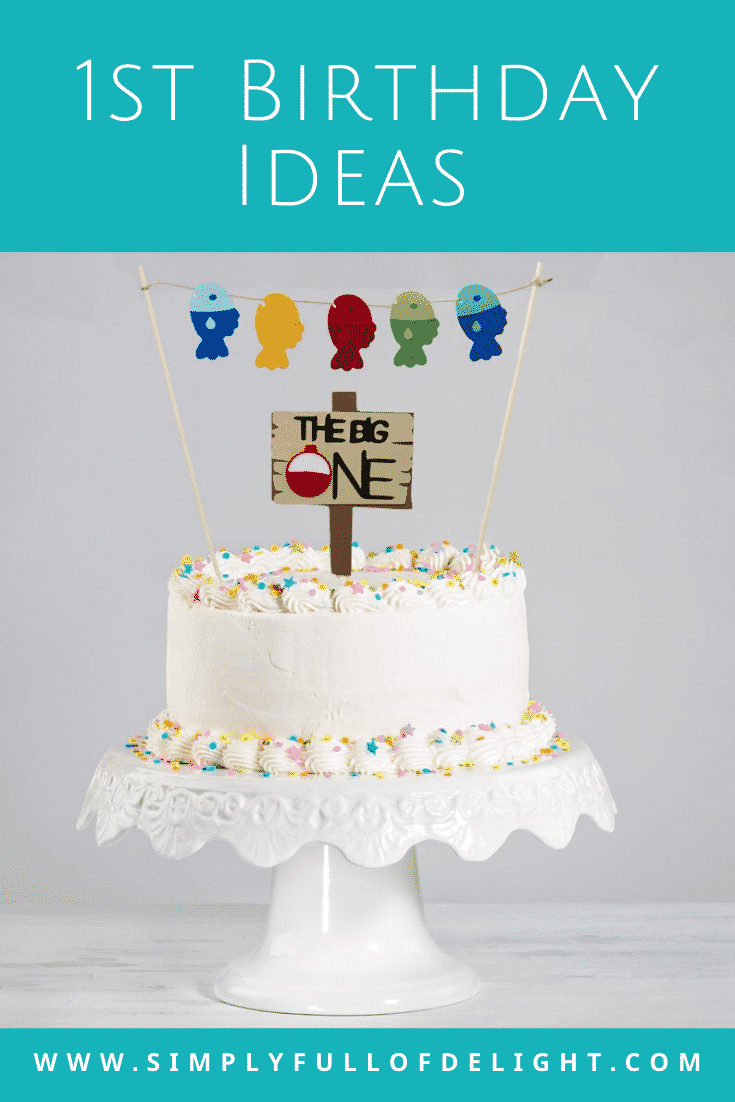 ** Disclaimer: As an Etsy and Amazon.com Associate, I earn from qualifying purchases made by readers clicking my links at no extra cost to you. Thank you for supporting this blog!
1) My Rookie Year – 1st Birthday Party Ideas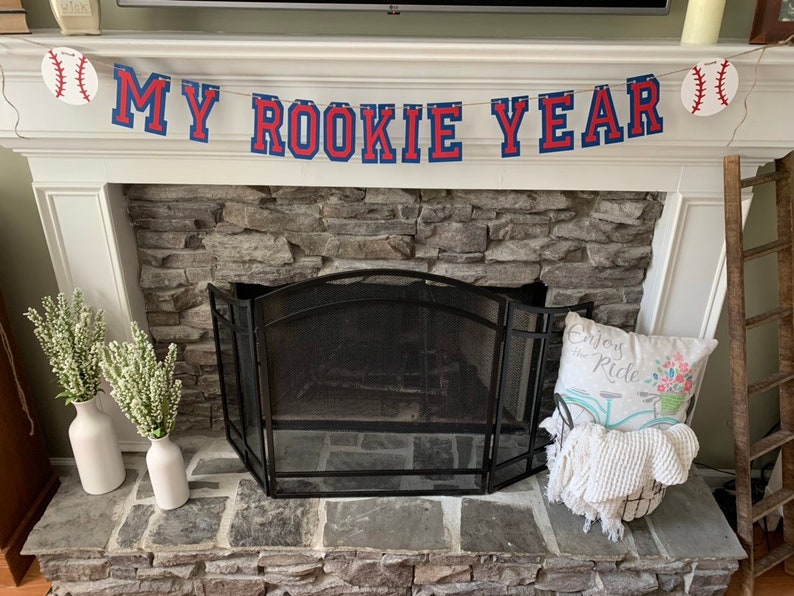 This theme is so adorable! I love that this theme works for either a boy or a girl and you can incorporate your favorite team into the celebration. You could call the food "concessions" and serve ballpark favorites like hot dogs, nachos, Cracker Jacks and popcorn. The awesome My Rookie Year banner is from Declan & Smith Party Decor on Etsy.
2) Wild One – Neutral Tribal Theme Birthday Party Idea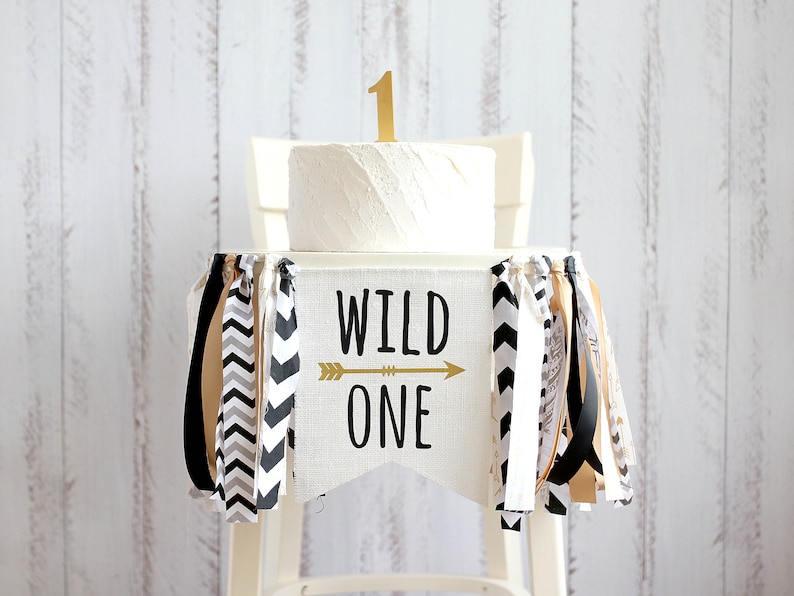 This Wild One Tribal Theme could work for either a boy or a girl. For a fun twist, you could incorporate the book Where the Wild Things Are by Maurice Sendak. You could use arrows, tents, or any element that looks tribal for decor! This Wild One High Chair Banner is by Friendly Banners on Etsy.
3) Sweet One – Donut Theme – First Birthday themes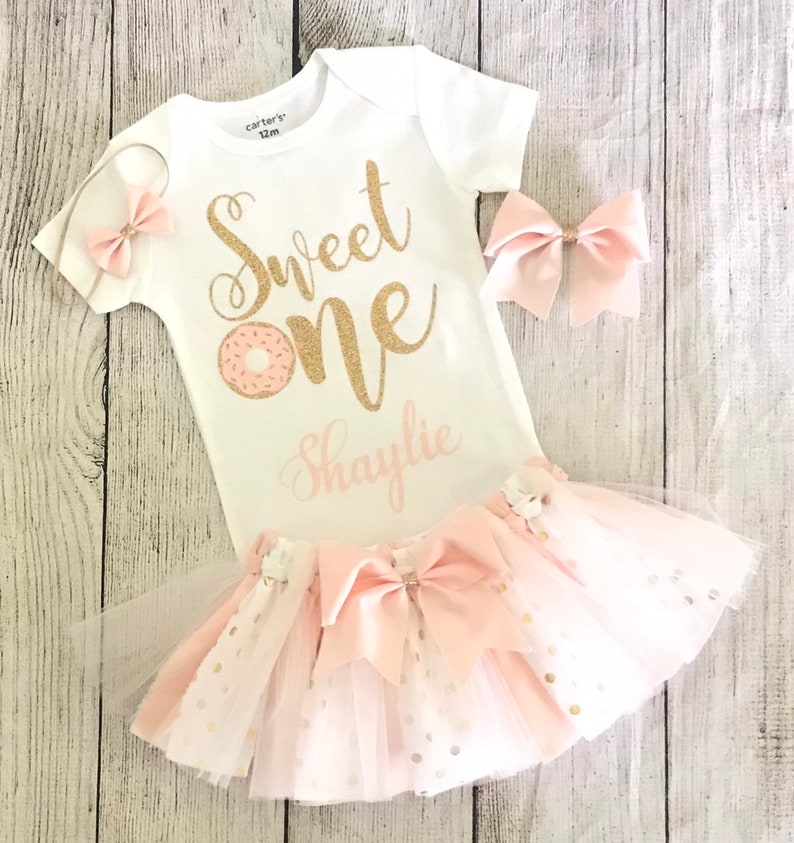 The Sweet One birthday theme is a fun first birthday idea – especially if your kids love donuts! You could stack donuts on colorful cake platters for dessert, place donut holes on cake sticks, or put a donut on top of the cake! Any way you go, it's a super Sweet One birthday idea!
This Sweet One Birthday outfit is by Missy Roo Couture.
4) Sweet One Birthday Ideas- Sweet As a Peach – First Birthday Ideas with the Word One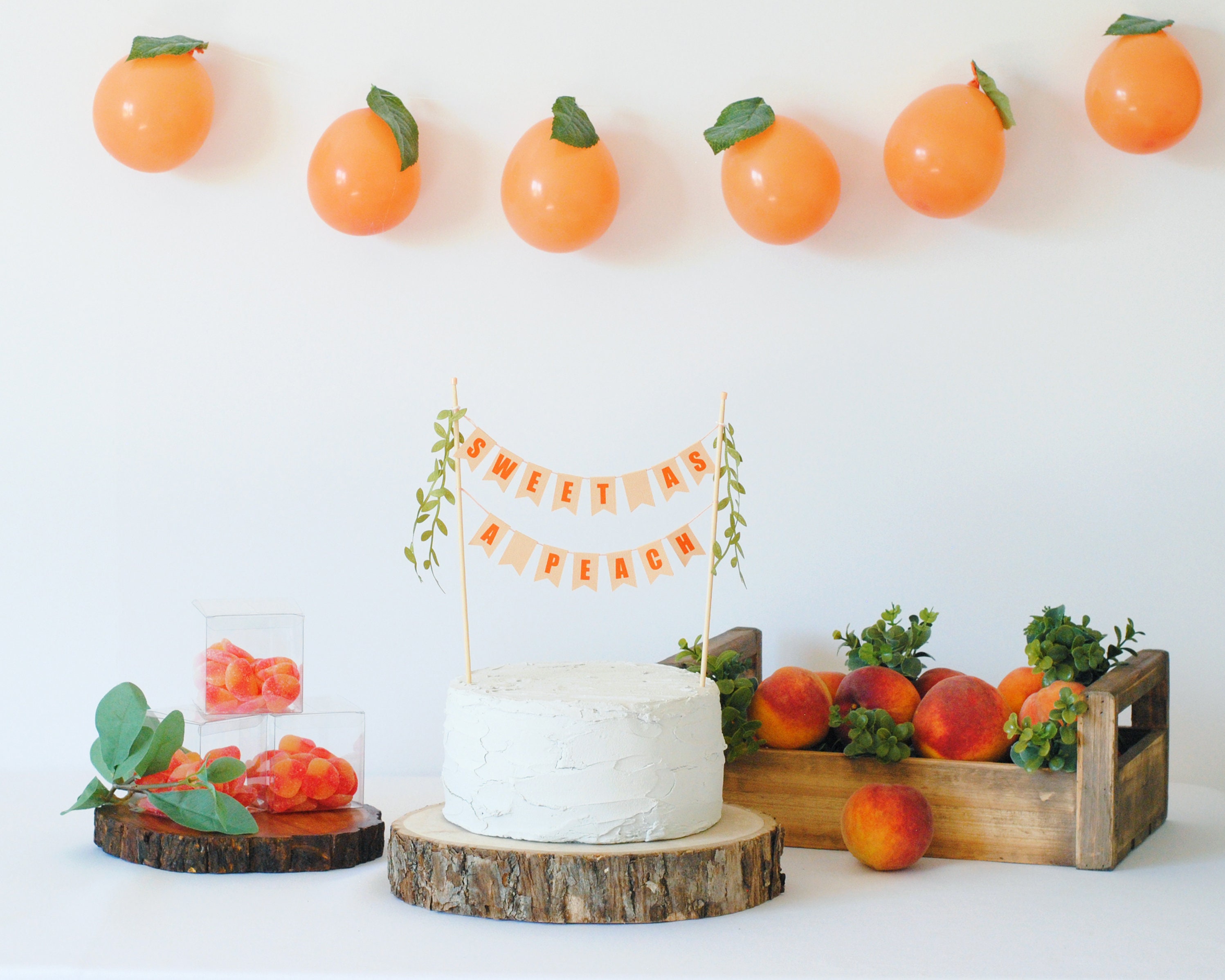 The "Sweet as a Peach" Sweet One birthday theme is so adorable! I can't get over how cute those "peach balloons" are! This is a great theme for a baby girl's 1st birthday party, but it could work for a boy as well!
I love that you could decorate with simple items like fruit and wooden crates to create a naturally beautiful centerpiece. The adorable Sweet as a Peach Birthday Cake Topper is by Etsy shop Avalon Sunshine.
5) The Big One! First Birthday Themes with the Word One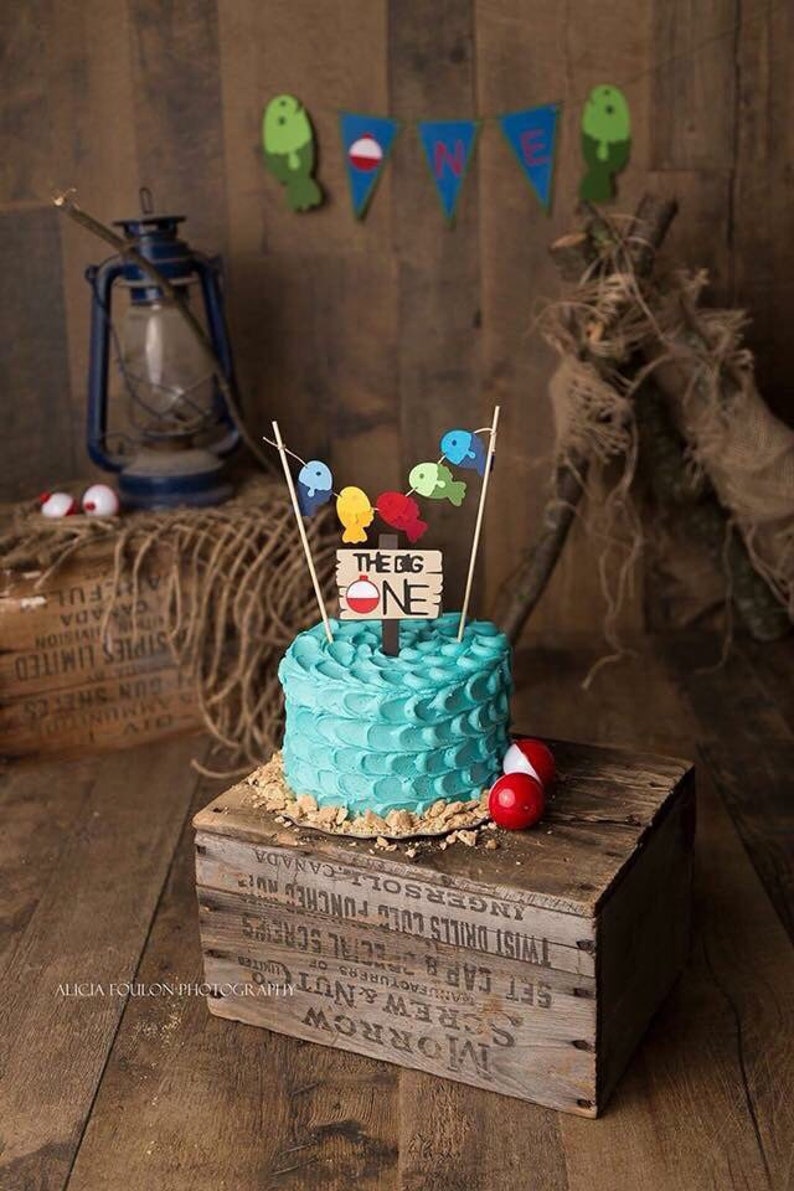 The Big One is the perfect first birthday theme idea for the families who love fishing! I love how the cake is made to look like water/sand and that they decorated with nets, bobbers, and lanterns.
What fun first birthday themes for the sweetest little fisher! The Big One Cake Topper is by Kitchen Door on Etsy.
6) Sweet One Birthday Theme – First Birthday Idea for Your Baby Girl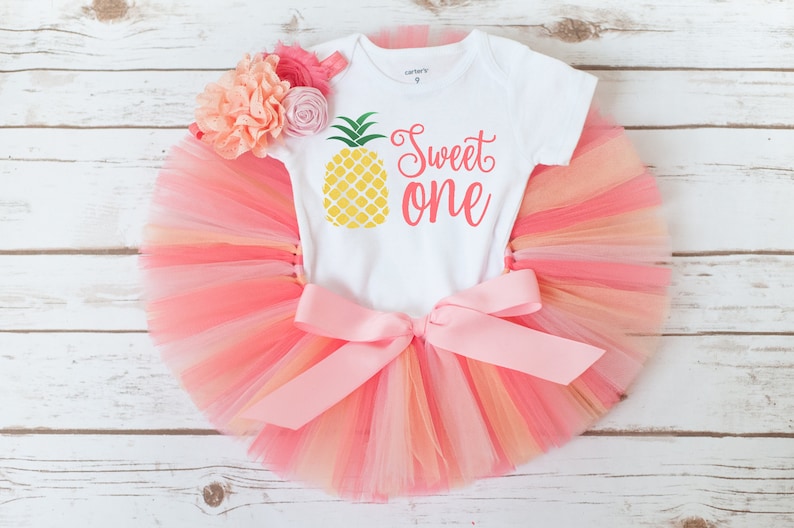 Yes, another Sweet One Birthday theme! I love that you can incorporate basically anything sweet and make it into a Sweet One theme! This one incorporates pineapple. You could go with a Hawaiian theme or a Luau with decor for this!
So many sweet ideas! This Sweet One birthday theme pineapple birthday outfit is by The Photo Punks on Etsy.
7) First Year Down – Football Theme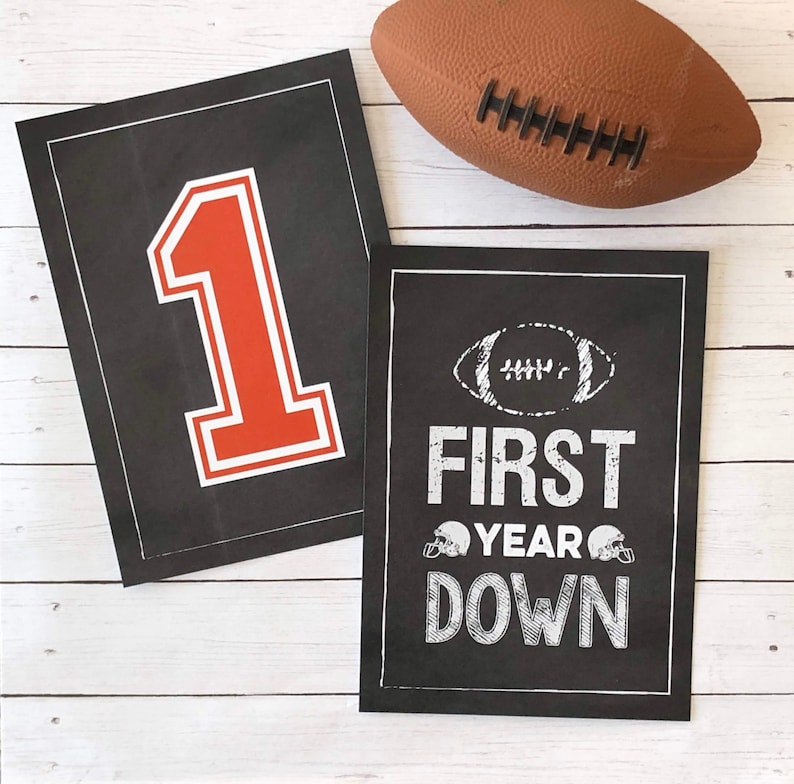 The First Year Down Football theme is great for the littlest football fan! It would be fun to buy your little person a tiny jersey and have a "tailgate" party! You could easily decorate with team apparel and footballs. This First Year Down Sign is by Beth Kruse Custom Creations. Love this unique first birthday party idea!
8) Wild One – Jungle Theme – 1st Birthday Ideas with the Word One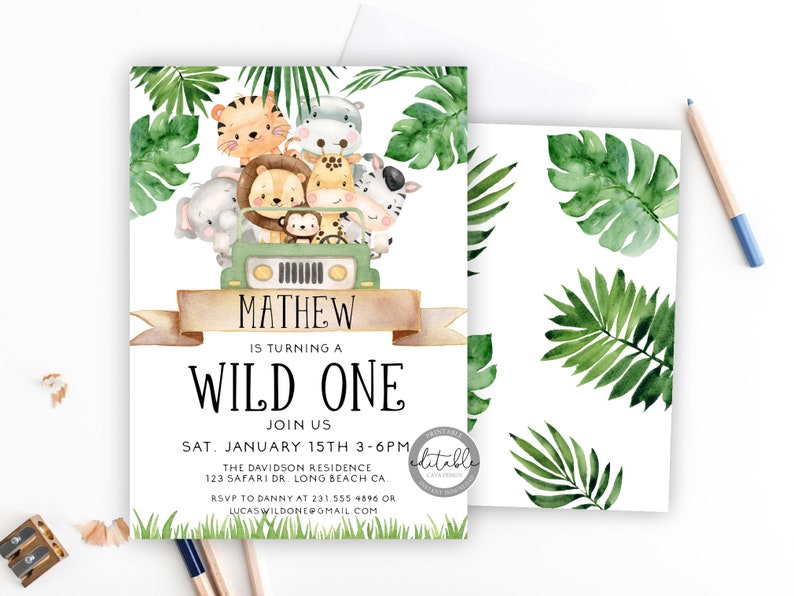 It's the Wild One theme again…Jungle Style! If your little one has taken to Jungle animals this might be the perfect theme for you! You could go with a Safari theme, or a full on Jungle theme, or even use Zoo theme decor with this! This super cute Wild One invitation is from Cava Design on Etsy.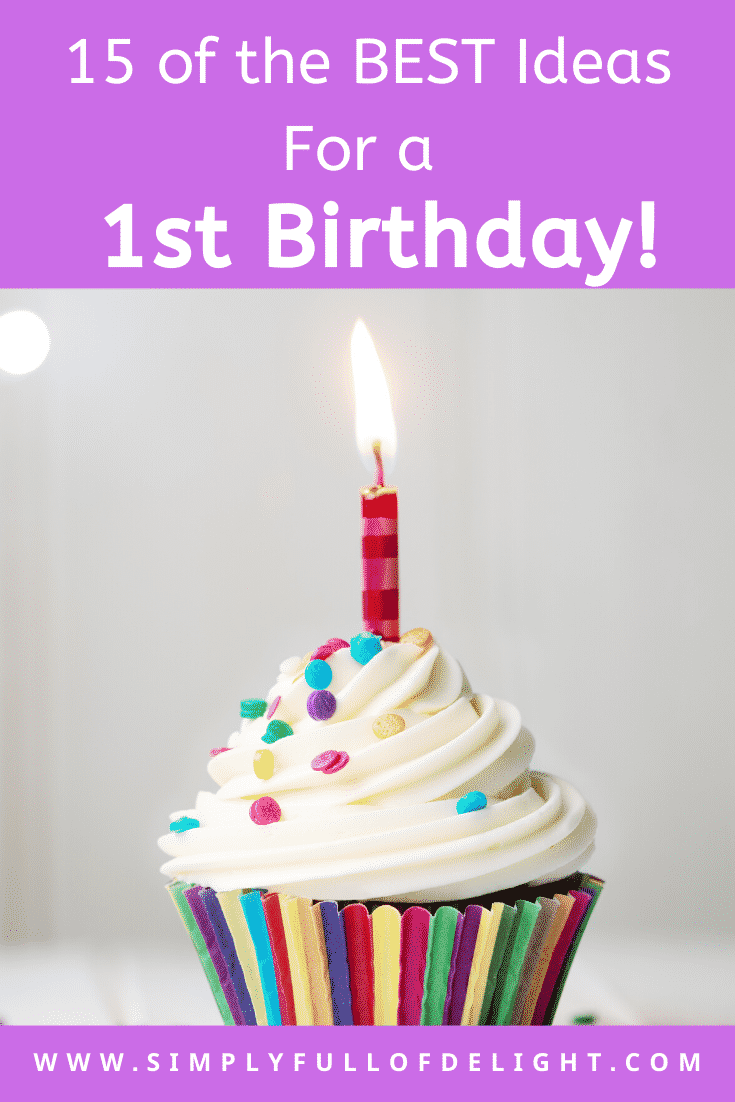 9) O-Fish-Ally One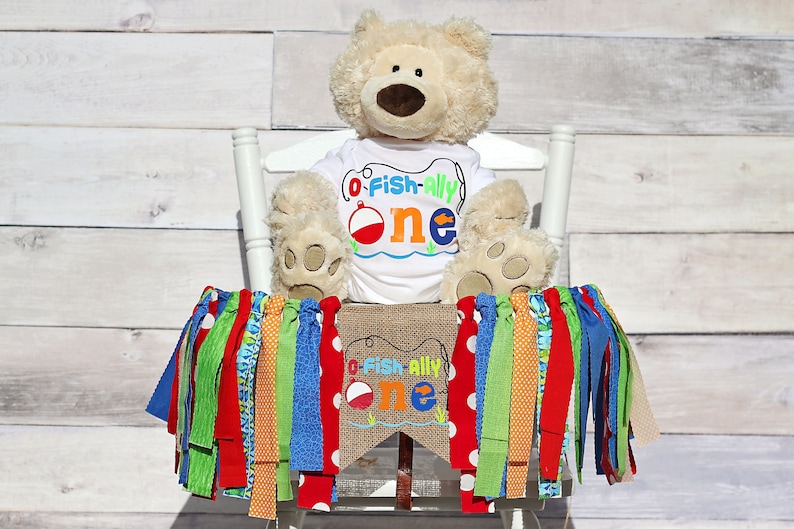 The O-Fish-Ally One theme is another cute idea for the fishing fans! I love that you can easily incorporate any color scheme you like and decor could include fish, bobbers, fishing poles, etc.
What a cool and unique first birthday party idea! This O-Fish-Ally One banner is from Cherished Treasures.
10) One-derful 1st Birthday Ideas for Boys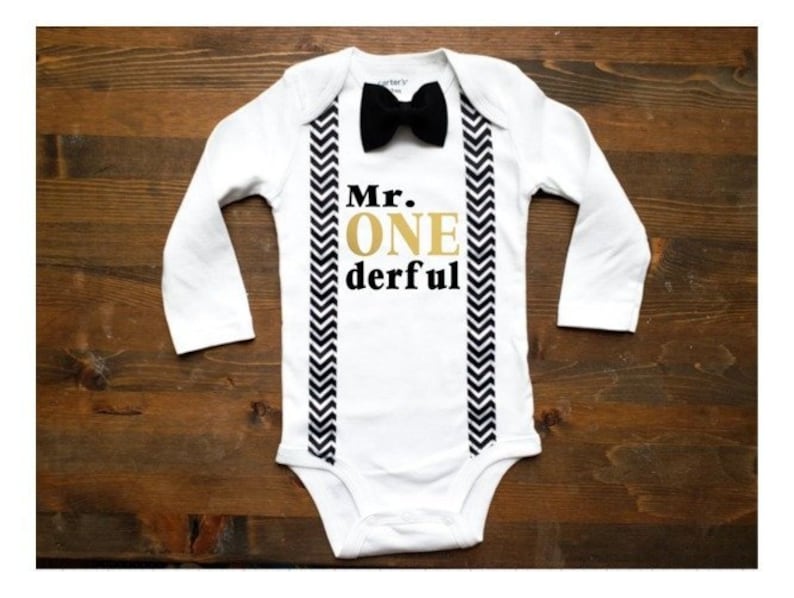 This Mr. One-derful theme is so simple and classic! It's the perfect first birthday idea for a boy! You could go with a black tie theme or perhaps incorporate a mustache theme into the decor. I love that you could use just about any color scheme with this first birthday idea and make this truly a One-derful birthday! This adorable outfit is from Sew Loved Baby on Etsy.
11) One-derland – Unique First Birthday Party Ideas
This One-derland Theme is a spin off of Alice in Wonderland. This is so incredibly clever and cute! I love that you could decorate with Alice in Wonderland items or possibly set up a Mad Hatter Tea Party. This One-derland theme is definitely unique! The One-derland party invitation is from Printer Fairy.
12) First Fiesta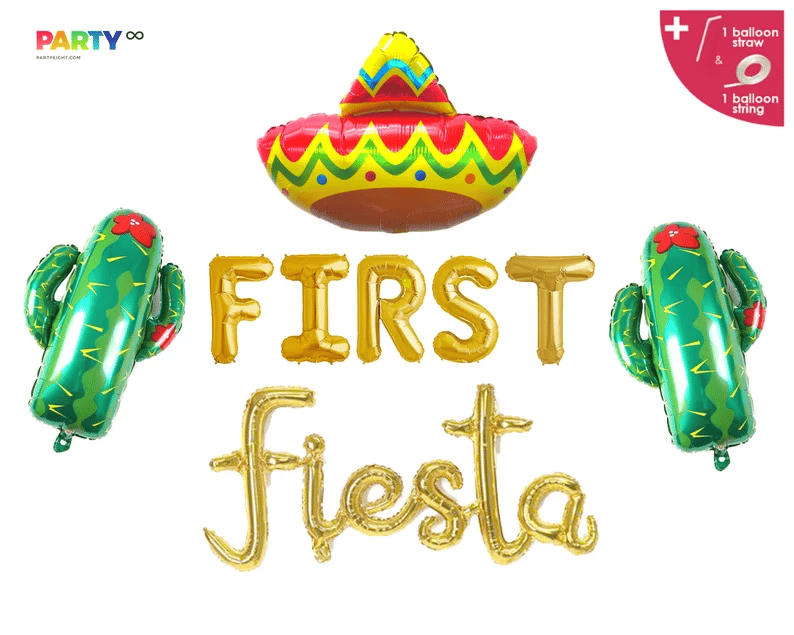 The First Fiesta Theme lends itself to a full on Fiesta party theme. You could serve tacos, nachos, salsa, rice, beans, and guacamole. Of course, you definitely could do a pinata! I love that this theme is perfect for boys and girls and you could easily find suitable decor! This First Fiesta Balloon is from Party Eight on Etsy.
13) One Happy Camper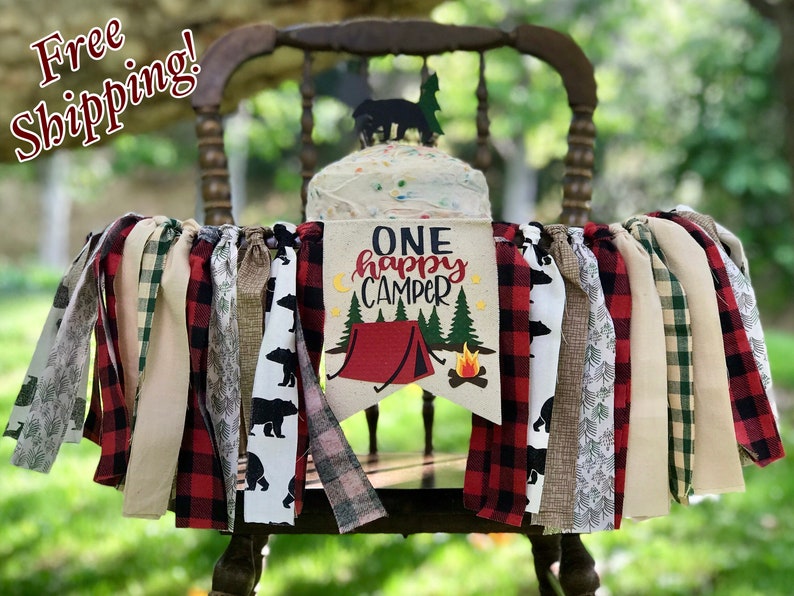 This One Happy Camper theme is so precious! This high chair banner is from The NOODLE Shoppe. You could do buffalo check print colors or just about any color scheme you like. You could set up a tent for the kids to play in or have a pretend campfire set up for play time.
14) My First Rodeo – 1st birthday ideas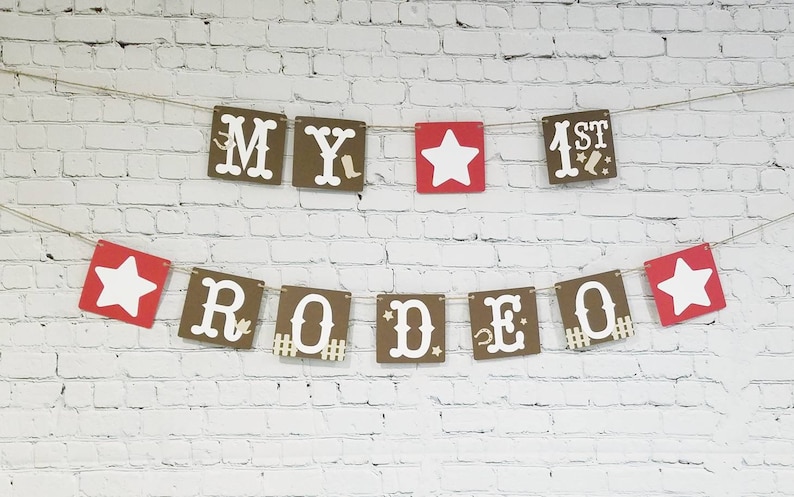 My First Rodeo is the perfect theme for the Rodeo loving family! You could dress your little cowboy or cowgirl up for the part! Lassos, horses, stars, boots and western apparel would be perfect for the occasion! This My 1st Rodeo banner is by Confetti Empire Crafts.
15) Wild One – Woodland Theme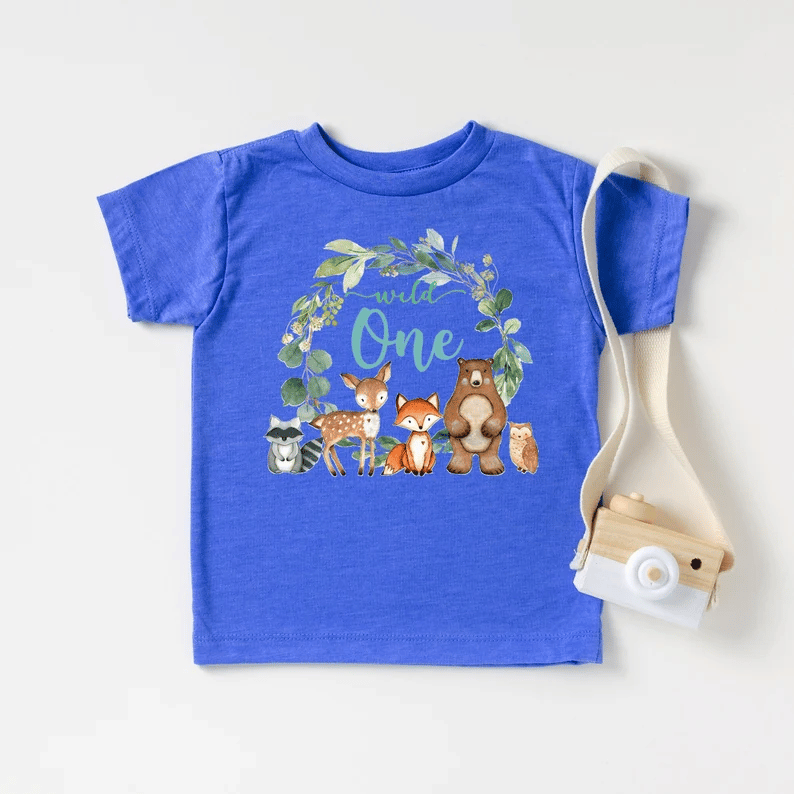 This Wild One theme takes a Woodland spin! I love that you could decorate with your favorite woodland creatures. You could focus on just foxes or deer, or you could bring any woodland animal into the theme! This Wild One woodland shirt is by Olive Loves Apple on Etsy.
16) One in a Melon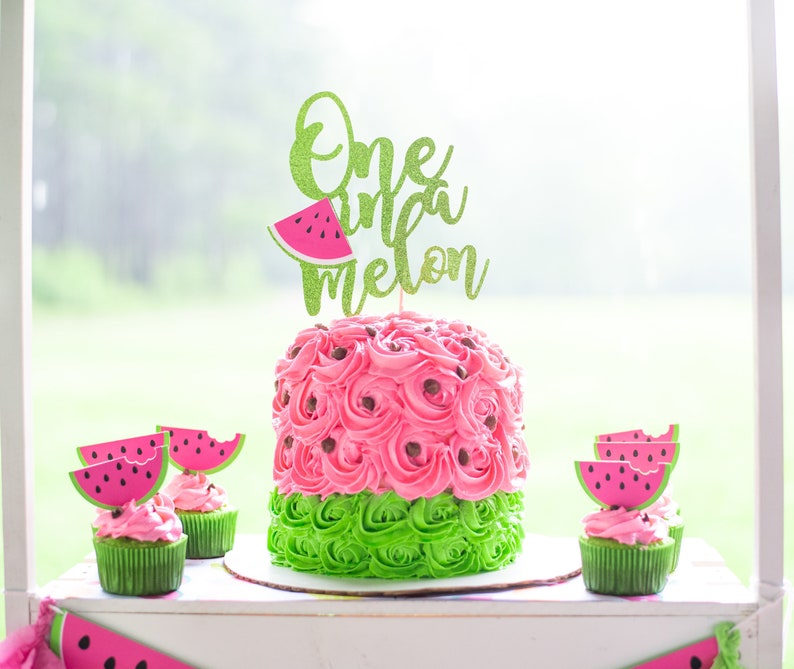 One in a Melon is the perfect theme for a summer time birthday! Serve up slices of refreshing watermelon alongside your sweet treats and ice cream.
How cute is this watermelon smash cake?! The adorable One in a Melon cake topper is by Hip Hip Soiree.
17) Look Whoo's One!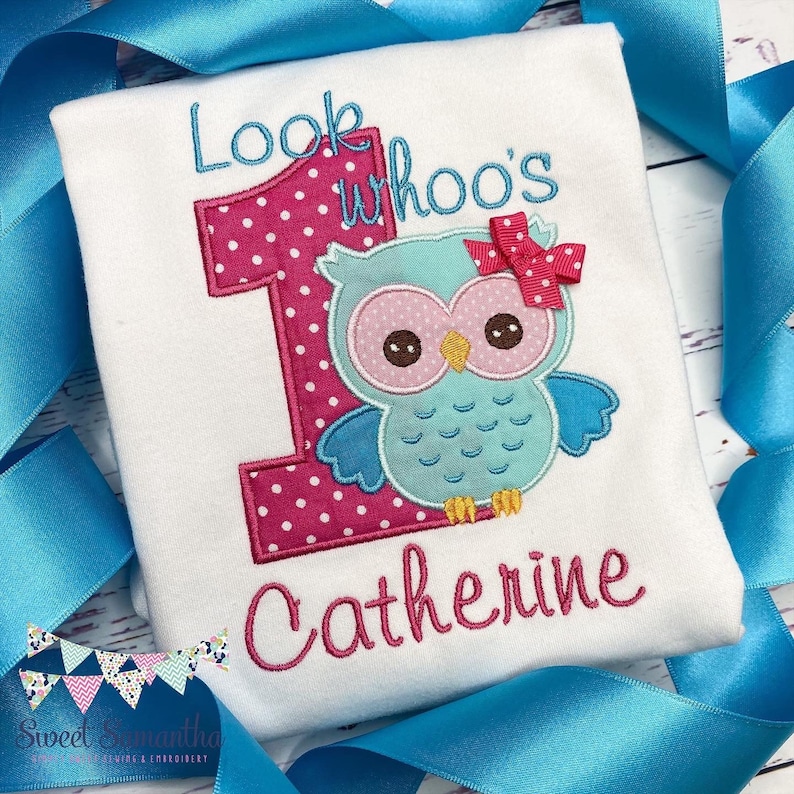 This Look Whoo's One Birthday theme is a cute theme for the woodland animal fans! This first birthday theme lends itself to adorable owl decorations, and possibly other forest friends.
How cute would the birthday girl look in that sweet owl shirt!? Visit Sweet Samantha on Etsy to grab the adorable personalized birthday shirt above!
18) Hole in One Birthday – puns with the word one for birthday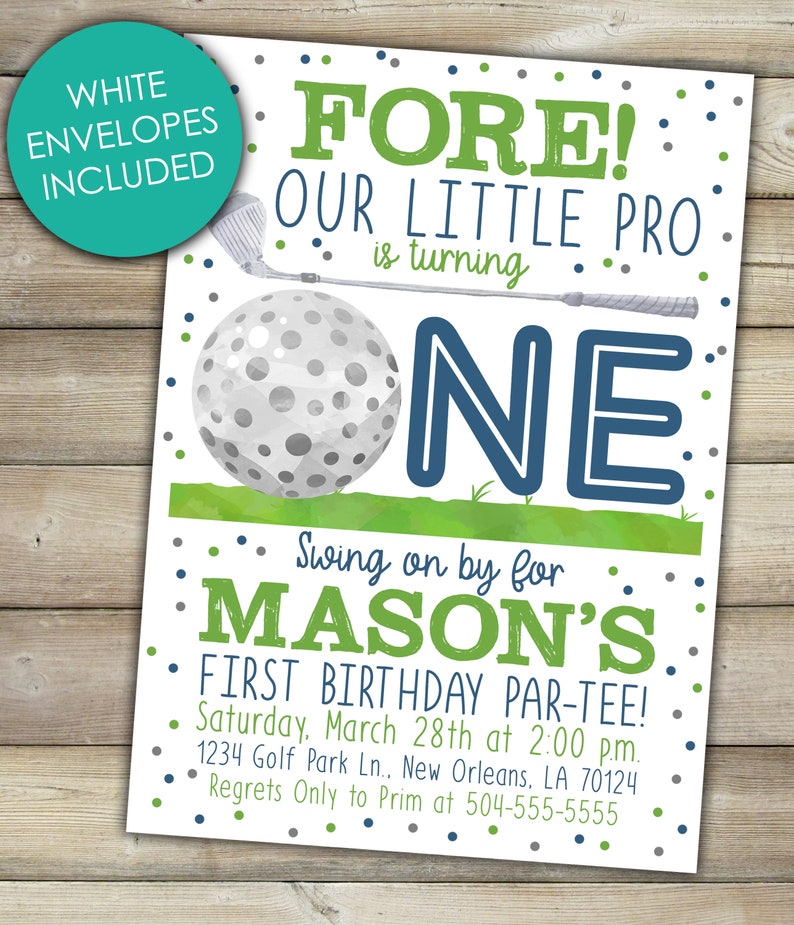 This Hole In One First Birthday theme lends itself to all kinds of play on words fun! You can tell your guests to "swing on by" for the "par-tee." This adorable Hole in One birthday invite is by Sophia's Things on Etsy.
19) One-O-Saurus – First Birthday Dinosaur theme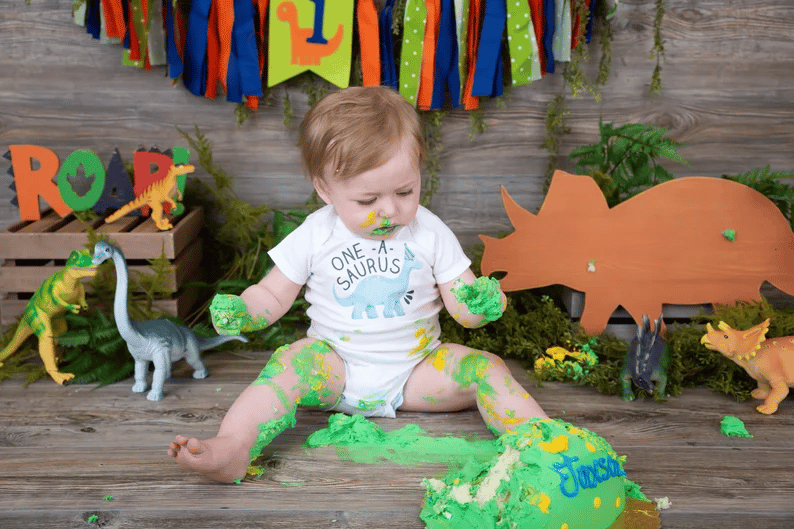 Want more fun themes? This One-O-Saurus is a great idea for little boys or a little girl who loves dinosaurs! There's tons of great dinosaur themed party decorations out there, so this is sure to be an easy baby's first birthday party to prep!
This adorable One-O-Saurus Bodysuit by Belle Lane Designs is perfect for the big day for your birthday boy or girl! This 1st birthday party theme lends itself to bright colors and fun party favors! What better way to celebrate your little one than with a big bash filled with ROARS! So much fun!
20) My Berry First Birthday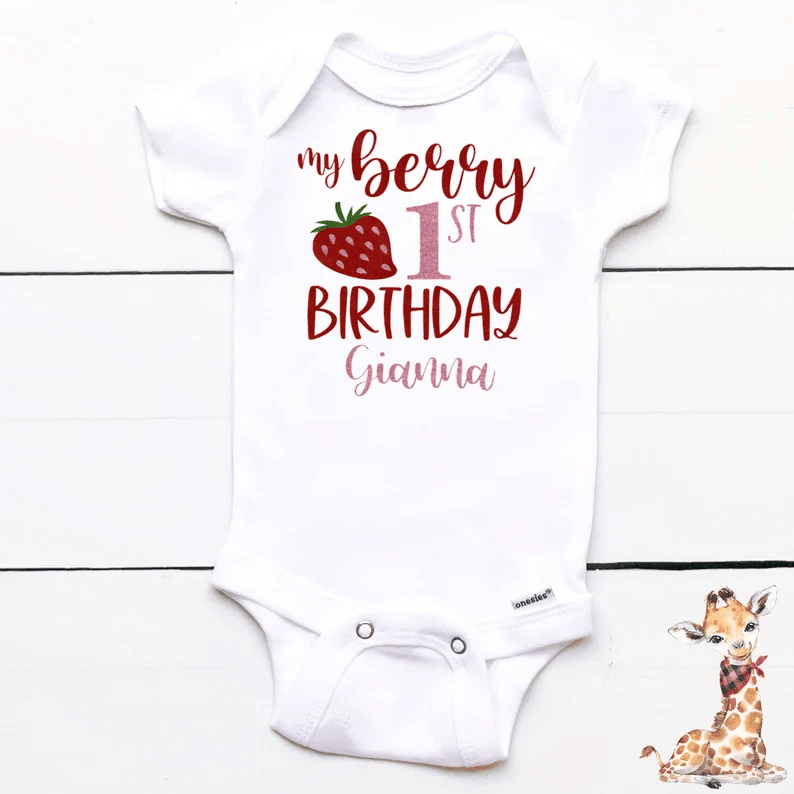 Looking for unique first birthday party themes? I don't think it can get any cuter than this! Can't you just picture the dessert table filled with strawberries and adorable berry party details! This theme would make a great garden party to celebrate baby's first year. You can find this absolutely adorable My Berry First Birthday bodysuit at Itty Bitty and Wild on Etsy.
That's it! 20 First Birthday Ideas with the Word One or First! I hope you found some unique first birthday party ideas that you absolutely adore or perhaps something that inspired you!
One last note about First Birthday Theme Ideas – if you are struggling to decide on the perfect theme simply type "first birthday" into the search bar on Etsy and inspiration will definitely hit!
If you are looking for a First Birthday Gift, you can read about 1st gift ideas here.
And while you are in birthday planning mode, be sure to check out these awesome Birthday party games for Kids!
Don't miss this list of Birthday Party Favor Ideas! Find amazingly unique ideas to put in your goodie bags – or alternatives to party bags!