Sometimes it can be difficult to choose first birthday gifts. It's a balance of finding a gift that is both appropriate for their age and something that they won't outgrow right away.
This gift guide has gifts that are both age appropriate and reach upwards so that he/she will play for many more years with that item.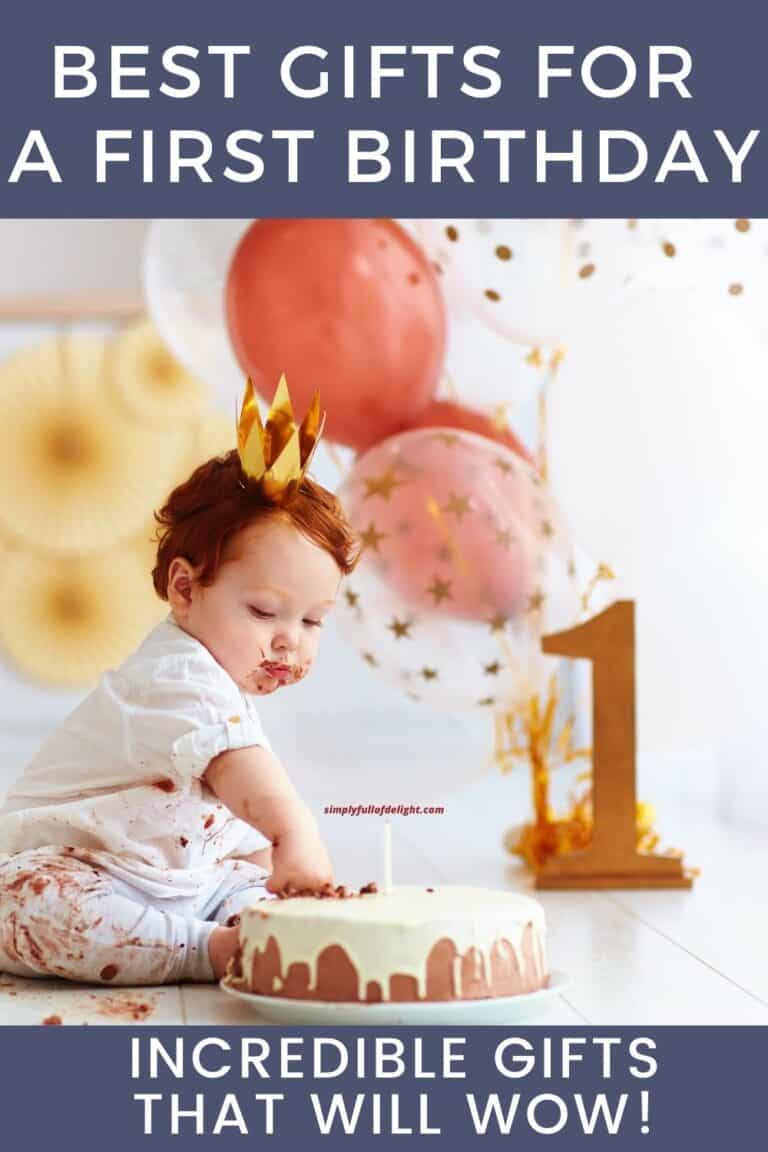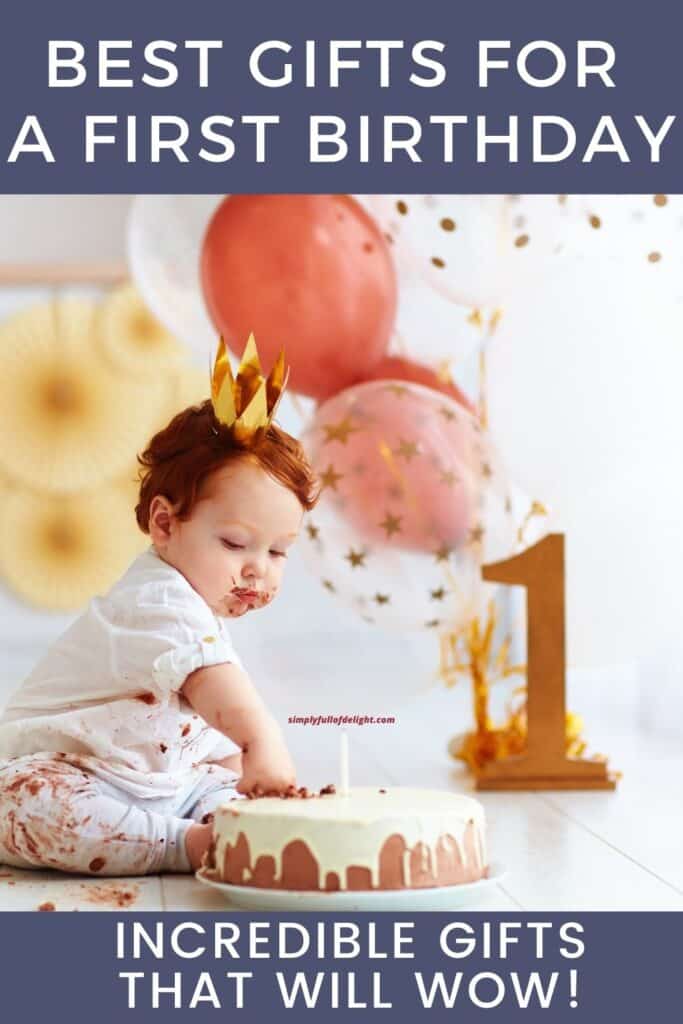 Disclosure: As an Amazon Associate I earn from qualifying purchases at no additional cost to you.
1) Fisher Price Little People
The Fisher Price Little People sets are perfect for babies. When children are young, they love to explore by putting everything in their mouths. The pieces in these sets are always large and safe for little ones. As the child grows, these sets are awesome for developing fine motor skills and using their imagination. My 4 year old still loves to play with our Fisher Price bus, barn, and airplane. There are many different sets available.
2) Fisher Price Tea Set
This sweet little tea set is perfect for a 1 year old. The cookies fit onto the tray in a puzzle form and the tea pot plays music, makes water pouring sounds, and lights up. It's a fun set that the child will use for many years to come.
3) Toy Shopping Cart
This fun little shopping cart will be a favorite toy in years to come. As he/she learns to walk, it is great for pushing along. Kids love to load up their belongings and cart them around the house. Another great option is a small indoor wagon.
4) Little Tikes Swing
Children love to swing! Our kids have been swinging since they were able to sit up. They love it! We had this particular swing hanging from a tree for many years in our backyard. It can also be attached to a swing set as well. It's a great first birthday gift that also encourages outdoor play time.
5) Pull toys – First Birthday Gift
Pull toys are a great choice for 1 year olds, as they will really enjoy pulling it along when they learn to walk. This retro chatter box phone is a fun choice because it also has other features that can be played with if he/she isn't walking yet. There are many choices for pull-toys. We also own the Melissa and Doug frog and it's adorable too.
6) Little Tikes Cozy Coupe
A ride-on car will be a hit and lasts for many more years to come. Not only does it encourage playing outdoors but it also helps build imagination and gross motor skills. The Little Tikes Cozy Coupe comes in many different colors and styles.
7) LeapFrog Picnic Basket
This LeapFrog Shapes & Sharing Picnic Basket is fun toy that encourages dramatic play, shape sorting, simple puzzle solving skills, and it's fun even as they get older. My kids still pack up their picnic basket to carry around our house. We have this Picnic Basket version without the shape sorter on the basket.
8) Duplo Blocks – First Birthday Gifts
I recommend Duplo blocks for any child under the age of 5, but my 9 year old still loves using them too! Duplo blocks make great gifts for babies because they are large blocks that inspire creativity, dramatic play, and simple engineering skills. Always check for small pieces to make sure that the set is safe for your child, but in general, most Duplo sets are safe for any age.
9) Bizzy Bear Books
Bizzy Bear books are awesome for little ones who don't quite have an attention span yet. There are tabs that move characters around and make the book fun and interactive. Giving the gift of books to a little one is always a great idea as it encourages a love of reading. More Bizzy Bear titles can be found here.
10) Sand box or Water table
A Sand Box or Water Table is a great 1st Birthday gift! Both encourage sensory play, outdoor time, and creativity. This is the perfect way for them to explore their world.
11) TOMY John Deere Animal Sounds Hayride
This John Deere tractor is perfect for little ones! Each animal has a spot on the tractor and when you place it on the seat, it makes an animal noise. The animals are great for little ones who still put things in their mouths.
My 5 year old has enjoyed his little tractor like this since he was small and it still makes rounds in his "field." Got to love those toys that grow with your kid!
12) Child Size Table and Chairs
This child size Little Tikes Table and Chairs set would make one of the best and most functional first birthday gifts!
We've had our Little Tikes table for years and it has held up to a lot of use! Our kids love to use it when they are pretend cooking. It's also come in handy during art projects and of course, as extra seating for kids when you have a family gathering!
Invest in a quality table and chairs set, and you will have it for years!
That's it! 12 First Birthday Gifts that encourage early learning!
I hope this list of gifts for 1 year olds is helpful to you and that you find something awesome for the sweet little ones in your life! If you are planning a first birthday here's 18 amazing theme ideas!
There's some amazing ideas for creating a First Birthday Time Capsule here.
You can find awesome Birthday Party games for kids here.
Also, if you'd like more gift ideas, check out these amazing Heirloom Quality Gifts for Kids.
Related Posts