If you are preparing for a Disney World trip, these are the 6 Best Shows at Disney that you should try to incorporate into your visit.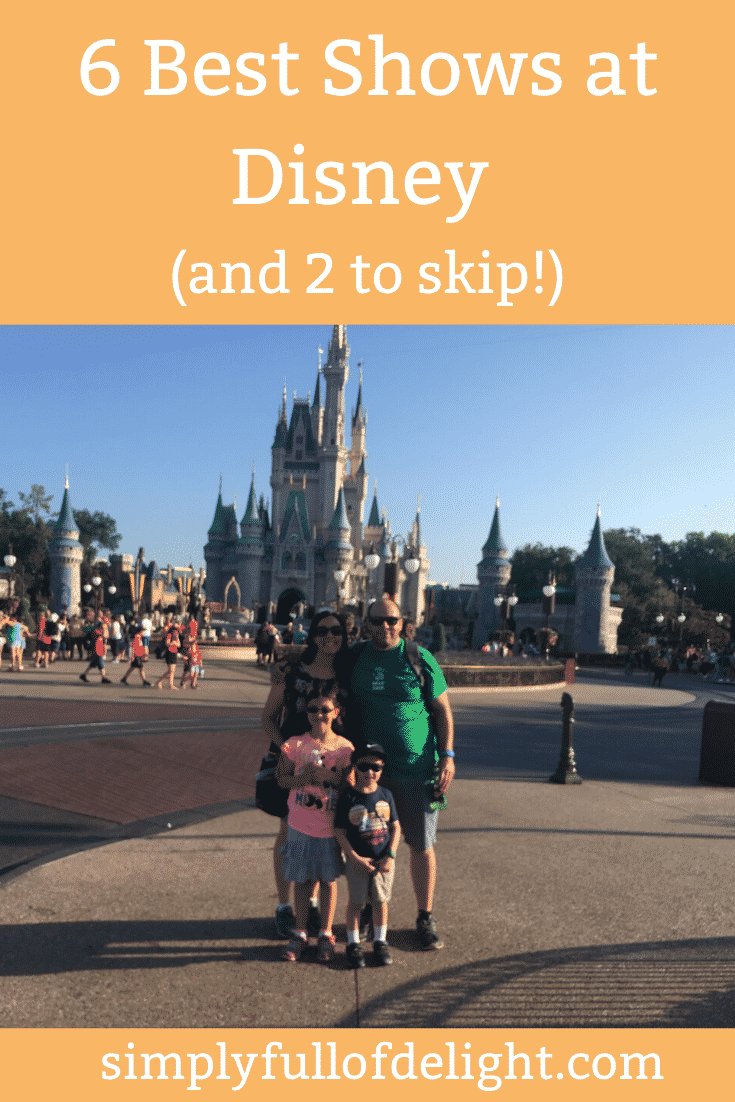 When talking about the Best Shows at Disney, I am including attractions and entertainment that incorporate dramatic performances or attractions in a theater.
Here's the scoop about which shows are worth the wait and which ones you should skip!
1) Monsters, Inc. Laugh Floor – Magic Kingdom
The Monsters, Inc. Laugh Floor is a humorous show hosted by the popular green monster Mike Wazowski. The monsters interact with the audience in this show and the jokes are hilarious! On our most recent trip to Disney World, we went to this show twice.
Surprisingly, the show was completely different each time we saw it! So if you are looking for a good laugh, or just a great place to cool off for a while, Monsters, Inc. Laugh Floor is a great pick!
FastPass+ is available for this attraction, but I recommend saving your FastPasses for rides, as theater is large and the line moves fairly quickly.
2) Beauty and the Beast – Hollywood Studios
Beauty and the Beast – Live on Stage is a 25 minute performance of the classic tale. There are amazing costumes, scenery, and of course all of the music you remember from the movie! It's a beautiful Broadway-style performance that the whole family will love!
FastPass+ is available, but not really necessary. There are just a few shows per day, so be sure to plan your day accordingly!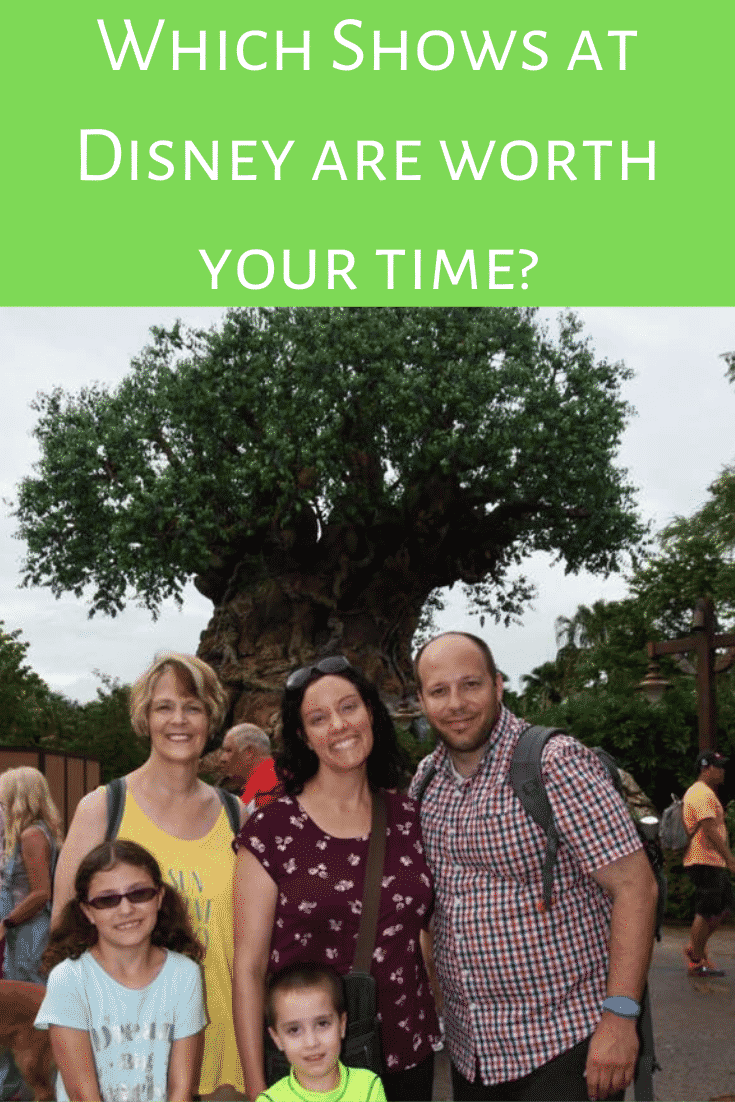 3) Festival of Lion King – Animal Kingdom
This 30 minute show contains the highlights and classic songs from the movie. There are acrobats, impressively large puppets, dancers in costumes, actors on stilts, and even a fire dancer.
The song "Be Prepared" will give you chills and "The Circle of Life" is an amazing finale. Definitely a show worth seeing!
FastPass+ is available, but this theater is absolutely huge, so as long as you get in line at a decent time, you should make it in the door!
4) Indiana Jones – Epic Stunt Spectacular – Hollywood Studios
If you remember the Indiana Jones movies of the 80s, you'll love this live action show featuring thrilling battles, suspenseful traps, and amazing escapes. Get an insider's look at how all of these amazing stunts are done! Even if your kids aren't familiar with Indiana Jones, they will enjoy this exhilarating show!
FastPass+ is available, but not necessary as the theater is large! Just make sure to allow plenty of time to be in line before the next showing!
5) Enchanted Tales with Belle – Magic Kingdom
Enchanted Tales with Belle is a real treat if you have children that are old enough to interact with characters.
The queue for this show is absolutely beautiful. You wait inside Belle and Maurice's cottage. It's fun to explore the cottage, see Maurice's inventions and see the story come to life.
There's an amazing trick where a mirror becomes a door (how do they do that!?!) and you are suddenly in the Beast's castle where guests are allowed to volunteer to play a part in the story of Beauty and the Beast.
This experience is a hands-on dive into the storybook. So, if your children love to interact with characters, your family will love watching this story come alive!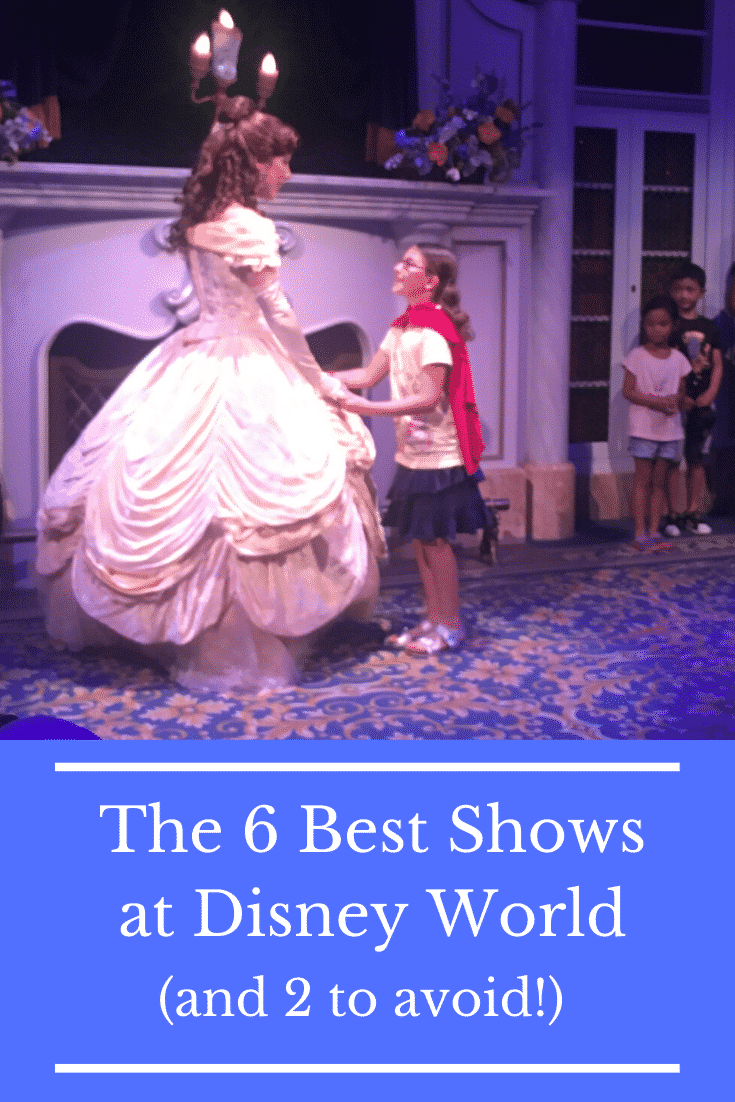 I would recommend saving this attraction for the early evening or try to hit the last show time of the day at 7 pm (be sure to check the schedule). The line can be VERY long during the day, but normally by evening the line has disappeared.
6) Lightning McQueen's Racing Academy Hollywood Studios – Best Shows at Disney
The Lightning McQueen Racing Academy is an up close experience with the characters from the movie Cars. Your kids will love seeing their favorite character come to life.
The show itself is only 10 minutes, but it's well worth the time to see the impressive animatronic Lightning McQueen. In addition, there is a meet and greet "dance party" vibe outside the theater with other cars from the movie.
Definitely a must-do if you have fans of the movie Cars.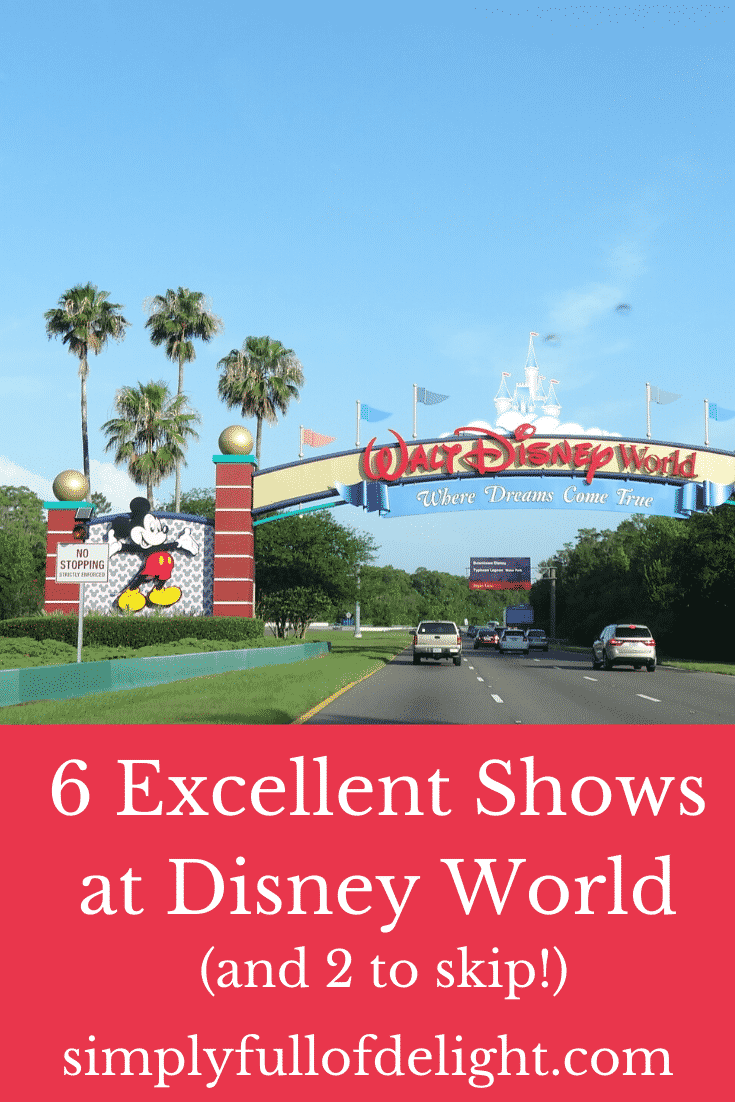 2 Shows I Don't Recommend
1) Fantasmic! – Hollywood Studios
On our most recent trip to Disney, we went to Fantasmic! which is one of the big fireworks shows at Hollywood Studios.
First of all, we had to wait forever for it to start. Luckily I planned ahead and brought my kids glow-in-the-dark bracelets that they enjoyed hooking together and playing with.
Disney was pumping some awesome music and the vibe of the outdoor theater was fun.
However, once the show actually started, I kept wondering, "Really….is this the show? This is Disney?"
To be nice, the show was outdated. They were projecting clips of really old obscure cartoons onto water. It would have been sort-of cool if the effects had worked, but unfortunately, it was mostly just blurry.
The movie clips themselves were unrecognizable due to the blurry factor….and the fact that we didn't know the cartoons. I grew up watching Disney movies, so when I say obscure, I mean totally unknown to a person who knows Disney characters.
The other problem was that the clips were merged in such a way that there was no story line to follow. It was disjunctive. There was no connection.
There were some live action scenes but even those were hard to follow. Honestly, I left the show disappointed and confused. How could this be okay by Disney standards?
So, if you have the chance to see Fantasmic! DON'T do it! Use the time wisely and ride rides or go to another fireworks show instead.
2) Mickey's PhilharMagic
I had done some research ahead of time that said we should check out Mickey's PhilharMagic. The show itself is pretty good, but the 3-D glasses (or maybe it's the video) were so old that the whole show was blurry.
It wasn't just me. Everyone in our party of five said the same thing. The show would be great if the 3-D glasses technology was working.
So, if you are short on time, skip this one!
That's it! Those are the 6 Best Shows at Disney (and 2 to Avoid!) I hope this has been helpful to you in planning your Disney Vacation!
Have questions or comments? Feel free to write them in the comments section below!
If you happen to not be traveling with little ones, hop over to Two Drifters and check out their 12 Romantic Things to do in Orlando!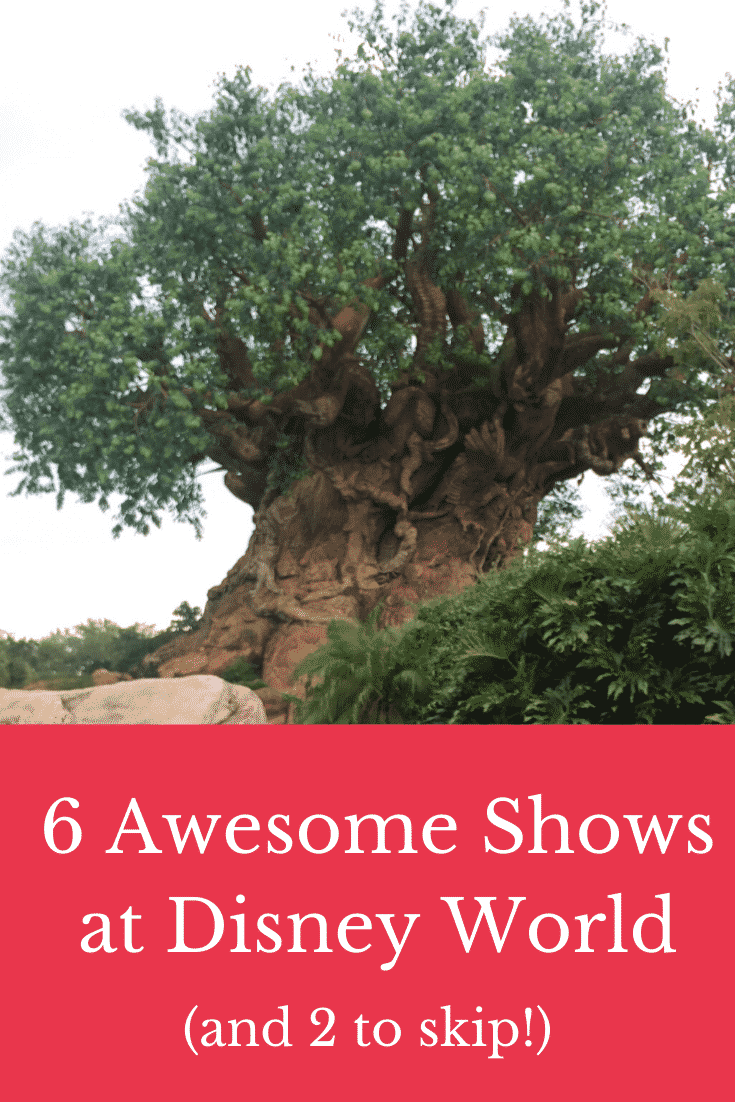 More Articles You Might Enjoy:
8 Ways to Create a Budget Vacation
Best Gluten Free Disney World Restaurants in 2020
What to Pack for Disney World – 29 Must Have Items