I love all things Disney, so it was absolutely my pleasure to do some research on the Best Gluten Free Foods at Disney World! My husband has been gluten free for about 5 years now and I was recently diagnosed with Celiac's disease as well.
With nothing but lots of time to plan our next Disney adventure, I asked some other Disney loving bloggers what their top recommendations were for must-have gluten free treats and foods at Disney and they absolutely delivered!
*** Disclaimer: As an Amazon.com Associate, I earn from qualifying purchases made by readers clicking my links and buying ANY product from Amazon.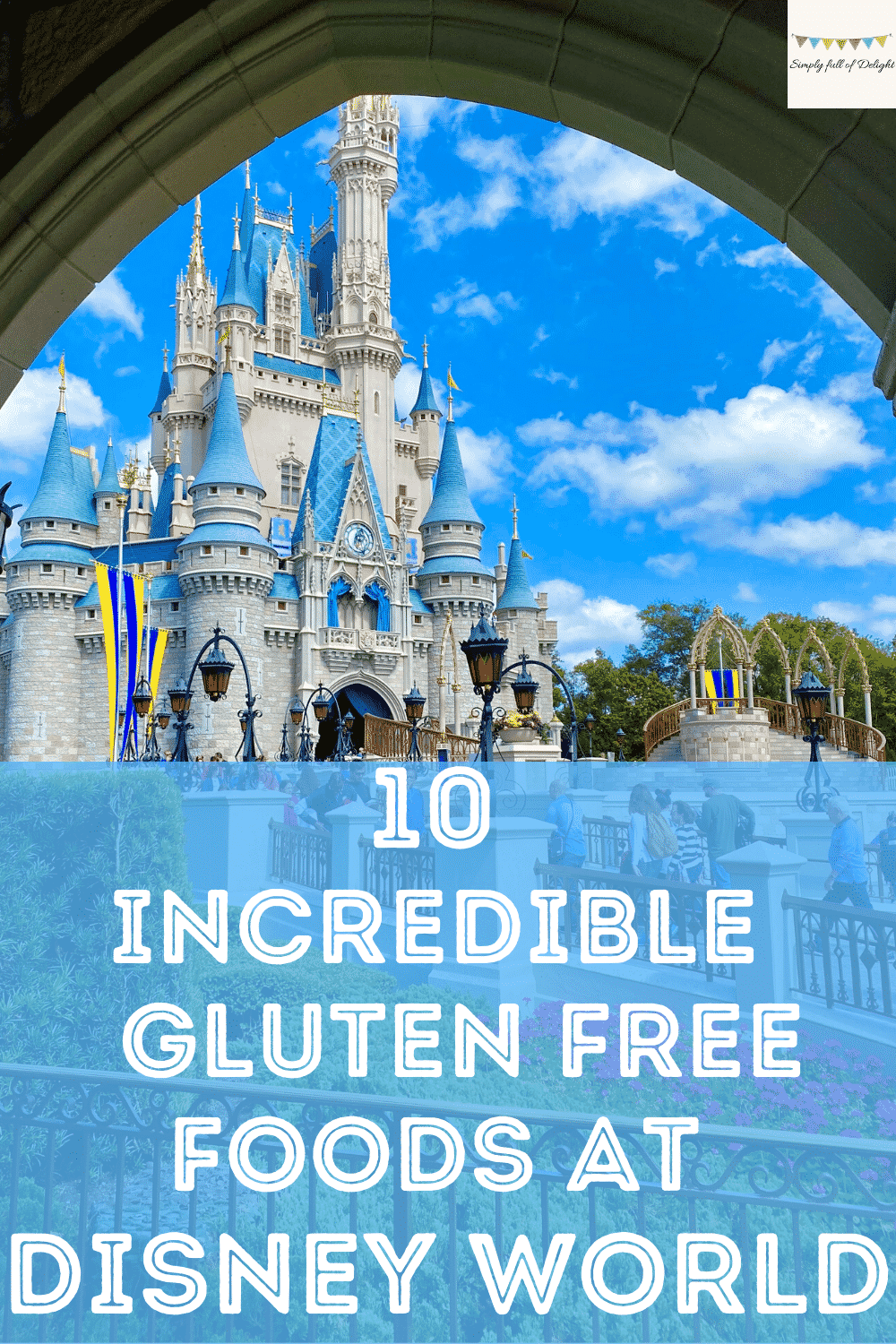 I hope you find some hidden gems in this list and that you get to try some of these delicious gluten free foods the next time you are at Disney!
1) Dole Whip
Victoria from Disney Trippers and Jillian of Food Folks and Fun both recommend the legendary Dole Whip! I definitely have to agree the Dole Whip deserves a spot at the top of the Best Gluten Free foods at Disney World!
If you've never had this amazing dessert, it's a pineapple frozen soft serve. It's one of those Disney foods that has a highly dedicated group of fans. As in, they must have it every time they visit the parks! And for good reason! It's delicious!
There are other flavors offered from time to time including orange, vanilla, and seasonal offerings like lemon and raspberry. You can find this amazing treat at Ahola Isle in Magic Kindgom's Adventureland and occasionally it is offered in other locations as well!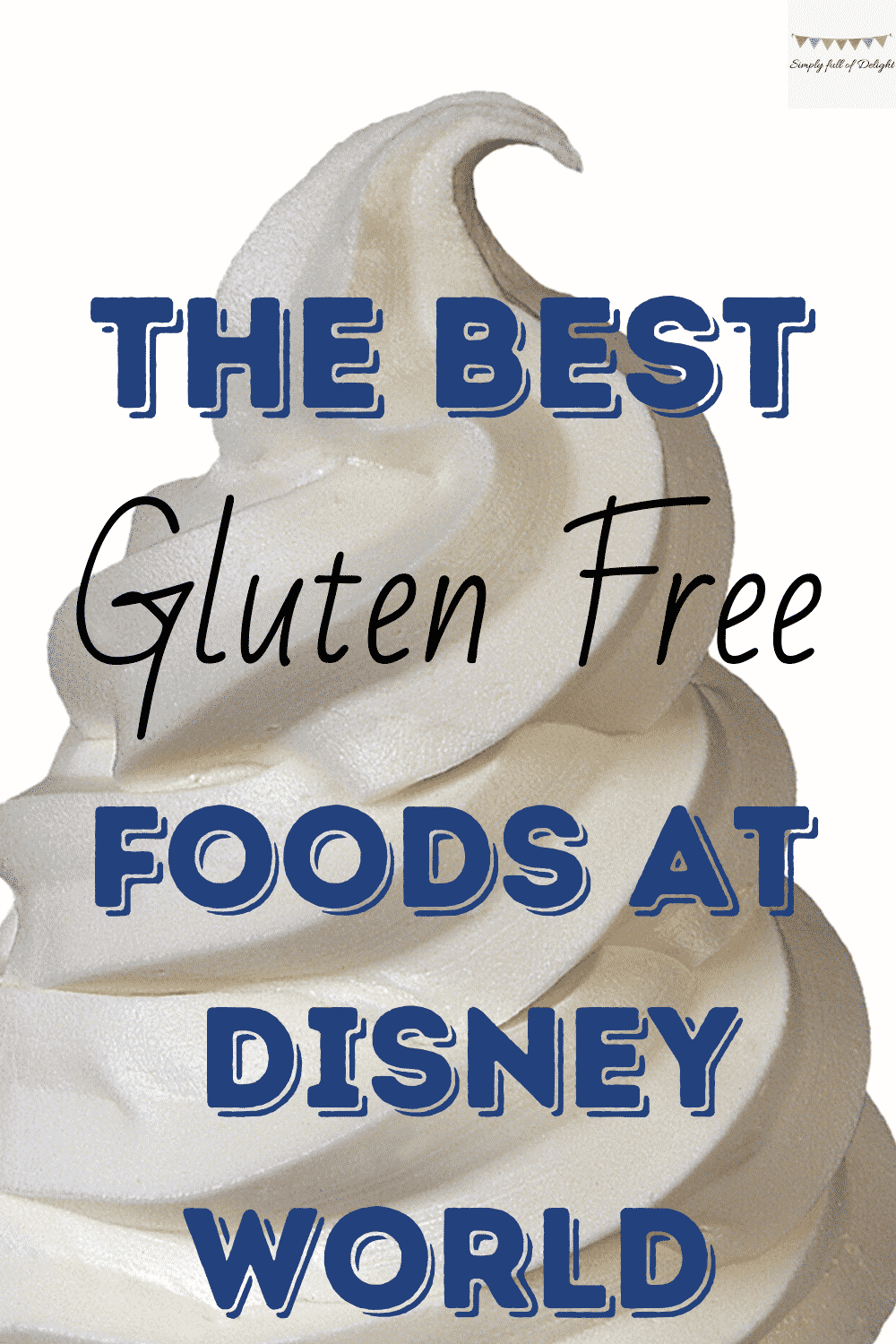 2) Seared Mahi Mahi with Jasmine Rice
The Seared Mahi Mahi with Jasmine Rice, Coconut and Cilantro-Lime Sauce, and Caribbean Shrimp Salsa at Epcot's Coral Reef Restaurant definitely deserves a place at the top of the list.
This delicious dish is so amazing that you won't even know it's gluten free. I had this dish the last time I was at the parks and I haven't stopped thinking about it. It's SO very good!
The giant aquarium inside the Coral Reef is also amazing. So, not only do you get enjoy a great meal, but you feel completely refreshed and ready for the next part of your day! Definitely make sure you make reservations early for this restaurant, as it is popular (for good reason!)
3) Mickey Waffles
Rebecca from Strength and Sunshine loves the Gluten-Free Mickey Waffles! She says that you can order these amazing waffles at most locations that serve breakfast. All you need to do is request for them to be made gluten-free!
I love that Disney strives to make breakfast magical for those of us who can't eat "normal."
4) Build-Your-Own-Bowl
These Build-Your-Own-Bowls at Satu'li Canteen in Animal Kingdom were recommended by two of the bloggers I asked!
Stacey from Stacey Homemaker loves the chili-spiced crispy fried tofu bowl with sweet potato hash and green onion vinaigrette. She says "the tofu is always fresh and crispy, the hash is filling, and the vinaigrette is super flavorful!"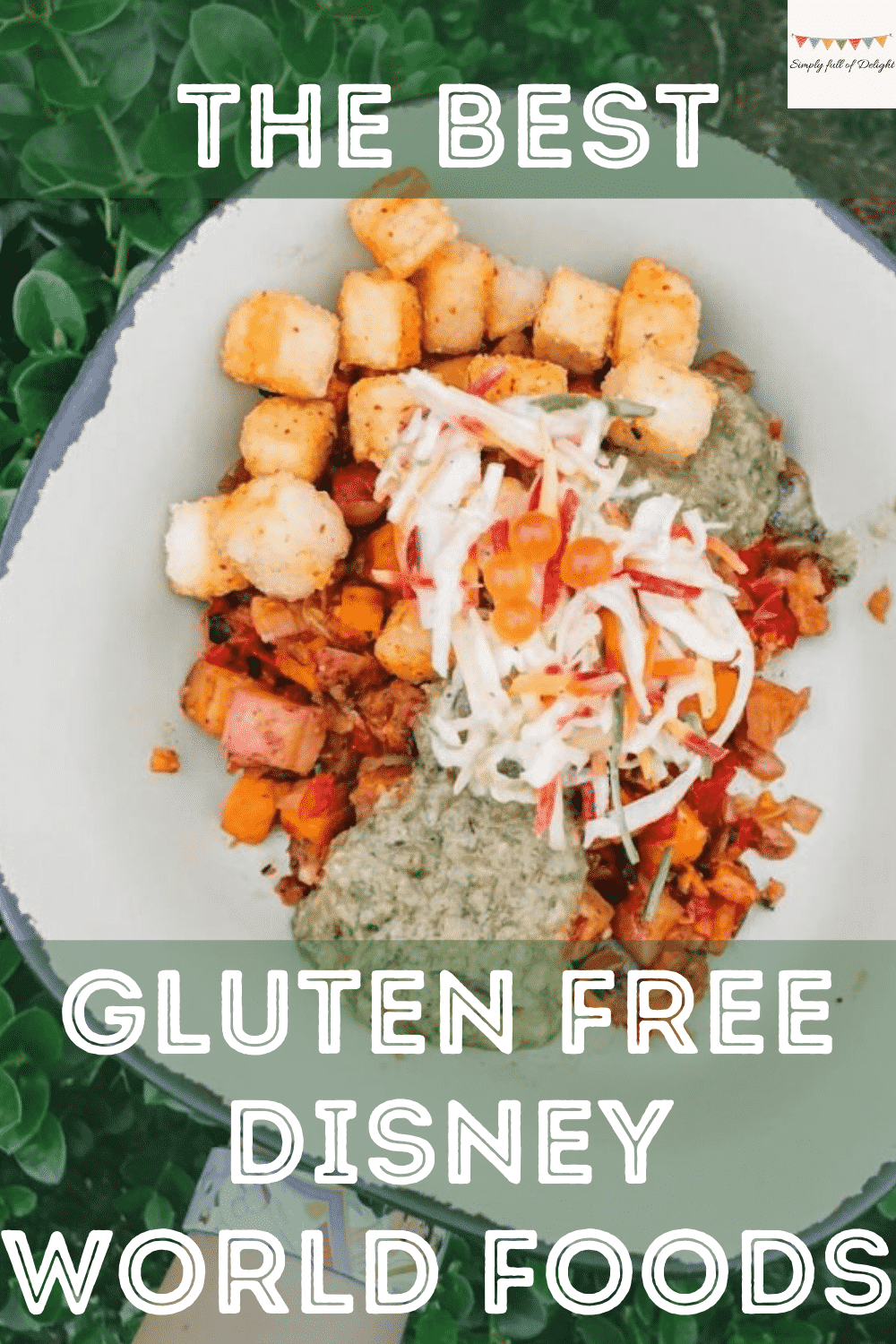 Gluten free protein options include Slow-Roasted Sliced Grilled Beef, Chopped Wood-Grilled Chicken, Chili-Spiced Crispy Fried Tofu, and Chili-Garlic Shrimp.
Jennifer from Three Kids Three Cats and a Husband says her favorite combination so far is the Chopped Wood Grilled Chicken bowl with red and sweet potato hash topped with creamy herb sauce.
With tons of options for customization, you are sure to find a combination that pleases everyone in your group.
5) Tavern Keepers Favorite
If you are looking for a hearty meal, check out the Tavern Keeper's Favorite at Liberty Tree Tavern in Magic Kingdom.
Liberty Tree serves up amazing food in a fun Colonial atmosphere. The Tavern Keeper's Favorite is pot roast with mashed potatoes and garden vegetables. If you are looking for a mouth-watering home cooked meal in the parks, this is it!
6) The Colony Salad
Following up that recommendation, I have to mention one of my personal favorites: the Colony Salad at Liberty Tree Tavern. The Colony Salad combines Grilled Chicken, Washington Apples, Sweet Pecans, Applewood-smoked Cheddar, Dried Cranberries, and Honey-Shallot Vinaigrette.
This is a salad that is definitely worth mentioning. It's a refreshing dish that will be a welcome sight if you save it for later in your stay. (Anyone else go for fried food first and then crave salads at the end of the week, or is that just me!?)
Liberty Tree Tavern is a great place to cool off and refuel! Both of the items mentioned are on their lunch menu. Dinner has a different menu, but I've heard it's great too!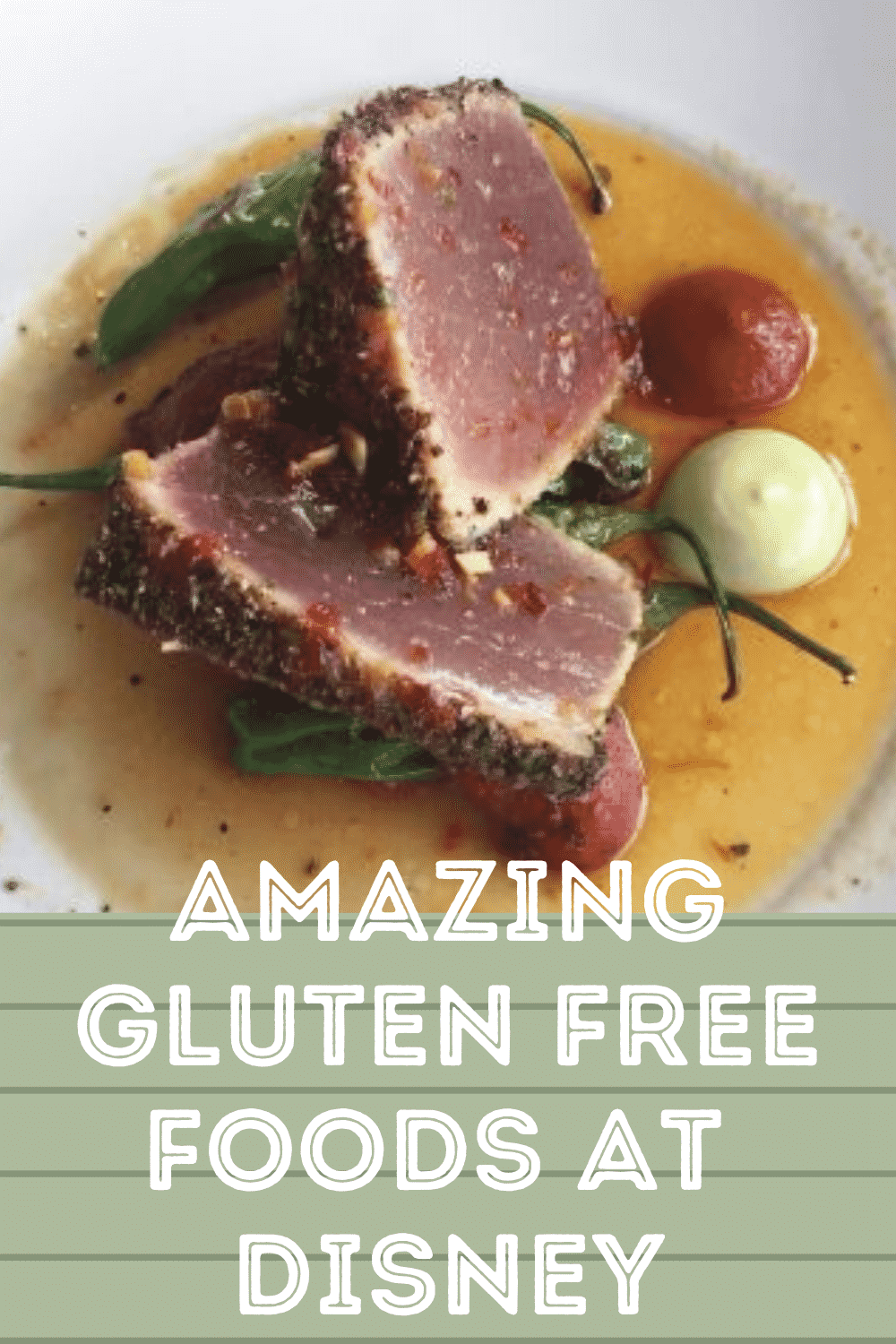 7) Coriander Seared Ahi Tuna
Jessica from Life After the Glass Slipper recommends the Coriander Seared Ahi Tuna at The Boathouse in Disney Springs. This amazing gluten free dish is served with blistered shishito peppers, a soy-lime vinaigrette, wasabi mayo and sriracha.
It looks incredible doesn't it! Be sure to also check out the gluten free chocolate brownie at The Boathouse as well!
8) Gluten Free Shortcake
Victoria from Disney Trippers recommends the Garden Grill at Epcot. She says it's "100% an amazing place for eating gluten free! There are gluten free rolls and gluten free shortcake for dessert. A chef comes out and helps you to decide what you can eat and then serves you everything and more! It is truly delicious and an amazing experience!"
9) Gluten Free Beignets
The Disney Gluten Free Beignets are talked about over and over in every gluten free online group. You can find these much sought after delicate pastries at the Disney Port Orleans Resort.
If you are not familiar with beignets, they are basically a French doughnut. They are made with sweetened dough, cut into squares, fried, and topped with powdered sugar. Sounds like perfection!
10) Gluten Free Bakery Treats
Jessica from Life After the Glass Slipper recommends that you drop by Erin McKenna's Bakery in Disney Springs. Everything in this bakery is dairy free, egg free, soy free, and gluten free! Wow is right!
Consider dropping by at the beginning of your trip and grab some goodies for a quick breakfast before your first morning in the parks!
That's it! 10 of the Best Gluten Free Foods at Disney World! I hope you've found some new dishes to try! I know I have!
Leave me a comment and tell me which one you are most excited to try on your next trip to Disney World!
Other Articles You Might Enjoy:
Best Gluten Free Disney World Restaurants in 2020
6 Best Shows at Disney (and 2 to Skip!)
What to Pack for Disney World – 29 Must Have Items
Gluten Free Diet Tips for Beginners