Do you have a unicorn lover? Check out these cute unicorn coloring pages for kids! There's 4 free printable unicorn coloring sheets you can download right in this article.
Whether your child is crazy about this magical creature or into fairy tales, these unicorn coloring pages are perfect for kids of all ages!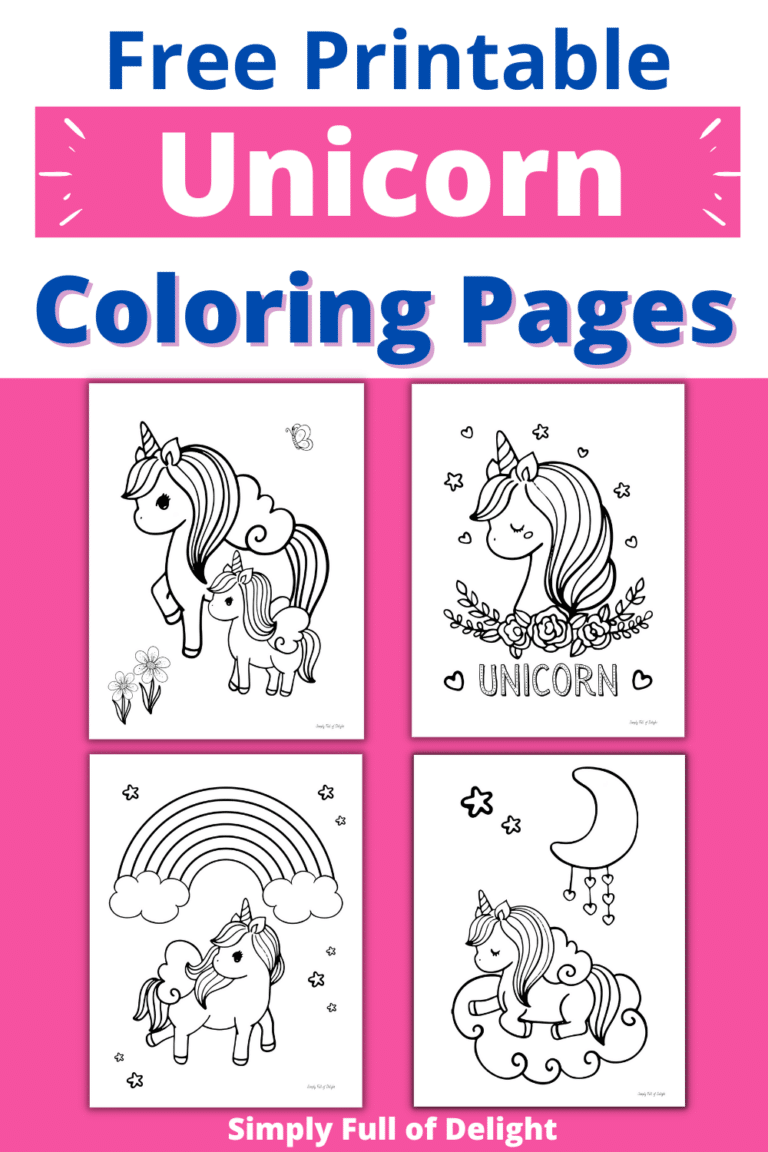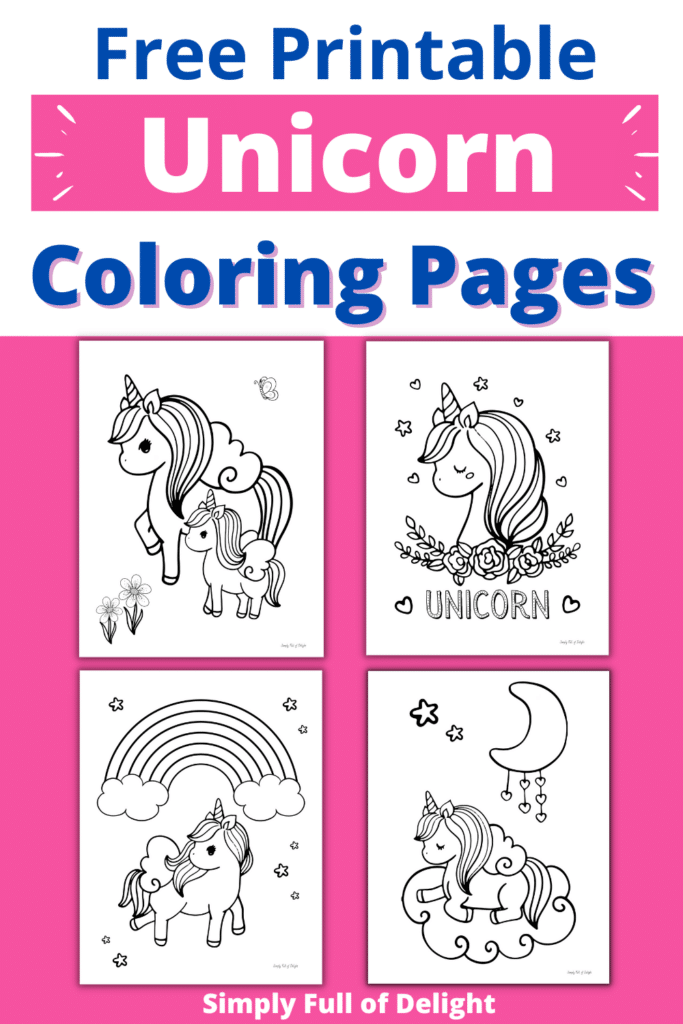 Planning a unicorn themed birthday party?
You can use these free coloring pages to keep kids busy!
These cute unicorn coloring pages make a fun quiet time activity, an easy art idea, and they are perfect for adding to your art center to inspire creativity.
In addition, these Unicorn coloring pages are a fun way for kids to practice fine motor skills and to motivate reluctant artists.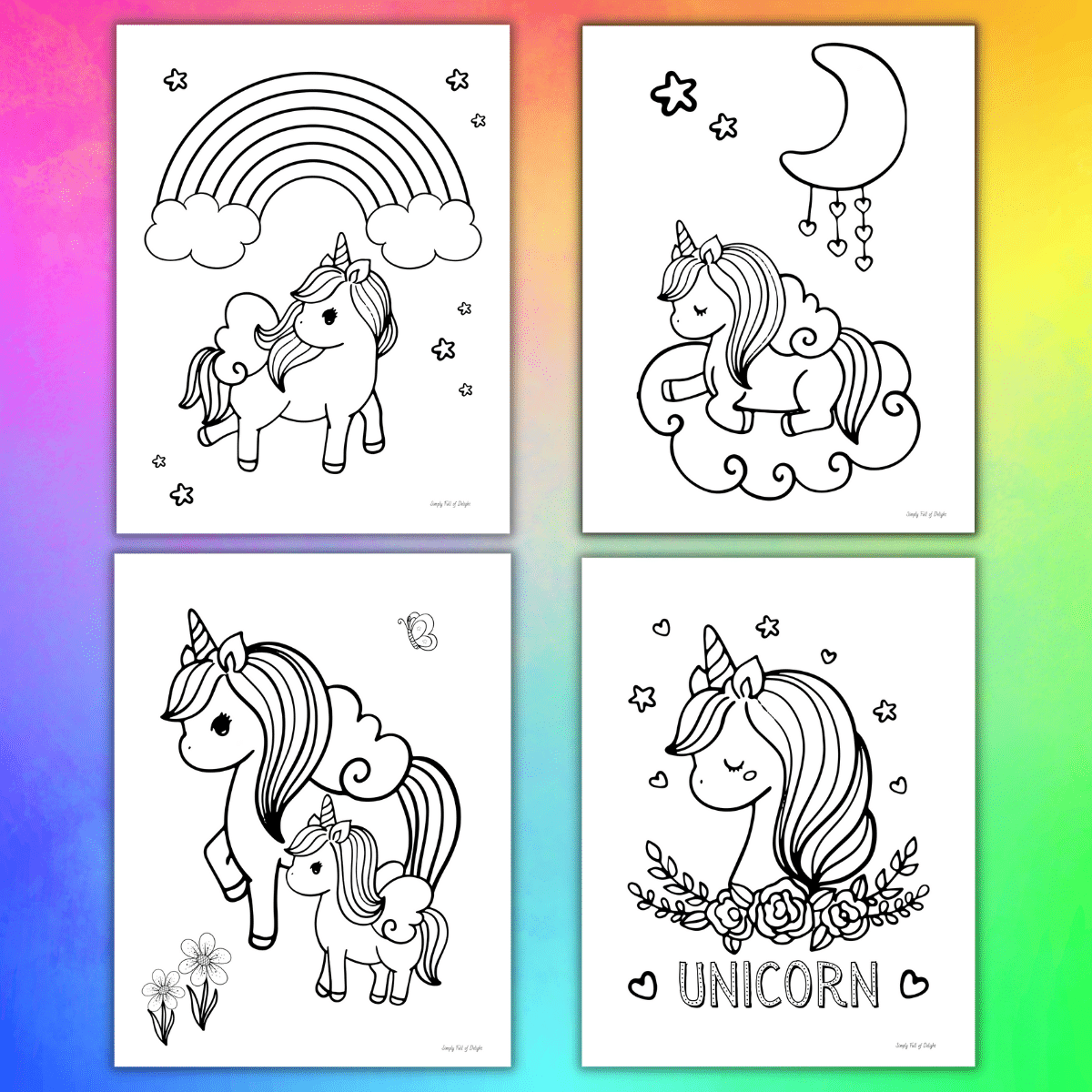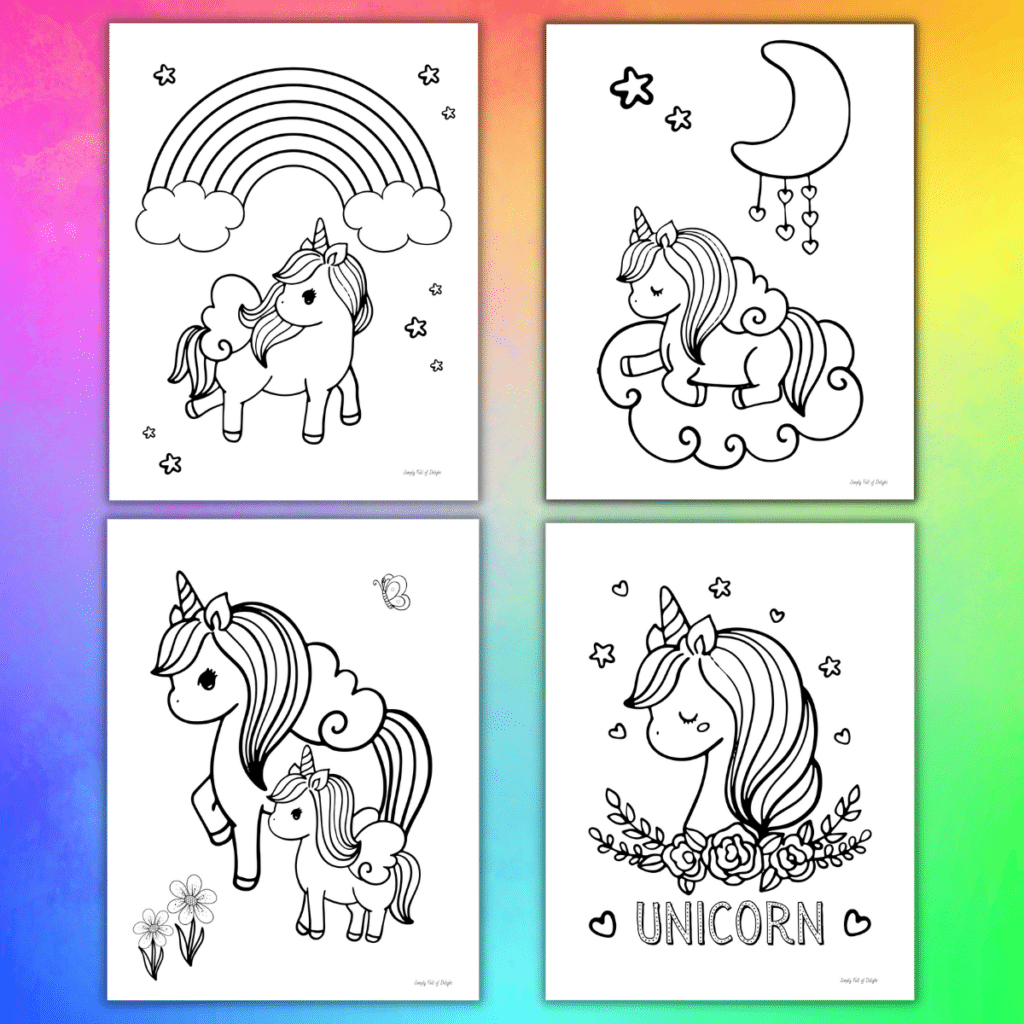 Alright! Let's take a closer look at these free printable unicorn coloring pages!
** Disclaimer: As an Etsy associate and as an Amazon.com Associate, I may earn from qualifying purchases made by readers clicking my affiliate links at no extra cost to you.
Baby Unicorn Coloring Page Printable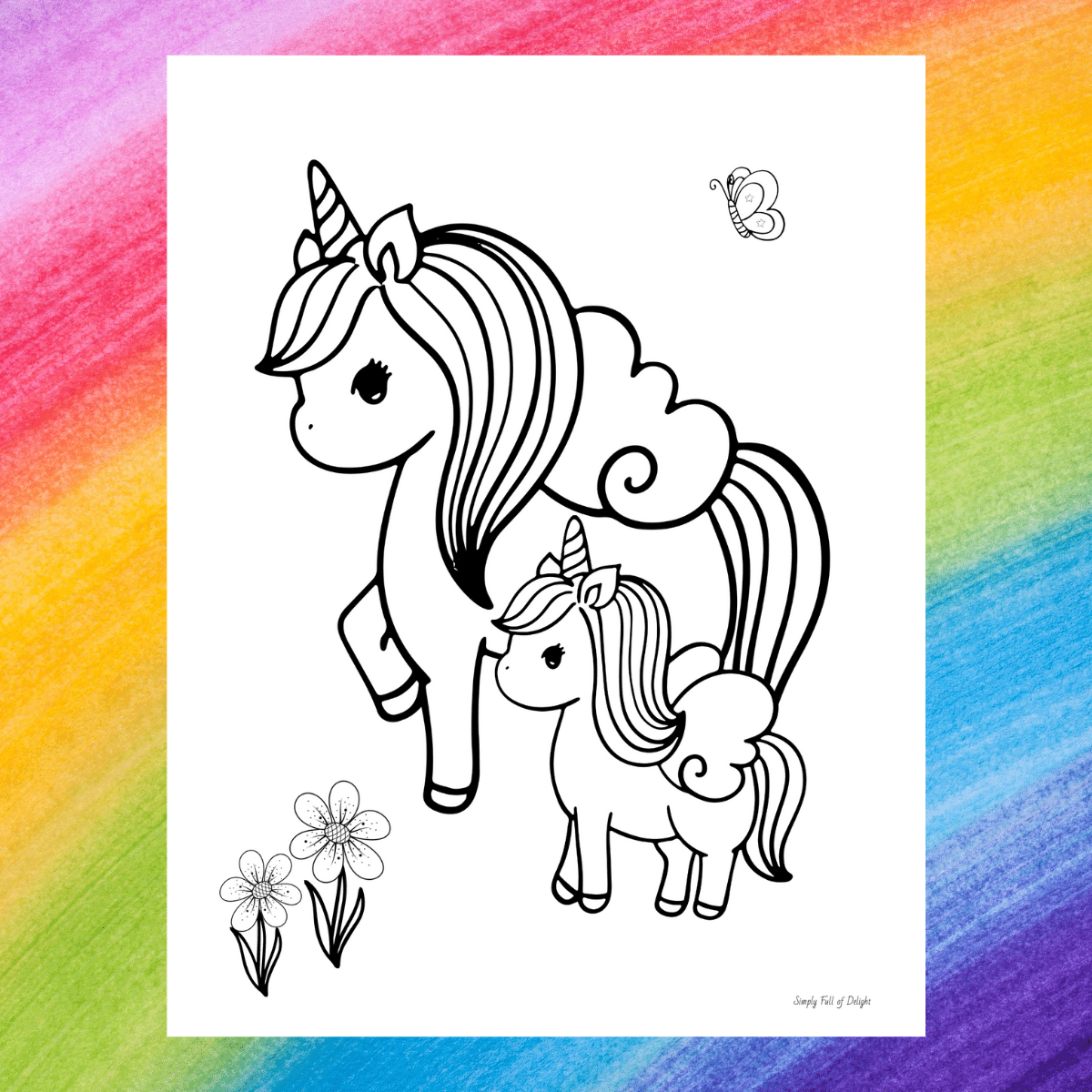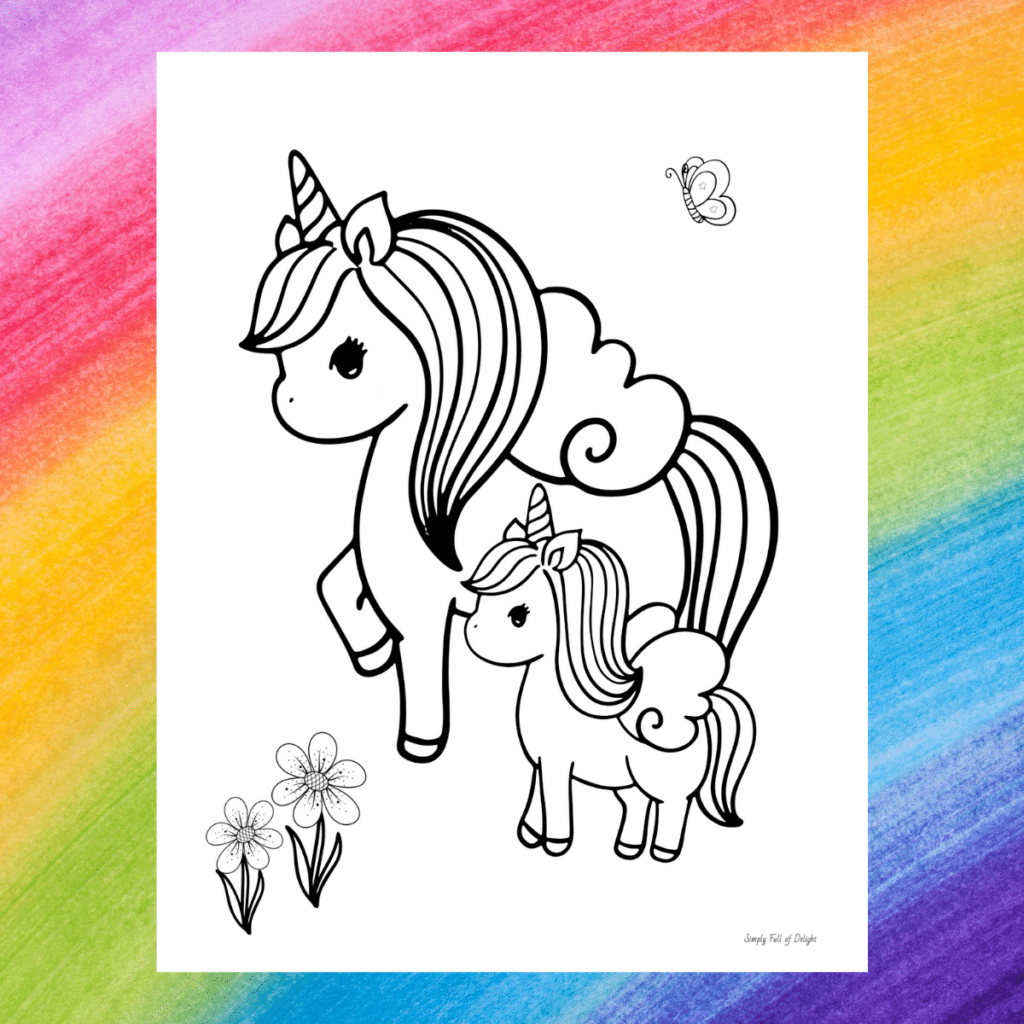 This first easy unicorn coloring page features an adorable baby unicorn with it's mother.  There's a butterfly and two flowers to color as well.
This mother unicorn and baby unicorn would look great with rainbow colored manes. This page is pretty simple and easy to color for little ones.
My kids really enjoyed using crayons for this page, but markers and colored pencils work well too! If you like, this page can also be used for watercolor paints.
You can download the printable pages by clicking the black download button.
Easy Unicorn Coloring Sheet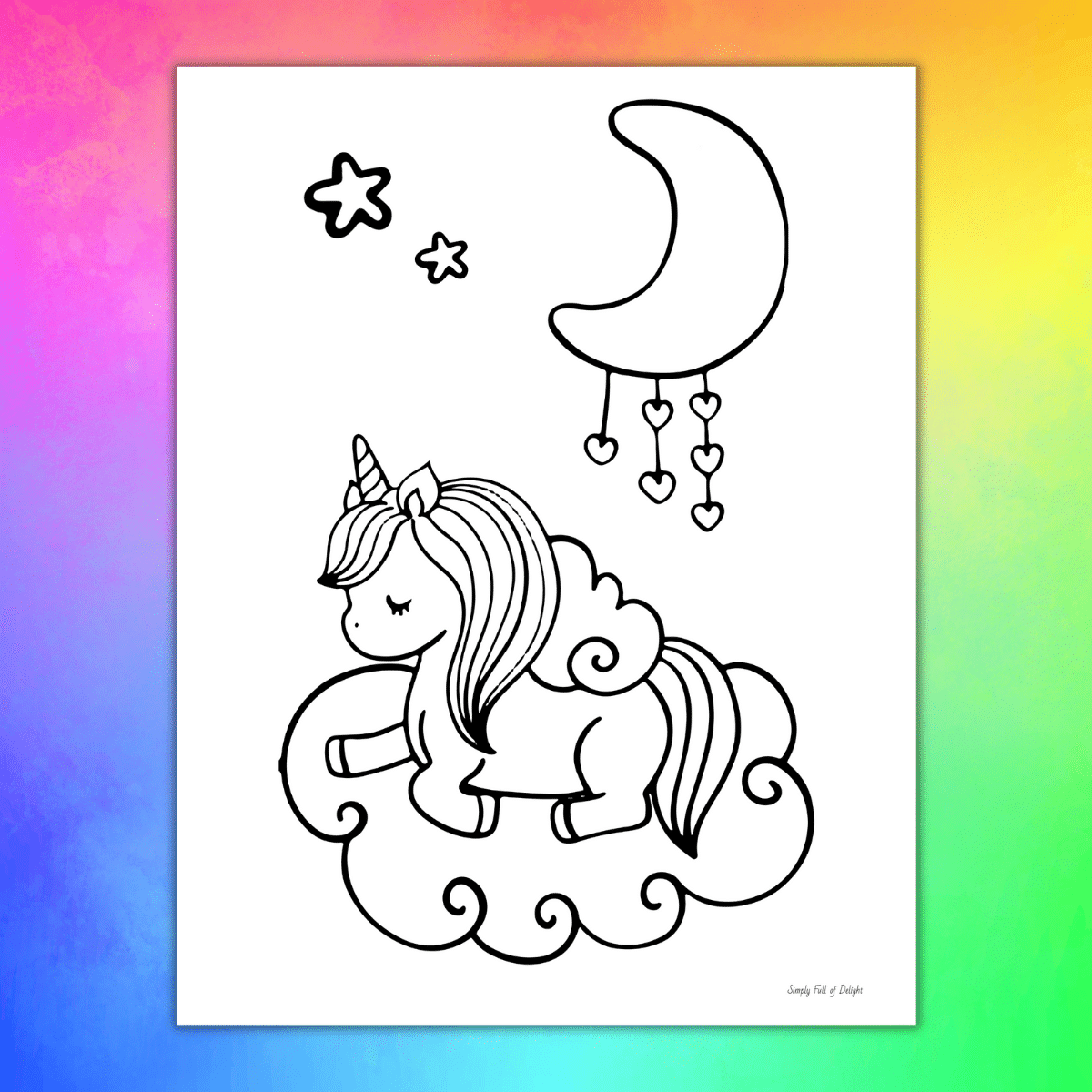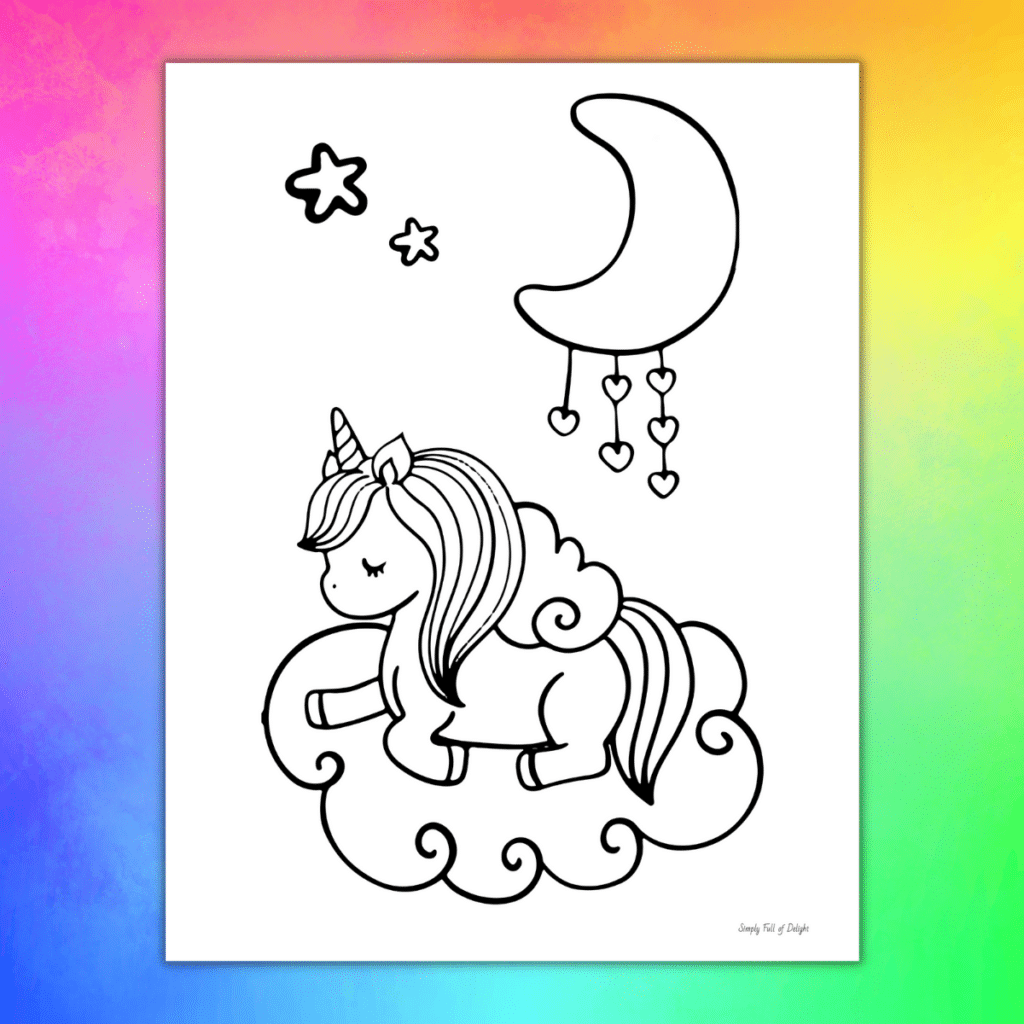 Need an easy unicorn coloring page? This simple page features a sleeping unicorn on a cloud.
Kids will enjoy coloring the moon with hearts and the stars in the sky.
This simple unicorn coloring page is perfect for little ones. It's also a fun page for watercolor paints as well!
Grab the Easy Unicorn coloring page by clicking the download button below.
Cute Unicorn with a Rainbow Coloring Page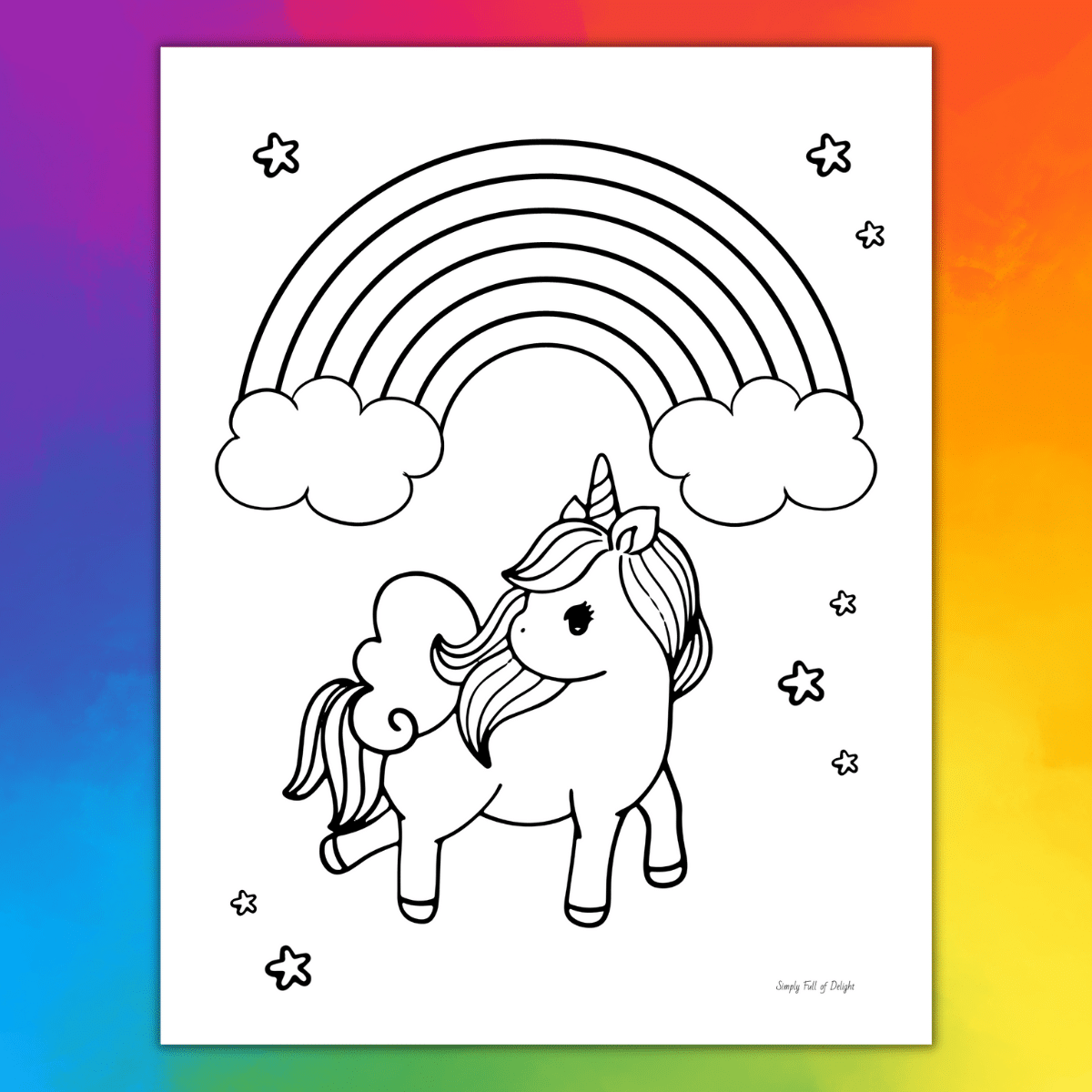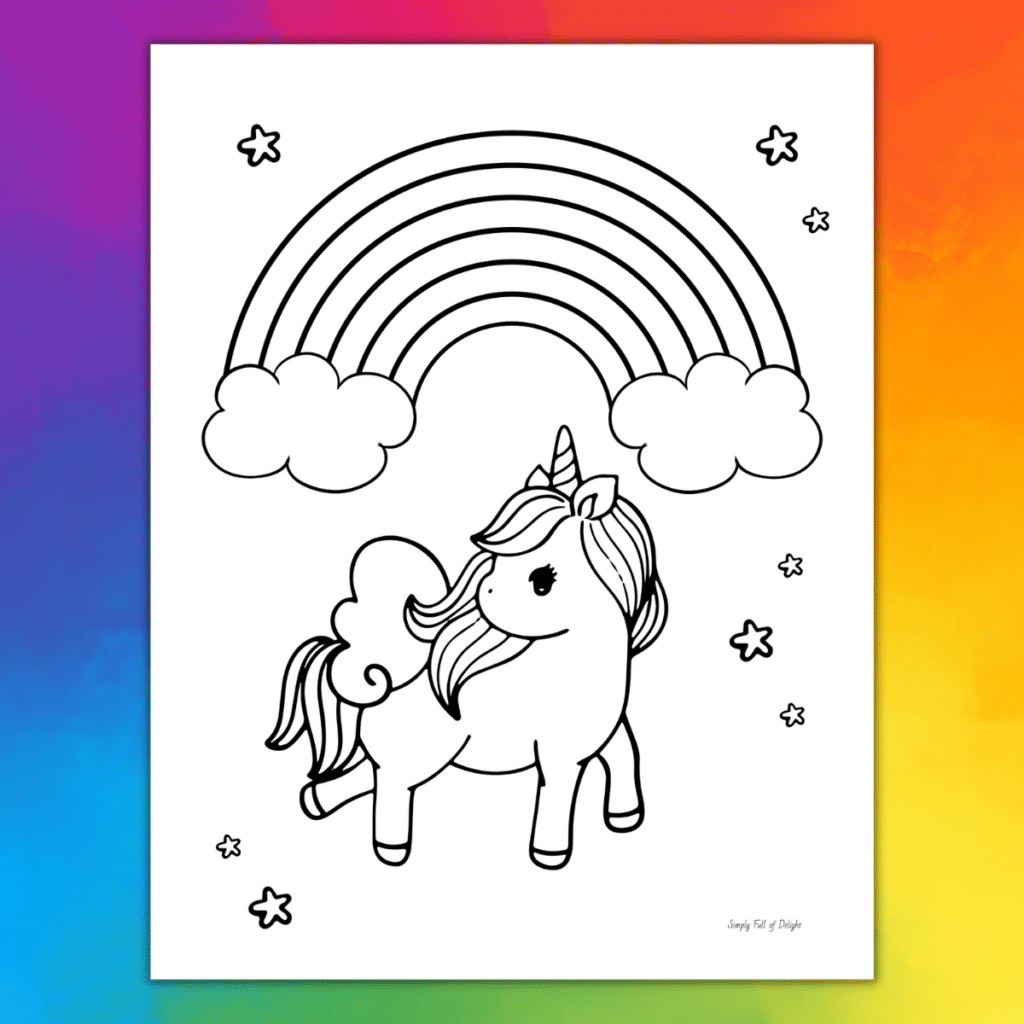 This cute unicorn with a rainbow coloring sheet is sure to bring a smile to young children and older kids as well! This unicorn friend is kicking her feet up as she dances under a rainbow.
There's plenty to color on this page including lots of stars, the rainbow and the cute unicorn.
My girls used bright colors to make the rainbow shine! Such fun!
You can grab the cute Unicorn with a Rainbow coloring page by hitting the black download button.
Fun Unicorn with Flowers Coloring Page Printable PDF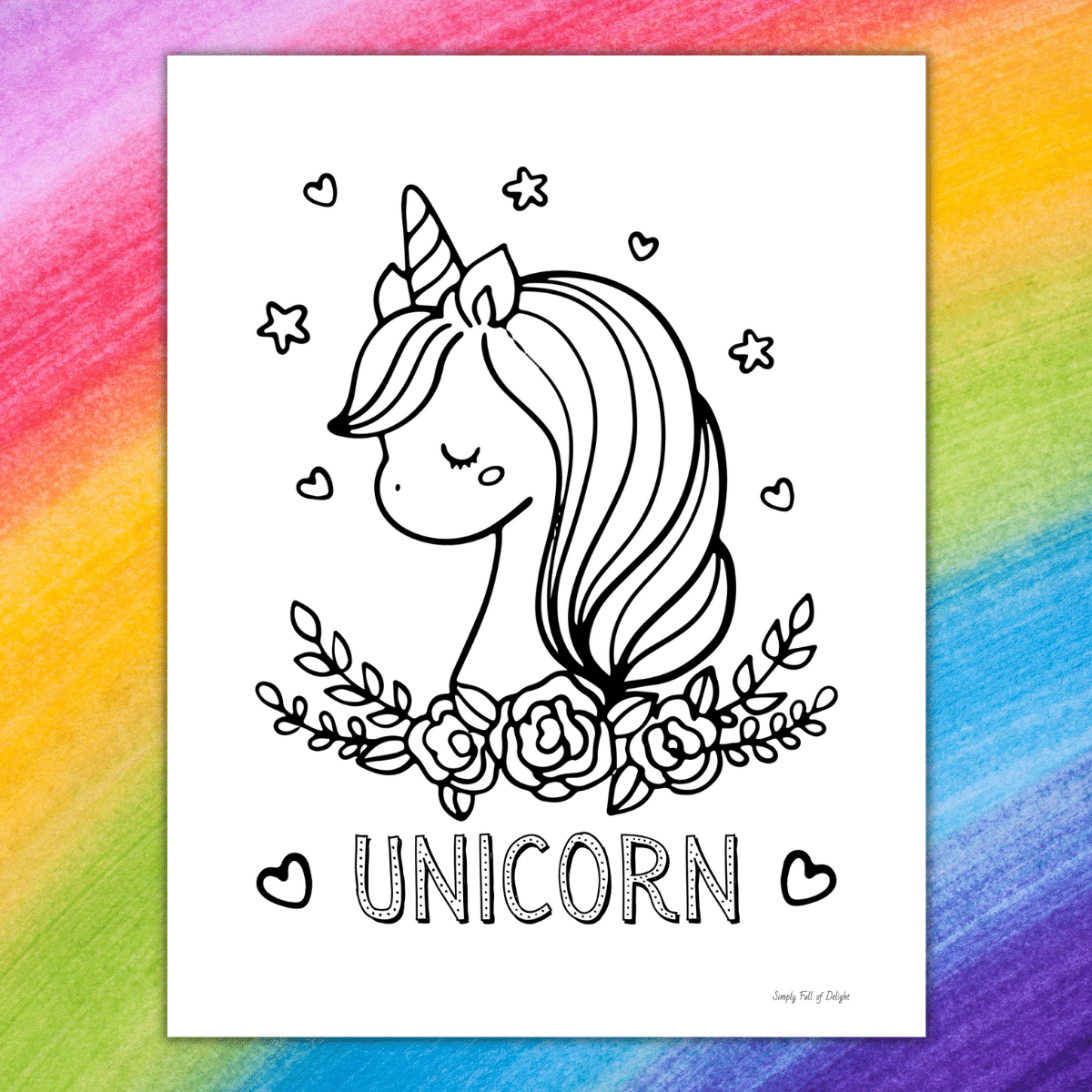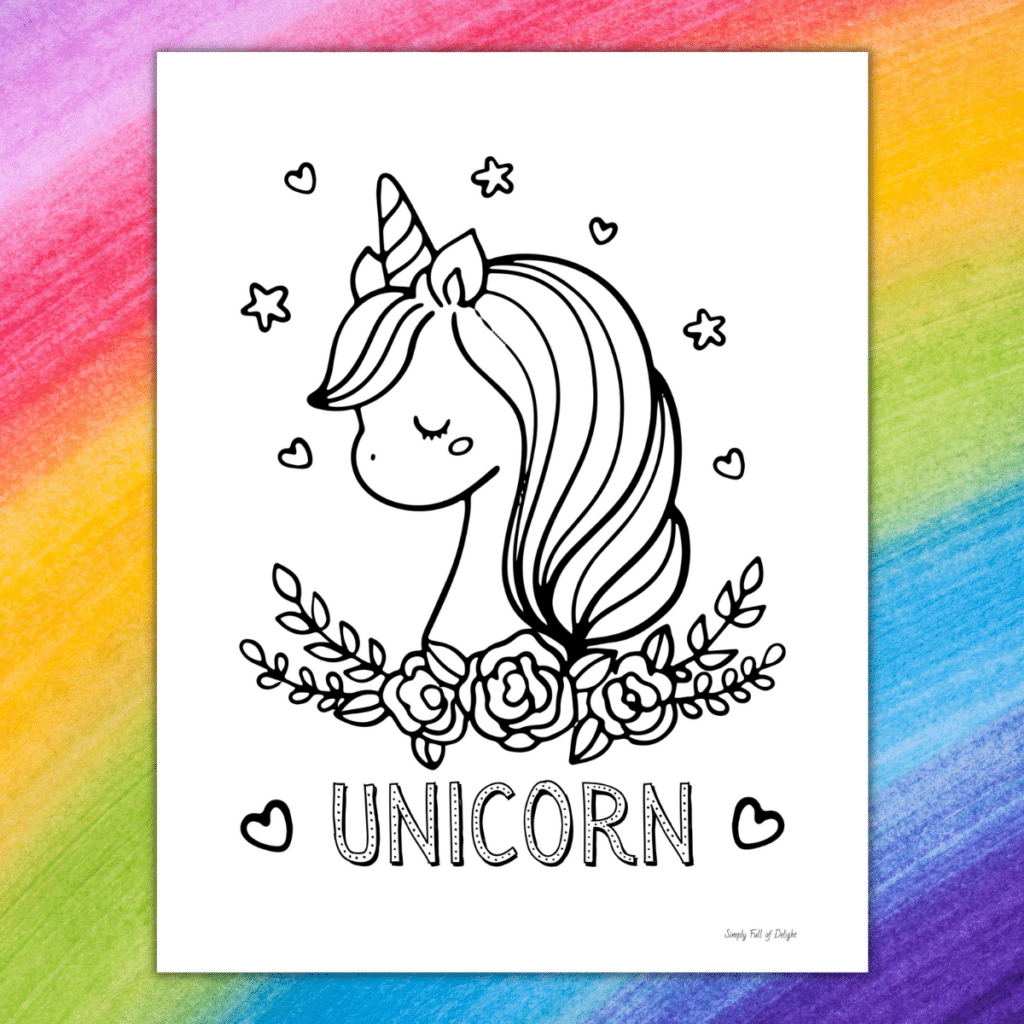 This last printable sheet features a unicorn with flowers.
This sweet beautiful unicorn is closing her eyes.
There's lots of fun things to color on this page including plenty of hearts, stars, flowers, and of course the large unicorn head.
There's also bubble letters that spell Unicorn to color as well.
My kids really enjoyed making a rainbow pattern on the unicorn's horn and using their favorite colors to decorate this cute unicorn picture! 
Ready to grab these unicorn pictures to print? Get the Fun Unicorn with Flowers PDF here:
I hope your child enjoys this collection of free unicorn coloring pages!
Want to save these free cute unicorn coloring pages for kids? Pin the image below to your Kid Crafts and Activities board on Pinterest!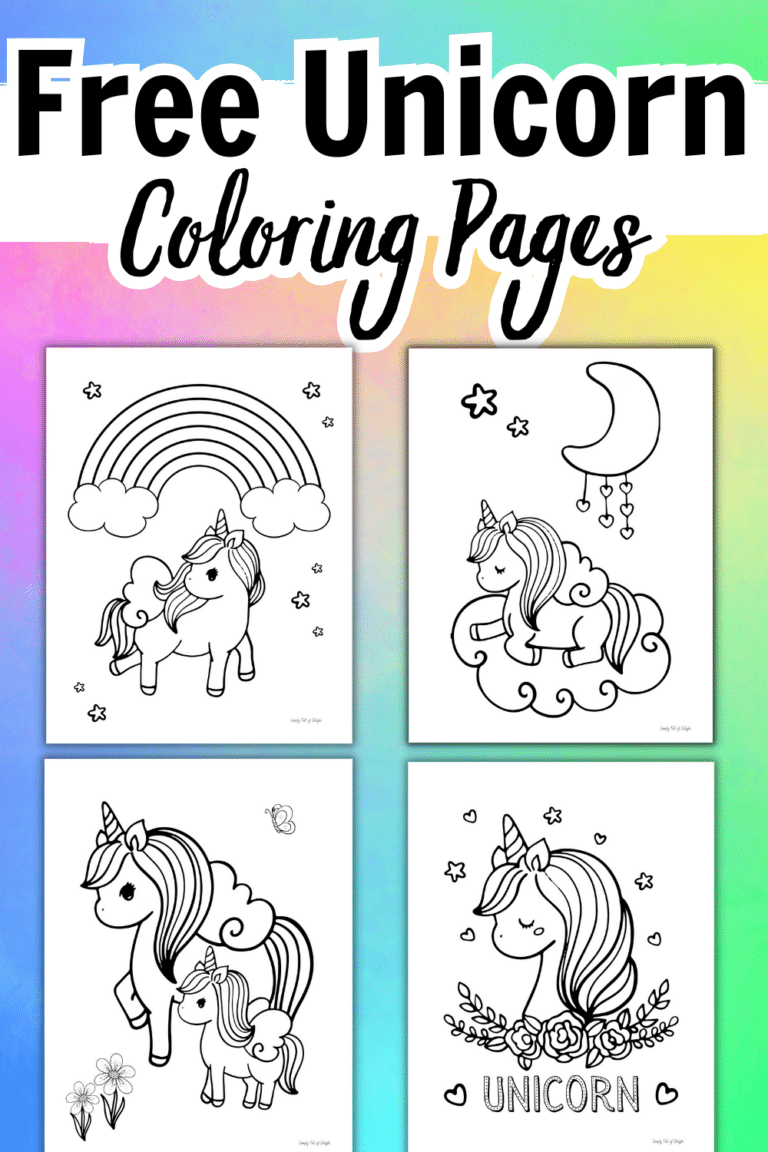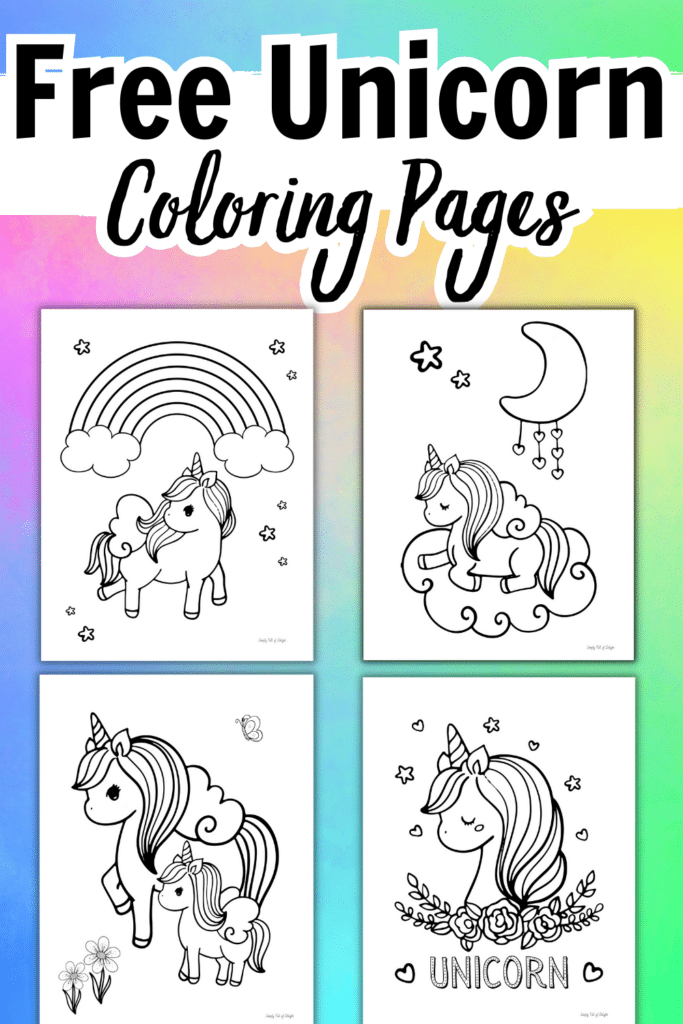 More Unicorn Activities for Kids
Looking for more Unicorn crafts and activities for your unicorn lovers?
There's a fun free Unicorn Paper Bag Puppet Printable here. Perfect for your mythical creatures fan! It's simple design is perfect for preschoolers.  Kids can color and cut out the pieces to make a magic unicorn puppet!  
Such a fun rainy day activity for younger kids.
Plus, you can find 18 amazing Unicorn Crafts for Kids here. You'll find everything from unicorn hats, unicorn paper plate crafts, easy printable paper crafts and more!
So many ideas for fun crafts to create the legendary unicorn!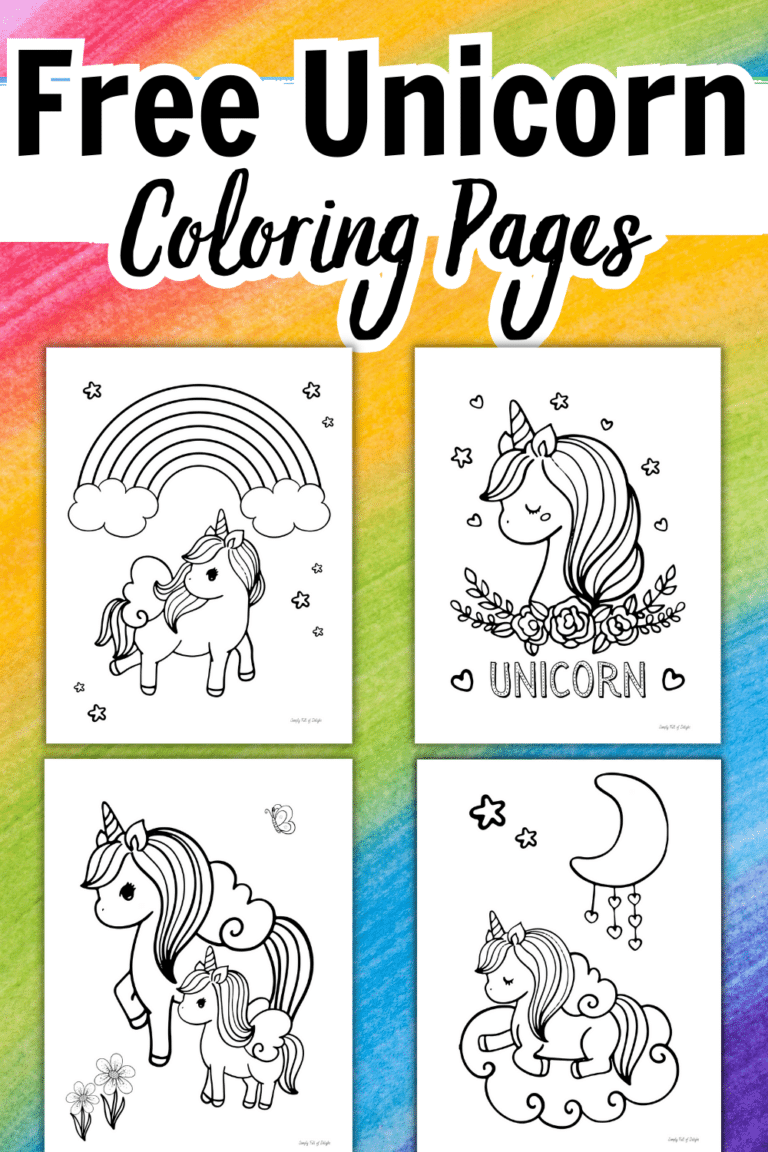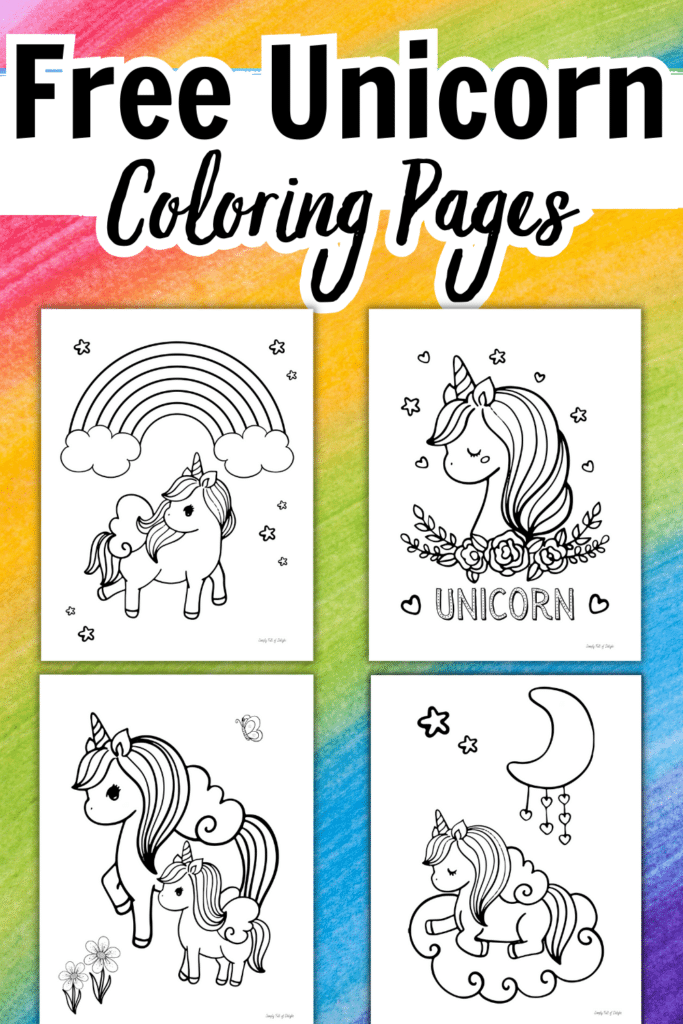 More Coloring Pages for Kids
Did you enjoy these free cute unicorn coloring pages?
I enjoyed creating them for you!
If you'd like to learn how to create your own coloring pages, check this out.
Looking for more Free Printable Coloring Pages for Kids?
There's also some free Dinosaur Coloring sheets here. You'll find 3 different dinosaur coloring sheets including a Stegosaurus, a Triceratops, and a Tyrannosaurus Rex.
Find some free Mermaid Coloring pages here. Perfect for a mermaid birthday party or just a fun activity.
Plus, you can find tons more free coloring pages here on my site. There's free coloring pages for every holiday! Check out all the fun Coloring sheets on Simply Full of Delight here.
In addition, you can find tons of fun coloring page sets in my Etsy shop. Easy to download and print again and again!
And finally, for all those true unicorn fans – you can get the full set of 10 Unicorn Coloring Pages here in my Etsy shop!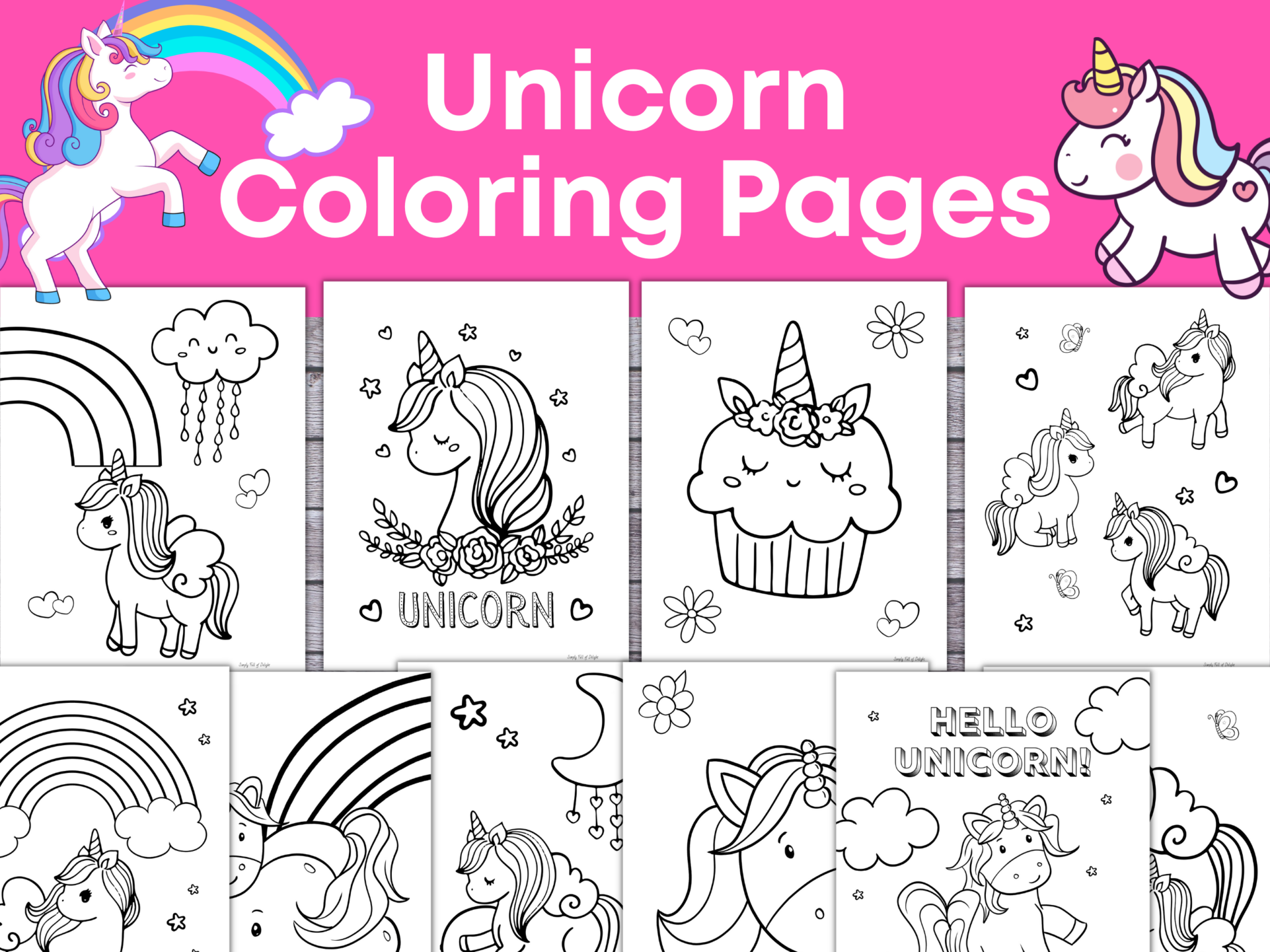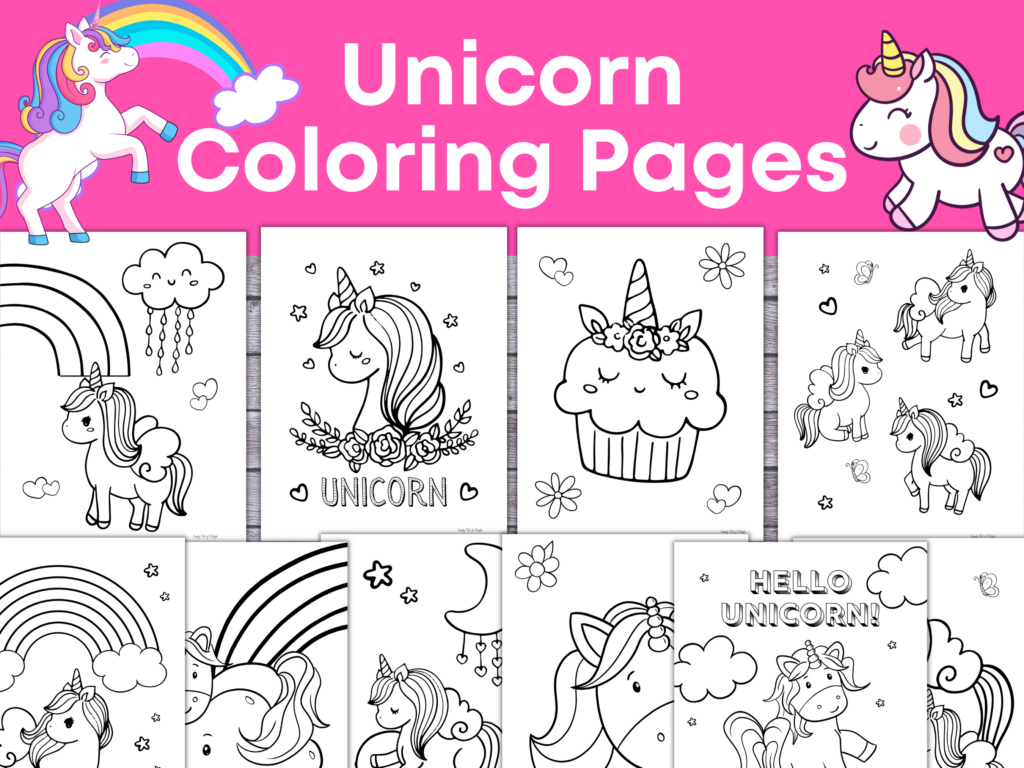 Find the Best Unicorn Coloring pages to make your own printable coloring book. And print your child's favorites again and again! 
There's unicorn friends, a unicorn cupcake, and more! My girls loved the unicorn rainbow coloring pages the best. Nothing beats coloring a rainbow with a unicorn!  
Get your unicorn pages today! And since you already have 4 of them, I'm offering 40% off your unicorn pictures to color with coupon code:  UNICORN