Go from total Newbie to worksheet creating Whiz!
Get the motivation and help you've always needed to jumpstart your journey into printables!
Have you…
– Always wanted to make your own worksheets, but you get overwhelmed and don't know where to start?
– You would love to learn the skills needed to create printables that will sell, but you worry you don't have the skill set?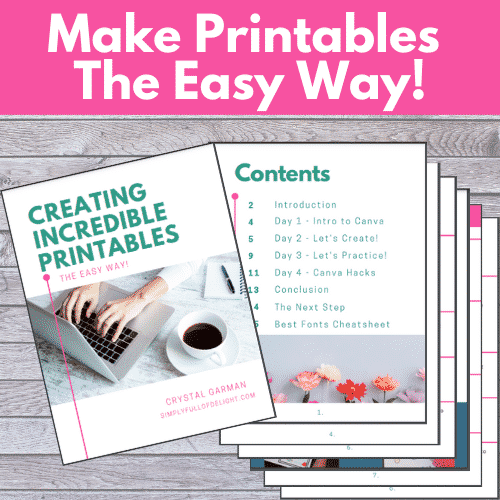 This is a combination of e-book with links to short video tutorials.
Learn everything you need to know to create amazing worksheets or fun learning activities for your kids (without any of the overwhelm!)
(This is an instant download, no items will be mailed to you)
The content is broken down into 4 days (which you can do at your own pace).
Each day you'll have a super short reading, 10 minutes (or less) of video tutorial to watch, and then some homework = practicing what you've learned that day.
(No worries though, this teacher doesn't check your homework! LOL)
Each day should take you about 20-30 minutes to complete.
Which means over the course of 4 days (and only about a measly 2 hours of your time TOTAL) you will learn everything you need to know to create your own worksheets and printables!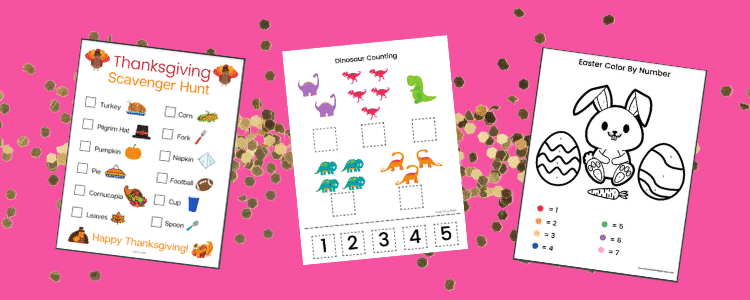 Here's what you'll learn:
Day 1 – Canva Basics – No need to be a graphic designer – this super simple (and FREE!) design tool will cut your overwhelm to 0%.
Day 2 – Learn how to create both a simple math worksheet and a scavenger hunt. We will create each of these in 5 minutes or less!
Day 3 – Practice your skills by creating a color by number page. Learn how to save your printables correctly to avoid blurry lines and then we'll organize them with Zip Files.
Day 4 – Canva Hacks – Learn my favorite hacks and shortcut keys to save time. Also learn how I create templates of my past worksheets to create new ones super quick!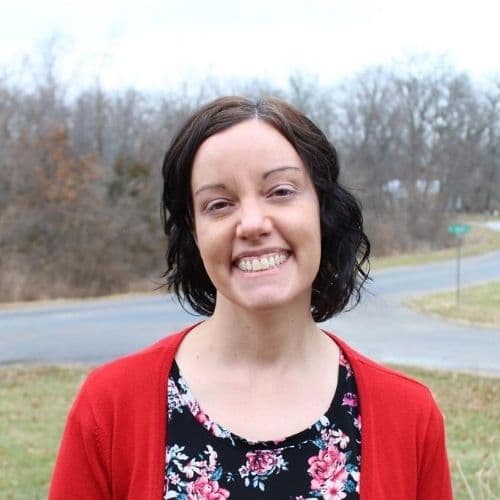 Who is your Teacher?
Hi! I'm Crystal, a mom of 4. I'm a former preschool and kindergarten teacher that's been creating digital printables and selling them on Etsy as well.
I'm not a graphic designer, and I'm here to prove that you don't have to be either!
Why should you learn from me?
I'm quick and to the point. You have entered the no fluff zone. There's nothing worse than videos that drag on and on, so I strive to be as efficient as possible with your time.
In addition, I've been successfully selling printables on Etsy since the fall of 2020, so I share the little things upfront that will save you from headaches later, if you decide to sell your printables.
Testimonials
"If you've never created printables in Canva, this guide will make the learning process way easier! It's full of actionable tips and step-by-step videos that show you how to create beautiful printables easily and quickly—even if you're not a graphic designer. Whether you're planning on creating printables for your classroom or you'd like to start selling them on Etsy, this guide is a great place to start!" – Sacha Hashim
"Crystal's guide on how to make printables is a perfect way to get started in Canva. If you've been wanting to learn how to make coloring pages or other printables but aren't sure where to start then this is a great guide for you!" – Audrey Wood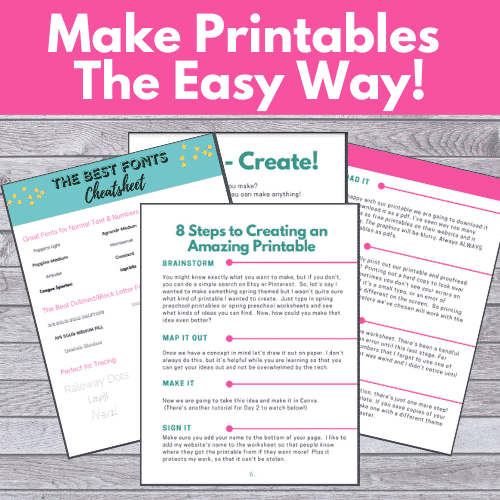 You will get:
– 8 short video tutorials filled with everything you need to know (and no fluff – nobody's got time for that!)
– A short e-book filled with dos and don'ts, and detailed guidance on how to make a professional worksheet/learning activity (Concentrate on the word short – I don't want this ebook to collect digital dust – I want you to get results!)
– A copy of the best fonts for worksheets/tracing pages/coloring pages
– Contact with the course creator – You'll get my email address, so that if you have any questions at all or would like help, you can contact me directly! I'm a teacher at heart and I am happy to help!
– A 30 Day Money Back Guarantee – If for some reason you are unhappy with this course, I will give you a full refund!
Click the orange button below to buy now!