Looking for a fun preschool ocean craft? This free printable Jellyfish paper craft is perfect for kids!
Kids of all ages will enjoy coloring the Jellyfish template and adding colorful yarn for the tentacles. What a fun way to introduce kids to these amazing sea creatures!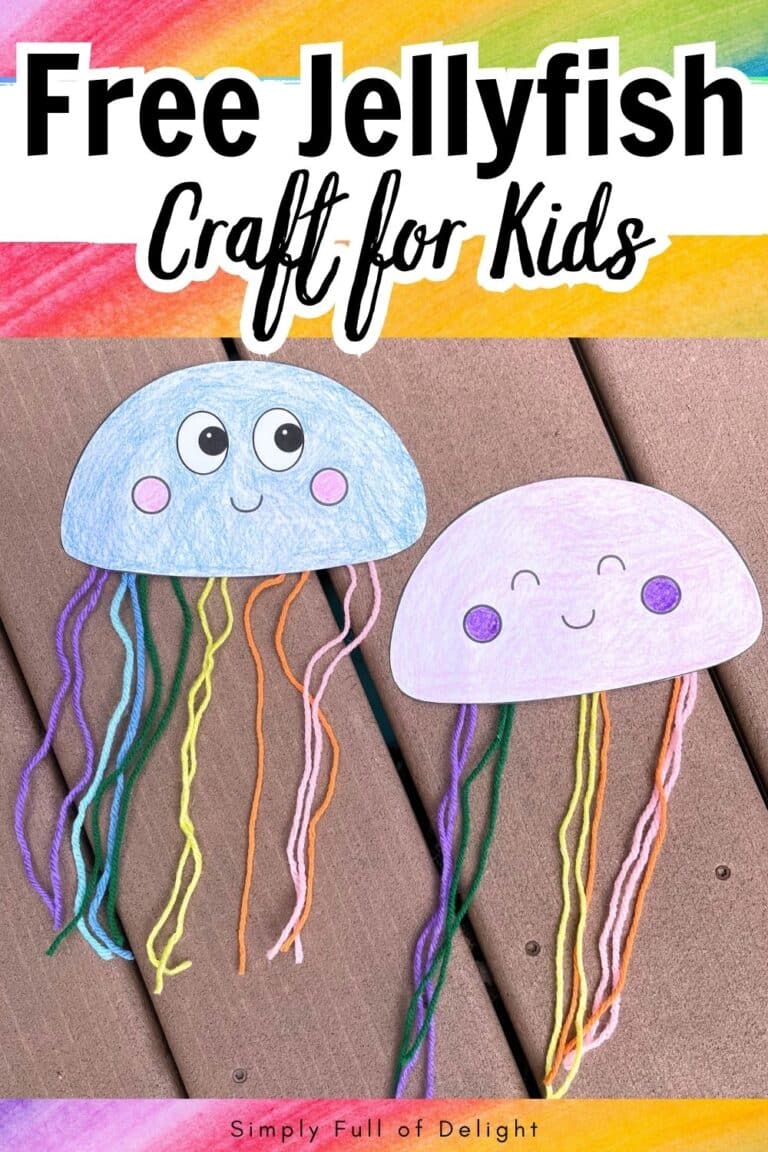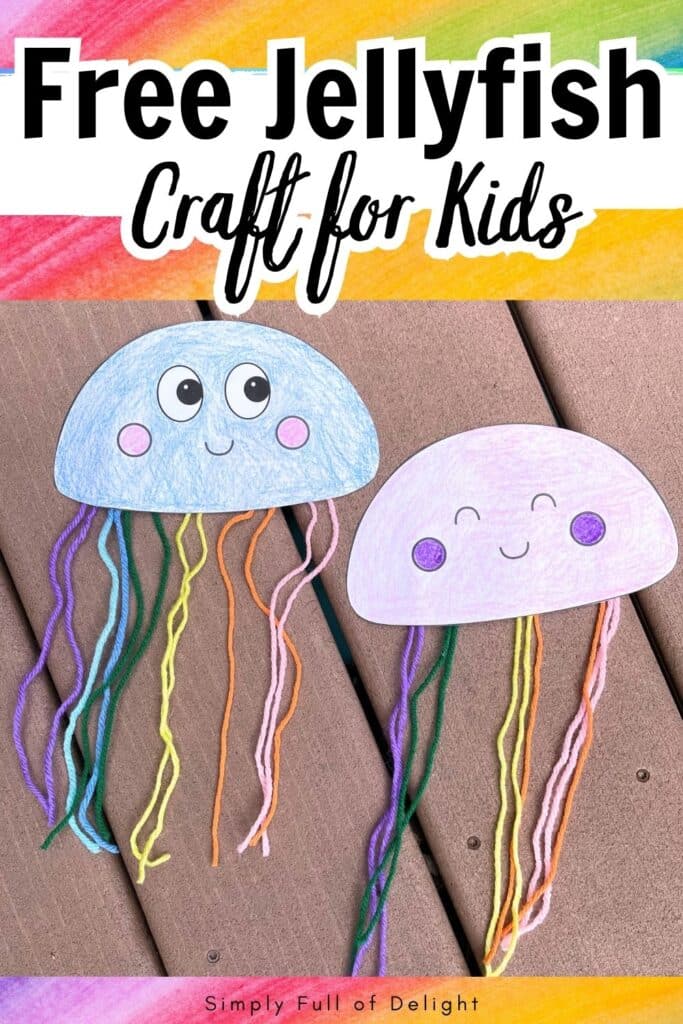 With summer on the way, we have been talking about ocean animals. So far, we've talked about the octopus and enjoyed some fun ocean sensory play.
Today, we are going to make some fun paper Jellyfish!
Jellyfish Facts
But first, here's some fun facts about Jellyfish from Bristol Aquarium.
– Some Jellyfish can glow in the dark. They have bioluminescent organs that let off a blue or green light!
– Jellyfish don't have brains, blood, bones, or a heart! They do have a nervous system that helps them navigate in the water based on chemicals, light, and vibrations.
– The largest jellyfish ever seen had a bell with a diameter of 7 feet 6 inches. It's tentacles were 121.4 feet long.
That's amazing!
Alright! Let's get started on our jellyfish craft!
Supplies for Easy Jellyfish Craft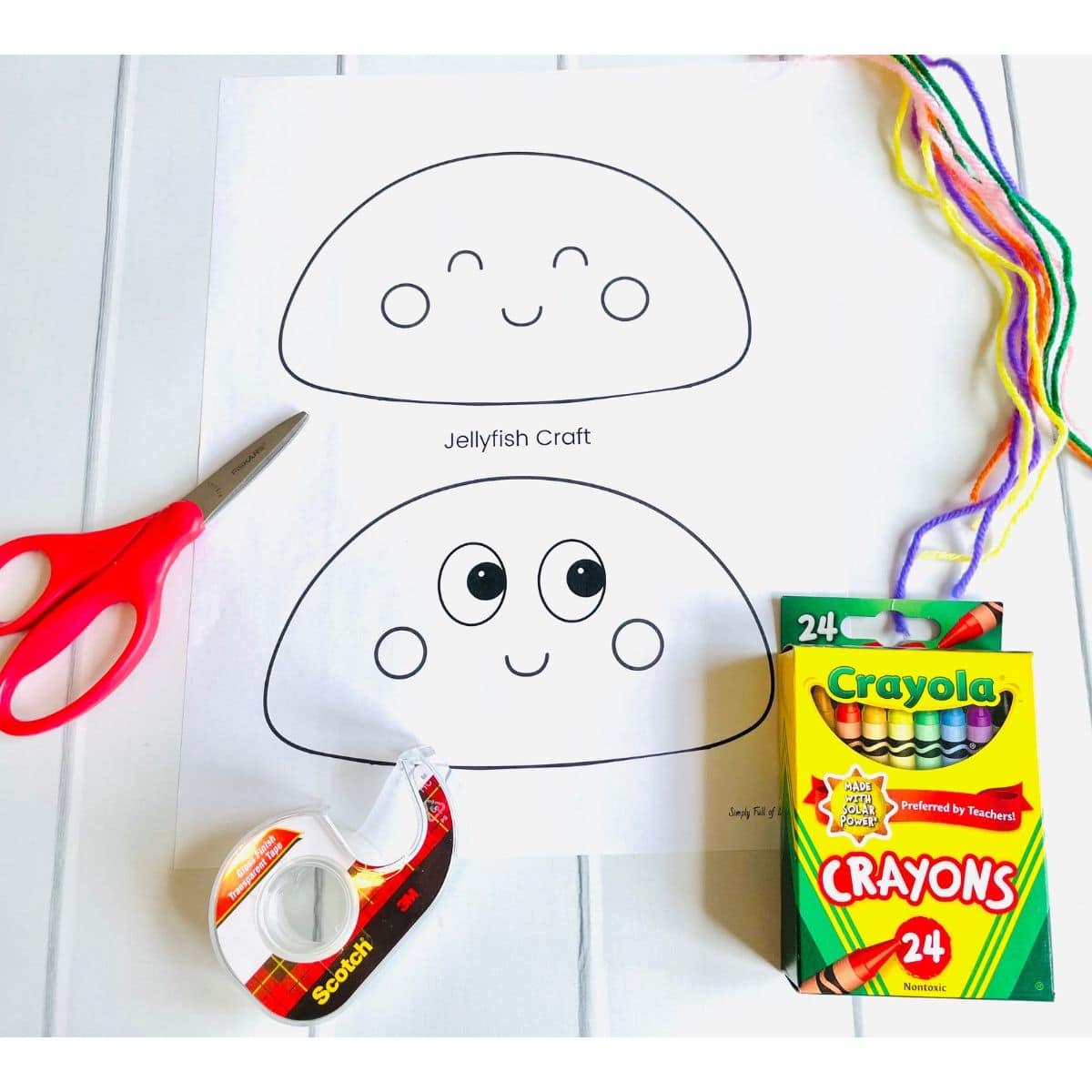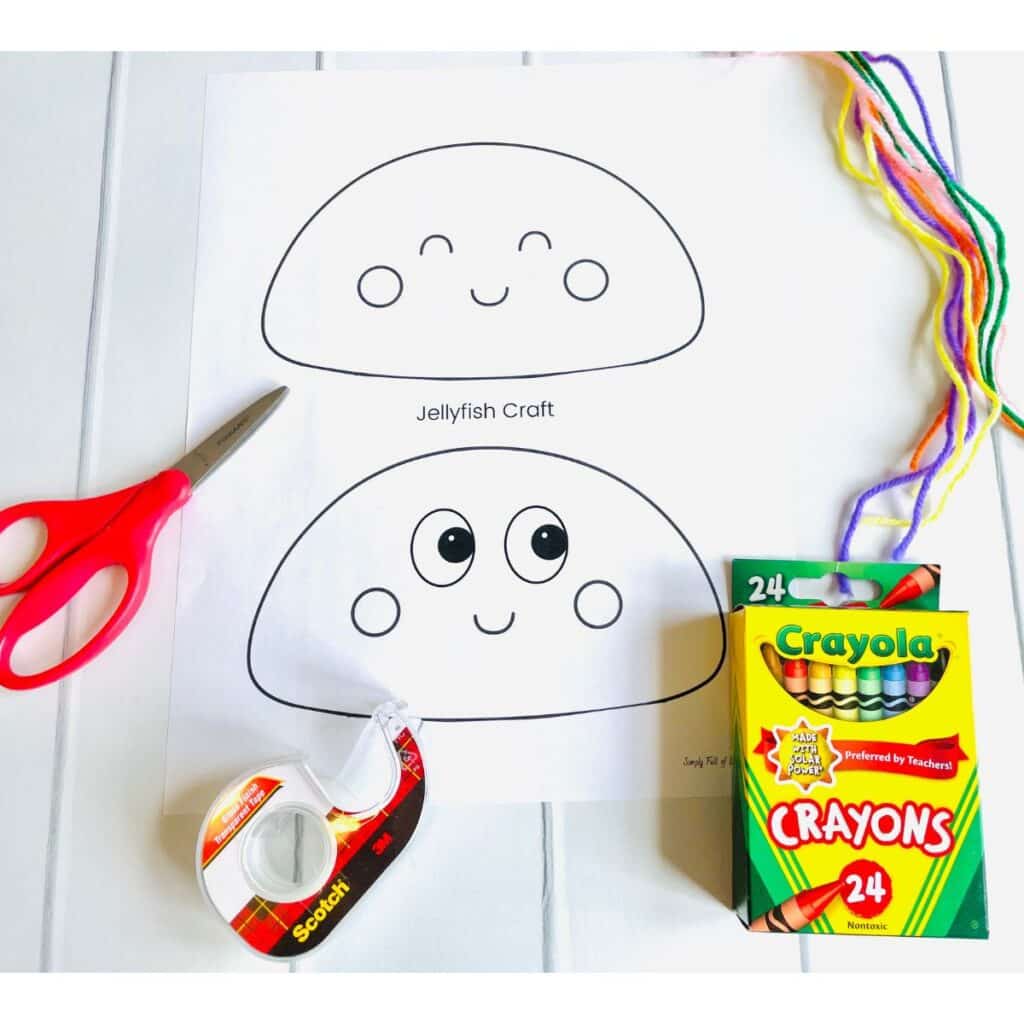 ** Disclaimer: As an Etsy associate and as an Amazon.com Associate, I may earn from qualifying purchases made by readers clicking my affiliate links at no extra cost to you.
For this cute jellyfish craft you will need the following items:
– Free Jellyfish template (found at the bottom of the article)
– Crayons in a variety of different colors
– Child safe scissors – we like the ones by Fiskar
– Tape
– Yarn (an assortment of bright colors)
Alright, let's get started on this easy preschool jellyfish craft!
How to make a Printable Jellyfish Craft
First, grab the free printable template at the bottom of this article.
Print it out on white copy paper.
If you'd like it to be more sturdy for hanging it or playing with it, you might like to print it on cardstock.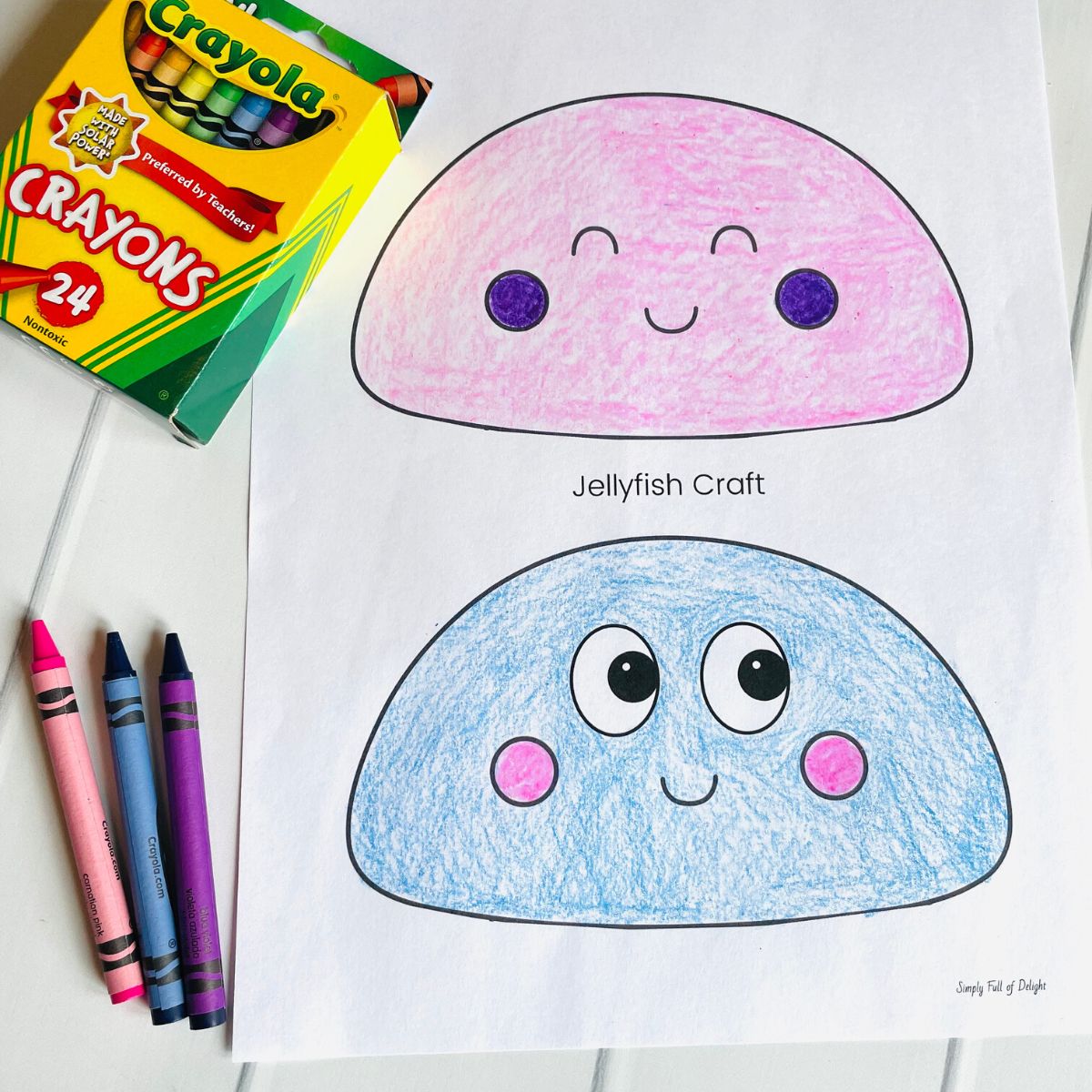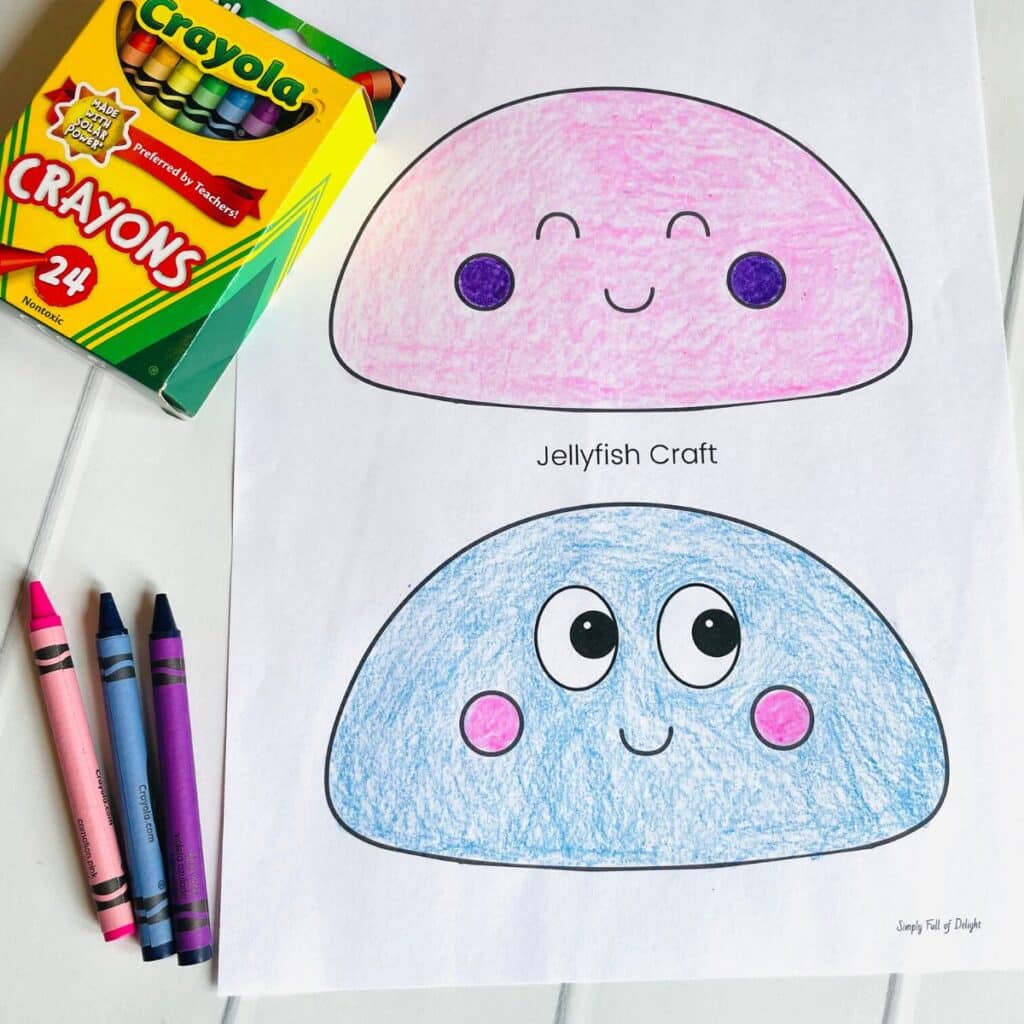 Provide your child with crayons. Have them color one (or both of the jellyfish).
There's one with its eyes open and the other with its eyes closed.
Next have your child cut out their own jellyfish. This is a great way to practice those fine motor skills.
My 4 year old uses these pointed tip scissors by Fiskar, but you might like to have blunt tip scissors if your child is younger.
Once the jellyfish bodies have been colored and cut out, it's time to add the yarn.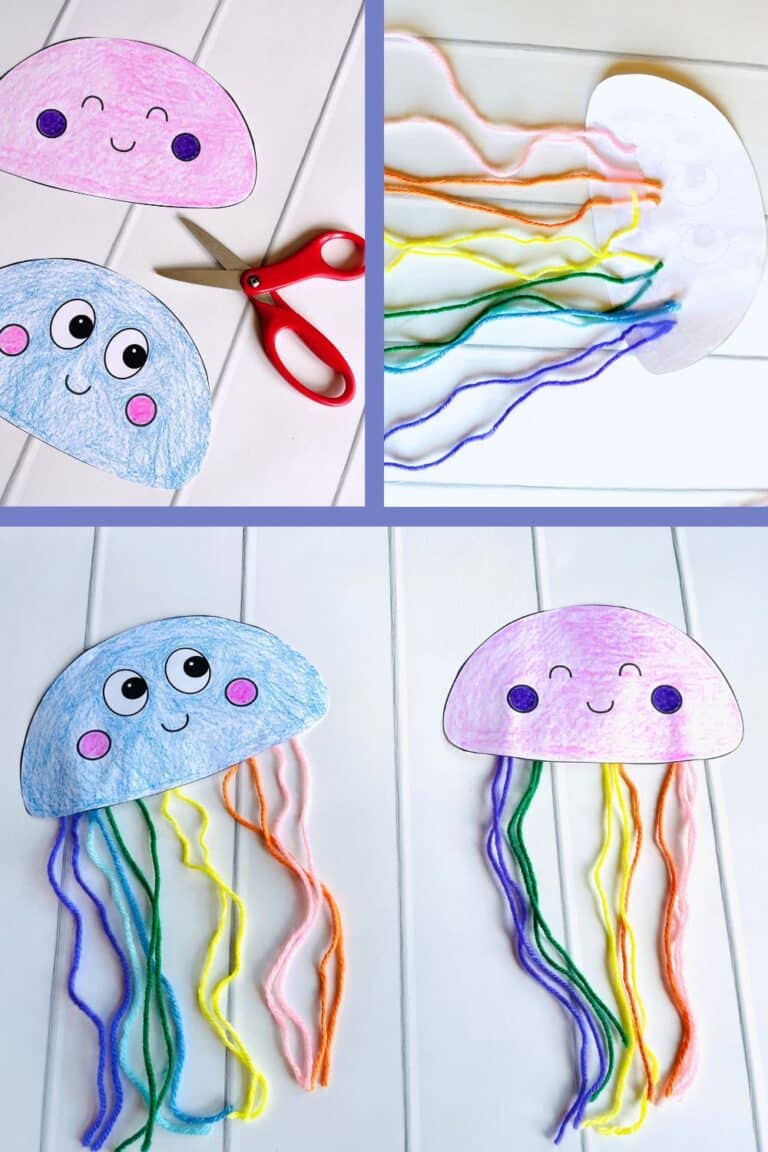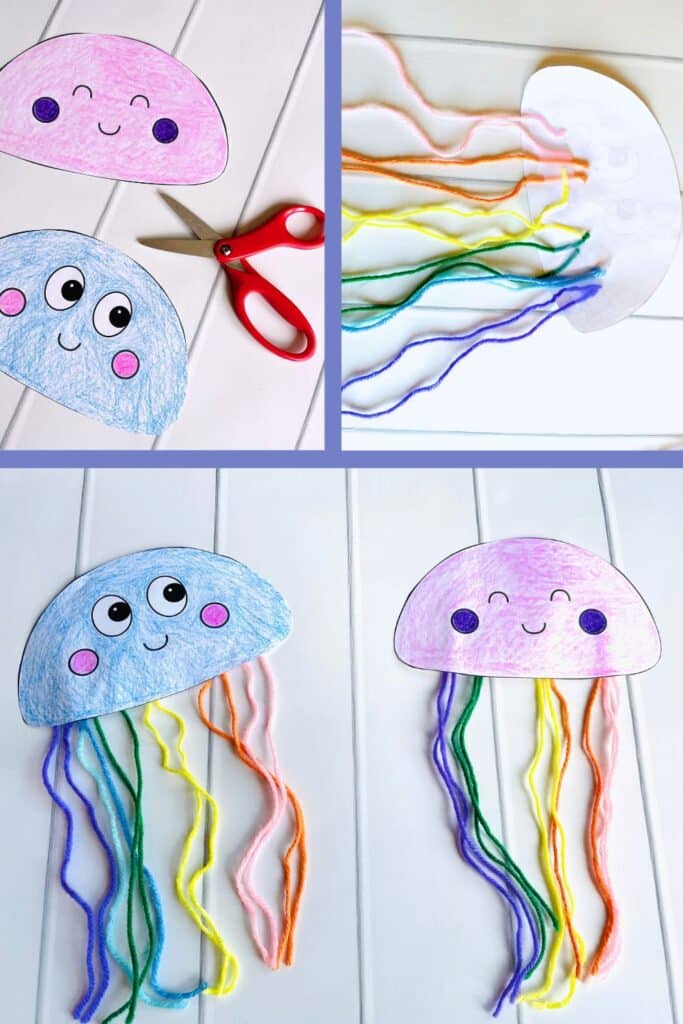 We cut 8 inch pieces of yarn in an assortment of rainbow colors.
I didn't have red yarn, so we did pink, orange, yellow, green, blue and purple.
After we put it in the order we wanted, we taped it to the back of the jellyfish.
We put 10 pieces on one of the jellyfish and 12 pieces on the other….in kind of a rainbow pattern – just for fun!
​And…it's finished! Such an easy jelly fish craft for little kids!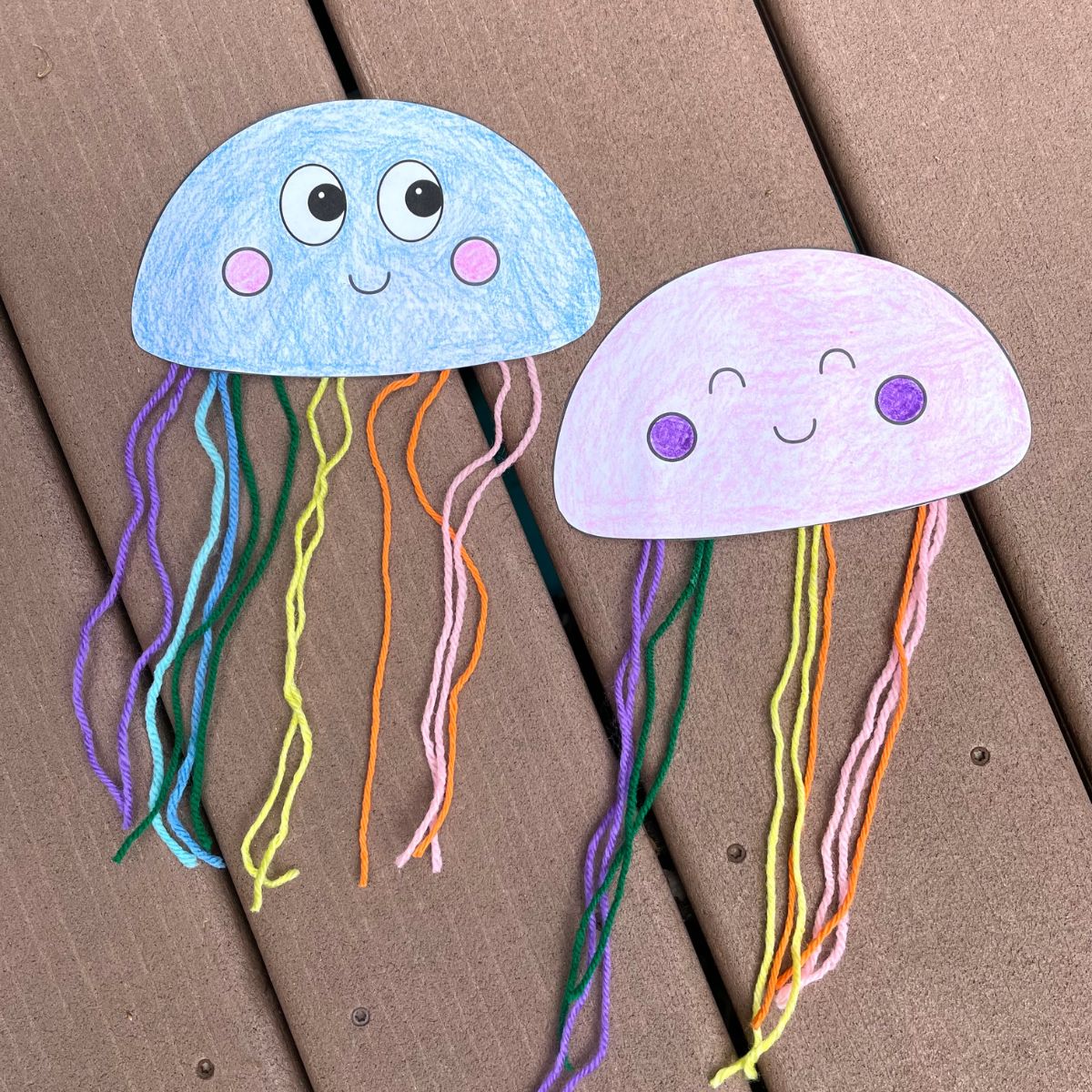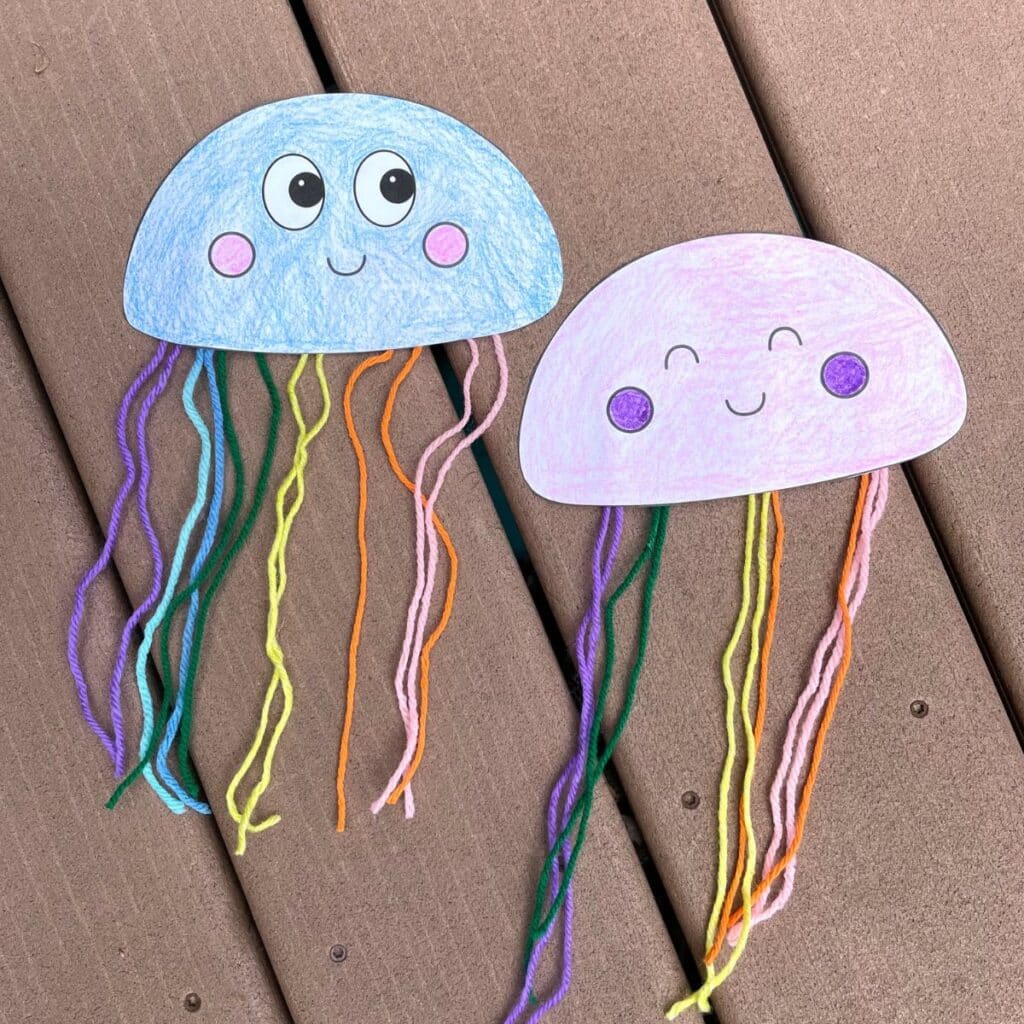 ​Other Jellyfish Craft Options
​There's lots of different ways to use this free printable jellyfish template.
You could:
– Create Jellyfish windsocks by taping 2 jellyfish bodies together. Watch them float around the classroom as they hang from the ceiling.
– Glue the Jellyfish body to a paper bag to make a jellyfish puppet. Add yarn, strips of paper, or ribbon for the tentacles.
– Mix things up by adding bits of crepe paper or curling ribbon for the jellyfish's tentacles.
– Use the template as as jellyfish coloring page. Have the kids cut out the jellyfish bodies, glue onto construction paper and add their own tentacles to the picture! Kid could even add their own details like coral, sea weeds or different sea creatures!
What fun!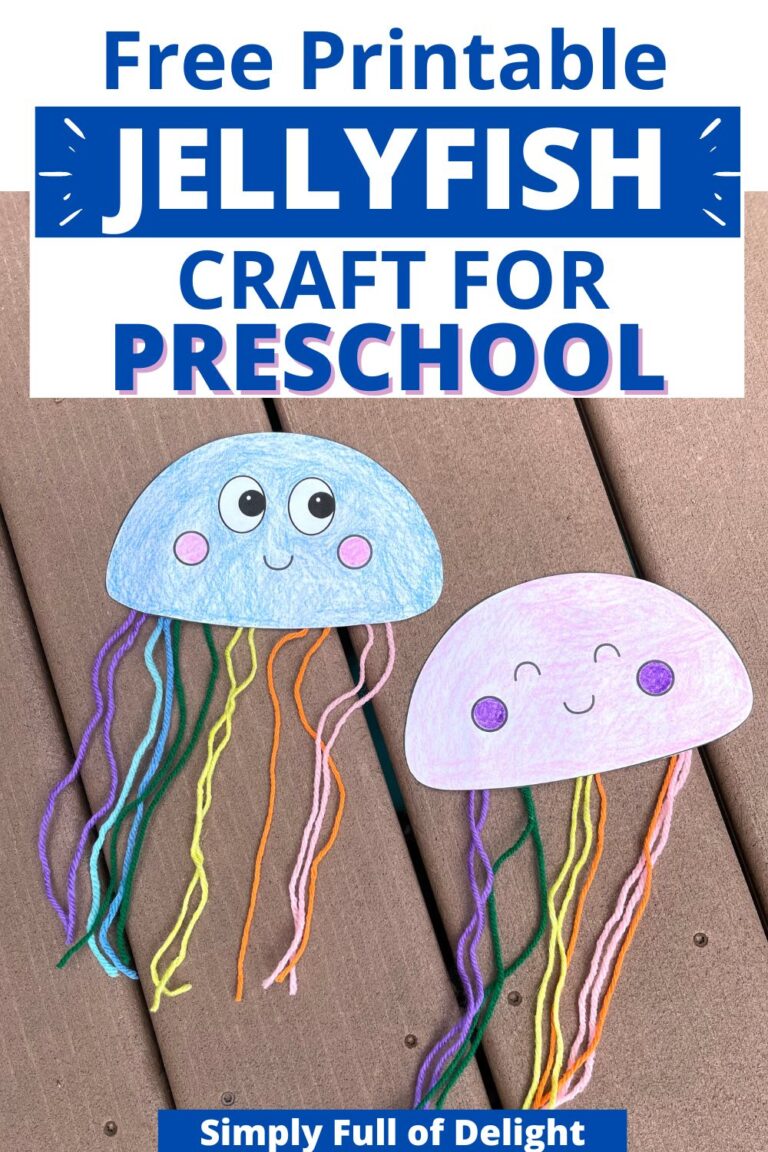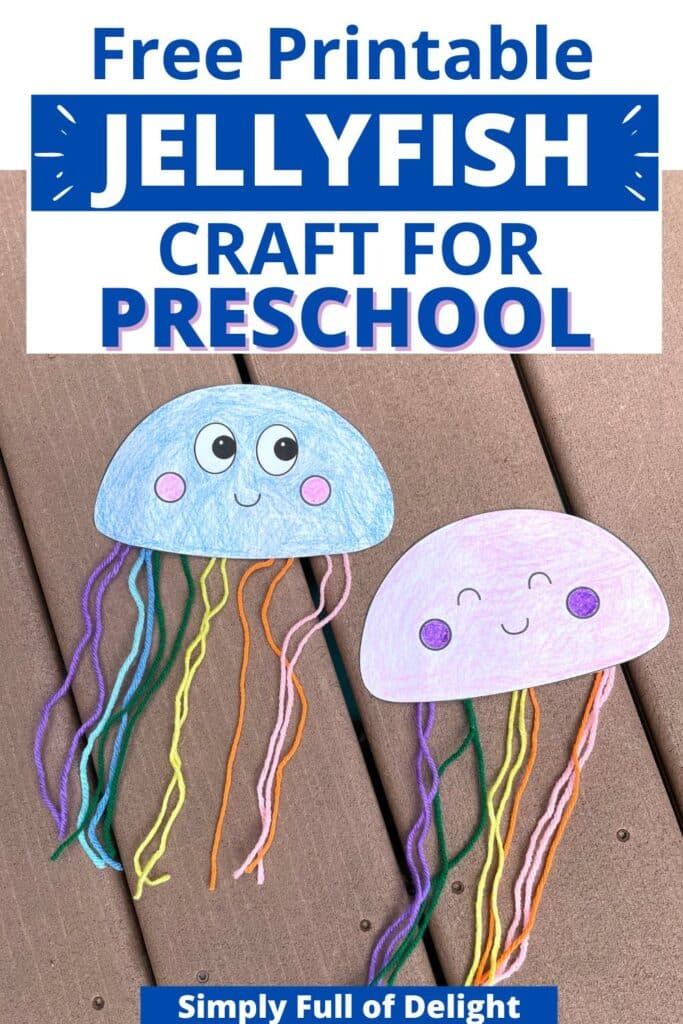 ​More Ocean Crafts and Activities
​Planning an ocean theme for preschool or kindergarten? Here's some more fun ideas to go with these jellyfish!
Grab free templates to make a 3-D Octopus Craft here. Perfect for preschoolers, this octopus craft doubles as a cutting skills page! Super simple and totally adorable!
You can find a fun ocean themed sensory bin here. Kids can scoop, pour, and pretend they are at the ocean with this fun sensory play idea.
There's some free Mermaid Coloring pages here. Let their imaginations grow with these fun coloring pages featuring these mystical creatures of the underwater world.
You can also find a fun beach themed color by number worksheet here.  Perfect for preschoolers, this simple coloring sheet is perfect for working on number recognition and fine motor skills.
There's tons of fun Ocean Crafts for Kids here. You'll find every sea creature imaginable including sea turtles, tropical fish, sharks, jellyfish, and more!
Looking for a fun ocean themed game? You can print a free Ocean themed Bingo Game here. There's both a beach theme and an ocean theme! What fun!
And don't forget….one of the best ways to teach little ones about the ocean is to visit an aquarium or the beach. So many things to see, touch and experience!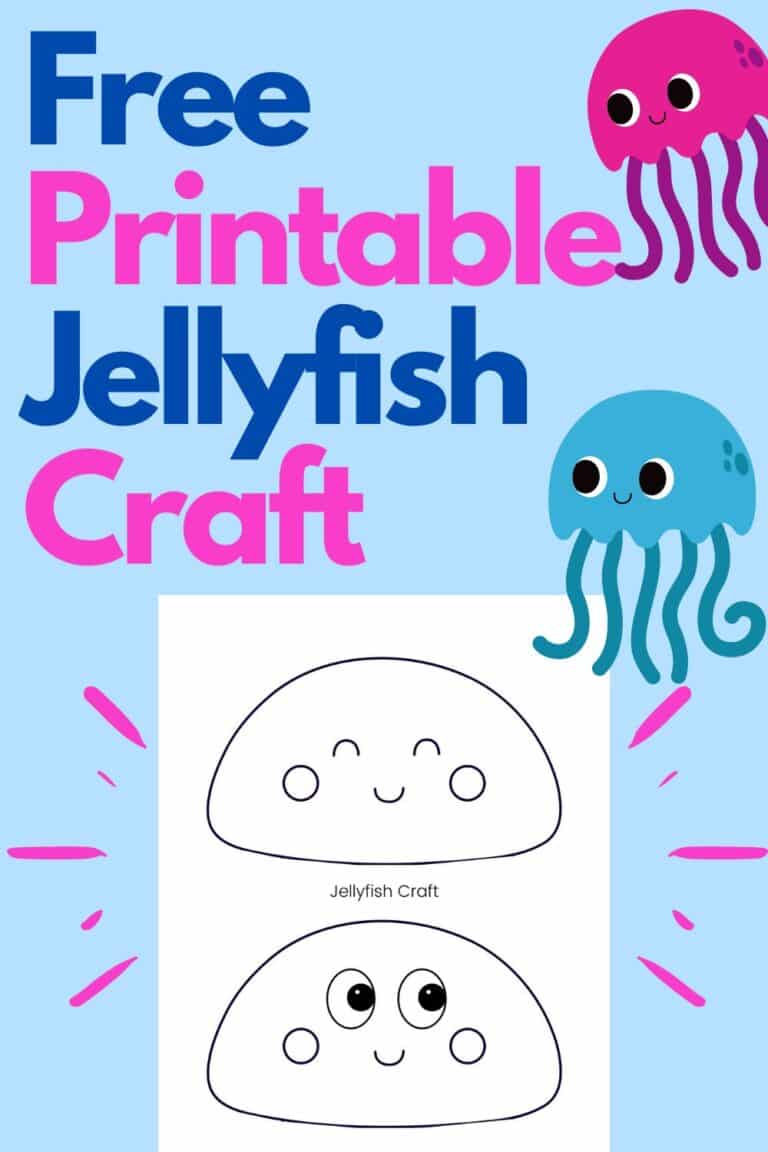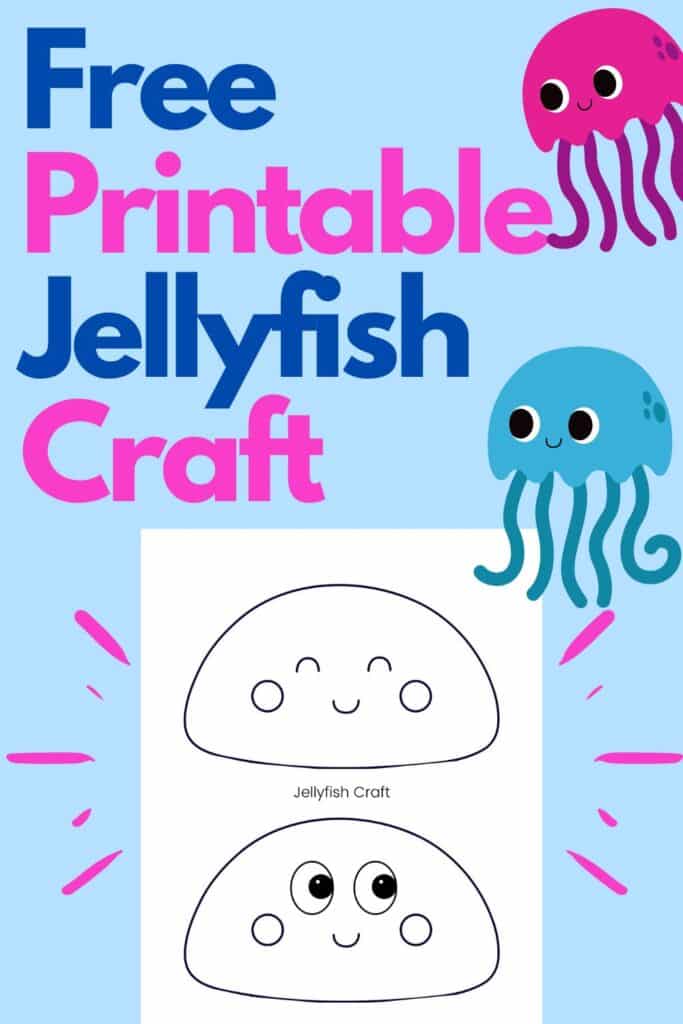 ​Free Jellyfish Craft Template
Ready to make some jellyfish friends?
You can grab the free printable jellyfish craft templates by clicking the black download button below.
Print your free printables here:
Want to save this free jellyfish craft idea for later?
Pin the image below to your Ocean Preschool Crafts and Activities board on Pinterest!