If I had to pick a favorite side dish, this would be it. Better than french fries, better than mashed or baked potatoes, these twice baked potatoes steal the show every time we serve them!
I love the convenience of this recipe as I can prepare it the day before an event and then just pop them in the refrigerator until I'm ready to bake them!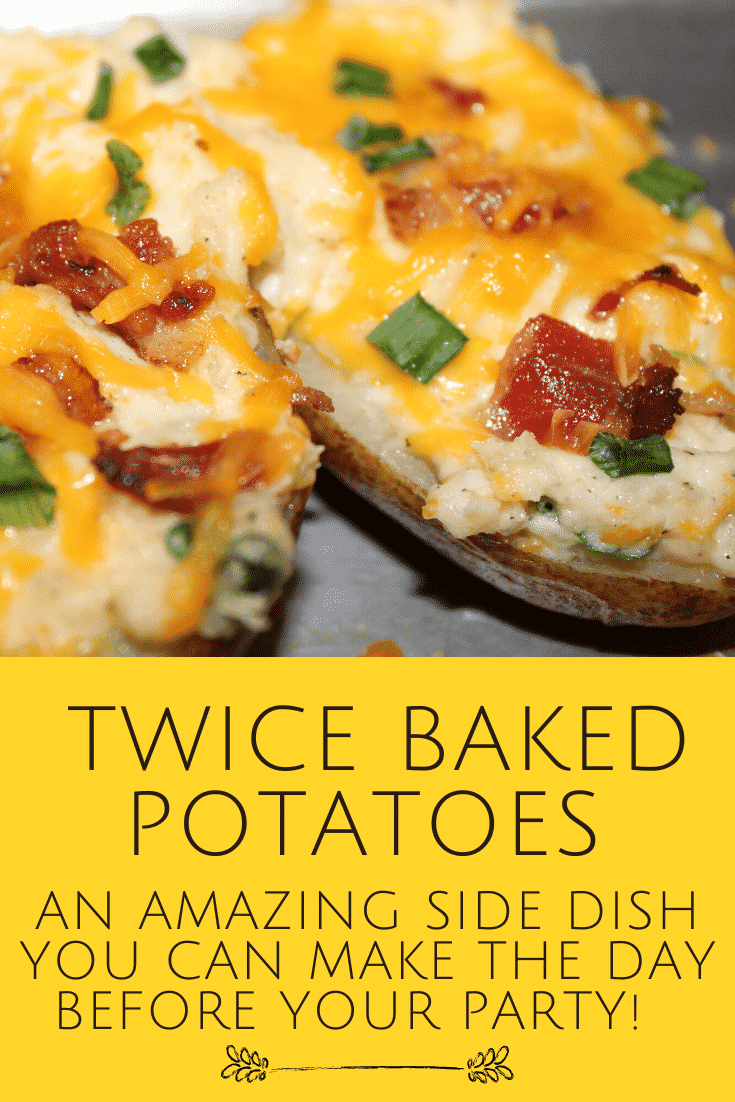 These twice baked potatoes can also be frozen, which is so handy! We love to have a batch or two in the freezer for a delicious quick side dish! I even gave my mom a batch of these for Mother's Day last year.
No joke.
And she loved it!
So, this past weekend, I had this recipe in mind for a birthday celebration for one of our kids. My foster daughter is turning 4 this month and my nephew is going to be 6! We combined their birthdays into one big bash.
My husband smoked brisket and ribs, we made green beans with bacon, twice baked potatoes, and my sister made amazing desserts!
When my husband heard I was going to make these, he said he would help me out because he wanted to make a few extras to put in our freezer and a few to give to a friend he wanted to encourage at work.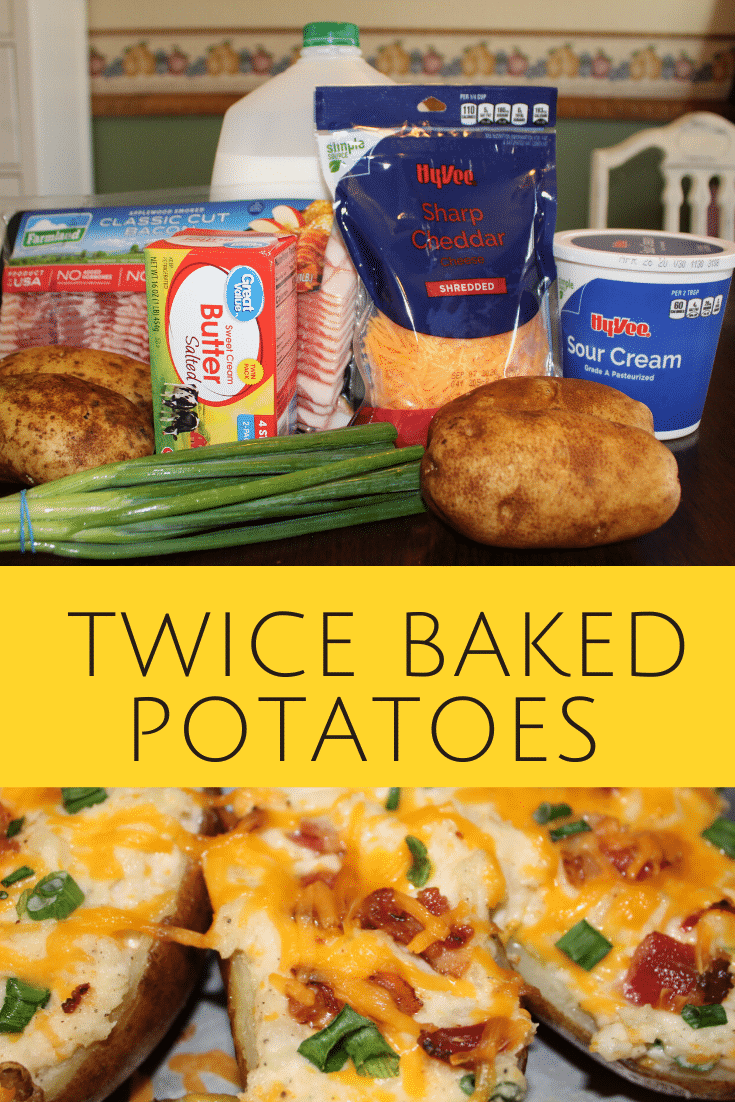 I always welcome help in the kitchen so I agreed!
Typically, when I make these potatoes, I make a large batch. You know, the motherload of twice baked potatoes.
Well, I found out this weekend that the only thing bigger than the motherload is…..the fatherload.
So…..don't be overwhelmed by the pictures. We made the fatherload of twice baked potatoes. You really only need a half potato per person and a few extras for those who want seconds!
To Make A Normal Size Batch of Twice Baked Potatoes You Need:
4 Large Baking Potatoes
Olive Oil
Sea Salt grinder
4-6 slices of Bacon
1/2 stick of butter
1/2 cup of milk (I used 1%, but any kind will do!)
1 cup of regular sour cream
1 cup of Sharp Cheddar shredded cheese
1/2 teaspoon of salt
1/2 teaspoon of pepper
Green onions (chopped)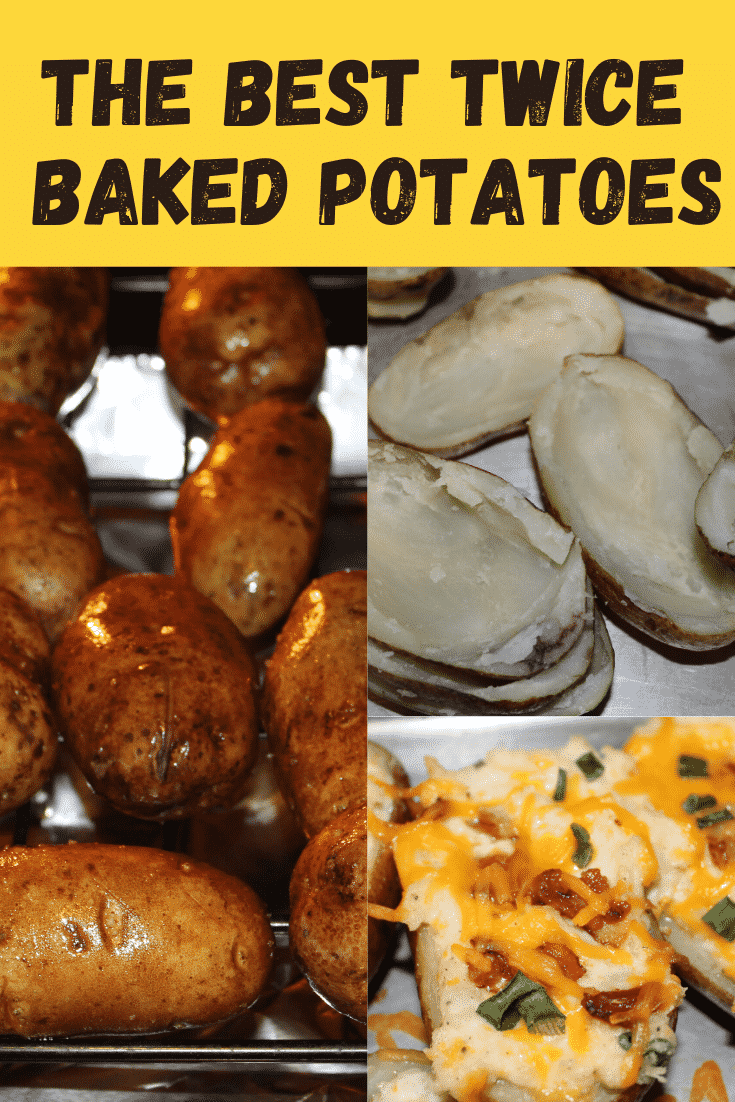 Instructions:
Preheat oven to 350 degrees. Wash your potatoes, poke 3 holes on each side with a sharp knife. Using a pastry brush, baste your potatoes with olive oil and sprinkle with sea salt on both sides. Place the potatoes directly on the oven rack. I like to put foil or a baking sheet on the rack below to catch any olive oil drips. Bake for about 1 hour or until tender.
Prepare the bacon. We like to slice the bacon into small pieces before we cook it to allow it to cook evenly. Fry until crisp.
Remove potatoes from the oven and let them cool slightly. When they are still warm, but cool enough to handle, slice each potato in half lengthwise. Scoop the flesh from each potato half and add it to a bowl. Place the potato skins on a baking sheet.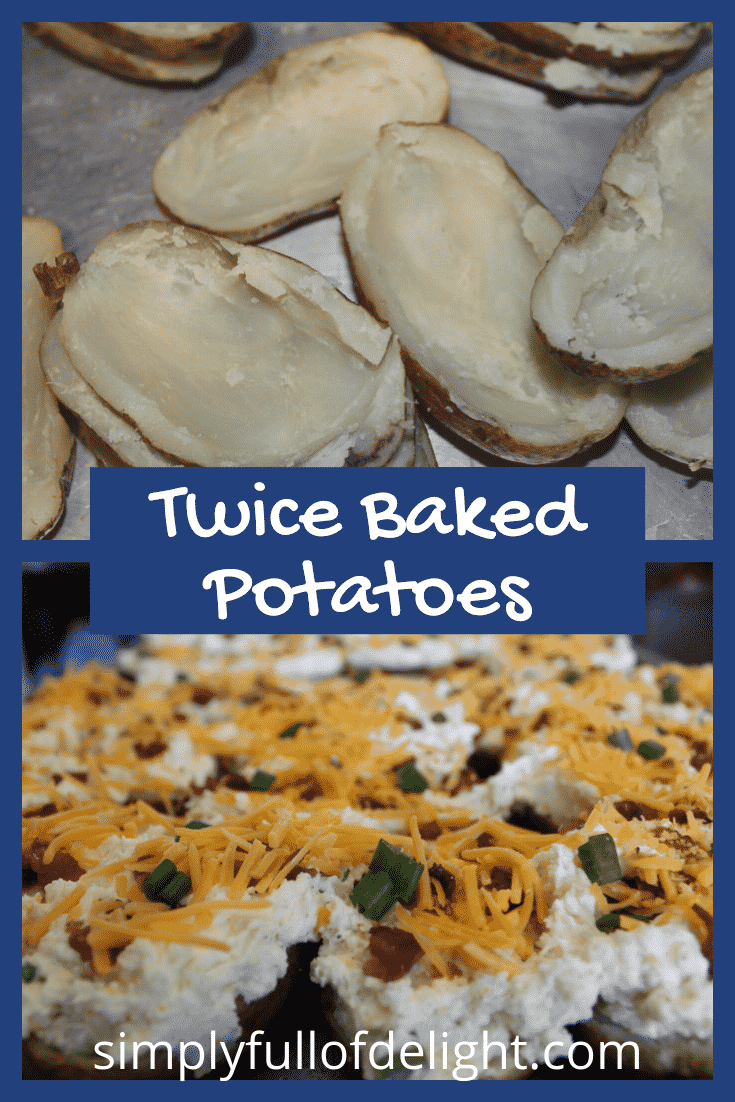 Add butter to the bowl of potato flesh. (If the potato isn't hot enough to melt the butter, consider microwaving the butter for a few seconds.)
Next add the sour cream, milk, just half of the cheddar cheese, half of the green onions, salt, and pepper to the potato flesh mixture. I like to use my stand mixer for this, but you can use a hand mixer or mash it by hand.
Spoon the potato mixture generously into the potato skins. Top with bacon, the remaining shredded cheddar cheese and green onions.
Bake at 350 degrees until heated through and the cheese is melted (about 15-20 minutes).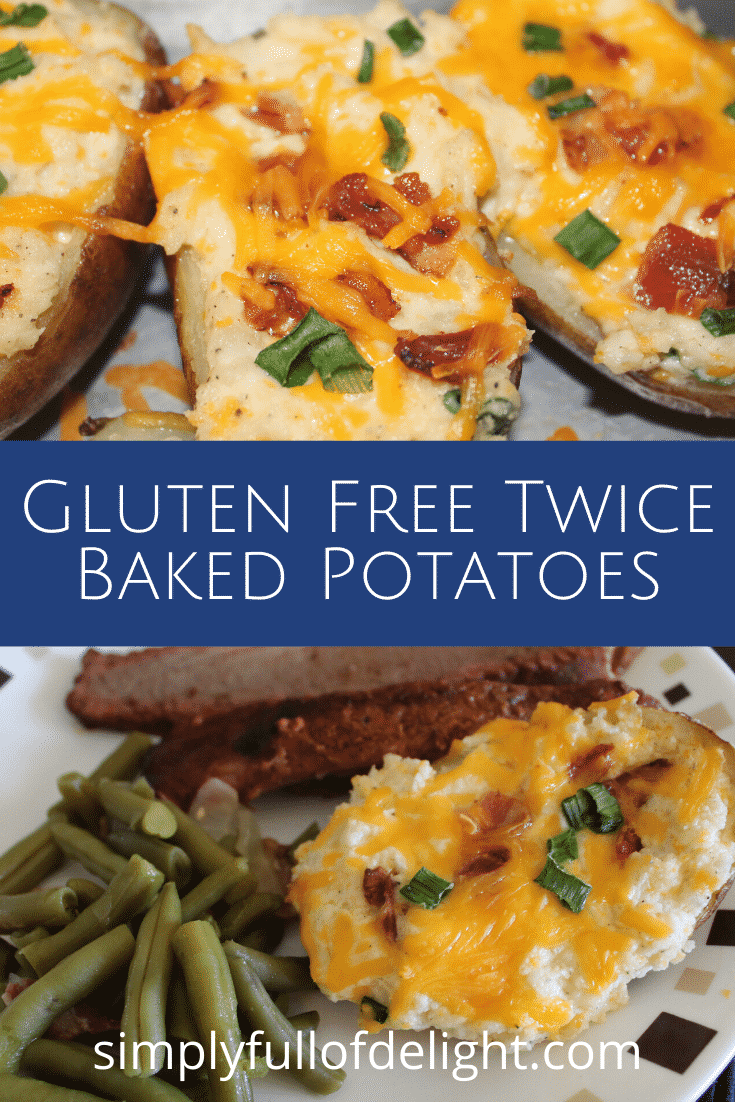 Notes:
If you would like to freeze these, simply place them in a freezer bag or freezer safe container after you assemble them. You don't need to do the 2nd bake before freezing. When you are ready to use them, you can take them straight from the freezer to the oven. Simply add a few extra minutes to the baking time.
These are great for giving to families with a new baby or any time that you want to deliver a meal to a friend. It's easy to double this recipe or pare it down for two. Simply multiple the ingredients (just add a little less salt/pepper).
These twice baked potatoes can be easily reheated in the microwave after being baked twice or in an air fryer.
I love this recipe as is, but it's a flexible recipe so you can definitely make dietary adjustments. You can make these twice baked potatoes without sour cream or you can skip the green onions to make it kid friendly.
Also, this dish is naturally gluten free as long as you choose ingredients (bacon and cheese) that are gluten free!
I've included a printable version of this twice baked potato recipe below for you to download! Enjoy!
For those of you wondering….here's the "fatherload" of potatoes!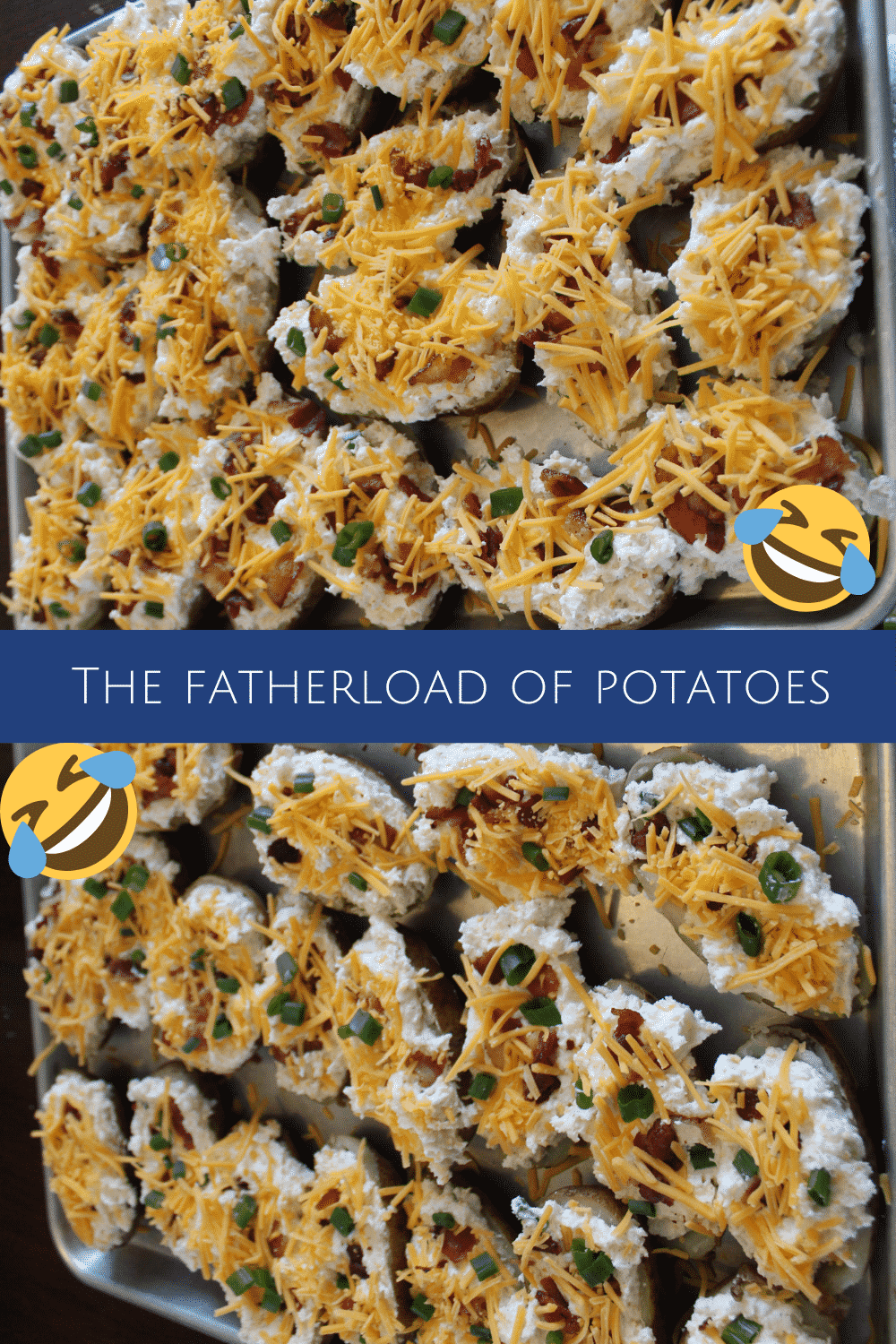 Disclosure: This post contains Amazon affiliate links. If you click on the link and purchase any item from Amazon, I will receive an affiliate commission.
Other Recipes: