The best gifts for 10 year olds are the ones that promote creativity, learning, outdoor time, and screen free fun.
My daughter just turned 10. I'm not anti-screen, but I also am very aware of the addiction that screens play in our society. That's why this list of gifts for 10 year olds is full of screen free activities for tweens!
That's right…none of these gifts require the use of a phone or tablet. Let's get those kids outside and moving, or developing their critical thinking skills and creativity!
I hope you find some amazing ideas for the 10 year olds in your life!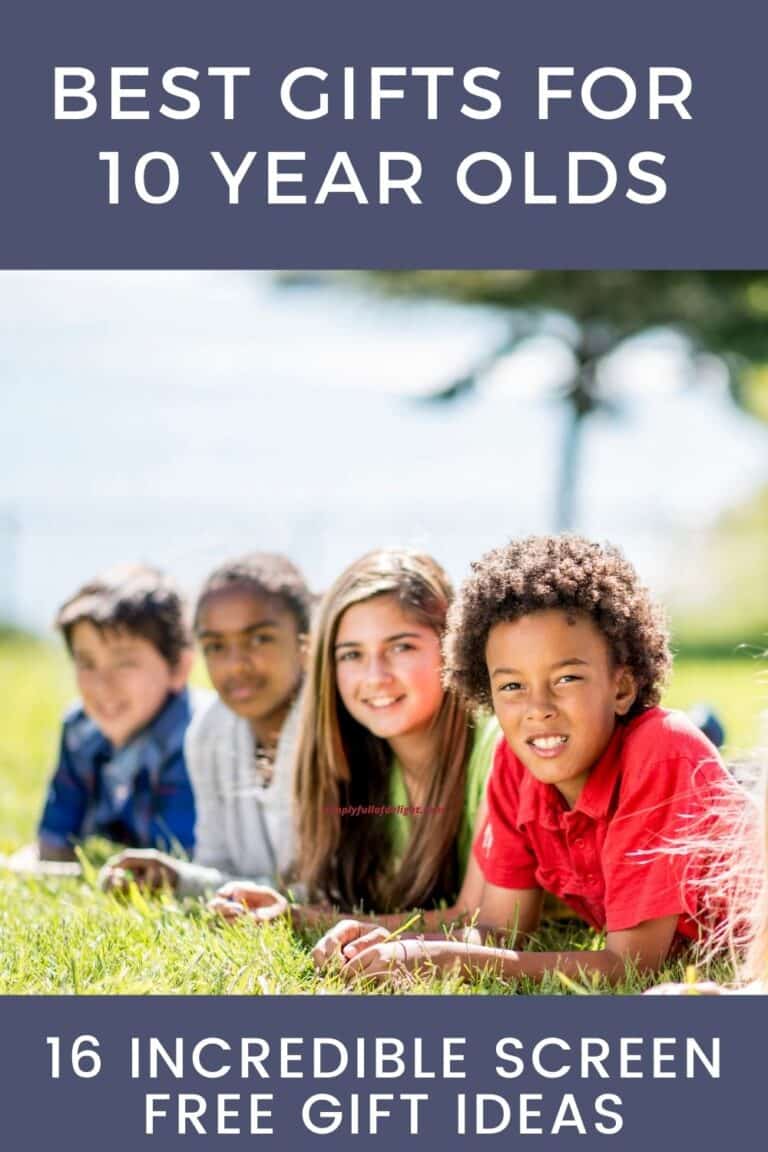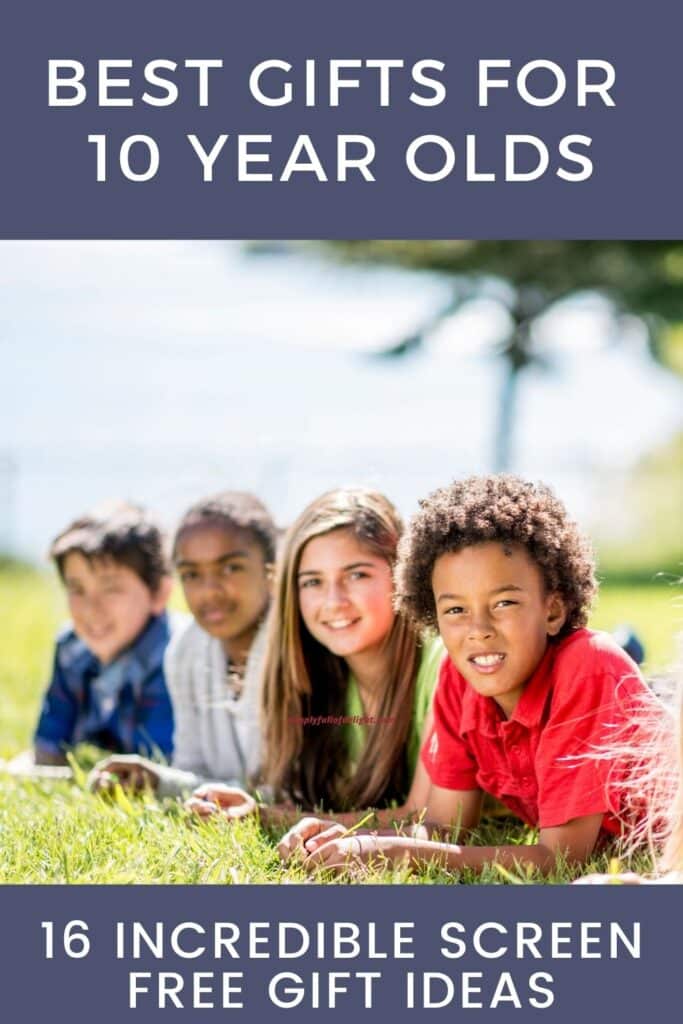 ** Disclaimer: As an Amazon.com Associate, I earn from qualifying purchases made by readers clicking my links at no extra cost to you. Thank you for supporting this blog!
1) Capture the Flag (Glow in the Dark!)
Run, hide, capture. The amazing game you played as a kid is back and better than ever! This Capture The Flag Redux game is sure to delight any tween or teen! Perfect for family gatherings, youth groups, or just a night of family fun. Watch kids ditch their phones, get great exercise, and have a blast with this amazing game!
2) RC Cars Stunt Car Toy
Remote Control cars are always a win! This RC Cars Stunt Car Toy is sure to amaze your child. It can go forward, backward, left, right, and has 360 degree tumbling/flipping. Don't forget to grab batteries to go with this awesome gift!
3) MindWare Paint Your Own Stepping Stone: Turtle
This MindWare Paint Your Own Stepping Stone Turtle is perfect for the artsy child! I love that it's a project that is fun AND can be used to decorate your flower garden. These stepping stones were meant to be used!
4) Stomp Rocket Dueling Rockets
These Stomp Rocket Dueling Rockets are a great gift for a 10 year old! Perfect for getting your child outside! These rockets are 100% powered by kids. All they have to do is run, jump and STOMP to send these rockets up into the air. They can go as high as 200 feet in the air. So many amazing days of outdoor play are ahead with this gift!
5) 4M Table Top Robot
This 4M Table Top Robot is a super simple robot that comes together in 5-10 minutes. The perfect first robot project for your tween! This robot is great for a brief introduction to robotics. When assembled, the robot crab walks on its own power and will change directions when it faces an obstacle.
6) LEGO BrickHeadz Star Wars
If you have a Star Wars fan in the house, this LEGO BrickHeadz Star Wars The Mandalorian & The Child is a great gift idea! This set is not only fun to put together, but it makes a fun decor piece once it is finished!
7) Bike Wheel Lights
These amazing Bike Wheel Lights are so fun! Any child who loves to ride their bike would be thrilled with these bike lights. These lights come in lots of different color choices, so you are sure to find the perfect ones!
8) Foam Archery Set
This Marky Sparky Foam Bow & Arrow Archery Set is a great way to get your child outside and having a blast! This bow and arrow set is easy to shoot. All you have to do is load the arrow, pull back, and let it fly. The arrows can travel as far as 100 feet. That's amazing!
9) Craft-tastic – String Art Kit
This Craft-tastic – String Art Kit is a great open-ended art project for tweens! String art is created by placing pegs in a foam board and then wrapping string around the pegs to create the work of art. You can find lots of different themes, so you are sure to find one he/she would enjoy.
10) Harry Potter Lego Set
This Harry Potter Lego set is sure to please any Harry Potter fan! This advanced building set comes with 10 mini-figure characters from the books, a movable spiral staircase, potions room, treasure room, and lots of Hogwart details. If you don't want to invest in a large set, you can find smaller sets here.
11) Rainbow Scratch Art
This Rainbow Scratch Art Book is perfect for the art loving kid. This book comes with a wooden stylus for scratching and making designs. Great for road trips, airplane travel, or for a rainy day!
12) Nerf Tactical Vest
This Nerf Gun Tactical Vest set is a great gift for a Nerf Gun Enthusiast. This set comes with a vest with two 6-dart clips and 12 Official Nerf Elite darts. There are fabric fasteners on the sides to adjust the fit of the vest. I would recommend pairing this gift with a Nerf gun like this one.
13) The Complete Baking Book for Young Chefs
10 years old is the perfect age to start really developing baking skills! The Complete Baking Book for Young Chefs is made by America's Test Kitchen, so you know it's amazing. The recipes in this book were tested by over 5,000 kids and great for cooks of all skill levels. There are step-by-step photos that will have your child cooking like a pro in no time!
14) Mega Fossil and Gemstone Dig Kit
This National Geographic Mega Fossil and Gemstone Dig Kit allows your child to be an archeologist! There are 10 real fossils and 10 real gemstones to uncover in this set. This kit contains a dig brick along with a chisel, brush, and magnifying glass. There's even a learning guide to help them identify their findings.
15) ThinkFun Gravity Maze Marble Run
The ThinkFun Gravity Maze Marble Run is a mind challenging logic game. There are 60 challenges ranging in difficulty from beginner to expert. This marble run game is great for helping your child develop critical thinking skills while having fun!
16) Lost Cities Board Game
Lost Cities is one of my family's favorite board games. Your 10 year old will love it! It's a 2 player game of strategy with a dose of chance, which makes it fun for adults to play with their kids. You can play a whole game in 20 minutes, but it's so fun you'll want to play more than once! You can find some more of my family's favorite board games here.
That's it! I hope you found some amazing gifts for 10 year olds! If you have any screen free gift ideas for tweens drop them in the comments below!
Other Articles you may enjoy: