If you have an over-abundance of cherry tomatoes in your garden, this cherry tomato pasta is the perfect recipe to enjoy that amazing garden fresh flavor! Cherry tomatoes are sauteed in olive oil with onions and peppers, and served over pasta with sausage.
It's a dish worthy of repeating every week of summer! Or, if you are like my family, you might enjoy it 2-3 times a week during peak cherry tomato season!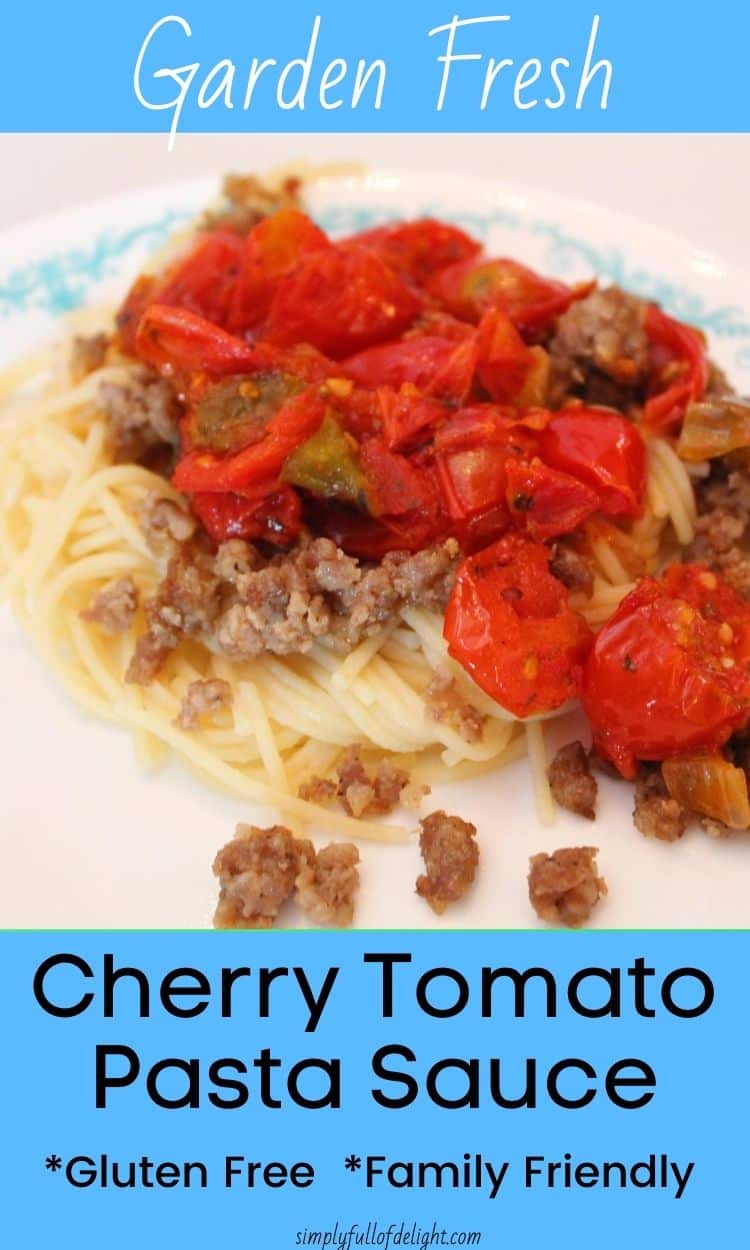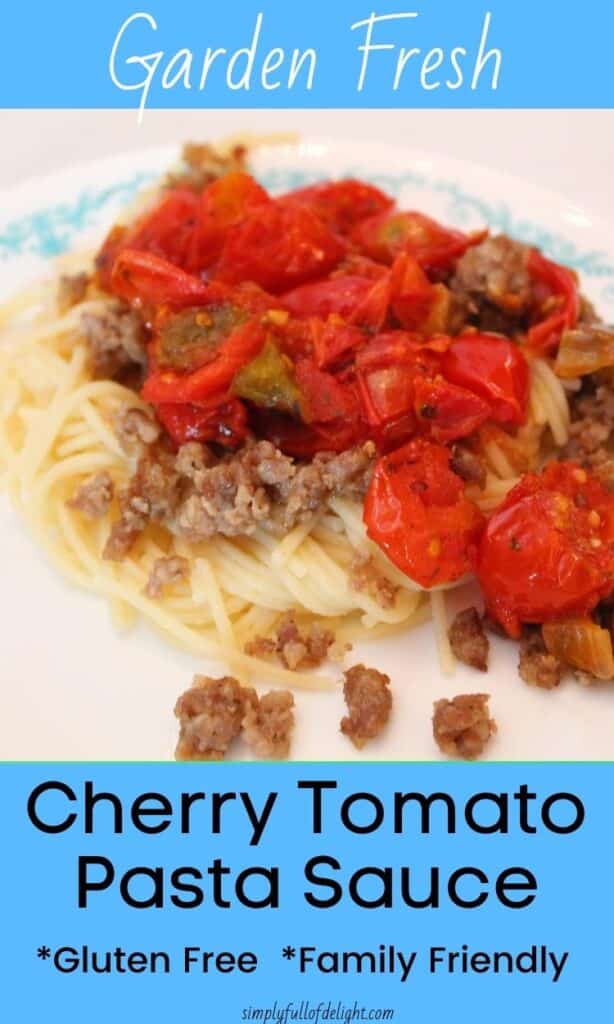 I love that this dish is kid friendly. As a mom of 4, it's important that our family has meals that everyone can enjoy!
This amazing pasta dish is also naturally gluten free! As always, be sure to check the labels on your pasta, sausage, and spices to make sure they are gluten free.
This recipe is ideal for cherry tomatoes, but plum or grape tomatoes will work as well!
Let's get Started!
Ingredients for Cherry Tomato Pasta with Sausage:
12 oz of Spaghetti (our favorite is gluten free Ronzoni)
1/3 cup of olive oil
A pint of cherry tomatoes (about 20-25 tomatoes)
1/3 cup chopped onion
1/3 cup chopped green pepper
1/4 teaspoon salt
1/4 teaspoon black pepper
1 teaspoon oregano
16oz Jimmy Dean ground sausage roll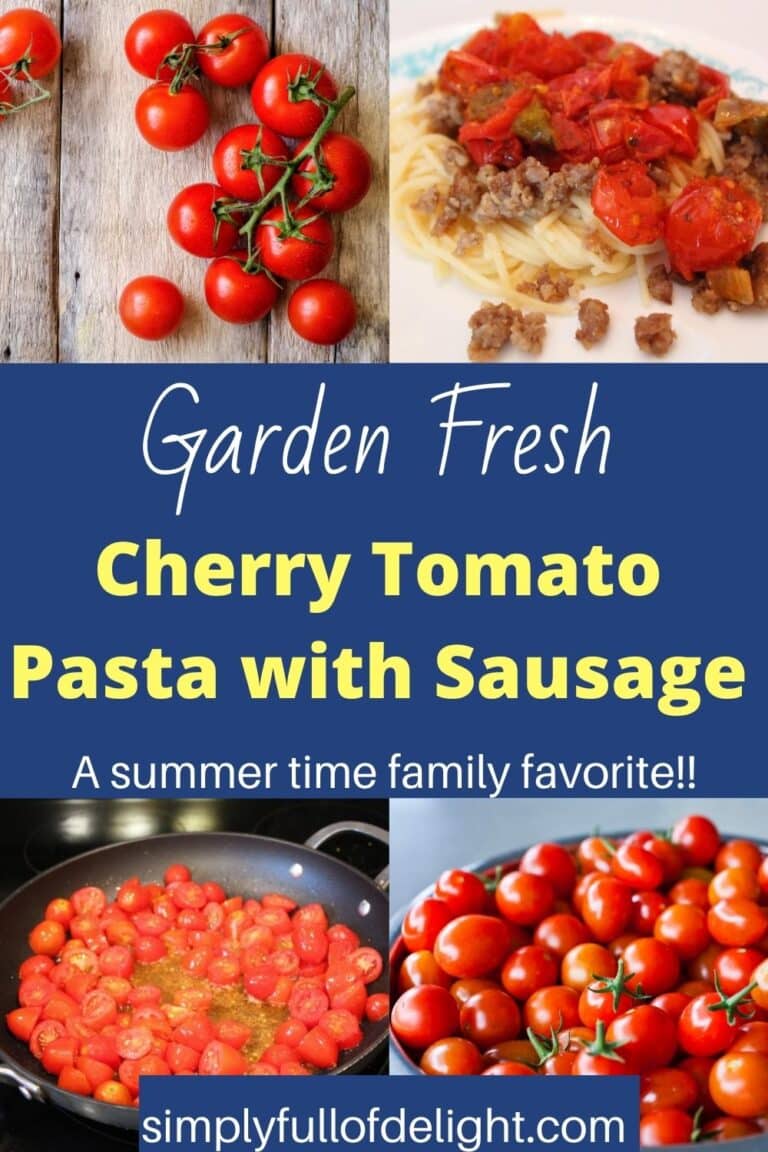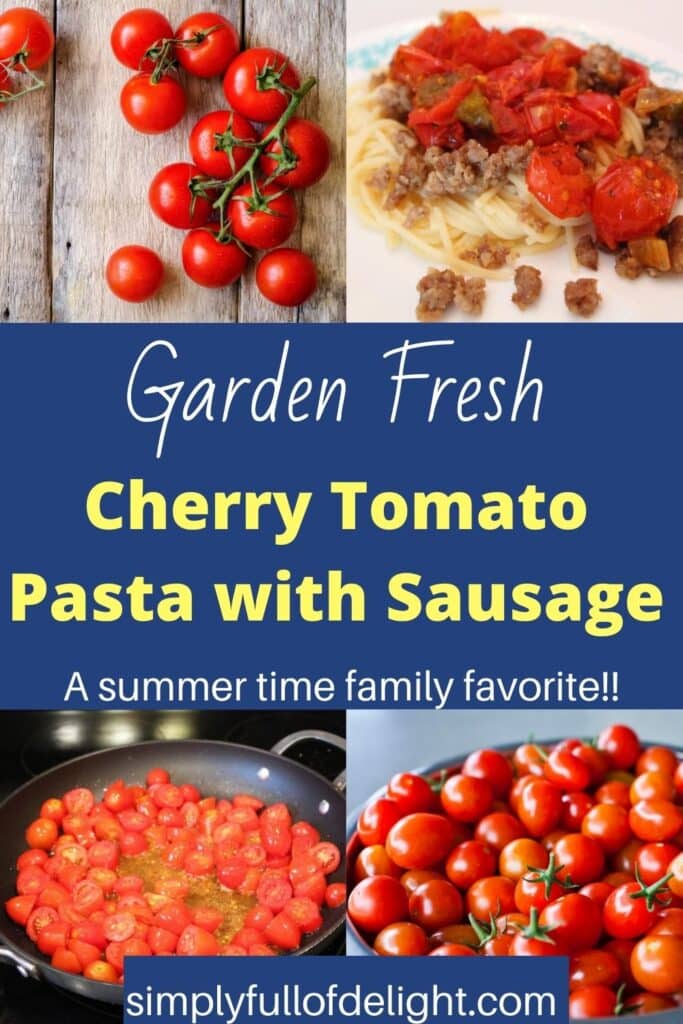 Instructions:
Prepare the pasta. You can do this while you make the sauce/sausage.
Brown the Sausage.
In a separate pan, heat the olive oil. Rinse the tomatoes. Cut in half if they are plum tomatoes and add to the pan.
Add the green pepper, onion, salt, black pepper, and oregano to the pan. Saute until the tomatoes have popped and the vegetables are tender.
Finish preparing the pasta. Serve the pasta topped with sausage and the fresh tomato sauce.
That's it! So simple! You won't believe how sweet the cooked cherry tomatoes taste! This cherry tomato pasta sauce is truly a summer time favorite in our home!
Click the download button below for a printable version of this recipe!
Other Recipes you Might Enjoy:
The Best Gluten Free Zucchini Bread