Today, we are talking about the Best Sheep Toys and Gifts for Kids! If you have a little sheep or lamb loving child in your family, I can relate. All 4 of my kids are sheep obsessed!
I grew up on a farm with sheep and we help my dad with his bottle fed lambs each spring. Watching my kids learn to work with animals and develop a love of sheep makes my heart so happy.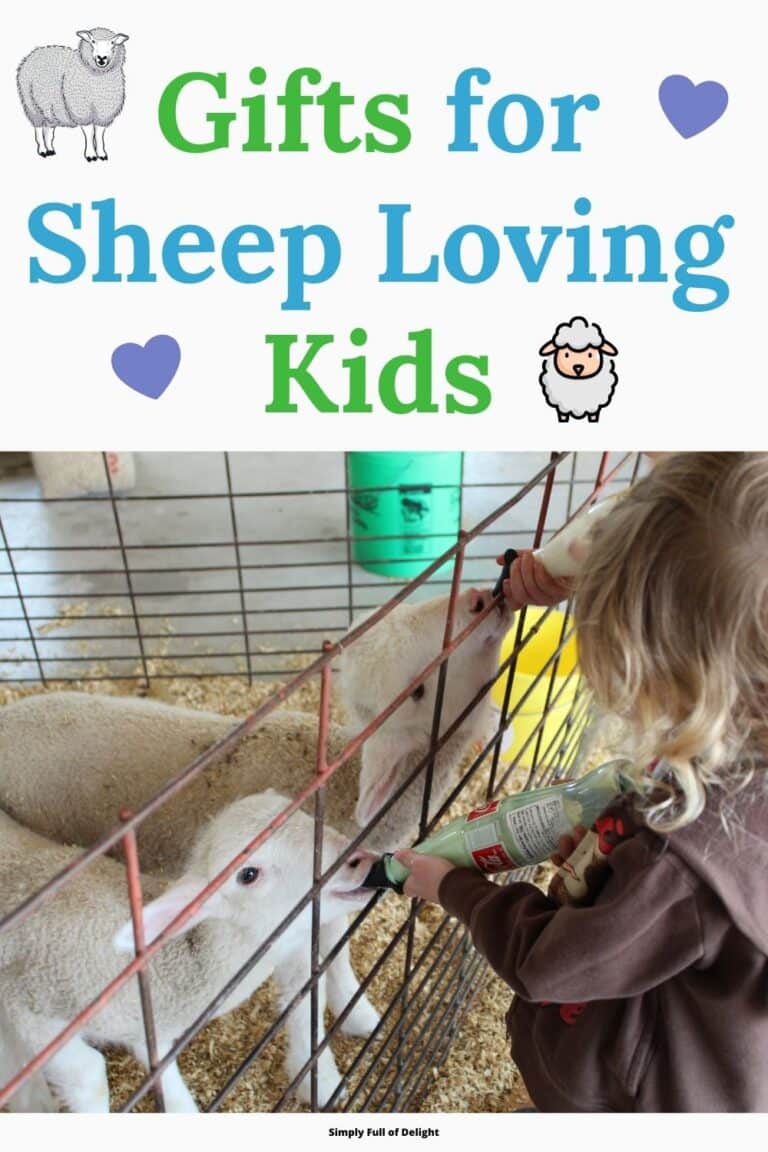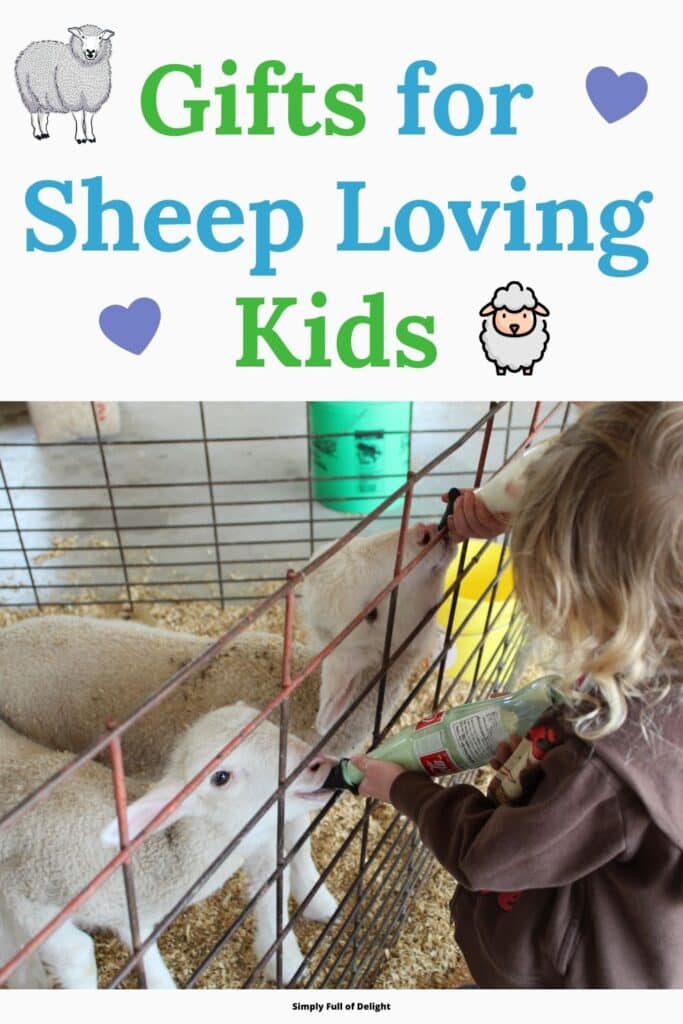 With that in mind, I'm always on the lookout for fun sheep toys for kids and lamb themed gift ideas.
If you are looking for some awesome gift ideas for your little sheep lover, here's 25 of the best sheep toys and gifts for kids in 2021.
** Disclaimer: As an Etsy and Amazon.com Associate, I earn from qualifying purchases made by readers clicking my links at no extra cost to you.
1) Sheep Plush Toy
How cute is this Aurora 10″ Lovely Lamb Stuffed Sheep Toy! It stands up on it's tiny little 4 legs and is made of silky soft material. The perfect little plush toy stuffed animal sheep for hugging or a great addition in a farm animal themed bedroom!
2) Baa Baa Bubbles Game
This Baa Baa Bubbles Sneezing Sheep Game for kids will be a hit with any child! To play, kids take turns feeding
the sheep the number of times on the tile. As the sheep is fed, the bubbles on it's back grow. Eventually the sheep sneezes, releasing bubbles into the air! If the sheep sneezes you lose your tile and the child with the most tiles at the end wins.
3) Personalized Sheep Necklace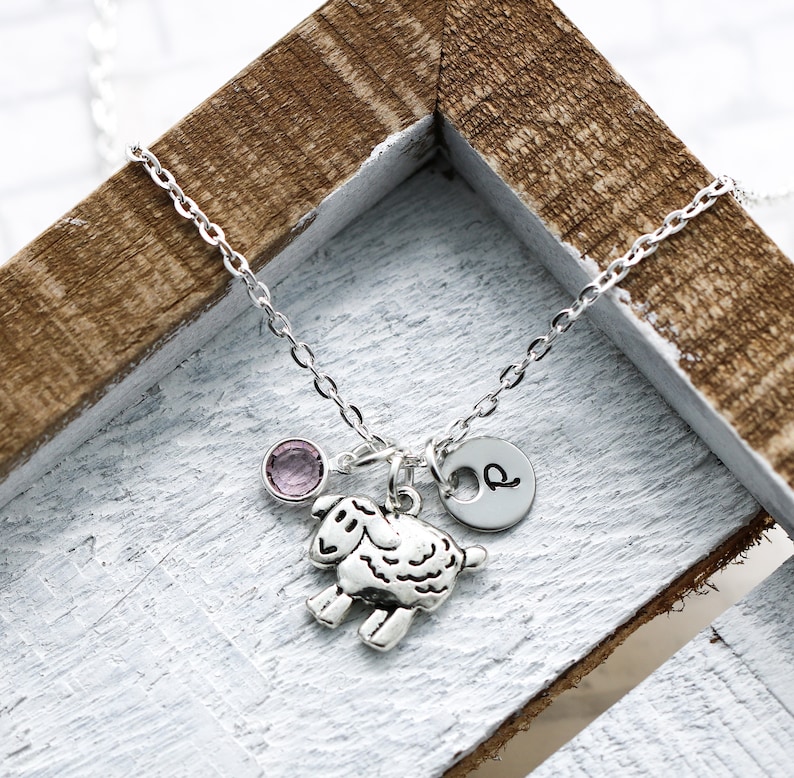 This beautiful sheep necklace is by Sigmo Creations on Etsy. You can have this sweet necklace personalized with the initial of the recipient and you can choose the color of the Swarovski birthstone as well. Choose the length of the necklace chain for a great fit for kids and adults alike! What a cool personalized sheep gift!
4) LEGO DUPLO Town Farm Tractor & Sheep
With the LEGO DUPLO Town Farm Tractor & Sheep, your child has everything they need to start a tiny sheep farm. Duplos are always a hit at my house! I love how Duplos evoke creativity and imagination in kids. This adorable set includes 2 sheep, a tractor with a cart, a farmer and child, a block tree, farm tools and really cool textured hay bales along with a few other various blocks. What a great high quality gift for sheep loving kids!
5) Learning Resources Snap-n-Learn Counting Sheep
The Learning Resources Snap-n-Learn Counting Sheep Bucket is a great sheep toy for toddlers! Little kids can match the number of dots on the sheep to the number on the wool. Toddlers can build fine motor skills by snapping the wool on and off of the sheep. These are also great for counting and practicing colors as well! What fun sheep toys for toddlers!
6) Windmill Sheep Farm House Stuffed Animal Plush Playset
This Windmill Sheep Farm House Stuffed Animal Plush Playset is sure to bring a smile to your sheep loving child! This sweet play set includes 4 sheep and a cute little windmill house that opens up for the sheep. I love that this set features 4 different types of stuffed toy sheep…and it's just so adorable!
7) Ertl Farm Toy Sheep Figures – Plastic Sheep Toys
These Ertl Farm Toy Sheep Figures make the perfect addition to any Ertl Farm set. This pack contains 25 plastic sheep and lambs. These tiny plastic sheep toys would go great with the Ertl Farm Dairy Barn set or this machine shed and implement farm set by John Deere. What a great gift idea for boys or girls of all ages.
8) Shaun The Sheep Toys – Plush Toy Stuffed Animal
This Shaun The Sheep Toy Plush Stuffed Animal is the perfect sheep stuffed animal! Full of character and mischievous eyes, this little furry friend is sure to make your children or baby smile! Pair this sweet plush sheep with a Shaun the Sheep dvd and you'll have a winning gift for your sheep loving child of any age!
9) Shaun The Sheep DVD
Surprise your child with a Shaun The Sheep DVD! This cartoon is full of funny sheep antics and sure to make children laugh. This Shaun the Sheep Dvd is a fun gift that would pair well with a little lamb or sheep doll. Find other Shaun the Sheep dvds here including holiday dvds and other seasons.
10) Sheep T-shirt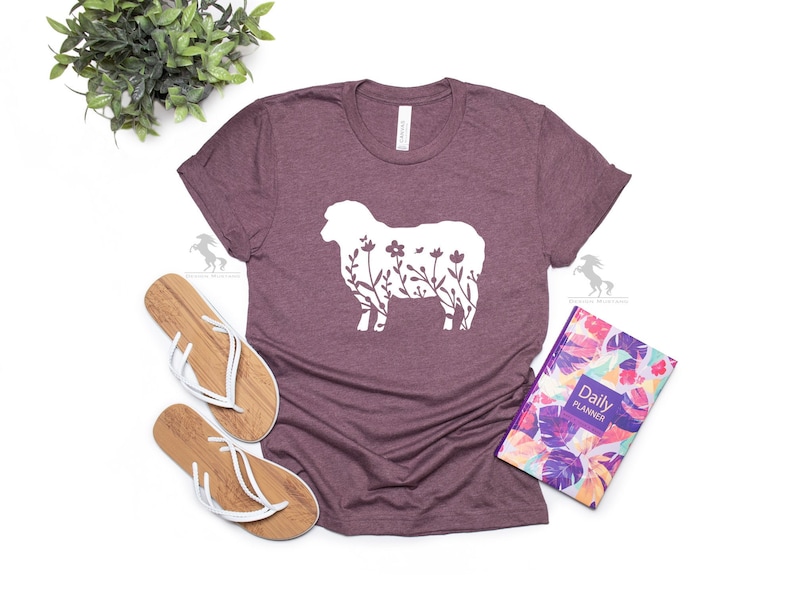 This beautiful Floral Sheep Shirt is by Design Mustang on Etsy. This gorgeous floral printed sheep t-shirt is perfect for adults and children alike. In fact, you can get it in toddler, kid, and adult sizes and in a variety of colors as well! Perfect for your sheep loving kid!
11) Sheep Hair Scrunchies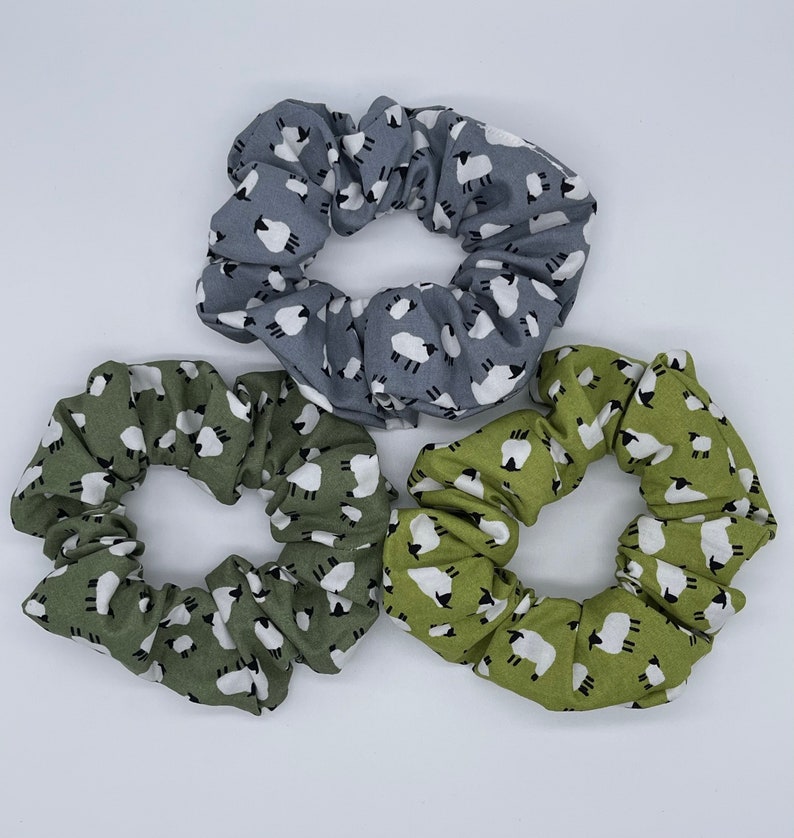 This fun Sheep Hair Scrunchies are by Ellie And Kobe on Etsy. These cute hair ties featuring a sheep pattern will be your little girl's new favorite accessory! Great for pulling hair back on a hot day of showing sheep or just relaxing at home.
These sheep scrunchies are the perfect addition to any outfit. They would make great stocking stuffers for older kids or you could pair them with a gift card as a gift.
12) Sheep Hat and Rattle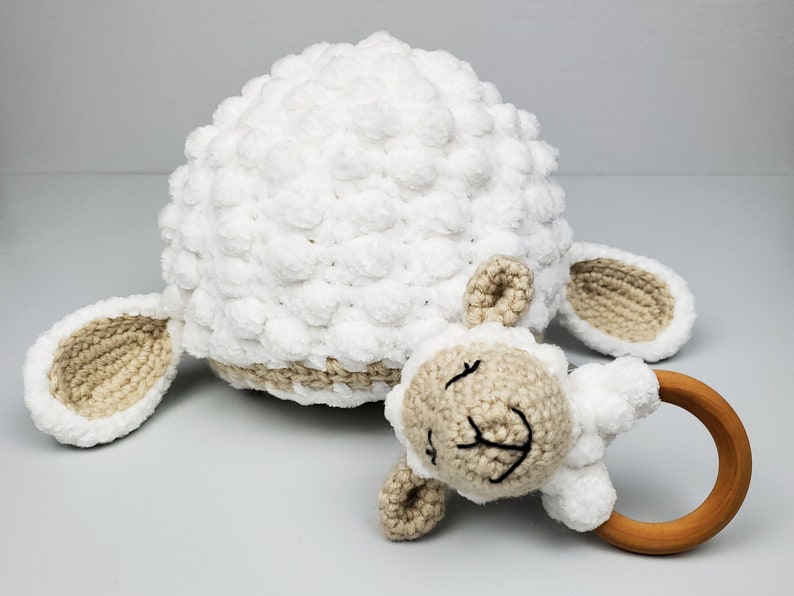 This handmade Sheep Hat and Rattle is by Adorable Design Finds on Etsy. What a perfect sheep gift for a baby! This adorable hat is crocheted with ultra soft yarn. The adorable baby soft toy rattle features a wooden teething ring.
What adorable pictures you could take of your little guy or gal!
This is such an adorable set, but you can also order the items separately as well. What a delightful Sheep Toys and Gifts!
13) Sheep Lover Shirt – 4-H Sheep Shirt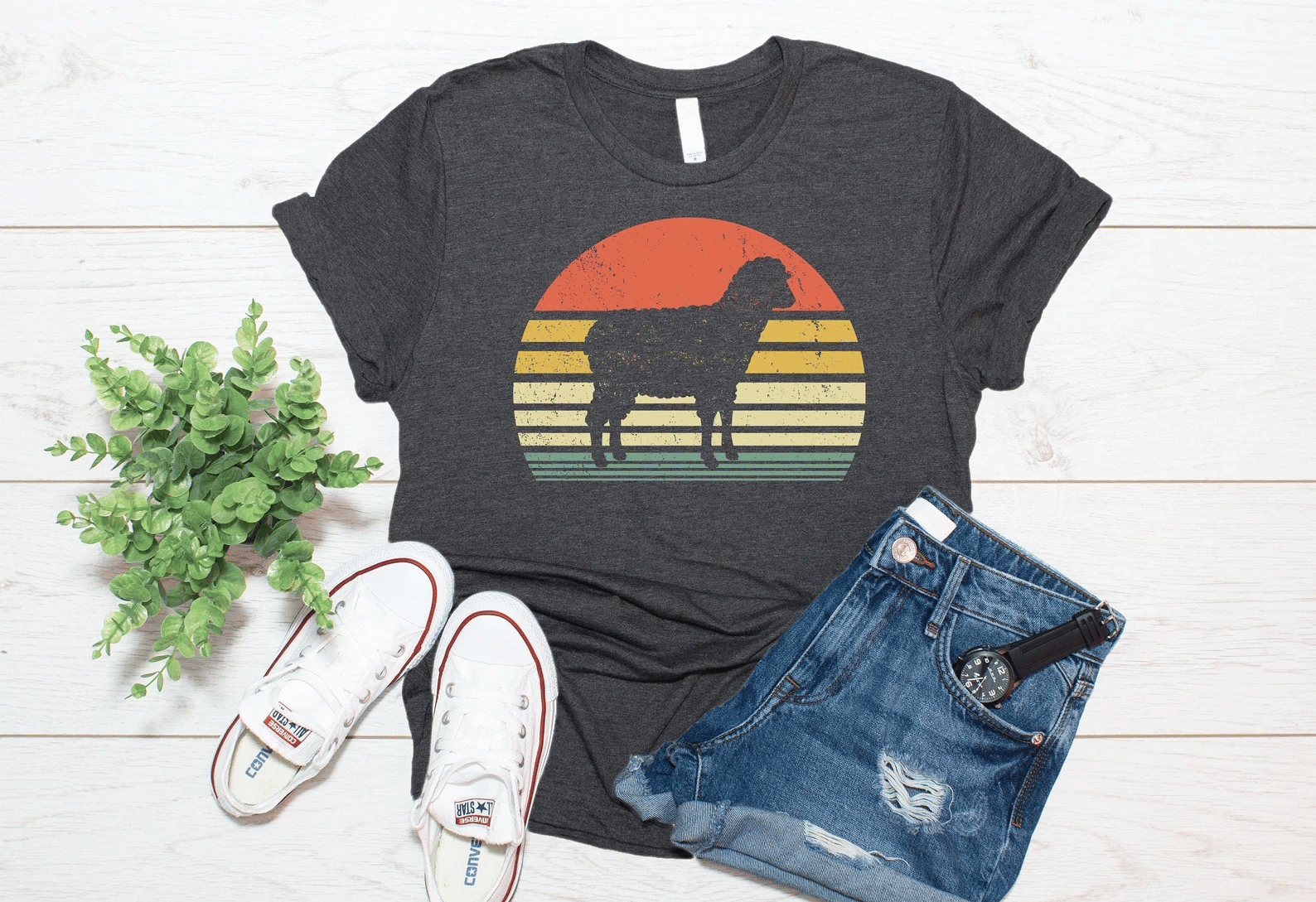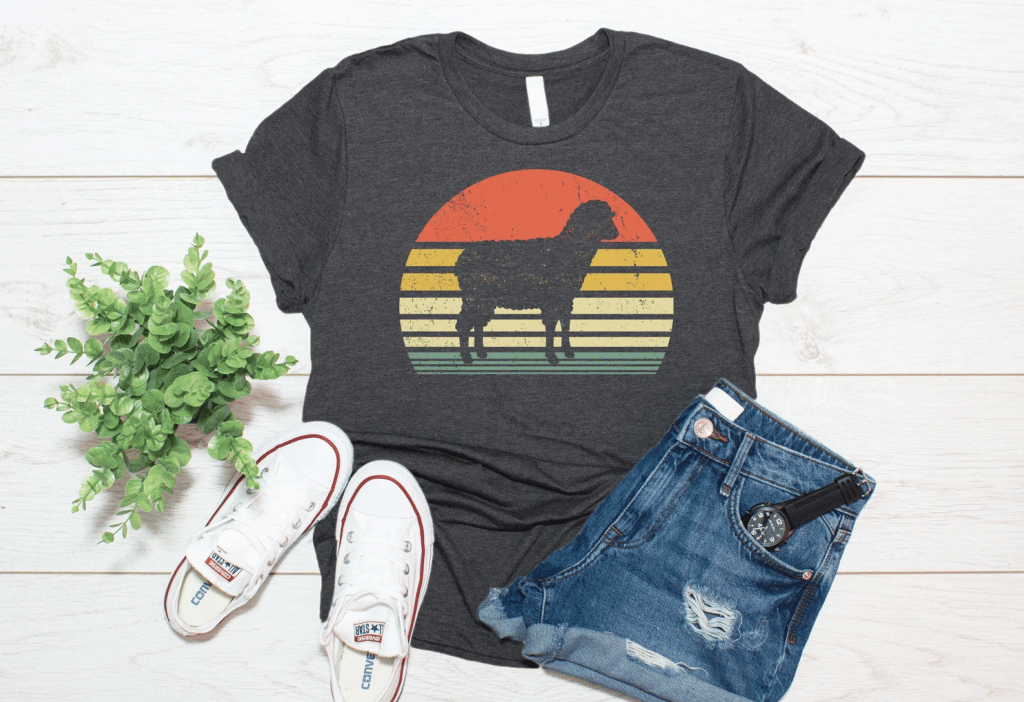 This adorable Sheep Shirt is by Ancient Merch on Etsy. This is so perfect for kids showing sheep! I love the retro vibe and the cool colors.
14) Sheep Printable Wall Art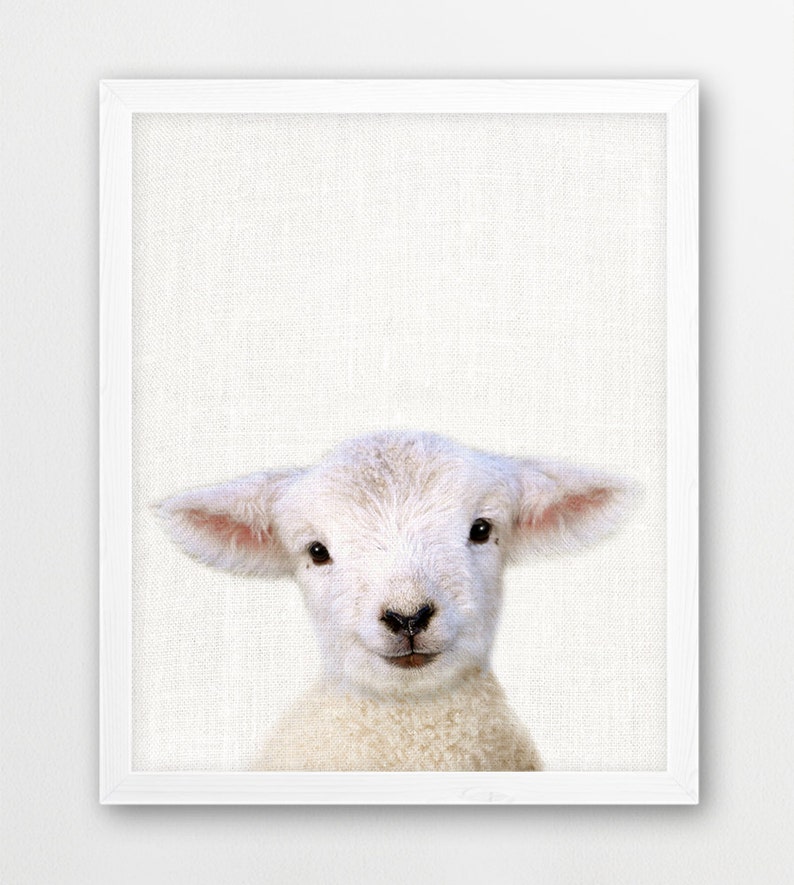 This adorable Sheep Printable Wall Art is by ULTRA SONIC BOOM on Etsy. What a fun picture to add to your sheep lover's room! This lamb printable is sure to bring a smile to your child's day!
15) Sheep Push Pop Bubble Sensory Fidget Toy
Grab this Sheep Bubble Sensory Fidget Toy for your little sheep loving child! These sensory bubble pop toys are great for helping kids relieve stress, improve concentration, and build fine motor skills. These would make great toys for road trips or any time you need to keep a little one busy.
16) SHEEPLE: The Best Game in The Ewe-niverse – Sheep Board Game
SHEEPLE: The Best Game in The Ewe-niverse is a fun game for kids 8 and up! It's great for 3-12 players and described as a mix of The Game of Life and the opposite of Scattergories. There's sheep puns galore and lots of fun to be had. Great for gatherings and family game night!
17) Herd That – Sheep Shirt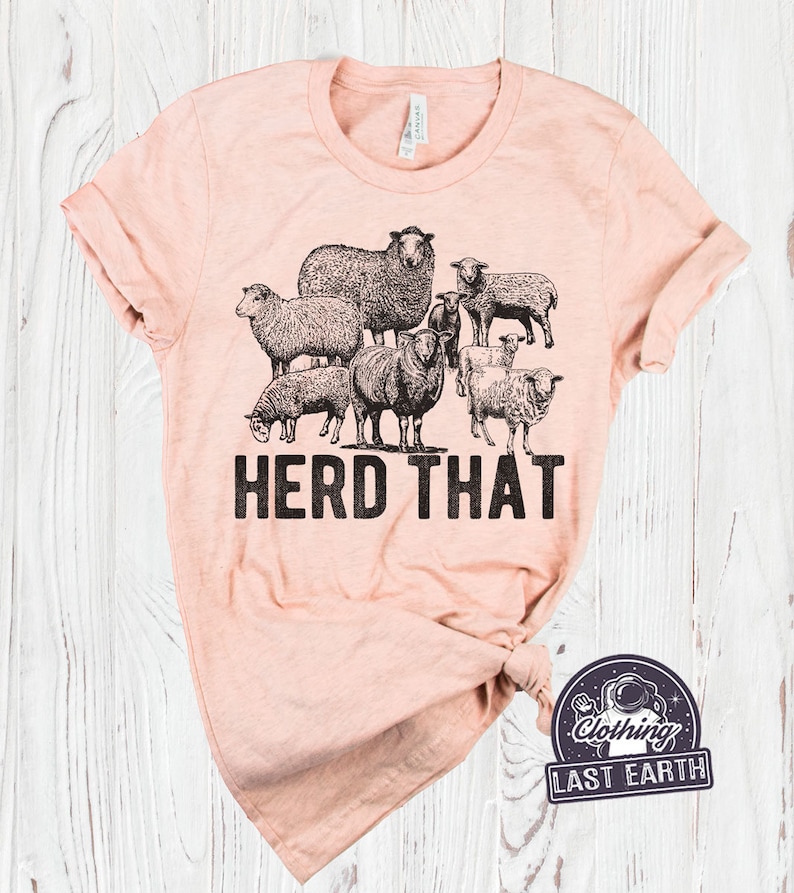 This hilarious Herd That T-shirt is by Last Earth on Etsy. This funny sheep shirt makes the perfect gift for your sheep loving kids! It's available in both children and adult sizes as well as a variety of colors! Sure to make everyone who sees it smile!
18) Distressed Sheep Hat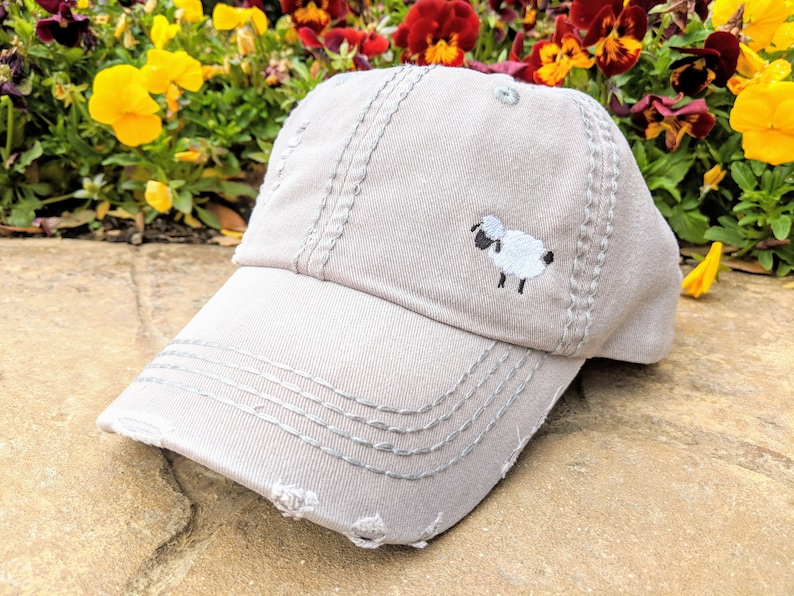 This fun Distressed Sheep Hat is by Distinct Headwear on Etsy. This cute animal hat comes in multiple colors and you can personalize the colors on the sheep as well. Your sheep loving kid will love this fun, yet functional gift!
19) Know Your Sheep Book
This Know Your Sheep is by Jack Byard. It has photographs and descriptions of 44 sheep breeds. There's fun facts about each sheep breed's characteristics, personality, history, and more!
So much for your little sheep farmer to explore and learn! This would make an excellent birthday or Christmas gift for your sheep lover!
20) Carcassonne Hills & Sheep Board Game Expansion
The Carcassonne Hills & Sheeps Board Game Expansion is the perfect sheep gift for kids 7 and Up. I love the original Carcassone game. It's one of my family's favorites. You DO need Original Carcassonne Game to use this Hills and Sheep Expansion. (Hills and Sheep is not a game on it's own, but it extends the fun of the original Carcasssonne game).
This expansion adds the element of chance to the game with the sheep and extra strategies. It's a great choice for a first expansion pack as it does not over-complicate things. If you are looking for a natural step up for the original game, grab this!
What a great gift idea for puzzles and board game lovers!
21) Sheep Rocking Horse
This Sheep Rocking Horse is perfect for little ones! It would make a beautiful addition to any child's bedroom or play room. Rocking is excellent for strengthening core muscles and developing balance. What a fun active toy for little ones!
22) Play-Doh Sherrie Shearin' Sheep Toy for Kids
The Play-Doh Animal Crew Sherrie Shearin' Sheep Toy for Kids is a fun sensory play toy. Your child can help Sherrie the sheep grow colorful play dough wool and style it with the plastic scissors.
This funny sheep can turn her head, stick out her tongue, and she even makes "baas." Such a great gift for pretend play and for little hands developing fine motor skills. Sherrie the sheep is sure to bring a smile to your child's face!
23) Sheep in a Jeep 5-Minute Stories
The Sheep in a Jeep 5-Minute Stories by Nancy E. Shaw is a wonderful collection of Sheep stories! You get all 8 sheep stories in this amazing collection. Lots of rhyming fun will be had with this awesome story book!
24) Sheep Stickers – Sheep Arts and Crafts
These Sheep Stickers are perfect for the sheep loving kid who loves arts and crafts! This sticker set contains 6 sticker sheets with 14 stickers per sheet. There's a total of 84 sheep stickers!
These stickers would go great with a cute sheep notebook.
25) Melissa & Doug Giant Sheep – Lifelike Stuffed Sheep Toy
This Melissa & Doug Giant Sheep is a lifelike stuffed animal that stands nearly 2 feet tall. So many realistic details on this sweet sheep. Perfect for nursery or play room decor, and so much fun to play with! This is one of the best gifts for imaginative play!
I hope you've found some amazing Sheep Toys and Gifts for Kids!
If you enjoyed this gift guide, be sure to check out these other amazing Farm Toys and Gifts for Kids! You can also find a full list of all of my gift guides here to find the perfect gift for your loved ones.