Looking for the perfect gifts for kids who love dinosaurs? Check out these Unique Dinosaur Gifts for Kids!
My little nephew is dinosaur obsessed right now! He's really interested in learning everything he can about these amazing creatures, so we are always on the lookout for fun dinosaur gift ideas for him.
You'll find educational items, dinosaur toys, clothing and more on this fun list of dinosaurs gifts for kids!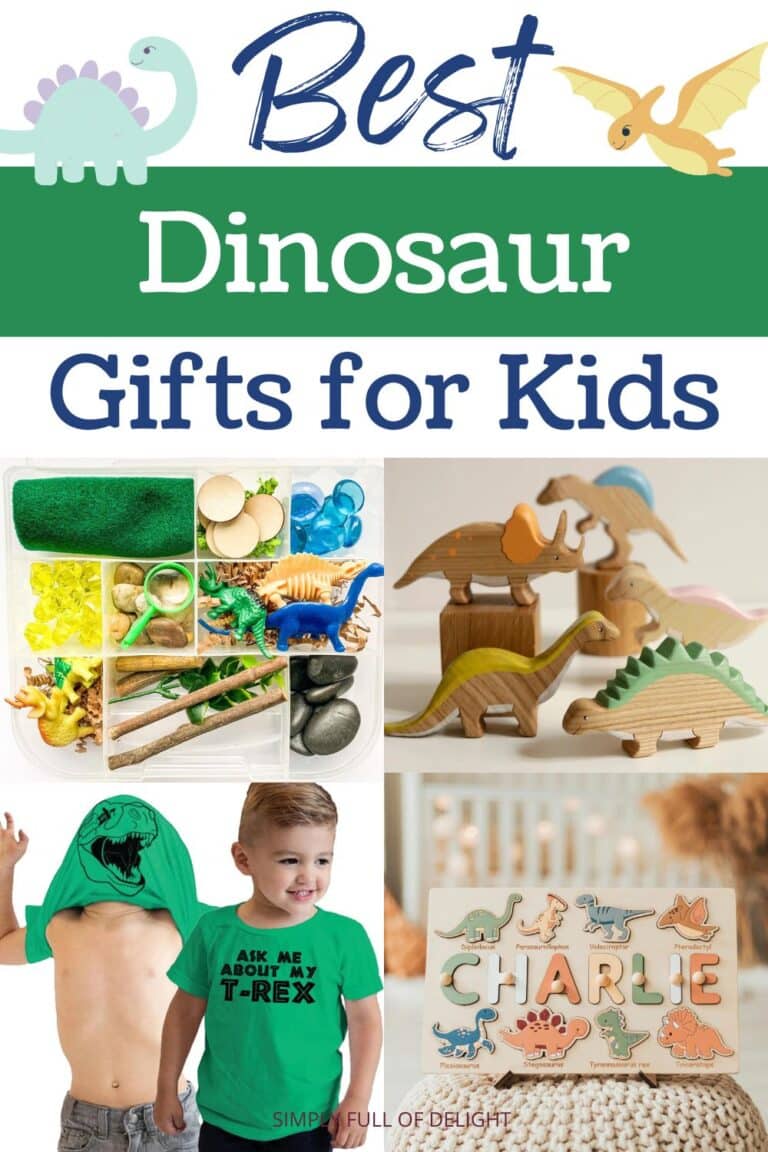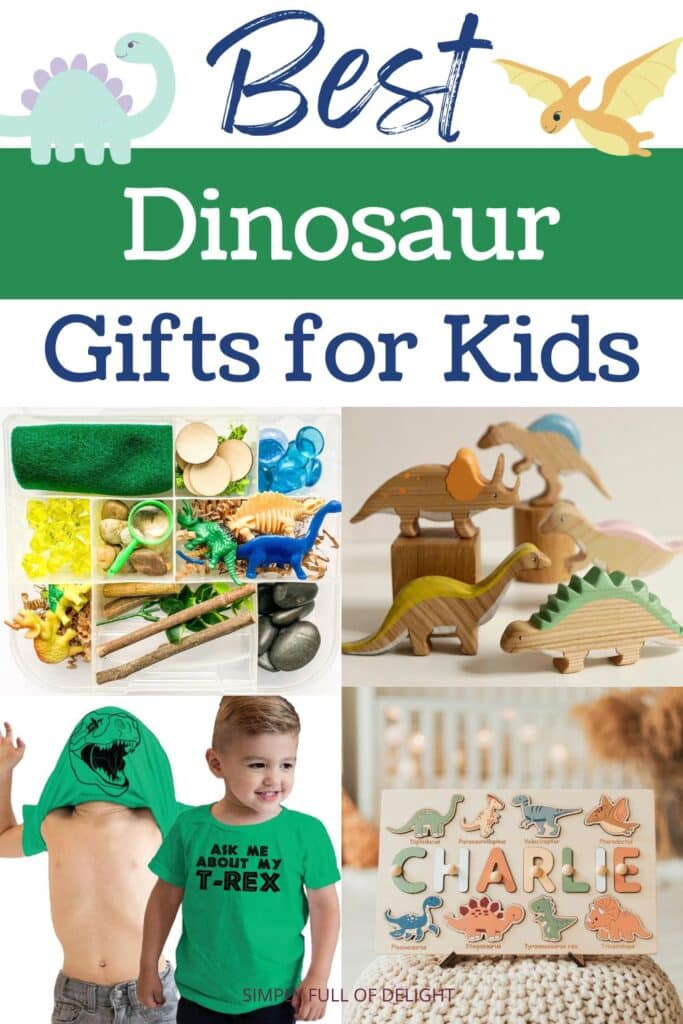 Here's 25 of the must-have gifts for kids who love dinosaurs and of course the best dinosaur toys!!
** Disclaimer: As an Etsy and Amazon.com Associate, I earn from qualifying purchases made by readers clicking my links at no extra cost to you.
1) Dinosaur Fossil Dig Kit
This Ivy Step Dinosaur Fossil Dig Kit is amazing. It will wow your little dino lover!
It includes 12 Dinosaur Eggs that are ready for excavation. Kids can use the chisel tools to dig for dinosaurs like a real paleontologist.
This cool set also has dinosaur information cards, a flashlight and magnifying glass.
Older kids will adore this Dino Jurassic Fossil Digging Kit!
2) Robo Alive – Attacking T-Rex Robotic Toy
The Robo Alive – Attacking T-Rex Robotic Toy is so cool! My son has this battery-powered dinosaur and it stomps and walks like a real dinosaur. It roars and has reflecting eyes and a glow in the dark scar.
My kids love the sound effects! Such an awesome toy your dinosaur loving kids will be thrilled with.
3) Dinosaur Play Dough Kit – best dinosaur gifts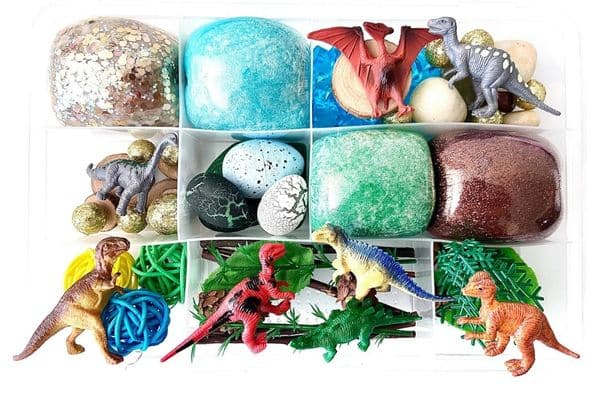 This Dinosaur Play Dough Kit by Happy Life Magic on Etsy is one of the best dinosaur gifts. Such a great choice for a birthday gift!
Kids of all ages will enjoy creating their own pre-historic adventures. Such a fun gift that builds fine motor skills, creativity, and promotes imaginative play.
4) Hungry Hungry Hippos Dino Game
This Hungry Hungry Hippos Dino Edition Board Game is just like the classic with a dinosaur twist.
Younger kids will love making their dinosaurs chomp down the plastic marbles. Whichever dino has the most marbles wins at the end of the game wins! What fun!
5) Take Apart Dinosaur Toy
This Take Apart Dinosaur Toy is perfect for kids who love tools and dinosaurs. The dinosaur egg contains a dinosaur toy and a manual screwdriver to put it together.
6) Dinosaur Sensory Kit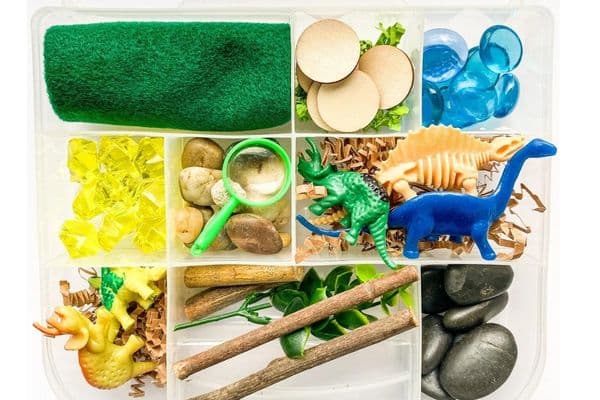 This Dinosaur Sensory Kit by Cool Creations Company is full of fun for younger children. Loose parts play encourages creative play and fine motor skill development. Plus, it keeps little kids busy a LONG time! Parents will thank you for this amazing dinosaur gift idea!
7) Ask Me About My T Rex T Shirt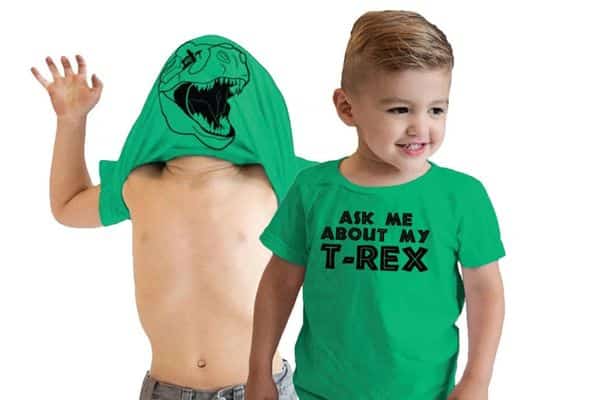 This hilarious Ask Me About My T Rex T Shirt is by Crazy Dog T Shirts on Etsy. Talk about the perfect gift for boys who love dinosaurs! It's funny, functional, and fun!
8) Learning Resources Counting Dino Set
The Learning Resources Counting Dino-Sorters Math Activity Set is great for little ones who are learning number recognition and basic counting skills. The chunky pieces are perfect for small hands.
Preschoolers will enjoy opening the eggs and sorting the dinosaurs by color and number. What a great way to make learning fun!
9) Dinosaur Toy Pull Back Cars
These DINOBROS Dinosaur Toy Pull Back Cars are perfect for little hands! Kids will enjoy racing these fun dinosaur cars and parents will love the nostalgia of pull back toys. So much fun to be had!
10) Remote Control Dinosaur
This STEAM Life Remote Control Dinosaur is sure to delight your young dinosaur fan. This dinosaur lights up with an LED light, it walks, and roars. Young children will love controlling the dinosaur's movement with the remote control. What a great gift!
11) Dinosaur Sherpa Blanket Throw
This Dinosaur Sherpa Blanket Throw is super soft! Perfect for getting cozy while reading a dino book or watching a dinosaur movie. More design choices are available too.
12) Melissa & Doug Land of Dinosaurs Floor Puzzle
The Melissa & Doug Land of Dinosaurs Floor Puzzle is perfect for your puzzle loving kids! Tons of cool dinosaurs are featured on this durable floor puzzle. Perfect for kids ages 3-7.
Dinosaur puzzles are great educational gifts that promote problem solving and little ones will love seeing their favorite dinosaurs!
13) Just a Girl Who Loves Dinosaurs Shirt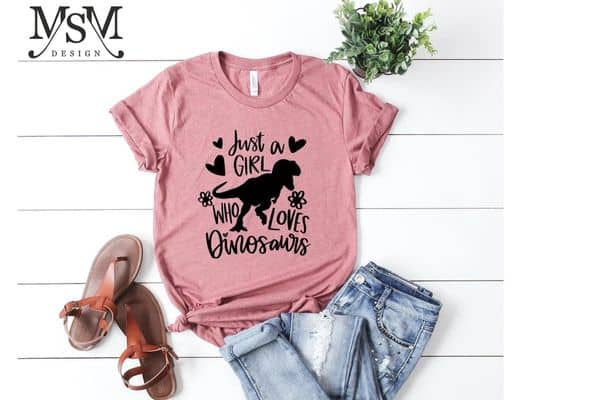 This Just a Girl Who Loves Dinosaurs Shirt is by MsM Design USA on Etsy. We all know boys aren't the only ones who love dinosaurs! This is the perfect addition to your dino loving girl's wardrobe. Cute and functional!
14) Dinosaur Play Dough Mats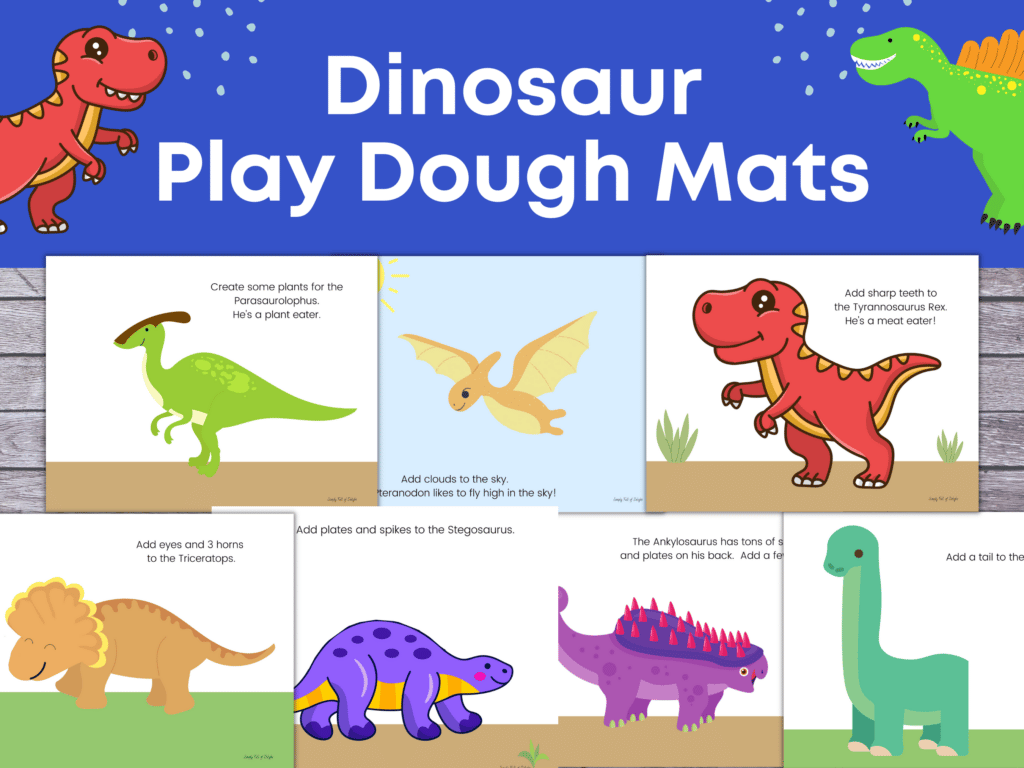 Looking for something unique? Grab a set of these printable Dinosaur Play Dough Mats from my Etsy shop! Each mat features a dinosaur with a prompt to complete with playdough. Kids can add sharp teeth to the T. Rex or add horns to Triceratops. Add some homemade play dough or this Play Doh for a super fun gift!
15) Wooden Dinosaur Puzzle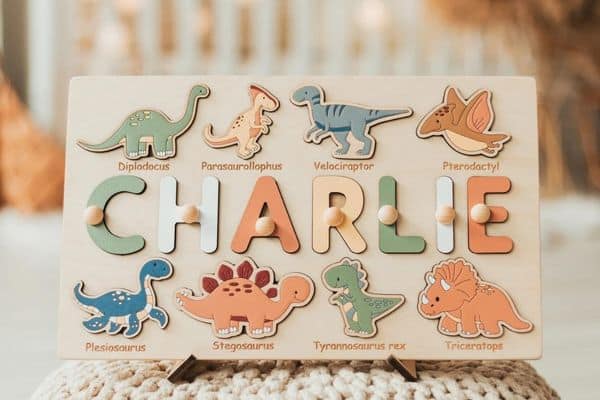 This Wooden Dinosaur Puzzle is by Busy Puzzle on Etsy. Perfect for toddlers and little ones who love dinosaurs, this beautiful wooden puzzle is sure to be a treasured dinosaur gift for younger children.
16) Funny Dinosaur T-Shirt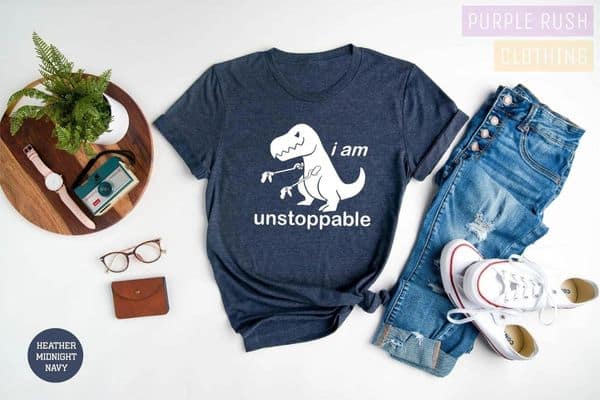 This Funny Dinosaur T-Shirt is by Purple Rush Clothing on Etsy. You can get it in baby, youth, or adult sizes and in your choice of different colors as well! Such a cool gift for dinosaur lovers of all ages!
17) Wooden Dinosaurs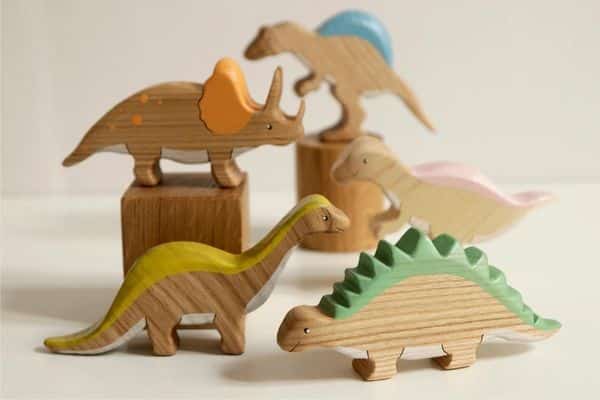 These Wooden Dinosaurs are by Woodwork Love Shop on Etsy. Looking for an heirloom dinosaur toy – this is it! These lovely wood dinosaurs are sure to bring smiles to children generation after generation.
18) Guess in 10: Deadly Dinosaurs Card Game
Skillmatics Card Game : Guess in 10 Deadly Dinosaurs is a great game for kids 8 and up. Adults will enjoy playing as well! Ask up to 10 questions to guess which dinosaur is on the Game Card!
Kids will learn to ask intelligent questions to problem solve such as "was this dinosaur a plant eater? Did he live during the Triassic Period?" First player to collect 7 game cards wins!
19) Dinosaur Fossil Molds Beach Toy
These Large Dinosaur Fossil Sand Molds are perfect dinosaur gift ideas. Kids can create different dinosaurs using sand and the dinosaur fossils molds. This is a terrific beach toy set that includes the following dinosaur skeleton figures: Triceratops, Tyrannosaurus, and Stegosaurus. It also comes with a rake and shovel. There's 25 pieces in all!
20) Dinosaur Sound Book & Dinosaurs Figures Set
Have a child who wants to learn everything about Dinosaurs? Check out this Dinosaur Sound Book with Dinosaurs Figures Set. Little ones will love looking at all the cool dinosaurs, learning facts, and hearing realistic dinosaur noises that correspond with each dinosaur. Plus, there's 12 amazing dinosaur figures to play with as well! What a fun dinosaur gift idea for kids!
21) LEGO Creator Mighty Dinosaurs
This LEGO Creator Mighty Dinosaurs set is perfect for kids ages 7-12. I love the Creator sets because you can make 3 items out of the same set of legos. This Lego set can be a Pterodactyl, a Triceratops and Tyrannosaurus Rex. Love those multi functional building sets!
22) Dinosaur Cape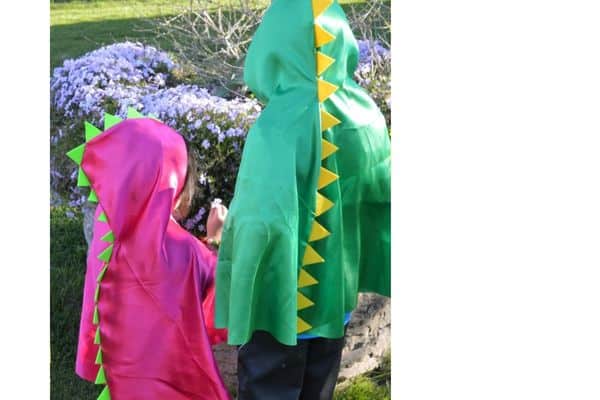 Check out these fun Dinosaur Capes by Capes and More on Etsy. Little ones will love having their very own dinosaur cape for pretend play. What a great way to build imaginations!
23) Poke-A-Dot Dinosaurs A to Z book
This Melissa & Doug Poke-A-Dot: Dinosaurs A to Z is perfect for toddlers and preschoolers! This Dinosaur Board Book has 20 pages with Buttons to Pop. I love that this book shares fun facts about dinosaurs while teaching the alphabet.
Little hands love poking the dots and it's great for fine motor skills. The dots make clicking and popping noises depending on how they are poked. My Kids LOVE Poke-A-Dot books!
24) Dinosaur Succulent Planter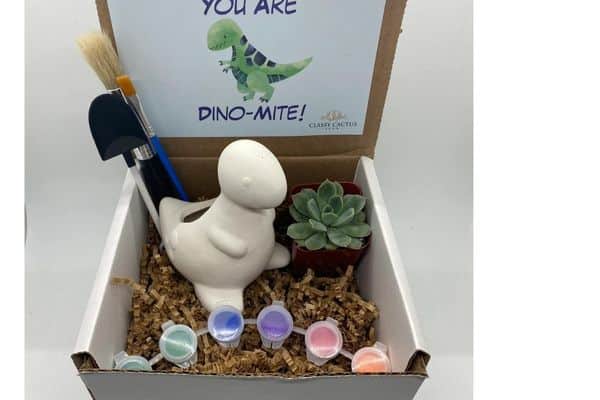 This Dinosaur Succulent Planter is from Classy Cactus Farm on Etsy. Kids will enjoy painting their very own dinosaur planter, then planting the succulent inside it. What fun!
25) Dinosaur Activity Book for Kids
Grab a fun Dinosaur Activity Book for Kids for your dinosaur fan! This activity book has dot to dots, mazes, coloring pages, word searches, find the difference pages, and more! Great for kids ages 3-7.
I hope you have found some great options for amazing dinosaur gifts for your dinosaur-obsessed child. Drop a comment below and let me know what your favorites were!
You can find more gift guides for the holiday season here. Find high quality gifts for young kids who love all things farm here. There's also great ideas for Horse Lovers here.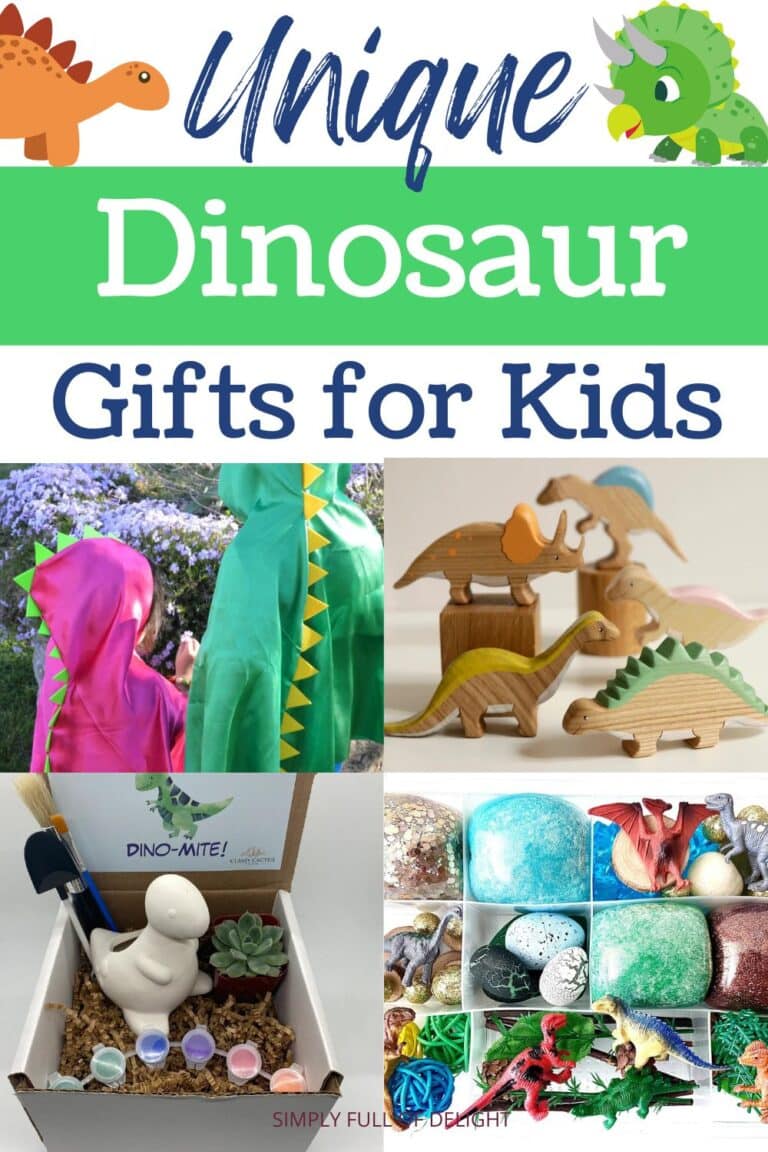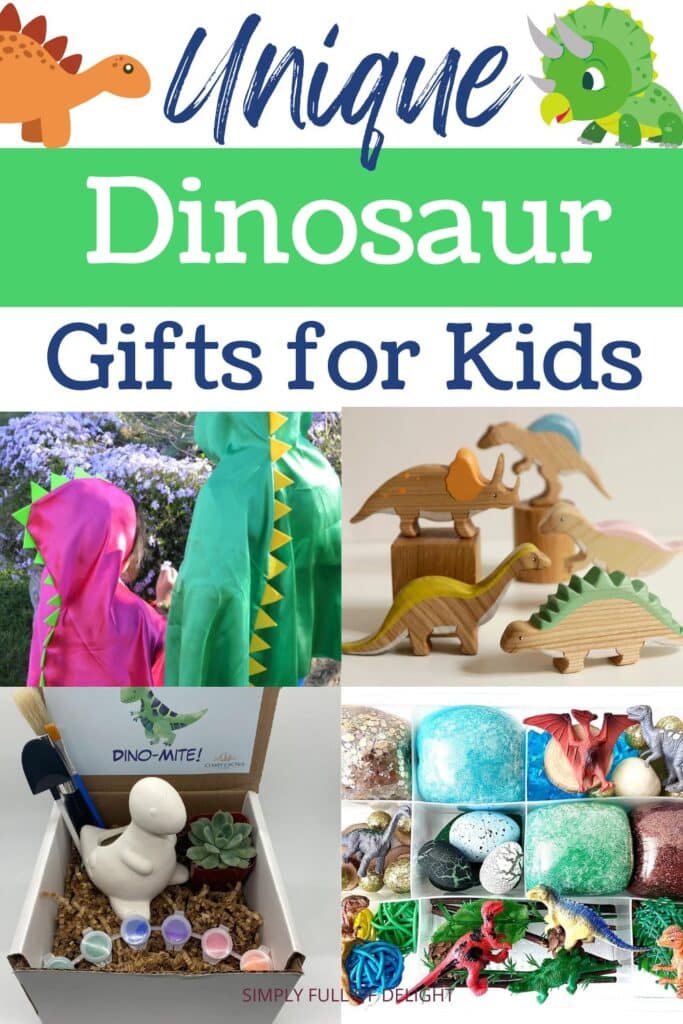 Related Posts